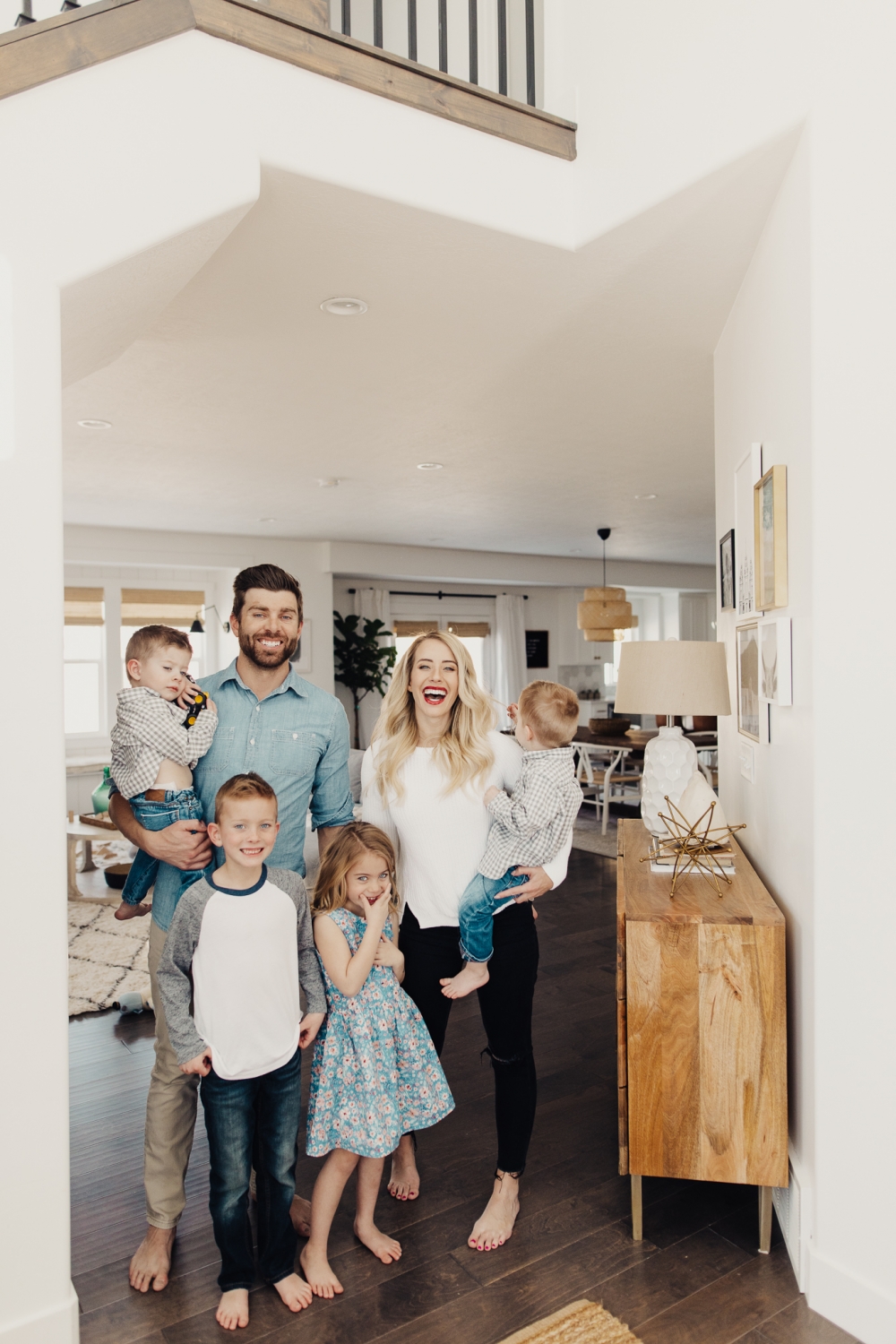 Well loves, the time has come. This has been THE BIGGEST LABOR OF LOVE and I'm so excited to finally share our home with you! We've been working on a few renovations for the past year and it's been quite the process! Finding a contractor we wanted to work with was easily the hardest part. I think I reached out to several different companies, half of them wouldn't return my calls, and the other half gave me ridiculous quotes. I finally reached out to my friend Tana Hallows who is an Interior Designer and was hoping she'd know of someone amazing. She introduced me to Steve from Home Repairs Basements and Decks, and immediately I knew he was the one! Together the three of us spent hours and hours designing the space and making sure it was perfect. After Steve did his thing Tana helped me work out the interior design. I can't imagine having finished this space all by myself!
I'm gonna show you a couple before pictures throughout this post so you can get a good idea of what we were working with…
First, we ripped out the shelves and added windows. It changed the space completely! Our original builders (Sweetwater, I do not recommend them AT ALL) used this awful tile, you can't see the paisley flowers all over the hexagon tiles but trust me, it's terrible! I'll eventually update the backsplash in the kitchen, but there was just nothing to the fireplace. The mantle didn't fit the wall and I didn't think the style really fit anything else in the house. Also, the cabinets stuck further out than the actual fire place, so it just didn't feel like the focal point of the room, being dwarfed by a small mantle and large cabinets. I envisioned this beautiful fire place with a mantle and hearth, one that really elevated the room. Nailing down a design was so hard for me! I think I lost five years of my life on that mantle! Then it was the windows. I knew I wanted more natural light and I also knew that those shelves were HARD to decorate. I had tried so many different things and everything just ended up looking cluttery. The problem was they were so wide, much wider than shelves you see decorated nicely on Pinterest, and there were so many of them. So, we ripped them out!!! I honestly couldn't have pulled the trigger on any of this without Tana.
What we added: framed out windows, shiplap behind the TV, new mantle and hearth.

I was out out town when the demolition happened, which is why we have zero pictures, but it took about a week for them to knock out the windows, frame everything out, build the window seat, shiplap, and paint. We got our first bid though, the beginning of August and they were finished the end of October. The work doesn't take forever once they get started but scheduling contractors and getting all the supplies in takes forever!!
PRODUCTS: The leather chairs are the Lucas Swivel Chairs from West Elm and I am OBSESSED!!! The kids love them and are always spinning and playing games on them! All the Mudcloth pillows are from Danielle Oakey!! She's reopening her shop soon and when she does, I'll get you direct links to all her pillows we used. The baskets are from World Market, here's the larger one and here's the smaller one. The white Pom blanket is from Danielle Oakey, the grey one on top of it is from Latter Day Home and the cute white knot pillow is from Malia Mu. In the smaller basket, we have two blankets that were sent from Harlow Henry, they're absolutely stunning and so soft! The first is the window pane Alpaca throw and the luxe mohair throw in cream.
To the left we have our kids corner! I was really excited about this space and my kids love it!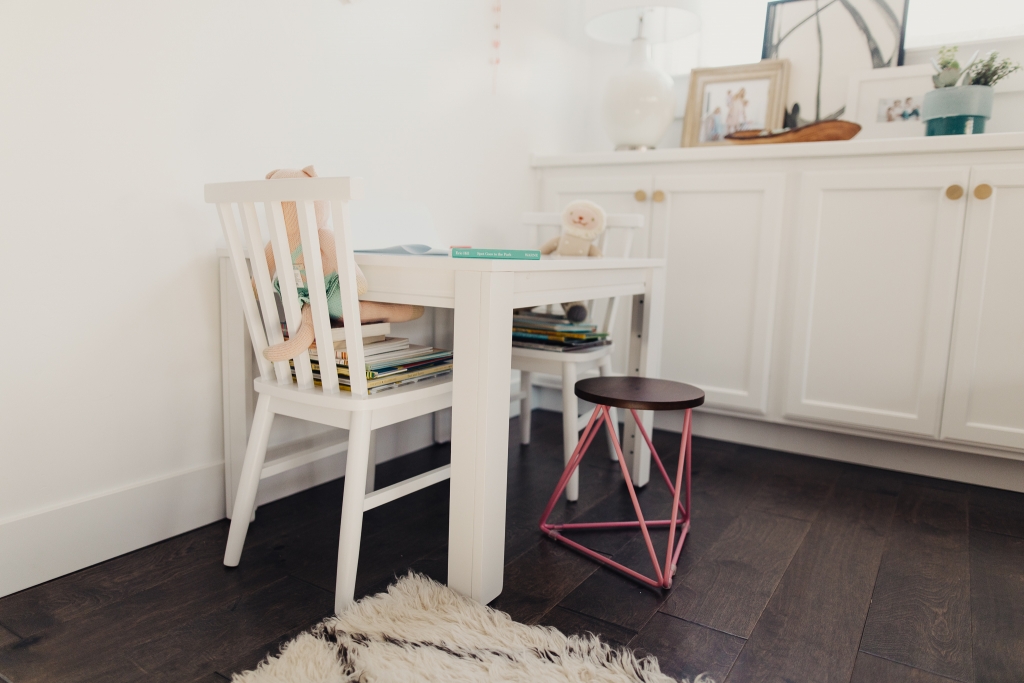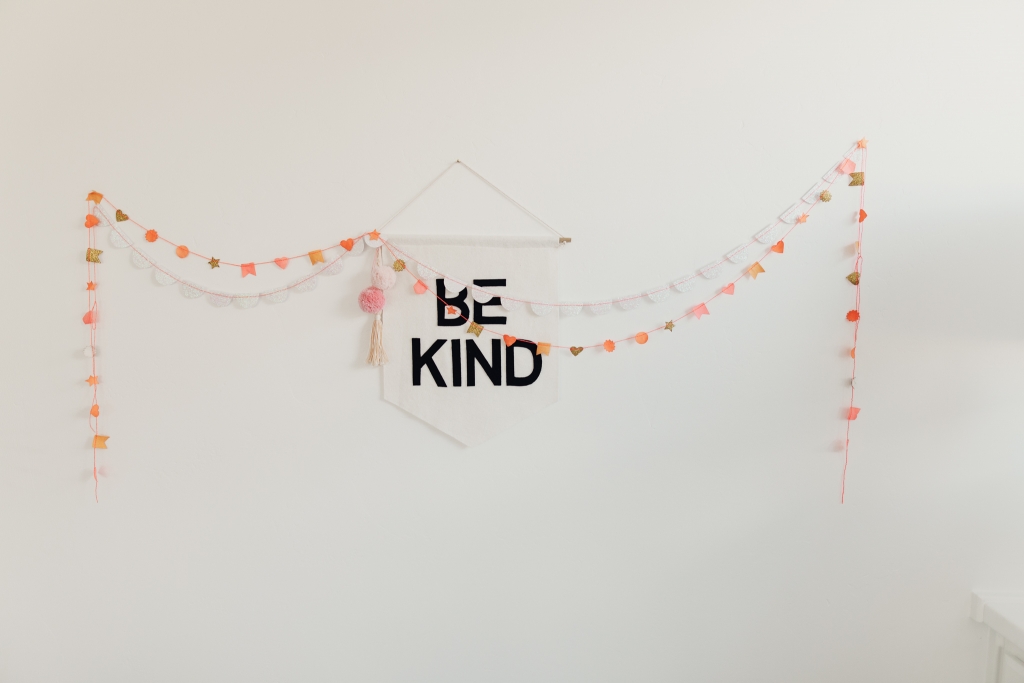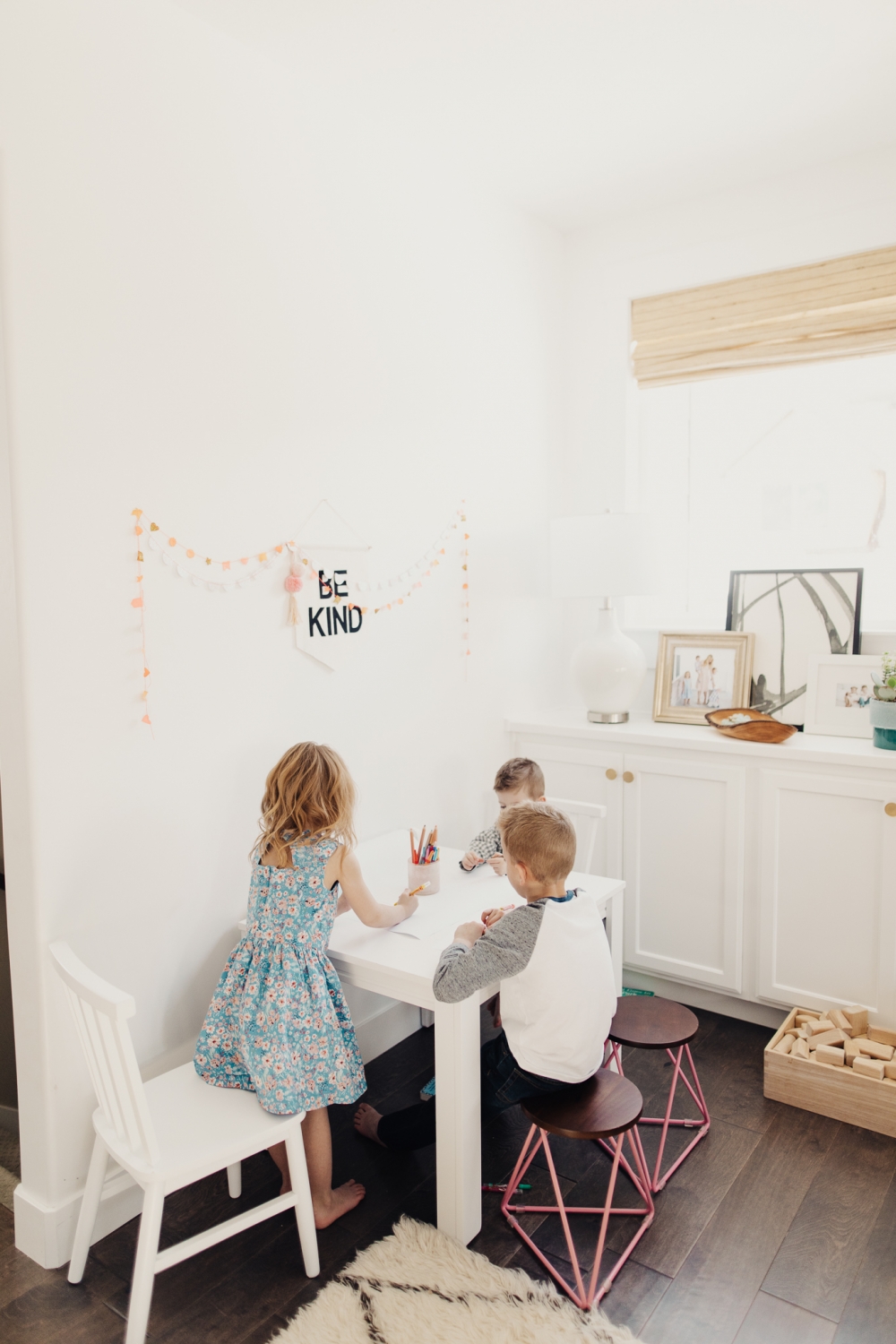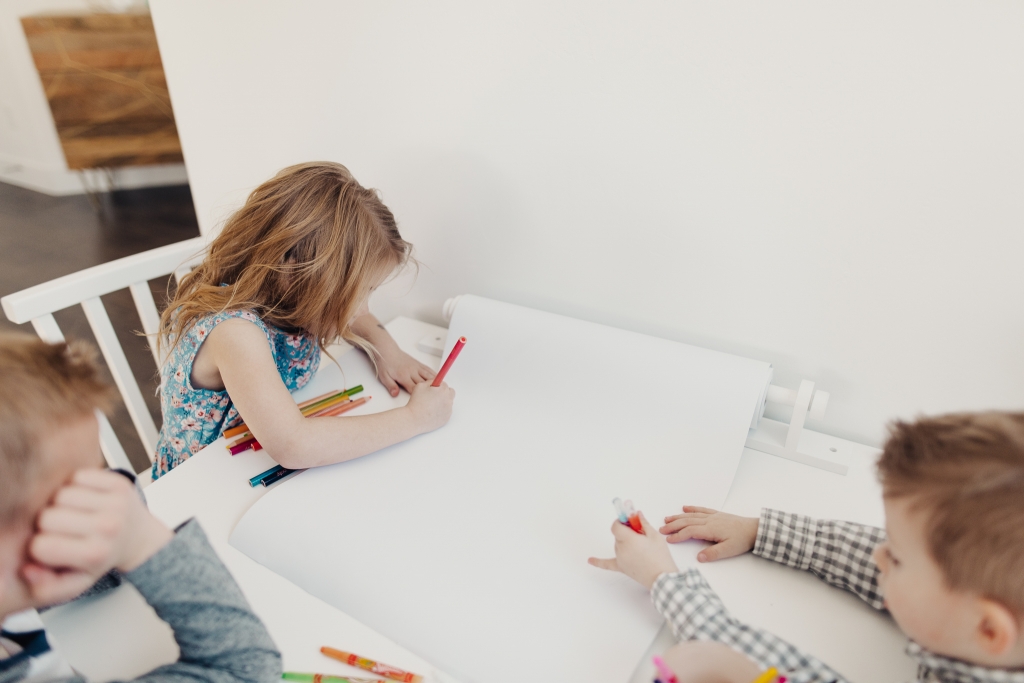 We've got this table and chairs from Land of Nod with the roll of paper, and these little linear stools. The Be Kind pendant is from Paper Arrows Studio, the pink garland is from Amazon. The cute little dolls are from BlaBla Kids and my kids are OBSESSED with them!!! We have the yeti, splash the cat and Jaque the hippo, they're adorable!
To the right we have our window seat!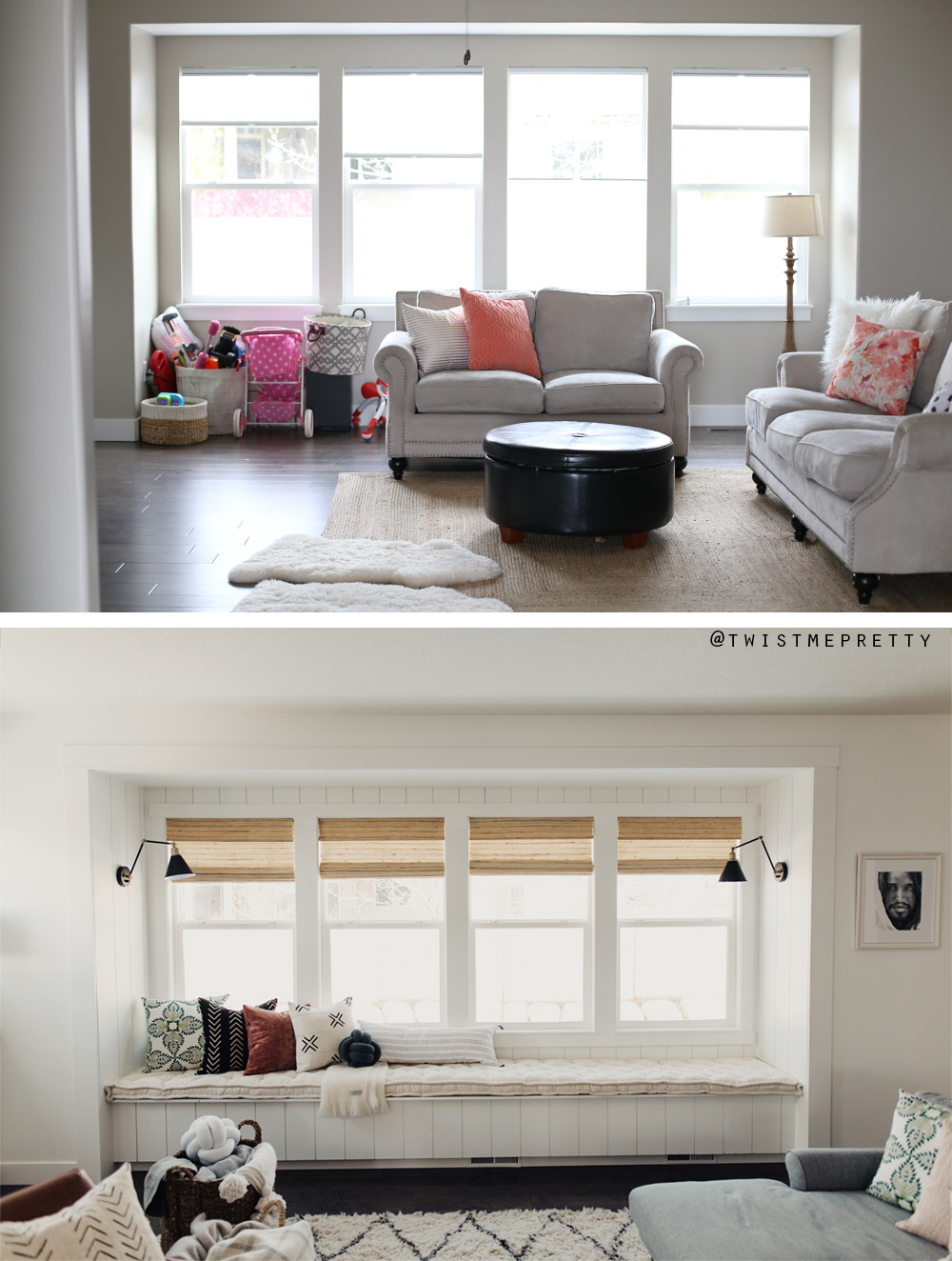 Before we moved into this house, I knew I wanted a window seat there. It was just calling for one! So I had Steve build one for me and then Tana suggested he add the vertical shiplap. I love it so much!! We had him frame out the windows, the entire nook and add lights and electrical outlets to each side.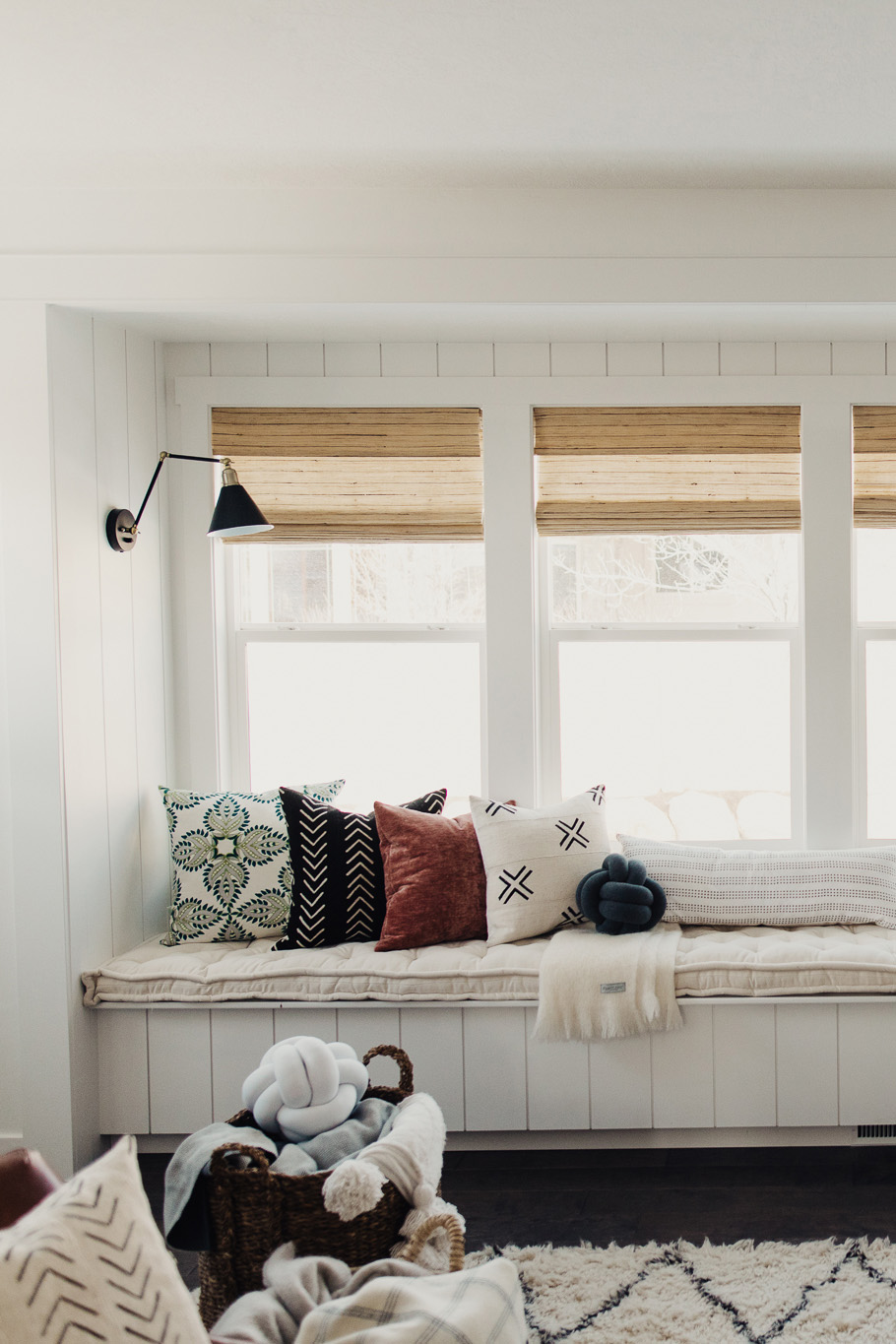 All the window treatments are from Select Blinds! I had purchased some honeycomb top down bottom up blinds when we moved in, figured I couldn't go wrong with the white and that I'd figure out how to blend everything later. Welllllllllll, Tana convinced me I needed some warmth on the walls, especially since we had just painted everything white. She was so right! We ordered about all the samples we could and landed on the Veronica Valencia Woven Wood Shades in the color Windward Island. These are THE most beautiful shades I've ever seen. I was initially nervous to do a woven shade because I was worried about light! I didn't want the shade to take up the entire window when it was rolled up and I wanted this light and airy feeling, not heavy wood. That's why we landed on these particular shades because they only take up a few inches at the very top of the window when they're open and they're super light and airy feeling. I got the privacy liner in mine because I didn't want sun filtering through the shades and looking weird. They're perfect. Brian installed them all with his brother one afternoon and it was pretty hassle free!! Since then, I've had several neighbors come over just to take a peek at how beautiful they are.

I love this space so much, it's one of my favorite spots in the whole house. What made this window seat was the pad we ordered from Home of Wool. It's stunning and 100% wool so it's soft as can be and cleans up easily. I can't recommend Home of Wool enough, the seat is absolutely beautiful! The black lights are from Lamps Plus. Pillows from left to right, are the Fern pillow from McGee and Co, a black mudcloth pillow from Danielle Oakey, the Scarlett Pillow from McGee and Co, A white mudcloth pillow from Danielle Oakey and then we have a grey knot pillow from Malia Mu, and the Reem Pillow from McGee and Co. The cream throw is from Harlow Henry and it's the Luxe Mohair Throw in Cloud!
More Details: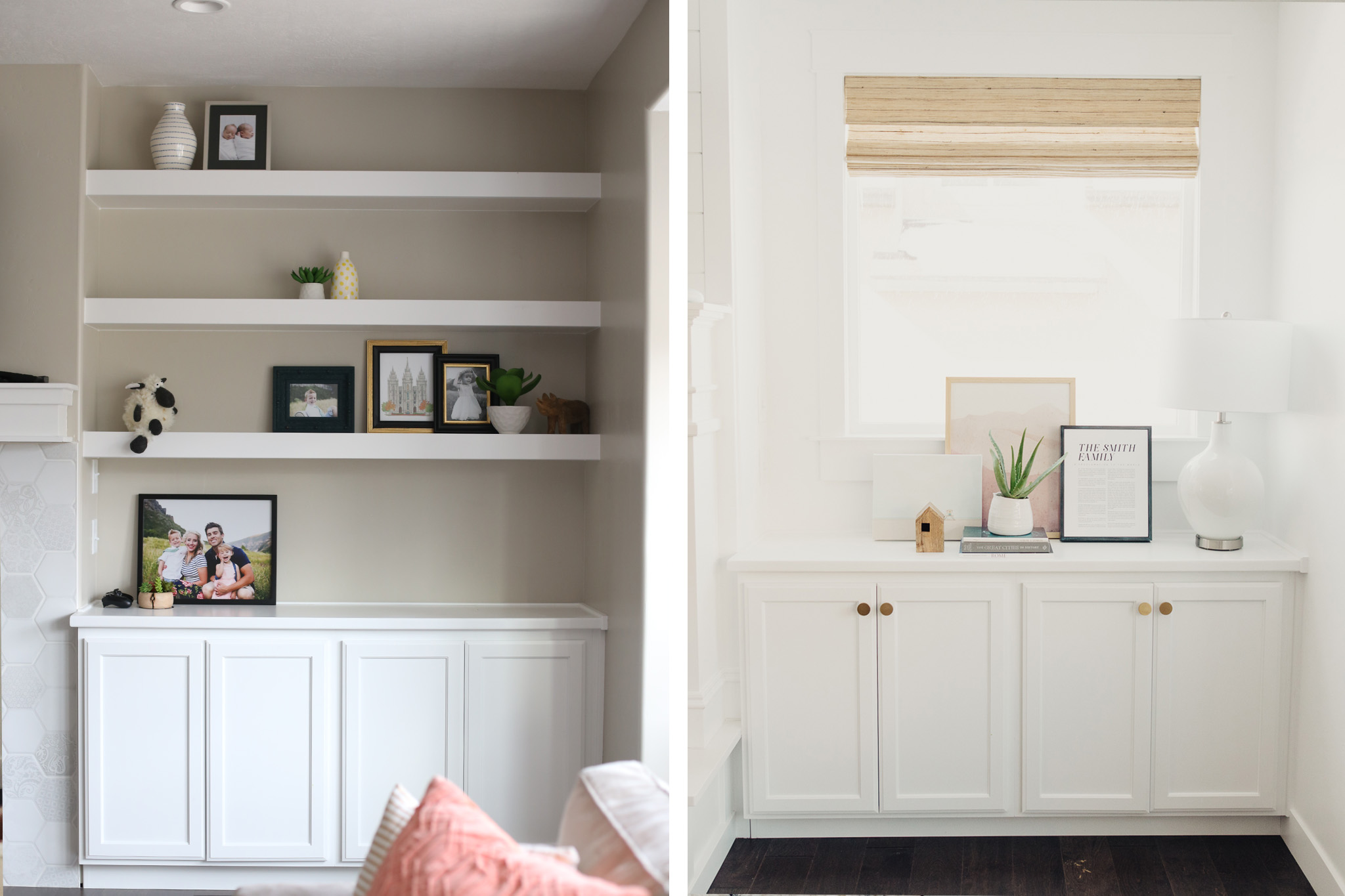 Getting rid of the shelves and painting this space opened up the room so much!! We strategically added a hearth onto the fire place so that the cabinets didn't overwhelm the fireplace.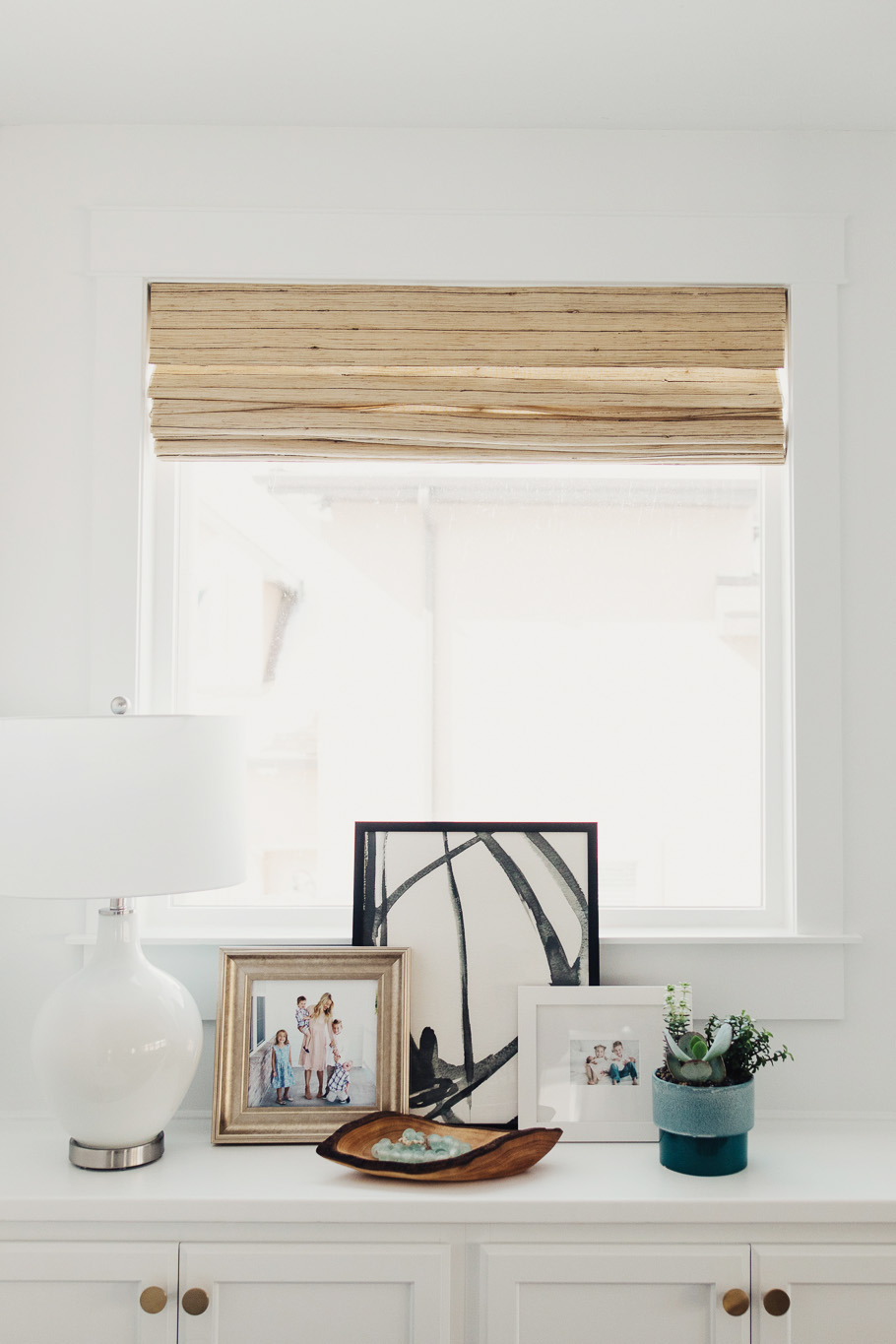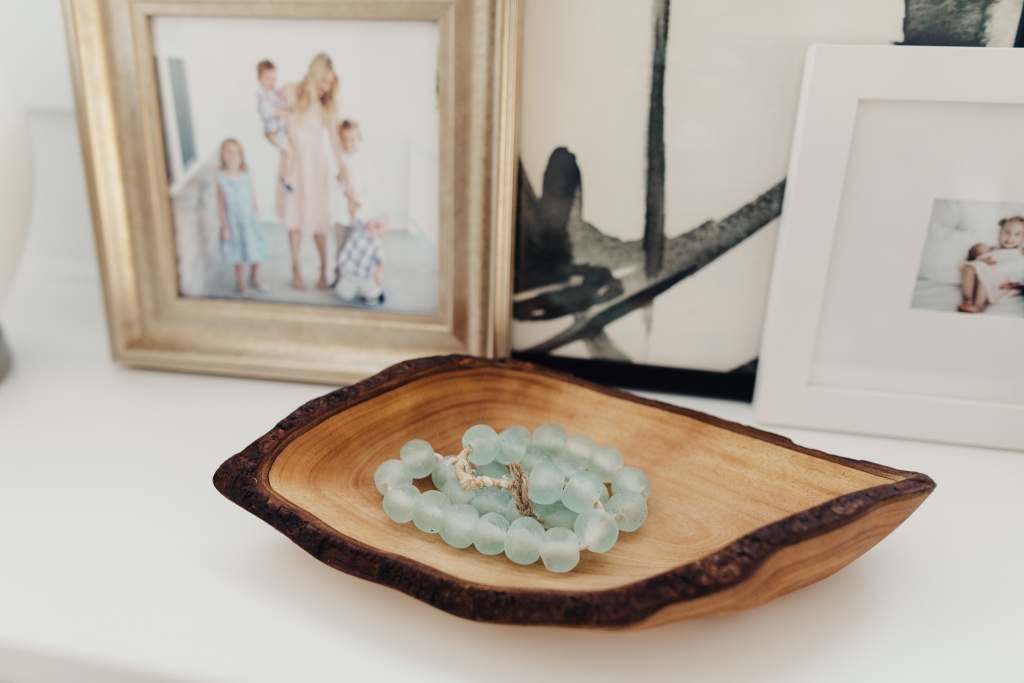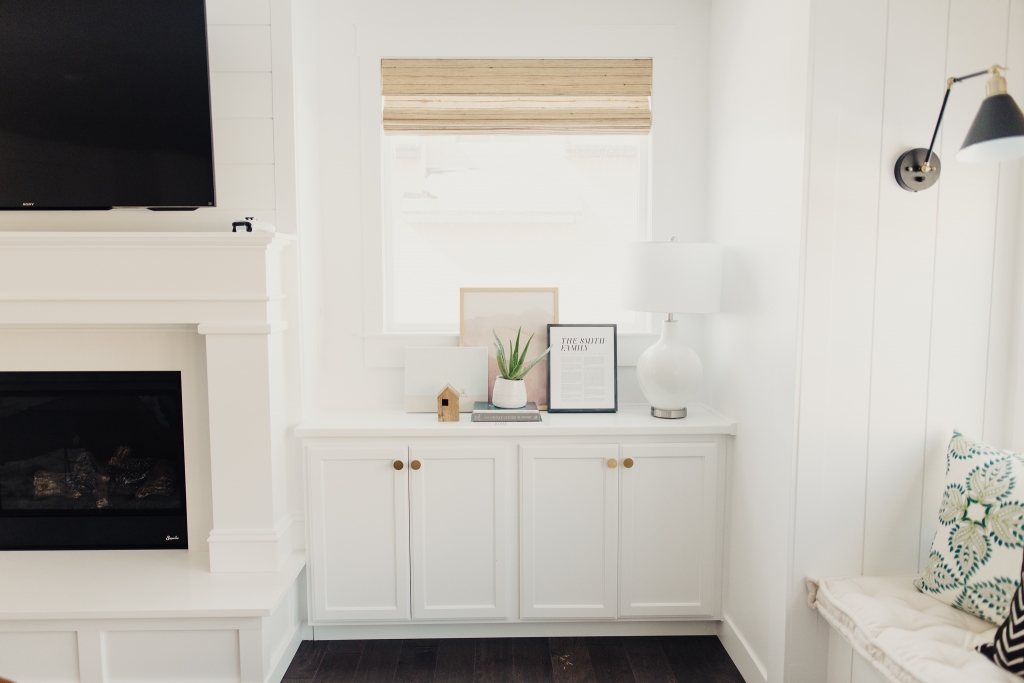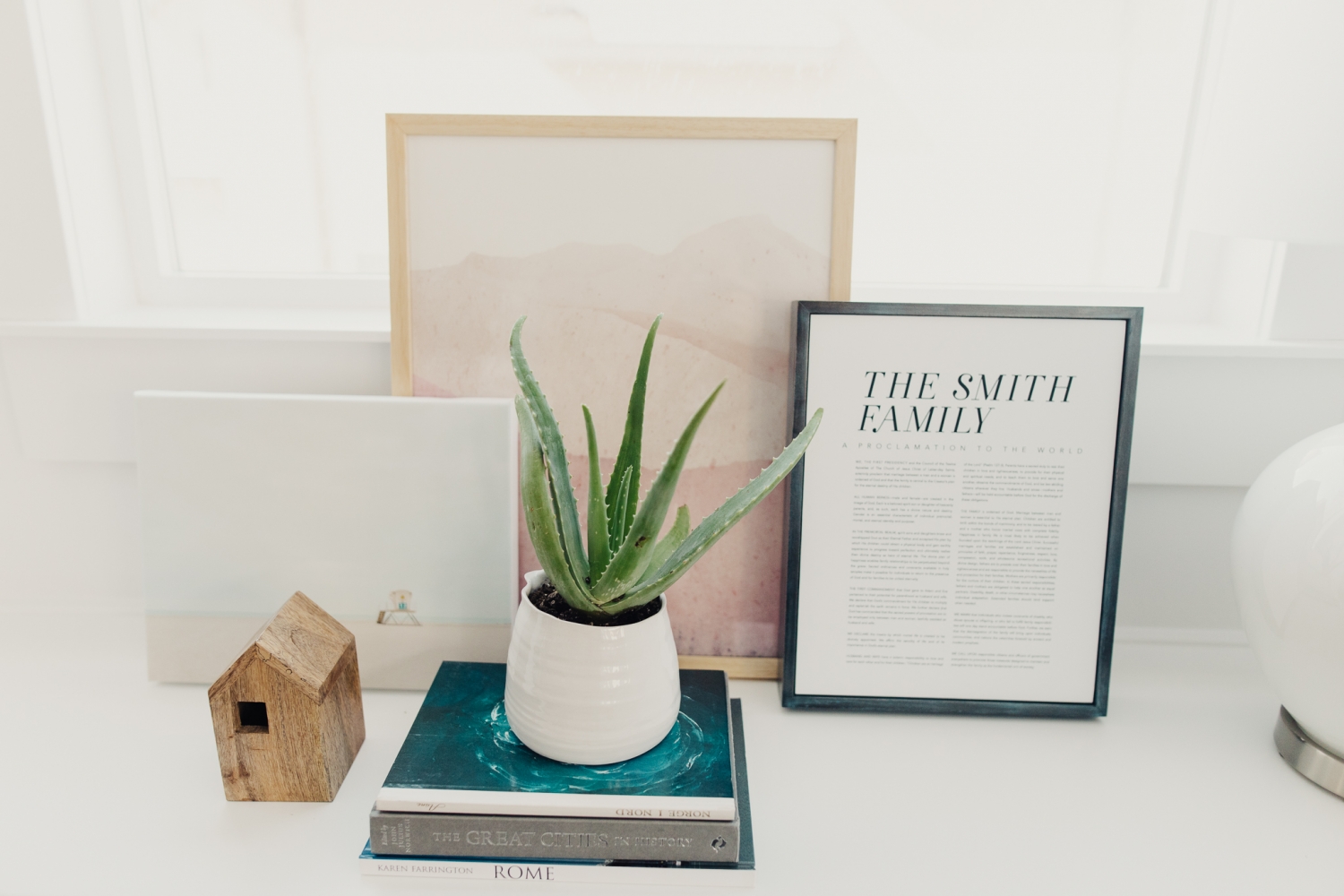 On the right side of the fire place, we have a canvas of the
Tower 13 by Minted
, then a really pretty pink
Mountain Range artwork from Minted
, and then a custom
Family Proclamation Print from Latter Day home
. The little wooden house is from Magnolia at Target, the Aloe plant and pot are from Sun River Gardens, and the books are vintage from
Covogoods
.
Alright, now I'm going to flip you around and show you the couch side of the room!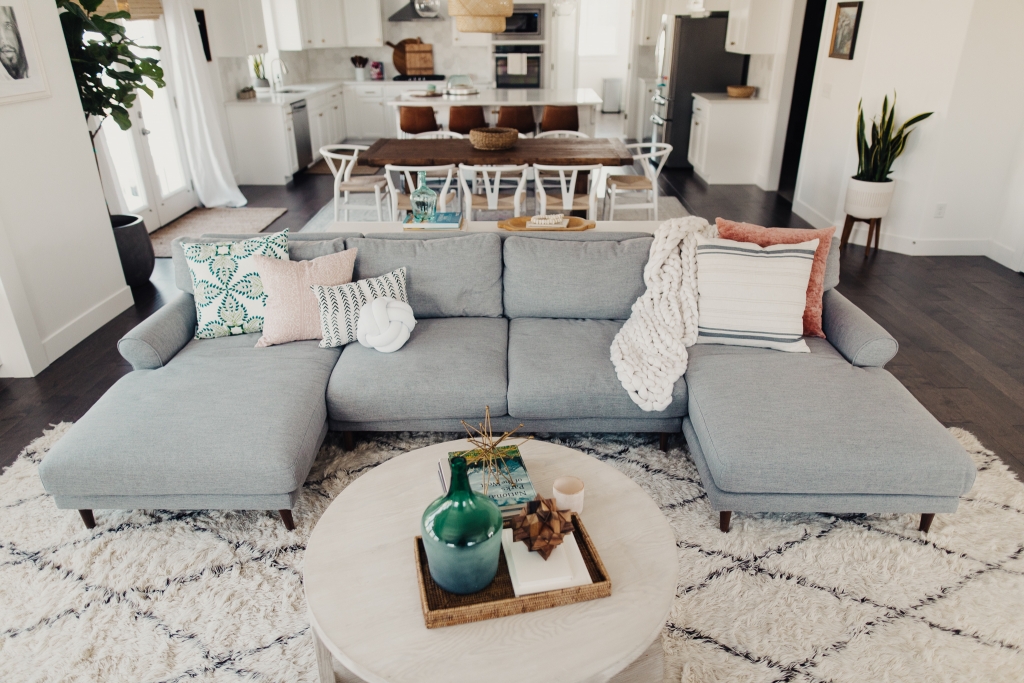 We decided to go with the Maxwell U-Sectional from Interior Define. It fits the space perfectly! This couch is large and feels like a sectional, but keeps things open so that the window seat isn't hidden behind a couch! It took 10 weeks to arrive and it was love at first site. We got the Dove Pebble Weave fabric and so far it's been super kid friendly, washes well and I'm obsessed with the shape. We chose the Maxwell because it has a higher seat and back than other sofas on their website and then we just ditched the pillows that came with it. It really comfortable and I can't recommend Interior Define and the whole process of ordering online enough!
Pillows: From left to right on the couch, Fern Pillow from McGee and Co, two mudcloth pillows from Danielle Oakey, and one knot pillow from Malia Mu. Then we have the chunky knit throw from Sarah Lou Co, a French Stripe pillow from McGee and Co and then one Scarlett pillow!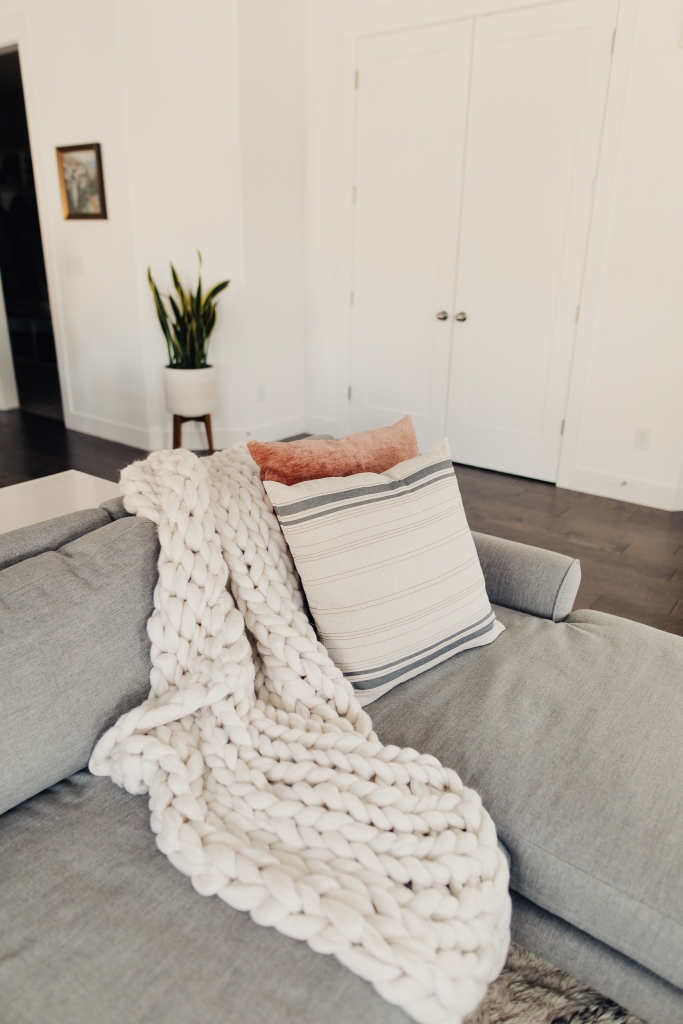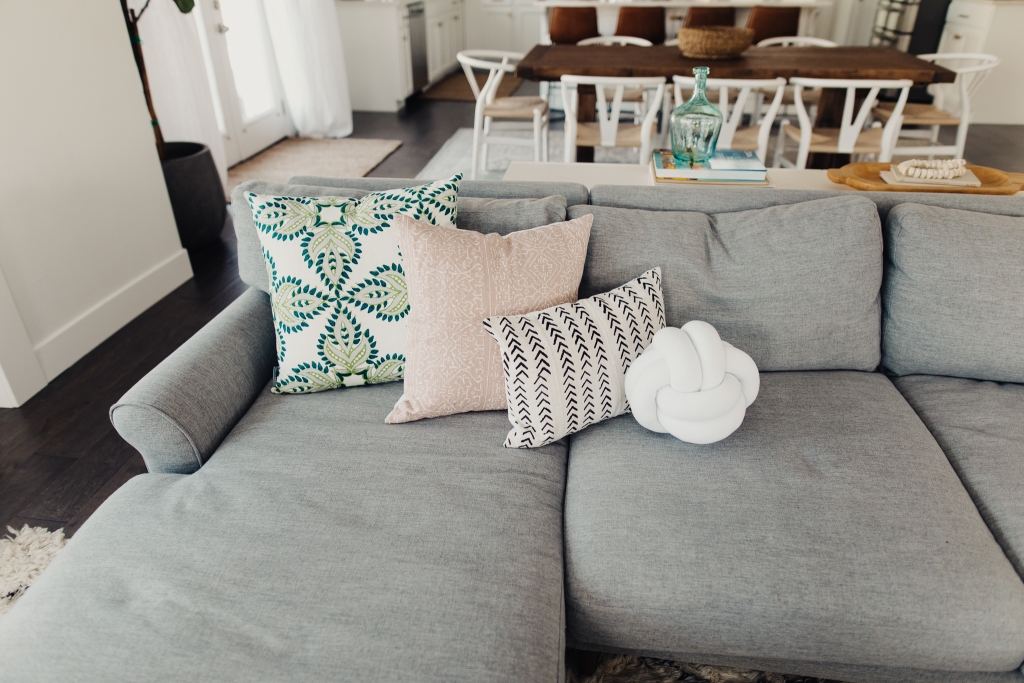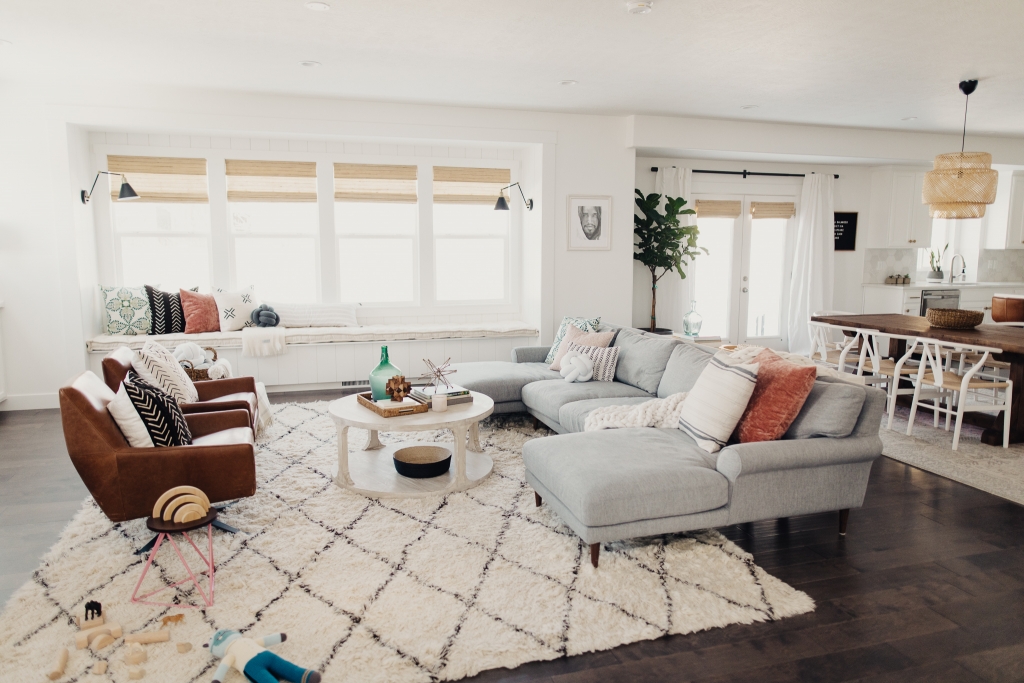 My rug is this one from Rugs USA. It's the 10×14 size. I've gotta tell ya, it's like having a fifth child haha!!! In the beginning it was SO high maintenance. It would shed all over everything and would fill my Dyson vacuum canister just in pass. I was vacuuming it daily for the first several months because it was just shedding like crazy. And then it eventually just stopped. If you can be patient, it's a great investment. We had it cleaned recently and it looks brand new. It's 100% wool so I know it'll last forever and I love the way it looks!
The coffee table was one of the hardest things for me to settle on. I wanted something so specific but just couldn't find one that was reasonably priced. After months and months of looking, I finally decided to splurge on this one. It came a little damaged and I'm in the process of them sending me a new one, but if all works out it is so beautiful and well worth the investment. It's a little weathered so when the kids spill on it or bang anything on it, it honestly just adds more character to the piece, which is what I was looking for! I know my boys are going to beat up this furniture and so having smooth table tops just wasn't an ideal option.
Rattan Tray, Gold Atom Accessories, Wooden Acorn Puzzle (this thing is RAD), Green and pink vase are from Sun River Gardens, and then all the books are vintage from @covogoods!
K now I'm going to move you a little backwards and show you the gallery wall and entry way.
Gallery Wall: Before and After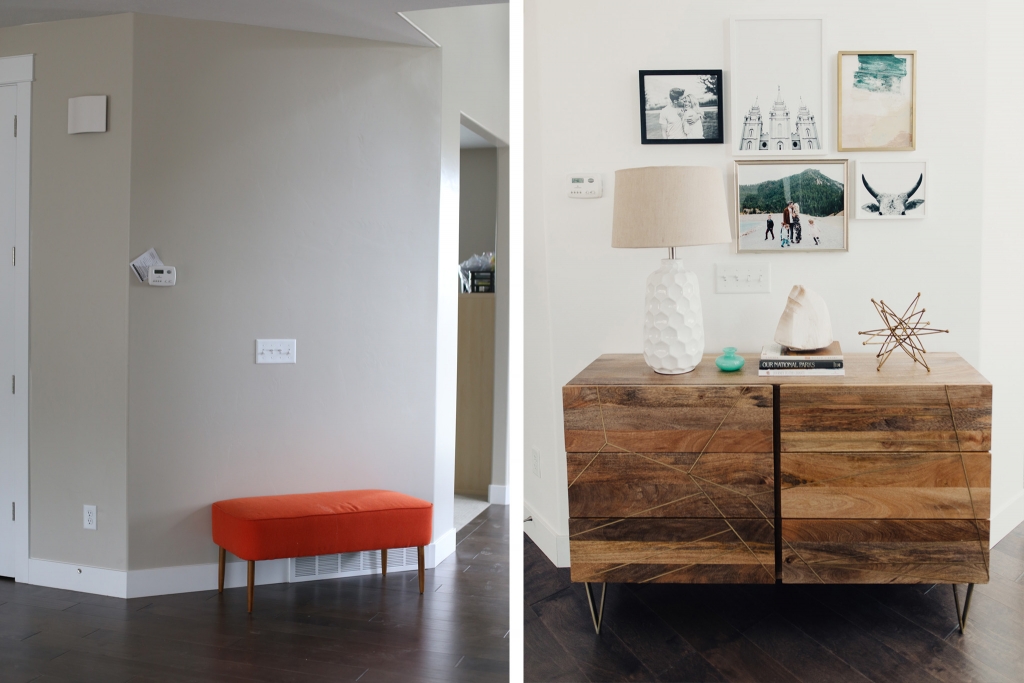 I had no idea what to do with this space. The thought never occurred to me to put a dresser and gallery wall there. Tana did an awesome job designing this space!

We had 2 family photos framed by frame bridge and then we have a SLC LDS Temple from Latter Day Home in a 13×19 with a white frame, The Layers Beneath painting from Minted and a Cow Print. I love him. And then the 6 drawer dresser is from West Elm. The Honey Comb lamp is from Lamps Plus, the awesome rock + green vase is from Sun River Gardens. The books are vintage from @covogoods and the gold sphere is from Houzz!
Entry Way: Before and After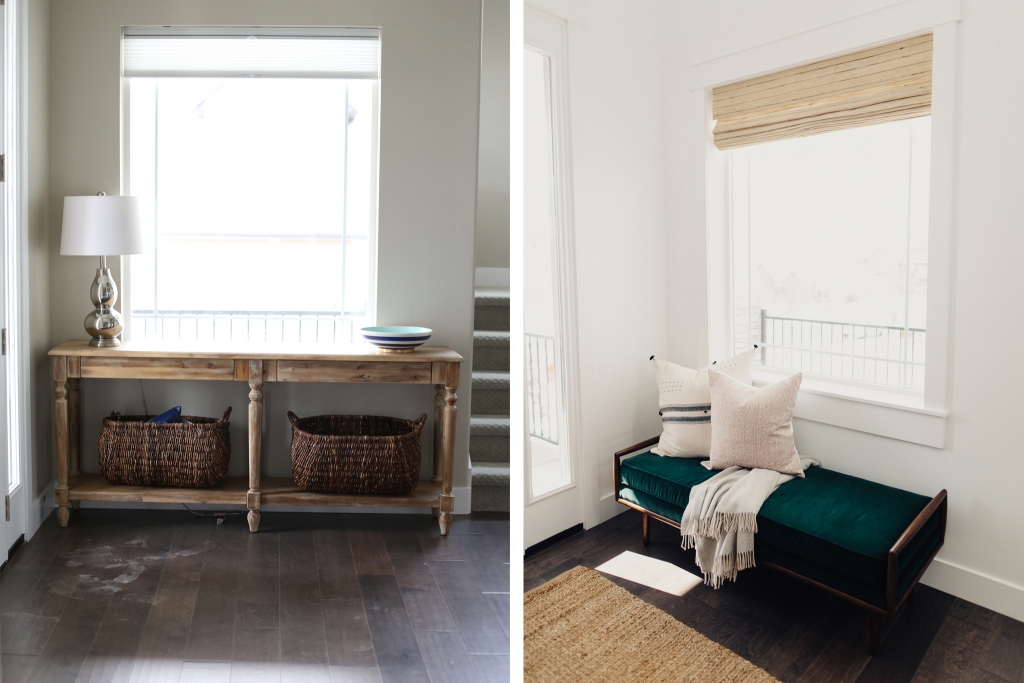 We painted this space white + added a frame around the window. The window treatment from Select Blinds really warmed up the wall and I'm so in love with our Ansa Bench!
The Balsam Green and Walnut Ansa Bench is from Article, I'm obsessed with it. It's so soft and it's the perfect color to bring a little something extra into the space. Article has some really beautiful pieces, we almost snagged their round ottoman but I settled on this green bench instead!
The Rishi Pillow from McGee and Co and then a really pretty blush pink from Danielle Oakey. The rug is the Chenille Jute from Pottery barn. The plant and planter on the left is from Sun River Gardens and the round mirror on the opposite side, is from Target.
WHOAAAA. That was long. What do you think of the space?! I feel so lucky to live here and call this space mine! CLICK HERE to see how we renovated our kitchen and dining room!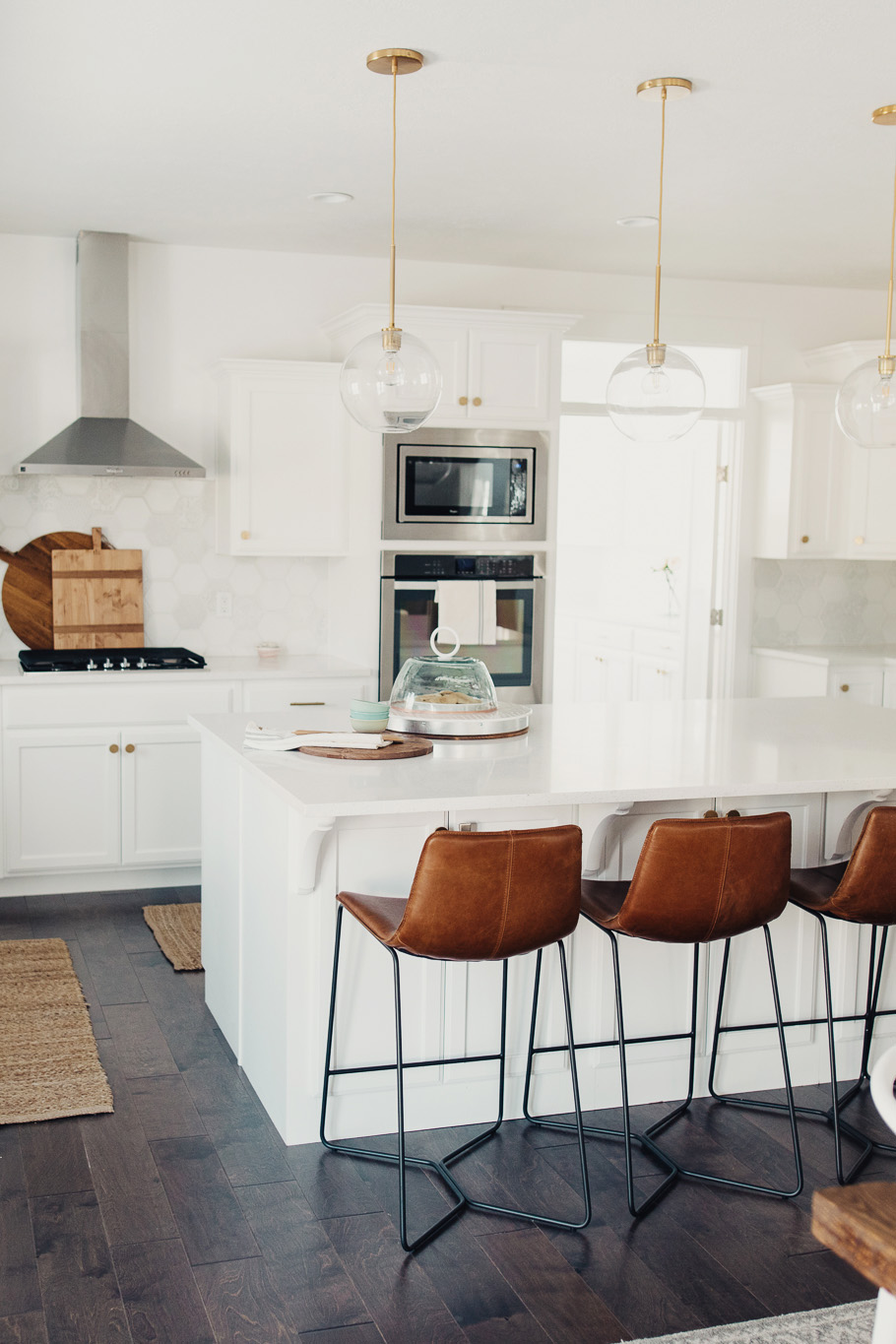 Pictures taken by Alice Shoots People!! Check out her stuff, she's amazing!