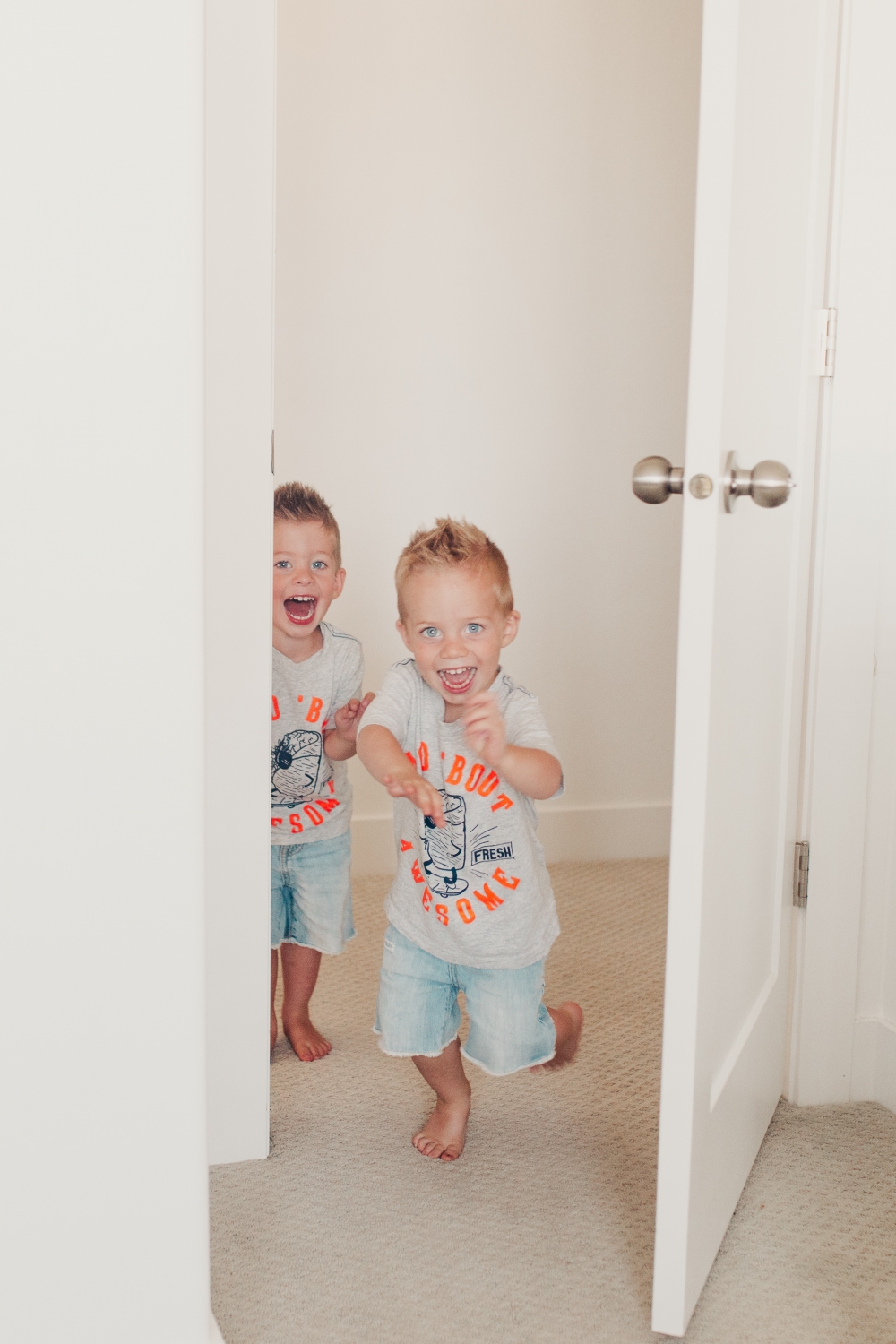 My twins boys turned three one month ago and I've been trying to get them into big boy beds for awhile now. I haven't been able to pull the trigger on buying anything though because they're my babies!!! And somehow prolonging the crib stage meant I was keeping them my babies for just a tiny bit longer. It oddly calmed my troubled mama heart!
Dorel Living reached out to me a couple weeks ago though, and challenged me to makeover their room in just two weeks using their Brady Bed found on Amazon. I knew this was the push I needed to just get it done. I made a mood board that night that helped me get an idea for what colors and products I was envisioning for the space and then I ordered everything the next day. Time was not on my side here so I couldn't stew on different ideas and just had to run with my gut!
I'm so so happy with how it turned out!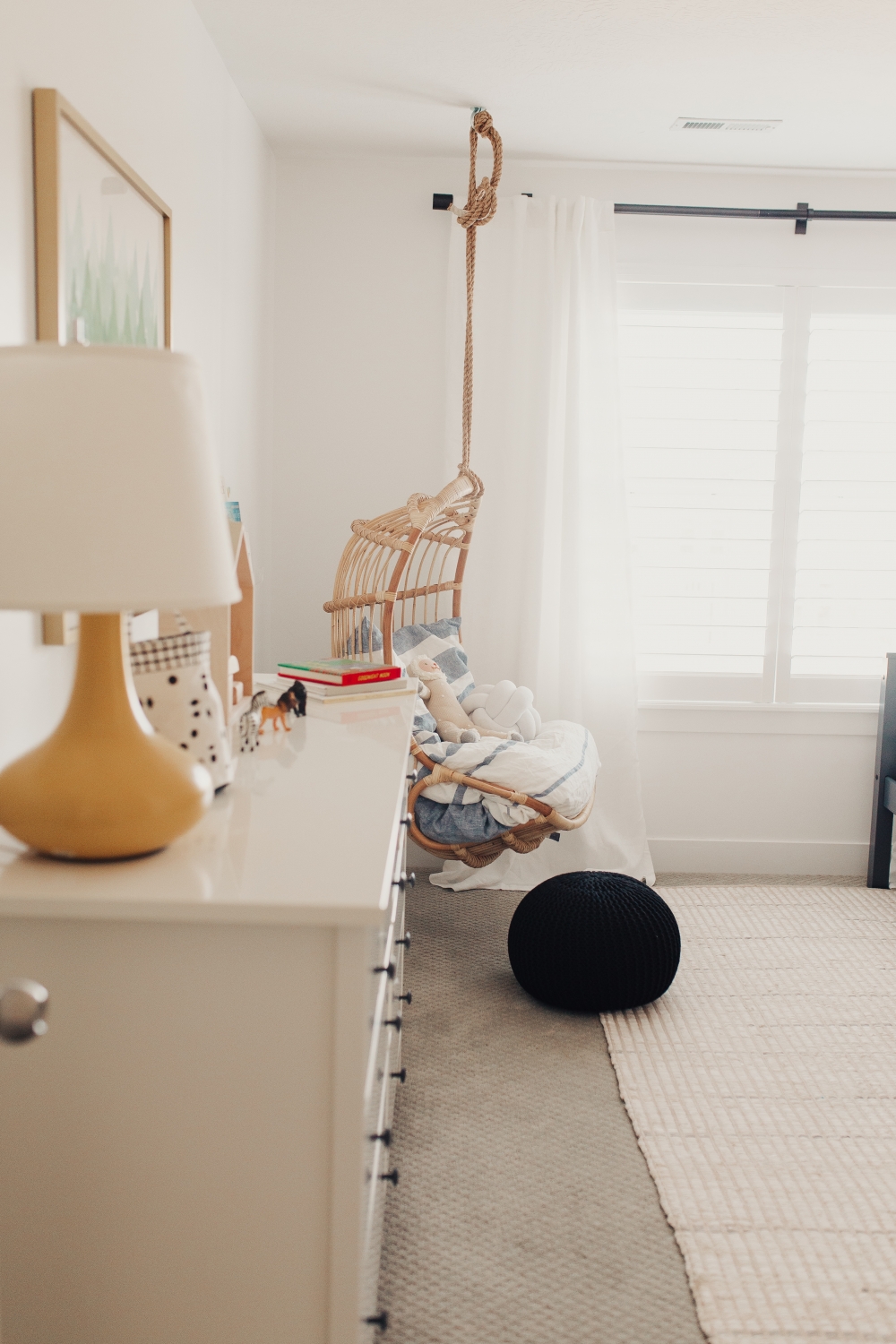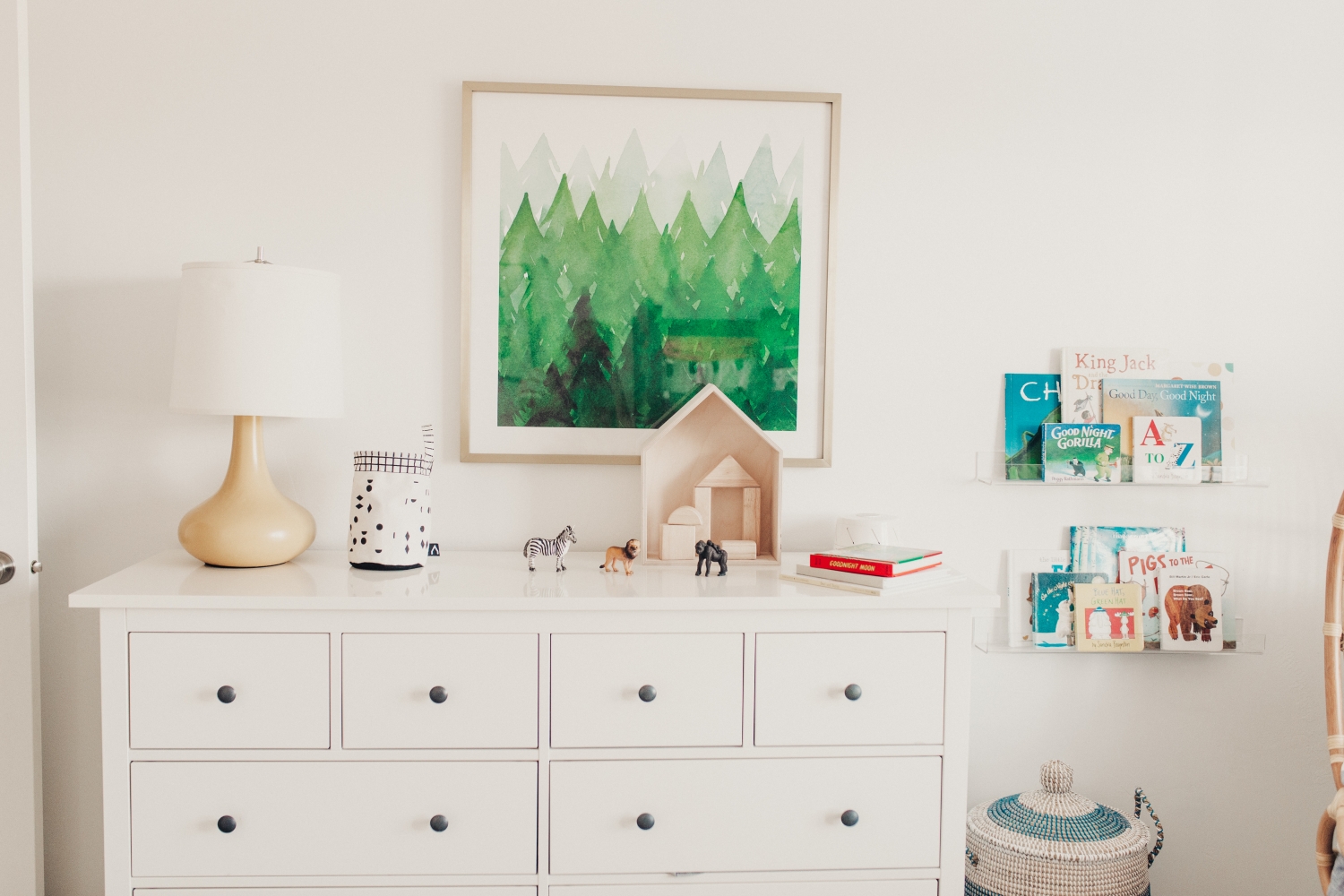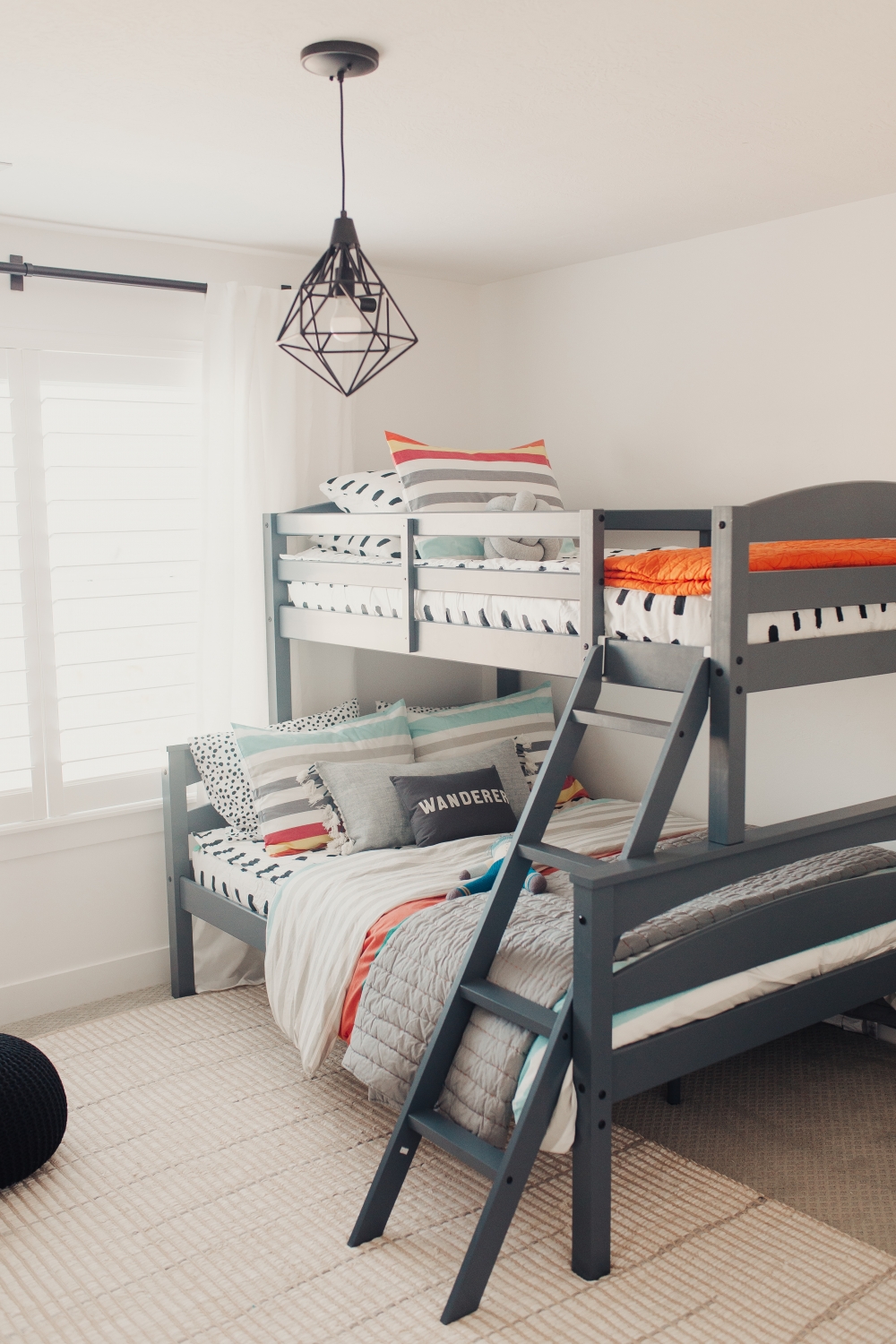 I knew I needed bunk beds for their room because getting rid of their dresser wasn't an option with the closet space we have in this house. I ended up choosing the Brady Twin over Full bunk bed from Dorel Living on Amazon and I couldn't be happier! The gray color is exactly what I was looking for and it's super affordable for those working within a budget. I also thought it'd be nice to have the extra space of the full mattress when family comes to visit. We could easily put the twins together on bottom and free up the twin mattress on top for one of the cousins!!! They could also share the full on bottom if we think they're not completely ready for the top bunk but if I know my little dudes at all I think Kai will be so happy and content on top and Coop will love the extra space on bottom. But anyway, the full on bottom is so versatile that we thought it was a no brainer!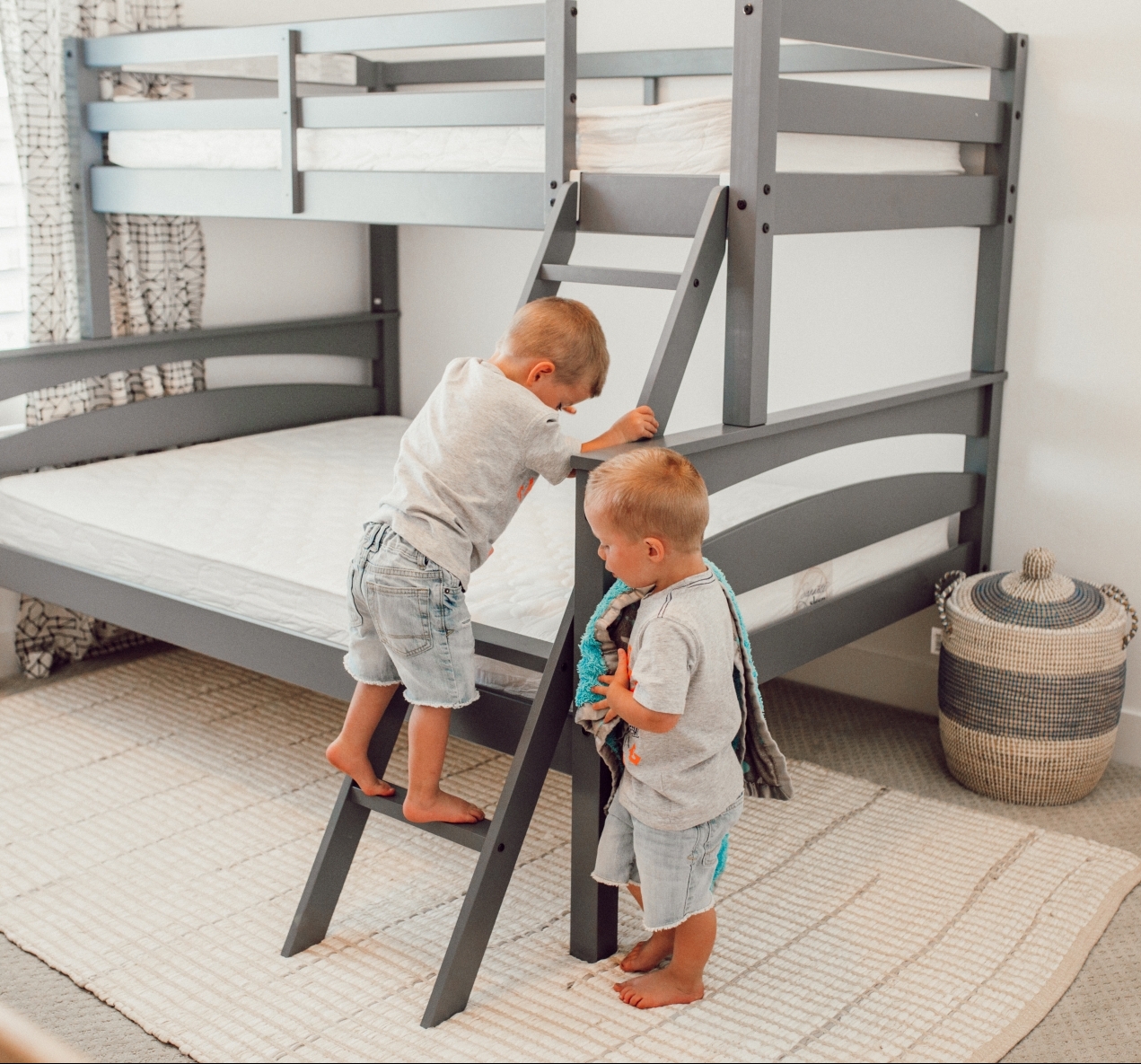 Dorel Living sent the bed via Amazon Prime and it was at our house before the weekend even started. It took Brian and his brother a few hours to put together and then we put the Signature Sleep mattresses on the next morning. The mattresses were delivered to our door in a rolled up and compressed box. The boys had a blast watching the mattresses come to life when Brian cut off the wrapper!
Brady Twin over Full Bunk Bed | Sleep Signature Mattresses | Rug | Black Mini Pendant | Linen Curtains | Gunmetal Rod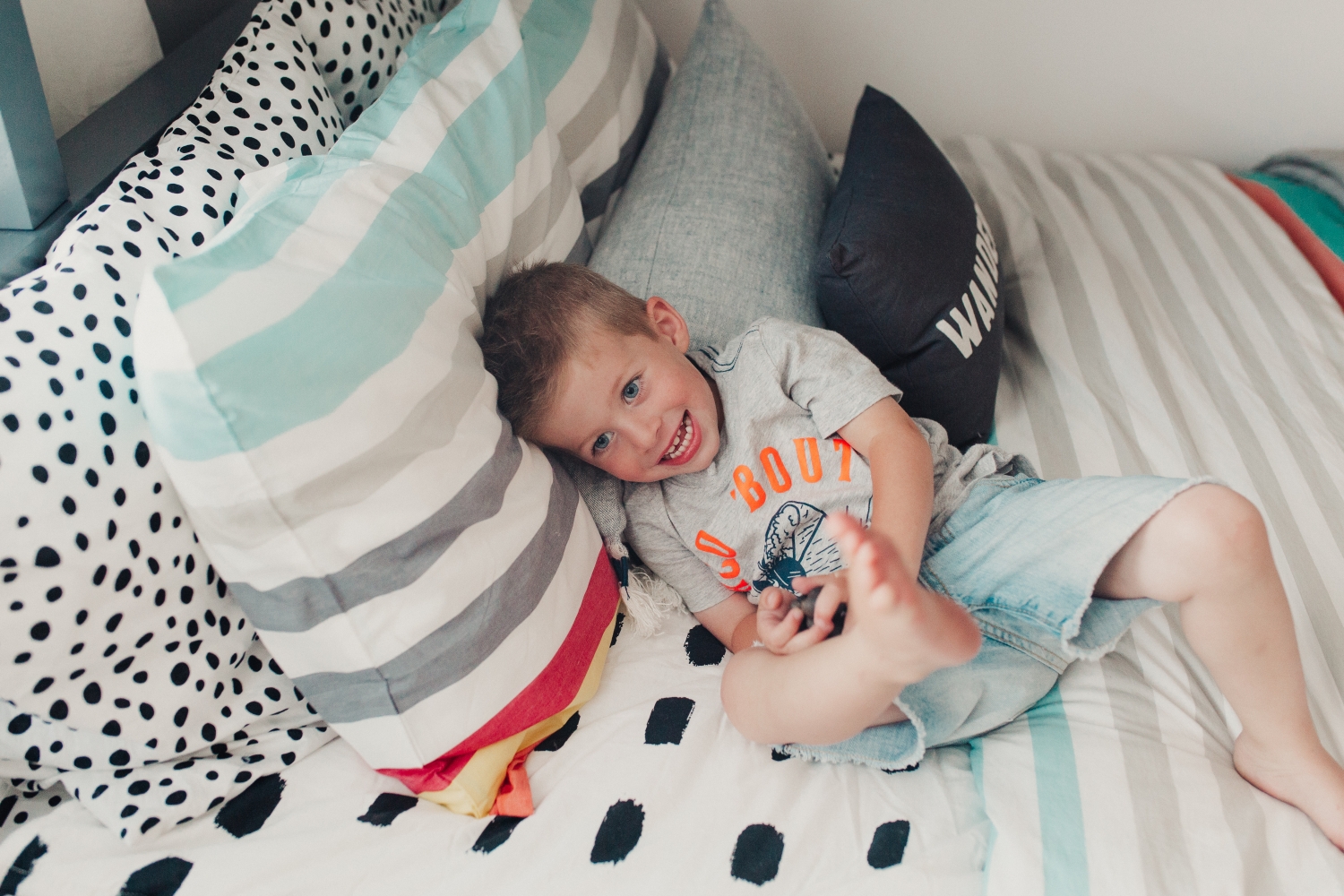 Top Bunk: Beddy's Dash Bedding | Orange Quilt | Striped Pillow | Knot Pillow
Bottom Bunk: Beddy's Dash Bedding | Striped Duvet | Branson Reversible Quilt | Striped Pillows | Topanga Pillow Cover | Wanderer Pillow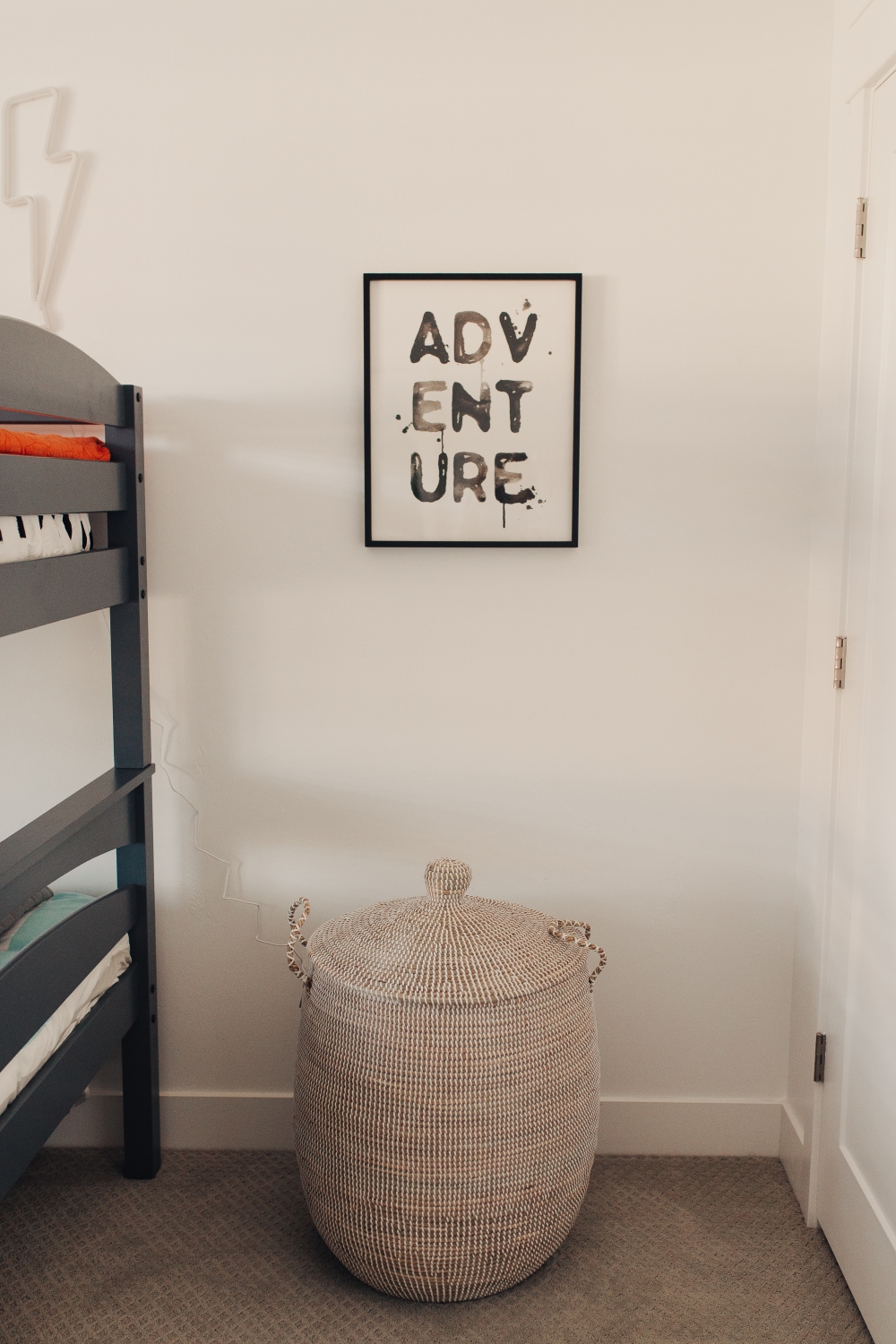 Adventure Print | Large La Jolla Basket | Lighting Bolt Neon Light
I didn't want too much going on in this little corner so I opted for a Large La Jolla Basket from Serena and Lily and a simple piece of art from Minted. If you aren't familiar with the La Jolla baskets — they're amazing! Super sturdy and you can literally put anything in them. When I was unboxing them on Instagram I had a few people wonder what went inside and honestly the sky is the limit. They can be used for dirty clothes or stuffed animals or swords and light sabers (it's true, we have a whole basket full of imaginative play swords and sabers haha don't forget I have three boys). I love them because they have a super cute top on them so when it's super messy and unorganized inside, the top makes it look clean and neat!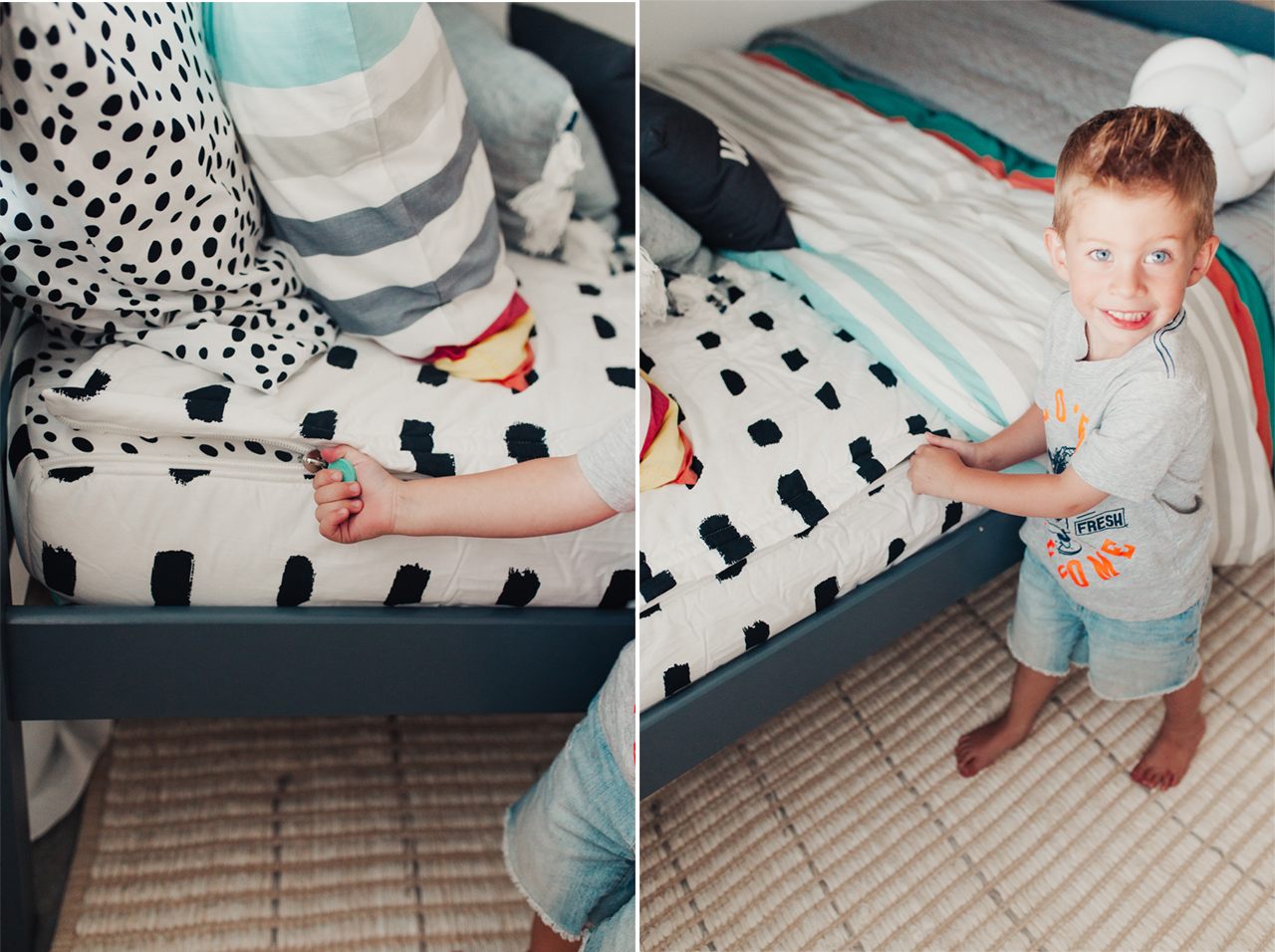 The Beddy's bedding is hands down the best bedding for kids! Whoa, say that ten times fast haha!!! If you've not heard of it before, I suggest you go watch one of their videos, they've literally revolutionized the bed making process!!! The fitted sheet, sheet and quilt are just once piece that you put over the mattress and then you zip down the sides of the bed to get inside. Even three year old Coopey can make his own bed and it makes the top bunk, which is usually impossible to make, a breeze! If you've got kids or bunk beds look into them, they're worth every single penny!!!
I wanted to keep the top bunk pretty simple because I knew if I had much up there it'd just always be a mess! I bought a nicer quilt for the bottom bunk and then opted to get this orange quilt from Target. It's a lot thinner but the quality is great and if you're looking to add color to the room, it's super affordable!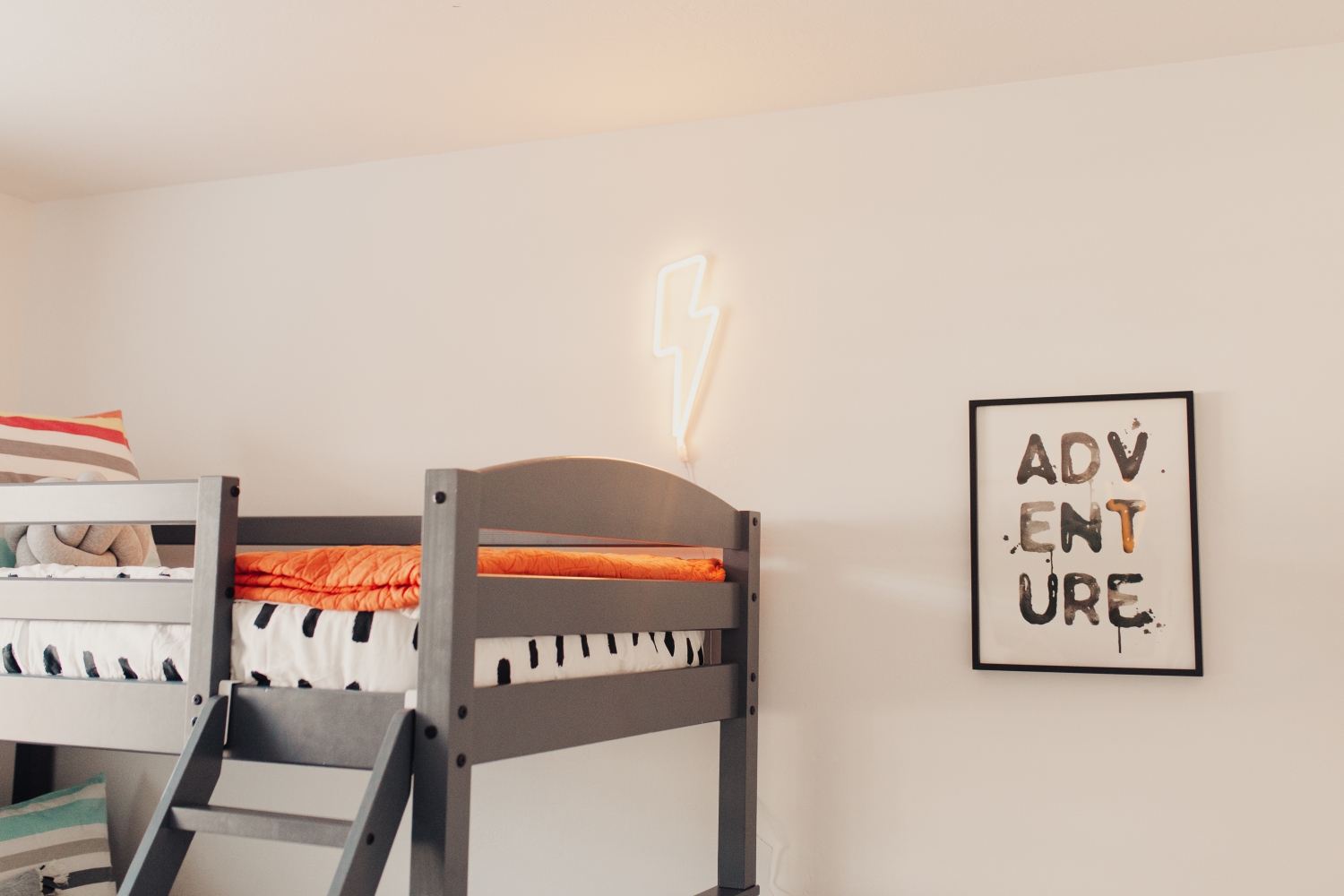 This little neon light has been a HUGE hit! Tana Hallows, the genius designer who helped me with my family room came over for a couple hours to help me finish styling things and hang everything up. She brought with her the lighting bolt and it's been perfect!! The boys think it's the coolest and even though it's a little bright for a night light, they use it as one anyway.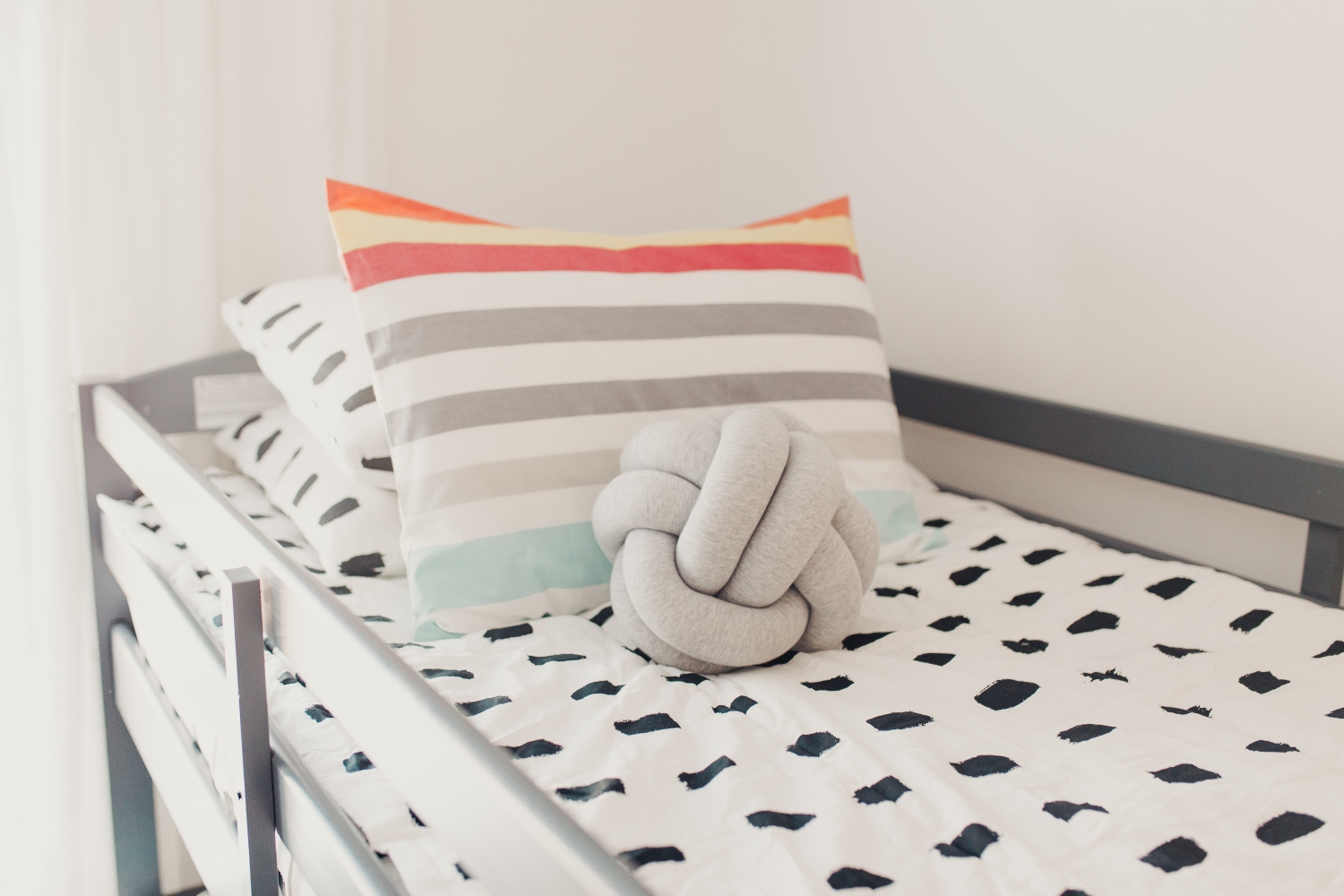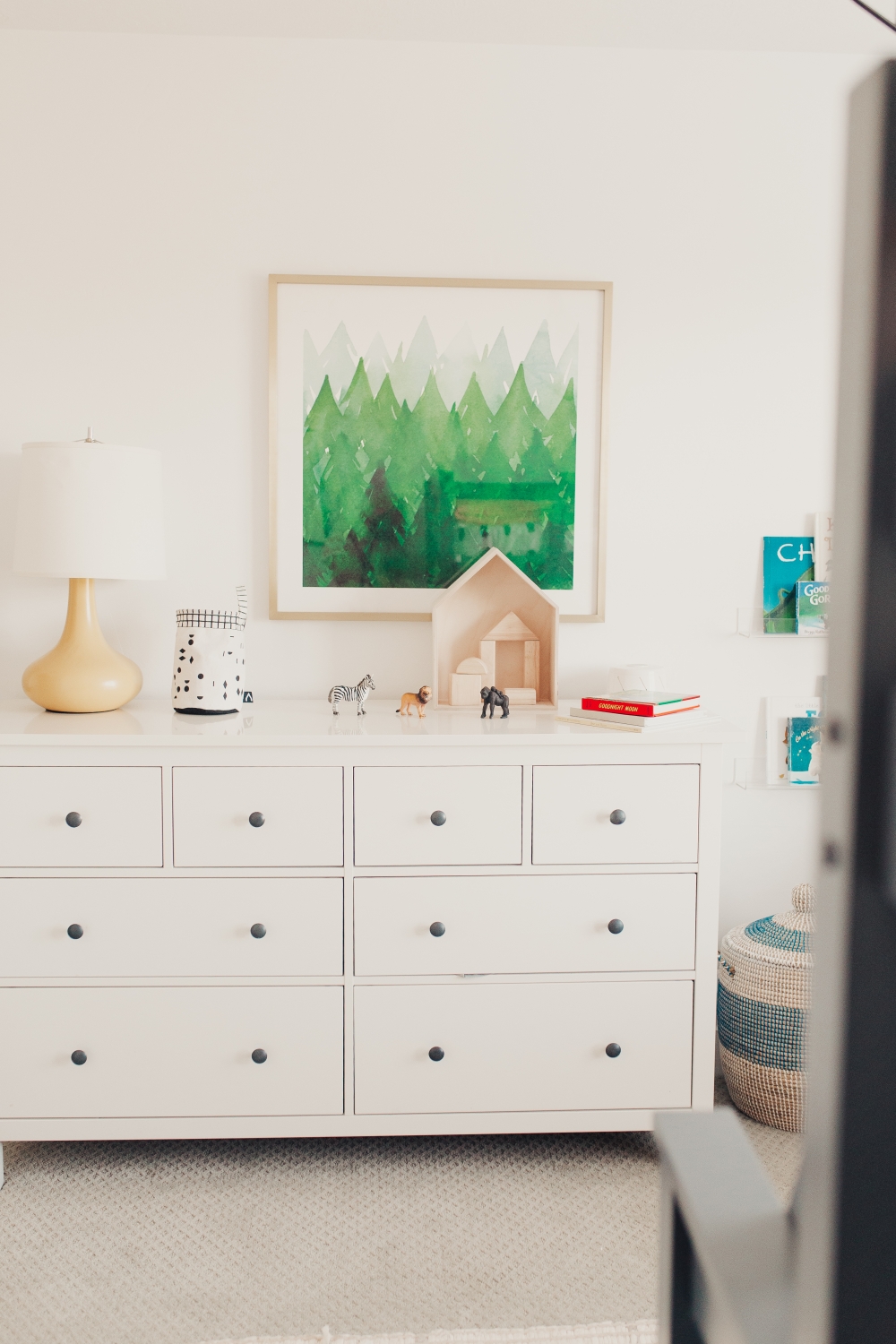 Ikea Dresser | Minted Forest Art | Yellow Lamp, old | Black and White Storage Basket | Wooden Blocks | Wooden House | Animals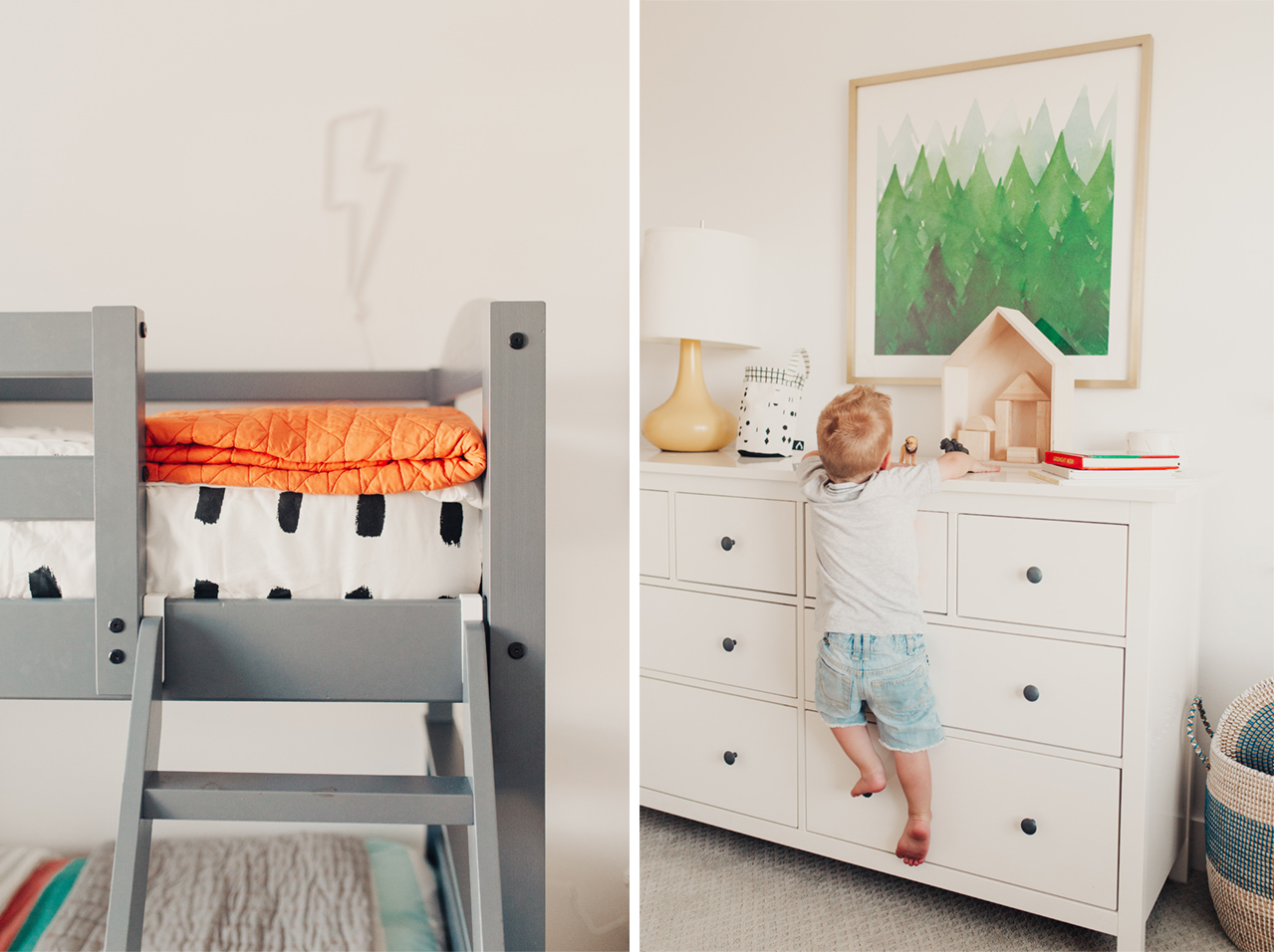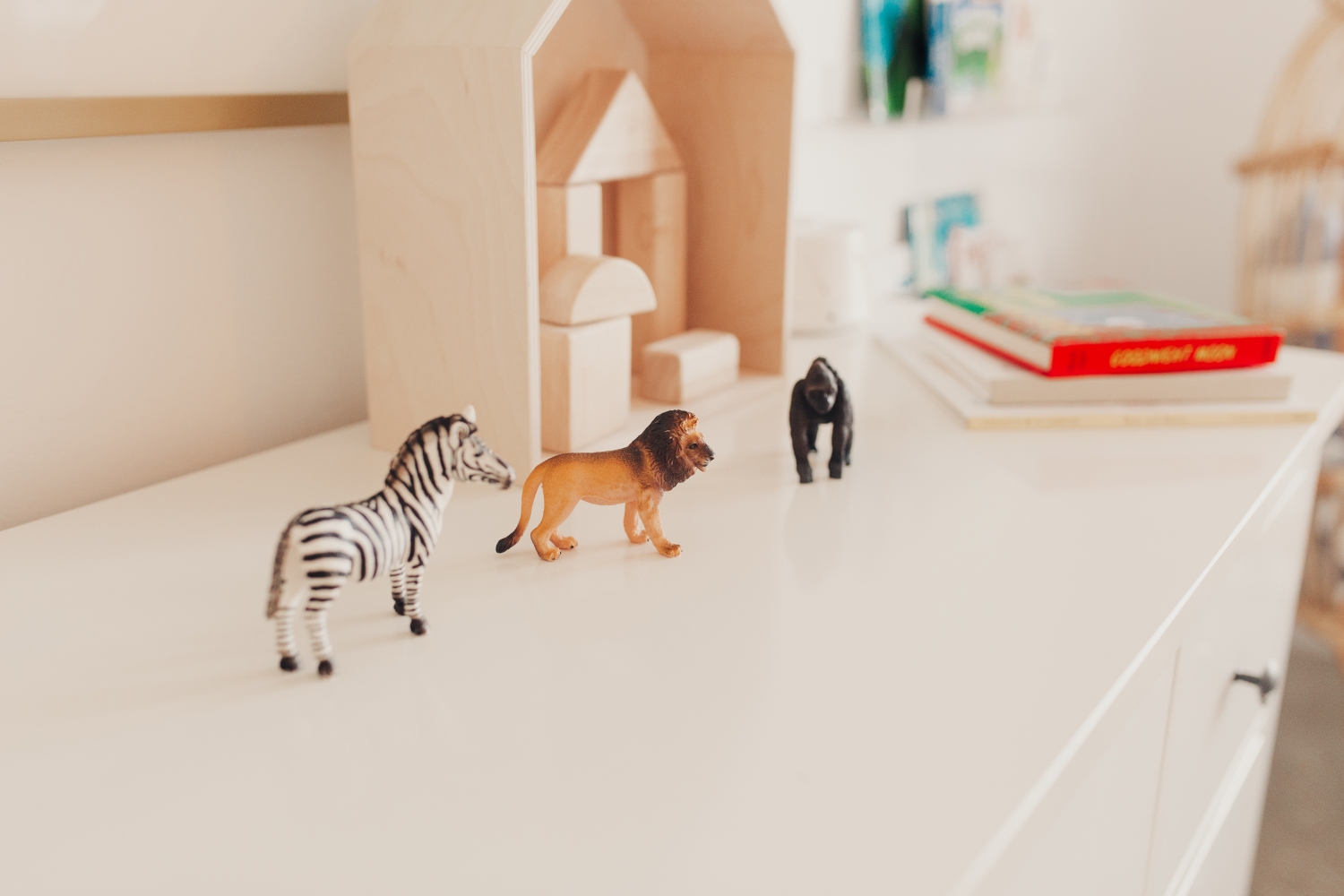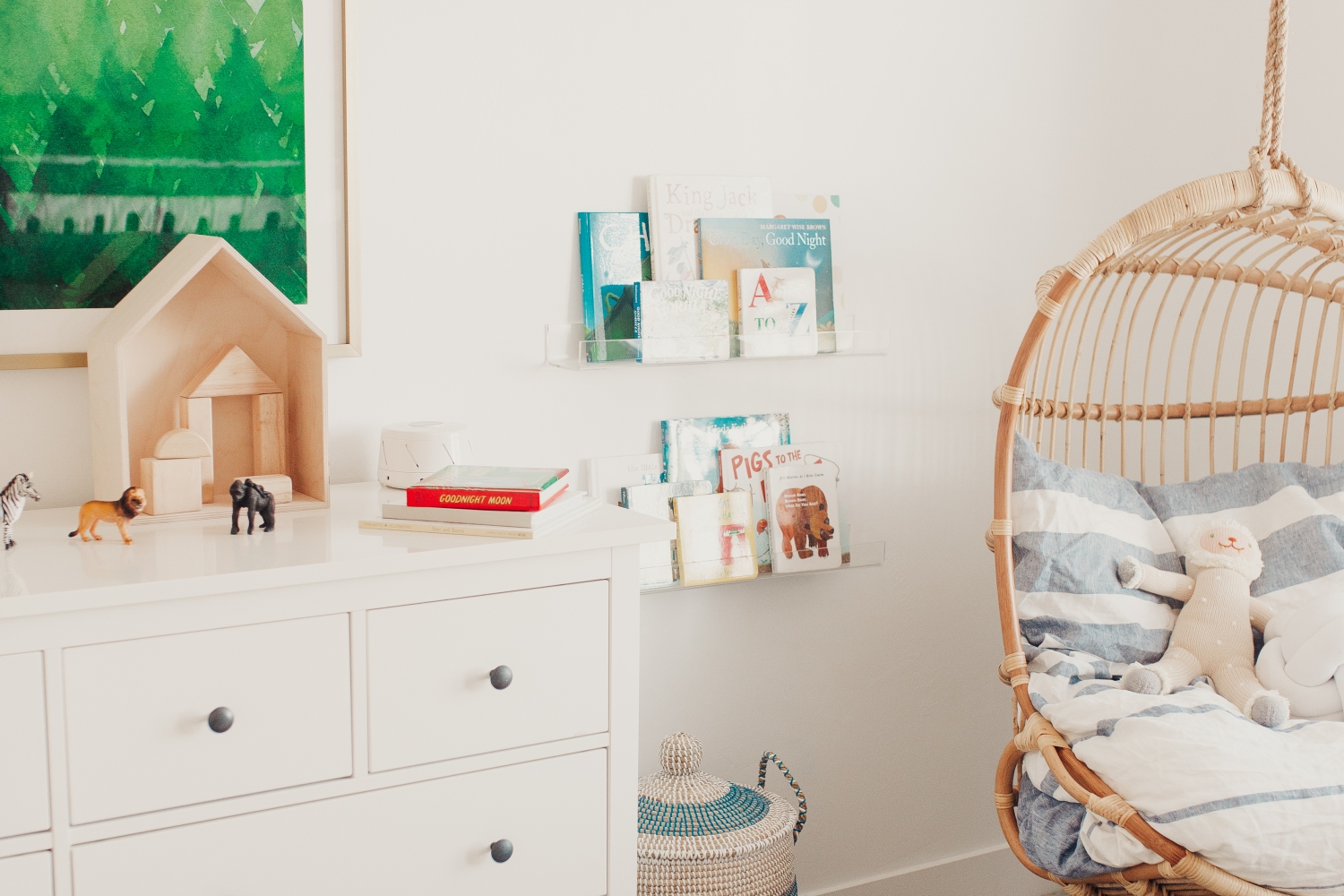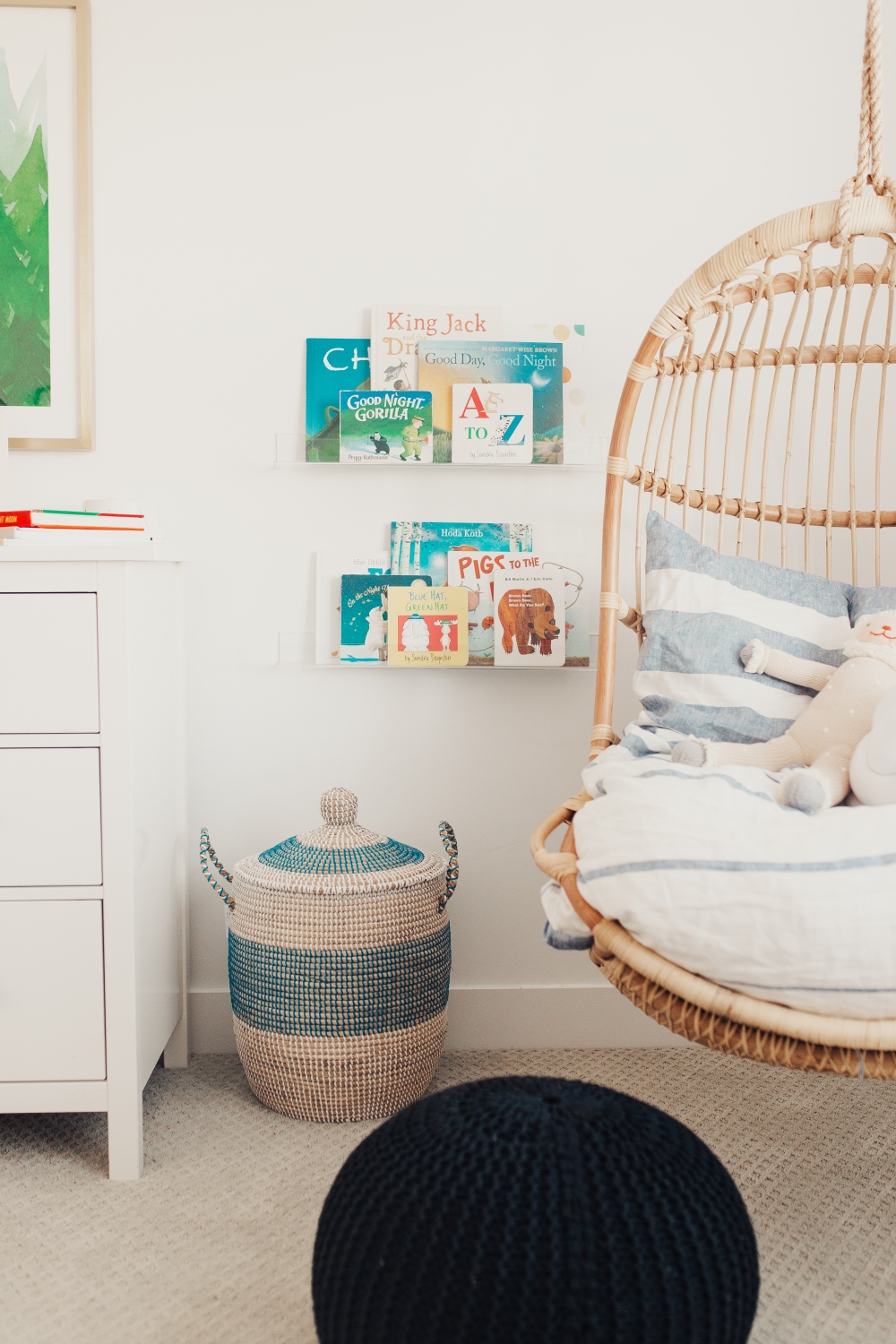 Rattan Swing | Throw Bed / Swing Pad | Black Pouf | La Jolla Striped Hamper | Acrylic Shelves
I've been a sucker for these Rattan Swings from Serena and Lilly ever since we installed one outside on our porch. I just love how whimsical they are and thought the boys would have so much fun reading together in one. We installed some acrylic shelves behind it to hold all their books and added a small La Jolla Basket underneath told hold special toys and stuffed animals. The swings aren't super plush, so I added a Hedgehouse Throw bed, have you guys ever seen these? THEY'RE AMAZING!!! We use them outside for picnics, I take them to my Mom's house with the kids sleep on the floor. They can be used camping or at the beach or outside under a tree to read on! The list goes on and on. They're just an instant cushion anywhere you go and they're machine washable. We love them and they make the perfect swing insert!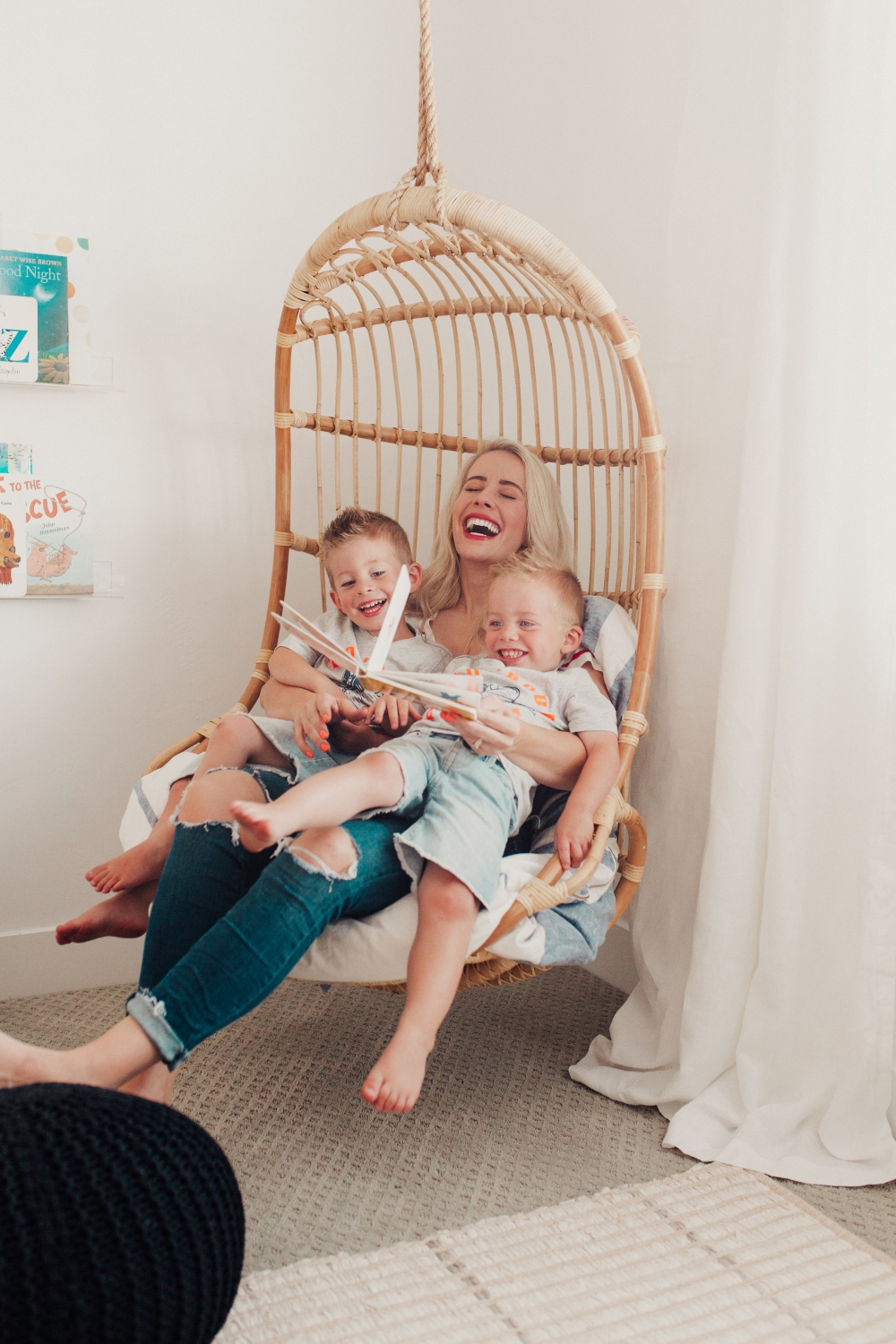 And yes, we totally fit. Every picture looked awkward because the boys are so big they basically cover my entire face, but we fit and it's honestly super comfortable to read them stories at night! We had to get it professionally hung, a contractor came and reinforced the ceiling up in our attic. So if you buy one, just know you'll most likely need to do some work on your ceiling before hanging it!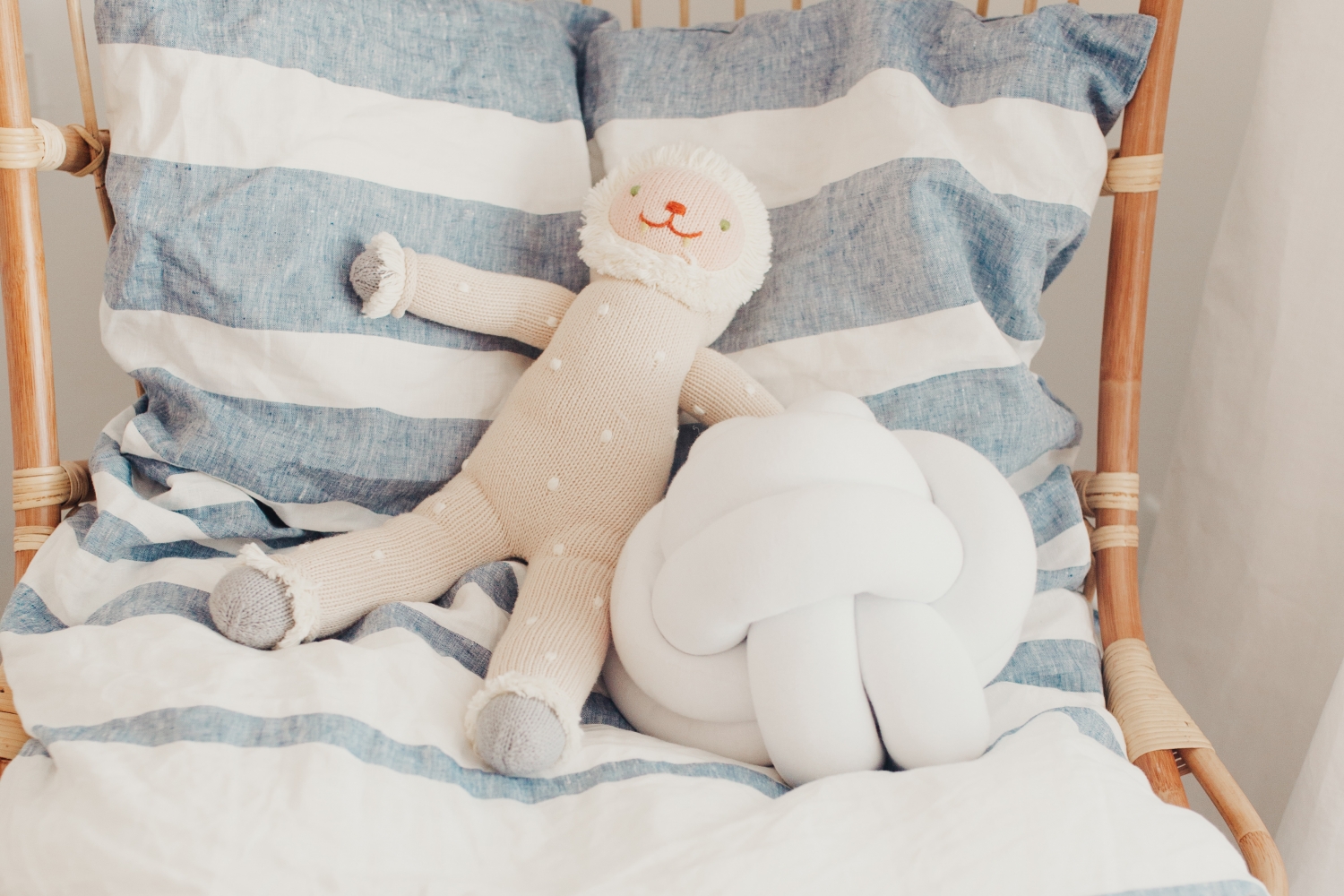 Our two favorite accessories are these Blah Blah dolls and the knot pillows which we have a few of downstairs in our family room. They're awesome and the kids love playing with them!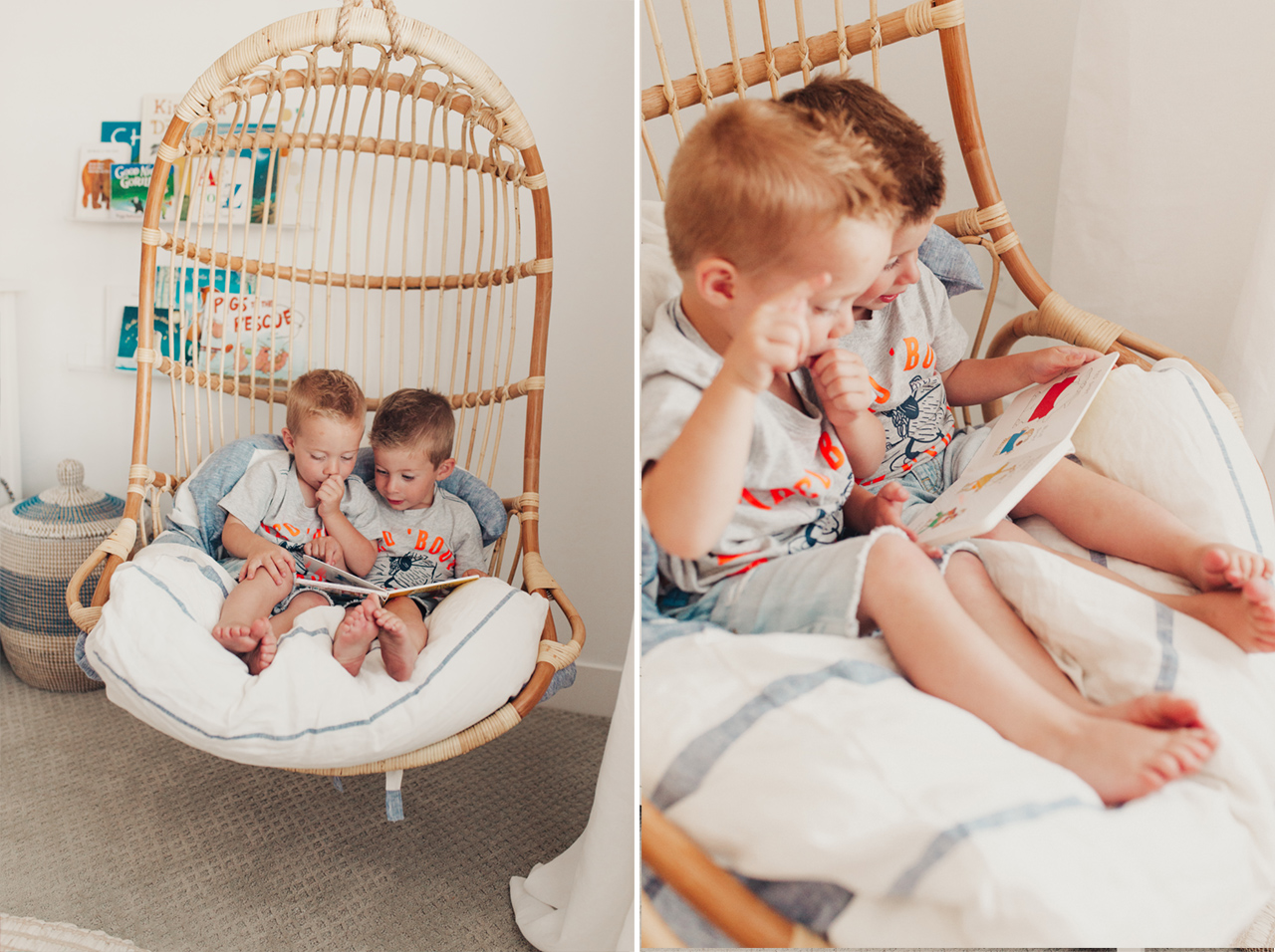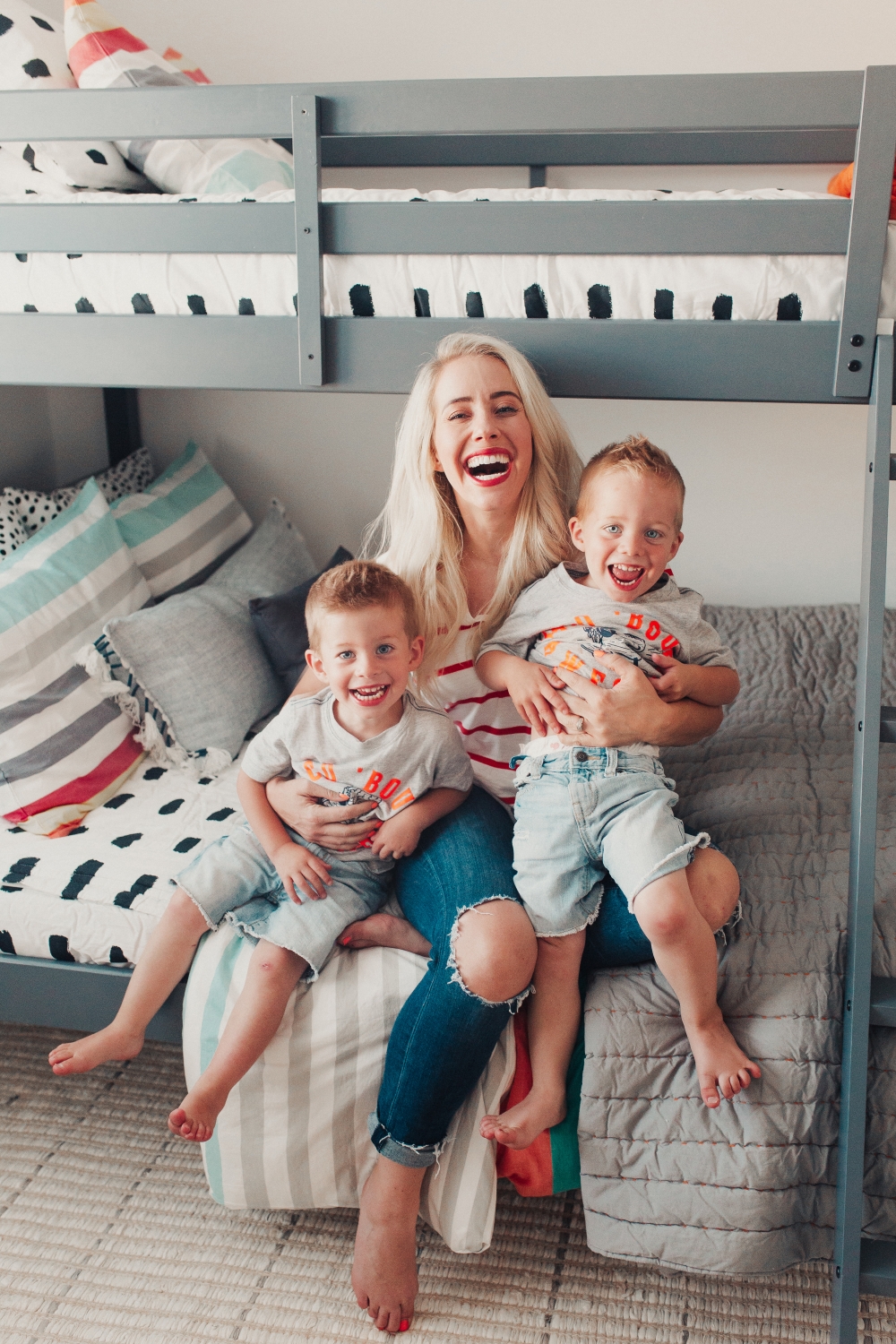 Boys shorts | Taco Shirts | Similar Tee | Similar Jeans
And that's it! Their new big boy bedroom!!! I'm heartbroken over them sleeping in big boy beds, I just want to bottle them up and keep them this size forever!!!! The excitement they have over this room though is just enough to make it worthwhile. If you want to see their nursery reveal, click here and a huge thank you to Dorel Living for inspiring me to put this space together! What do you guys think?