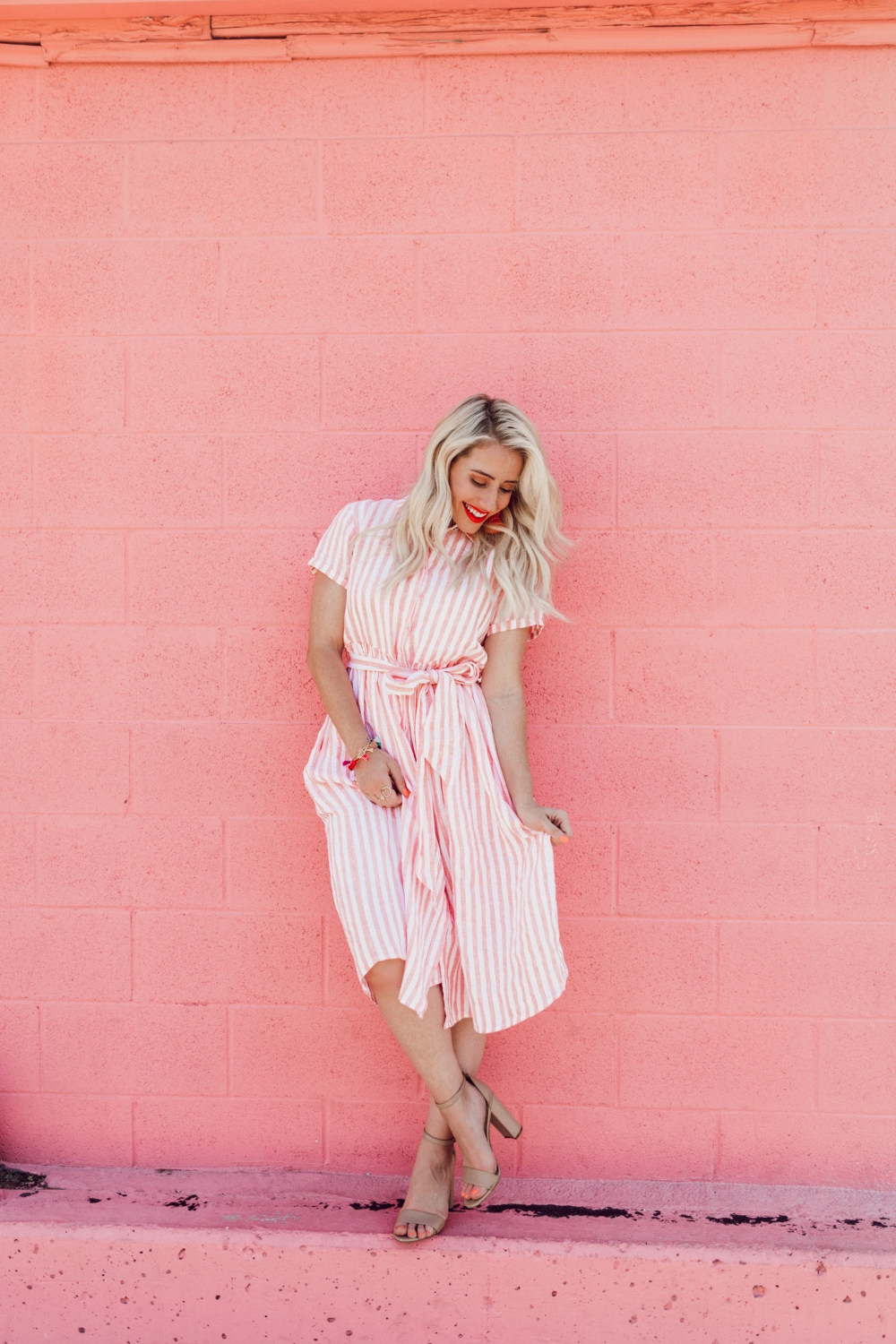 Hey babes!! Happy Thursday! I just finished putting the twins to sleep and am totally avoiding my laundry pile right now. Thought I'd go ahead and share this super cute linen dress I styled last week so I can claim I did something product today haha!!! Is there anything more charming than a summer linen dress?! Linen can be worn year round, but I'm generally drawn to it in the summer months because it's so light and airy + crazy comfortable. The weather outside has been suffocating me this week. I've wanted to go play with the kids at the park and go for walks in our new wagon but no thanks, it's 95 degrees by 10am.
Anyway, back to the linen dress. This is the Longport Linen Shirtdress from Anthropologie and it's basically perfect. It covers the knees, the vertical stripes and tie around the waist are so flattering and I'm obsessed with this color right now. It looks pink because of the bright pink wall behind it but if you go to Anthropologies website you'll see that it's more of a coral color. On top of all that, it's button up so it'd be nursing friendly if you've got a baby and I love how easy it is to dress up with a pair of heels or down with some flats and a cute hat!
Linen tends to be a bit oversized and baggy so this tie at the waist is perfect for giving it a pretty and flattering shape!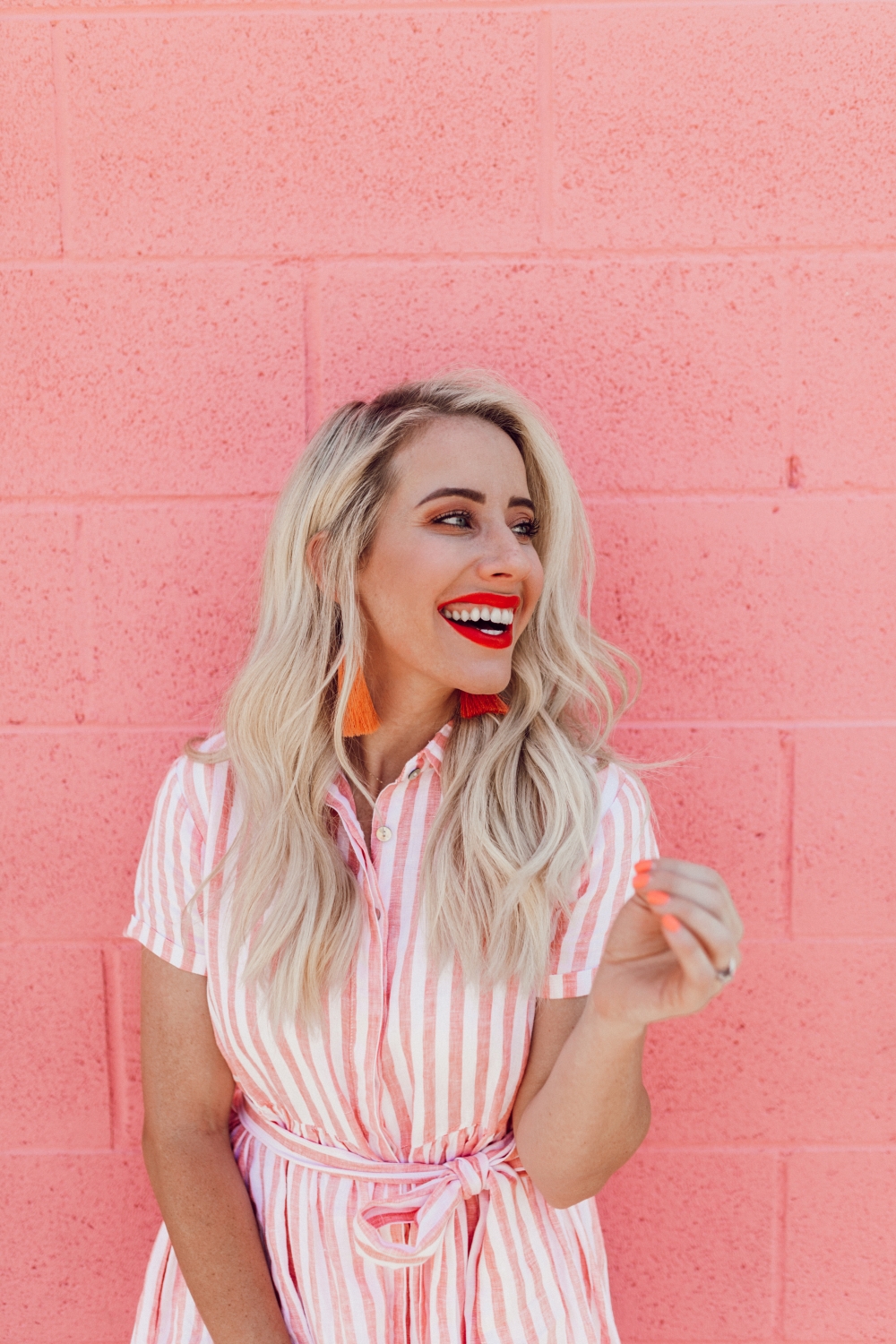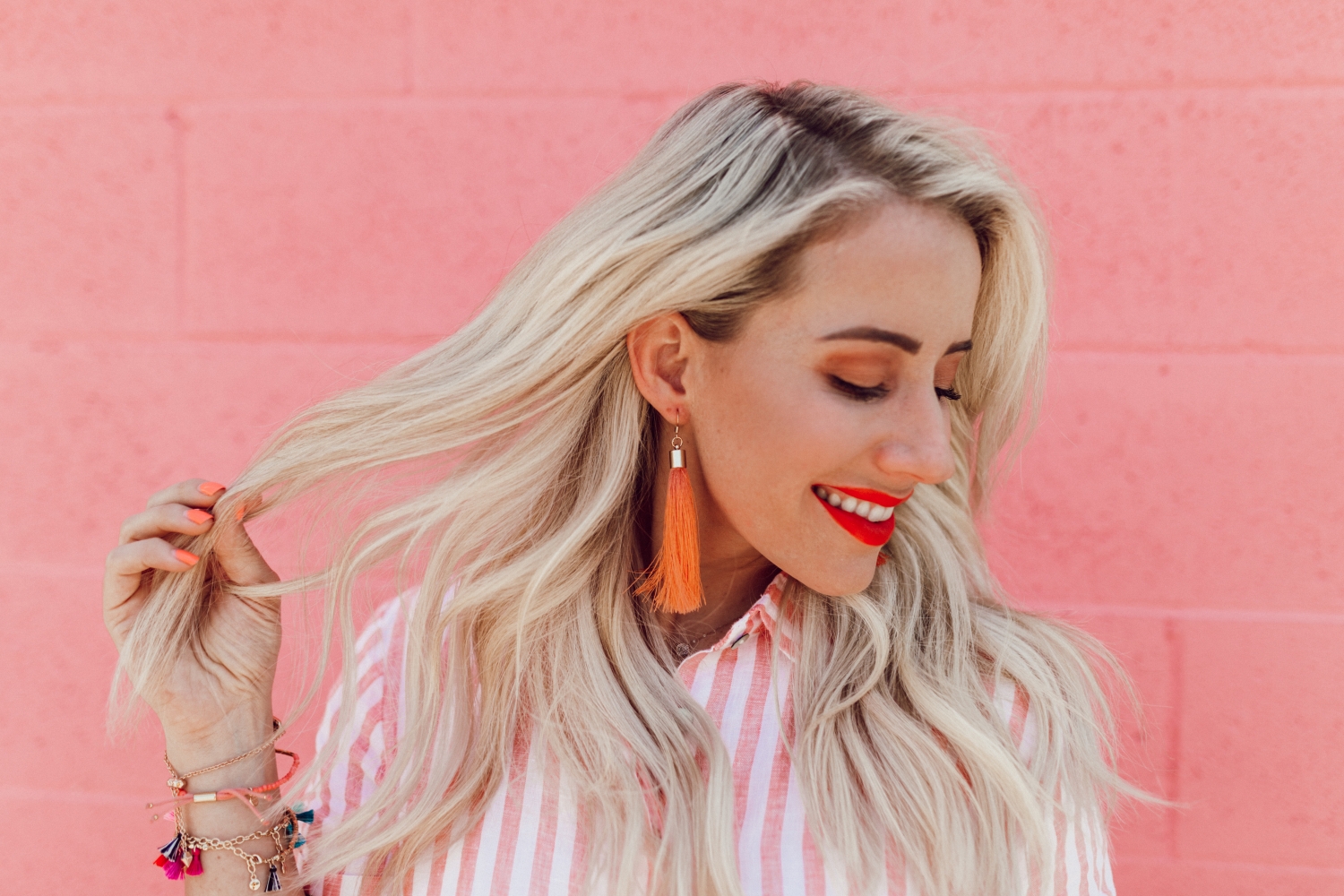 I don't usually wear earrings. My ears are so sensitive, even with expensive metals, that after a couple hours I've gotta take them out! I bought these tassel earrings from BaubleBar at Nordstrom regardless because my friend Bonnie had a pair that I couldn't stop thinking about!! I wanted them SO BAD! They're extremely light and super fun so I thought I'd add them to this colorful outfit, maybe endure church with them in or wear them to an event. I wish I could do more earrings but the metal just annoys my ear! The only hack that works is painting clear nail polish over the stem. Do you have sensitive ears? What works for you? These earrings are sold out but if you're a lover of earrings, I've found some similar that are so cute!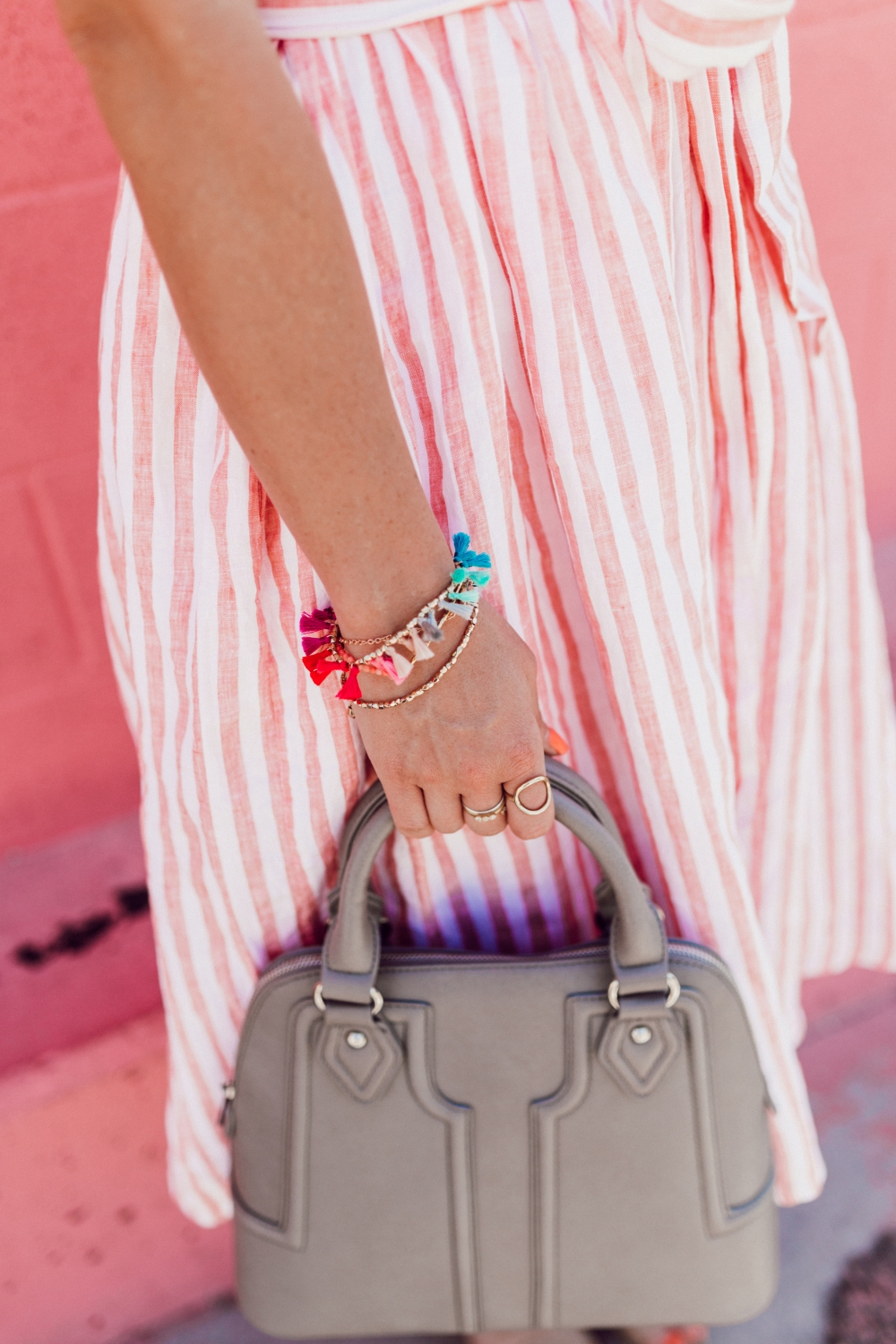 The bracelet and earrings are both Baublebar, I love there stuff so much! They've got some super cute and high quality jewelry at affordable prices.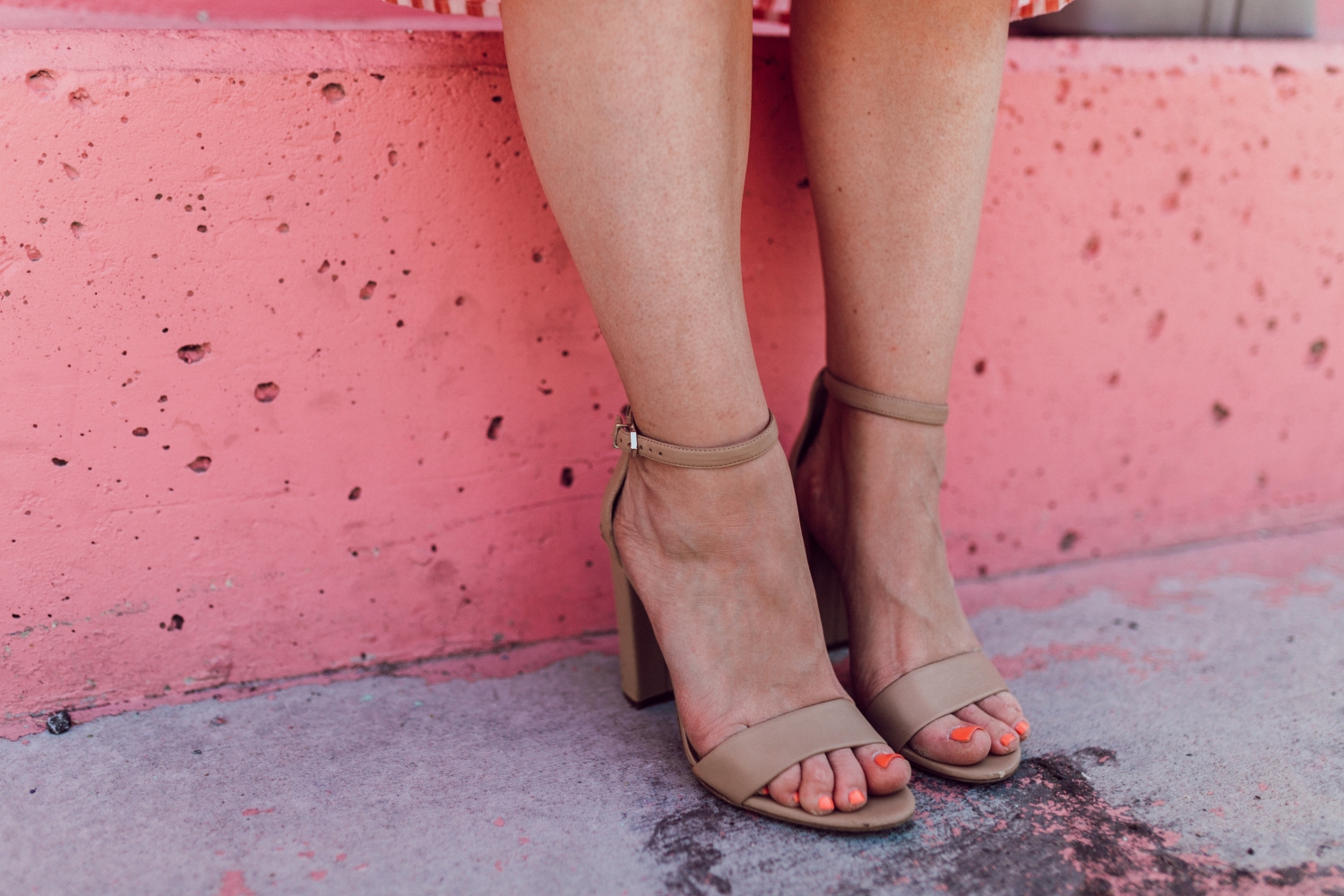 I've had these sandals for years now, you can see the wear on the toes where I tripped holding babies or just tripped because I'm clumsy haha!!! I think that a nude sandal like this is something you want to invest in because you'll wear them over and over, year after year. Sam Edelman is the master of the open-toe heeled sandal. I have never met a pair of Sam Edelman shoes that I didn't love!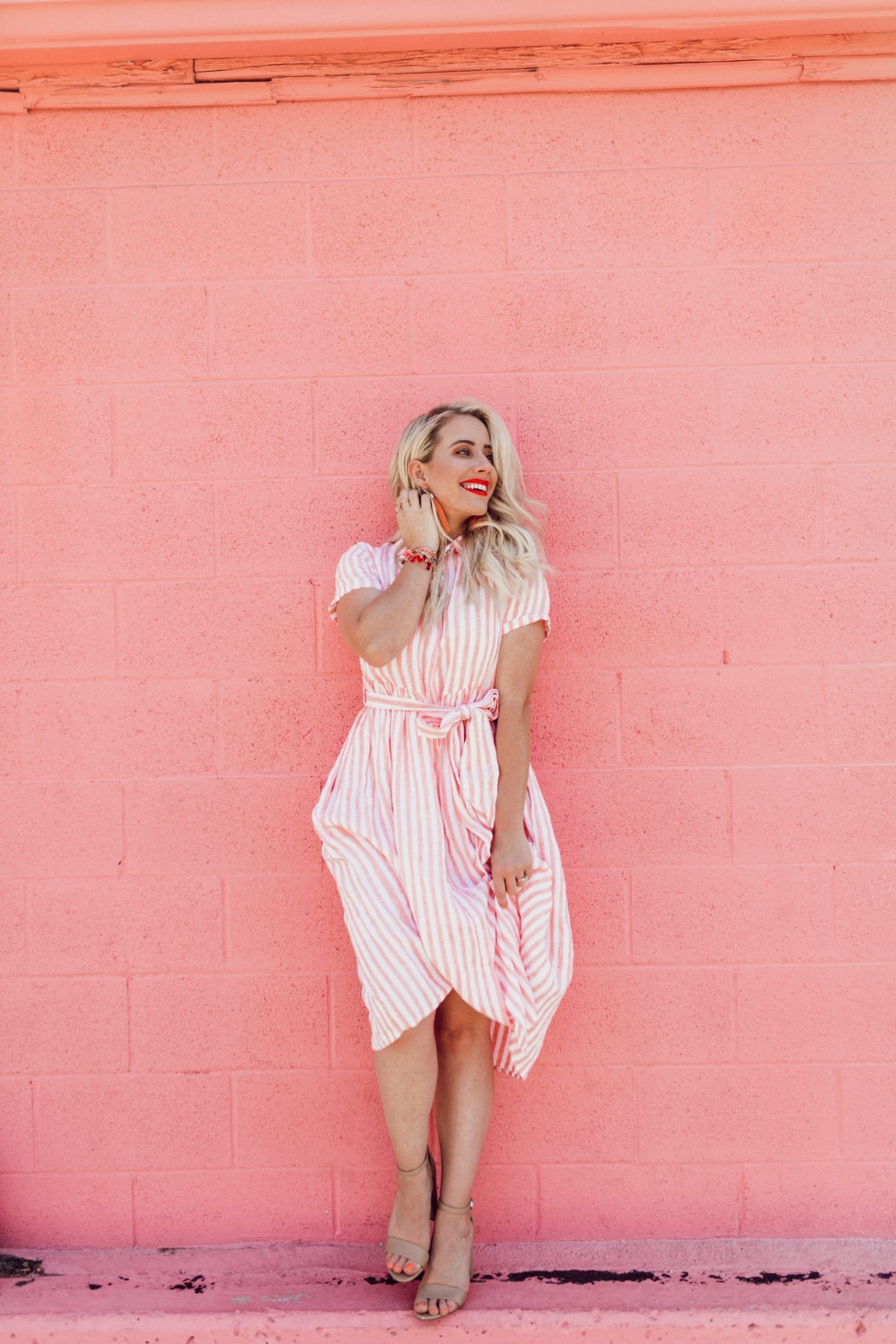 Pictures done by the one and only Jordi Jerae Photography – check her out if you're needing pictures!
So comfy, so easy, and so much fun! Dress it up or down and add a little color into your life, I promise you'll feel like a million bucks in this one!!
What are your favorite things to wear in the summertime to beat the heat?
xo