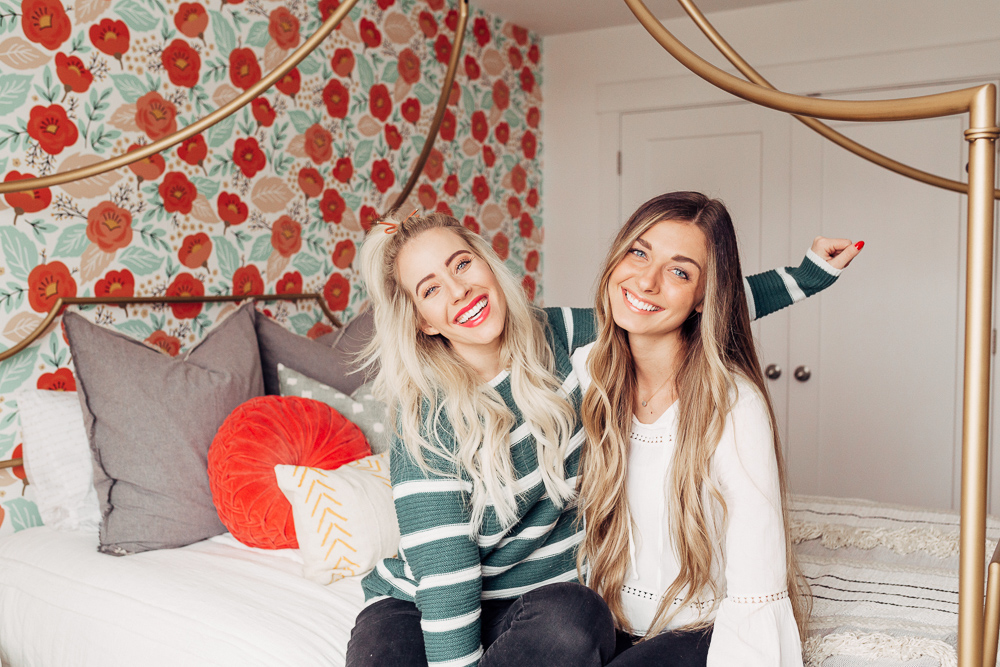 Why you should hire an interior designer.
Meet Kelsey. I found her on Instagram through some random hashtag I was looking through and come to find out she lives five minutes from my house! I almost didn't call her cause she has better hair than me but then I knew that was exactly why I should call her haha! JK her style was very similar to mine and I just connected with her stuff on the gram. We just finished our first project together, my daughters little girl room and I've just had the best experience. I've had a lot of experience decorating my own home and I've also had a lot of experience using designers. While it's fresh on my mind, I wanted to write this post and answer some questions I've been asked on why you should hire an interior designer and a couple tips in hiring the right one.
1. Save Money
Save money?? Um… Abby designers are expensive! You know what's expensive? Buying five different rugs because you can't figure out what size you need or what colors will work best and then having to return them all because NONE OF THEM WORKED!!!! On top of that you're spending four hundred hours scrolling through pages and pages of rugs. Do you buy the $1,000 rug or do you save on the $150 one? Do I put a gallery wall here, or a couple big pieces of art? Do I hang a Live Laugh Love sign… okay hahaha that's nonsense but you feel me?! I can't even tell you how many hours I've wasted trying to source product that would fit my space only to be disappointed in the long run because the size wasn't right or the colors didn't work. Designers cost money. This is true. BUT. They will also save you money in the long run and make the entire process so much fun!
If you're on a budget, find someone who has just graduated! Check out their instagram page, like I did with Kelsey, and if you like their style, if you vibe with what they're puttin' down, chances are they just need your canvas to create something beautiful on. Check references, ask for a portfolio. Most designers will have one. The point is you don't need to spend the big bucks on famous designers who cost a fortune.
2. They are better at sourcing product than you
I find a ton of cute crap on Pinterest. Literally SO MUCH CUTE CRAP!!! Have you ever tried sourcing any of it, though? It's nearly impossible! And when I finally find a look alike to whatever it is I'm looking for, it's approximately $4,000 outside my budget. Designers are PROS at sourcing! They also get discounts and special wholesale pricing PLUS they're connected. One of my favorite designers, Tana Hallows helped me find the contractor who helped us with this incredible renovation and helped me through all the hard things that come with adding new windows and walls and fireplaces!
3. Mood Boards!!!
One thing I love so much about working with a designer is they typically use software that helps them scale the space and furniture they're putting in the room. You can see in this very un-staged 😂 picture below the mood board Kelsey made for Savy's room.
We played around with the mood board until it was just perfect and then she helped me see the scale of what we were ordering by drawings like these below. I was questioning what rug size to buy here…
I could see clearly her vision and knew exactly what products I wanted to splurge on and which ones I wanted to save. I was fine splurging on the bed frame, the mattress, the rug and the drapes. Those are things I never ever want to change again and while statement pieces, they're all fairly neutral and over the years we can swap out bedding and pillows and artwork to fit her personal style. I also didn't want to spend much on the dresser because she has a really large closet. In the future she might prefer a real vanity or desk for school and so I prioritized our budget on the pieces I knew would stay in her room forever.
Peace of mind always comes with mood boards! Let a designer mock one up for you, help you with the scale of things and then help you choose where to spend your budget. Which brings me to …
4. Will keep you on budget
It's a designers job to help you stay within your budget. Do you know how many late night splurges I've made on my own with zero plan?! Late night online shopping — THE STRUGGLE IS REAL! But when I have a designer, I don't click through all the pages at Pottery Barn and get overwhelmed with all the cute things. I know I have a plan and that I need to check with my designer first before ordering anything. You might spend a couple hundred dollars on a designer, or even a couple thousand depending on what you're hiring them for, but they'll earn it back for you I promise. Each designer charges differently and there are so many different services. From mood boards all the way to new construction. So look around! I've had great success finding designers from Instagram and if you need a reference for Kelsey from Alika Design, she's got all the kind words a person can say from me.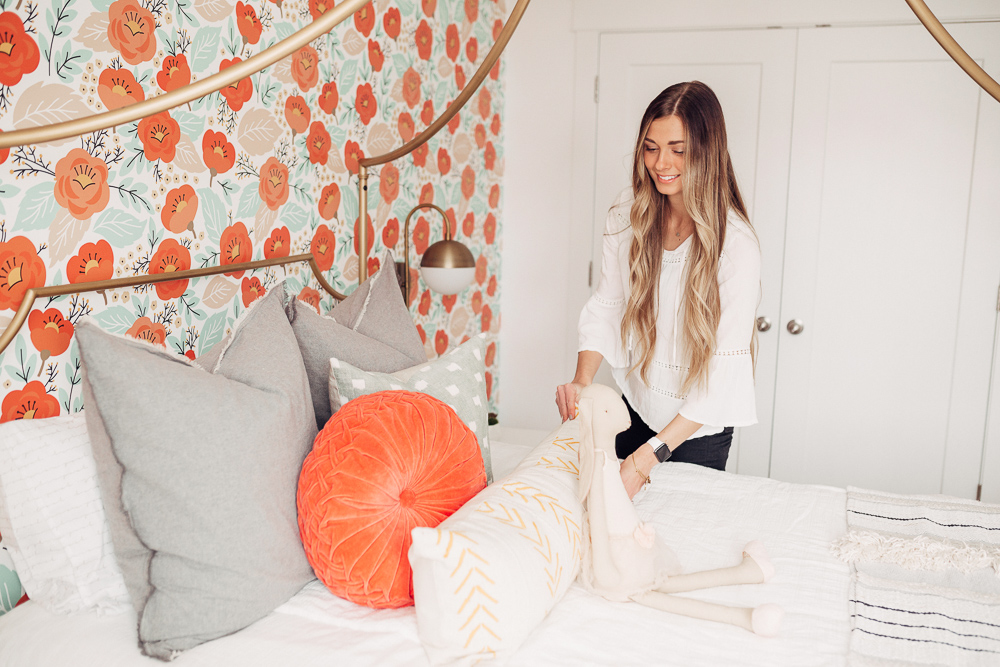 5. Will help you finish the project
How many unfinished rooms do you have in your house right now?! That was me. It still is me. Although we are making progress!! I just didn't know how to ever finish a room or where to put the decorations and I was always second guessing a dresser or rug. When I started working with designers, they helped me finish the rooms!! They have a clear vision and are motivated in seeing the final result! So check off those rooms already, get some help!!
If you have everything finished except the little decorations and/or artwork, a designer can help you with just that too! My master bedroom for example. Last year during black Friday I purchased a new desk, dresser and nightstands. Everything came and I loved all of it!! I couldn't ever finish the room though, unsure of window treatments, artwork and decorations. So Kelsey has come in and we're finishing that room up with just a few pieces!
6. A beautiful end result
I've never been unhappy using a designer. They give me gorgeous mood boards that inspire my style and get me excited to start/finish a project. They help me source things so I don't have to spend hours I don't have scrolling through pages and pages of product. They have so many amazing ideas and connections and put the most gorgeous details I'd never think of in a space. I like to over style things. I don't mean to! It's just the way I am. I had figured everything except the artwork and decor for my twins' bedroom. I got that far and then was stumped by all the decorations I had purchased. I called Tana and she came to my rescue. She spent a couple hours taking so much stuff out of the room. I had definitely tried to over style it and she came in and saw the space for what it could be. It's one of my favorite rooms to date!
So there ya have it. My top 6 reasons why you should hire an interior designer. Have you ever worked with an interior designer? Were you happy with the end result? I'd love to hear your thoughts!! If you want to catch up on a few rooms, you can find my family room reveal here, my kitchen + dining room reveal here, the twins' room reveal here, their nursery here, Savy's room here and we are installing my little boy Boston's room next week. I AM SO EXCITED!!!