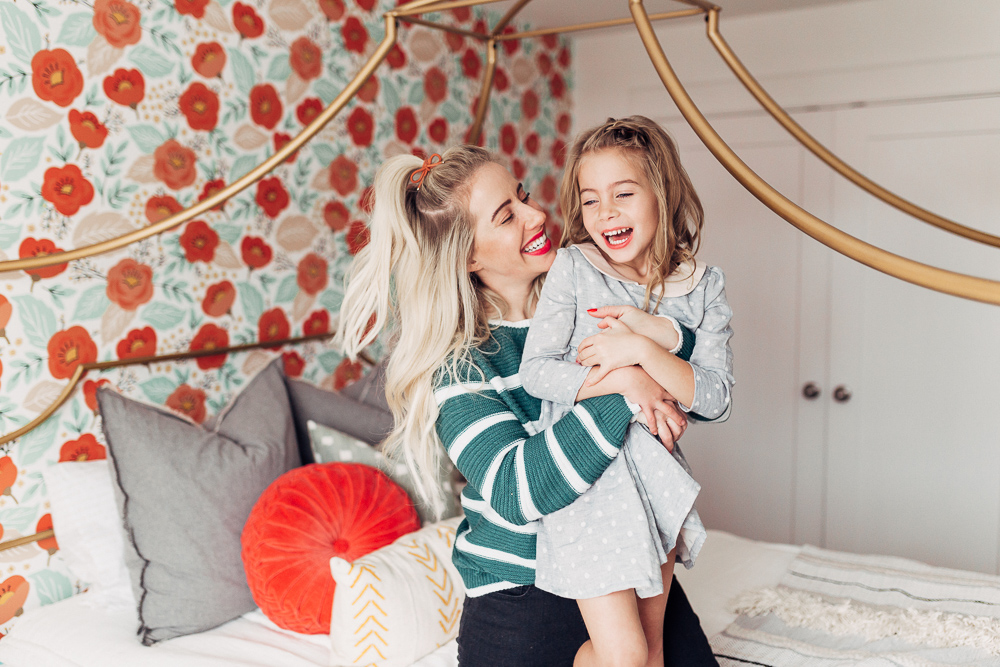 IT'S FINALLY FINISHED!!! Welcome to Savy Jane's new bedroom!! I've literally been waiting her whole life to be able to give her a girlie sanctuary, away from her smelly brothers and bland neutral colors haha! When the space finally opened up I wanted to go all out and that's exactly what we did. Keep reading to see how we styled this adorable little girls room.
little girls room reveal:
First of all, Kelsey from Alika Designs. Look her up — she's AMAZING. I'm going to share more on the design process tomorrow but this is her brain child. I tried sourcing products for weeks and weeks and was just overwhelmed. I couldn't put anything cohesive together to save my life! I reached out to Kelsey and in less than a week she had the entire space planned and had done all the shopping. It was amazing. A-M-A-Z-I-N-G.
Wallpaper –
The room was inspired by this floral Wallpaper from Walls Need Love. Isn't it adorable?! I have an entire tutorial – click here – on just how easy it was to install. In case you need to spruce up your little girls room or any other room in the house for that matter, check them out! It's removable too so if you rent or don't want to commit to paint, it's the perfect option.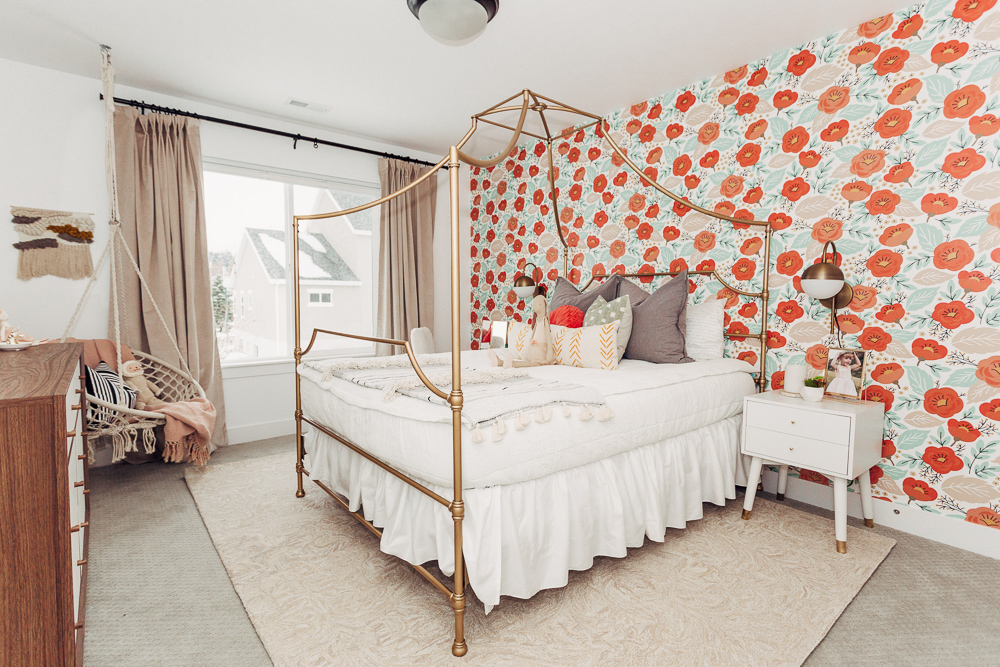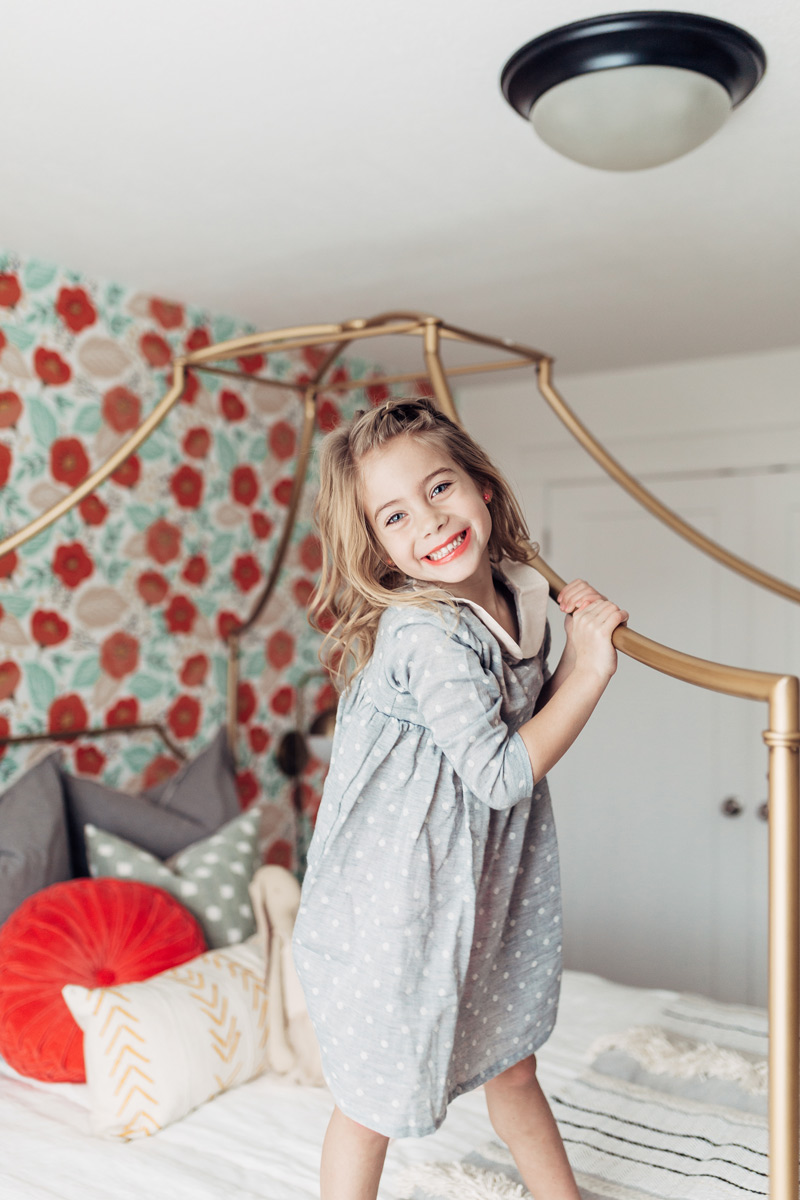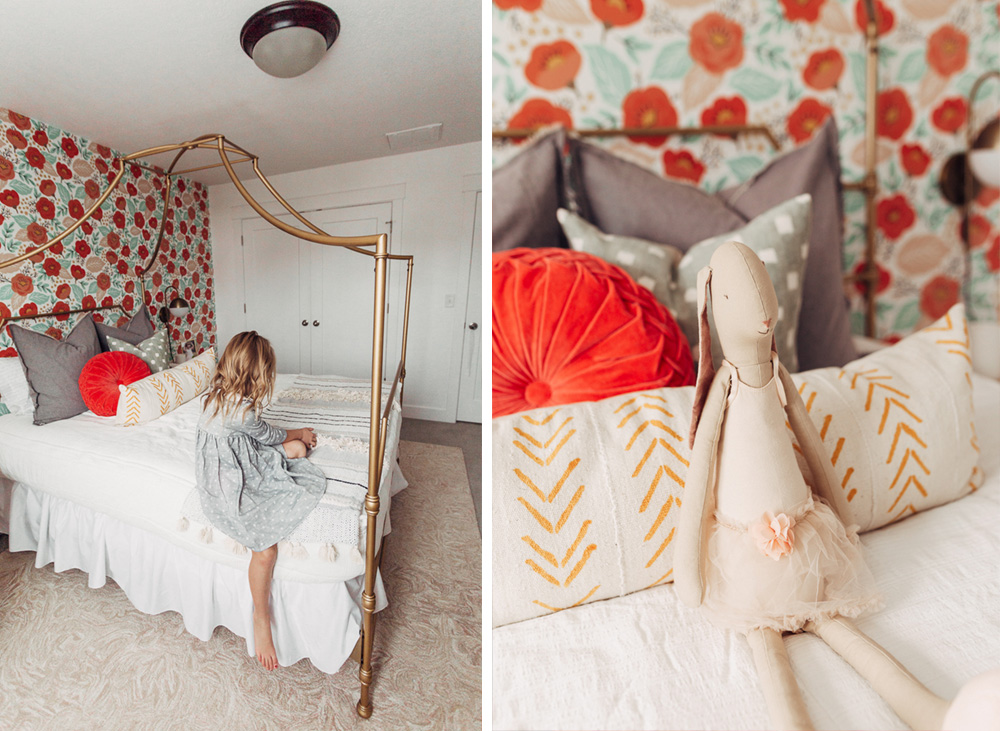 The Canopy Bed.
Insert singing angels here. It's so bright and colorful but also very glam with all the bronze accents and blush velvet drapes. You need drapes? My girl Christin from Frosting Home Decor can literally hook you up with whatever your heart desires.
When I started working on Savy's room I asked her what she wanted most. She said, "Mom. I must have a princess bed. I want it to be tall and have sheets on it so I can close it up and night be feel so fancy!" I told Kelsey of our conversation and she showed me this amazing canopy bed from Pottery Barn teen. I JUST ABOUT DIED. Go look through some of the ways they've styled it — we're going to have so much fun playing with this bed! While it doesn't have sheets haha, we're already added twinkle lights to the frame and she absolutely feels the fanciest! This looks adorable in her little girls room but it would also be style so cute for your fancy teenager too!
For the mattress, I went with my beloved Purple. I've talked a lot over the years about my undying love for our purple mattress. My mother-in-law bought one for our room at their house and when we moved into our new house I had to upgrade. We chose queen beds for Boston and Savy because when they get married I don't want to have to upgrade! I know I know, I'm already thinking about them getting married haha NONETHELESS I felt like if we were going to spend money on a new mattress we might as well them my favorite. I don't want to make this post all about the mattress but if you're looking for a new mattress know that the Purple comes HIGHLY recommend from us and you can learn more about them here!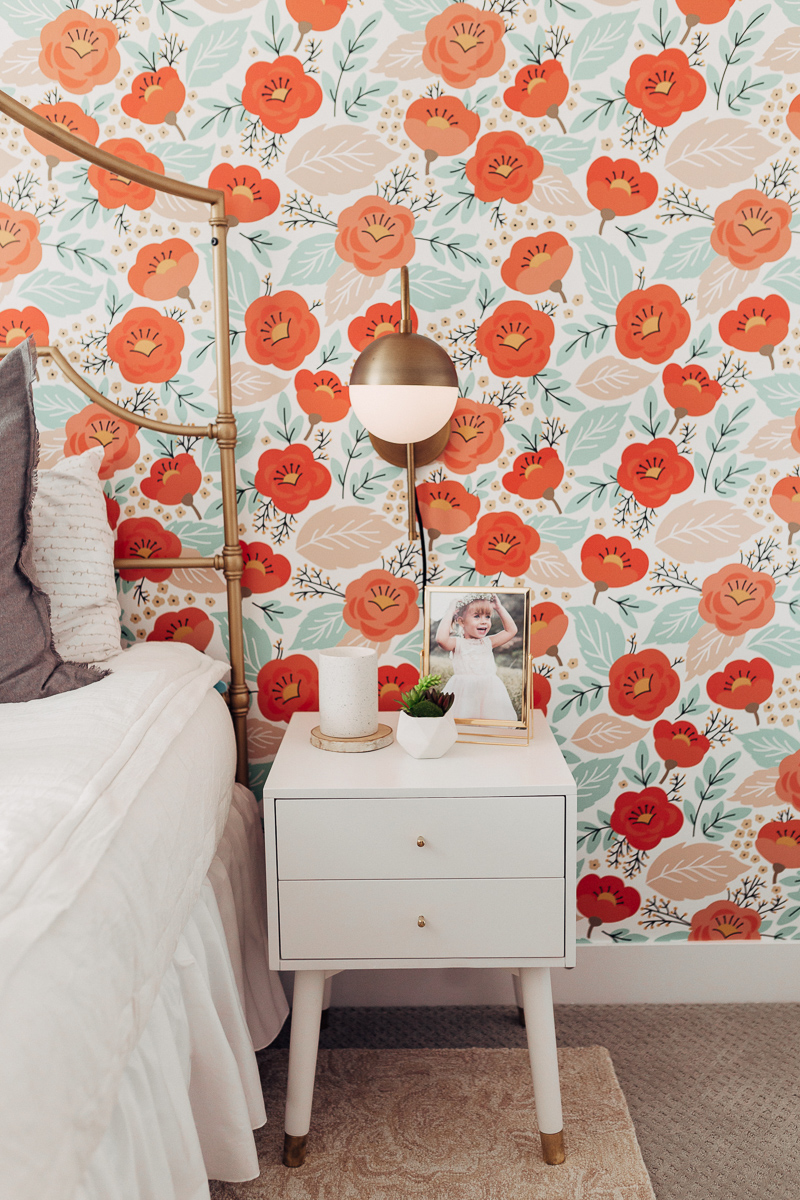 Chic Nightstands.
Onto the nightstands! If you notice, the nightstands are not the same and the pillows (aside from the shams) are not symmetrical. I LOVE IT!!! Never in a million years could I have pulled off doing something like that on my own. The nightstand on the right has all her little journals and books and then the nightstand on left is her little "vanity". It's really just a pretend vanity because she doesn't wear makeup yet but she adore this space and I let her keep out a couple appropriate lip glosses.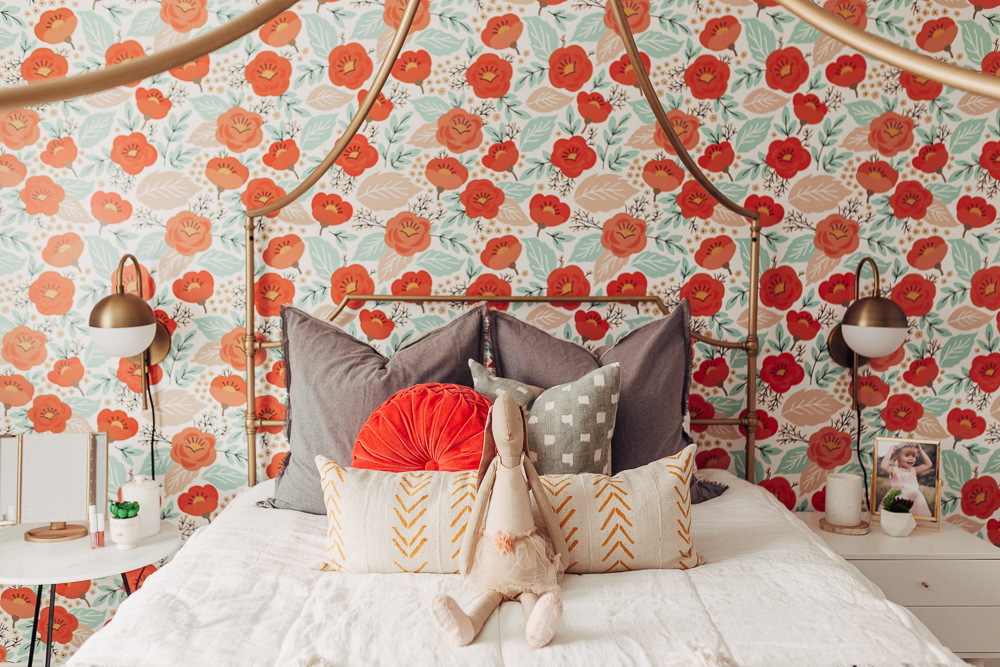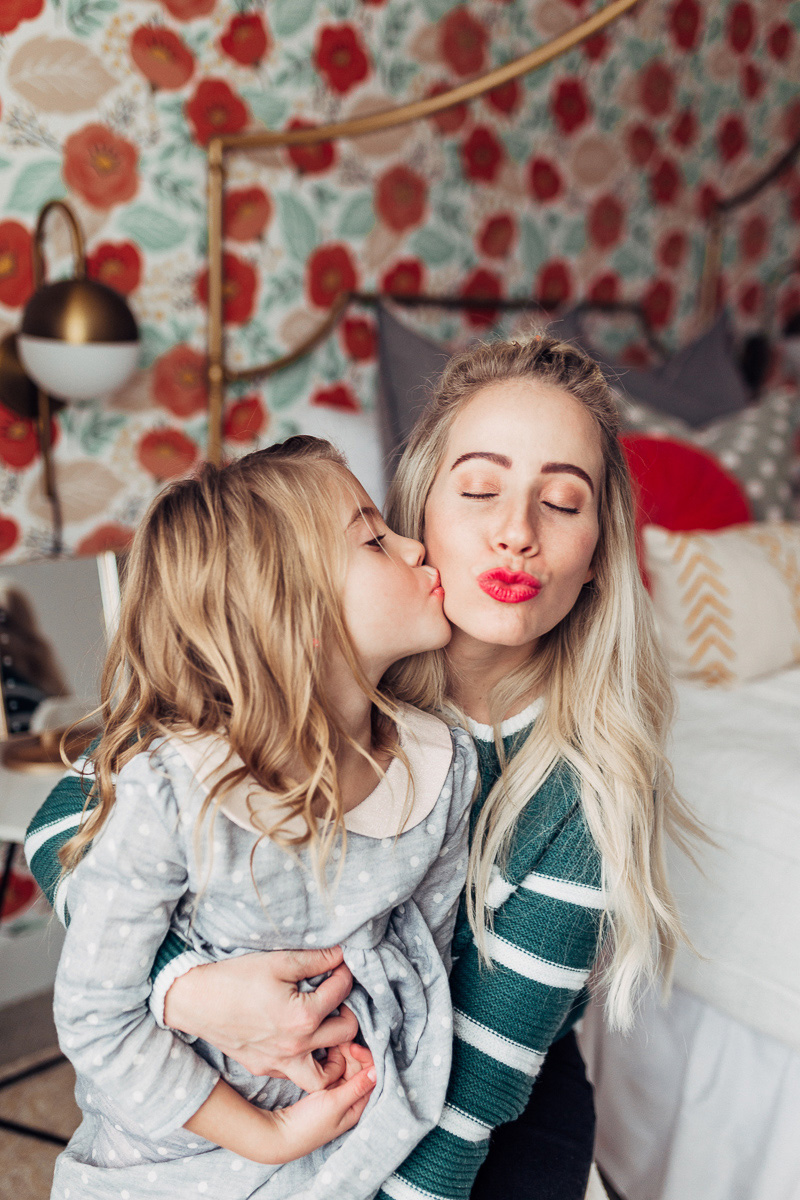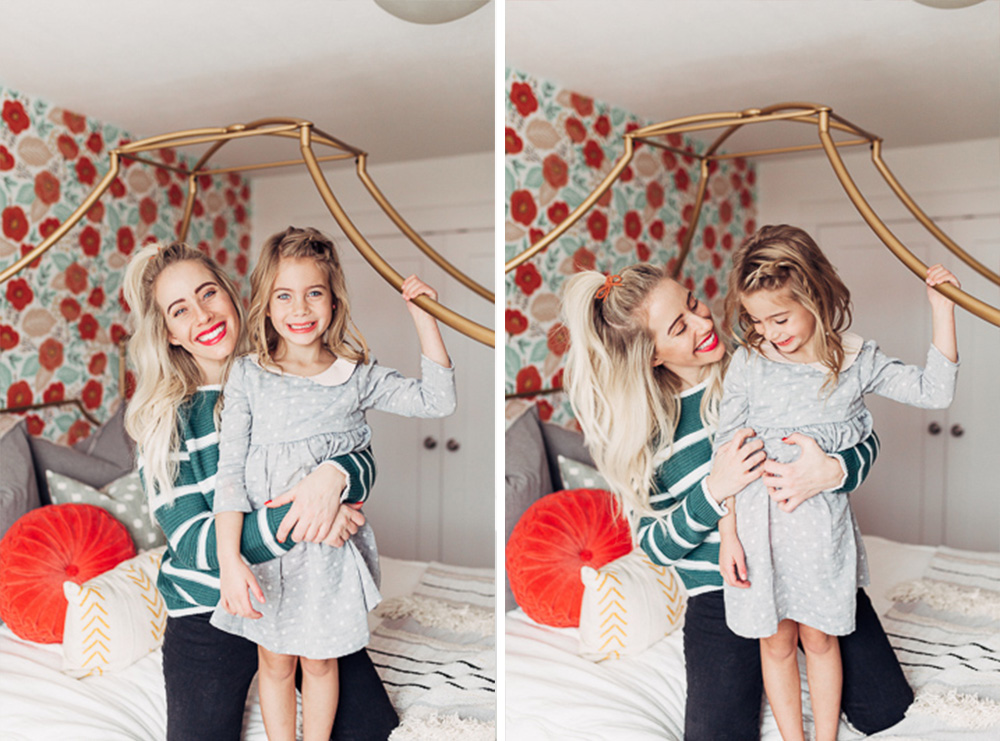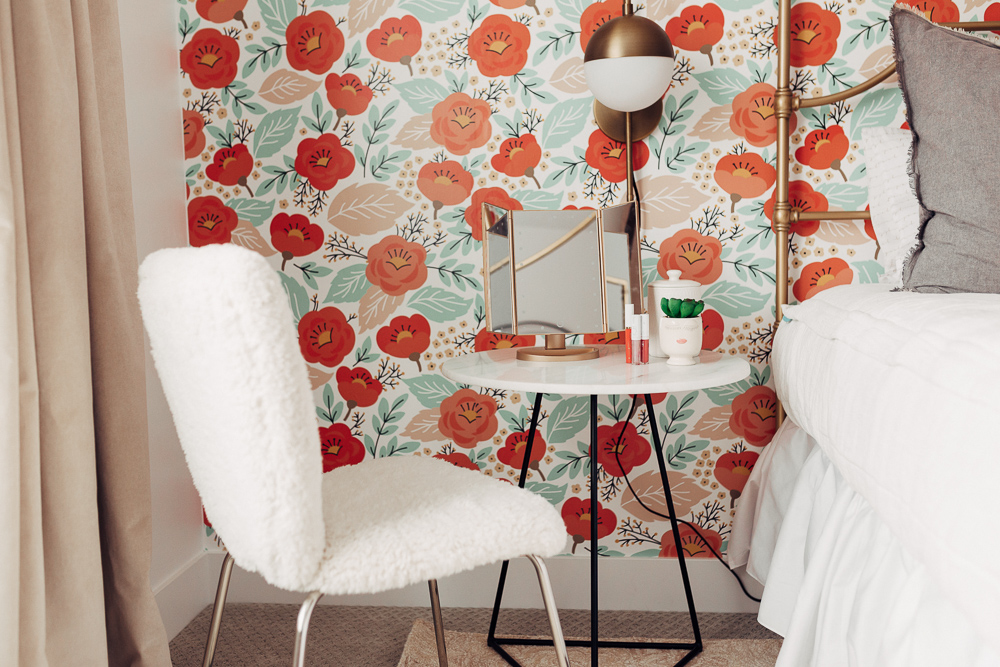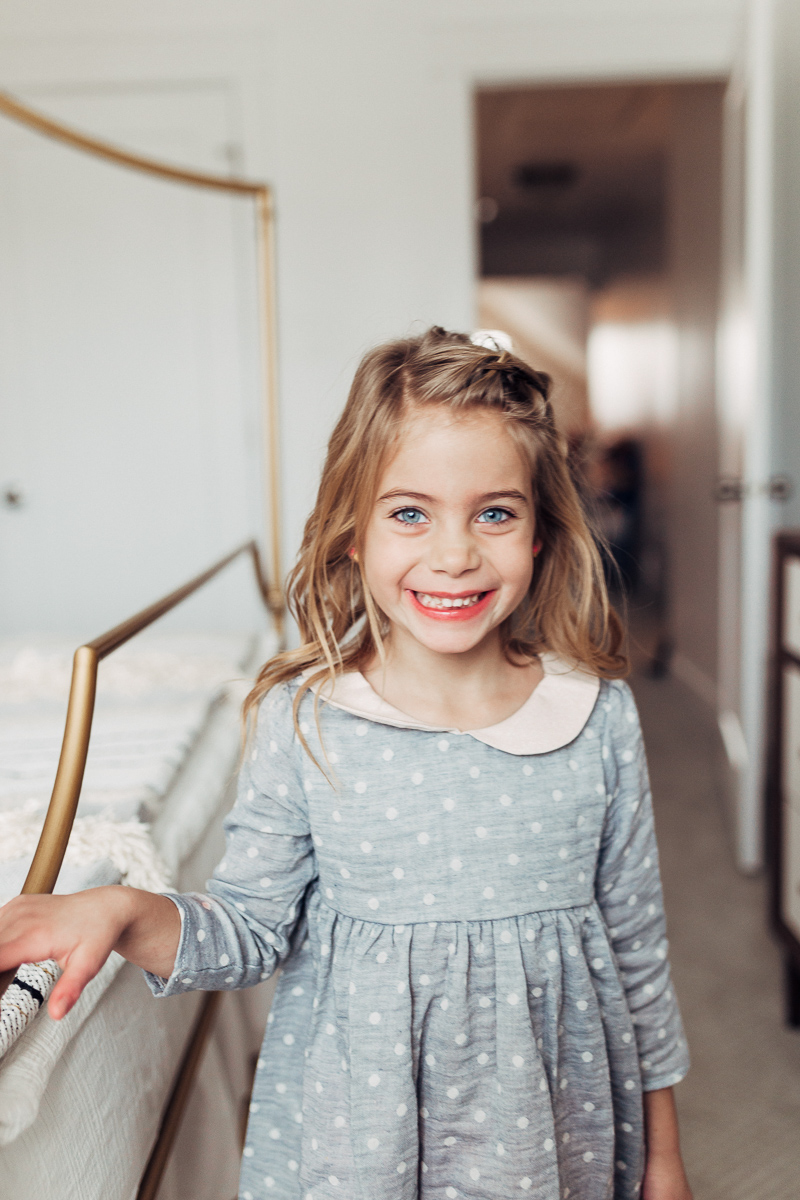 I wanted to keep her room a secret and totally surprise her. She walked in on the wallpaper after we'd installed it but the rest ended up being a total surprise. You can't fake a smile like that — she was so so excited! Oh and btw her adorable little dress is from Dotti. Cutest shop ever!
Velvet Drapes.
Now we're turning around to the drapes. THE DRAPES. A room becomes finished when it finally has window treatments and these are quite literally the prettiest little things on the planet. My friend Christin from Frosting Home Decor made them — she can custom ANYTHING for you. If you need drapes, pillows, whatever it is she's your girl. These drapes a blush VELVET with a black out liner cause Christin knows the morning struggle is real! You've gotta have something that blocks the light out in a little girls room. Kelsey wanted to add some luxe vibes into the room and no matter what her style is in the future, these are going to be so gorgeous forever and always.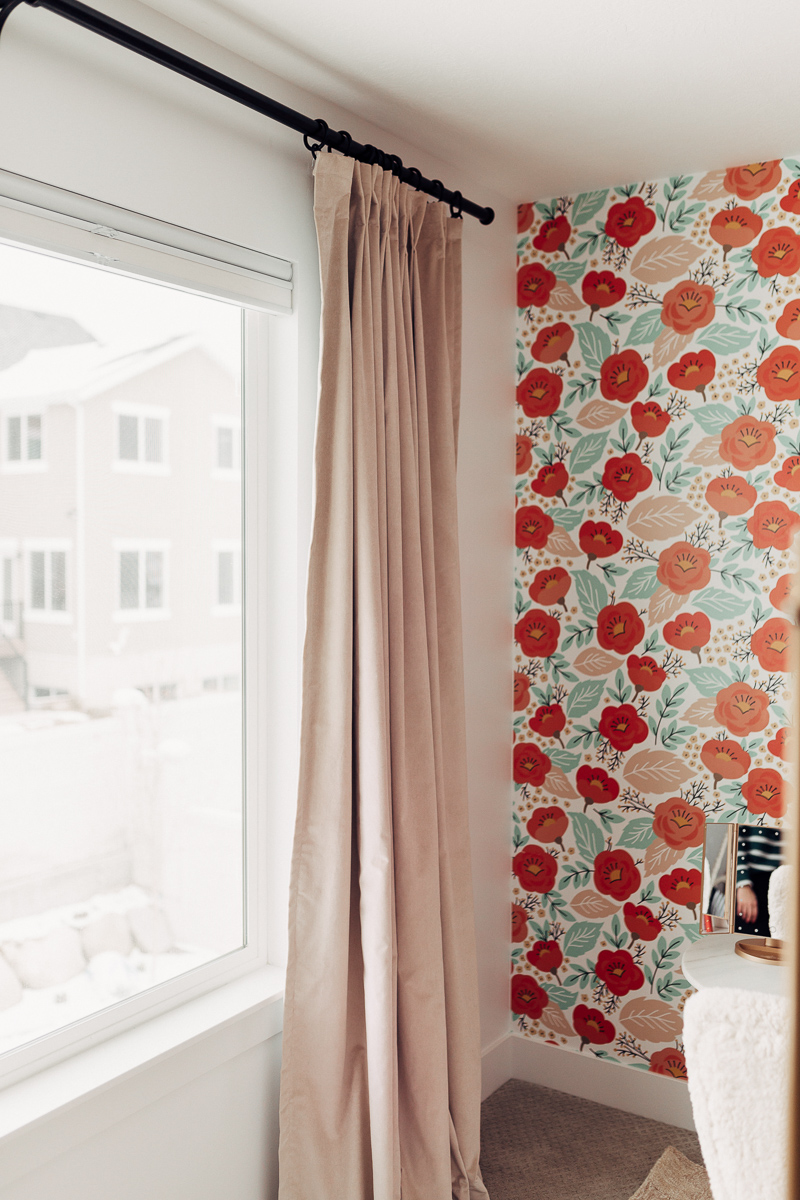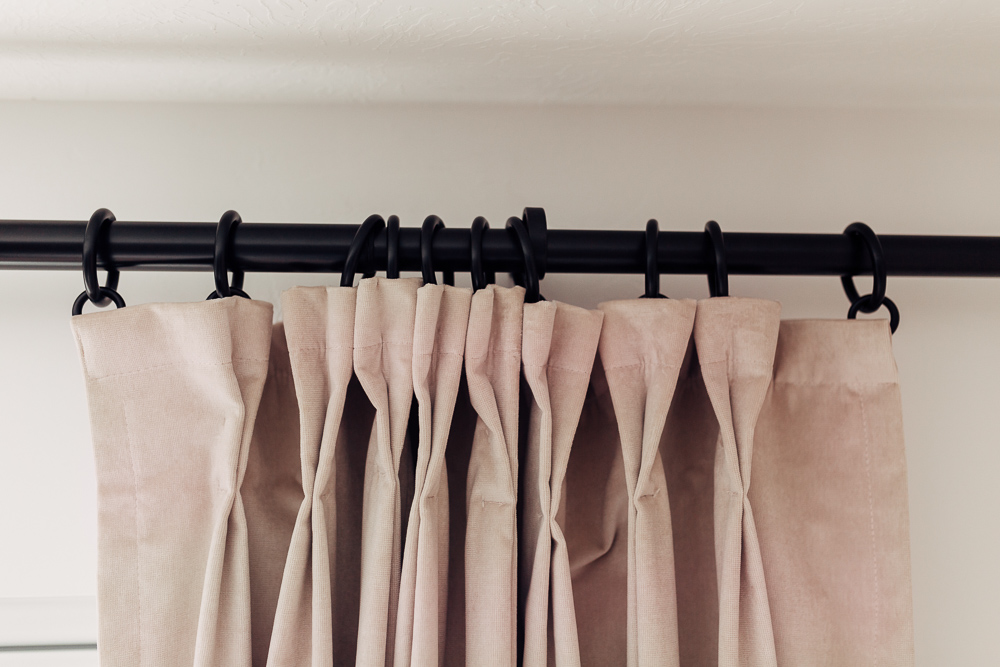 GAHH the details on these drapes. I wish you could see them in real life. Take my word for it and find Christin's shop RIGHT NOW!
Swing.
To the left on the window we have this awesome swing Kelsey sourced from Walmart, with a throw from Downeast home and that striped lumbar beauty is from The Sewing Nerd! Swings are a great way to take up space in a room, especially in a little girls room. You can see how I styled a different type of swing for my twin boys here.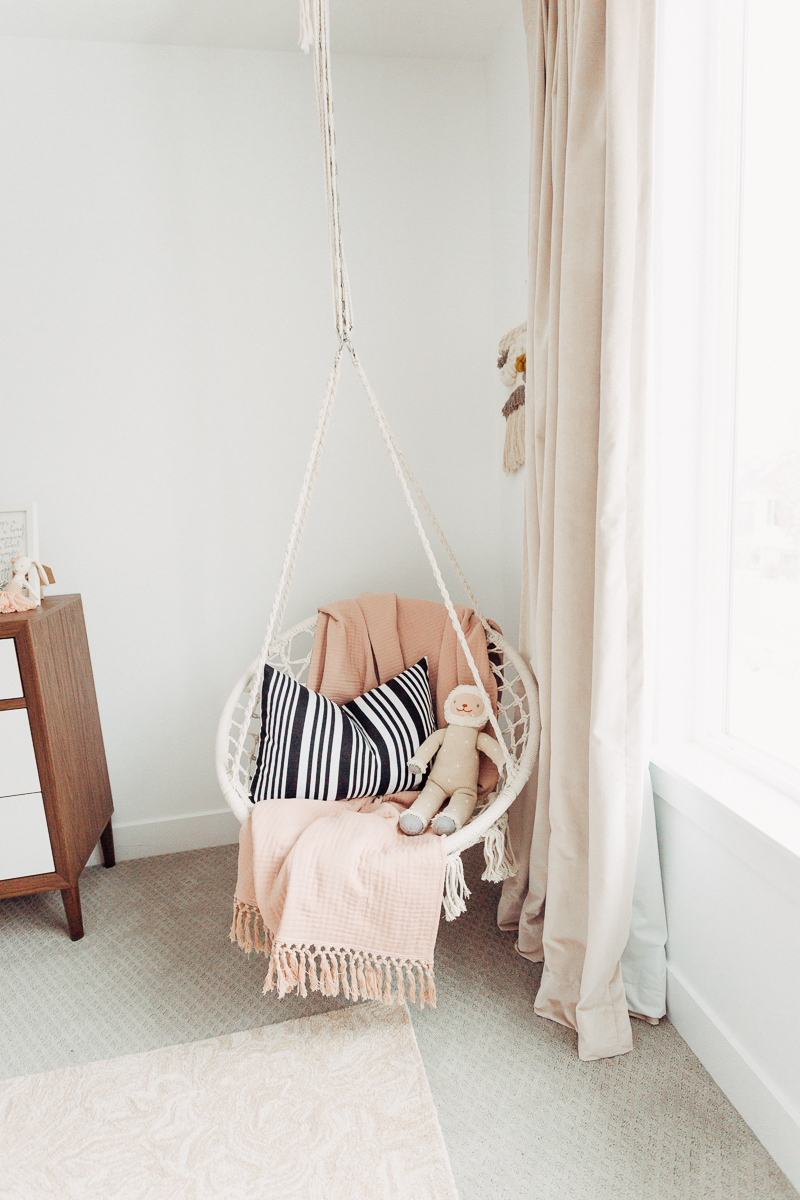 Behind the swing we have THE cutest handmade woven art by Little Woven Co. IT'S ADORABLE!! Spencer made it specifically for Sav, bless her beautiful heart, and I couldn't adore it more!! Checkout her instagram @littlewovenco for more inspo behind these pieces. I can't tell you how many times I've been mesmerized by the videos she posts on how the art comes together. So much love and talent goes into each of her pieces and they add so much warmth into a room!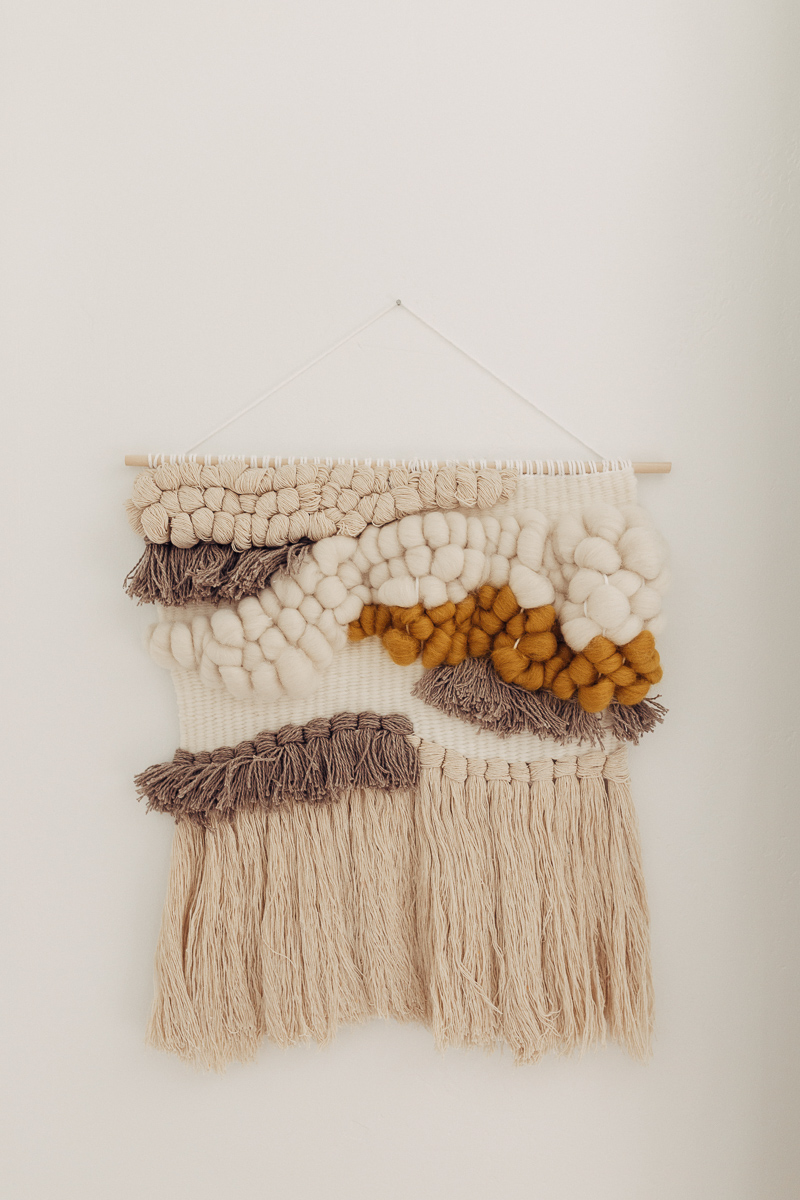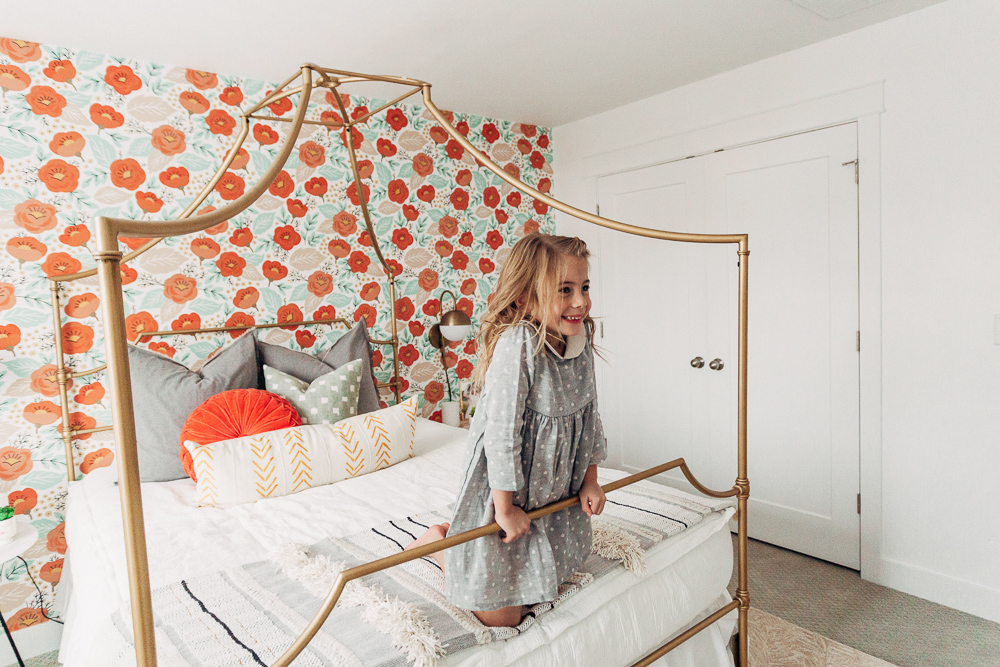 Mid-Century Dresser.
On the flip side of this little girls room we've got… a dresser!! YAY! This dresser was under $300 when I snagged it. It's a more affordable way to add some mid-century goodness into a space.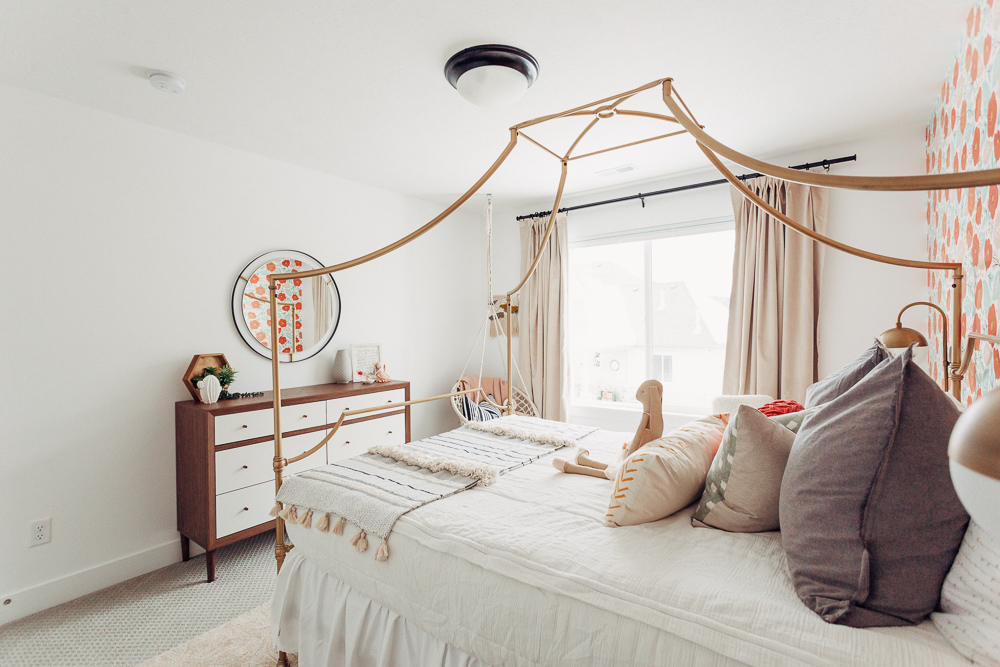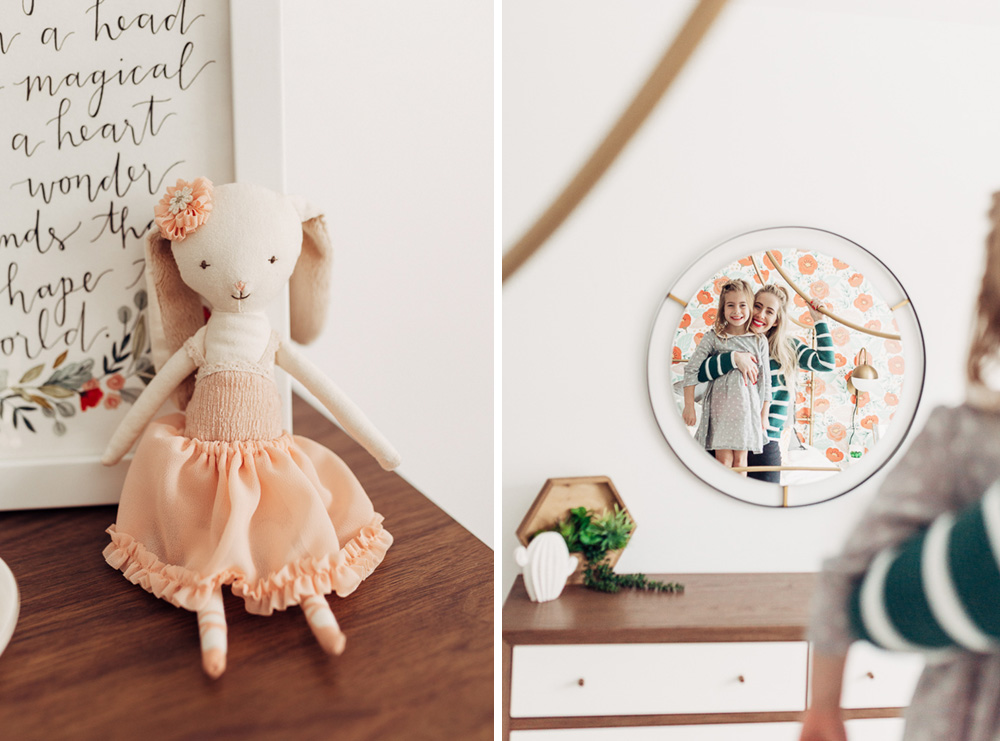 Artwork.
I am so excited about this next piece – have you heard of Hailey Creative? She does original watercolor paintings in her shop HERE. I found this quote on Pinterest years ago and have always wanted it in Savy's room. "Here sleeps a girl witha head full of magical dreams, a heart full of wonder and hands that will shape the world". Seeing the painting come to life seriously made my heart just about burst. The cute little bunny is from Maileg. They have the cutest accessories for these little dolls too. A local store where I live carries everything and it's a dangerous place to visit because everything is so tiny and cute!!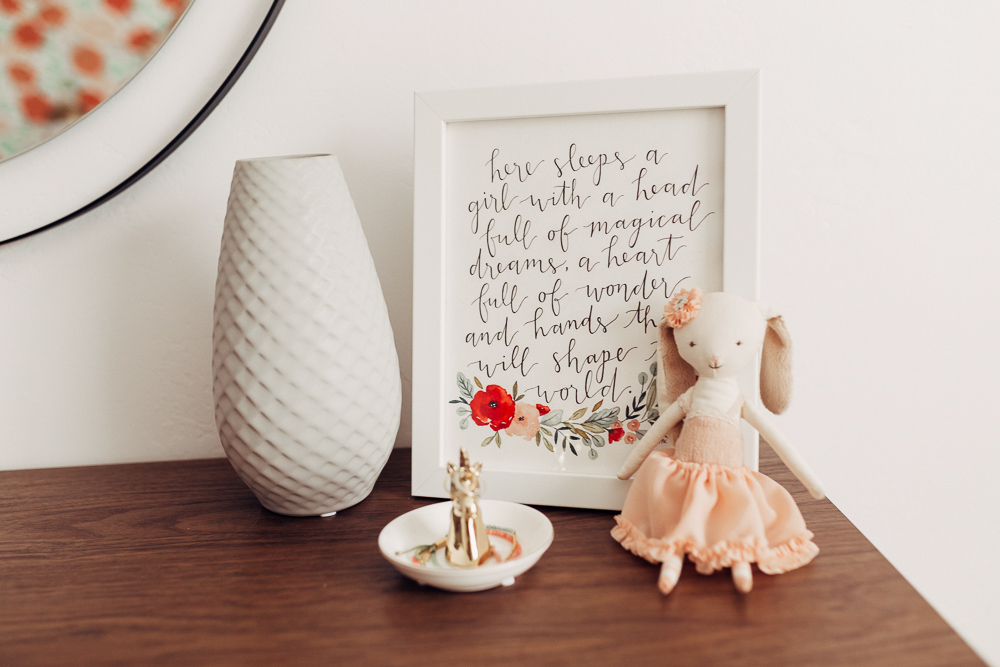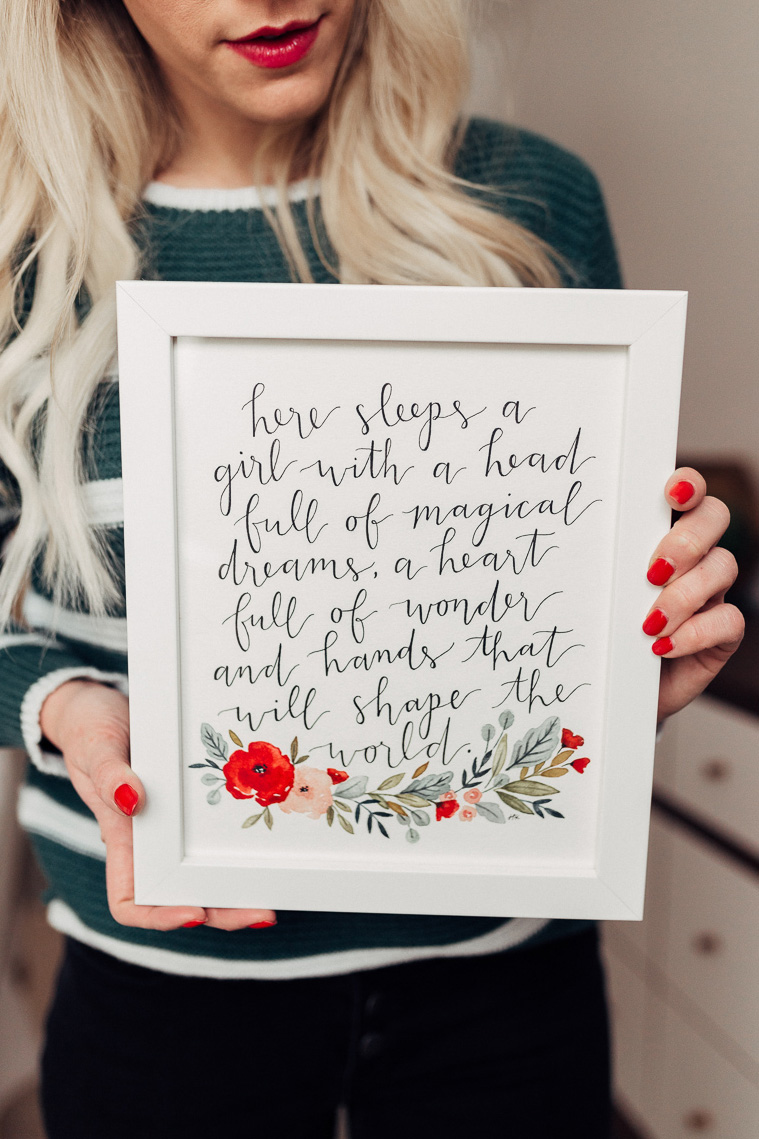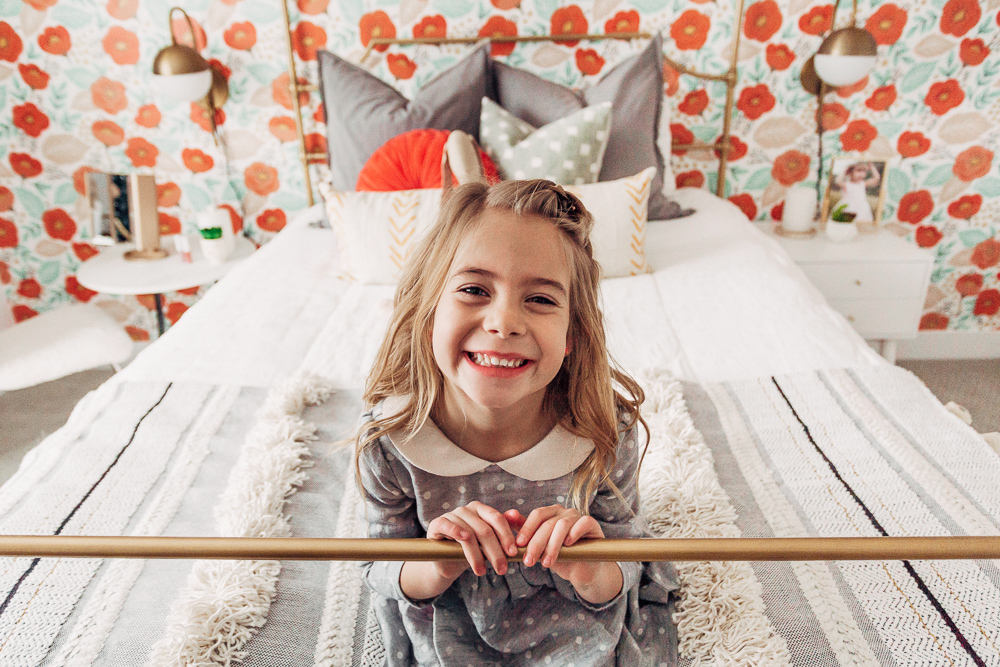 And that's it!!! What do you guys think? What's your favorite part? It's been a couple weeks since we took these pictures and she says her favorite part is the swing which totally surprised me. I for sure thought it'd be the vanity or fancy princess bed!
Here are the links to everything we used, let me know if I missed anything. And then tomorrow I'll share more on the design process on how this little girl room came together!
VIDEO.
SOURCES:
BED:
Bed Frame – Pottery Barn Teen
White duvet – Beddy's Love At First White Girls Room
Bed skirt – Beddy's Chic White Bed Skirt
Grey Euro Shams – Bed Bath and Beyond
Square Pillow – The Sewing Nerd (Rex in Jade)
Round Pintuck Pillow – Urban Outfitters
Cream Lumbar – Kaekoo Pillows
Blush Bunny – Ballerina Bunny Rose by Maileg
Embelished Throw Blanket – Anthropologie
Mattress: Purple
Rug: You can order it through Kelsey!
NIGHT STANDS:
Lights- Brass Sconces
2 Drawer Nightstand – Kramer from All Modern
Round Marble Table – World Market
Vanity Chair: Pottery Barn
Accessories from TJ Max

WINDOWS:
Velvet Drapes – Frosting Home Decor
Iron Rod – Pottery Barn
Woven Art – Little Woven Co
Swing – Walmart
Striped Pillow – The Sewing Nerd
Throw Blanket – Downeast Home
Doll – Bla Bla Doll (stolen from the twins room haha)
Mid-century Dresser – Overstock
Mirror – Target
Watercolor Artwork – Hailey Creative
Small Bunny – Maileg
Other accessories from TJ Max
Savy's Dress: Dotti Shop
My green sweater: Alicia Avenue
Photography: Jordi Jerea Photography