Hi everyone! Welcome to our kitchen and Dining Room Reveal!! I actually just revealed our family room space and talked a lot about our home and the renovations we've been undergoing for the past year. If you missed it, catch up HERE!
I remember walking through our home a year ago and just falling in love with the kitchen. The white cabinetry and the massive island were some of my favorite things! But it was really dark and moody. Despite having an entire wall of windows, we just weren't getting enough natural light into the space. There was a cabinet in our kitchen that led into a large pantry, you can see it in the picture below. It just wasn't functional! You had to pull the cabinet doors out to open them and when you did, they'd block the walkway from the sink to the fridge. Plus they were hiding so much natural light!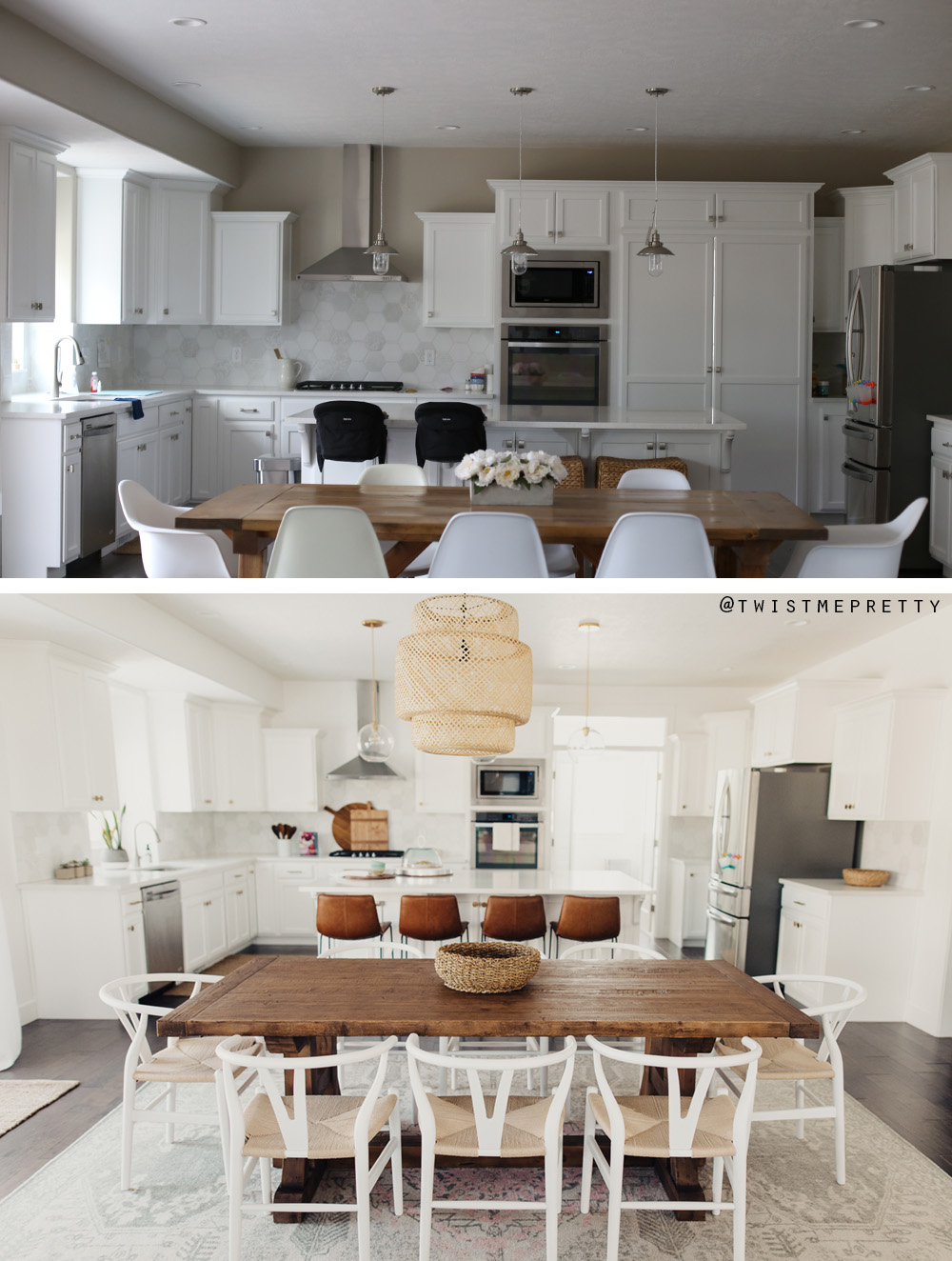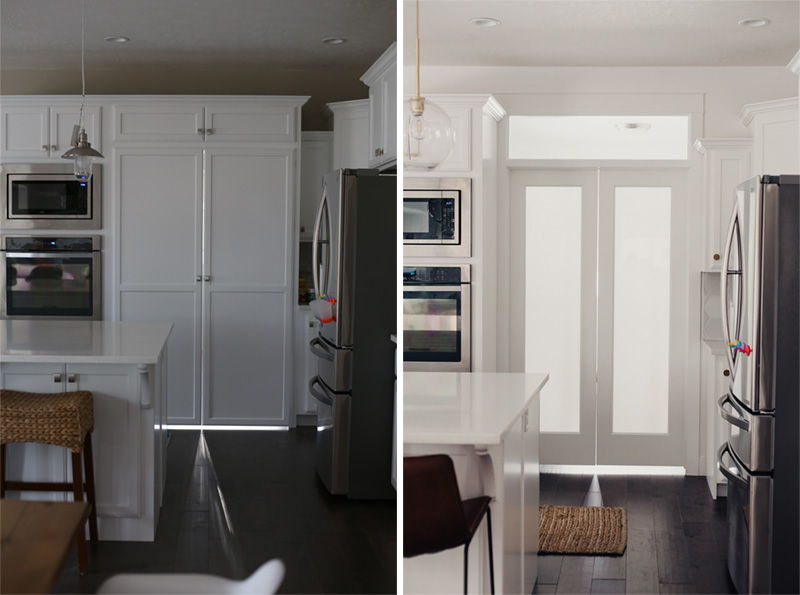 So, we painted everything white, it was a custom color to match the cabinetry. Then we updated the lighting above the island and added a chandelier above the dining room table. The thing that transformed the space though, was ripping out that large cabinet!
I was originally going to leave the cabinet there and just take off the doors, maybe shiplap the tiny little hallway and call it a day. My sister convinced me to rip out the entire thing! It was such a hard decision because it was beautiful cabinetry! And we weren't sure what we were going to find underneath it all. Luckily I had an amazing carpenter who came in and put it together like a boss. It took several months because doors had to be ordered, painted, installed and then we had to wait for more cabinetry pieces to be custom made. I reached out to our handyman Chris in May and we finished the project in October. Guys, it took FOREVER!!!! There's a transom window on top and then two swinging cloudy glass doors. I love it so much and the doors are usually open letting light flood inside from the pantry.
KITCHEN AFTERS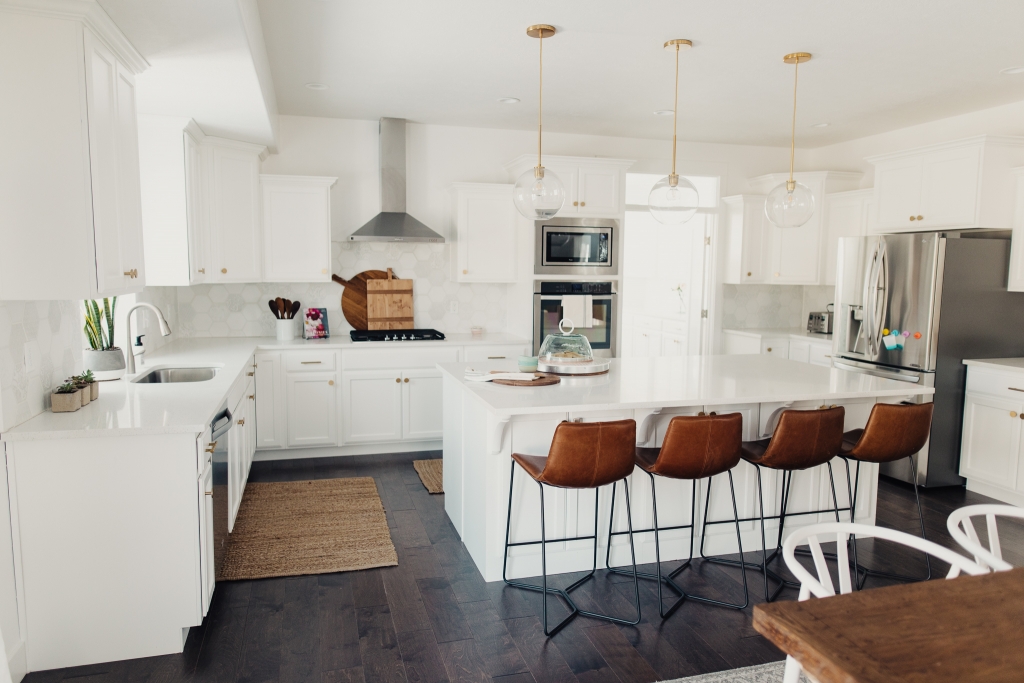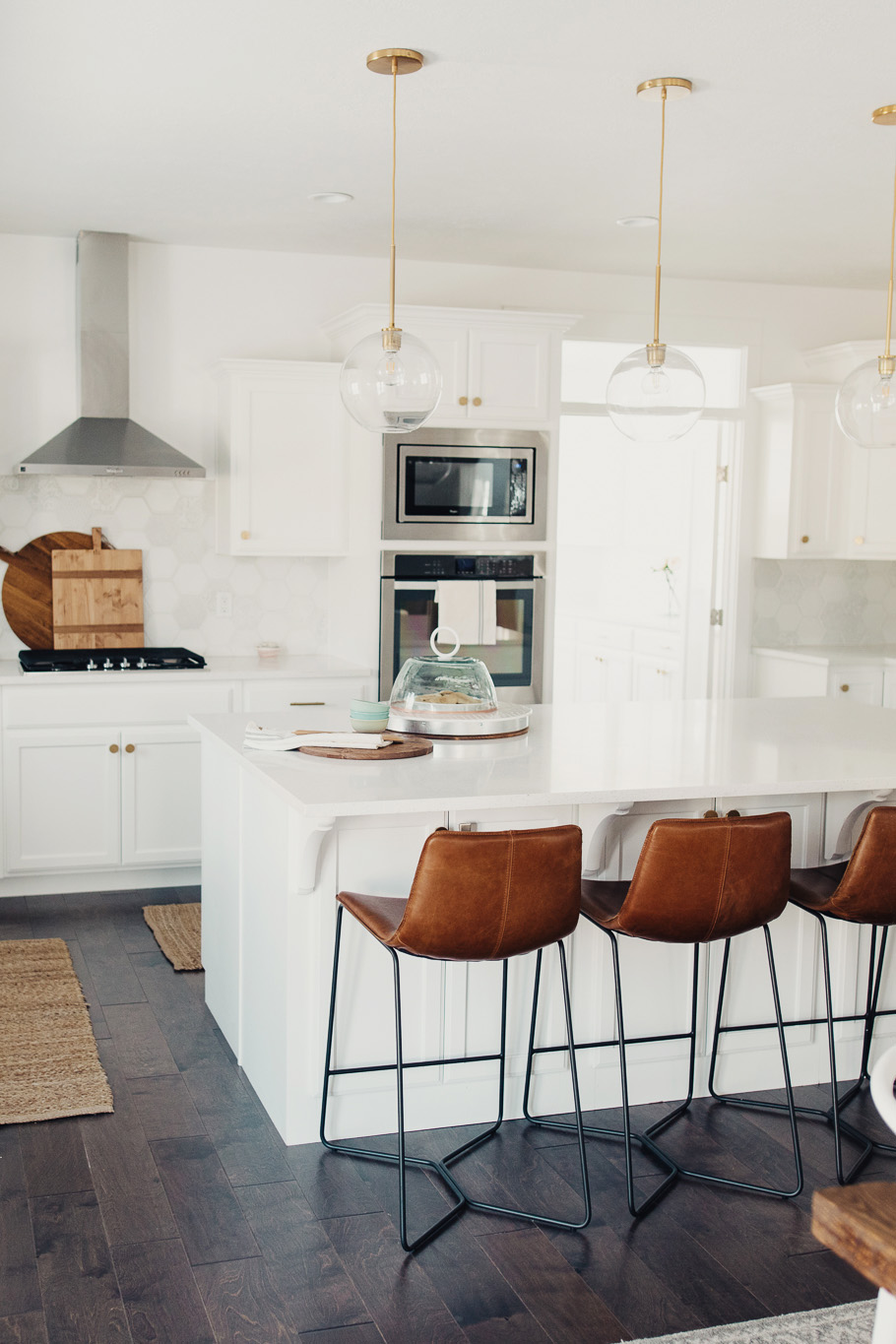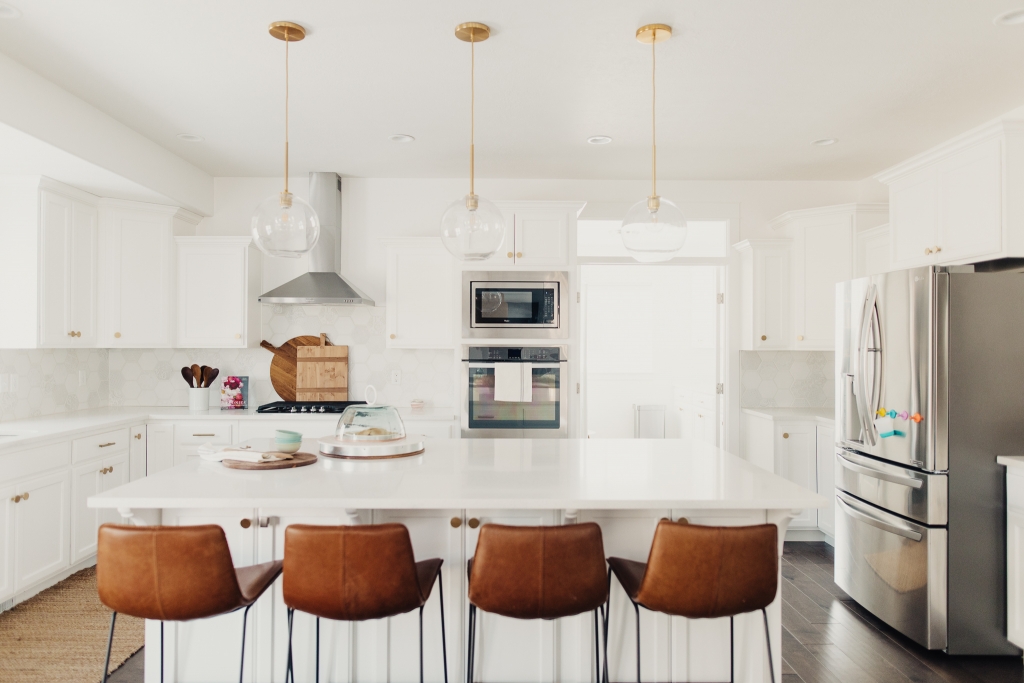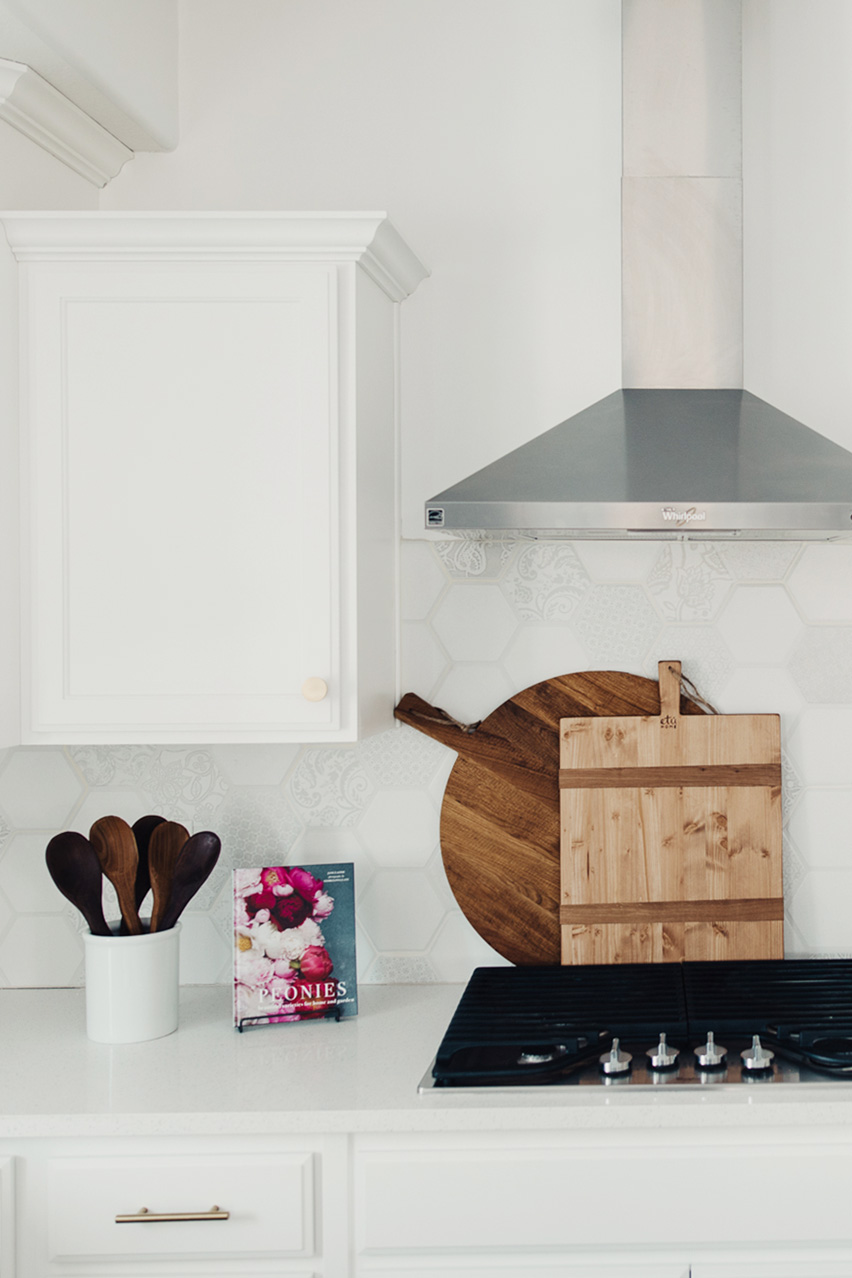 Here you can see the paisley designs on the back splash. I wish it was just gradient hexagon tiles!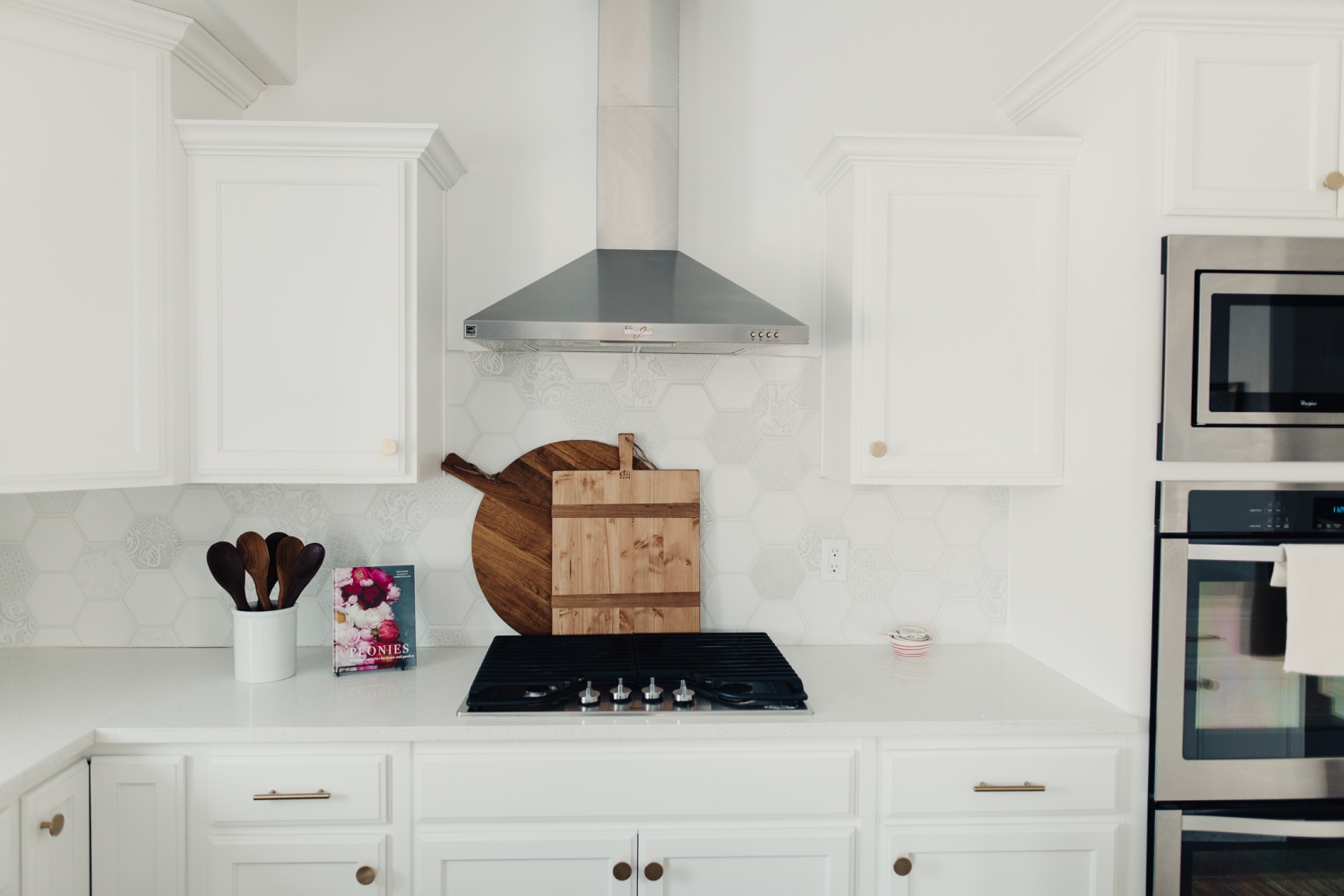 Leather Bar Stools: These were from West Elm and unfortunately they just discontinued them, I'm so bummed!! They're the best. I've found some similar ones here and here. They're pricey but have held up so well with the kids! Before we added the 2nd and 3rd bar stool, we used these high chairs from Amazon.
Glass Globe Pendants: West Elm
Behind the stove: Large round bread board, small rectangle bread board | Book + Stand + Wooden Spoons and White Jar – Sun River Gardens.
Near the Sink: Snake plant and pot + three succulents are from Sun River Gardens.
On the bar: Glass Dome | White Lazy Susan | Small Round Bread Board | Green Bowls | Hand Towels and serving spoon from Sun River Gardens. And then we have these jars in the pantry from ETU Home!
Rugs: All the jute rugs are from Pottery barn. They're the Chenille Jute which has held up really well! We have a 3×5 next to the sink, a 2.5×8 runner, a 3×5 next to the fig tree and then a 5×8 in the front entryway.
DINING ROOM BEFORE AND AFTERS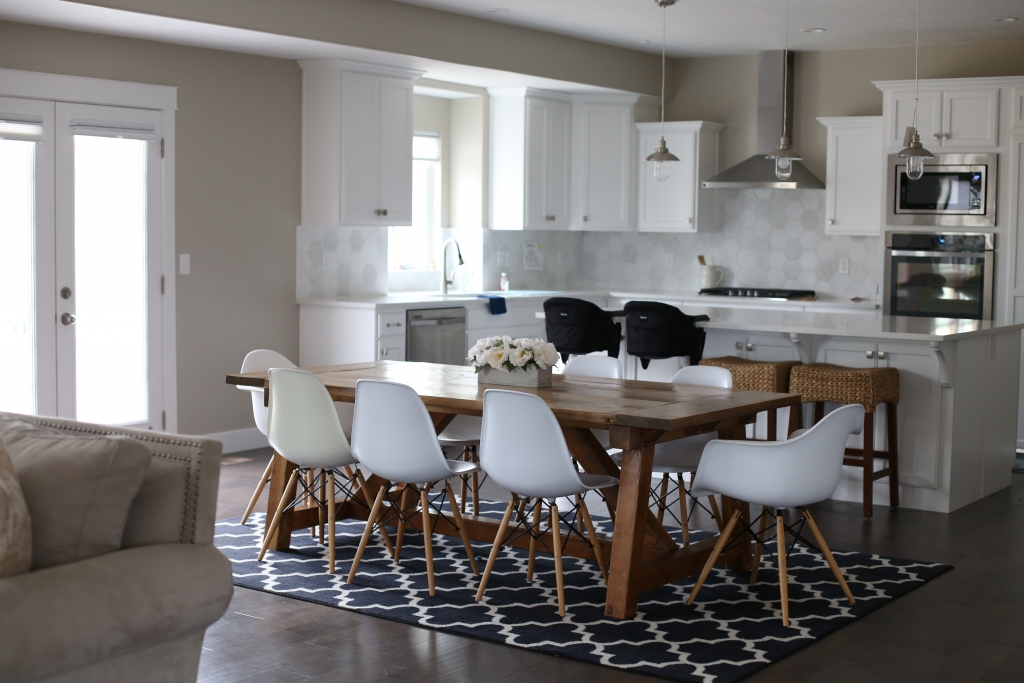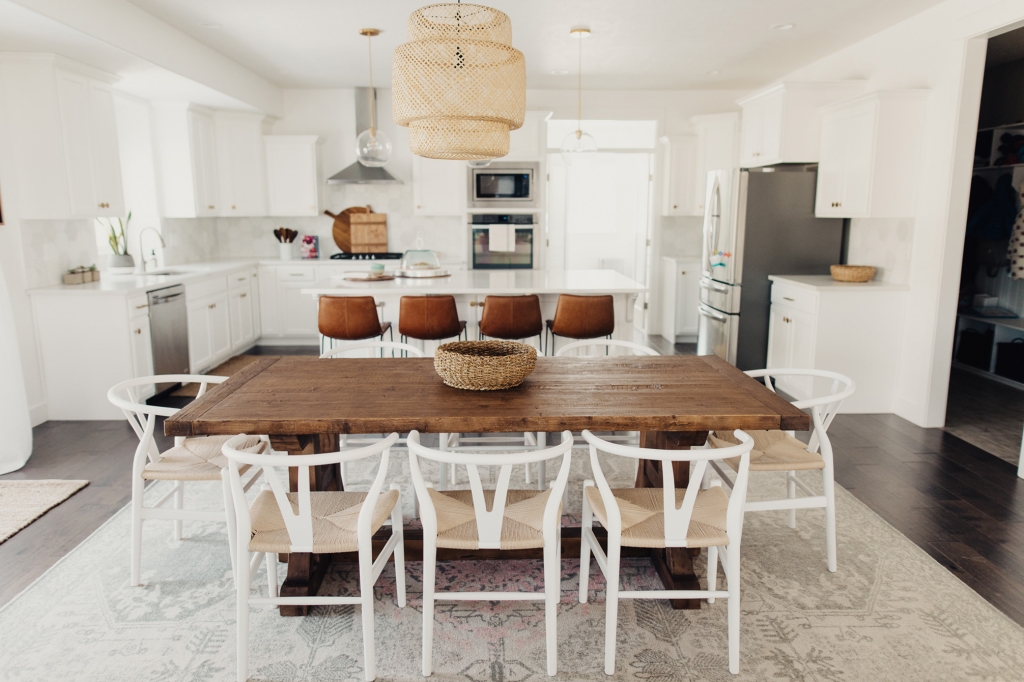 This space just needed a furniture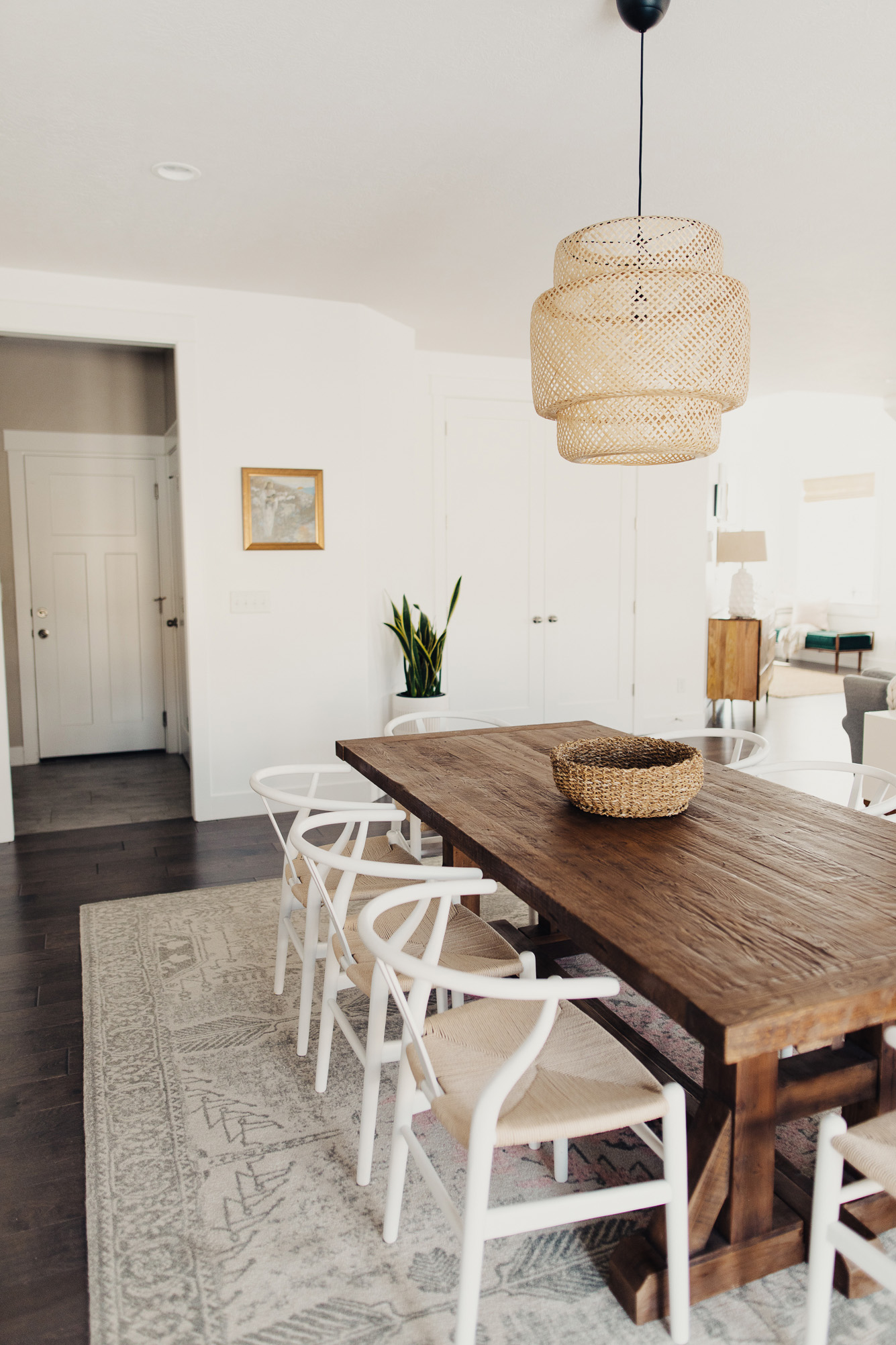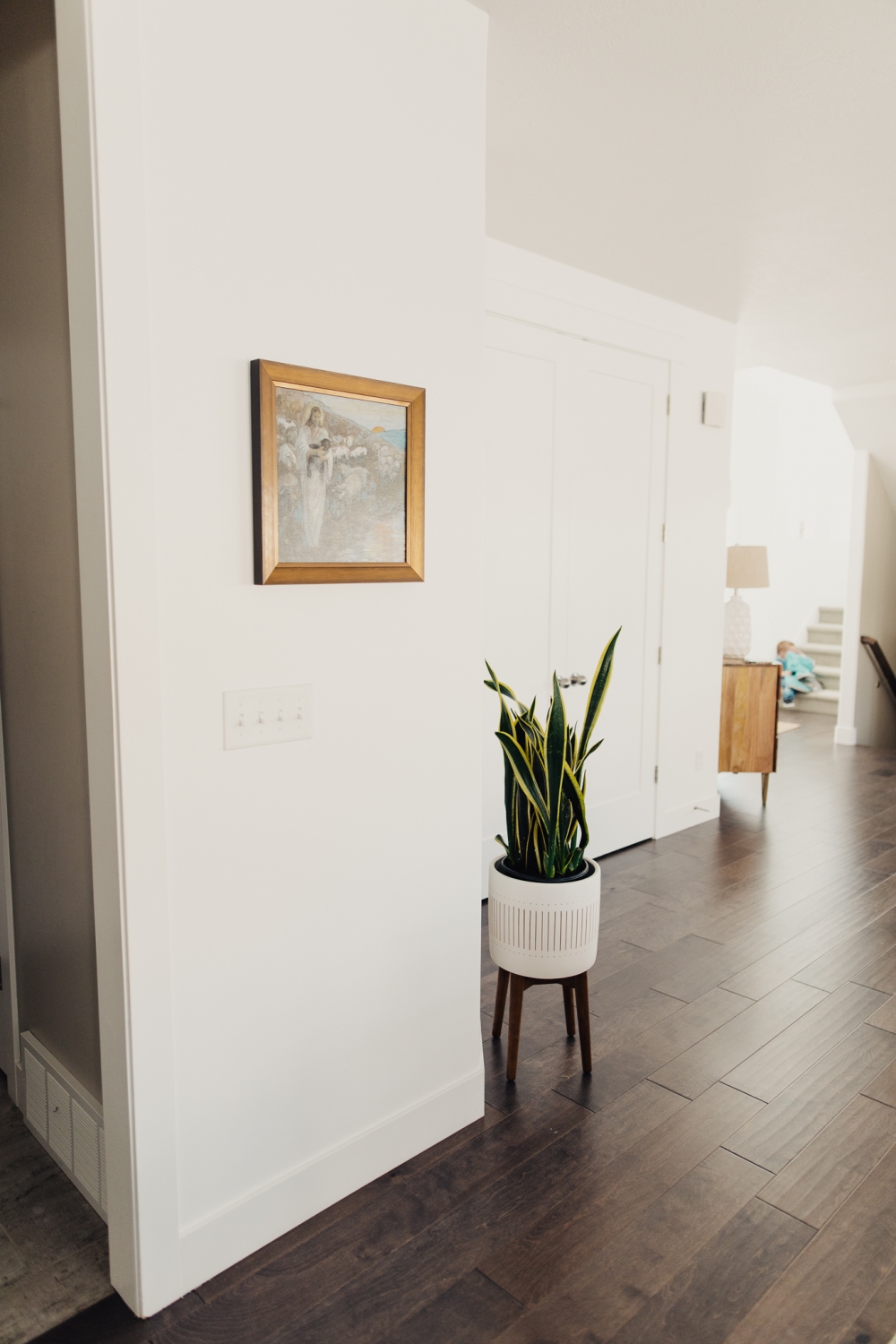 We have the Rescue of the Lost Lamb painting by Minerva Teichert from Latter Day Home, framed by Frame Bridge in a size 14×14 with gold frame. My dad has this painting in his office growing up and I've always loved the painting itself but also that it's like having a little piece of my Dad with me! Then we've got a big snake plant in this pot from West Elm.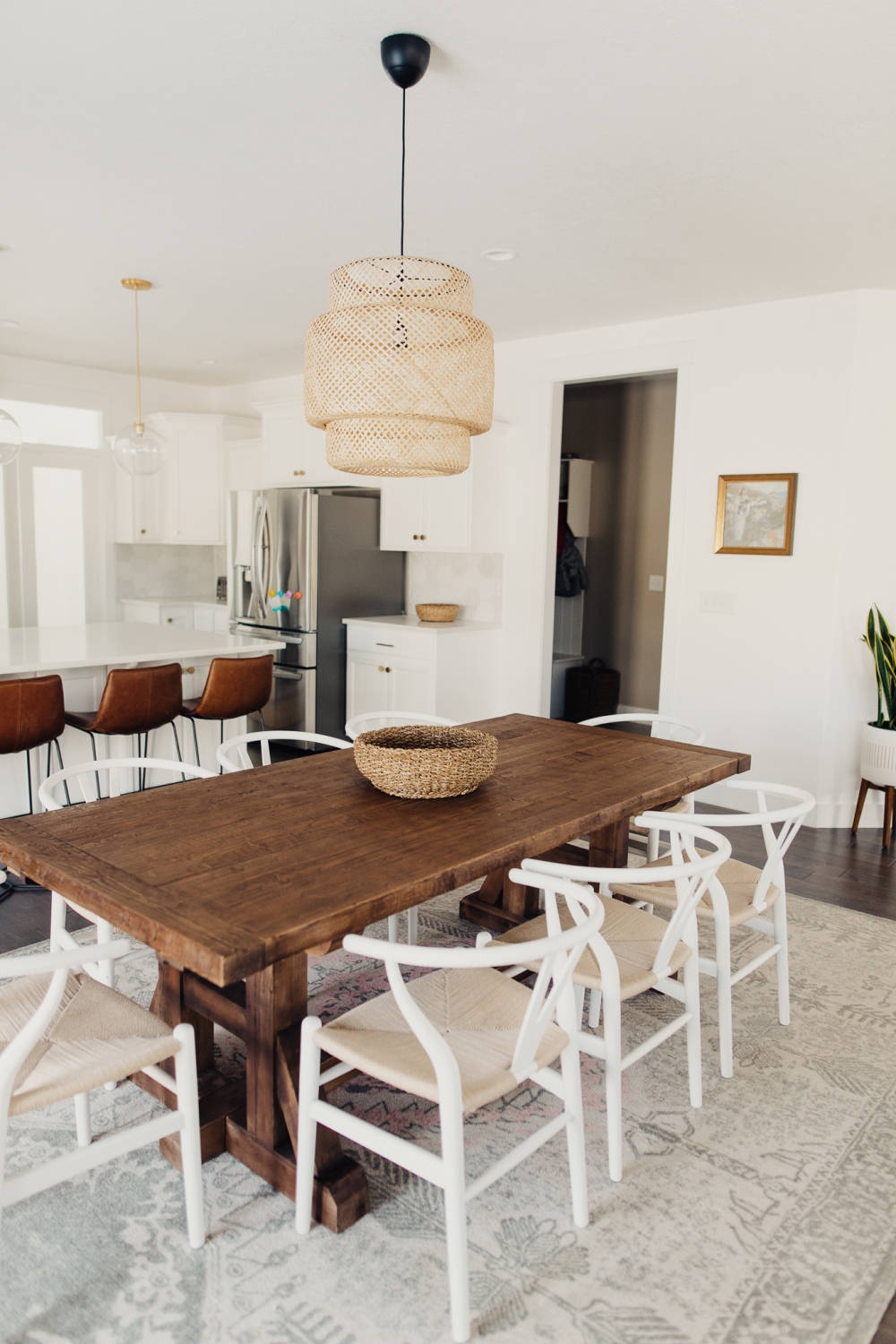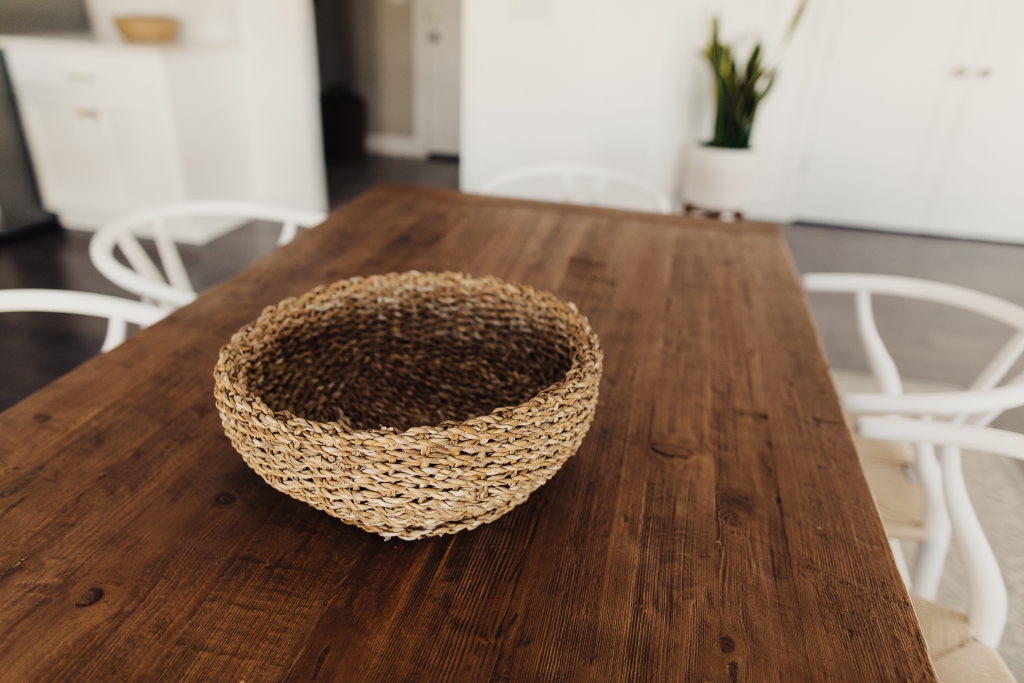 I'm notorious for buying and returning things. Large pieces of furniture and rugs are so hard for me because if they don't feel good in the space, I return them! And it drives Brian NUTS! I had 3 different tables delivered and each one didn't feel right. I know, I'm weird. But it's worth it to finally find that right piece! I landed on The Stafford Table from Pottery Barn and it's everything I imagined. The color is rich and warm and the texture is perfectly distressed! I was so so happy when it came!! We paired it with this Medallion rug from West Elm, which is also insanely perfect. We had purchased another rug (you might have seen it randomly on my stories) and again, it just didn't feel right haha soooo I returned it. And threatened my marriage once again!! I love this rug though, it cleans well, there's pattern on it so it disguises messes + it's 100% wool so it'll last forever. The basket on top of the table is from Sun River Gardens and the wicker pendant is from Ikea! The white chairs are from Poly and Bark, they're only $150 a chair which is way cheaper than all the other fancy chairs we looked at.
Behind the couch: The white credenza is from West Elm, the books are vintage from @covogoods. The wooden tray is from Target, the white books are from @covogoods and the white faceted bone beads on top are from Life Style Co Shop.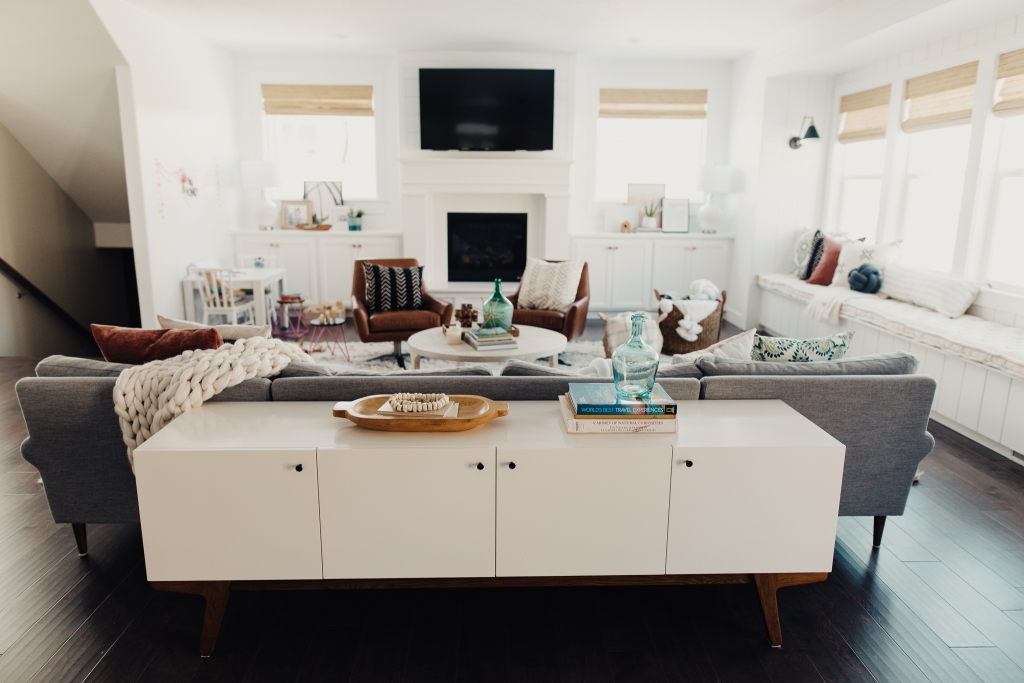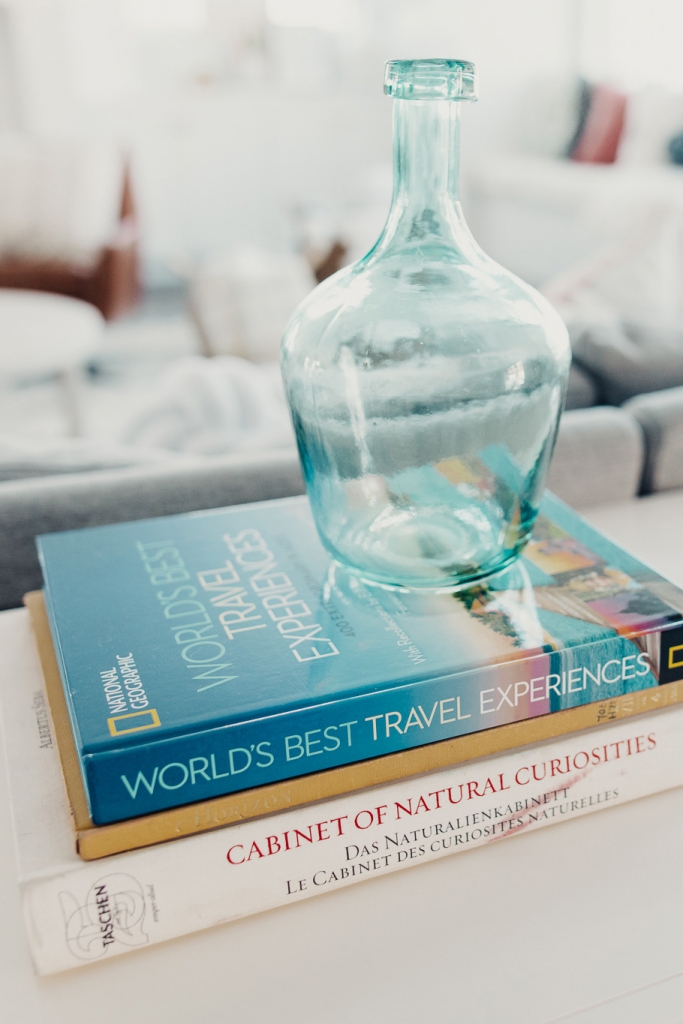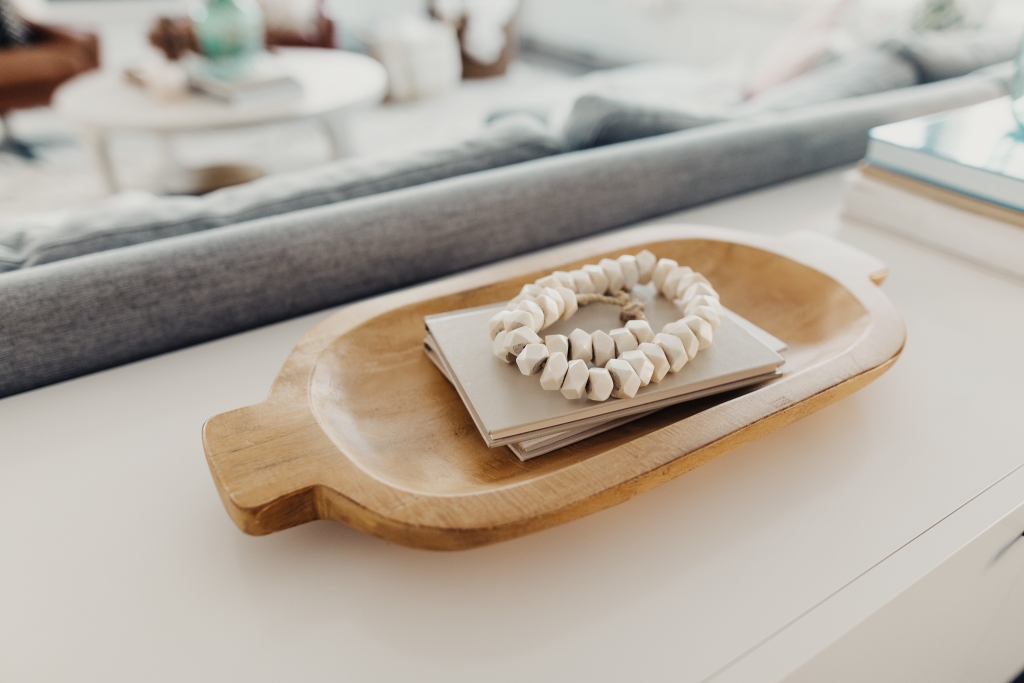 Our cute little fig tree + pot is from Sun River Gardens and then the window treatments are from West Elm. I debated on the white linen right there by the door but they've stayed super clean and we had them there through the summer. White Belgian Flax Linen Curtain + Metal Curtain Rod. To the right, I have a LetterFolk Letterboard, which I love so much by the way!!! Today it says "A Balanced Diet is a Cupcake in Each Hand! I have the Writer Folk Board. And to the left I have a beautiful painting of Christ done by Jenny Fowler Art.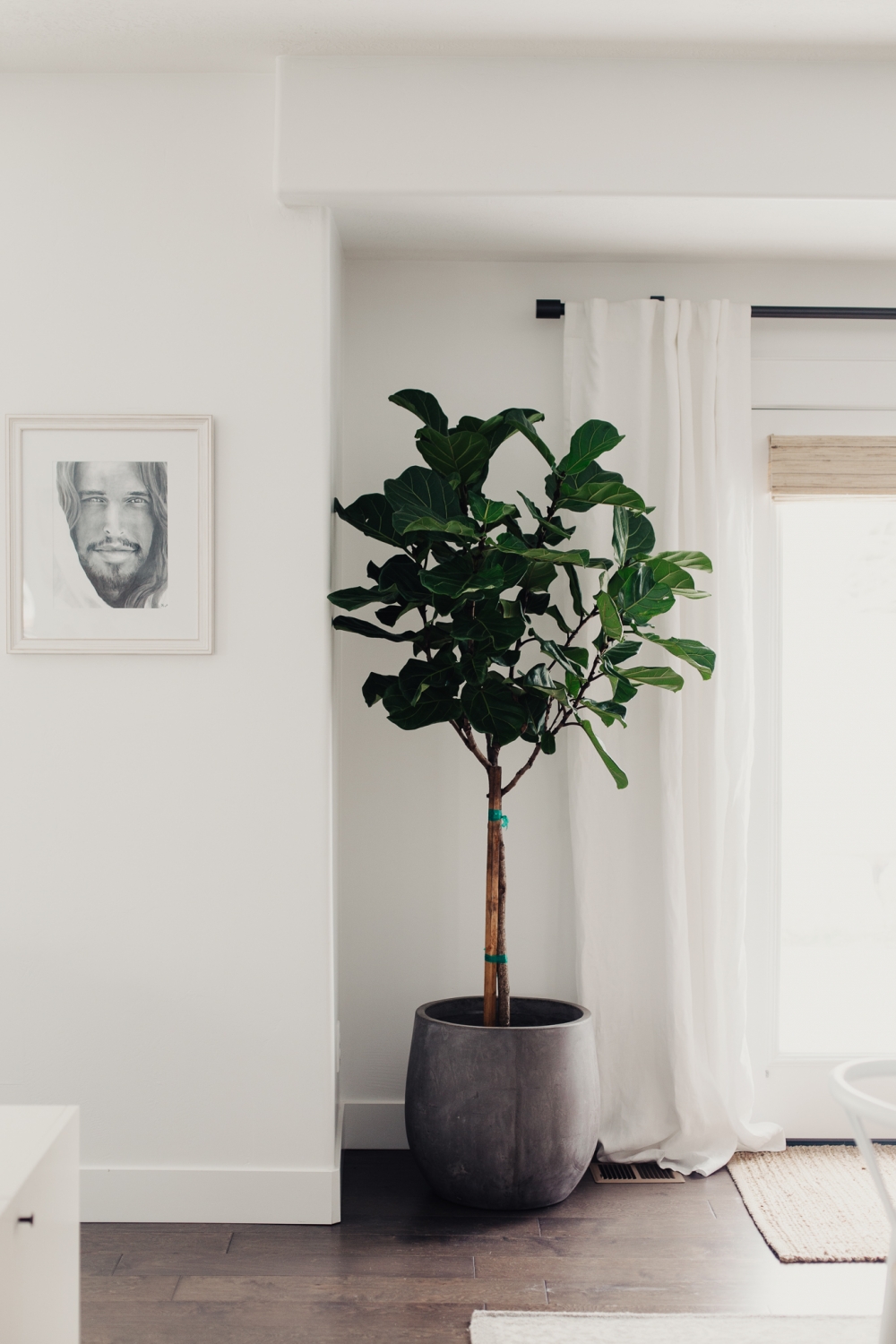 And that's it!! What do you think of the space?! A huge thank you to Tana Hallows for helping me design the space. Guys, I'm not easy to work with haha! I'm so indecisive and she just kept sending me new ideas until I was obsessed with it. If you need an interior designer, check her stuff out!
And don't forget to check out the rest of the space in this post HERE! What do you guys think? Do you love what we did with the space?!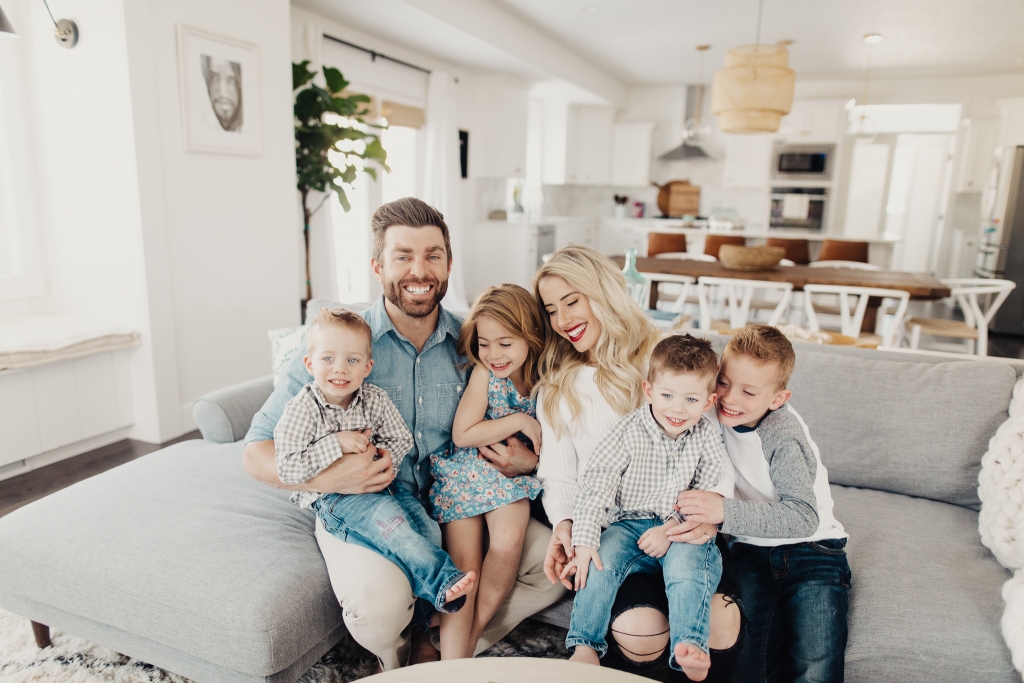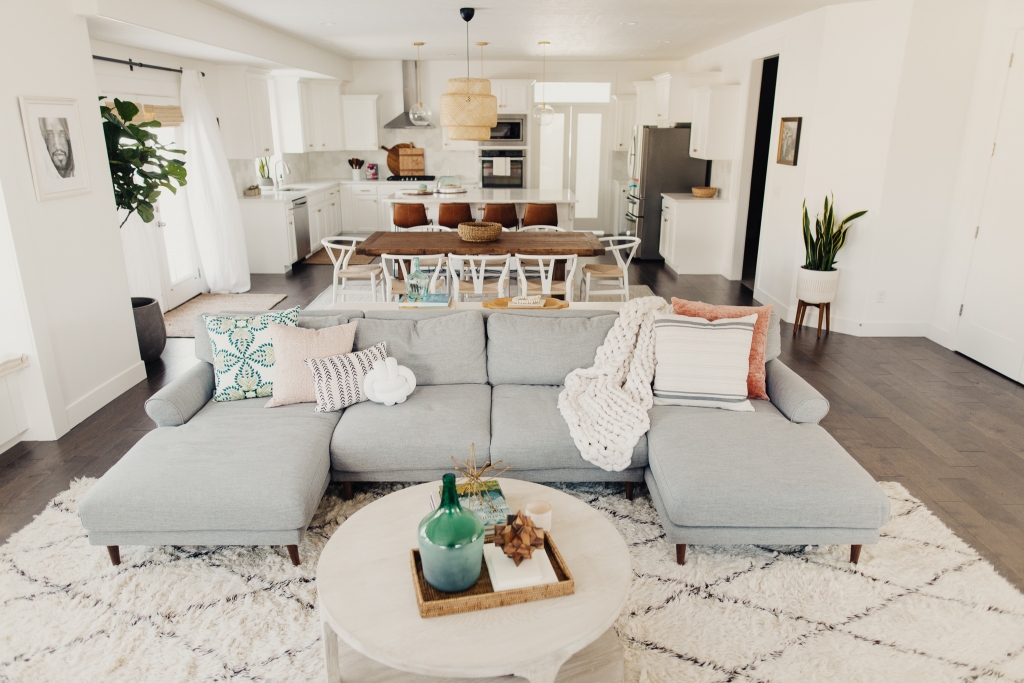 Pictures taken by Alice Shoots People!! Check out her stuff, she's amazing!