Hi everybody!!! Welcome to my bedroom reveal! This has been a long time in the making… literally years. I bought most of the furniture on sale a couple Christmases ago and haven't been sure how to put it all together. When it comes to interior design I definitely get caught up in the details. Things like decor, filling wall space, pillows… it all just feels so overwhelming! One of my dear friends, Kelsey Crandall from Alika Design offered to give me a hand. She was the genius behind Boston and Savy's rooms and I just adore her and her style. I was able to work with some really great brands for this room and I'm super excited to share all the details. Of course I wish I had taken before and afters so you could see how a few simple updates and tweaks to existing furniture can transform a room. Alas, I do not so you'll just have to trust me. Ready to see it?! Welcome to my master bedroom reveal, I hope you like it!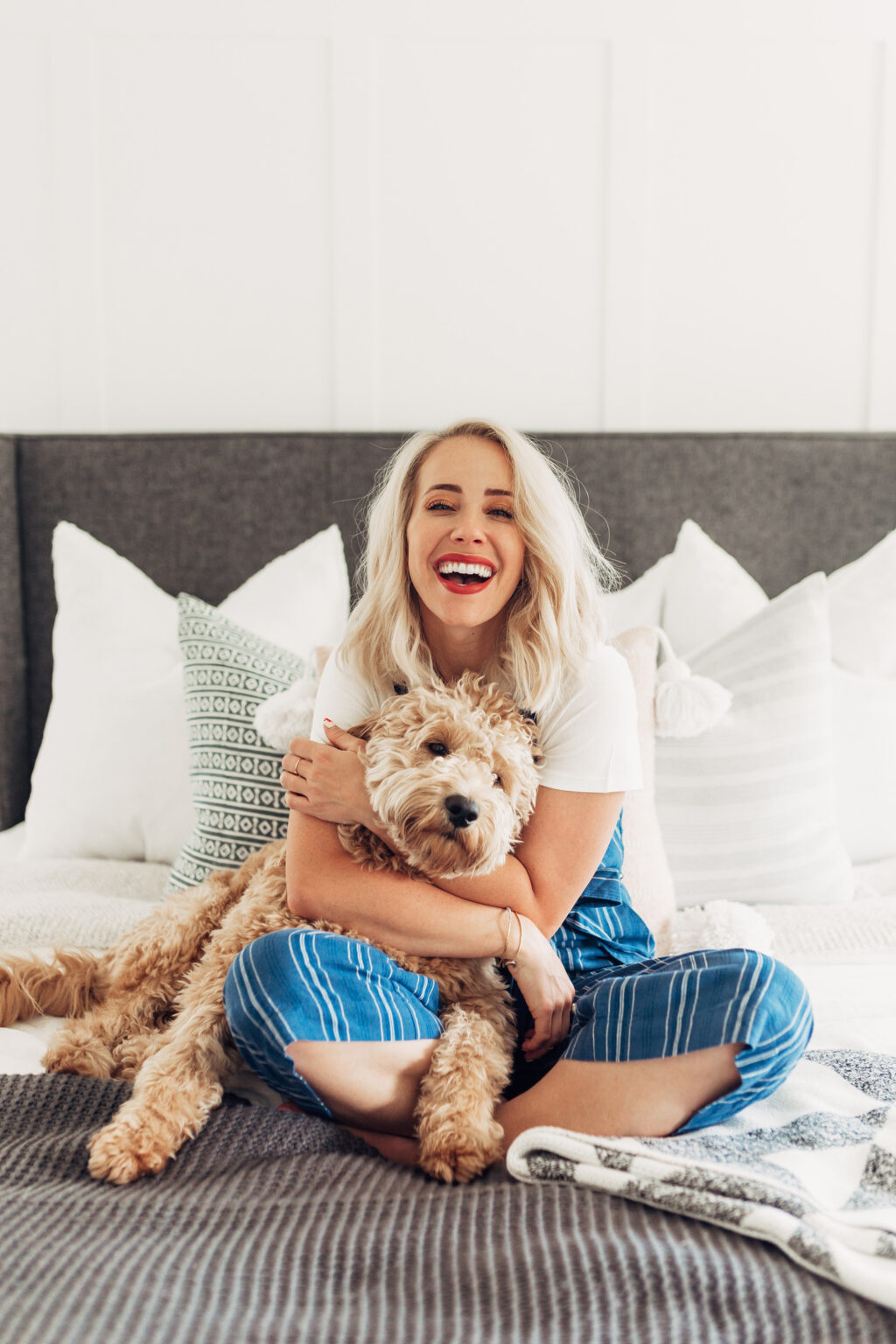 Wall Art
Filling the white space on that far was the bane of my existence. I tried so many different things and Kelsey suggested some framed canvas artwork from Christie Adelle. It made the biggest difference and filled the giant white space PERFECTLY! If you haven't heard of Christie Adelle, her shop is amazing. It's all original artwork and her style is very modern. Make sure to check her out on Intagram @ChristieAdelle so you can see all her pieces styled in beautiful homes for inspiration!!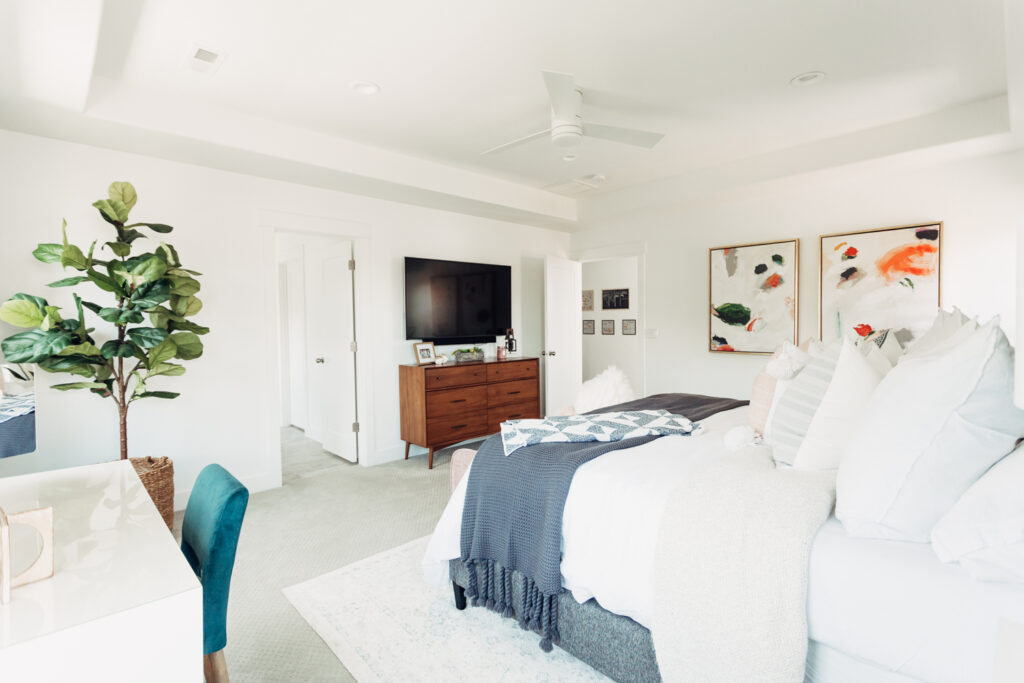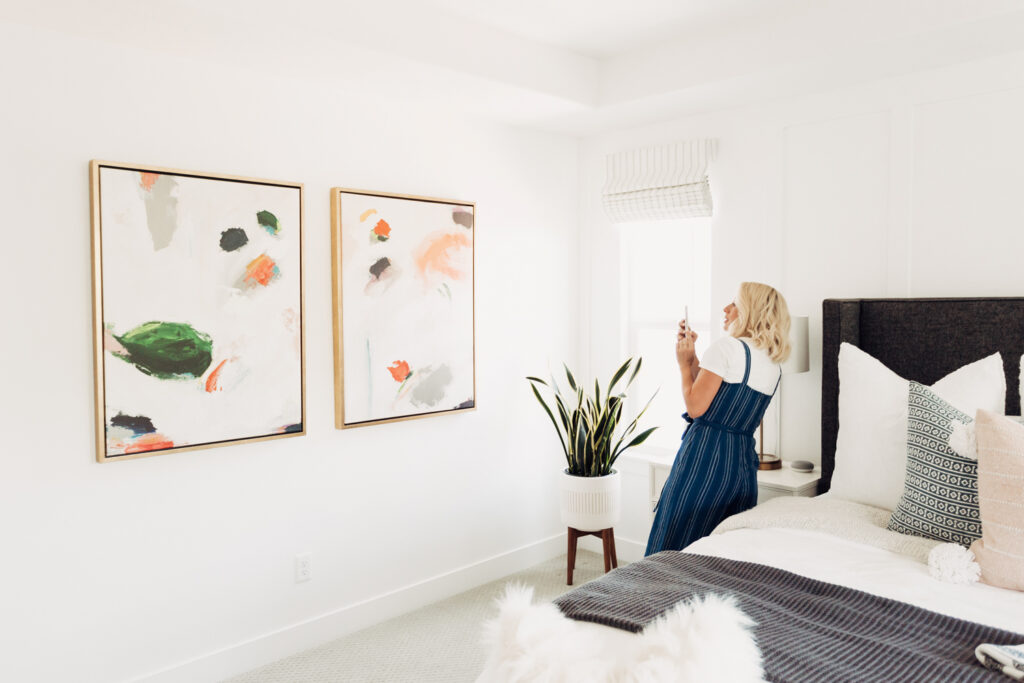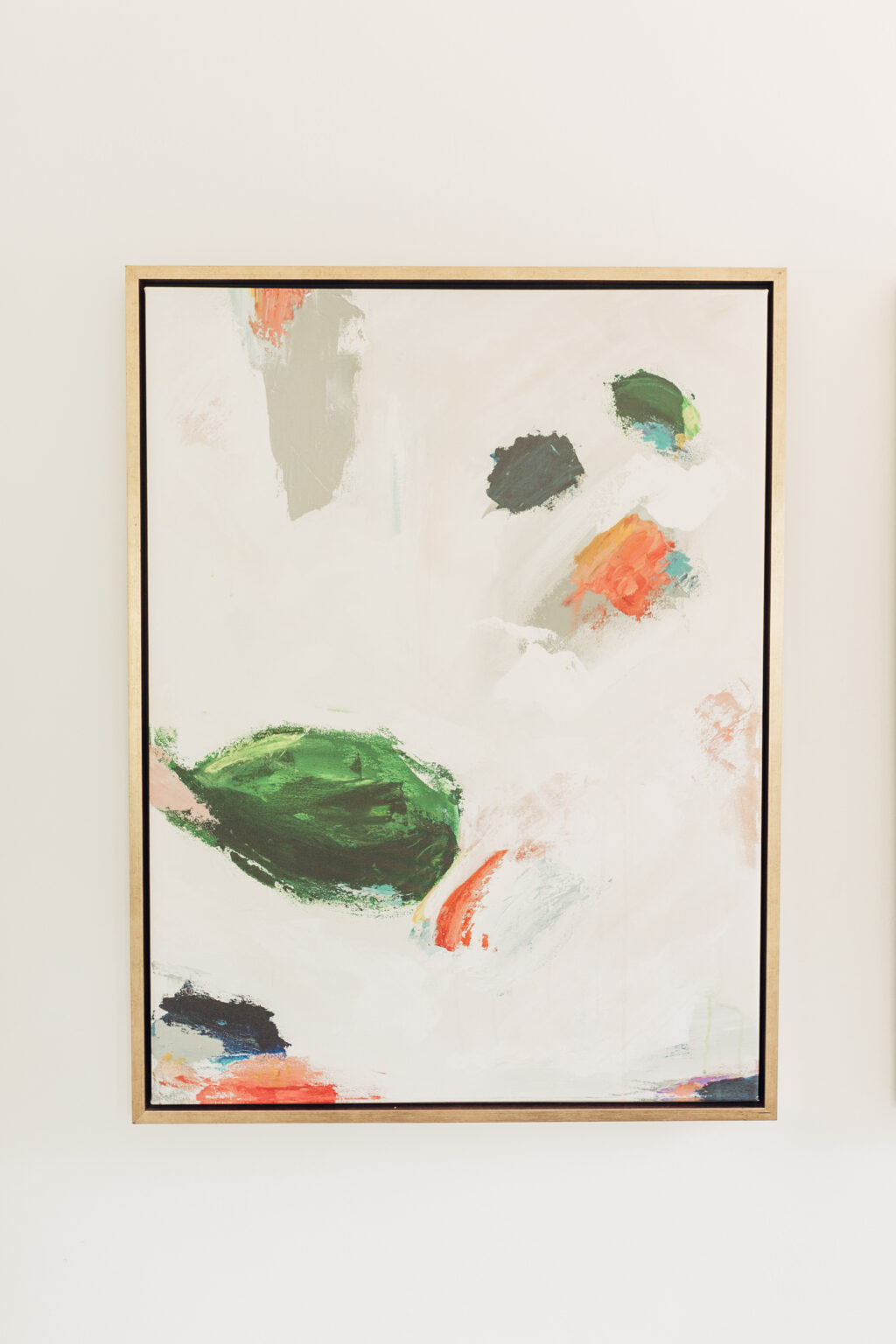 So so gorgeous!!! These are the Lyla and Olivia prints, you can find them here and here. They're the 30×40 size with the gold/black frame! Alright let's move on to the bed, shall we?!
Bedroom Furniture
I had a cream headboard before this reveal, you can see it in these pictures here. Because there was so much white going on and most of my new furniture was modern, Kelsey suggested I buy a new headboard. I was a little nervous when I saw the grey but I trust her more than anyone and just snagged it. I absolutely love it!! Layered with the white pillows and bedding, and the contrast against the wall and nightstands it just pops and looks so pretty and put together. Adding the grey headboard and the rug made a huge difference in this room. What do you think?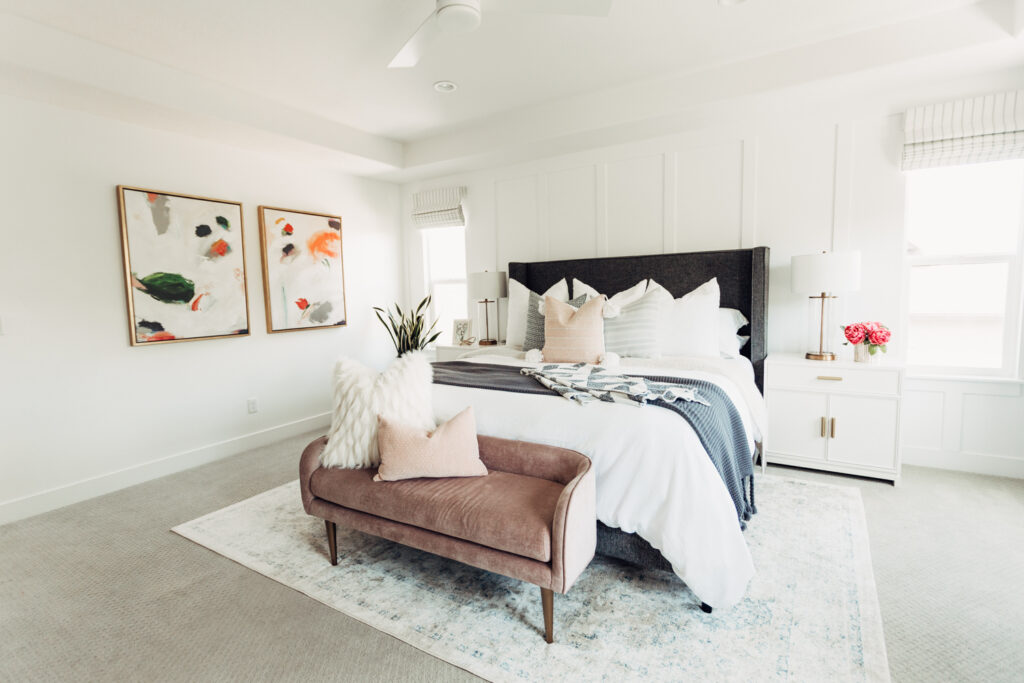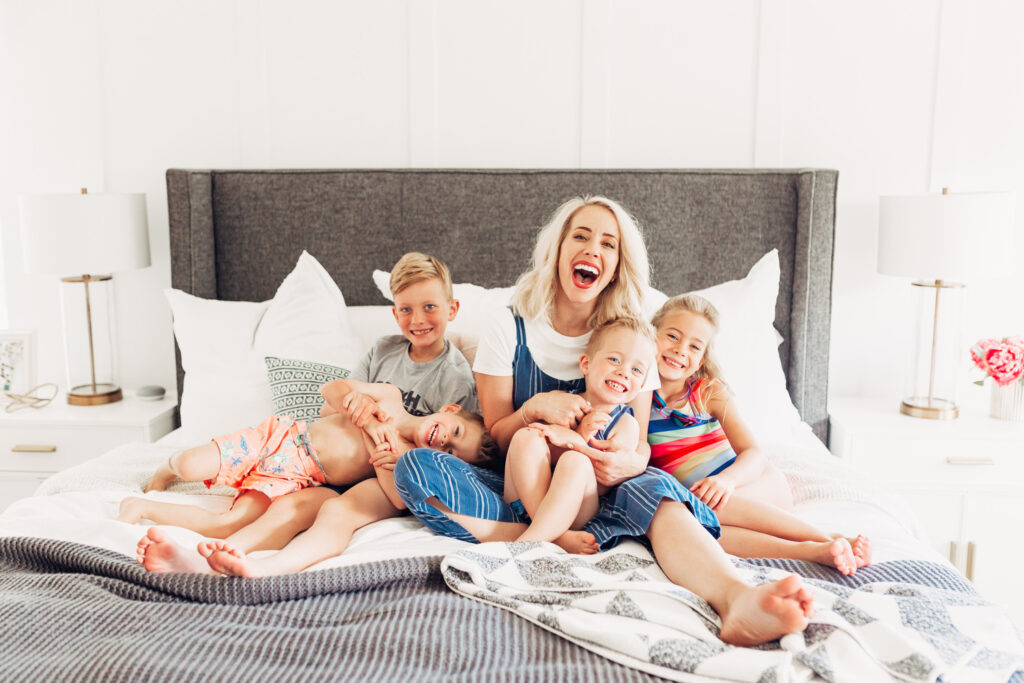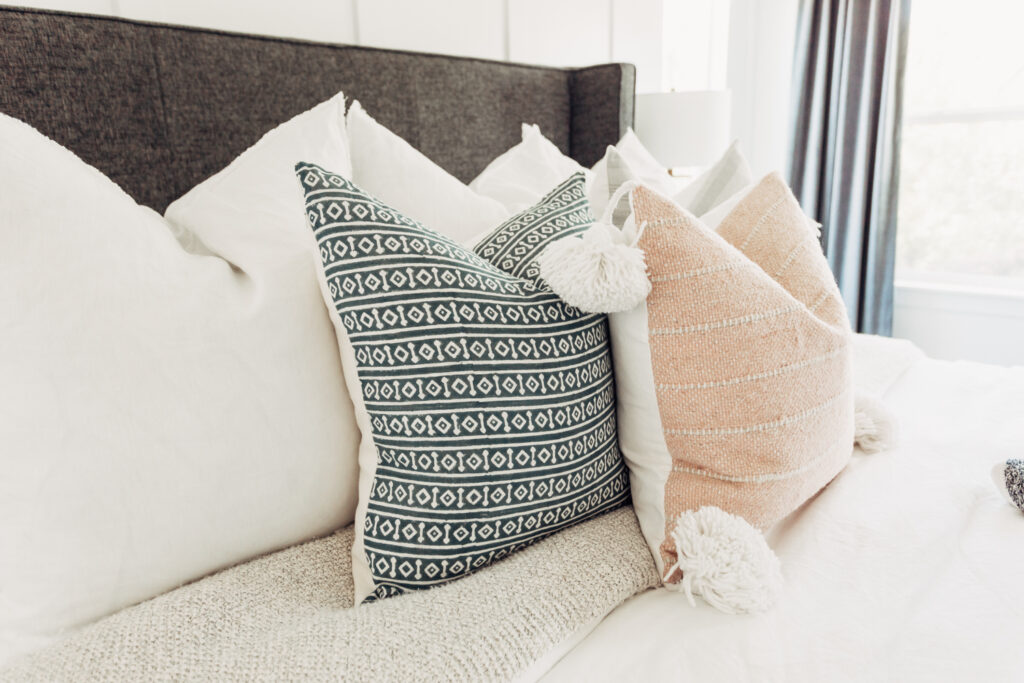 Where you can find everything:
BEDDING
Shams: c/o Pom Pom at Home
Blue Geometric Pillow: c/o Danielle Oakey
Grey Stripe Pillow: c/o Loom to Linen
Pink Pom Pillow: c/o Loom to Linen
White Fur Pillow: Contact Kelsey
Rectangle Blush Pillow: c/o Loom to Linen
White Duvet: Pottery Barn
Dark Grey Blanket: c/o Pom Pom at Home
Sweater Blanket: Target
Throw Blanket: West Elm, old similar here
FURNITURE
Headboard: McGee and Co, contact Kelsey. She can get it for you much cheaper through another retailer that only works with designers!
Blush Bench: West Elm
Rug: Loloi Rugs, contact Kelsey
Nightstands: I can't remember!! Will update soon
Lamps: c/o Wayfair
Fan: Lamps Plus
Desk: West Elm, white color unavailable
Chair: Contact Kelsey
Round Mirror: CB2
Dresser: West Elm
Planter: West Elm, similar here
Drapes: c/o Uptown Drapes
Artwork: c/o Christie Adelle
Other Decor
Faux Fiddle Leaf Tree: Pottery Barn
Vanity Mirror: c/o Simple Human
Frames, flowers and other table decorations: TJ Maxx and Home Goods
Let me know if I missed anything!!! I told the kids I'd take them to the pool after we took pictures of the bedroom and they hopped in at the end, in their swim suits of course! I love these photos, it just showcases the crazy chaos that is my life and I love them to pieces!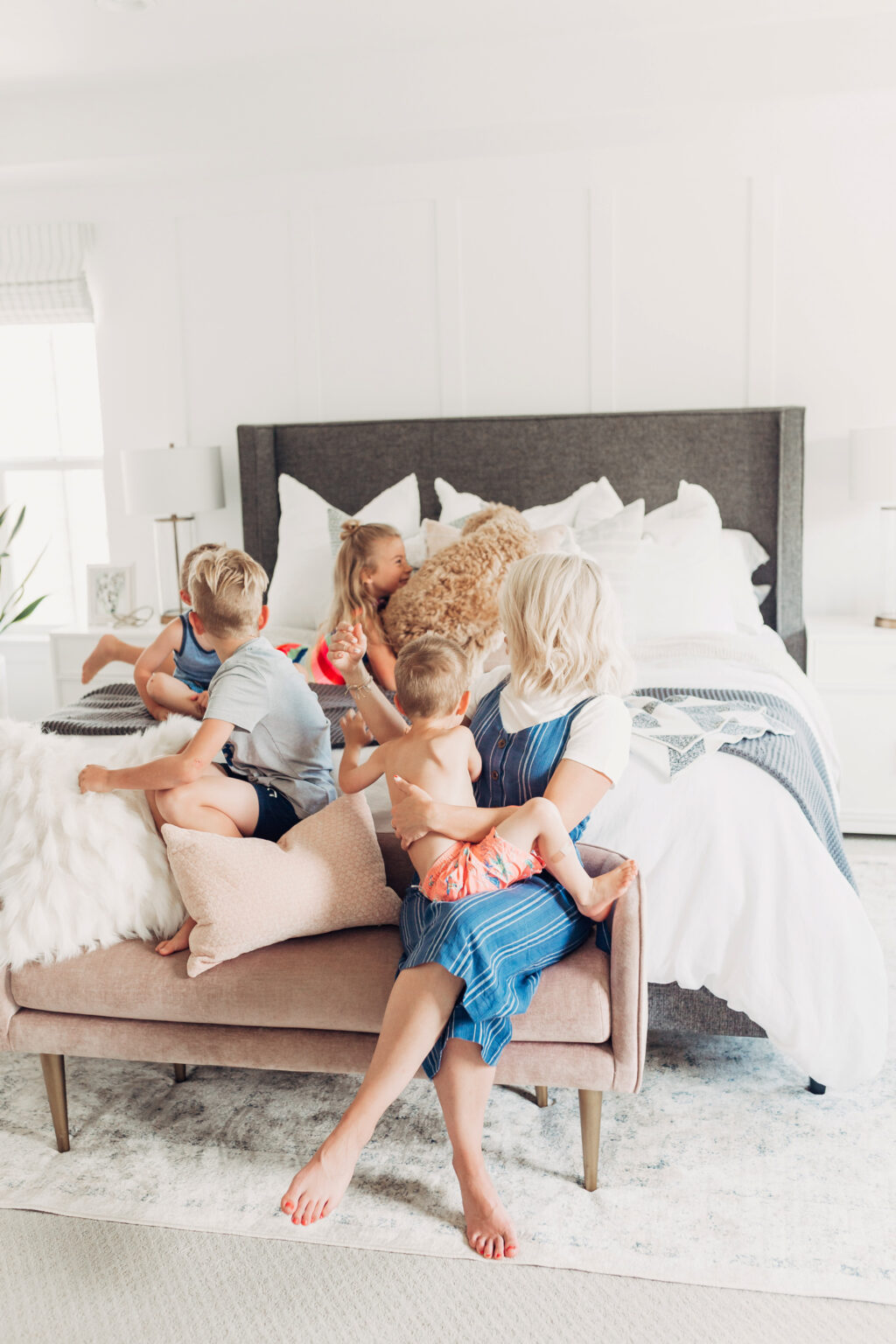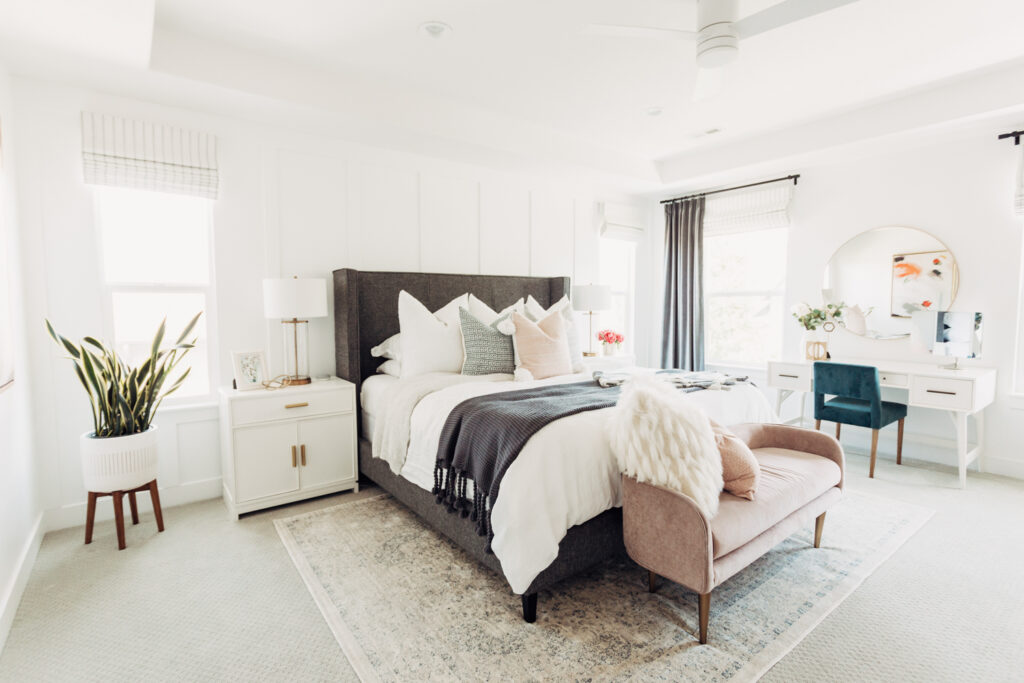 Euro Shams
My very favorite Euro sham inserts are from IKEA. Snag the 26″ inserts, they fill Euro shams beautifully + they're super affordable. These white shams from Pom Pom at Home at amazing. They're 100% linen, they're so soft and wash so well. If you aren't familiar with Pom Pom at Home make sure to check them out. Their bedding is incredible!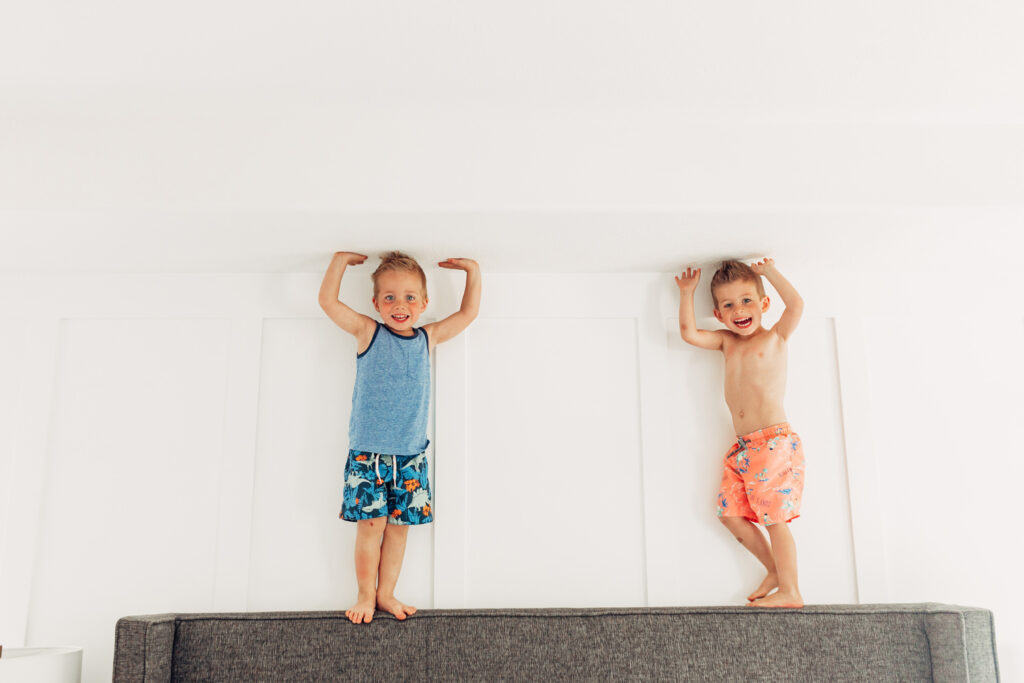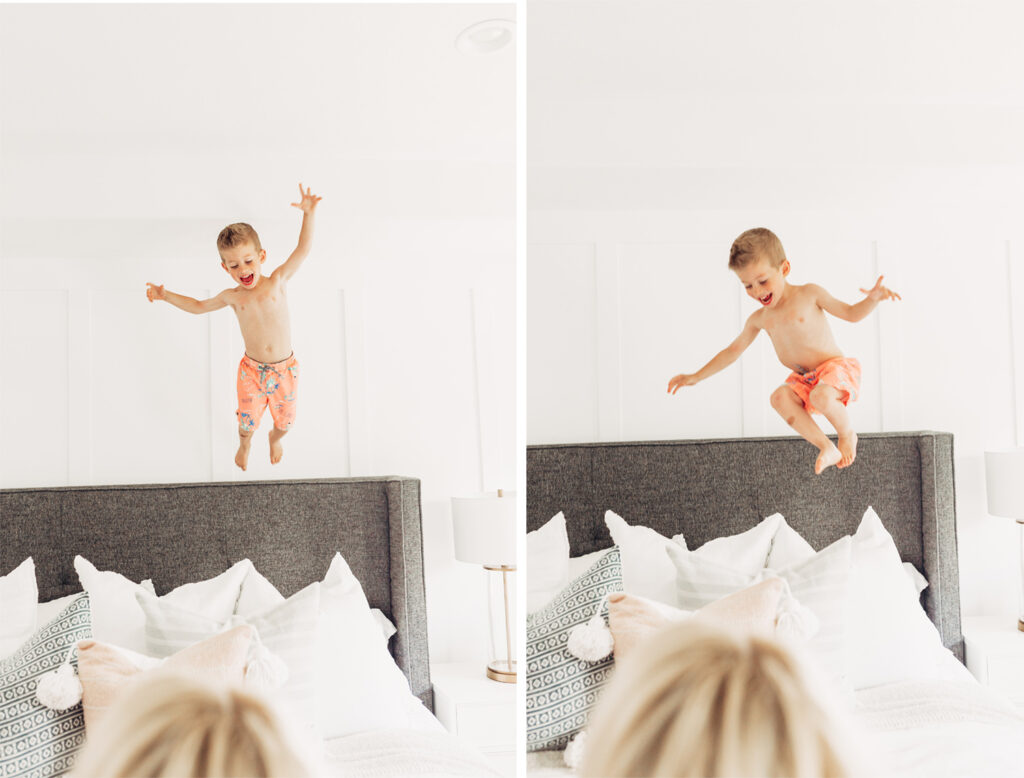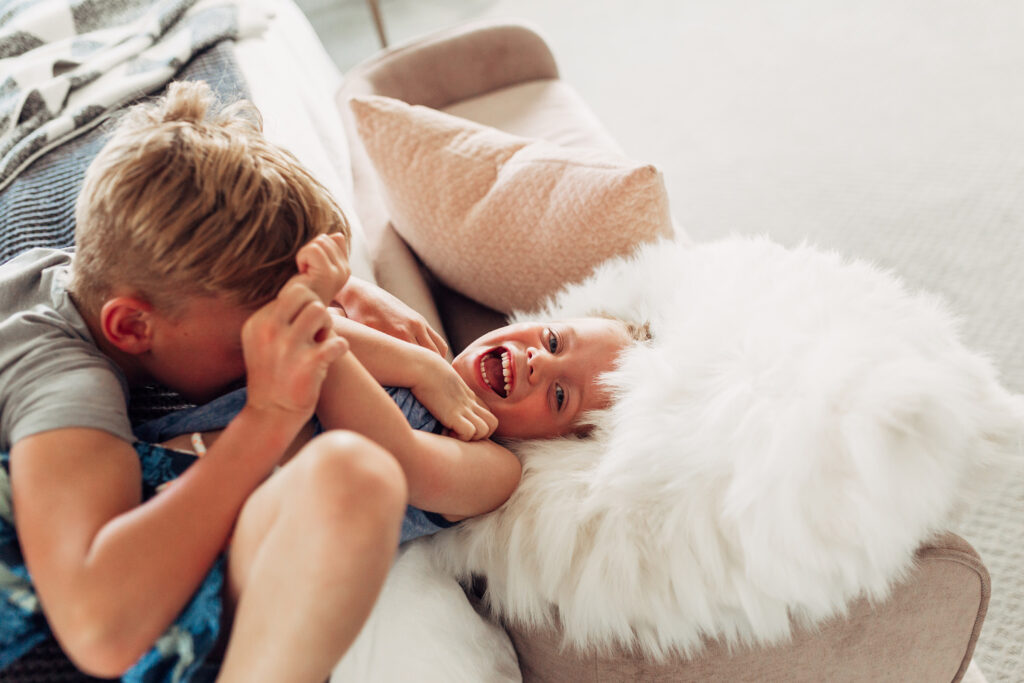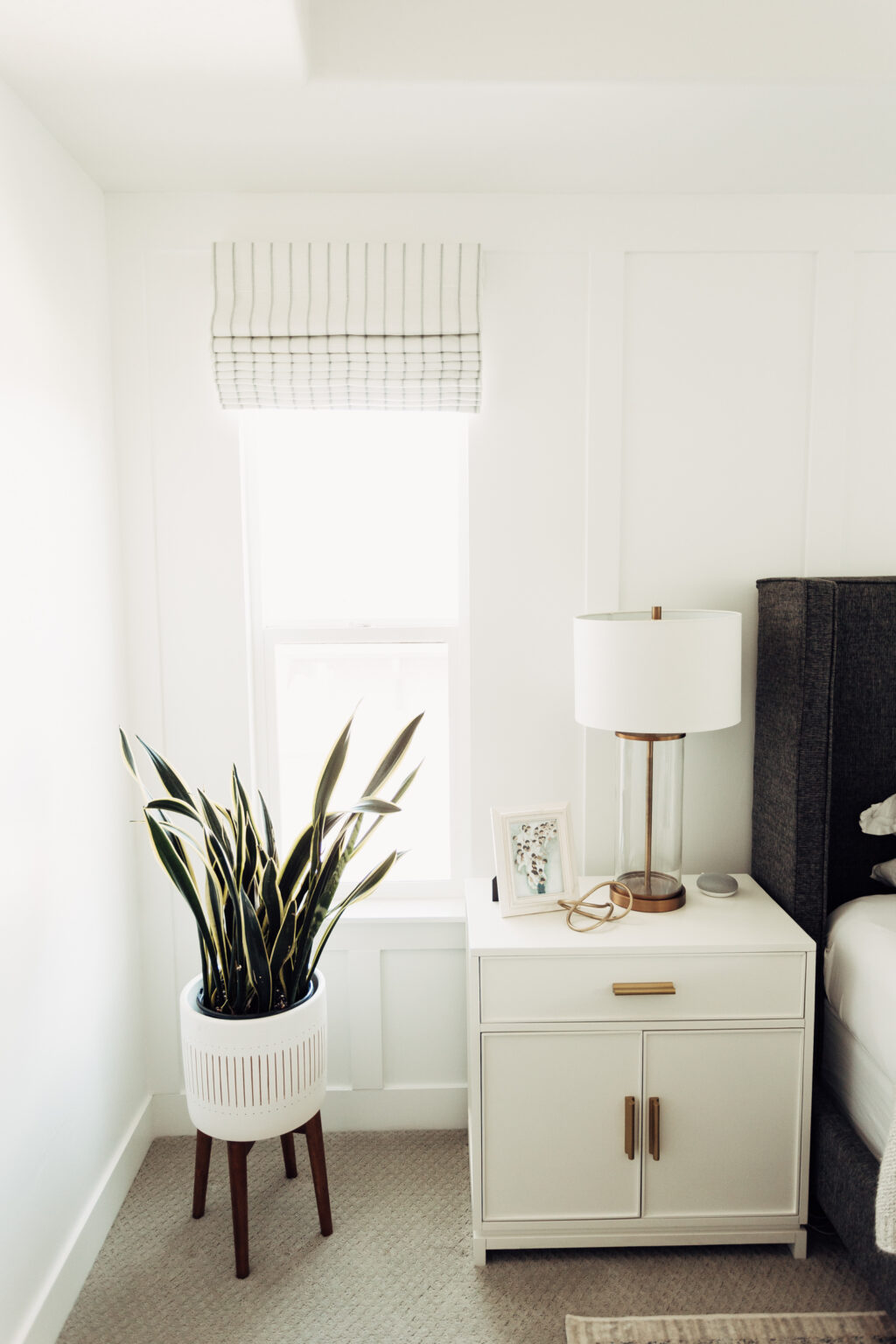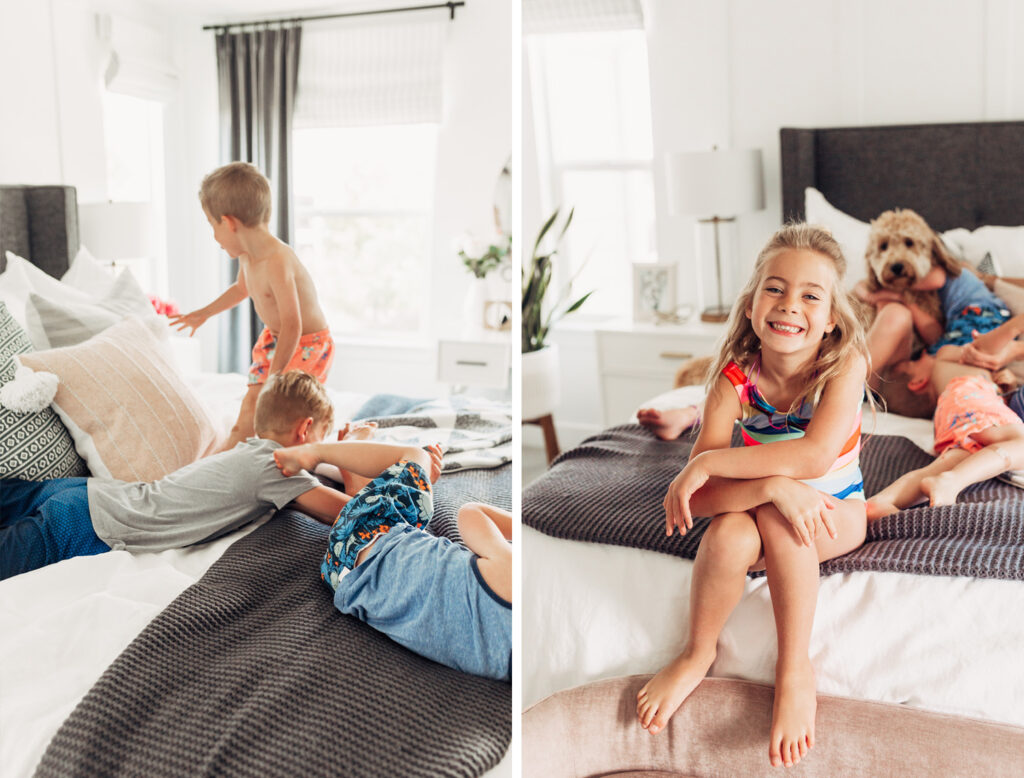 Alright, let's finish this room up. Let me direct you to the other side…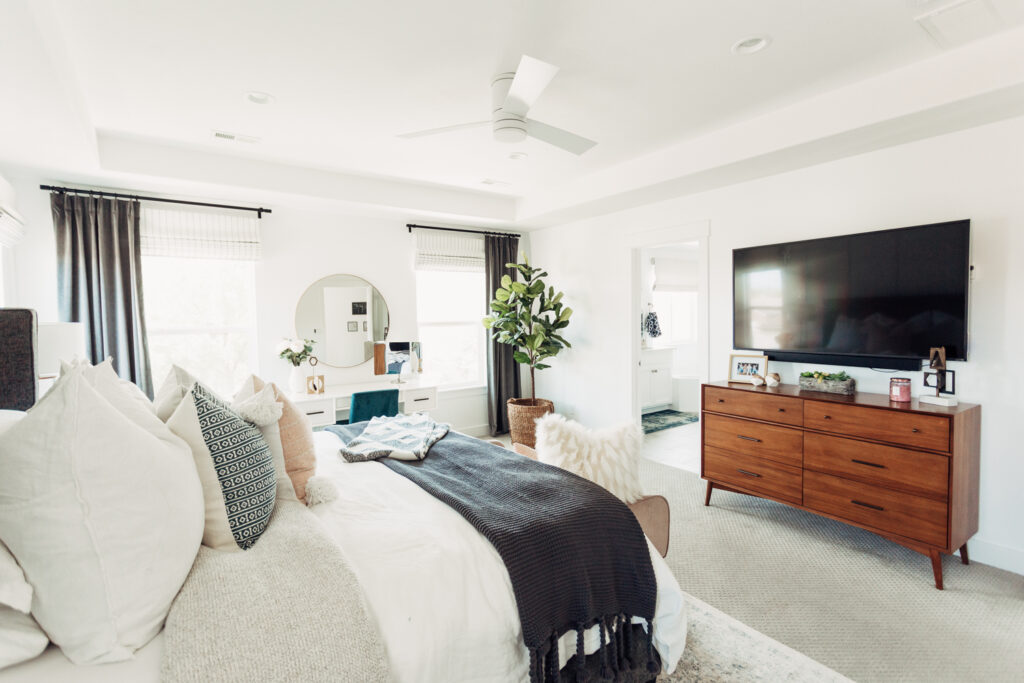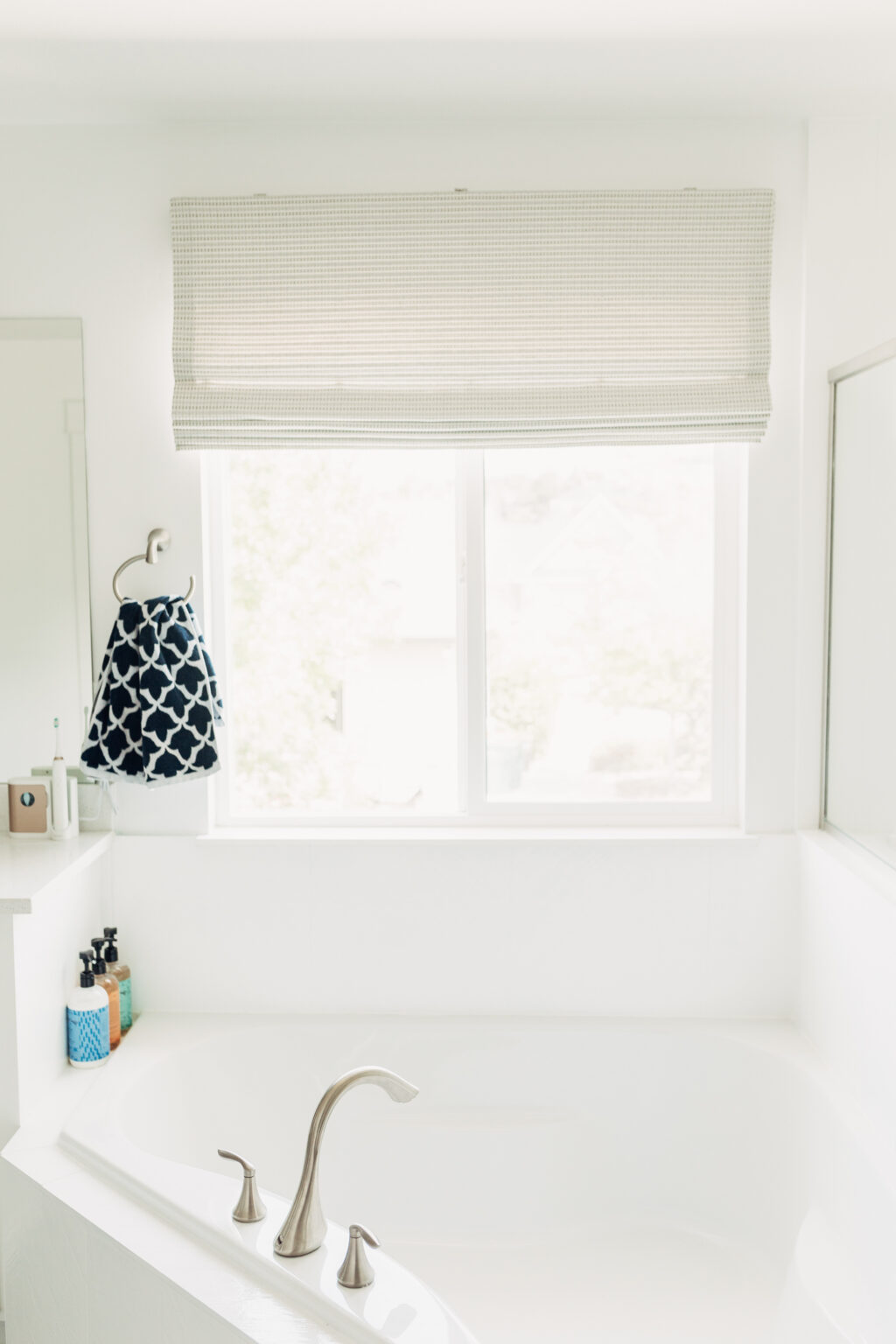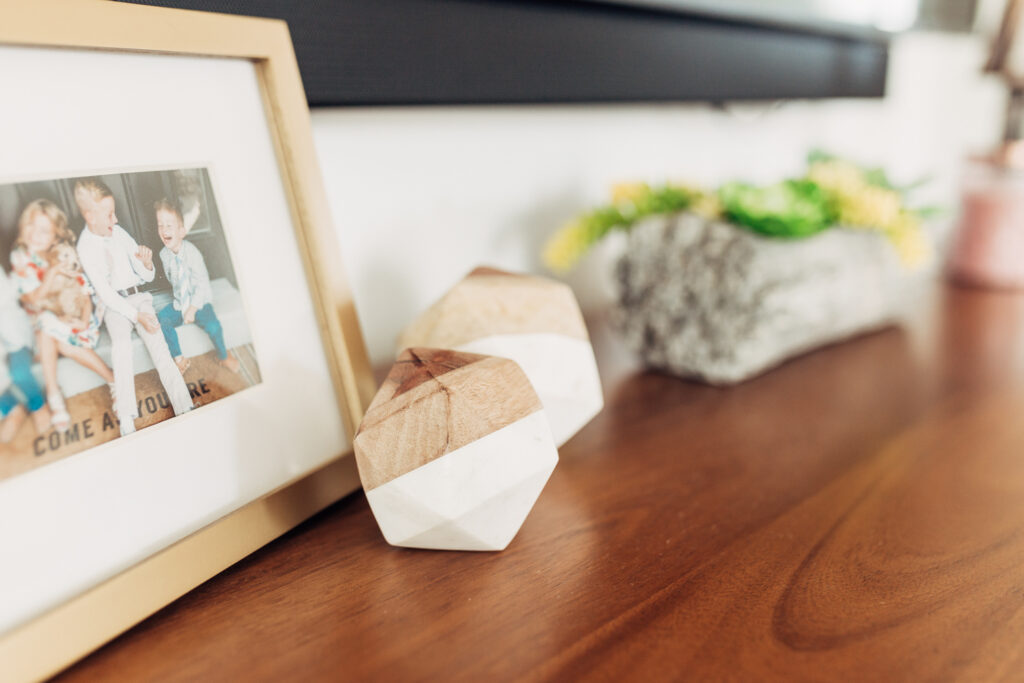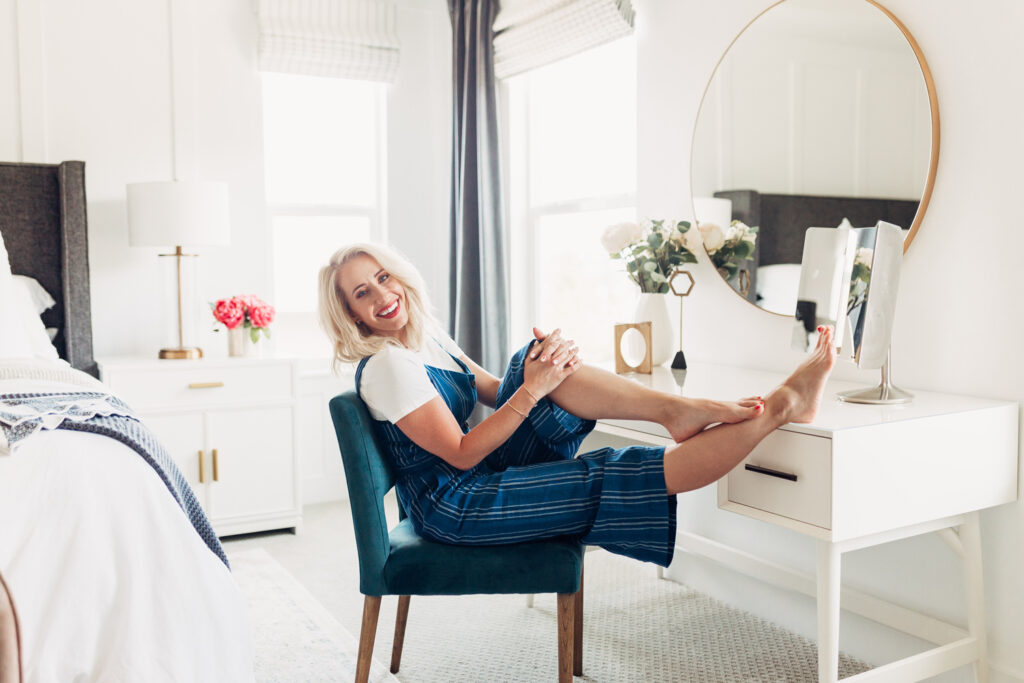 Drapery
Can we just talk about the drapes? THE FREAKING DRAPES!!!! I worked with Uptown Drapes in Boston's room and loved them so much that I decided to have them do my master. They're so great to work with and their site is so user friendly! Kelsey brought over some of their samples and we sat on the floor in my bedroom and just held things up to the bed and the walls and had so much fun figuring out how we wanted to layer everything.
I was super nervous when Geeta (the owner who is my favorite person ever) and Kelsey recommended the dark grey velvet drapes. Guys. I've been living in white for the past five years so these moody colors with the drapes and the headboard were scaring me! I knew more than anything that I trusted Geeta and Kelsey, I love each of their styles and knew I was in good hands so we just went for it. On the large wall we layered a beautiful white ticking stripe roman shade with a grey velvet drape and Uptown Drapes custom iron rods.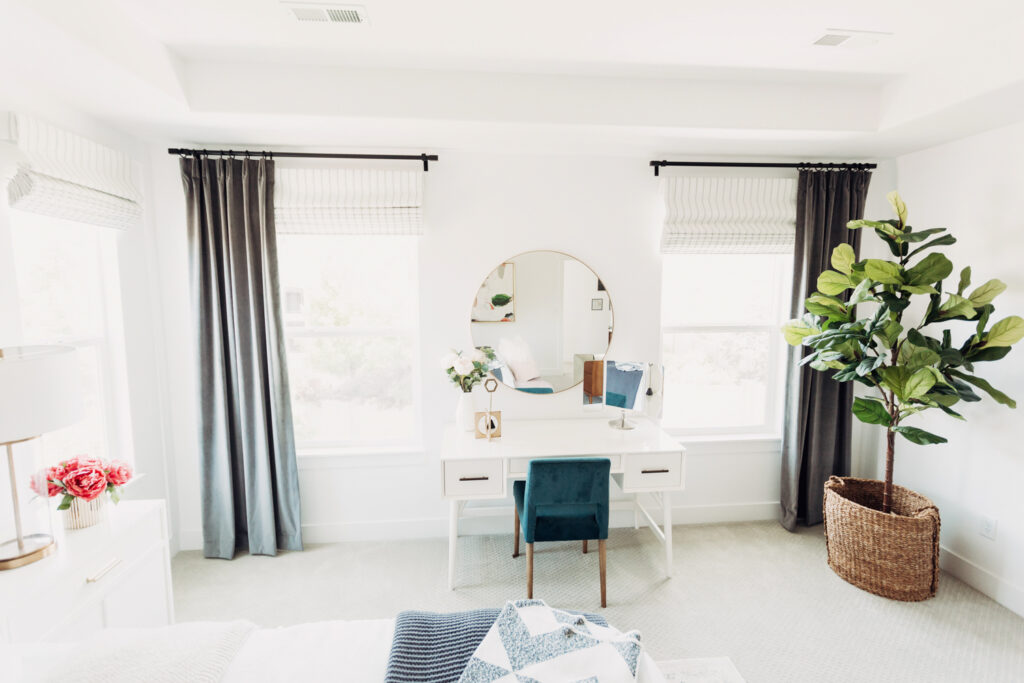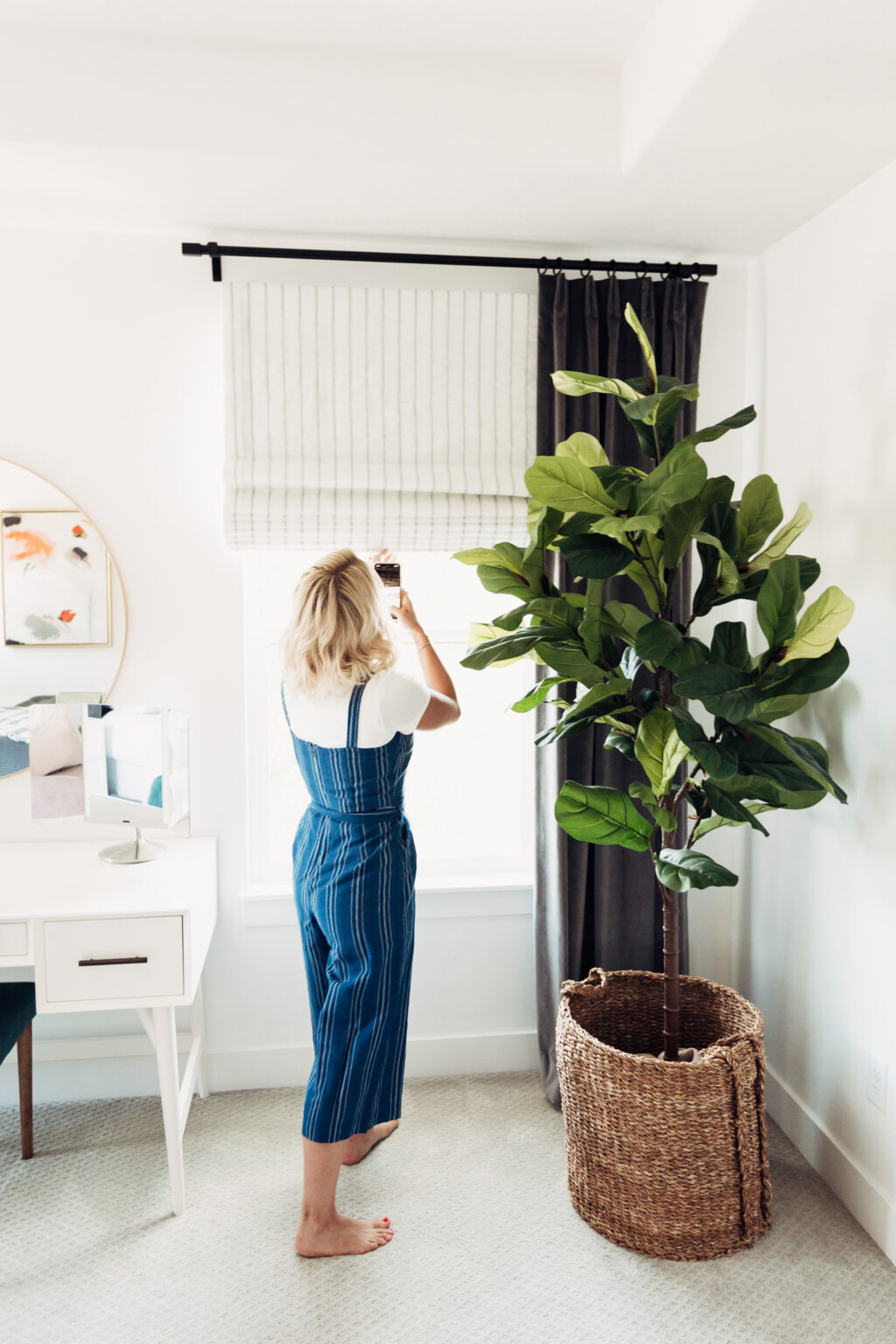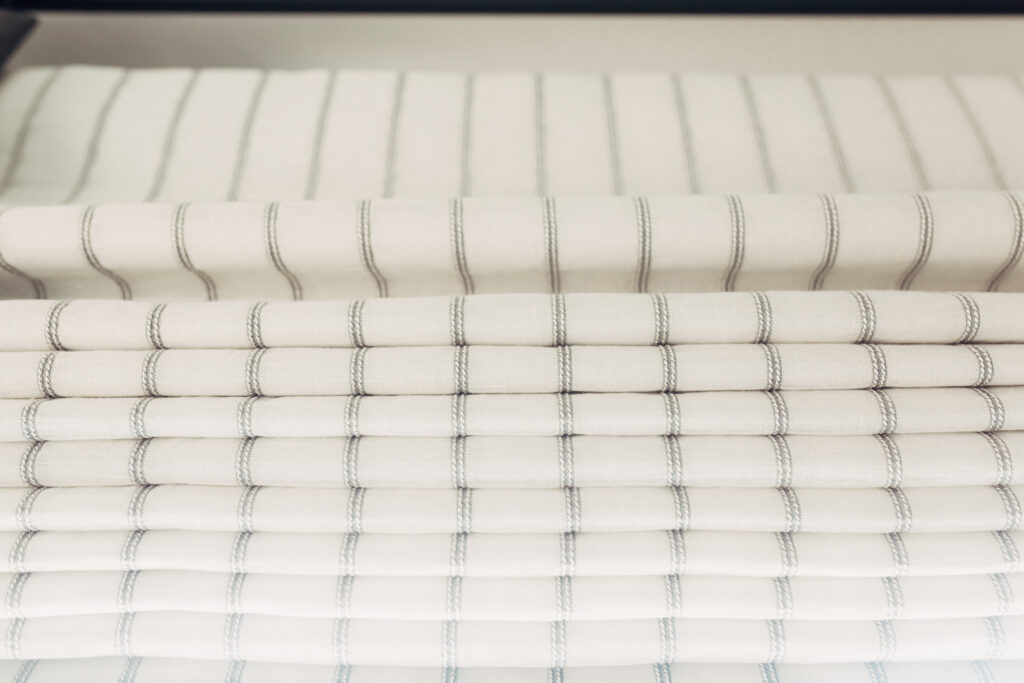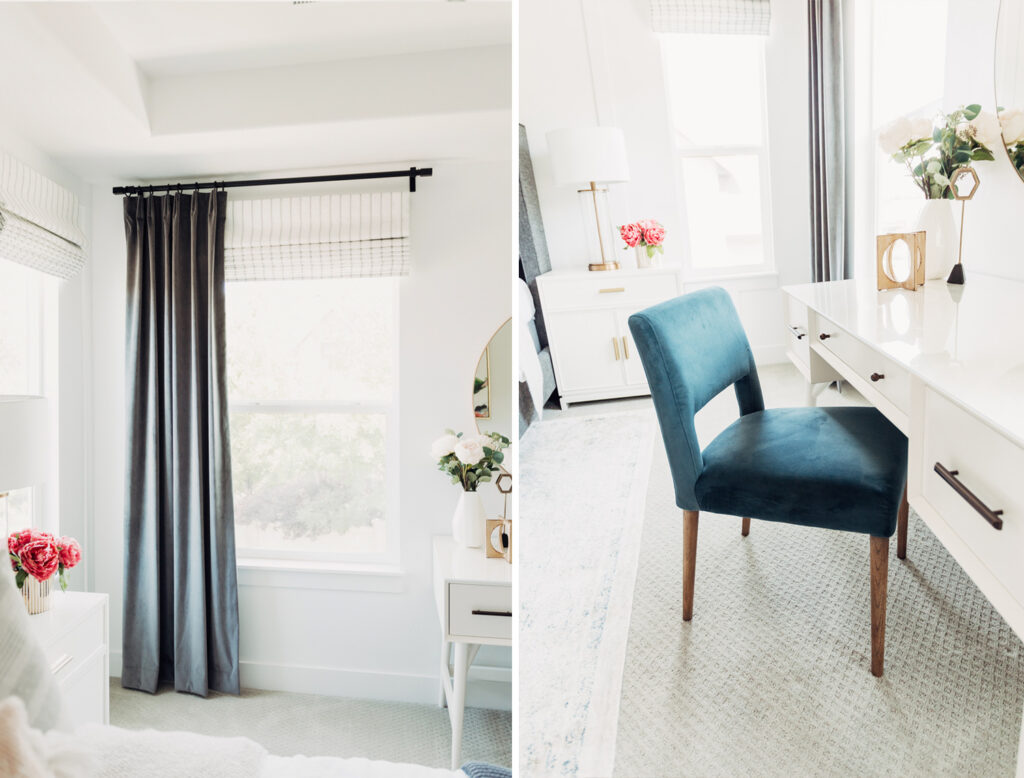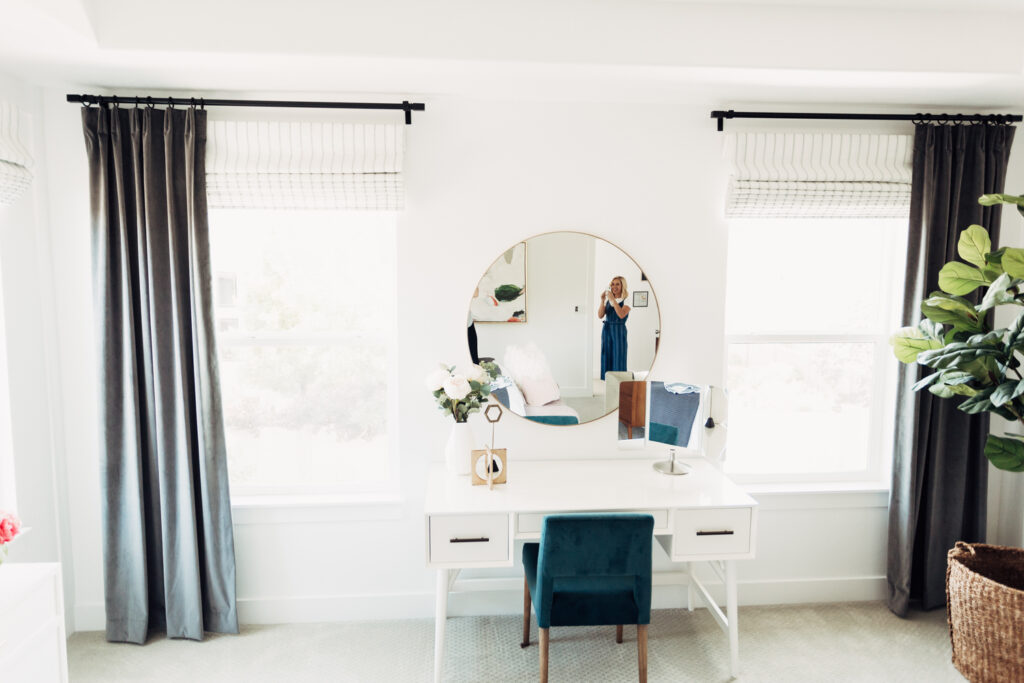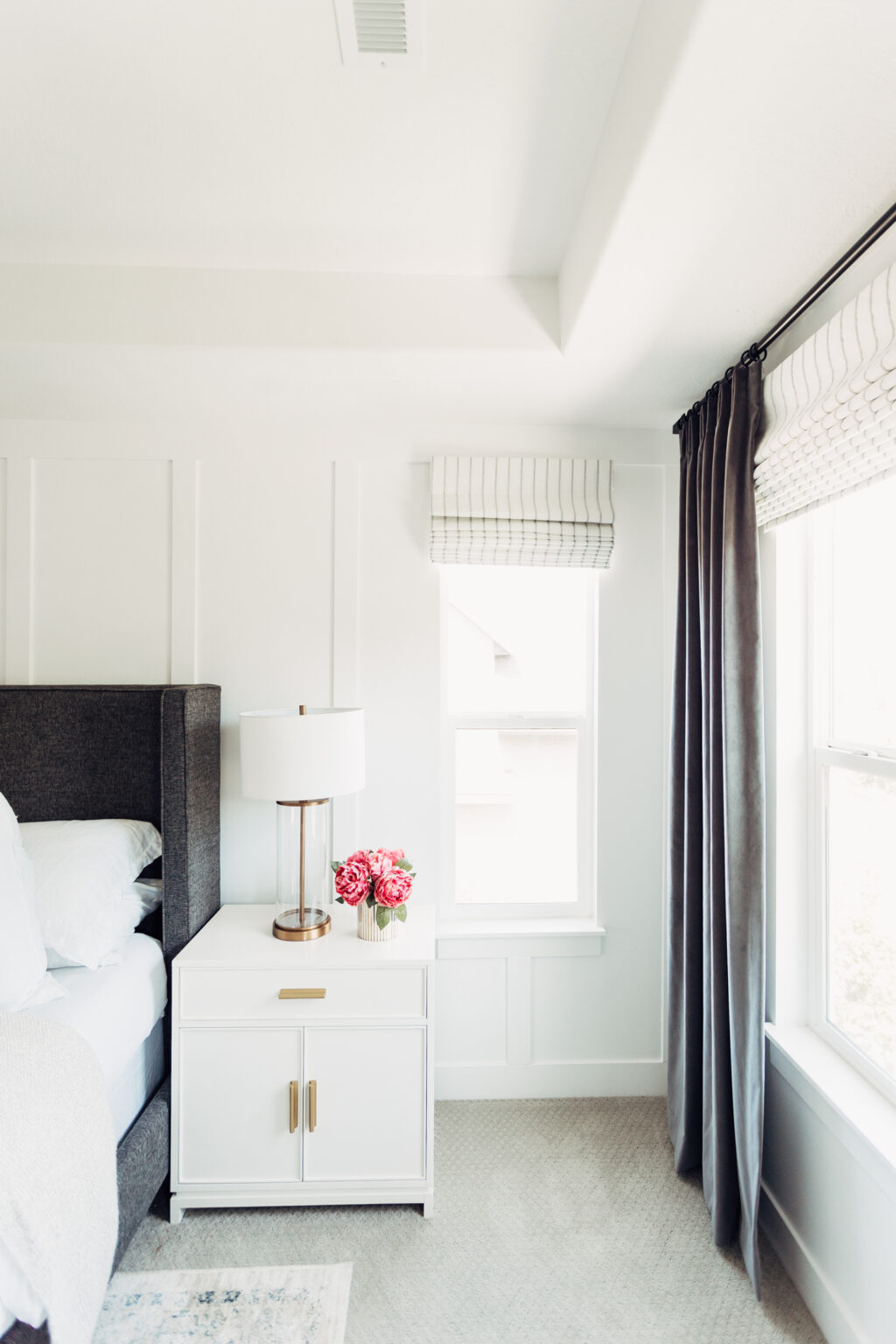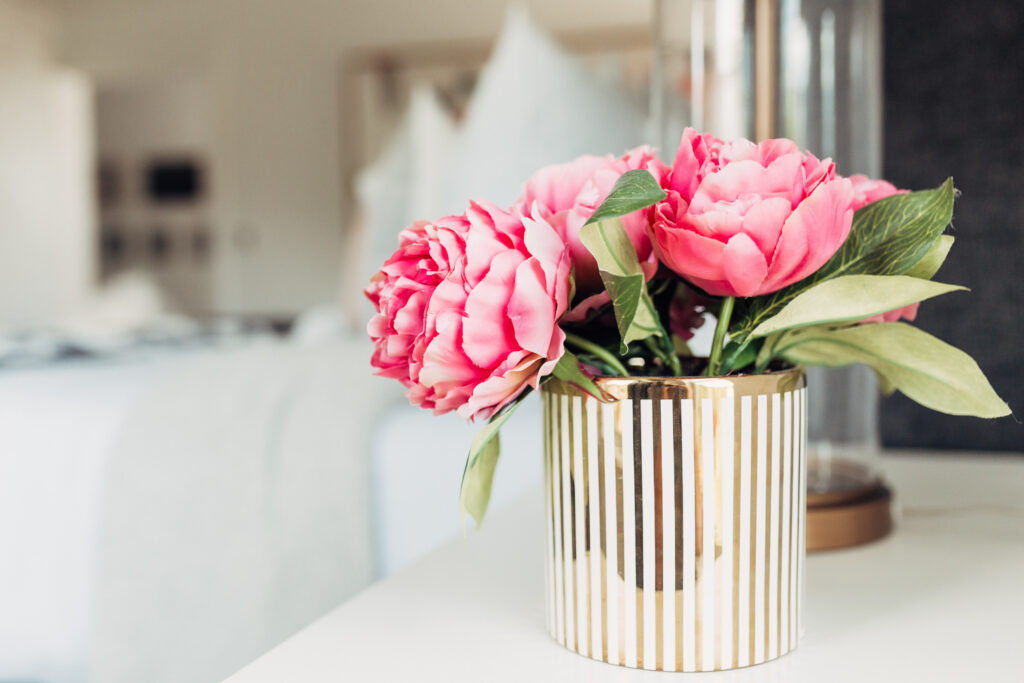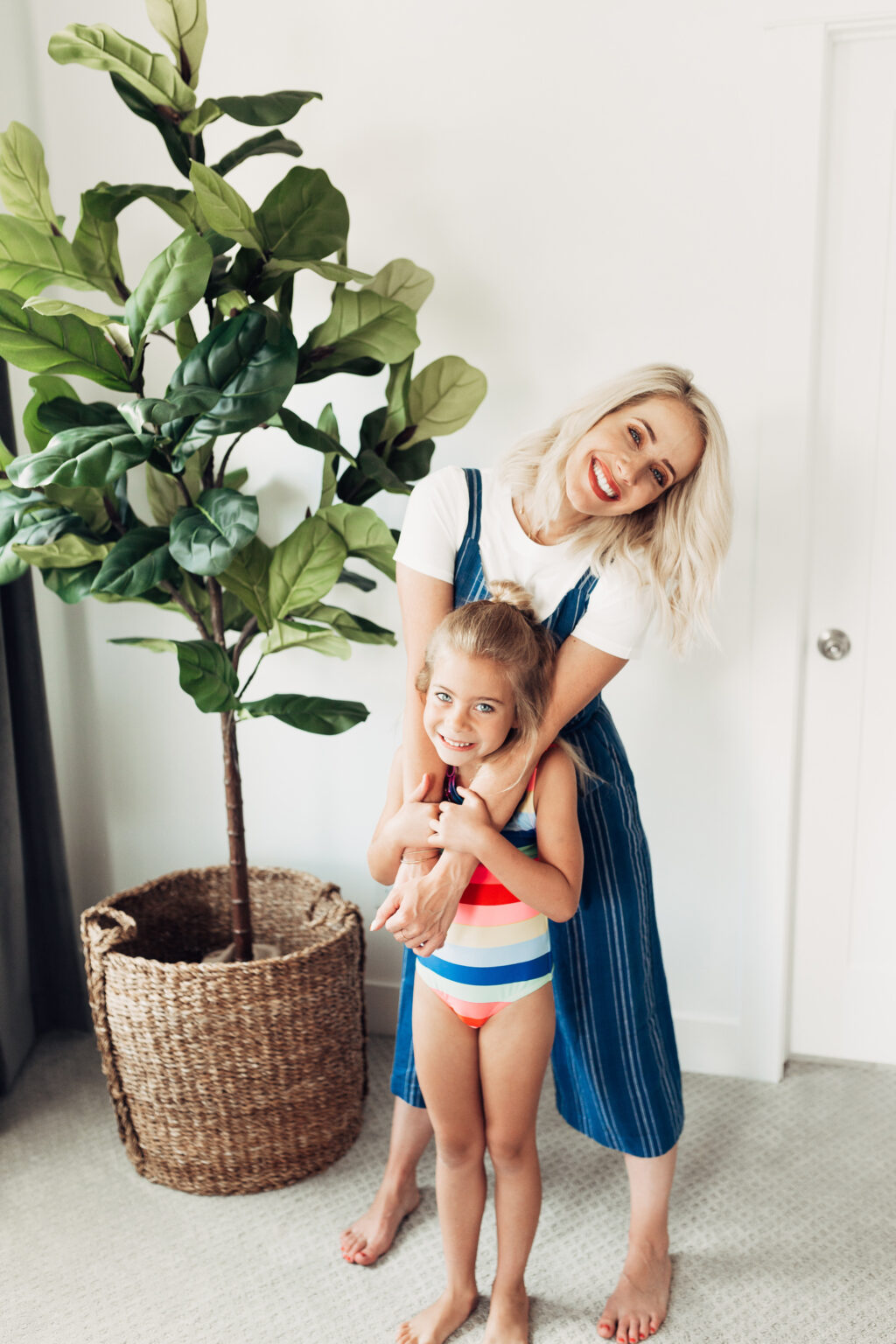 Real quick, this faux fiddle fig tree is from Pottery Barn and it's AMAZING. I've spent hours and hours researching quality faux figs because I cannot keep them alive and this was such a good purchase. It's beautiful and adds so much warmth to the room!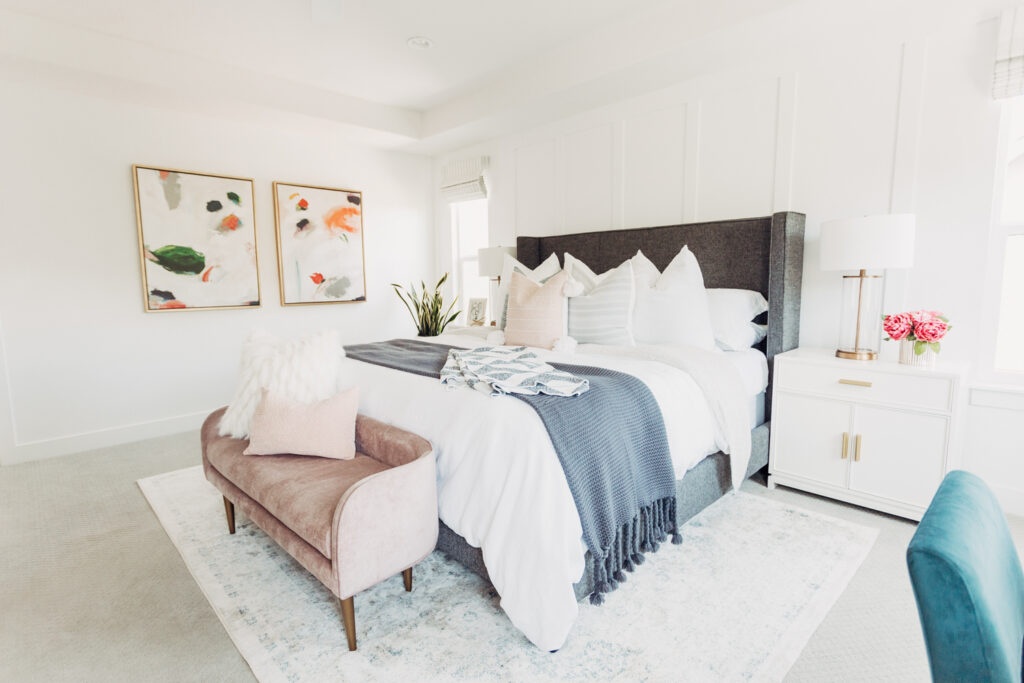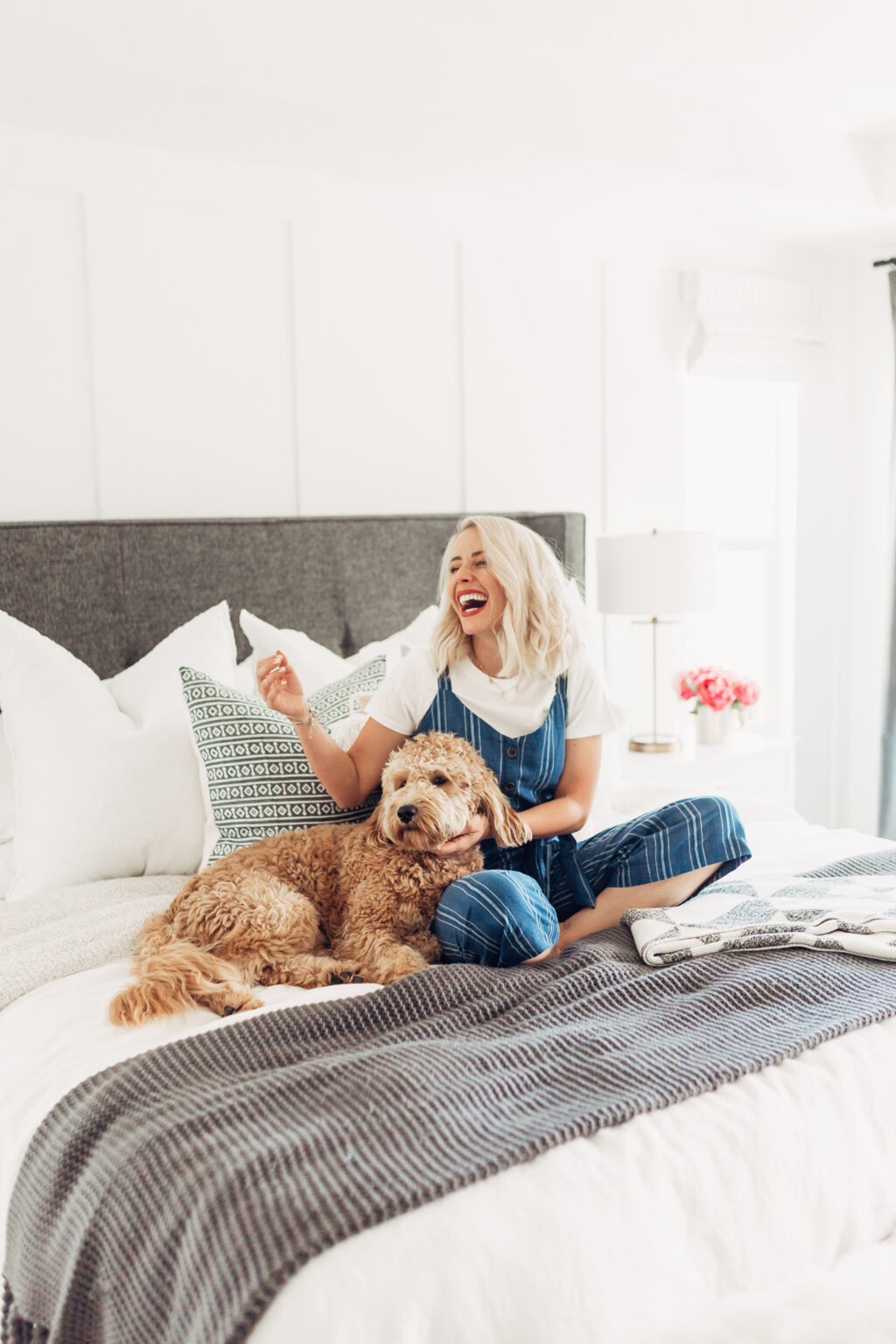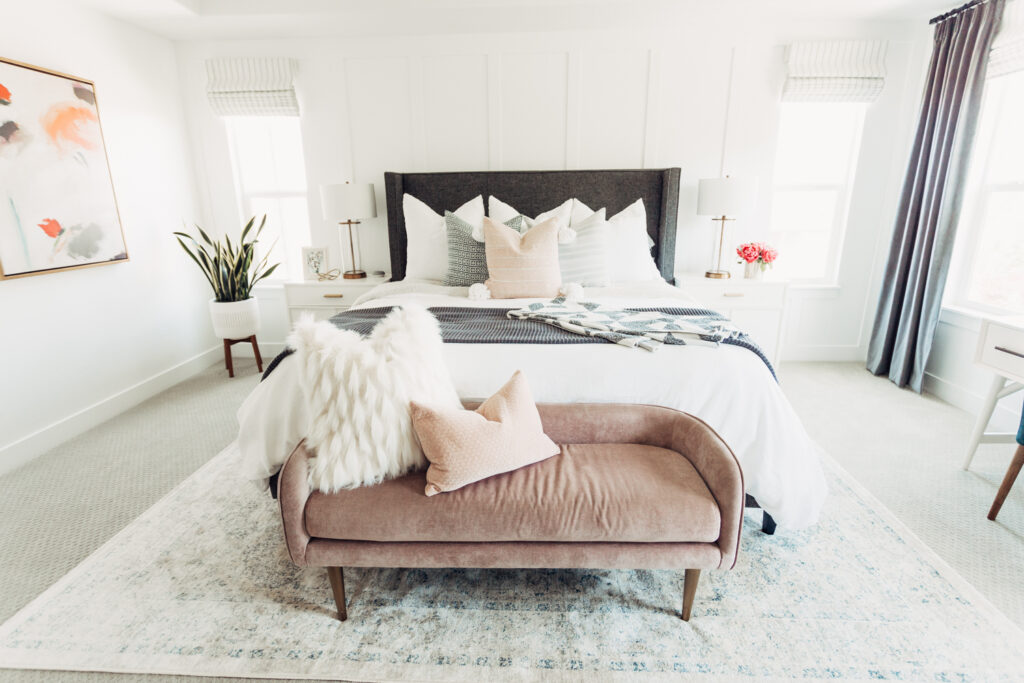 And that is a wrap! I am so excited about how it all came together, what do you think? What are your favorite pieces in your master bedroom?
Abby