This past year has been harder than I expected. Becoming a single mom and going through a divorce has been tricky to say the least. I'm so grateful that I have my own business so I can provide for myself and my kids. My favorite business girl, Michelle Gifford, is here to share 9 ways to make money online as a stay at home mom. Believe me, you want to listen to what she has to say, the girl knows online business!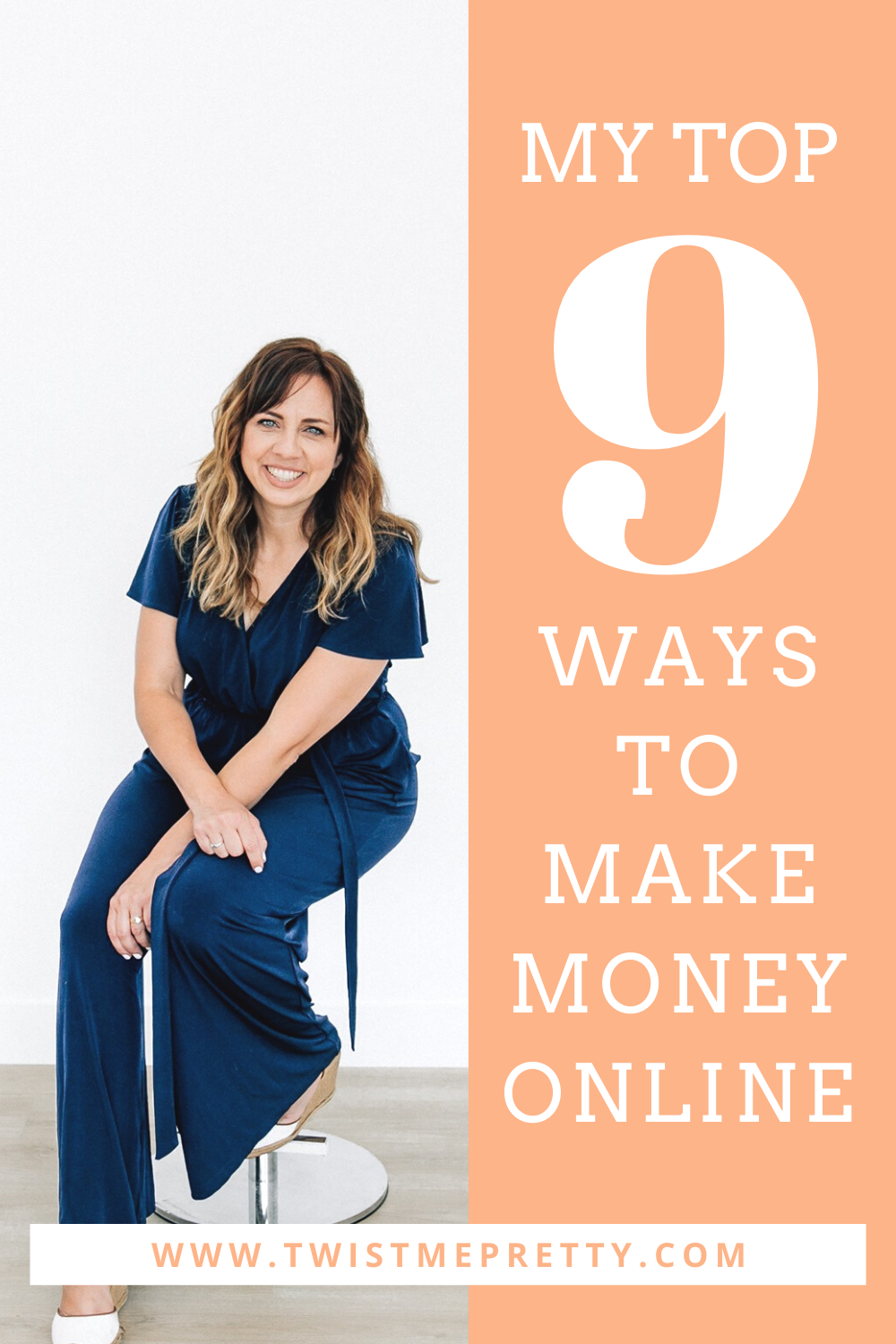 Hi everyone, I'm Michelle Gifford. I'm a Brand Strategist who believes you can be a mom and a business owner at the same time. I teach women every day how to create content online that converts into sales and money. Here are my 9 ways to make money online as a stay at home mom. Are you ready? Let's get to it!
9 Ways to Make Money Online
1-Sell Your Skills
Remember way back when you didn't have kids? And people actually called you by your first name? Maybe you went to college and earned a degree or two or three. Maybe you had a few hobbies, or a full time job. Odds are that you have a skill or two or four that you can use now online to make some money without going into an office. Here are a few of my favorite ideas to get you started:
Photography: The nice cameras are getting cheaper all the time, and you can find just about anything on Craigslist nowadays, too. There's always a need for someone to take pictures of a newborn baby or a family reunion. Start small with your friends and family. Don't be afraid to offer your services to those you know. (And if you're ready to dive into photography, I've got a course for you.)
Childcare: If you have your own children, you might consider providing childcare for one or two other children during the day. It's not only a great way to provide some income, but it can also provide socialization for your child, by having friends to play with for a few hours a day.
Accounting: Jobs like accounting are increasingly becoming remote. This means you can work from home on your own schedule. You can check with small businesses in your area to see if they have work for you. Or, there are larger companies that hire work-at-home accountants.
Online Universities: Many colleges and universities provide classes online, with some colleges and universities being solely online. The University of Phoenix is one of these. As an online instructor, your hours are flexible and the material is usually given to you. You act as a facilitator for the class, answering questions and grading assignments–great to do during nap time or after the kids are in bed.

2-Sell Your Products
Do you sew or paint? It may seem like a fun hobby to you, but you should consider selling some of the products you make online. There is a market for many different types of handmade products. Sewing, painting, artwork, hand lettering, handmade jewelry, woodwork, etc. the list of possibilities is endless. Check out the online marketplace, Etsy, for a platform to easily sell your creations. You can also create your own website to sell from to make money online. And be sure to check out local craft fairs in your area to sell your products in person.
Take some time to make quality products and then start selling and advertising them. You can use social media to promote your items and tell people where they can find your great product. Even if you don't use Etsy to sell your product, consider browsing Etsy's seller's handbook for some valuable information on how to successfully sell your handmade goods. I know it can be scary to show the world your lovingly made creations, but do it! You'll find a great community of people who love your products and will support you.

3-Become a Social Media Manager
If you have experience in communications or marketing, or you have created a successful online presence, you should consider becoming a social media manager. As companies grow, they need help managing all the different aspects of the business, including their social media. This is something that can be done completely from home. You'll work with the company to create content for it's social media, manage ads, reply to followers, etc.
Look for brands, companies, and online influencers that you already love and follow, then either reach out to them or check their career pages to see if they have a need for a social media manager. You'd be surprised how many of your favorite Instagrammers (@twistmepretty) have teams working behind the scenes to get content to their readers and followers!
4-Become a Freelance Writer
Writing is another job that is really easy to do from home. With the increase of blogging and content creation, many people are looking for extra help to provide content for their websites. You work on your own schedule (subject to possible deadlines), and you can control how much you write during the week. There are so many topics available for freelance writers, you are bound to find something that interests you. To get started, check out the list that Arts and Budgets has curated of companies that hire freelance writers.
5-Teach English Classes
If you have every worked as a teacher, you should consider teaching online English classes. Companies like VIP KID need people with teaching experience to teach English to children in China. The work is flexible but consistent, and the teaching material is provided for you. You can work as much as you'd like, and you get the satisfaction of helping children learn a new skill, which can be very rewarding. For more information on what it's like to work for VIP KID, look at the interview Alexis Tanner Lane did with a current teacher for the company.
6-Get Involved With an MLM
MLM's can be scary for a lot of people. You might think the only way to make money with an MLM is to hit up all of your friends and host lots of parties. But it doesn't have to be that way! If you're careful about the MLM you choose, then selling can be fun and easy. Choose a product that you truly love or already use, and promote the product through your social media and blog or website. This is a really popular way to make money online. If you love essential oils or a certain make-up brand or some books, then you should consider selling for the company. You can get discounts on products that you already use AND make some money. That's a win-win.
7-Build a Brand & Start a Blog
Many people wonder how bloggers make money, and the answer is that there are SO MANY ways. One of the best ways to make money blogging is through affiliate links. Affiliate links are links to products and services that you talk about through your blog. Then, when people click on the link and buy the product or service, you get a percentage of that sale.
Think of products and services that you already use and then go visit their website or reach out to them to see if you can become an affiliate for them. If you are using the product already and love it, then writing about it on your blog will come naturally. Don't force this. If you don't love a product, don't endorse it. Abby is great at doing this with her brand and this blog. Because she only shares products that she, as a mom, uses she is more successful in her affiliate sales. We, the readers, are more apt to purchase through her links because we can sense her sincerity.
Having a blog is also a great way to promote some of the other ways to make money that we've already talked about. You can promote your MLM, sell your handmade products, create printables, design courses for people to buy, or even develop your own product line, like Abby has with her shop, Flourish . I have a great article that will walk you through starting a blog step-by-step. It's not hard. Go do it right now!

8-Take Surveys
Did you know you can get paid to answer questions? You may not make enough to pay your mortgage doing this, but you can definitely supplement your gift budget or buy that pair of shoes you've had your eye on by taking surveys! Surveys typically provide cash or gift cards, and you can take the surveys on your own time and at your leisure. Arts and Budgets provides a great list of companies that pay you to take surveys.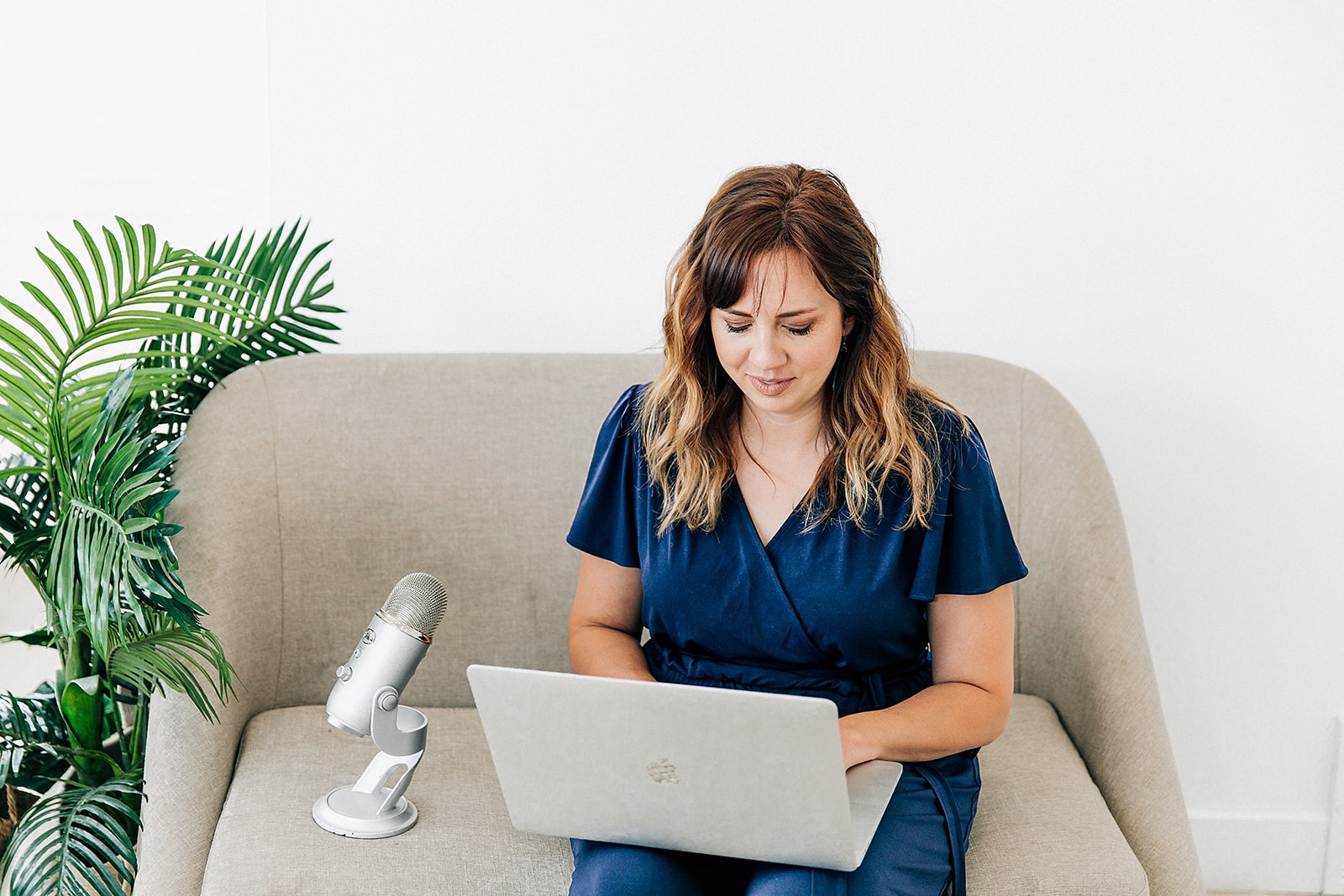 9-Become a Brand Ambassador or affiliate
Brand ambassadors are similar to being an affiliate. You can get paid for sharing pictures of great products that you already use and love. How great is that? Becoming a brand ambassador can be a great way to earn some extra cash or discounts on products. You just take pictures of yourself wearing and using the product, and then tell your audience how great the company and products are. That's it!
Being an affiliate is different than being a brand ambassador because instead of being paid in products or in discounts, you get paid a commission when someone makes a purchase from the company using a specific link or code attached to your name. One of my favorites is Journey Five. They have great clothes, it's free to join, and as an affiliate you get paid 10% every time one of your followers makes a purchase! Another favorite is Olive Ave. I just love their clothes.
I hope this list inspires you. Thank you to Abby here at Twist Me Pretty for inviting me to be here. I'm so glad I got to share with you how much fun it can be to build a business and make money online.
Luvs, Michelle