HEYO!!!!!!! You guys know I've been STRUGGLING hard core with my bookshelves. We have just about a million floating shelves next to our fire place and honestly it's just too overwhelming for my brain! One of my best friends in the whole entire world is a fabulous designer and I asked her to put together a little e-design of products I can buy for my shelves. She's the best and put together this little collage + a few tricks on styling them like a pro!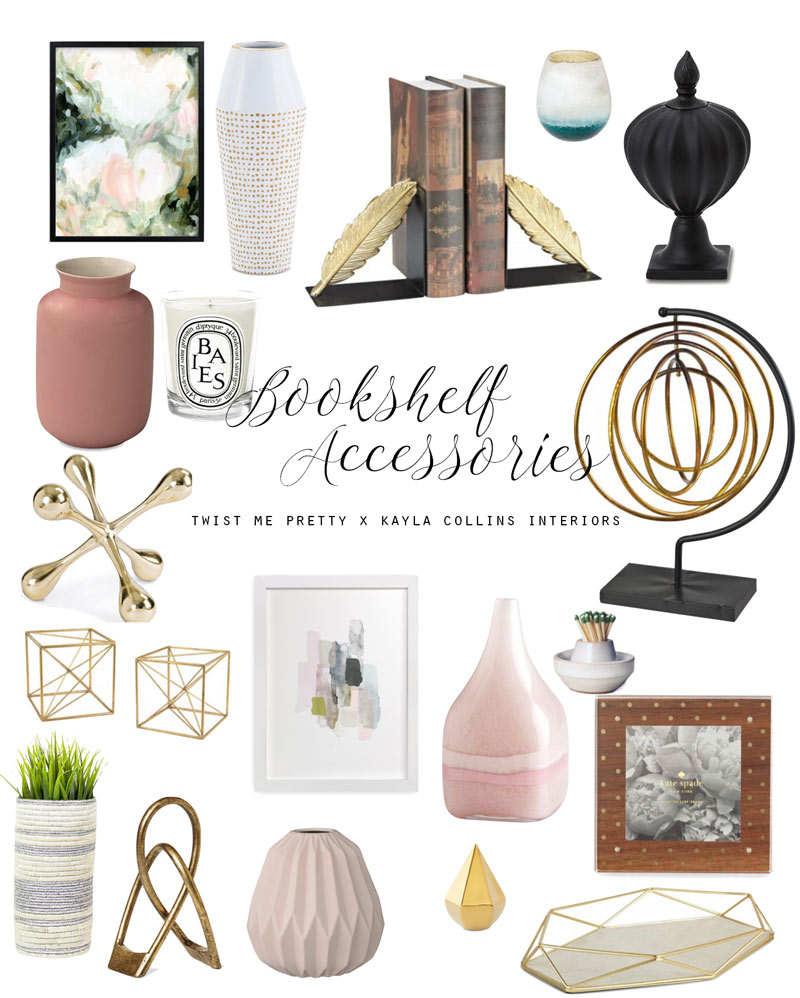 Hey guys! My name is Kayla Collins of Kayla Collins Interiors and I'm so excited to be here guest posting at Twist Me Pretty! I'm a mother of four and interior designer living in Orange County, California. I'm also an expert online shopper and deal finder, I love to stay on top of trends, and sharing good deals and great finds is pretty much my favorite thing ever. My style is classic, comfortable, and slightly feminine, and I love adding in trendy pieces here and there to make it feel current. You can find me over on Instagram @kaylacollinsinteriors, and follow along with my current projects!
Today we are talking all about bookshelf styling. It's one of the hardest things to style, to be honest, and I have had many clients tell me it's the area they're most intimidated by. But don't be! What I love about styling shelves is how easy it is to experiment and move things around. It's also a fun area to add quirky pieces that tell a story about you or your travels, a great place to add pops of color —especially a color like millennial pink that your husband might never let you use anywhere else haha!— and really just a spot to show your personality.
One trick to make it a bit easier is to use the rule of odd numbers. Three items grouped together will always look better than two, five is better than four, and one large item can always stand on it's own! Be careful not to overwhelm your shelves or it will look cluttered and chaotic. It's also a good idea to use varying heights and scales when styling your shelves.
Some of my favorite objects to use are antique books, interestingly shaped sculptures, family photos, candles, vases of varying heights, small paintings, and trays. Gold is definitely on-trend right now, and I love how it adds some glam to bookshelves! Below are a few of my favorite pieces from around the web, all under $100 (and most under $50). I hope you find something you love and if you need any help with one of your spaces, don't hesitate to reach out!