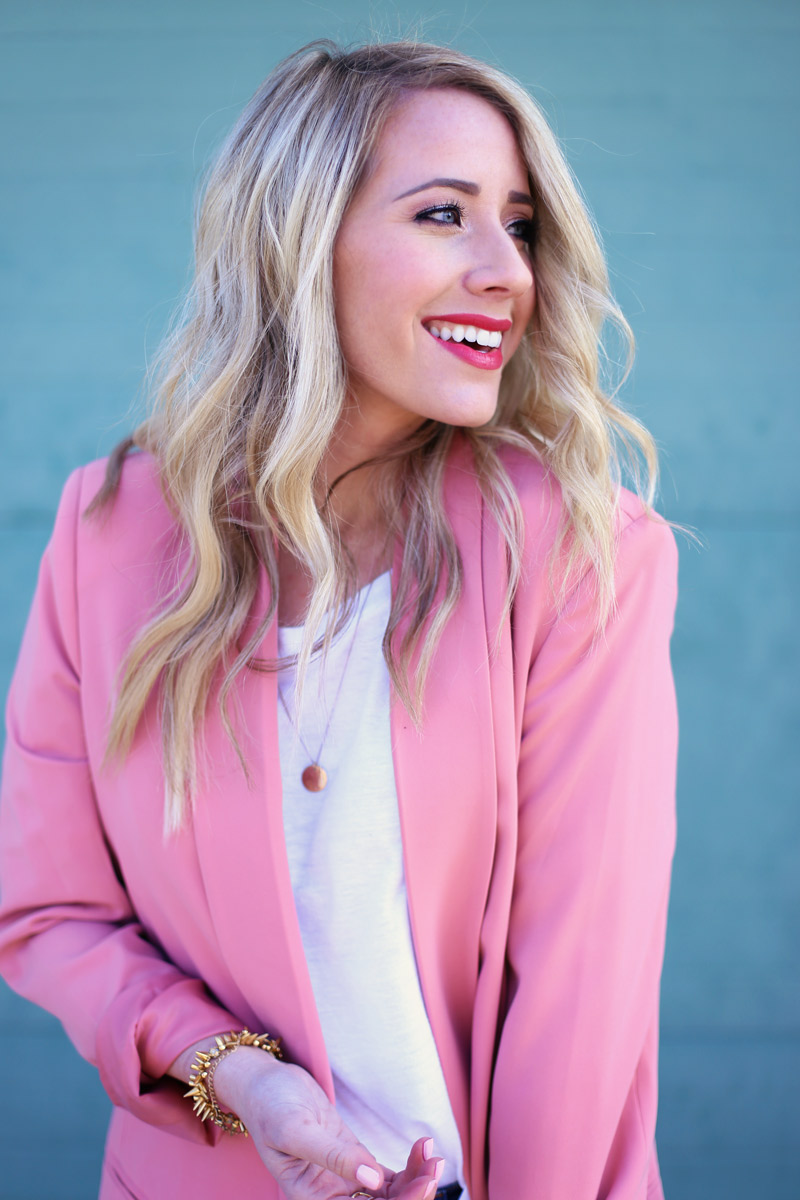 Happy Valentines Day! Okay okay, I know it isn't until Sunday but I'm totally taking the weekend off so it's now or never. Unless you follow me on snapchat… and then it's always haha (twistmepretty2)! Yesterday we filled out Valentine cards and today we'll be baking something… I don't know what yet… Savy wants to make cookies but I'm eating healthy and have ZERO self control when it comes to cookies. Chances are we'll bake a cake but who knows. Read more for outfit details and to hear more about our Valentines Day plans!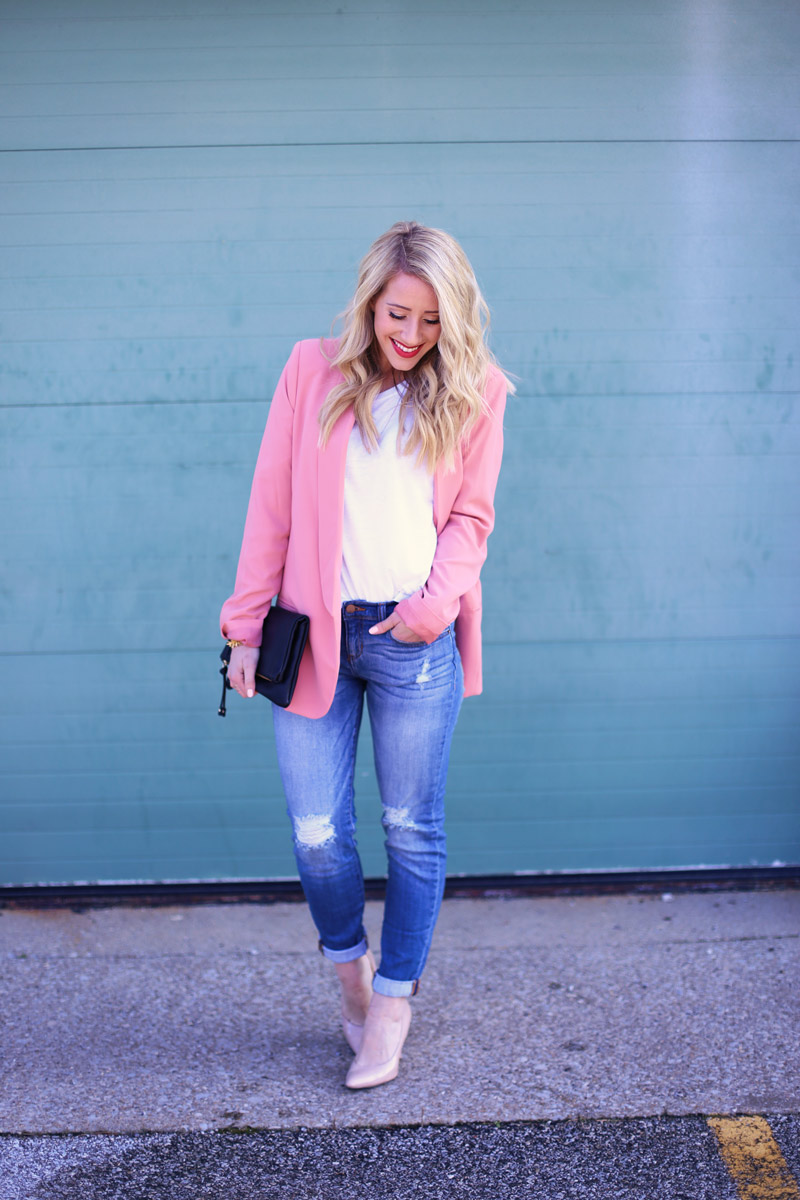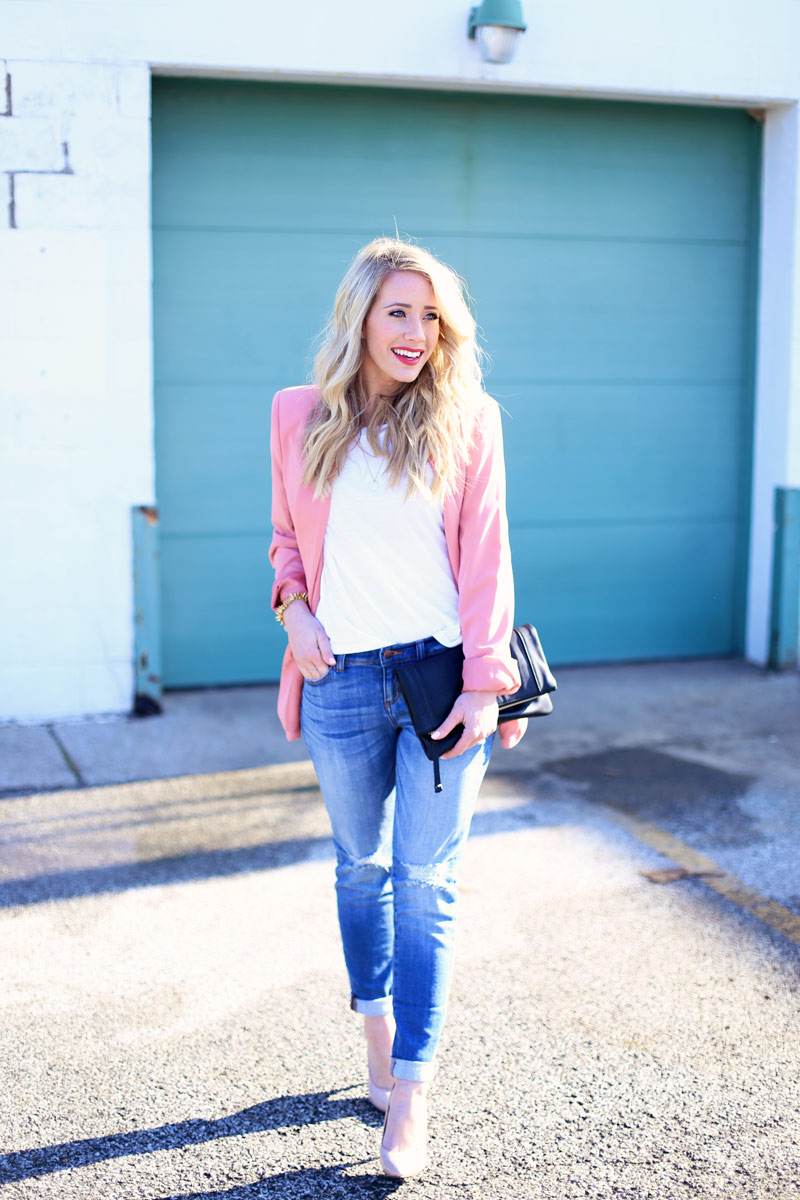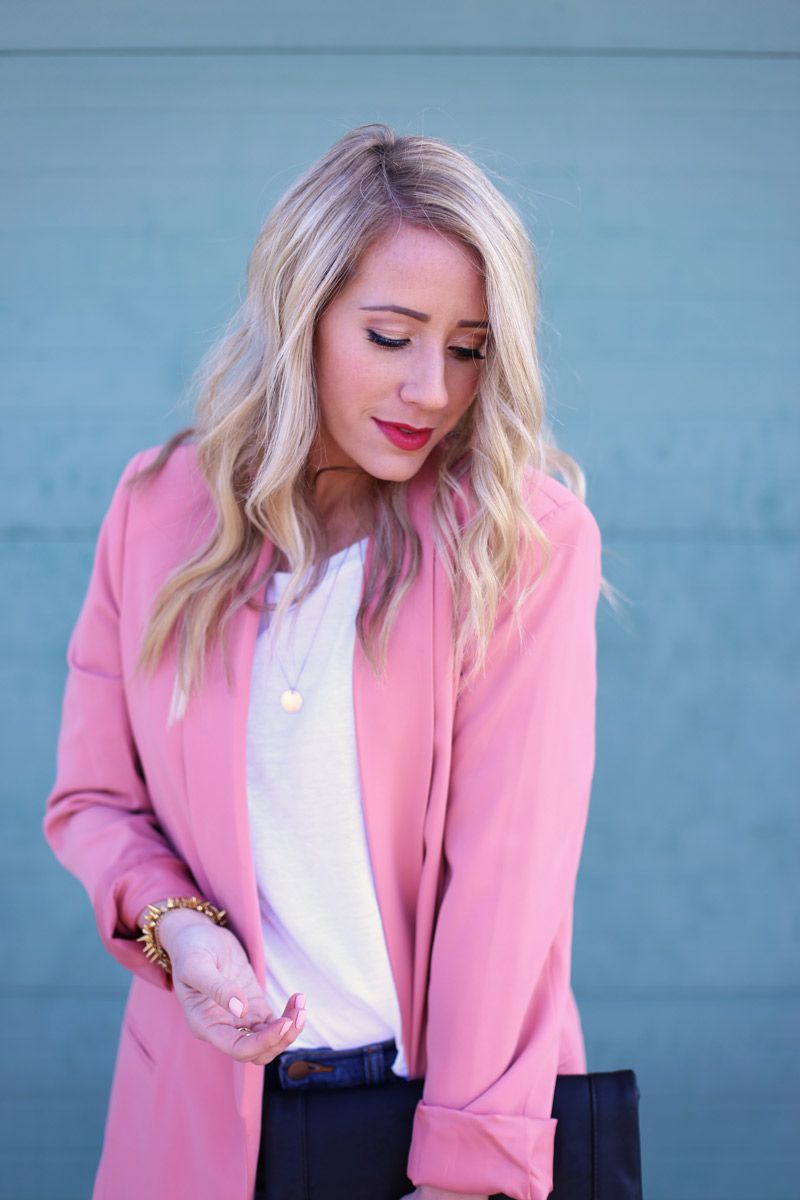 Distressed Skinnies (under $60!) | White Tee | Boyfriend blazer (Sold out) similar here, here and here | Black Clutch, similar here | Nude Pumps | Renegade Bracelet | Necklace | Lipstick, Lustering mixed with hot gossip
Do you have any Valentines Day traditions with your kids? I've been trying really really hard to make holidays extra special for them. I remember my mom would always have a present wrapped up for us on the kitchen counter when we woke up. It was usually a new shirt and some makeup, candy and a little love note. It didn't take much effort on her part but I remember thinking it was the best thing that ever happened! If I can get my act together I'll decorate our little breakfast nook with some crepe paper, put out some cheap placements that'll go along with some easy heart pancakes inspired by my favorite Eleni from Convey the Moment. I woke up yesterday to Savy watching pancake art on YTkids — UGH! Every morning they beg me to make them something amazing and every morning my yoda turns into a hot mess ha! I finally bought some of these but who knows if they'll actually help. I always think though, if I can't go all out and do something fabulous that it's not worth it but my kids think even the littlest thing is awesome. Like placemats for instance. THE COOLEST THING EVER. They'll talk about them for days and days and get so excited to use them for every meal. It really is amazing what a tiny bit of effort can do. I'd love to hear what some of your traditions are — I could use all the help I can get!
Anyway, I'm loving this outfit I styled last week. I thought it was appropriate to post today with the pink boyfriend blazer and all – kind of festiveish haha! The blazer is sold out — such a bummer. Maybe they'll bring it back, I'll keep my eye out for you. I've linked up to some very comparable blazers though and these jeans are AMAZING! If you haven't tried the crown braid tutorial I posted last week, you need to!!! It'd be so cute to wear this weekend. Also this accent braid is one of my favorites too!
Happy Valentines Day and we'll see you on Snap asap! (twistmepretty2)
xoxo