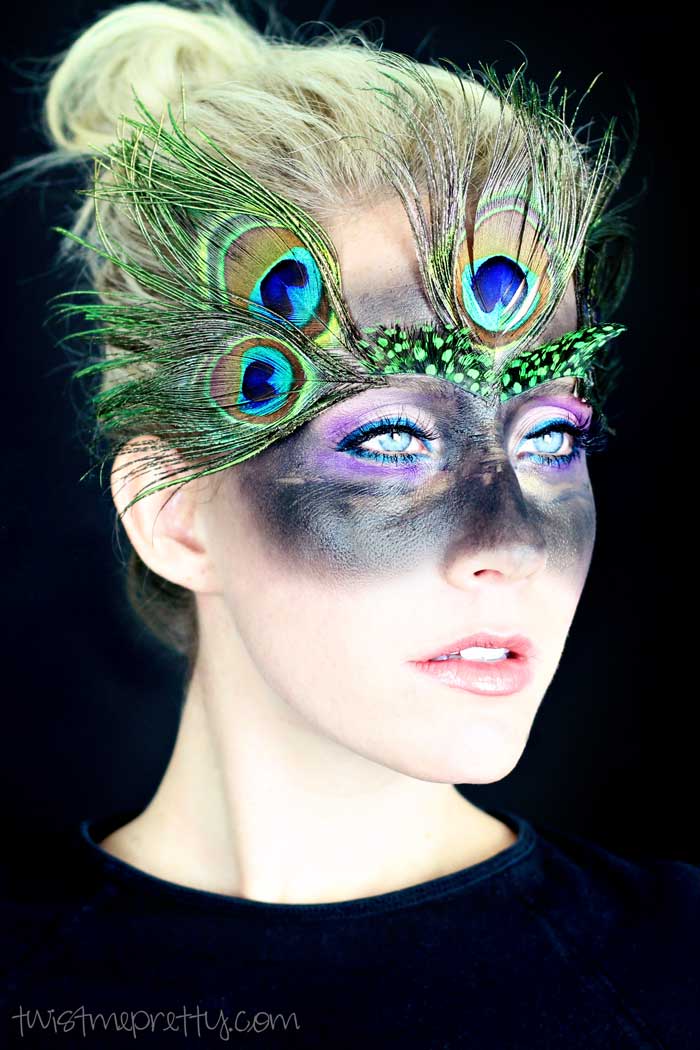 Thanks for tuning into my last Halloween tutorial!! I wasn't sure if I was going to have time to put together a video this week because we've been super busy carving pumpkins, going to Halloween parties and just simply enjoying October. I totally rallied though and last minute threw this tutorial together. I was debating on a really bright peacock eye or a mask. I like how this one turned out but I wish I had had a little bit more time to really refine it. Use it as your inspiration though, it's still pretty great!
These past few weeks I've wanted to share some tutorials that the everyday girl could pull off with easy to find products. Most women don't know how to face paint – me included. I was hoping these Halloween videos would inspire the girls who are afraid to try something new to go for it. I honestly don't think the cheap walmart paints look bad but I chose to use them because if you have to order something online, it sometimes turns the beginner off and makes it look too hard. These tutorials aren't coming from a legit makeup artist, heaven knows I'm not one. But from a beginner. And surely if I can do it, so can someone else. These tutorials have all been in fun and I hope you've enjoyed them. Next week we'll be back to the same ole' same ole'. I'm not gonna lie, it's super depressing to me. Where did October go?! But alas, it'll come next year I guess. And next year who knows, I might even break out some legit face paint from some fancy online shop haha!
Eyelashes
BH Cosmetics Day and Night Palette
Duel Ended Cosmetics Brush
I'm so bummed, the last forty seconds of my video was randomly cut off by YouTube. The winner for the Lionesse Four Part Curling Wand was announced in those last forty seconds. So…. I guess without further adieu… the winner of the Lionesse Four Part Curling is jessiezsings!!! I actually checked out her music channel and she's crazy talented. You can check her music out here. Jessie email me at [email protected] to claim your prize!
And here's a pinnable image below if you'd like to pin it to one of your Halloween boards!