There's just something about sweater weather that I'm obsessed with. I love layers, I love warm cozy fabrics, booties and wine colored lippies! If I could just have one season all year round, it'd be fall. I'm a little bit obsessed with the fall trends right now and have rounded up four fall trends that you NEED to try if you haven't already!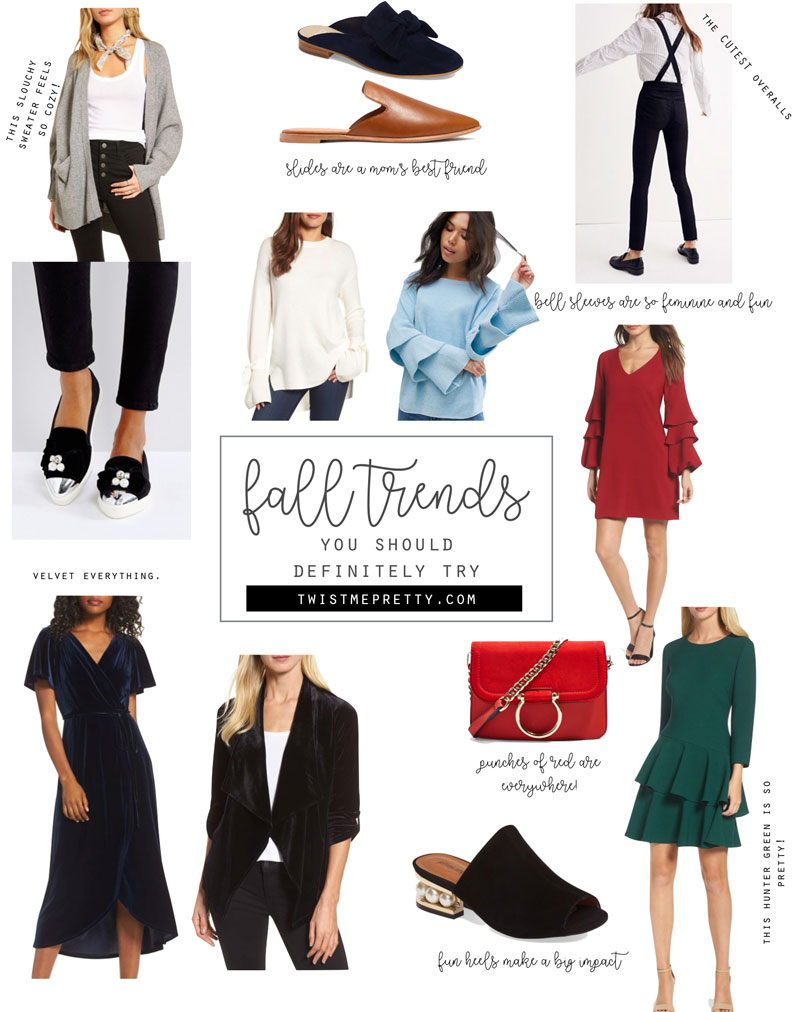 Four Fall Trends You NEED to Try:

1.
SLIDES
= mom's best friend. Slides are perfect for when you wanna look nice, but you also wanna to be comfortable! Slides and athleisure wear are quite possibly the best trends to happen for mom fashion! Right?! They're super trendy, so comfortable and freaking cute. I love that you can elevate a really simple outfit with a pair of pretty slides. They're just a little bit fancier than sneakers with similar comfort so the fact that any of us are still wearing stilettos is beyond me! If you haven't snagged a pair of slides, this is the season to jump on the wagon!

2.
Velvet everything!
Who can resist the allure of velvet, though, honestly? It literally screams royalty and is just so fun to wear. If you're not sure where to start, snag a navy dress or pair of black velvet leggings. Those are super safe colors and pieces to start with. Velvet is so so cozy, it's comfy to wear, and I swear you'll feel like a glam rock princess by the end of the night!

3.
Bell Sleeves.
These have been trending for quite awhile now but they're here to stay so if you haven't tried a bell sleeve yet, what are you waiting for?! I have a post with
four reasons why you should wear bell sleeves
that I wrote last year and it's as relevant today as it was then! Because I'm so short I have to be careful with bell sleeves, sometimes they overwhelm my super short arms, but I'm obsessed with how feminine and fun they are!

4.
Hunter green and red!
If you haven't already noticed, these two colors are popping up all over the place and I couldn't be more excited!!! I've actually always loved the bright red and am so happy to see it trending again. Hunter green is one of my favorite colors to wear, I feel like it's looks really pretty on fair skin tones!
Have you jumped on any other trends? As always chunky sweaters, booties and scarves will be on rotation over here this fall!
xo