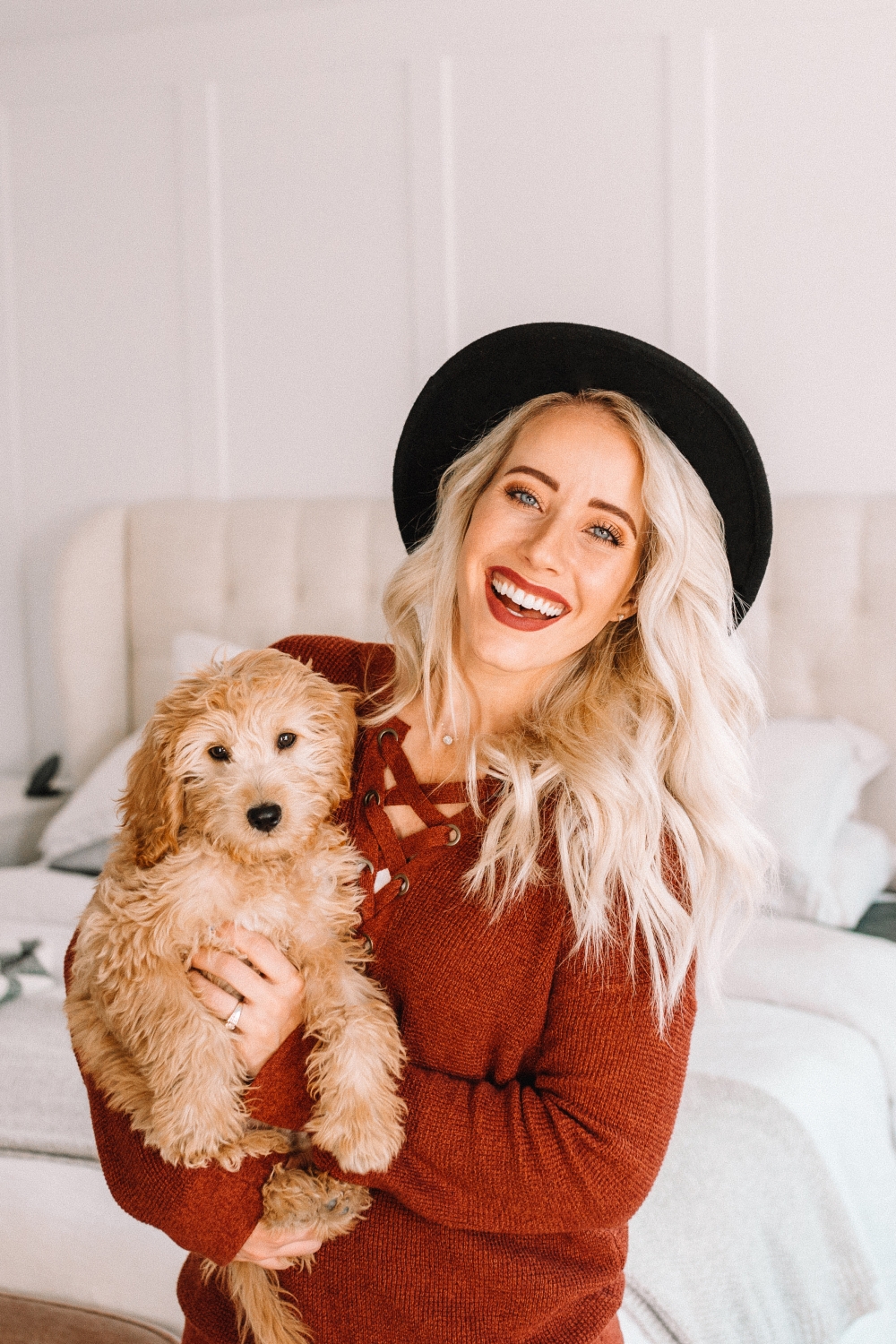 Well hi-ya guys! I feel like it's been AGES since I've shared a hair tutorial here on the good ole' blog. I know it's only been a few weeks but for some reason it just feels like forever. I hope you have missed seeing them?! Today I'll be sharing some easy flat iron curls + a few hairstyles for fall. It felt like summer when Brian and I left for China but when we got back it was straight up fall. So naturally I'm jumpin' in to some suuuuuper cute fall styles and also the how-to on these flat iron curls. I haven't curled my hair like this in awhile and thought I'd share the deets ??.
Also yes – I will make my new little pup pose in every single picture with me. Because he's LITERALLY the cutest thing on the planet. We love him so much! For those who are new, his name is Wrigs. Short for Wrigley. He's an F1 Mini Golden Doodle and is about 12 weeks old. He'll get up to 35lbs and we love him so much!
Flat Iron Curls –
1// Section off a two inch section at the nape of the neck, right under the ears, and clip the rest of the hair out of the way.
2// Brush that section and then spray the entire section or go piece by piece with a heat protectant. I've been loving the Sebastian Trilliant because it's a super fine mist and adds shine to the hair!
3// Take a one inch section and clamp a 1″ Flat Iron at the root of the section with the knuckles facing forward. Gently turn your wrist so that your knuckles are now facing your face and pull down until you reach the end of the strand.
4// Twirl the section away from your face and let the curl cool
5// Repeat until all your hair has been curled
6// With an oil on your hands go ahead and separate the curls with your fingers. I love theKlorane Protective Oil but you just need a tiny bit, so spray it on your hands, rub them together and just work on the middle shaft to ends of your hair, working through and manipulate the curls how you want them!
7// Use hairspray to add volume and set the curls
Sebastian Trilliant | Klorane Protective Oil | Flat Iron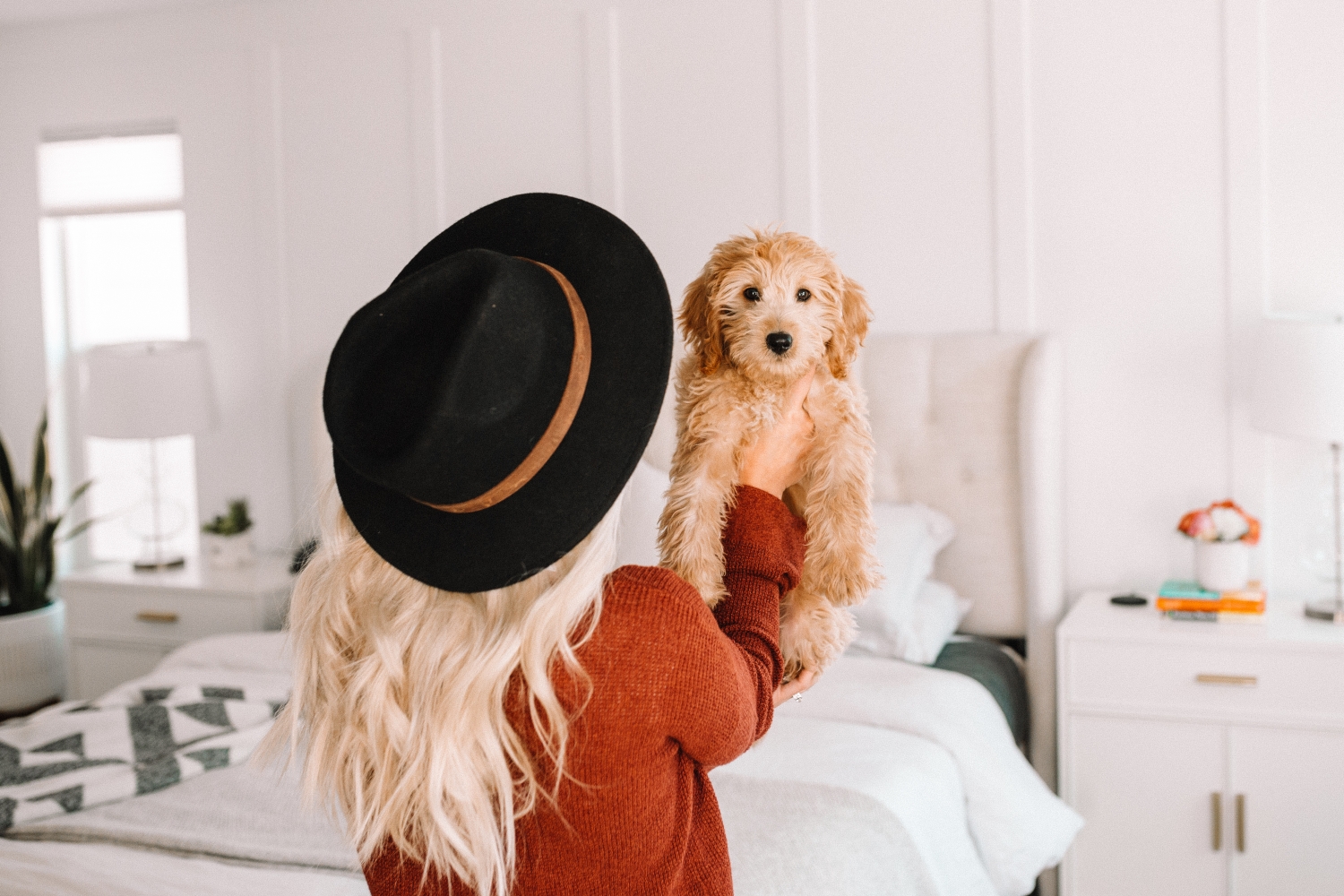 The second hairstyle is this really cute knotted ponytail. I love this style because you can wear it as a down-style or throw it up into a ponytail and the texture of it is just amazing. I always get compliments on this ponytail and it'll work as long as your layers on top are long enough to knot in the back. You medium length haired girls — lemme know if it works for you will ya?
1// Pin back a section at the crown
2// Take one small section from the front of each side
3// Smooth them back and knot them over the bobby pin
4// Repeat with two more sections directly below the first two and right above the ears
5// Repeat with two more section directly below the second two and right below or at the ears
6// Take a clear elastic and pull the rest of the hair into a ponytail
7// Cinch the ponytail so it nestles right below the bottom knot and hides the elastic

GAHH I can't with him. He's too cute.
The third hairstyle is this beautiful fishtail braid. Fall – pumpkins – burnt orange – fishtails, they all go together perrrrrfectly! This style is so versatile and can be worn anywhere, from weddings to running errands with the kids. Plus it doesn't take long to style so it's a go-to favorite of mine!
1// Take a section from the crown, divide it into three and braid it once
2// Combine the left and middle section so that you now have two sections, one in each hand
3// Do a fishtail braid — take a small section from the left side, pass it over it's section and combine it with the other section
4// Take a small section from the right side, pass it over it's section and combine it with the left section
Note: The first time you do this, take a larger section on the left to even out your two sections!
5// Repeat 3-4 stitches and then add one section from the front to each side
6// Repeat 3-4 stitches and then add one section from the front to each side
7// Continue your fishtail braid until you run out of hair
8// Stretch the braid and pin the sections underneath the braid if you feel they're going to come loose
And there ya have it!! I hope you guys enjoyed this tutorial, what hairstyle was your favorite? Have you ever done flat iron curls before?! If you liked this post you can check out my other hair tutorials here and buy my hairstyle book here.
<iframe width="560″ height="315″ src="https://www.youtube.com/embed/jzVo64s2Gys" frameborder="0″ allow="autoplay; encrypted-media" allowfullscreen></iframe>