Just hangin' out with my best boy friend today, isn't he cute?! This is Boston. He's my oldest son and easily my favorite child!! Just kidding, I don't have a favorite… but if I did it'd be him ?. It's so fun to have an eight year old. He still has his moments but for the most part they are few and far between. He loves lists, is very proactive, manages his own time and schedule, finishes his homework without being asked and for the most part helps out and is happy to do it. He's the most reserved out of all my kids, a little bit shy and doesn't care to be in the spotlight. Being his mom is pretty darn cool.
It's obvious that boys are very different from girls and because my dudes just aren't as emotionally needy as their sister, it's sometimes easy to disconnect. I've been working really hard at being a better mom and I wanted to share a few things I've been doing that have really helped me and Boston connect. I'm not even close to being a role model parent guys, so we're just gonna use this little list as a sweet reminder and motivator to try and love on our boys just a tiny bit more! You good with that?!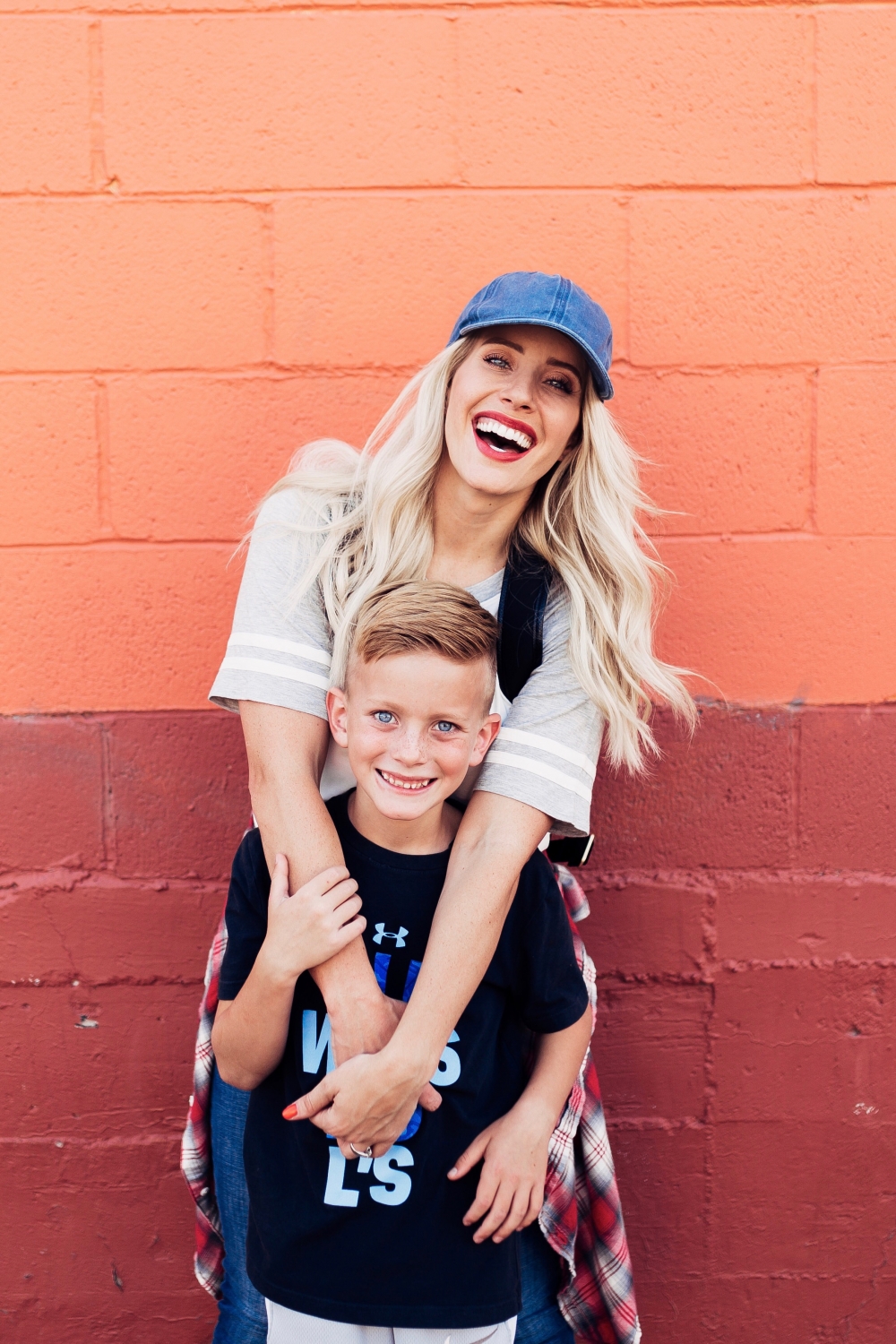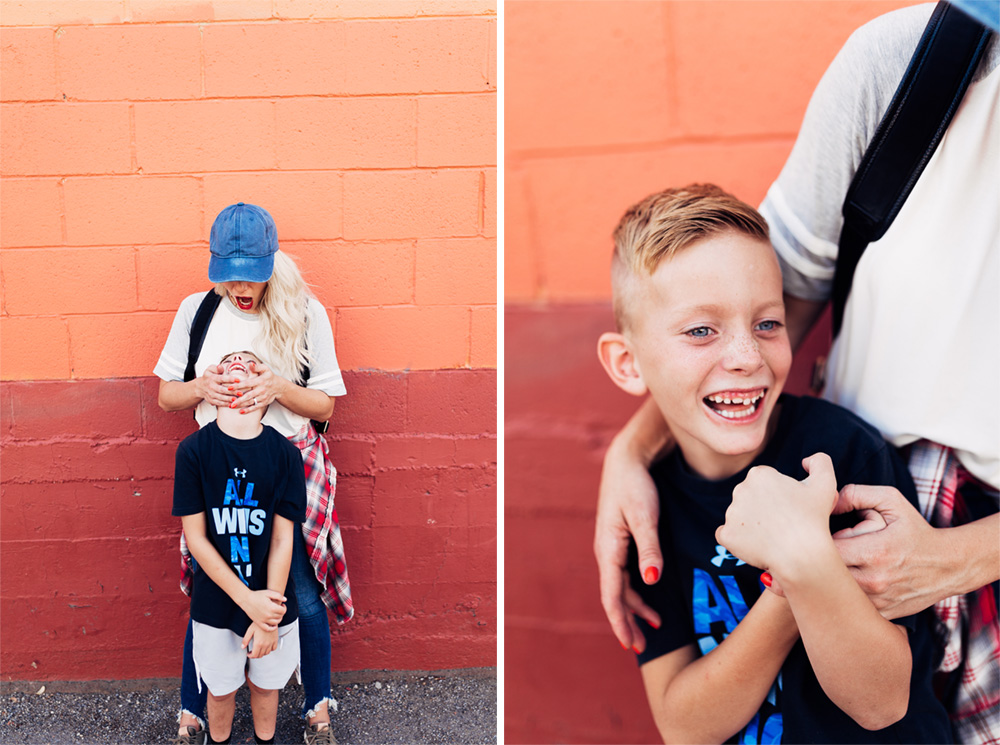 1. Do what he likes to do!! Boston loves reading, sports and video games.

I basically love none of these things hahaha!!

Jk, I like reading…

?

.

I've been making a huge effort to put the house work away, to put my phone away and spend more one-on-one time with Boston.

We'll go outside and throw the football for a bit or read whatever book he's in the middle of.

He loves teaching me how to play his favorite video games and it's so fun to see his passionate side come out. Those 15 minutes have made such a difference for us and he's now opening up more about school and friends and things in his life which I think he otherwise would have dealt with alone. None of my boys are super chatty! I hope they always know though that they can talk to me about anything.
2. Be his cheerleader.

My mom was the world's best cheerleader. To this day I still call her up when I need a boost of confidence or a non-judgmental ear. She supports me through every little thing and just genuinely cares about what I'm going through and working on. I want to be that for my kids! I want them to want to tell me things because they know how excited I'll be for them or how compassionate I'll be when they fail. Boston is only 8 so we're still dealing with little successes and little problems that honestly aren't a big deal. But to this guy, they mean everything. So right now I'm working on being the best cheerleader I can for all the little spelling tests and baseball games! He has so many hidden talents and I hope he knows that home is a safe and encouraging place to explore those. And honestly, if they don't get excited to share things with you now — they're not going to later when it actually matters.
3. Let him lose. I think this one is hard for all moms… no? We obviously want to give our kids the best and easiest life!! It's literally torture watching them lose and hurt, but we also want to raise strong and resilient kids. For me, that means letting them lose! Letting nature take it's course and just being there to help them navigate their way through it. Boston didn't make the baseball team he'd worked soooo hard for and he was so discouraged. It was awful. He felt like he'd failed and that his career as a pro-athlete was over haha!!

I had no control over this one so I let him feel all the pain but reminded him that he didn't fail!

Even though he'd lost, he had the opportunity to gain so much from it!!

I let him know that

if he continued to put in the time and the work it would help him be more disciplined and strong and that those skills would carry over into every other aspect in his life.

My parents did a great job of teaching me how to see the silver lining in unpleasant circumstances and I'll always be grateful for that. So right now I'm working a bit harder at not sheltering Boston from unpleasant circumstances and instead, helping him navigate his way through them! In order to do that, I've just gotta let him lose sometimes and that ones so hard for me!
4. Kiss him and snuggle him and show him affection.

It's so easy to do this when they're little!!

To squeeze them tight, kiss their little neck rolls and just snuggle with them before they fall asleep!!

As they get older though, they become more independent and they resist that physical affection. But do it anyway. A little while ago Boston was hanging on the couch watching TV and I sat next to him with my arm over his shoulder. He gave me the weirdest look like, "what in the world are you doing, mom?!" It didn't feel weird to me because he'll always be my baby, but it felt weird to him and I was shocked! It shouldn't EVER feel weird to get kisses and squeezes from you mom. I vowed from that day forward to make sure he feels that physical affection every single day. And I'm gonna love it when he's old and big and I've taught him to pick me up and give me the biggest squishes ever! So maybe this is a selfish thing? I don't know. Either way it's become my top priority!
5. Let them be boys!!

My husband, Brian, and I have very different parenting techniques.

I'm suuuuper chill and give my kids a fairly long leash. Maybe too long sometimes. Brian on the other hand wants to know where they are and what they're doing and who they're with. Do you and your husband parent differently? One thing we can always agree on though is that boys will be boys and it's important to let them! Let them get dirty, let them be loud and let them experience the world how they need to! It's a ruthless world out there and these boys are gonna need to know how to make good choices, how to have strong opinions and how to think for themselves. I think a lot of that starts with playing to their strengths and letting them just be crazy, loud and messy boys!
Parenting is HARD and it's so unique to every child. I think that as long as we're trying, as long as we're putting our kids' needs first and sacraficing a little bit to give them the best life possible, we're all gonna do okay! And kids are resilient. And mine love me through my extreme weaknesses as a human. Kids are so special in that regard. They easily forget shortcomings and just love unconditionally!!! What are you working on right now? Do you have boys? How do you feel your parenting style differs with your boys vs your girls? Is there anything in particular you do with them that you feel helps?
And then before I let ya go, I thought I'd share a couple pics of my new pup and link up a few outfit pieces I know you're gonna ask about!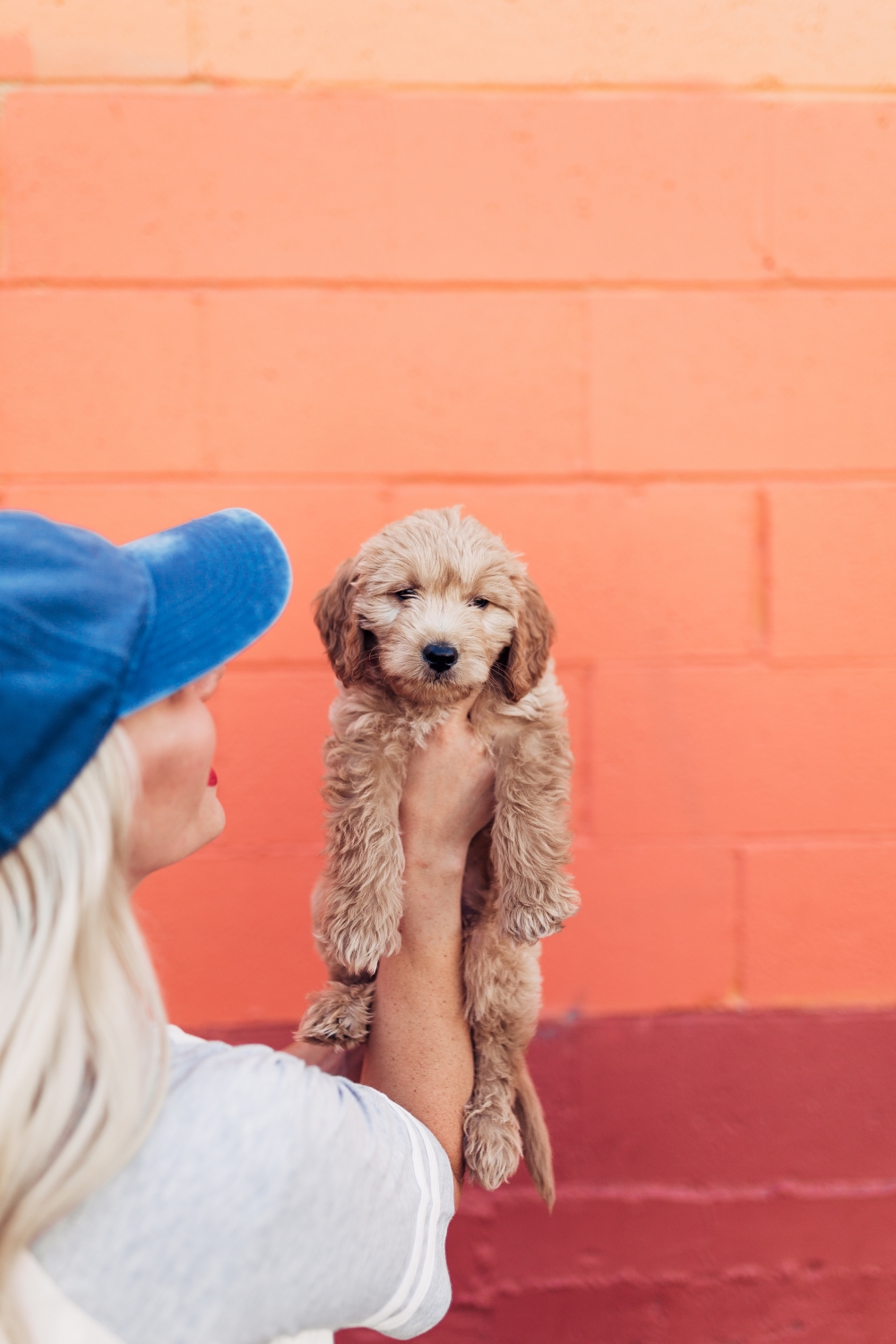 Of course you can find him on the gram @wrigsthedoodle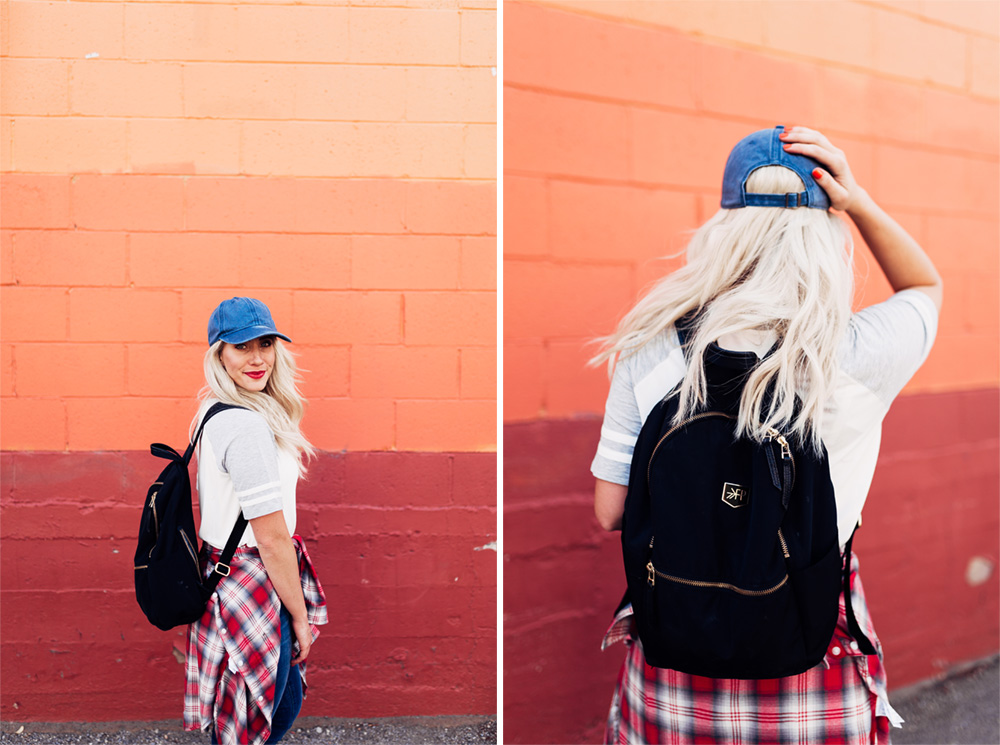 I am STRAIGHT UP obsessed with the Freshly Picked City Pack. I had it with me while we traveled China and it just makes the best every day bag. It's smaller but it fits diapers and wipes, snacks, has a few zipper pockets for lipgloss, a wallet and anything else a girl might need. I just love it cause it's super light, super cute and holds just what I need!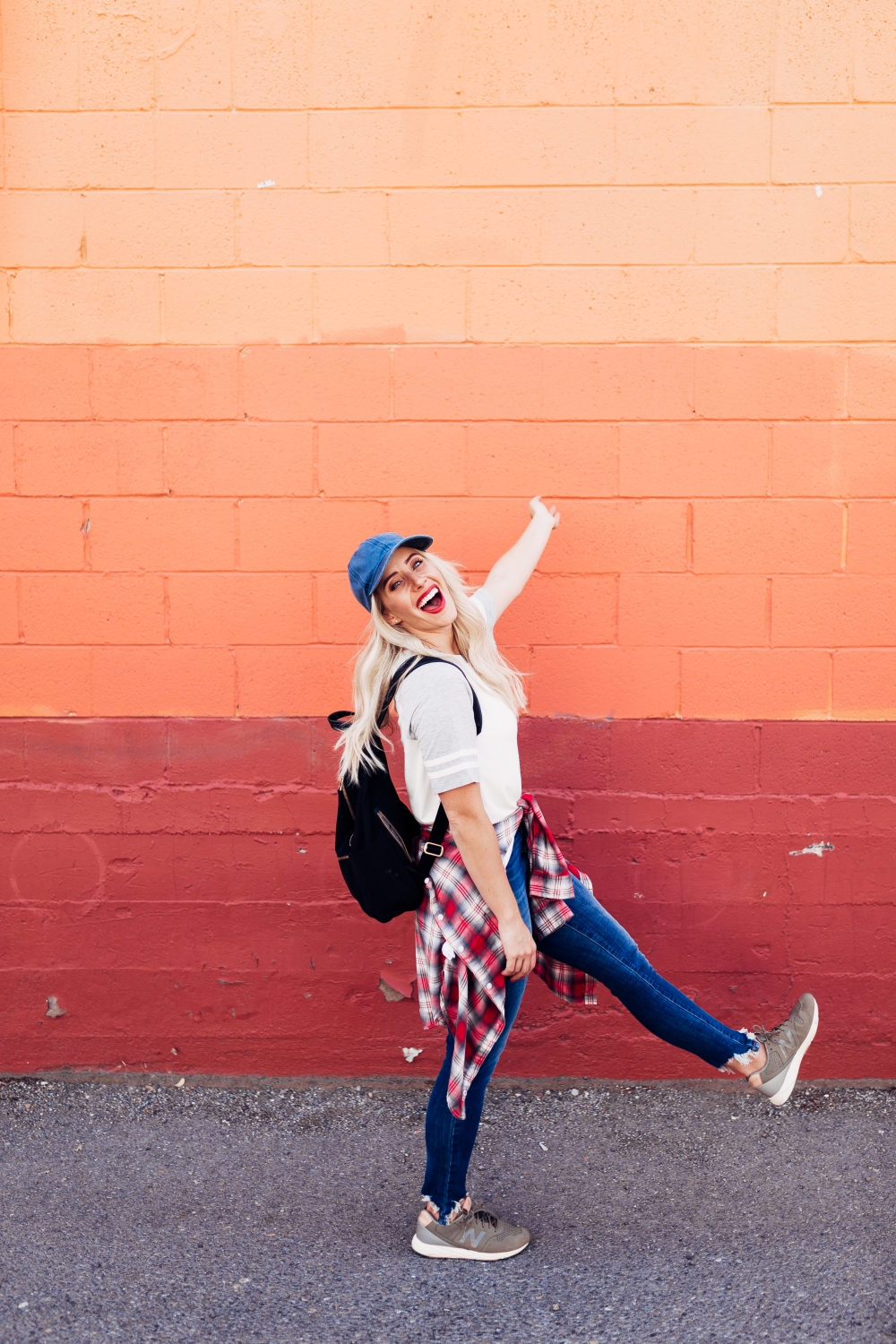 Photography: Jordi Jerae Photography
Top: ae, similar linked here. I've been LOVING American Eagle lately. It's funny cause it's been years since I've shopped there but the last couple times I've been in there I'm just amazed at all the awesome t's and accessories! I always size up there so things fit a little bigger. I think I got a medium or large even in this tee which isn't online but I think it may be in stores still. Here's the Plaid Button up I have tied around my waist + a few other favs linked below.

Hat: Gigi Pip
Jeans: PAIGE denim — yikes the price has gone up a lot since the Nordstrom Anniversary Sale! That's when I splurge on some good denim. And please notice how short they are on the model, and how long they are on me?! Short girl hack, buy capris!
Shoes: New Balance Sneaks. These green ones are old but I found some cute Navy ones from Zappos for you!