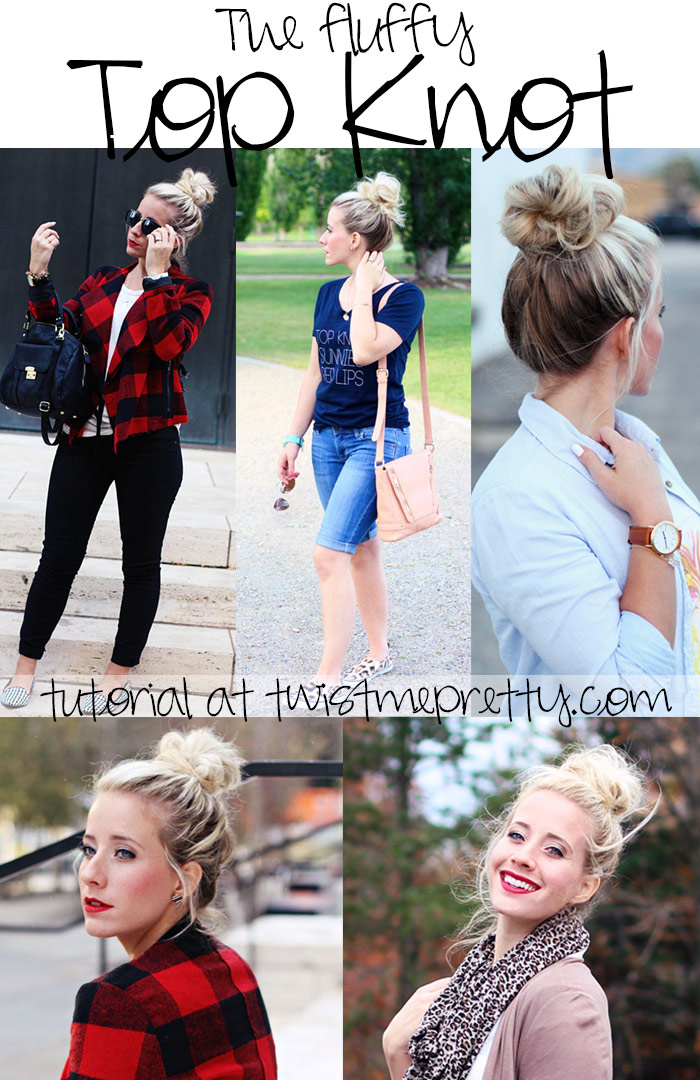 As a busy young mother of two I find myself throwing my hair into a top knot pretty much everyday. There will be another season of my life when my kids are a little less dependent on me, a time where hopefully I'll have more than five minutes to get ready in the morning. But until then, this hairstyle is stickin' around! I love it for a couple reasons… 1) I feel more formal wearing it than a ponytail and it literally takes less time. I say less because if you're wearing a ponytail and your ends are a mess, you've got to straighten them or figure something else out. And as long as I have on some lipstick and pretty much anything but sweats, I feel put together in a top knot. 2) It makes me look younger! Pulling that hair on top of your head draws the eyes up. It also gives you a tiny little face lift! I'm so used to seeing my hair these days up on top of my head that when I wear it down it just feels so flat to me!
Needless to say, I love this fluffy top knot. I was a little bit nervous to cut my hair because I'd be sacrificing the ability to throw my hair up in buns and also side braids. My go-to hairstyles! When my hair hit my collar bone though, I found a new way to get a really cute and fluffy top knot. That way is shown at the end of the video so if that's what you're looking for make sure to watch it through to the end.
For the tutorial, follow the jump
We are at 98,000 subscribers! If you haven't subscribed yet, I'd love for you to help me reach 100K on my YouTube channel!
And one more thing — my skin is FREAKING OUT!!! I think it's half hormonal and half the humidity here in Ohio is putting my skin through a loop. I just started a new skin care routine though to hopefully (fingers crossed) clear things up. If it works I'll make sure to dish. My skin has NEVER been this bad. I alllmost didn't film a video haha but I knew you guys would love me no matter what! But just don't look too close mmk? K thanks. I probably shouldn't have pointed it out cause now it'll be the first thing you guys look for. Haha, oh well. Adult acne is literally the worst.