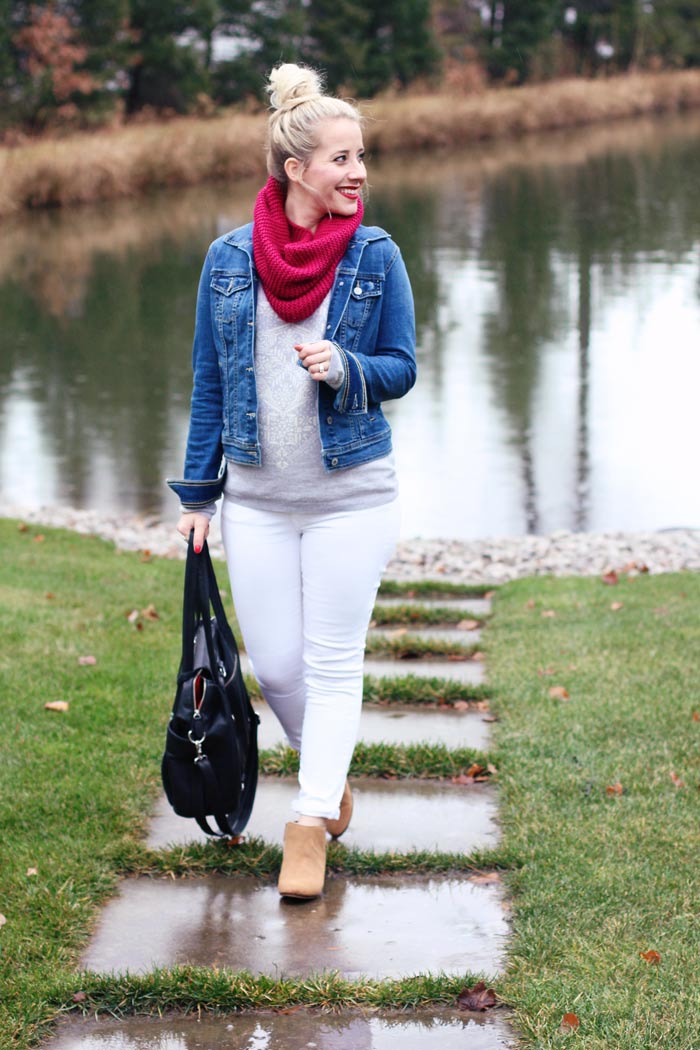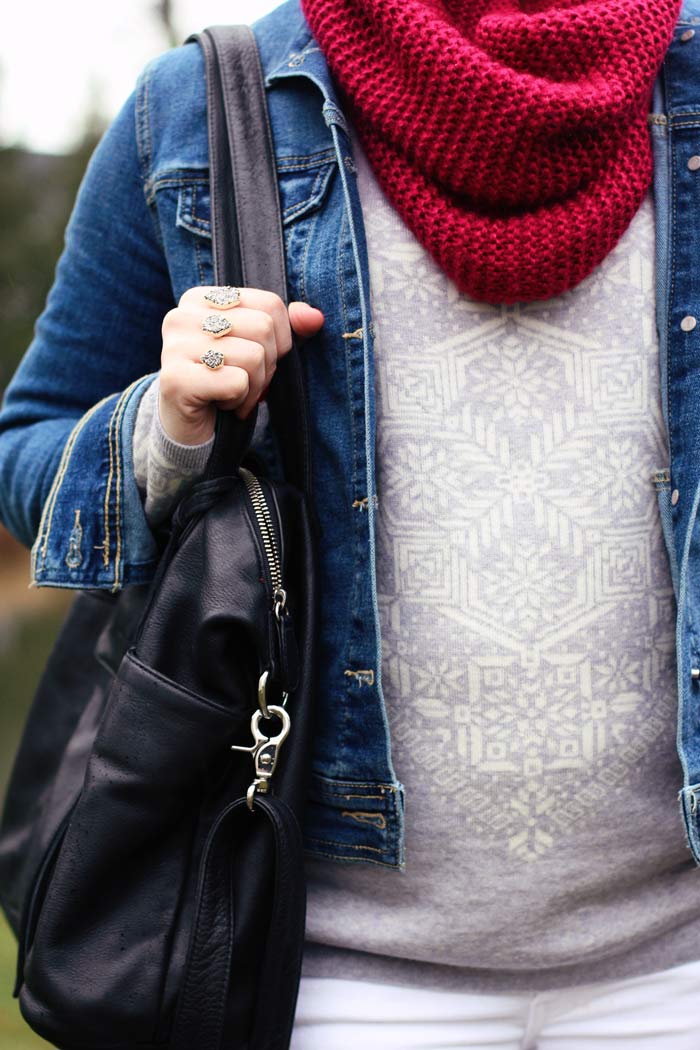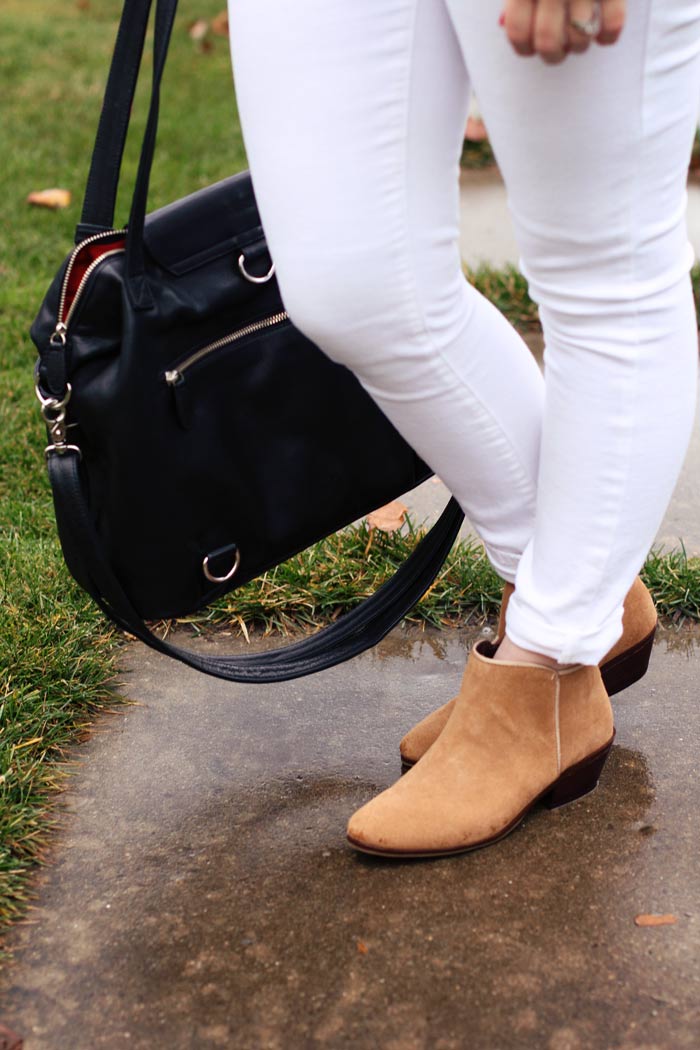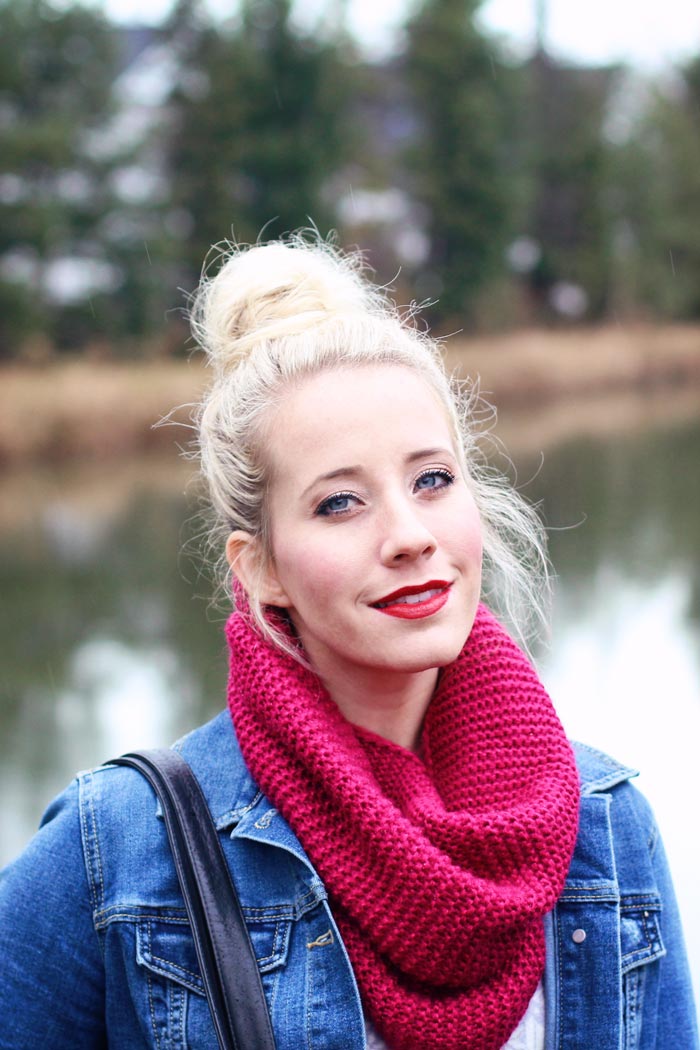 bag: c/o lily and jade | denim jacket: old navy | white jeans: american eagle | booties: marshalls | sweater: marshalls | infinity scarf: old
HELLO!!!! You guys, I seriously feel like I've fallen off the planet. I haven't been on instagram or facebook or done anything on YouTube or my blog in what feels like forever. I had to take a few weeks off to settle into our new house and get everything unpacked. I can't handle unfinished projects and the need to not only get all the boxes out, but organize closets and decorate our space has been pretty consuming. I couldn't tear myself away no matter how badly I missed you! And then a huge extra amazing holiday surprise — my sister and her family made a visit from Oklahoma for the week so we've been staying up late playing games and baking waaaay too many treats. Good thing the New Year is upon us because I need some motivation to get back into shape are start eating better. UGH, the holidays always kill me!
Normally I'd make a list of ways I can improve myself for the new year but being pregnant with twins and having no clue how to even plan or prepare for when they come, my list has turned into one simple goal: to happily survive. This year I'm going to happily survive and if that means I don't shower for an entire week or we have so many dirty dishes piled up I have to have Brian go to the store and get paper — then so be it. And I'm going to love it and cherish these years and it's going to be awesome. No family to help but that won't matter, I'm one of the most determined people I know and we're going to survive this. We're gonna own this year friends and I'm taking you on my ride. The whole ride – the nitty gritty, not so pretty, real life highs and lows and you can laugh with me when I wear different shoes to pick up Boston from school. You can love on my super cute babies that cuddle and wear the same outfits and you can cry with me when I feel so overwhelmed the world is crashing in. I'm excited. This year is going to be pretty darn fantastic!!
So Happy New Year friends! 2014 was the most amazing, life changing year ever and I know that 2015 is only going to be better. xoxo