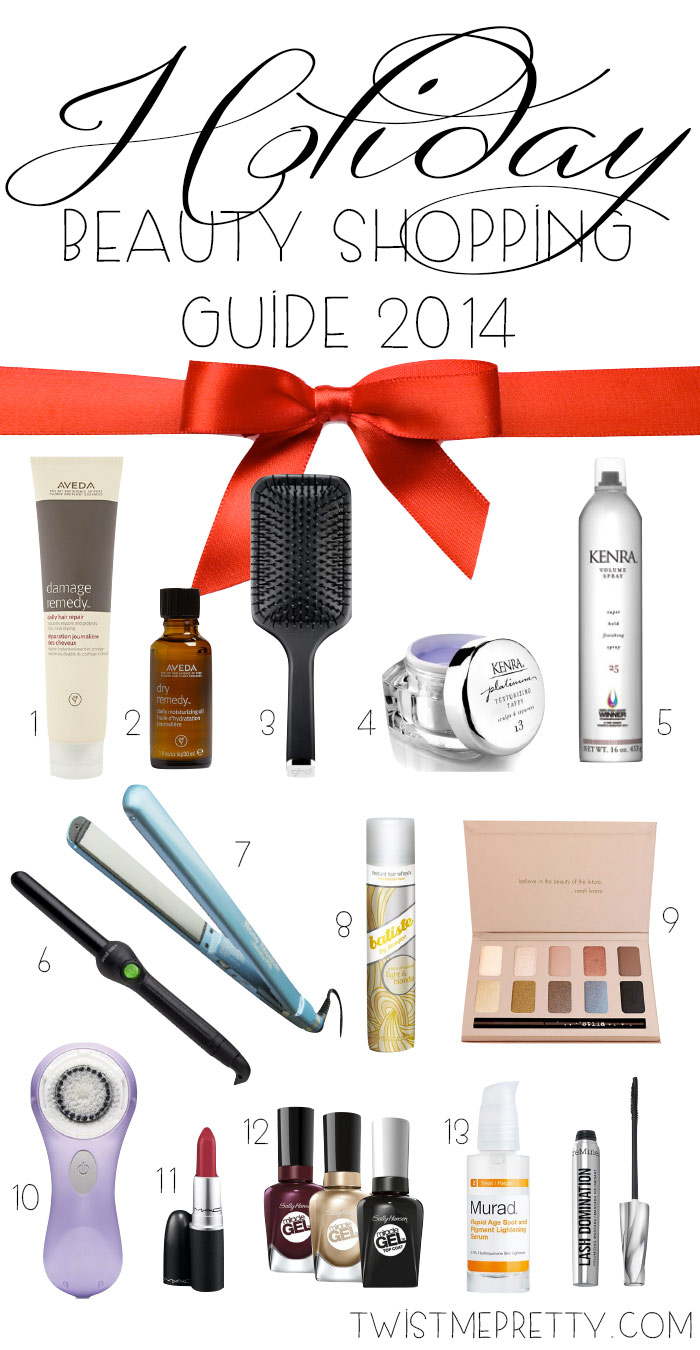 Okay guys, here it is. In all it's glory. My Holiday Beauty Shopping Guide 2014. These are the most used and loved products I've used in 2014. The only product I left off this list that I need and love and use weekly is my Pureology Shampoo and Conditioner. Let's get to it shall we?
Follow through for the complete list and reviews!
1) Aveda Damage Remedy. This stuff. Where to even begin. If you suffer from dry hair, split ends, damaged and over processed hair, hair that won't grow and the list goes on — this stuff is an absolute must. It's a bit pricey but a bottle goes a long way. This product seriously breathes life back into my dead hair. Having healthy, bleach blonde hair is really hard. Our hair takes a beating! I use this product religiously and it's one of the main reasons why my hair is so healthy right now. I've tried other expensive products that claim to do the same thing and I promise, nothing works as well.
2) Dry Remedy Daily Moisturizing oil. I was really hesitant to buy this product because I was happy with my invisible oil from bumble and bumble. But I like to research products and I try to find the best of the best so I can share it all with you. This one was immediately a winner. My hair is incredibly dry, it literally feels like straw. The reason I cut it was because it was damaged beyond repair and I knew I needed something to hydrate it, to make it feel silky and soft. It comes in an essential oil type bottle and I only use about five drops on my hair after I've dried it. IT'S AHHMAZING!! The Damage Remedy and the Daily Moisturizing oil are my two favorite products of the year. I need them. Literally. If you're struggling with damaged hair, you've just gotta bite the bullet.
3) GHD Paddle Brush | cheaper alternative. I was given the GHD paddle brush earlier this year and I use it e.v.e.r.y – d.a.y. It's my #1 go-to brush. It helps distribute product evenly, it's how I dry my hair quickly and I brush through my curls with this brush. This brush has some crazy anti-frizz quality to it that I love and notice. I'm not sure I'd spend $50 on a paddle brush, but I do think you should invest in a good one. I could get into a whole review about it and reasons why, but I'm just going to leave it at that. Check out that $20 one from Sephora, that's probably what I'd buy if I had to use my own money.
4) Kenra Platinum Texturizing Taffy. I have these baby hairs that grow around my hair line. This stuff, first off smells like heaven and cotton candy in a jar, but it's very light and doesn't weight my hair down. It holds the hair in place and I love that it helps define braids and other styles. It's hard to find a pomade that a) doesn't make you feel like you need to wash your hair again and b) isn't sticky. I love this stuff, all around a great product.
5) Kenra Hairspray 25 I hate to break the news, but there isn't a better hairspray in the world. Ever. Period. I've been using a ton of different hairsprays these past couple months and every time I go back to my Kenra 25 it's like… ahhhh. All is right in the world again! This stuff is PERFECT. You need just a tiny bit and it holds the hair without weighing it down or making it dirty. A bottle lasts me 5x as long as regular hairspray. I feel like it also gives me body and helps my curls bounce when I use it.
6) Jose Eber 25mm wand. I don't have this exact wand, I have the Jose Eber tri-wand. I only use the 25 mm barrel though and when I found this on Amazon for such an amazing price, I had to tell you guys. Get this wand. You won't regret it.
7) Babybliss Nano Pro Straightener. I've had this straightener for over 7 years. I've literally tried at least ten really expensive straighteners over this past year and while they all work great and I have nothing negative to say about them, I still love this one. This one is a tiny bit thinner and longer than a regular straightener. The size of it is perfect for loose curls and it works really fast. I feel like you can straighten more hair at once because of it's length. Also, did I mention I've had it for over 7 years? This is the straightener I'd recommend all day everyday.
8) Batiste Dry Shampoo. For the price you can't find anything better. It smells amazing, it doesn't leave any reside and it's excellent for adding texture. I use this stuff when I'm braiding, when my hair is oily, before I curl my hair and the list goes on. For $8.00 it's an amazing little product and there's no need to spend more.
9) Stila In the Light Palette I use this palette to do my makeup every day. It's very pigmented and the colors stay on all day (I use mac's paint pot in painterly to prime). This is such a neutral palette, very comparable to the Naked Palettes but half the price. I absolutely love the color Kitten. It's such a great lid and highlighting color. If you're stuck on eyeshadows, you don't know which direction to go, I'd steer you to the Stila palette. Mine is almost gone I've used it that much!
10) Mia Clarisonic. Can we just have a moment of silence right now for this product? IT'S CHANGED MY LIFE! It removes makeup, chemicals, it stimulates the skin and promotes cell renewal. I'll wash my face the best I can and then I'll go back and use my Clarisonic, and when I'm finished cleaning my face with it the brush is sooo dirty. I couldn't believe I was leaving that much makeup on my face at night. If you struggled with acne or you're starting to age, before investing in a billion dollars worth of new product, try this. You'll love it.
11) Mac Lipstick – Russian Red. Considering I wear this in almost every post… do I really need to say more?! Best color. Stays on all day. Love it.
12) Sally Hansen Miracle Gel – Wine Stock / Game of Chromes / Top Coat. I just discovered these a few months ago and I'm SO HAPPY I took a chance on them. I plan on doing an entire review because they're that amazing. It's two coats of color and one top coat. Lasts all week without chipping. I've started painting Savy's nails with it because her polish chips off so quickly and hers lasts forever too. I love that there's only three coats and there's a million colors to choose from! If you love gelish but are a little tired of the maintenance, and how long it takes to do, give this a try. You'll love it.
13) Murad Age Spot and Skin Lightening Serum. I've been using this product morning and night for three weeks and I've noticed my scarring and sun spots reduce dramatically. I love that it isn't drying, but the acne I have on my face starts drying out and healing without wrecking the rest of my face. It's seriously like gold in a bottle. This has quickly become one of my favorite products of 2014.
14) Bare Minerals Mascara. I was given this product in a goody bag at ALT and I remember thinking, no mascara is worth $17. Then I ran out of it and found myself buying more. I know the huge craze right now is Younique Fiber Lashes and I do like them but it has it's flaws. I felt like I was constantly worrying about black flakes under my eye. And yes I was putting it on right. I loved it for special events but for everyday it was just too high maintenance for me and the mascara didn't last as long as I thought it should. This Bare Minerals Mascara 1) lasts forever. I feel like the grocery store brands I use to use I'd have to pick up a new tube every month. I've gone through two tubes of this stuff this entire year. 2) it grabs onto each eyelash and really does add length and volume to my lashes. Love love love it.
Are there any products here that you use and love? Any products I missed? I'd love to hear products that you use everyday. What made your 2014 beauty product list?