I love fall. Every year I look forward to decorating my front porch for fall. With getting remarried and moving this year, I was a little late to the game in getting my fall front porch completed. I called in some help, and we accomplished my vision perfectly! Here's how I decorated my front porch for fall.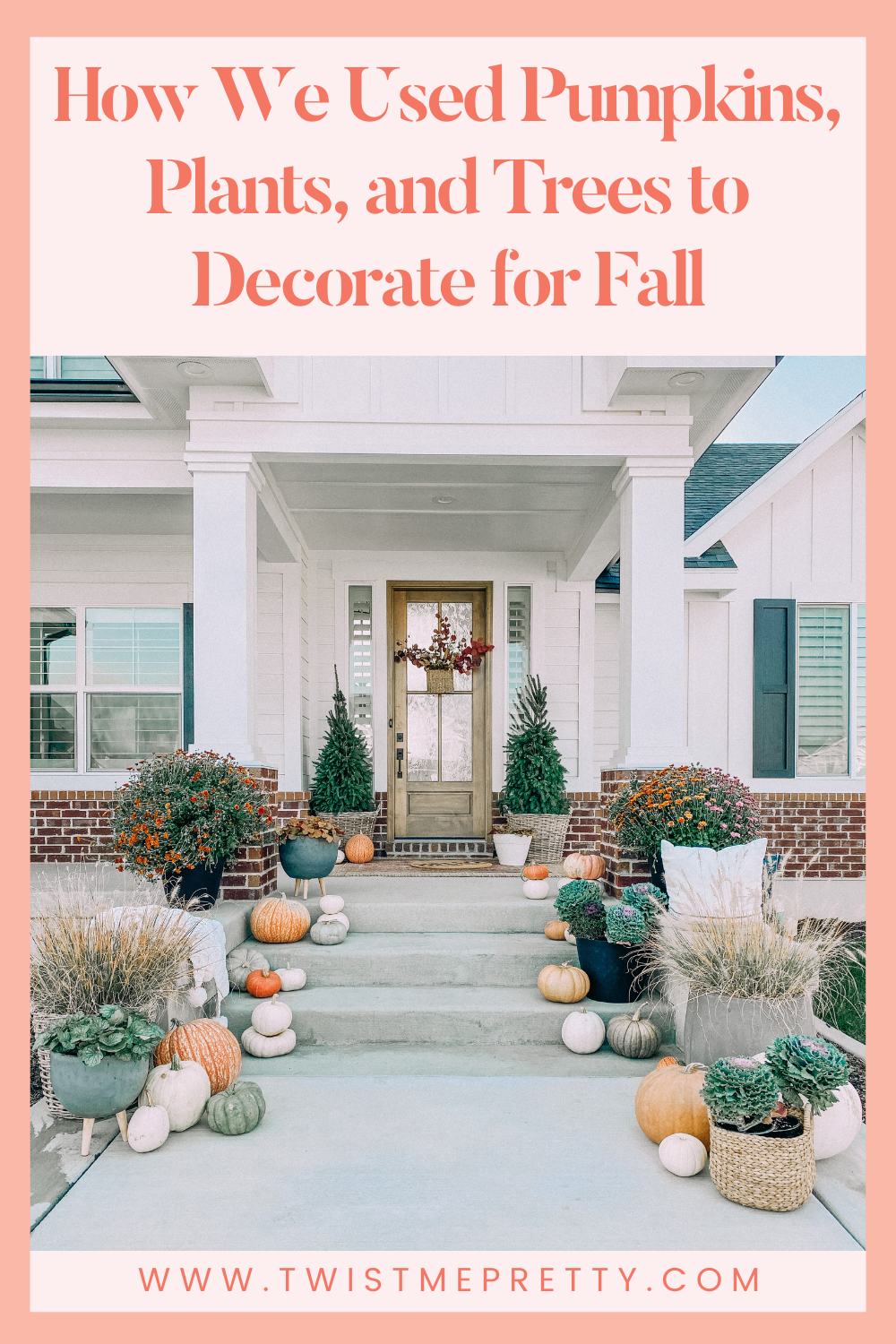 Fall Porch Inspiration
First, I looked online and at my friends' porches for inspiration. With my large front door area and deep porch, I knew I'd have room to play with when it came to adding plants and decorations. This also meant I had more room to fill! I knew I wanted something tall on both sides of my door, and I love using Mums and pumpkins in my fall decorations. They are so classically fall to me.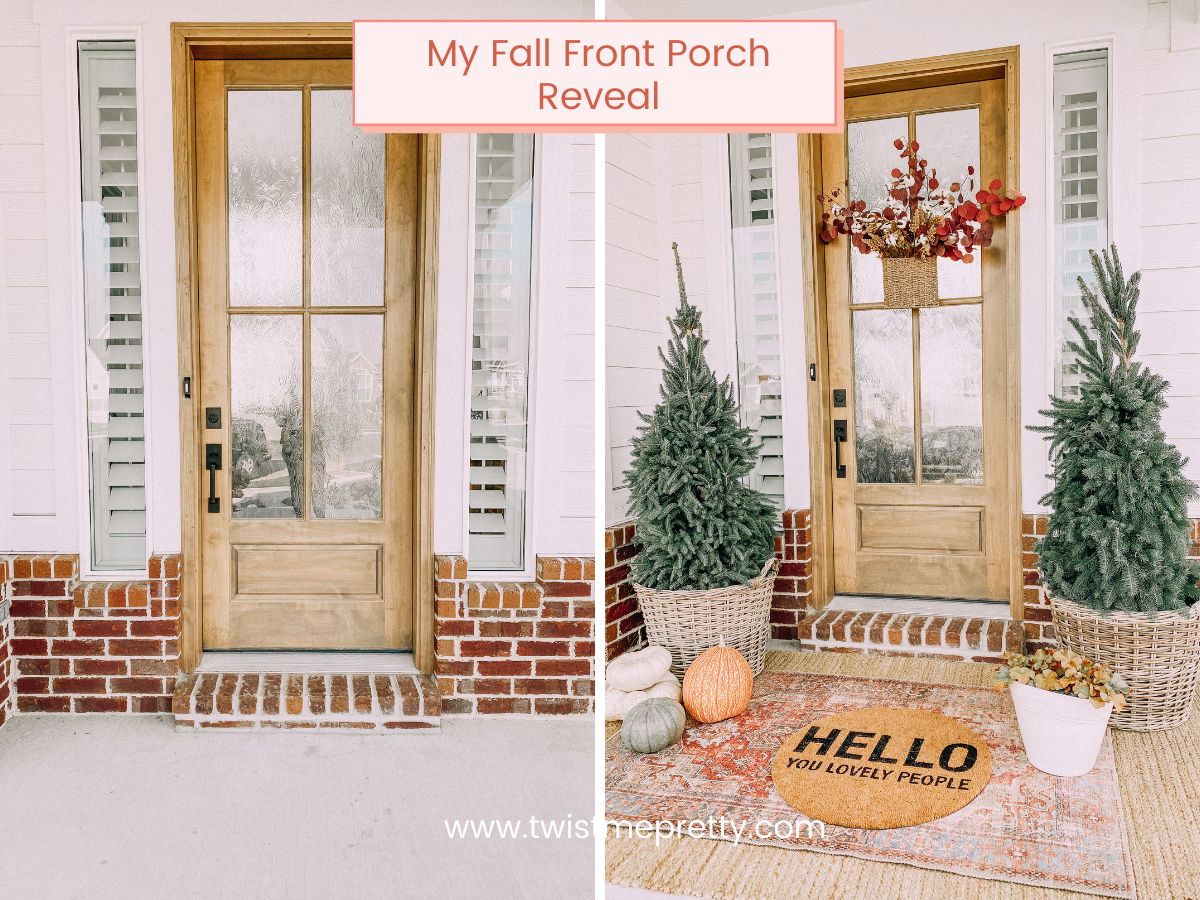 Now that I had an idea of what I wanted things to look like, I called in some help. I asked Kelsie, @kelsieemm on Instagram, to help me design and complete my front porch. She was a lifesaver! I turned to her expertise to figure out how to help my long porch and front steps not look as deep, while also allowing room for us to actually use the front door.

How We Got Started Decorating My Front Porch For Fall
We started with the large baskets and pots. These gave us a jumping off point to design the color scheme and layout around. I also knew I wanted to layer a few rugs for the entry, so we grabbed a circular rug from J&J Nursery here in Utah when we got the baskets and planters. We found the patterned rug at World Market. It was the perfect amount of pattern against the smaller circular mat.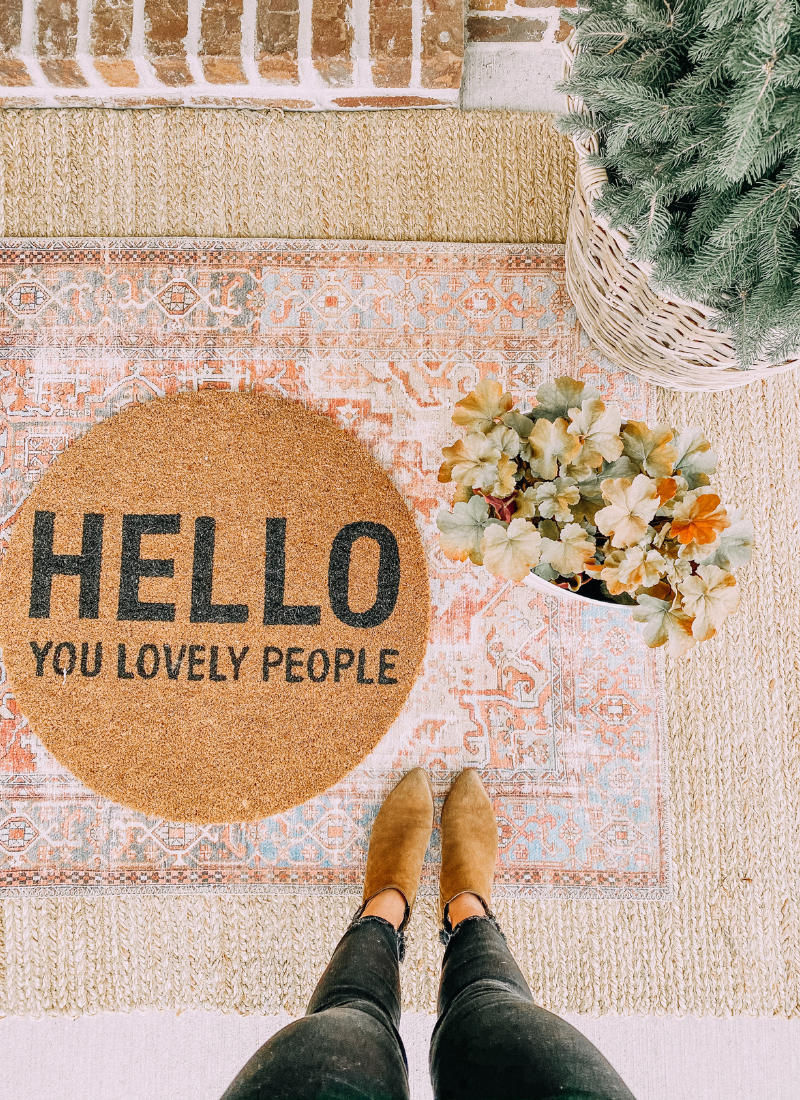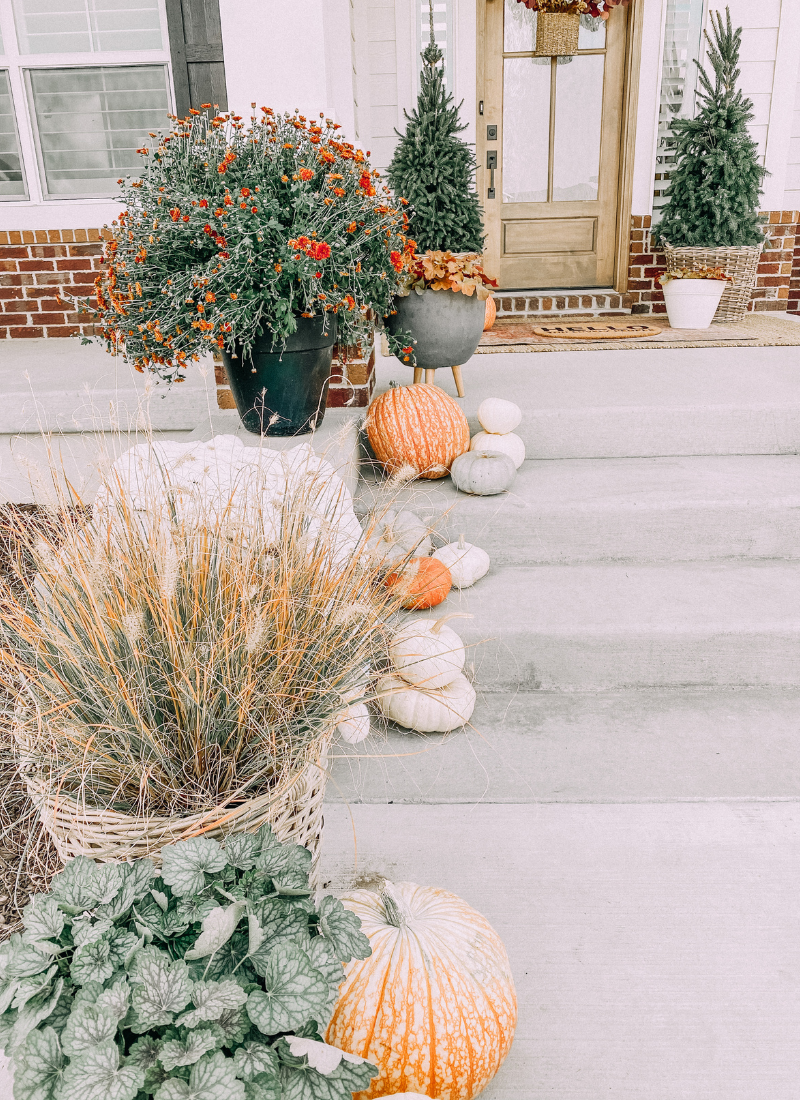 Next up was gathering all the pumpkins! I love heirloom pumpkins. You might see them called Cinderella Pumpkins, too. I think their muted colors and different shapes are so pretty! My tip for decorating with heirloom pumpkins? Stack them! Because they are more flat, you can stack 2 on top of each other for more height and a dash of whimsy.
Have You Looked Here for Plants Before?
I have to have Mums with my pumpkins. When I decorated my front porch for fall this year, I knew I wanted really big mums. These look so great against the pillars of my porch. They have a nice, bright color to them and they are so pretty with all of their blooms. Can you believe I found them at my local Smith's Marketplace? Don't forget to check your grocery store for flowers and plants. You never know what you might find!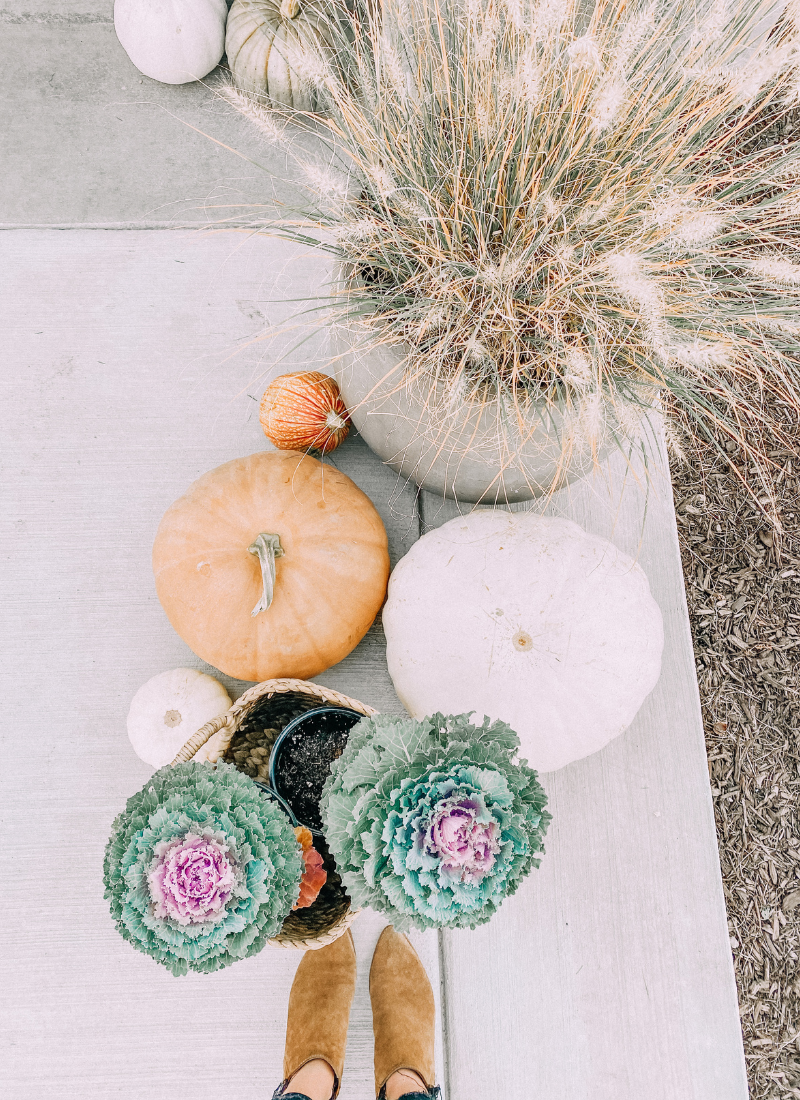 While we were at Smith's we also grabbed some Flowering Kale. I haven't done a lot of decorating with Flowering Kale before, but I love how these look against the smooth pumpkins. They aren't edible, they are grown for decoration only. They look so pretty next to the mums with their brightly colored centers. And, they are pretty easy to grow and keep alive! This is a total bonus for me, as I navigate blending mine and Matt's families.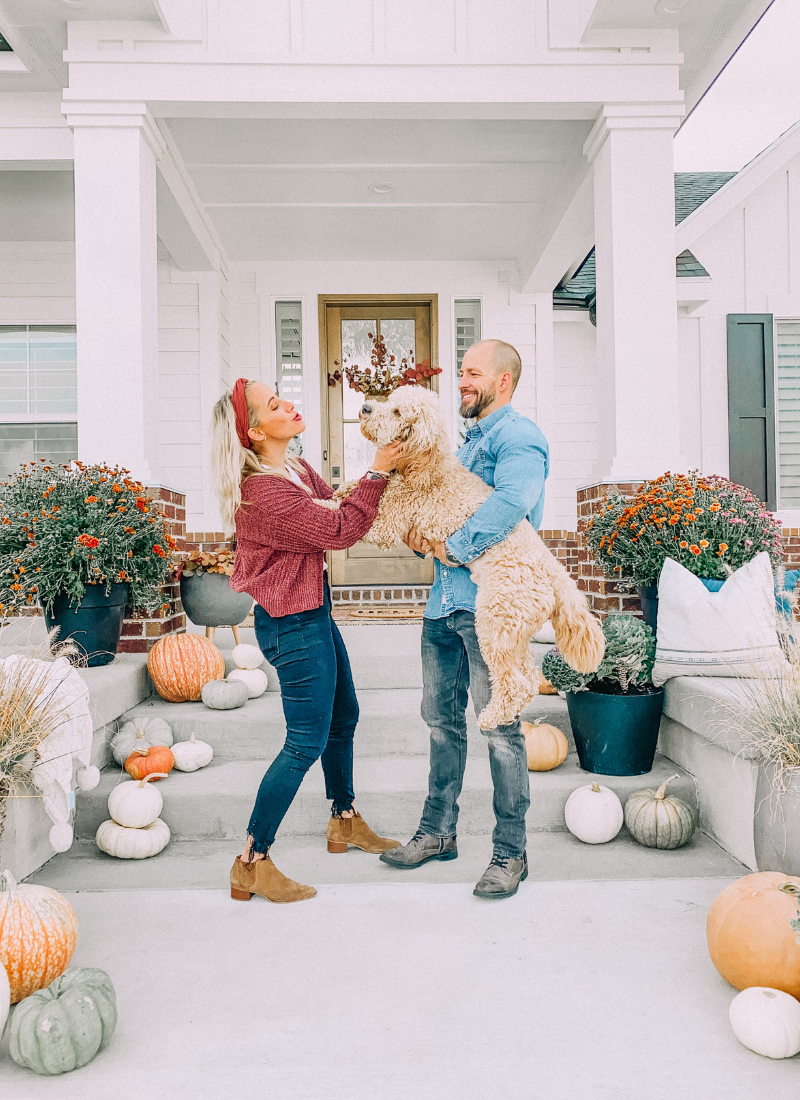 Kelsie then filled in the rest of our pots with Heuchera and decorative grasses. When you are decorating your front porch for fall, you need to have a variety of heights, textures, and colors. This will help your porch look more complete.
The Last Piece of the Puzzle
The last piece of the puzzle took me the longest to figure out. I searched high and low for some small-ish trees to put next to my front door. After going to a few different nurseries and not seeing what I was looking for, my husband Matt mentioned that he had a friend who owned a nursery!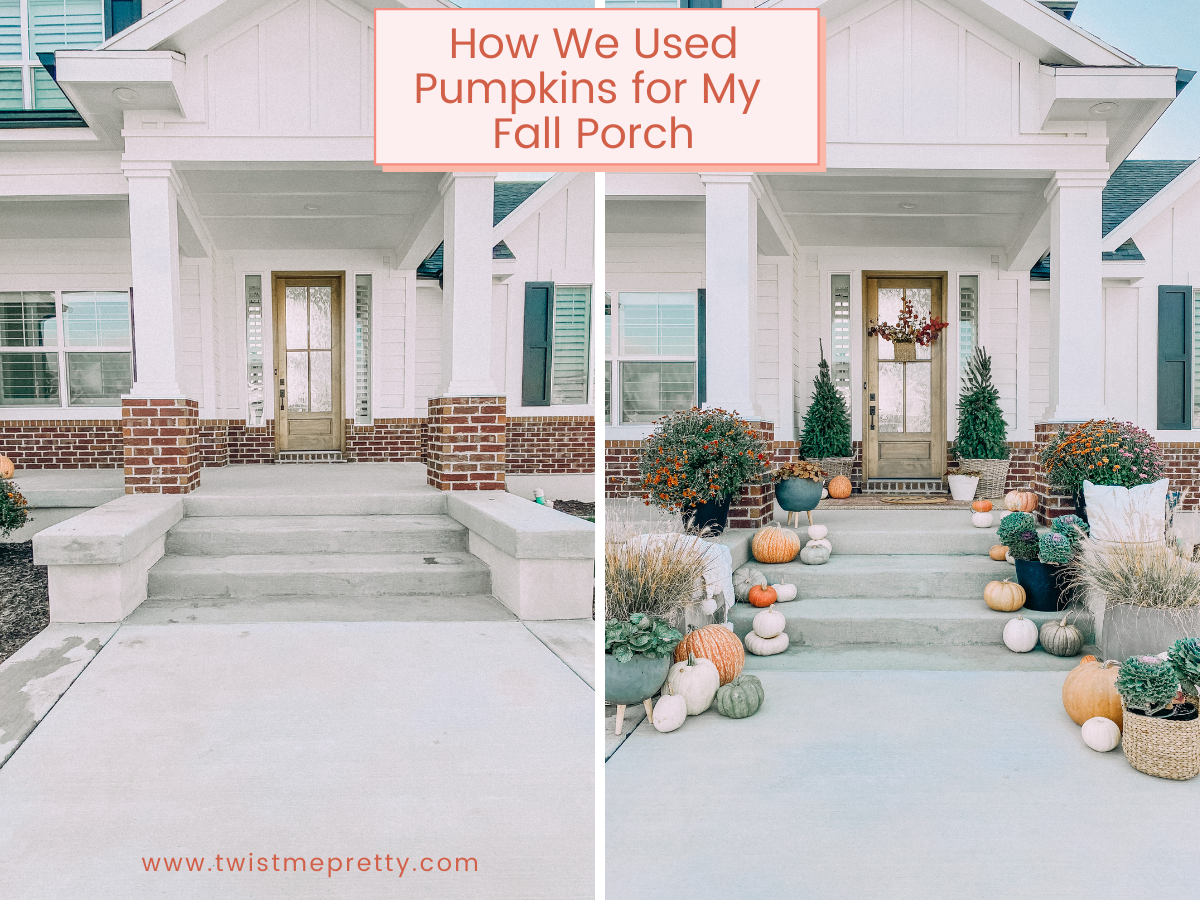 Crestwood Growers had an amazing selection of trees and plants that were all so beautiful. It was hard to choose what I wanted. Matt had to talk me out of bringing everything home with me! Finally, we decided on two dwarf spruce trees. These are the perfect height and width next to my door and they will stay green through the long winter months here in Utah. Once we had the trees, I just knew the front porch was almost ready for it's reveal.
To finish how I decorated my front porch for fall, Kelsie arranged all of the plants and pumpkins perfectly. She even created the gorgeous door hanging! We couldn't find what we were looking for in any stores, so Kelsie grabbed a few things and this cute basket and created the perfect thing!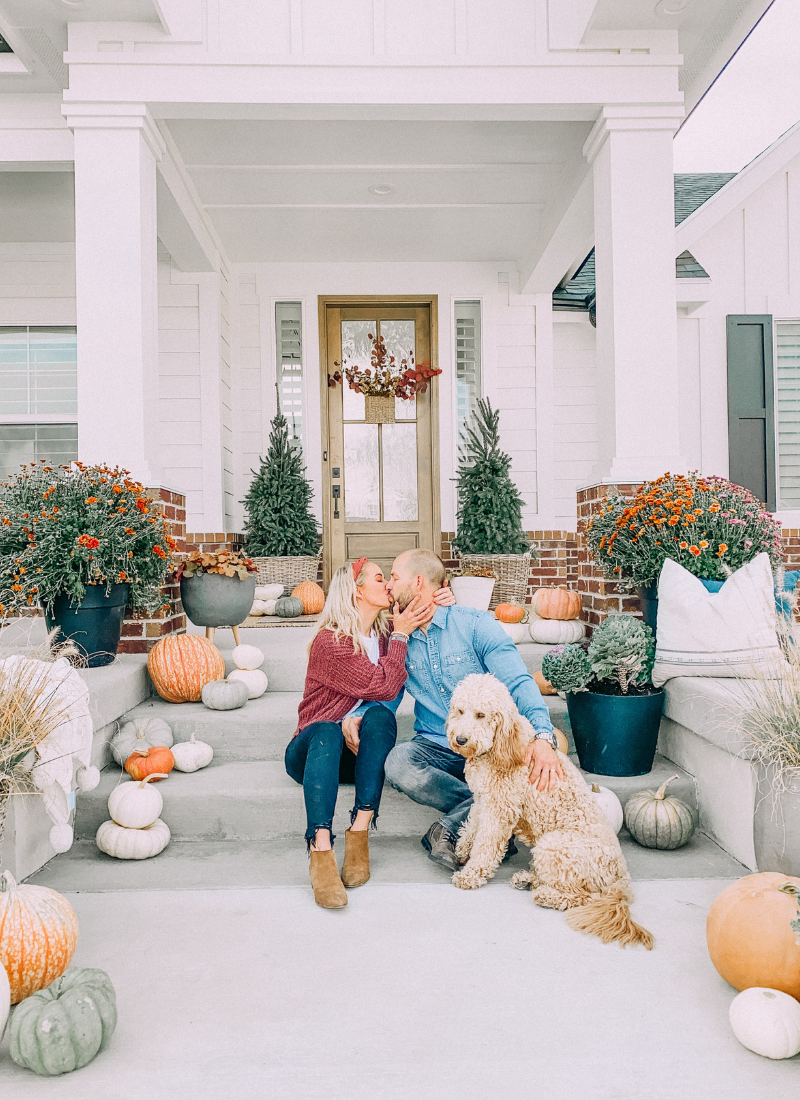 These are the simple steps I used when I decorated my front porch for fall. Do you decorate your porch in the fall? For more of how we created this gorgeous fall porch, check out the videos below!
View this post on Instagram
View this post on Instagram