I am getting re-married in a few weeks. It's coming up fast! As part of my wedding prep, I've been working out a lot. I've got a few goals I want to reach before my wedding for personal reasons. Exercising has also become a great way for me to process emotions and stress. I'll talk more about my thoughts about exercise and stress another day. But today, I wanted to share my easy workout makeup routine.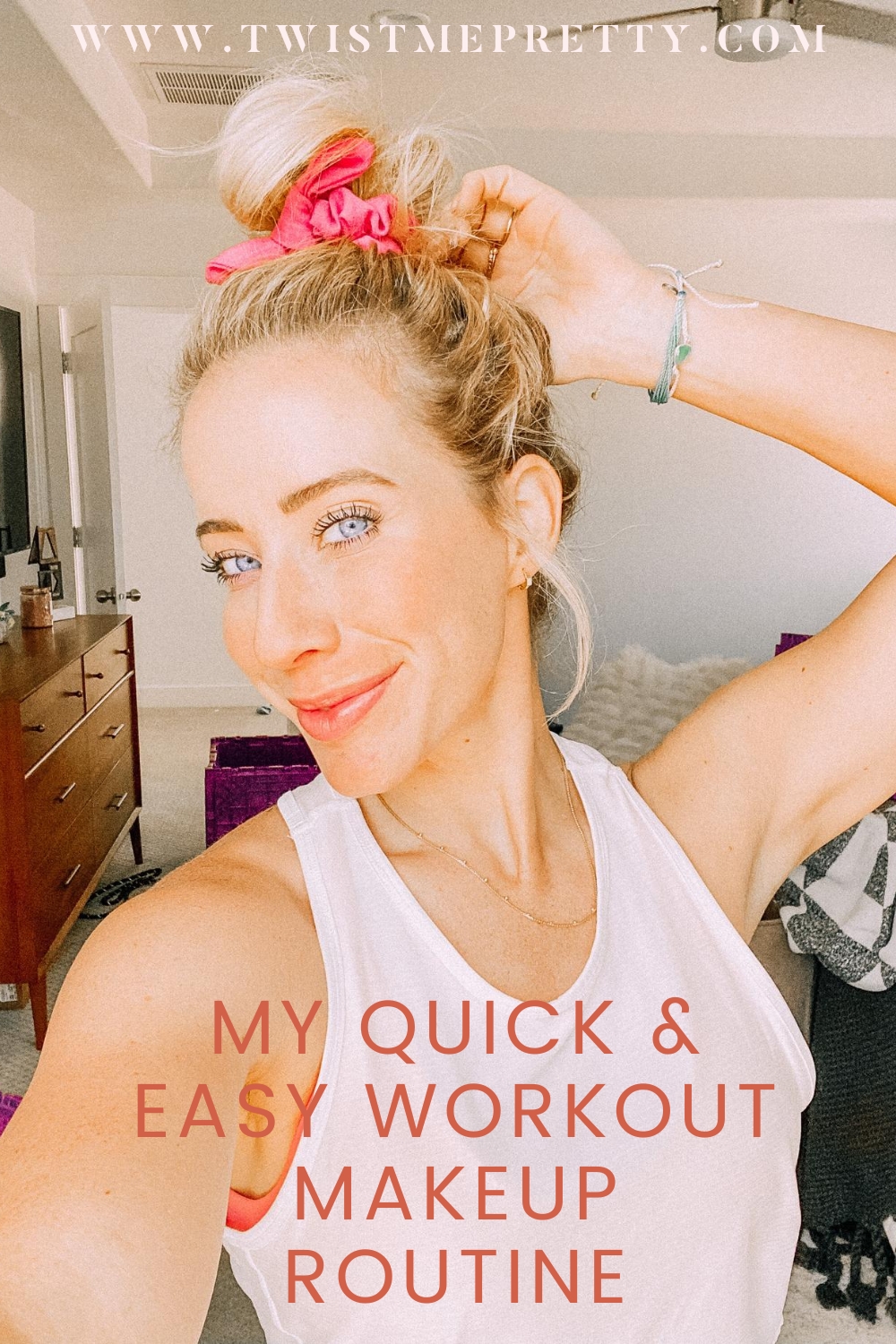 I've gotten a few questions about what makeup I wear on the days that I'm not getting glammed up. Everyone has their personal preferences about wearing makeup while working out. I like to look like myself while exercising, but I also don't want to spend a ton of time putting on makeup that I will be sweating off.
My Easy Workout Makeup Routine

Tinted Sunscreen
I always start with my favorite IT Cosmetics Tinted Sunscreen. This product has become a staple in my makeup routine. As I get older, I'm trying to take better care of my skin. By using this tinted sunscreen under my makeup I'm able to protect my skin from the damaging rays of the sun while also giving myself a little color. On days when I'm wearing a full face of makeup, I will follow this up with foundation. But for my easy workout makeup routine, I use this tinted sunscreen as my base.

Brows
Even on days that I'm not wearing much makeup, I always fill my brows in. It's amazing what a difference this can make to your face! I love using IT Cosmetics Brow Powerful because it's quick and easy. I don't know about you, but quick and easy are the keys to my makeup routine when working out.
Eyelashes
I've talked before about how I apply my mascara on another post (find it here), so I won't go into detail about that today. As you can see from this picture, the Maybelline Lash Sensational Mascara is my ultimate ride or die makeup product!

Concealer
The Nars Soft Matte Complete Concealer is my go-to when I want to cover any dark circles or skin imperfections. I like to use it as part of my workout makeup routine because it's easy to apply and I can control how much coverage I want.
Bronzer
I love using bronzer as part of my easy workout makeup routine. It gives my skin a little more color and helps me to not look so tired. I love the Urban Decay Beached Bronzer because it's not too orange and it has great staying power through my workouts!

Lips
I've loved using the Laneige Lip Sleeping Mask for years, and now I've added the Laneige Lip Glowy Balm to my daily routine. It's perfect for my easy workout makeup routine because I can slip it in my pocket and take it with me if I want to! I love the shimmer and moisture I get with this lip balm. And the grapefruit flavor is great, too!
Bonus for Tired Eyes
I'm a single mom of 4 young kids. In a few weeks, when I get re-married, we will have 6 kids between us. That's a lot of young kids! I love being a mom, but some days I'm just tired. My good friend told me about these Lumify Eye Drops that help with redness and tired eyes. They're great because they help to brighten the whites of your eyes and remove the redness. This step in my easy workout makeup routine, is probably one of the most satisfying because it's an instant change! I love how much more awake and alert this makes my eyes look. And because my eyes don't look as tired, it helps me to not feel so tired. It's a simple mind trick that helps me to get through the day.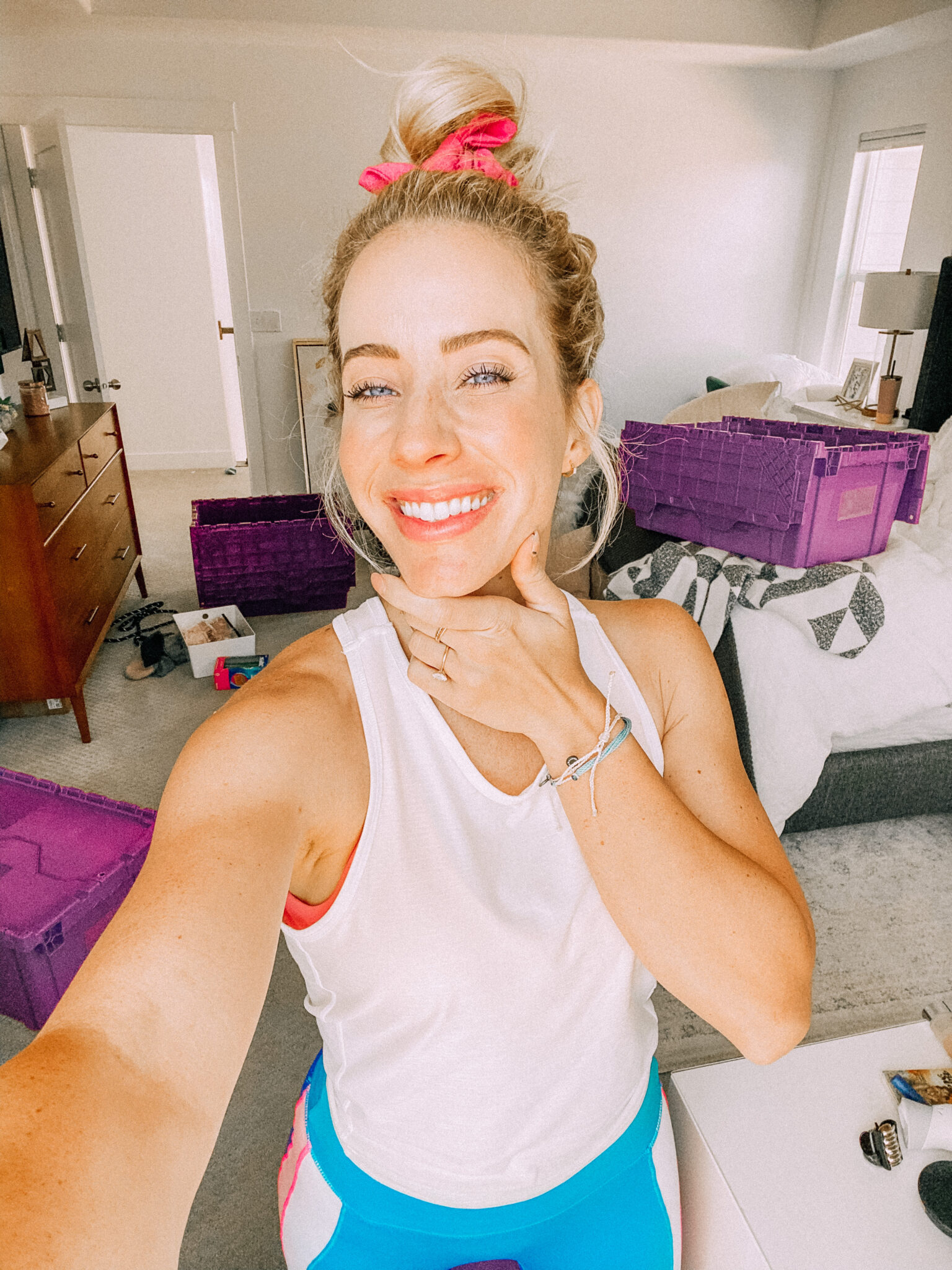 Do you have an easy workout makeup routine?
What would you add to my easy workout makeup routine? Am I missing your favorite products? Let me know and I'll give them a try! I have grown to love exercising and pushing my body to new limits. Exercise has become an important part of my therapy as I've worked through the emotions of my divorce and falling in love again. I'm so excited to see where the next year takes me and my family.
View this post on Instagram