Have you ever created a gratitude journal? Do you know what one is? A gratitude journal can be as simple as a plain notebook where you list out the things you are grateful for. It can also be a journal that has prompts for you to follow to help you remember what you are grateful for in your life.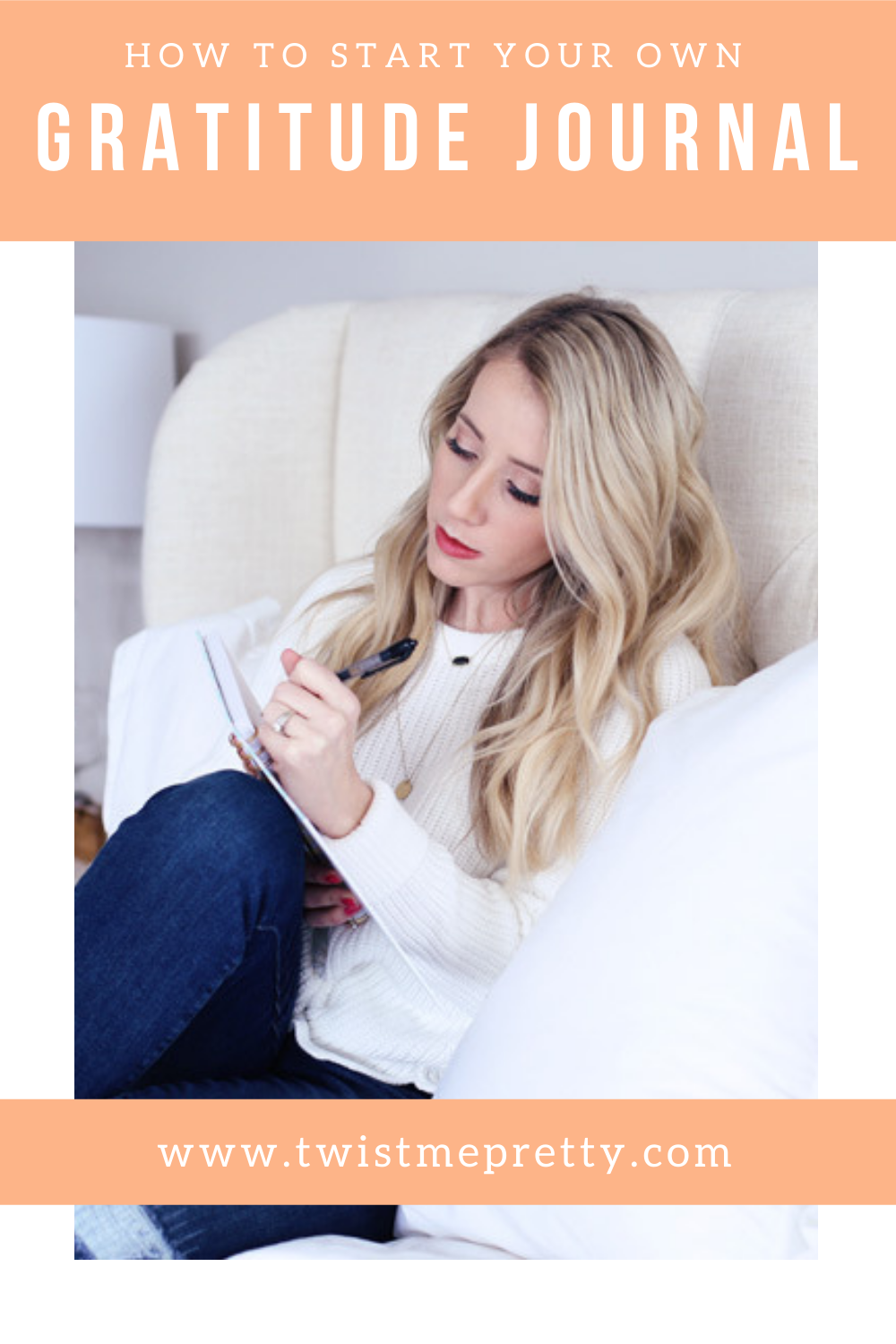 I've been working on creating a powerful gratitude journal for myself in my life recently. I've been really impressed with how this simple practice has changed my outlook on life. Even with the extra stress that has hit all of us because of the Coronavirus this spring, I've been able to handle it better because of my gratitude practice. I've found that when I take a few minutes to jot down what I'm grateful for each day, I'm able to recognize more blessings and things to be grateful for in my life.
Here are a few gratitude journals that I think are super cute!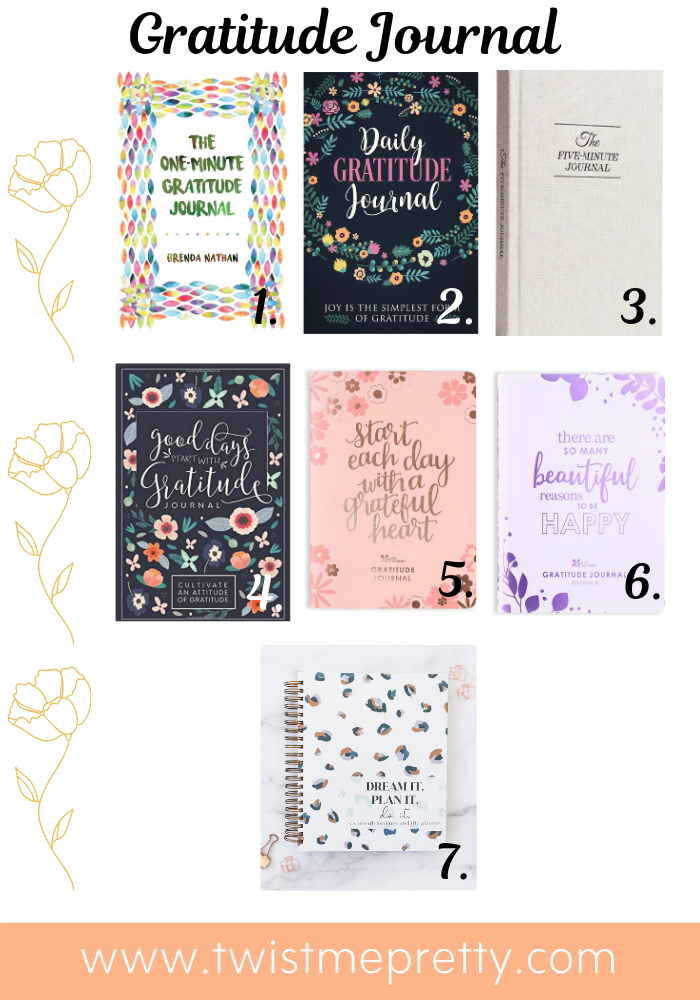 Now that you have your gratitude journal, what's next?
Well, here is where you can customize your gratitude practice to fit your needs and personality. If you like, you can just do a simple list of 5-10 things that you're grateful for each day. This is a great place to start for anyone who is trying out a gratitude practice for the first time. It's easy enough to do quickly, and it will get your mind to think more about what you're grateful for in your life, rather than what you are struggling with.
I know for me, this has been a huge help as I've navigated this past year as a single mom. I'm sure most of us can list quite a few things that we wish we could change about our current circumstances. The problem with only noticing the situations and realities that we aren't happy with, is that it's, well, depressing! And who wants to be sad all of the time? I know I don't.
So, start by thinking of 5-10 things you are grateful for, happy about, or that make you smile. Write them down in your gratitude journal. Do this every day. I guarantee you'll start to see a change in your overall happiness. You'll find yourself being grateful for more things each day.
Want more specific gratitude journal prompts?
Are you someone who prefers having more of a structure to your writing exercises? Or do you need help even knowing where to start? Here are a few gratitude journal prompts you can use to start yourself off with. Using these can be great to get your mind going about what to write down. They can also be fun if you want to get out of a rut of writing the same things every day.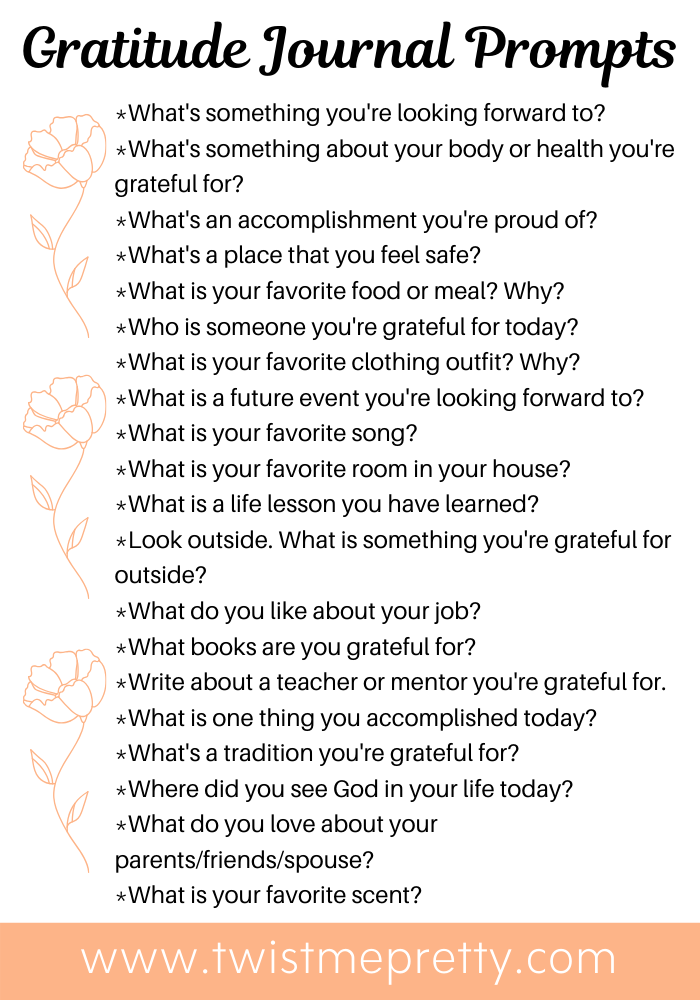 I hope these prompts help you as you establish your own gratitude practice. I know that my life has been changed as I have implemented my gratitude practice in my gratitude journal. Because of my gratitude practice, I find myself looking on the bright side more automatically. I am able to remember what I have to be grateful for more easily than I used to be. I have big goals and dreams that I'm constantly working towards, and remembering what I have now is helping me to be able to reach them.
Have you joined the challenge? I'm determined to not let quarantine stop my personal growth. Won't you join me? Click the button below to learn more about the 30 day contest I'm doing to help all of us take charge of our mental, physical, and spiritual selves. Check it out now!