Fabulous in Five!
I'm so excited that my friend, Kayti, from The Beyouty Bureau is here today to help all of us get through this social distancing while looking fabulous! Kayti is the queen of breaking down the makeup world for even the most novice of makeup users. I know I always learn something from her tutorials! Today she's going to show all of us how easy it is to look fabulous in five minutes!
Hey hey there, Kayti here from The Beyouty Bureau ❤️ I am your best friend in the makeup world and the girl that will always tell you that you are beautiful, just the way you are! I believe in the power of makeup, but more importantly that true self care helps each of us step into our own incredible power! While I believe so deeply in taking time for yourself, I know that we are all short on time. So, I promise to make this quick – gimme five minutes and we will get you feeling fabulous!!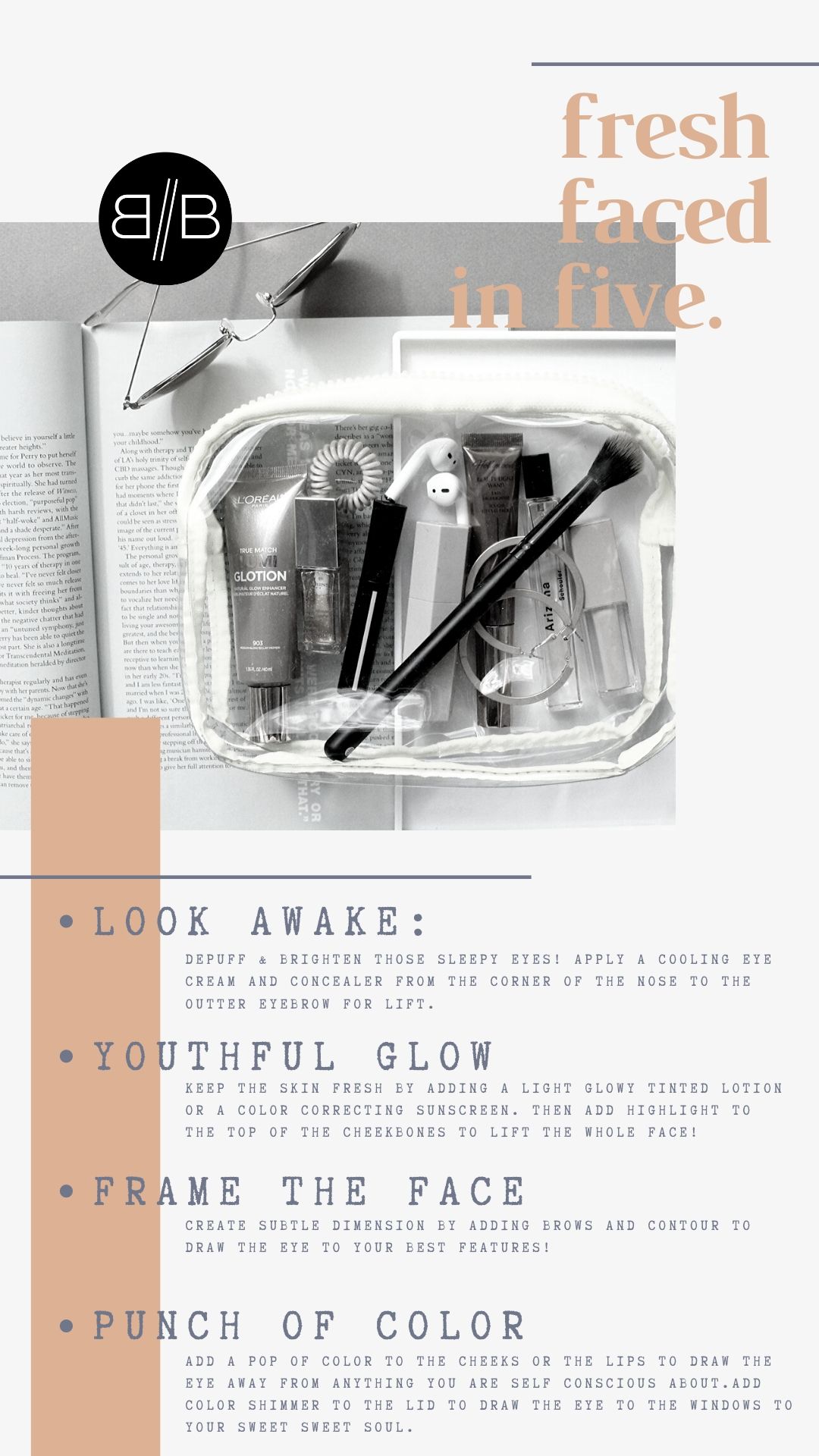 When time is short I have only a few priorities when it comes to makeup – I want to:
LOOK AWAKE

HAVE A YOUTHFUL GLOW

FRAME MY FACE

ADD COLOR
This may seem like a big task list, but it really is so simple!! Let me show you!
LOOK AWAKE!
You can quickly and easily fake that you got a full night's rest by applying a cooling or de-puffing eye cream and then following up with a bright and hydrating concealer. (Using a concealer with a peachy undertone will look the most natural without any other makeup and will cancel out those blue/purple tones that we are left with after binging Schitt's Creek on Netflix 😘) Apply the concealer under the eyes from the side of the nose up to the outer brow bone just patting in with the ring finger for the most lifted effect!
YOUTHFUL GLOW!
Whether you have great skin or problematic skin adding a BIT of shimmer and color will not only blurr imperfections, but draw light to the face. This will keep the skin looking light and fresh! I swear by this moisturizer to add just a touch of color and shimmer and it can be worn alone or under foundation. If you would prefer more coverage without the fuss, using a CC Cream will help combat redness, blemishes and sunspots, but will also keep the skin looking and feeling fresh.
After you add color and dimension to the face a quick way to lift the face with light is by popping a highlight on to the top of the cheekbones! This one is stunning and easy to apply with the fingertips for fast application.
FRAME THE FACE!
All this means is to create dimension: adding light and dark to the face to amplify the features you love the most!! I start first by doing my brows. You can either simply swipe a gel through your brows or take a bit longer to pencil those babies in, but either way brows will frame in your beautiful bone structure and draw the eye to YOUR eyes.
The easiest way to create dimension is by adding blush or contour to the cheeks or under the cheekbones. I love love love this contour stick because it looks the most subtle for my super simple makeup days and blends out with the finger.
Another quick way to feel pulled together is to swipe on mascara! This has the power to open up the eyes and I think most women feel more put together with just their mascara on. Just don't forget to curl those lashes to get the most lift and framing!
POP OF COLOR!
This is the easiest way to control where the eye is drawn. If you have dark circles, swipe on a bright lipstick to draw the eye away from your eyes and TOWARD your purdy lips! No need to use a crazy lipstick, even a gloss in a fresh bright color will do the trick.
By using a bright color on the cheeks you can give the illusion you just got back from vacation or just got off a light jog, but either way brighter colors look very youthful.
Adding a bit of shimmer to the lid will also brighten the entire face! I cannot quit using these shimmer colors for quick makeup because they are clean and have a great subtle shimmer that blends out so well with just the fingertip.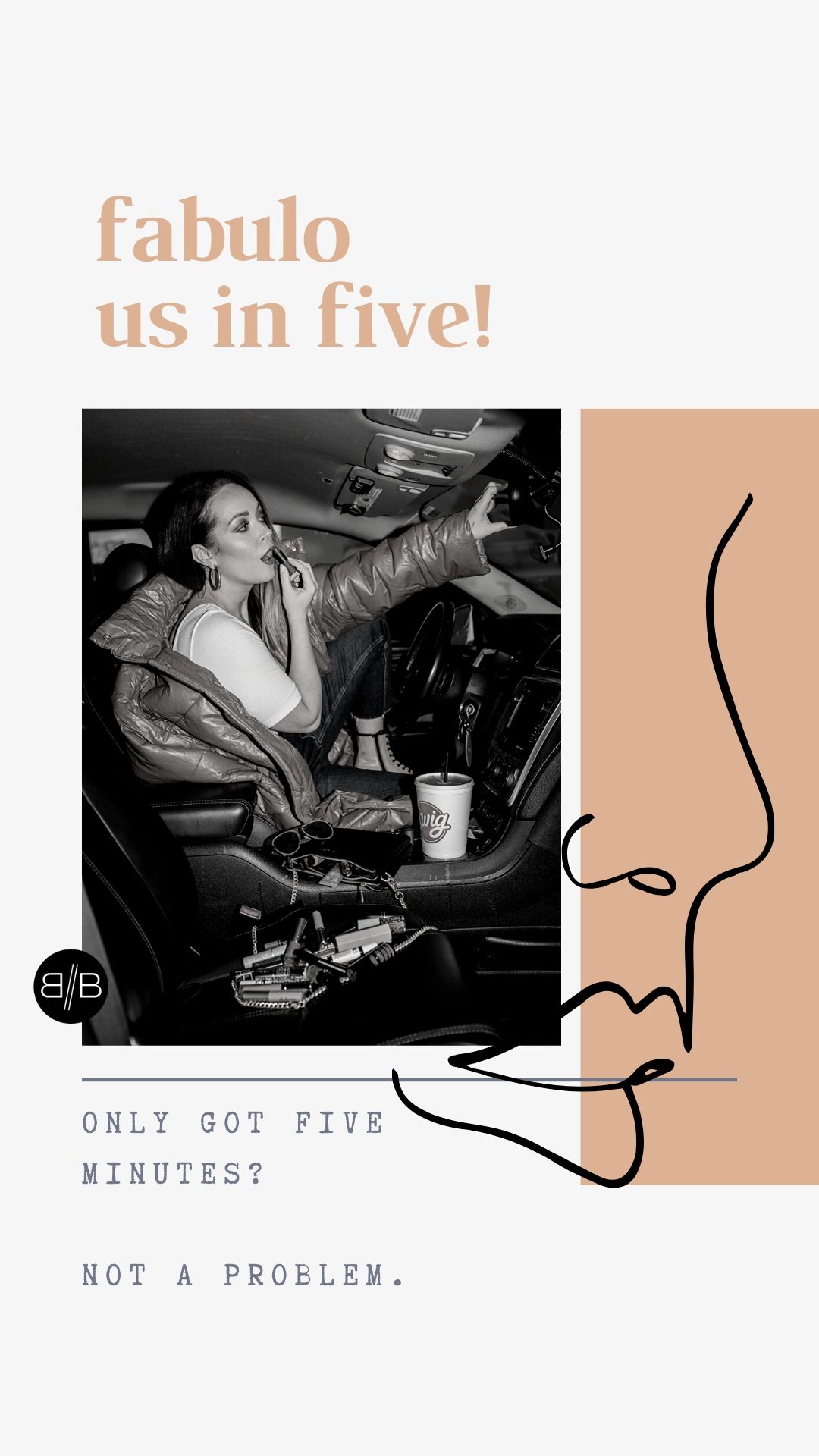 Lately I have found that the best place to do my makeup quickly is . . . in my car!! Great lighting! Heated seats! Playlist of your choice! Kids buckled up and out of your waaaaaaay! It all makes for the perfect scenario to look fabulous in five minutes. Here is a full list of all the things I keep on hand in my car for just such a time i.e. every dang day.
Makeup doesn't have to be complicated or take a long time, it ONLY has to make you feel fabulous! I hope that you can fine tune your own five minutes to fabulous and that these tips help you get there!!
Xo, Kayti

Abby Here-
Thank you for sharing these awesome tips with us, Kayti! I know I always feel better when I take a few minutes for myself and put at least a little makeup on. What tip are you going to follow to look fabulous in five minutes?
Don't forget to sign up for the weekly email so you can get all of these survival tips delivered straight to your inbox! I'm so excited about the goodness that we are gathering here for this survival series, I want you to have all of it in one place! Click the button below to enter your email address so you can get these tips and more delivered weekly! No need to leave your house– #stayhome!