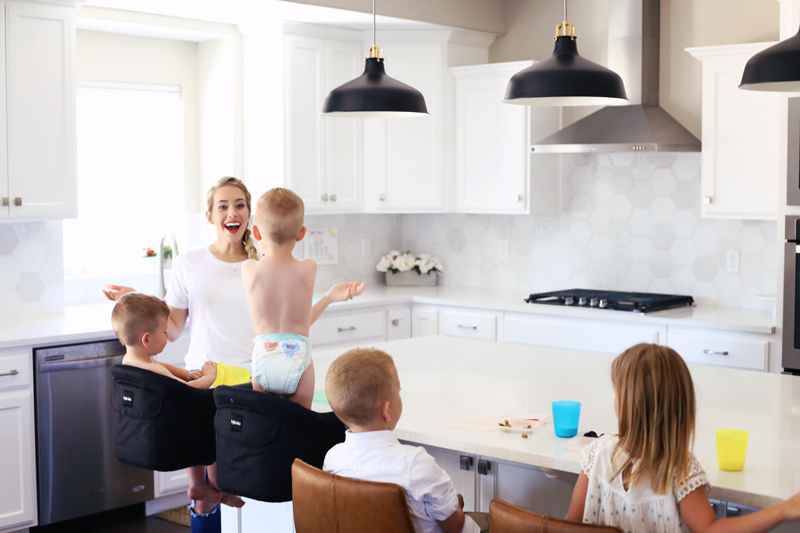 Having four little ones home this summer has been quite the experience. It's been crazy and exciting and challenging and, most of all, noisy! Decibel levels are at an all-time high! But so is the laughter and sibling camaraderie so I'm okay with it ?. While I love spending time with my kids I'm full on exhausted by the time lunch rolls around. I tell every mom who asks how I'm surviving that it's because we stick to our routine at all costs. We explore in the mornings, eat lunch and then it's nap time. If you're a mom you know that nap time is the most sacred time of the day! It's the time you get to decompress from the chaos, refuel that patience level that was teetering on empty, and it's also when I like to give my big kids some much needed one-on-one time.
I wanted to share our nap time routine with you guys and a few things that have helped my babies not only sleep well, but sleep longer.
First, we eat lunch.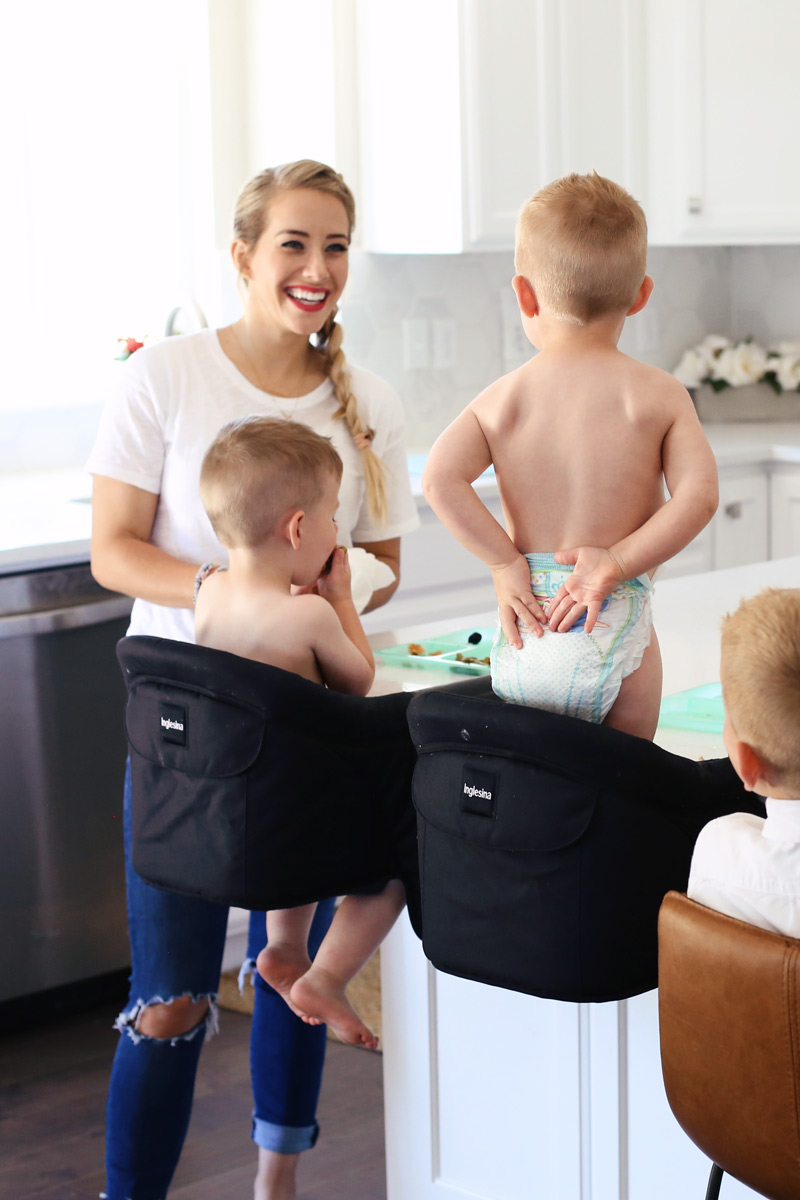 This is obvious but I'll say it anyway – a full belly leads to a longer nap! The twins are loving olives, avocados, broccoli and green beans right now. They also love cuties and strawberries but if you give them peaches they're just gonna throw them all over the floor!! They love buttered bow pasta, quesadillas, eggs and bacon. We mostly dish out finger foods because if they can't eat it by themselves, they won't eat it at all.
Over the years I've just come to terms with the fact that you can lead a horse to water, but you can't make him drink. We offer our kids a lot of healthy choices but at the end of the day they really just want pancakes, mac and cheese and chicken nuggets! My advise would be to pick your battles because in a few years their palettes will mature and getting mad and upset with them over the plate of quinoa just won't have been worth the fight. Ya know?!
Tip #1: My twins hate bibs. They scream when I put them on and spend all of lunchtime trying to rip them off. Instead of fighting them on it we just take off their shirts. And c'mon, they're never wearing pants. Which is fine with me because there's nothing in this world cuter than naked babies!
Second, diaper changes!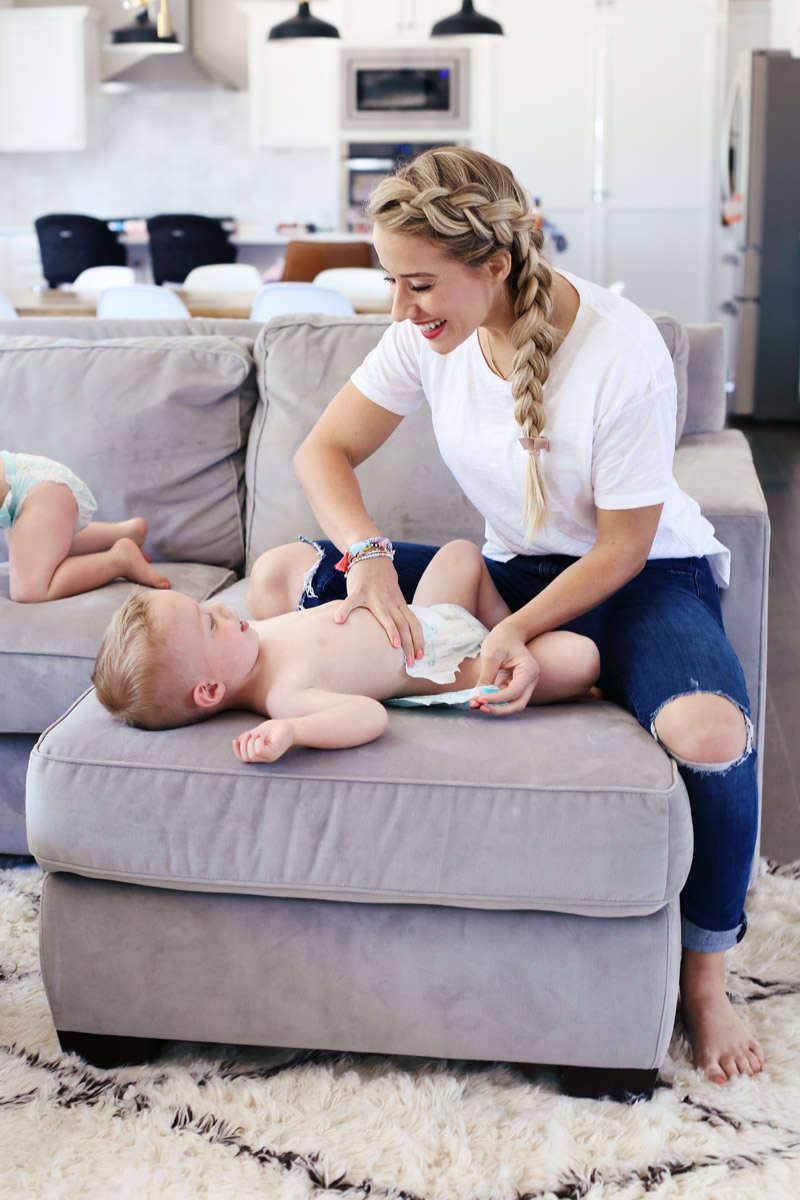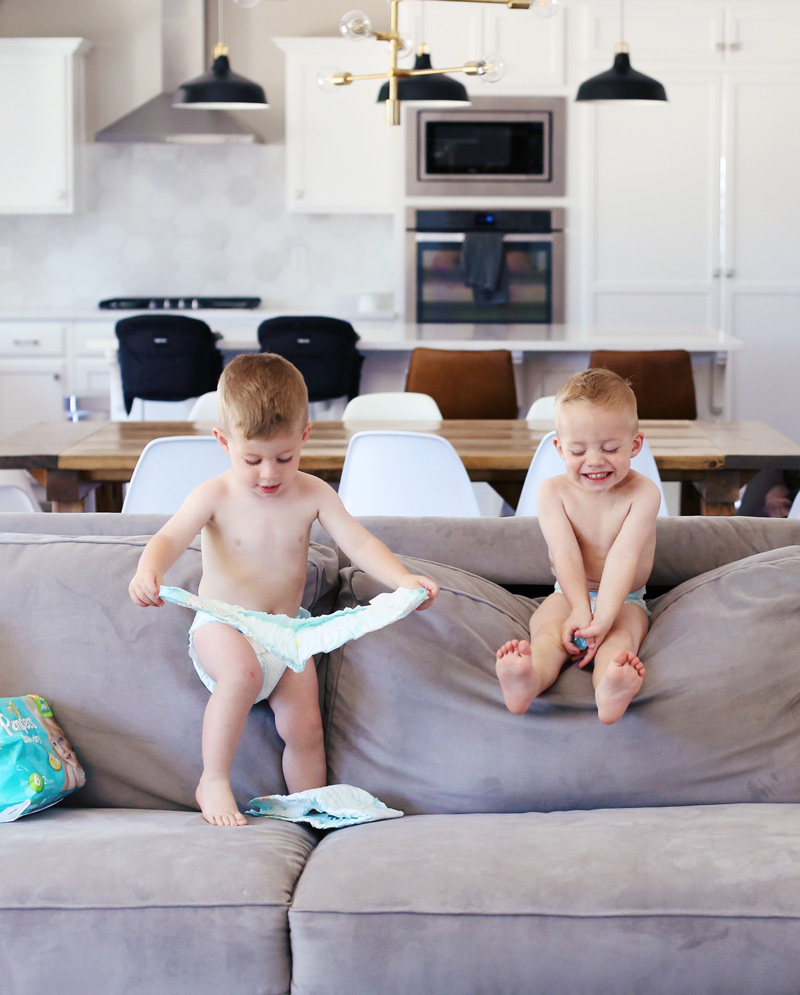 You've gotta have a dry diaper before nap time, am I right?! We've been brand ambassadors for Pampers for quite some time now and I've always been impressed with their quality and care! Pampers is constantly innovating and working with pediatricians, dermatologists and moms to ensure their products exceed the needs of their most important customers — babies!
I don't know if you've noticed, but Pampers Baby Dry has a new and improved look! Their Baby Dry diapers are enhanced with extra absorb channels which help distribute wetness evenly so babies are even drier than before. My babies prefer Pampers because they're so thin and comfortable and I'm happy with them because they stay dry for up to 12 hours. No early waking in our house!
Pampers Baby Dry has a rolling launch so you'll only find sizes 5 and 6 in the stores right now but by December you'll be able to find the new packaging in all sizes so make sure to keep an eye out!
After our diaper changes we play and wrestle on the couch for a few minutes, the babies inevitably dump out several bins of toys, and I chase them around trying to wrangle them both up the stairs.
Third, reading time!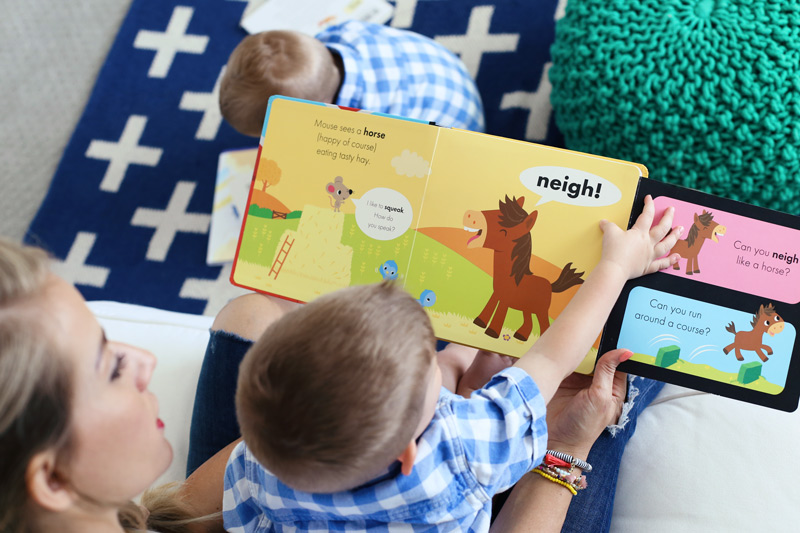 Before I put the babies down for their naps, we read stories. I let them each pick out a couple books and this is sacred time for us. I don't let the big kids come into their nursery while we are reading and it's just good quality, snuggly time right before bed! After about 15 minutes I ask Coop to help me turn on the sound machine and Kai closes the blinds, which leads me into my next few tips!
Tip #2 + #3: Get a sound machine and invest in some black out curtains. It will be the best money you've ever spent! We used these noise conditioners with Boston and Savy, they're real noise but fairly quiet. For the twins we've been using this sound machine here. Make sure it's on the lowest setting and at least 6 feet away from your child'd crib!! Then Pottery barn has some really cute black out curtains right now! We have plantation shutters in the nursery and they block out most of the light. In Boston and Savys room though, we had a vinyl roller shade installed and it's been amazing!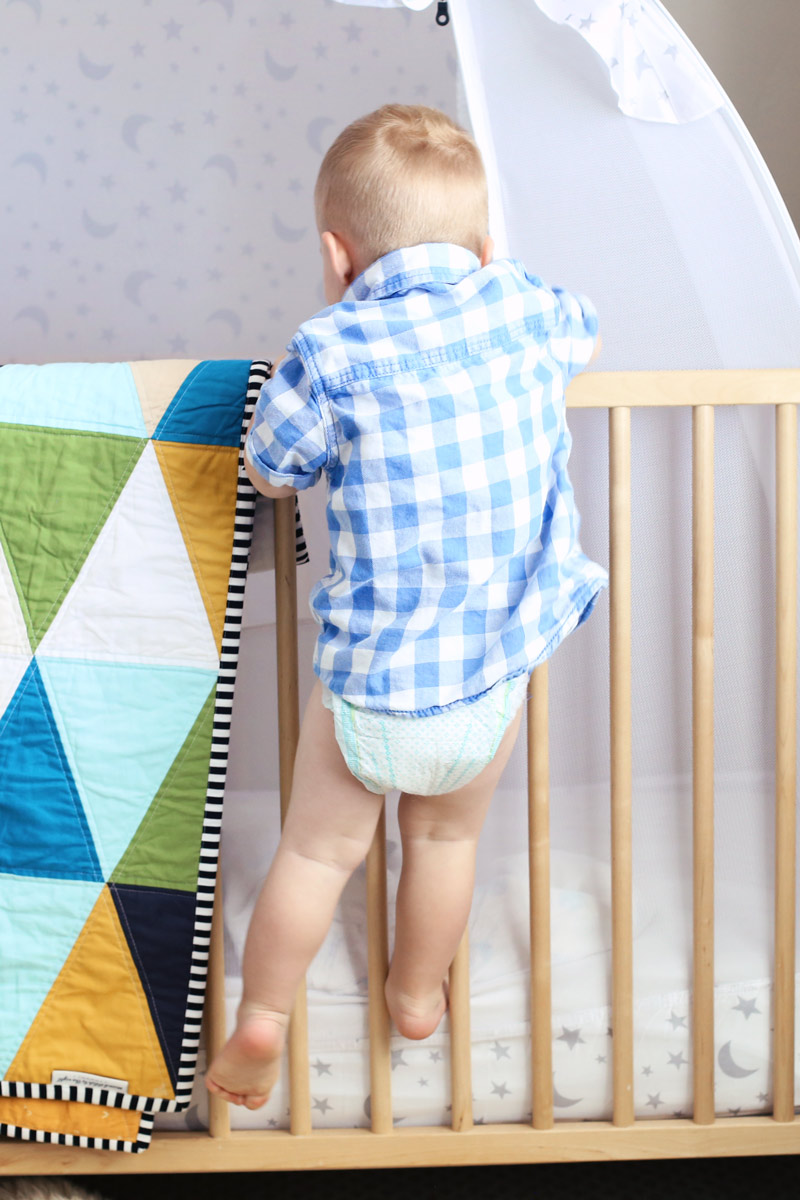 Tip #4: We finally splurged and bought these crib tents — they have been LIFE SAVERS!!! The twins are totally contained, they can't pass their blankets back and forth anymore, and I feel like they've just really helped my babies settle down and nap better. If you're struggling with your baby or babies, I feel like they have been an amazing investment!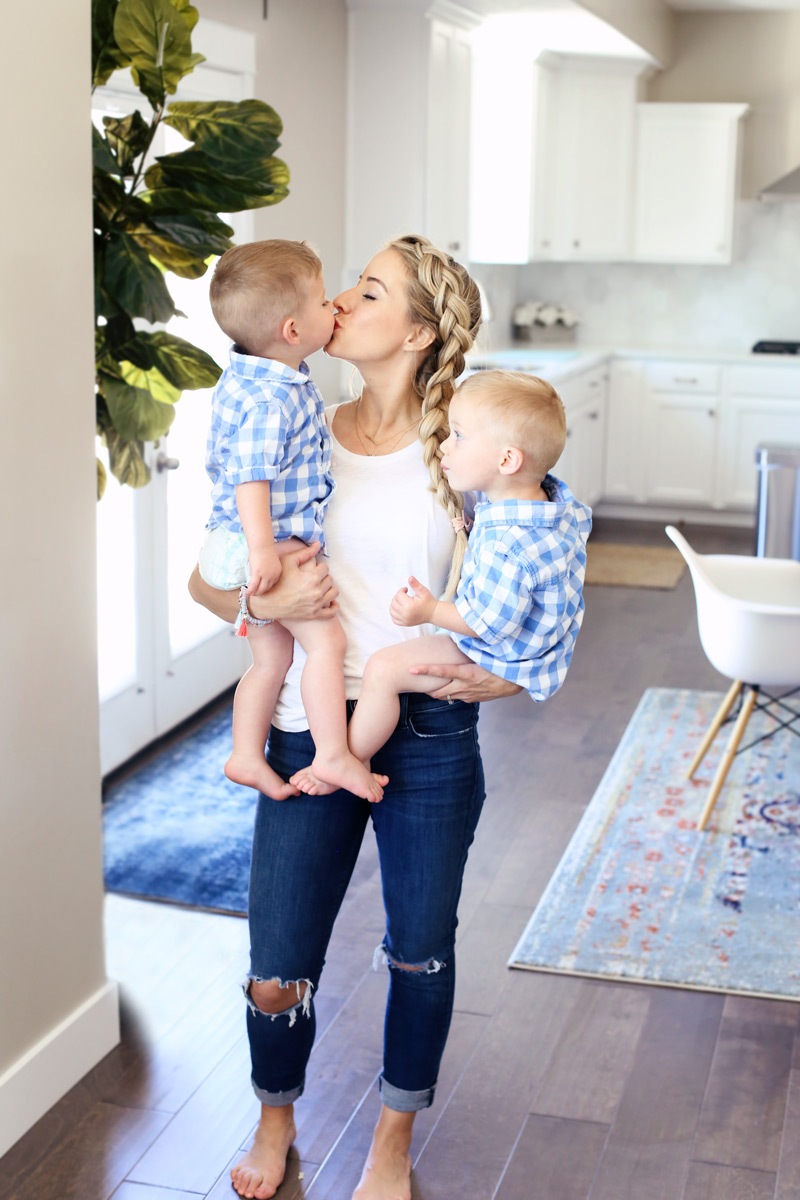 My twins usually take a three hour nap and I honestly attribute it to the fact that they're dry and comfortable in their diapers, that their room is dark and they feel safe in their little tents! It's all about routine for us though and if we don't read stories before nap time they have a really hard time settling down. What is your nap time routine with your kids? Do you do anything specific you do everyday? Do you have a product you love or a secret tip that can help the rest of us out?! I'd love to hear it in the comments below!
xo
Home Decor:
Window Treatments | Blue Rug | Unitype metal letters | Couch | Pillows

Outfits:
My ripped jeans
|
white tee
(I have two of these, love them!!) |
babies plaid shirt

And a huge thank you to Pampers for collaborating with me on this post. As always, all thoughts and opinions are my own and I'm so grateful to brands like Pampers who align with our values and lifestyle!