HAPPY OCTOBER ?!! If your new to my page, welcome! I'm Abby and most people know me from my every day hair tutorials I share on YouTube. I'm also a bit of a nerd when it comes to Halloween — it's hands down my favorite holiday and I'm so excited to be sharing this super cute Poodle Skirt Halloween Costume idea but first let me back track a little bit. Halloween is a bit of a burning passion of mine, my husband says it's border line unhealthy… either way you benefit because I go nuts with super fun and easy to duplicate tutorials that are perfect for all your Halloween needs. Not only do I share hair/makeup tutorials for all you gals that wanna get festive, but I get my whole family involved too.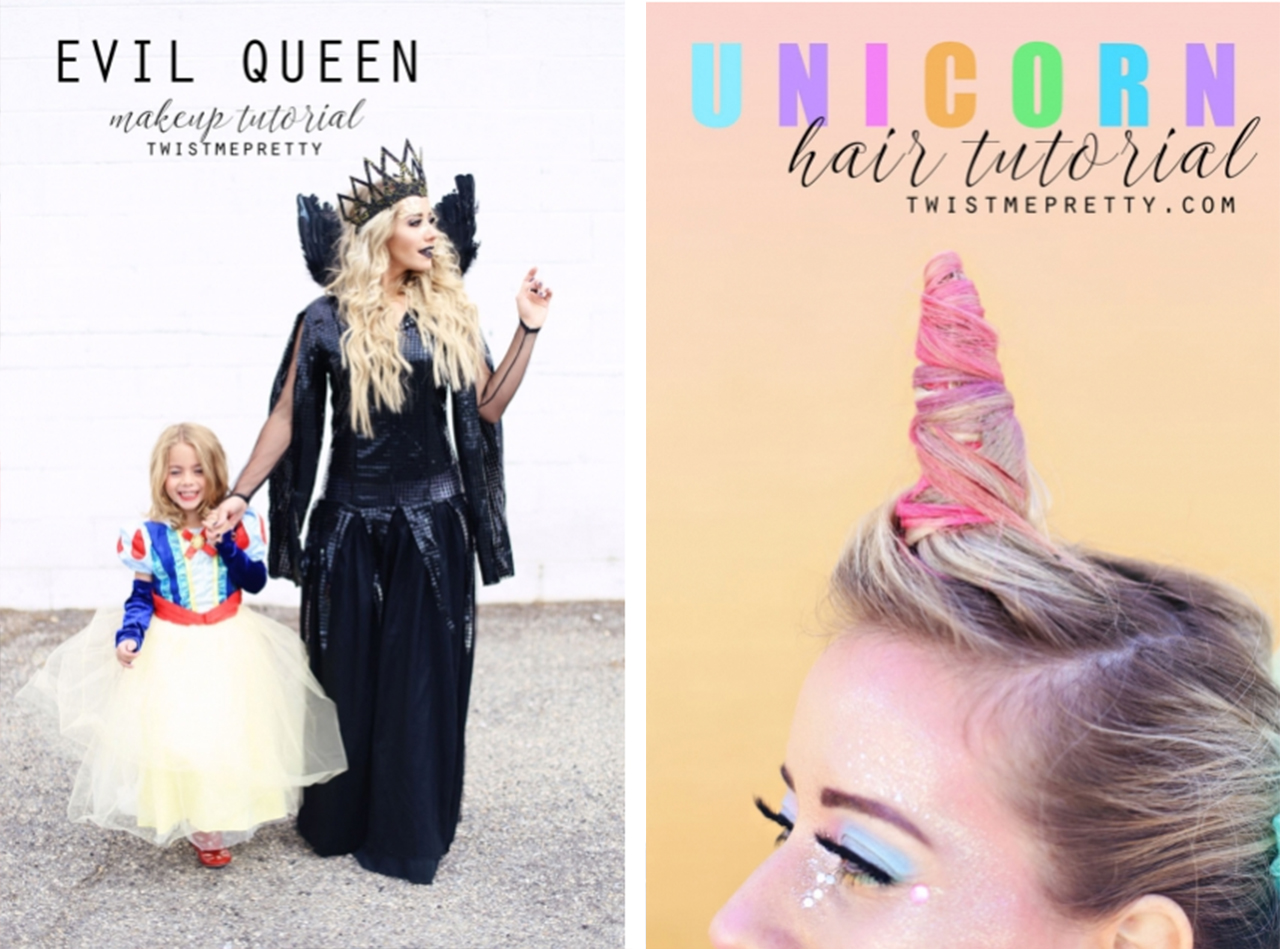 A few years ago my daughter joined me in filming this makeup tutorial (over 8 million views on IG ?) and it's been our thing ever since! Also evidence in this post and this one here too! And if that's not enough I've got a few years worth of family Halloween costumes to dig through for even more inspo (2015 / 2016 / 2017).
On second thought, maybe my husband is right? I don't even care though because it's the most fun I have creating and filming all year long so mostly I just hope you love it as much as I do!!!!
This year I've got some super fun and really easy tutorials planned for you and Savy girl and I are kicking off the month with a vintage look from the 50's with these super cute Poodle Skirt Halloween Costumes! I got us matching poodle skirt costumes (all from Amazon and linked below) and we of course had to be super extra and take these awesome pictures afterwards. I bribed Savy with icecream and fries and it was the best mommy/daughter date ever! Tomorrow I'll be sharing FOUR vintage hairstyles (including the ones we're wearing) that you can wear with your poodle skirts or 50's inspired costumes and they're SO CUTE! So be excited for that video, I'll publish it tomorrow morning so circle back around and check it out!
What do you think of our 50's inspired shoot?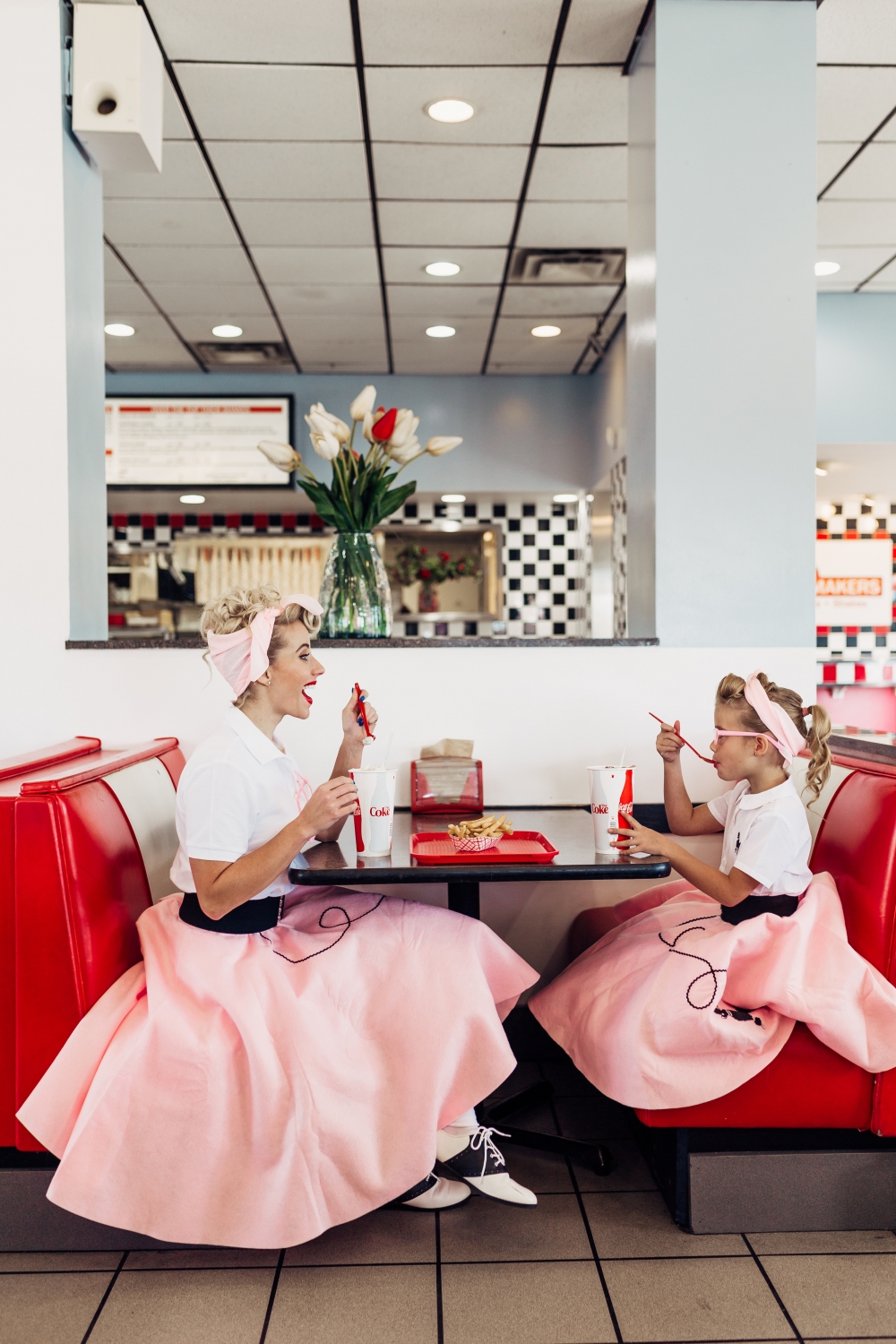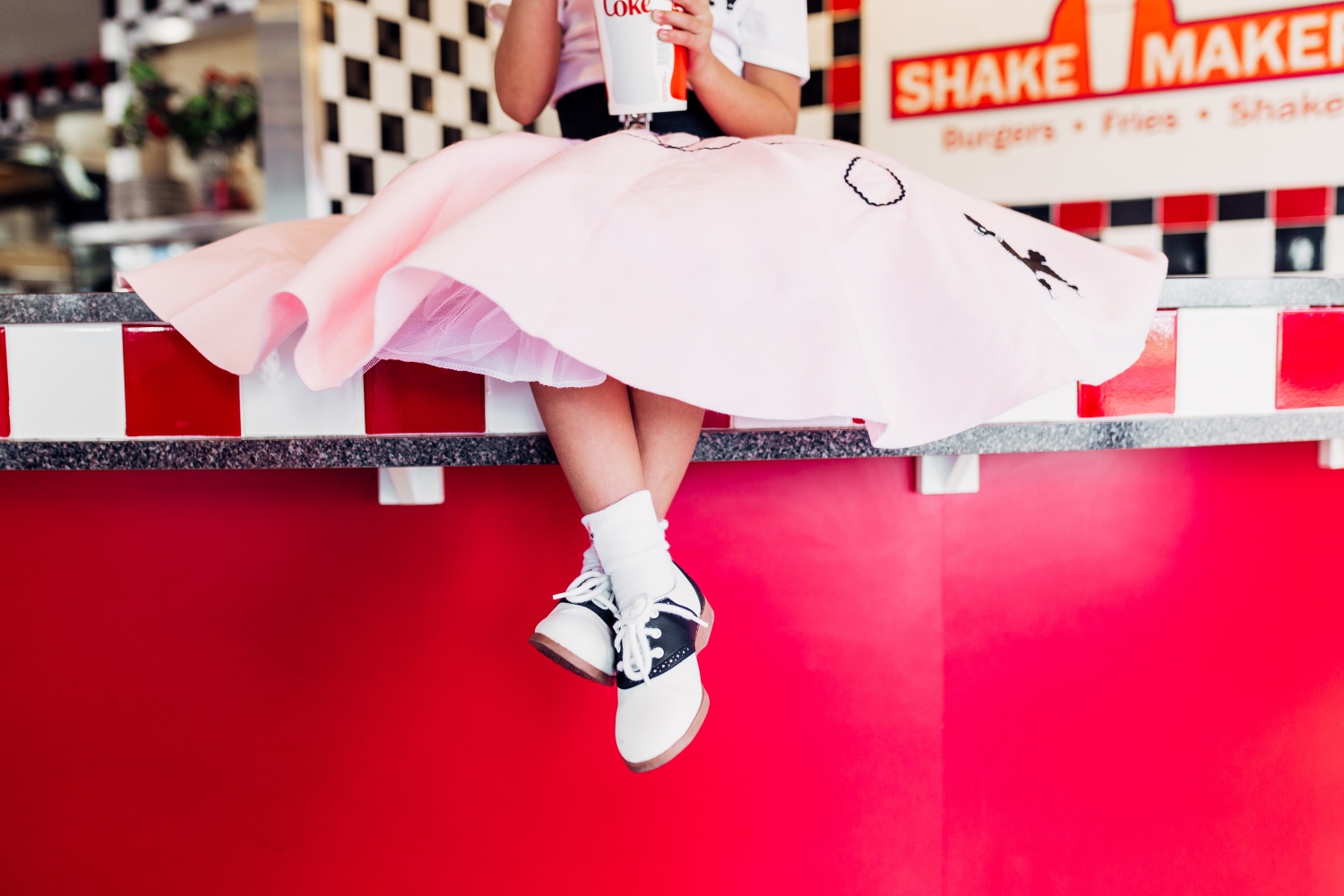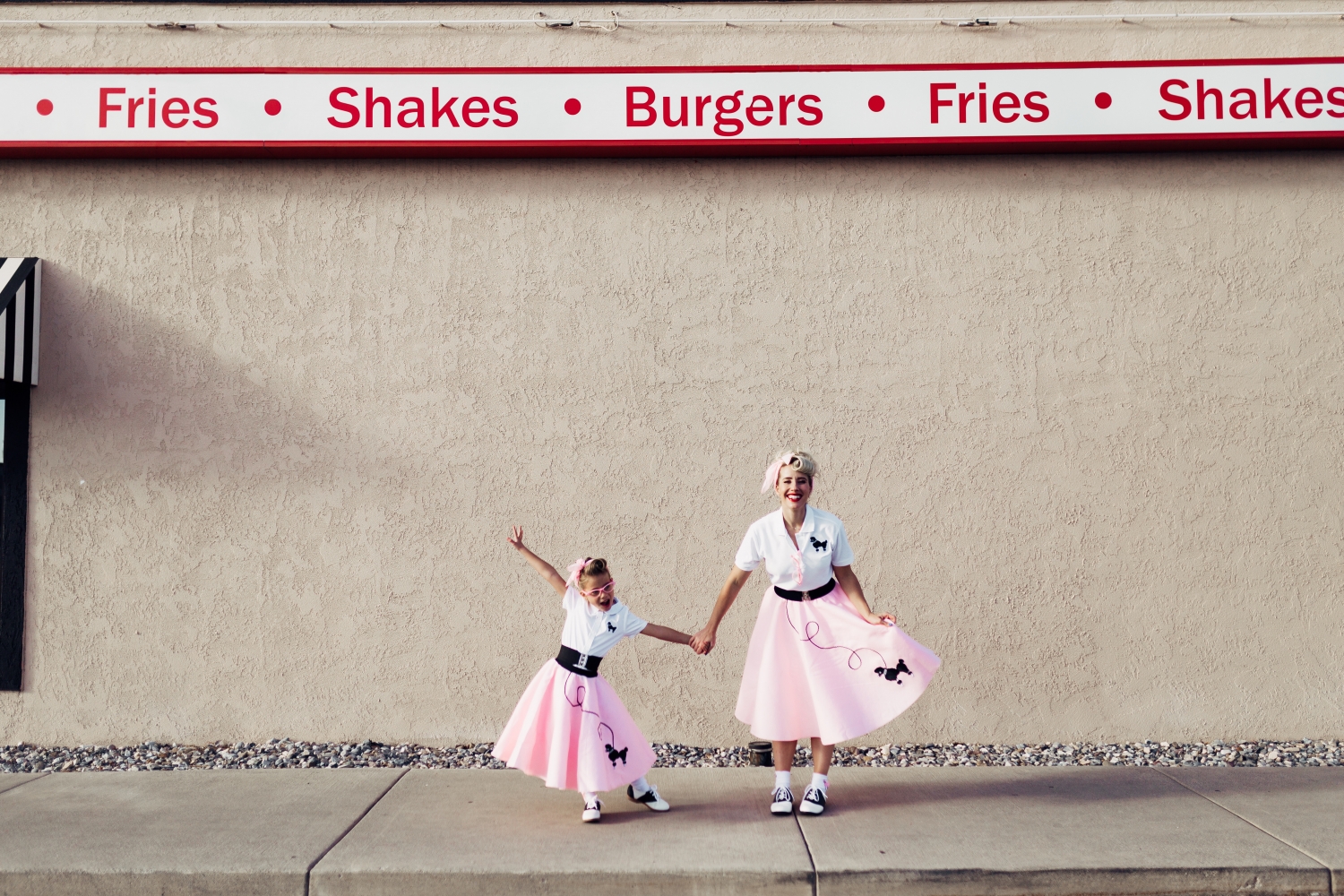 SO ?? MUCH ?? FUN!!! Savy was happy as a clam because not only did she have ice cream and fries but everyone who walked in o the little Shake Shack told her how adorable she was. She was eating it up!! I love these vintage 50's poodle skirt costumes because they're so fun, flattering and super easy. The costume set I got on Amazon came with the skirt, socks, glasses and hair wrap so really all you need are shoes and a top, which a basic black or white tee would have worked just fine. If you're into DIY projects — here's an awesome low-sew poodle skirt tutorial that'll work great if you're in a bind and need something quick!
Be careful when ordering costumes online and make sure you check the provided size charts. I'm typically a small and in some things I'll order a XL just because of how nuts the sizing is on costumes. My advice is to know you're measurements, read the reviews to see what most people are saying about the item and then order your best guess. If the reviews are mixed and I'm not 100% sure I'll usually order one size up or snag both sizes to return the one that doesn't fit because it's often that popular items will go out or stock or that prices will spike as it gets closer to Halloween. I shop early (September) to avoid any price spikes and I always get costumes that are Amazon Prime so I can return whatever I buy that doesn't work out!! Let me know if you have any questions though, I've got quite a bit of experience ordering costumes at this point haha!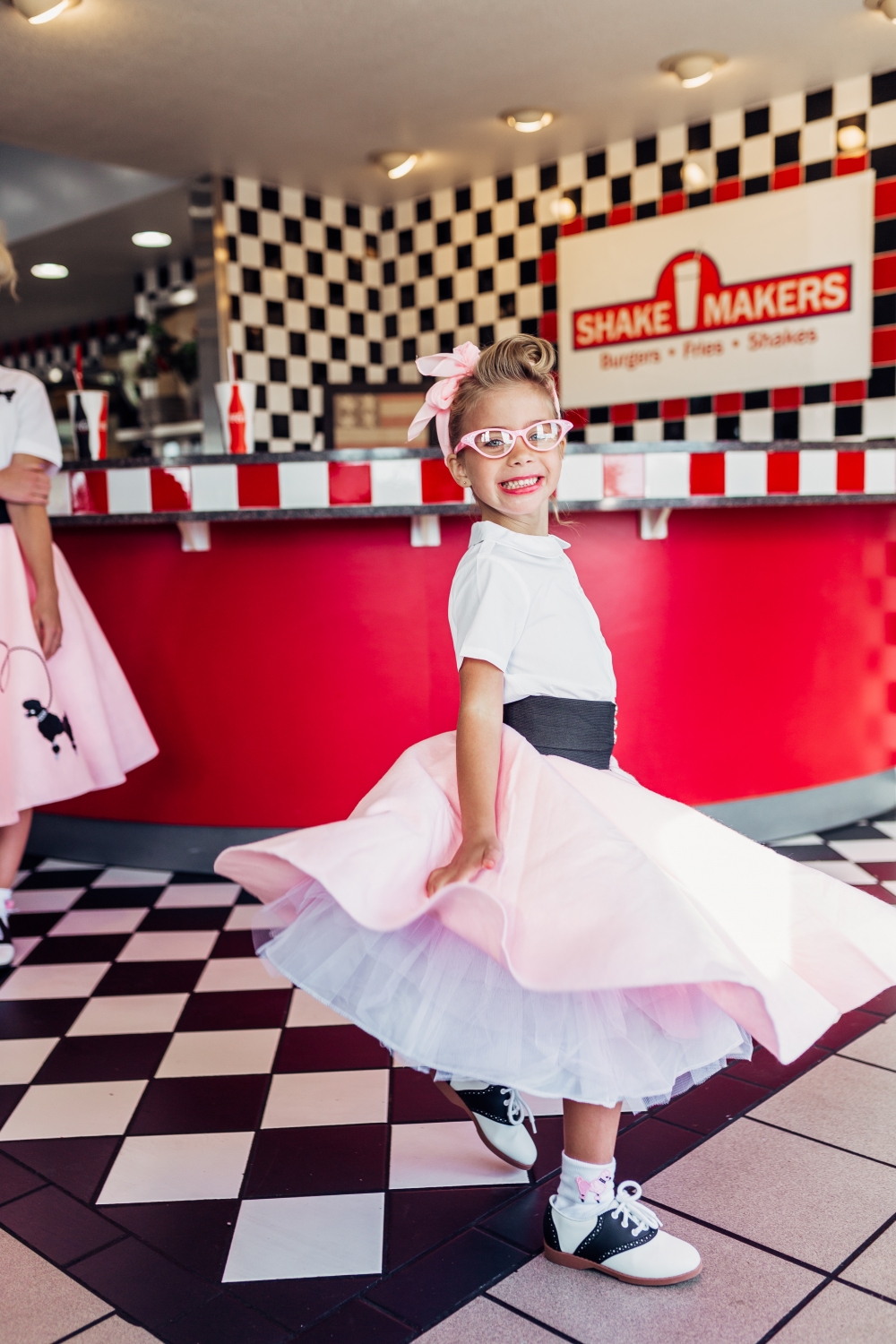 Photography: Jordi Jerae Photography
Savy: Blouse (size 6)| 4 Piece Poodle Skirt Costume (medium – she's 6)| Cinch Belt (small) | Shoes | Petticoat
Abby: Blouse (medium) | 4 Piece Poodle Skirt Costume (medium/large was all that was available so I just pinned the back and it was fine!)| Cinch Belt (xs-m) | Shoes (true to size) | Petticoat (medium)