Oh hiiii!!
We have so much catching up to do! Within the last two weeks, Brian quit his job, we sold our home, and the Cubs won the World Series. WHAT IS HAPPENING?! I will share more details on the next chapter in our story soon, but I need a minute to organize my thoughts. It all happened so fast I think I'm still in shock! And I kind of just want to eat alllll the Halloween candy. And then start binging on all the bags of chips in our pantry.
Instead of stress eating, I'm going to share what I wore to workout in today as well as my Thursday workout routine… it just feels like the right thing to do.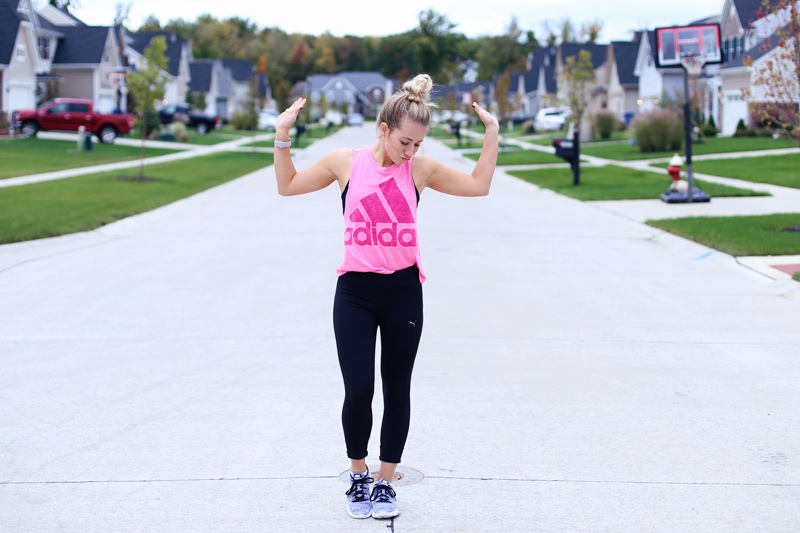 What else do you do when you're standing in the middle of the road?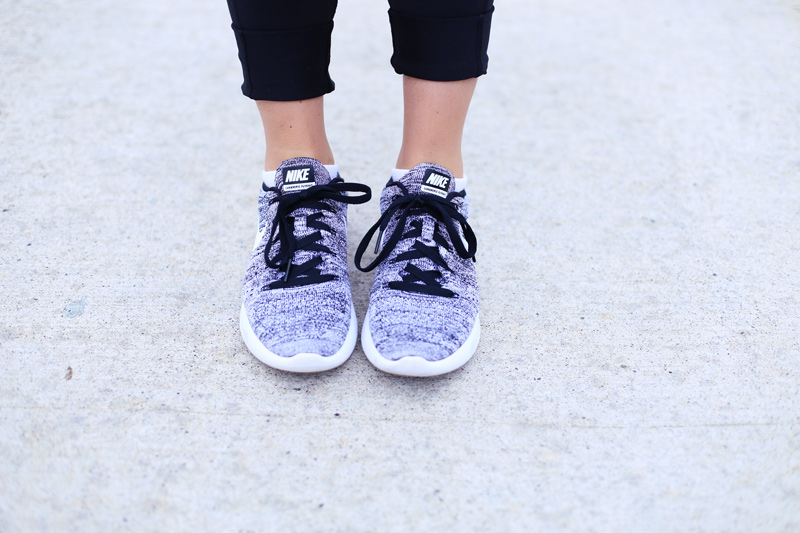 These shoes are what I'd image walking on clouds feels like… but better.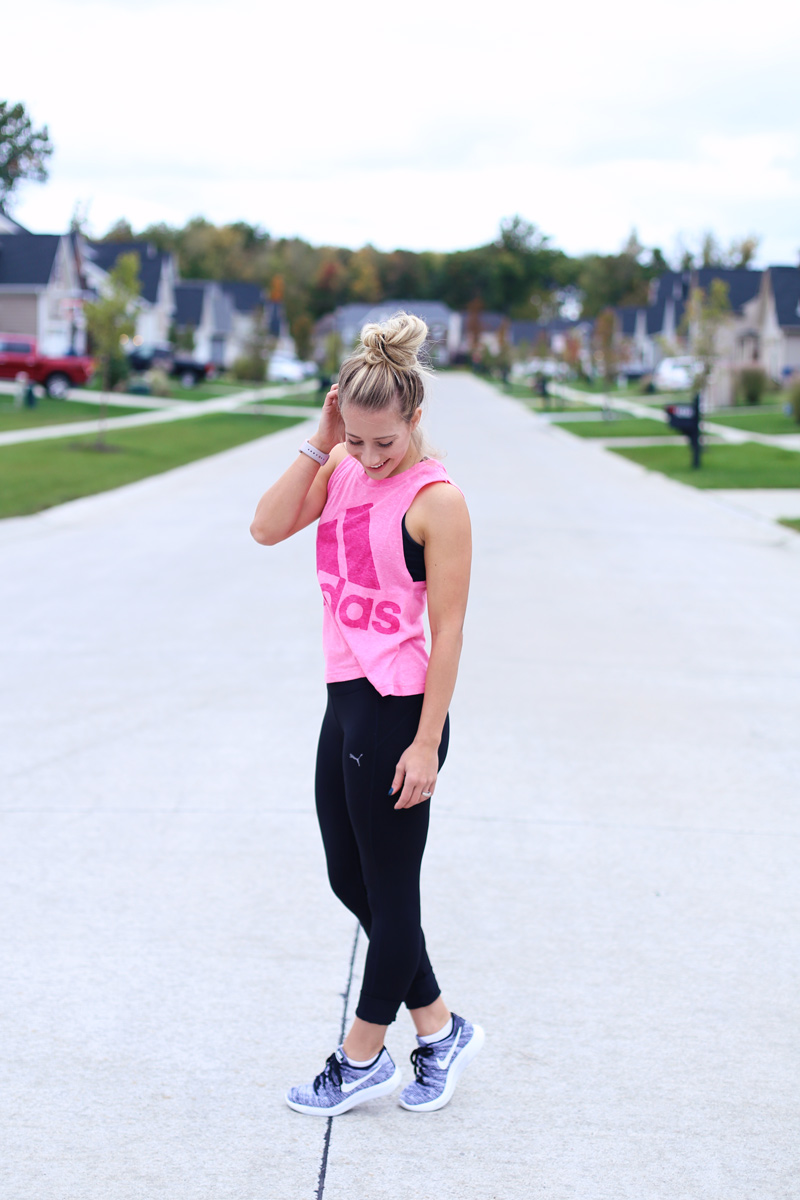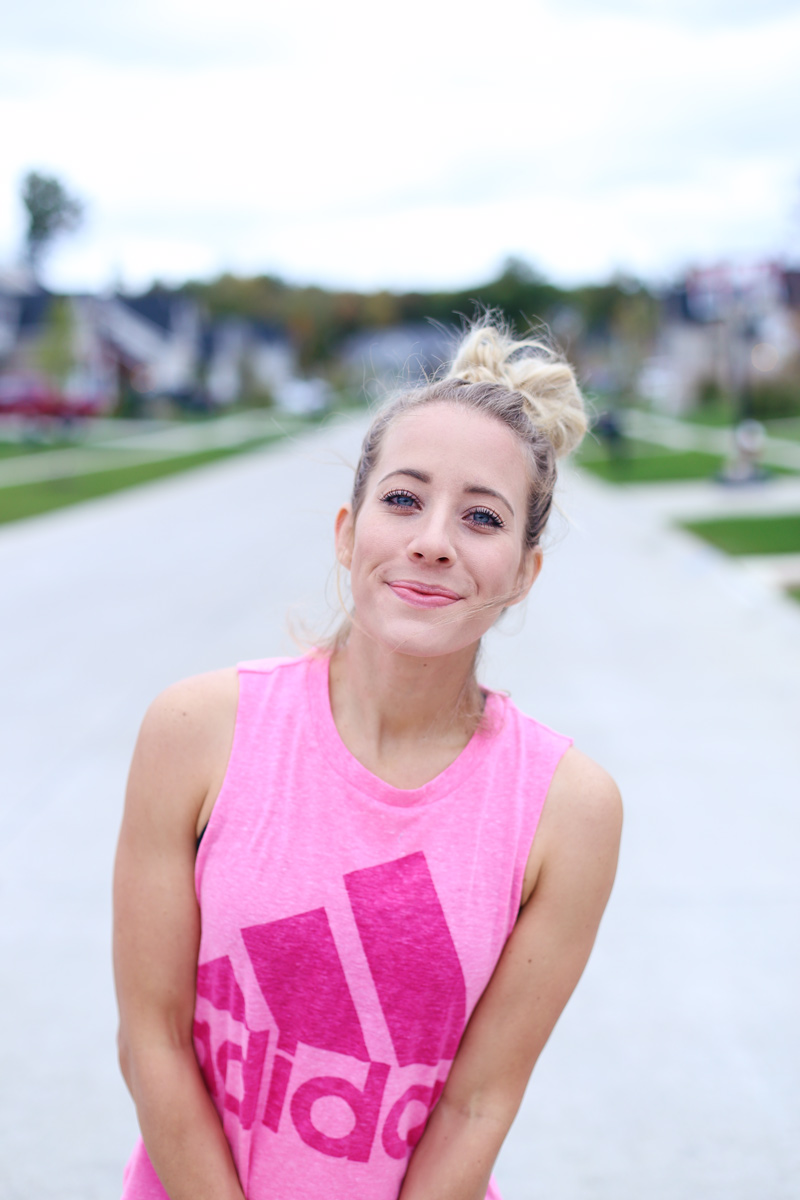 When I go to the gym, I always put a tiny bit of makeup on. I'm OBSESSED with the new IT Cosmetics armour. It's like a CC cream but the coverage is more like a foundation… I'm serious you guys it's the best ever. I love it 'cause it's super fast and I just throw it on after I wash my face in the morning, fill in my brows, and put on a quick coat of mascara and some lipgloss. Literally takes less than two minutes. I'll link up a few of my favorite products that help me get ready super speedy for the gym or when I just don't have time.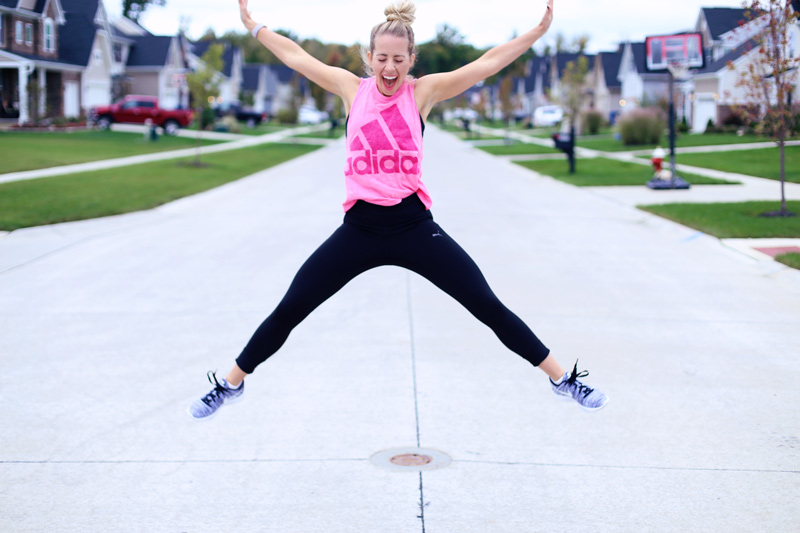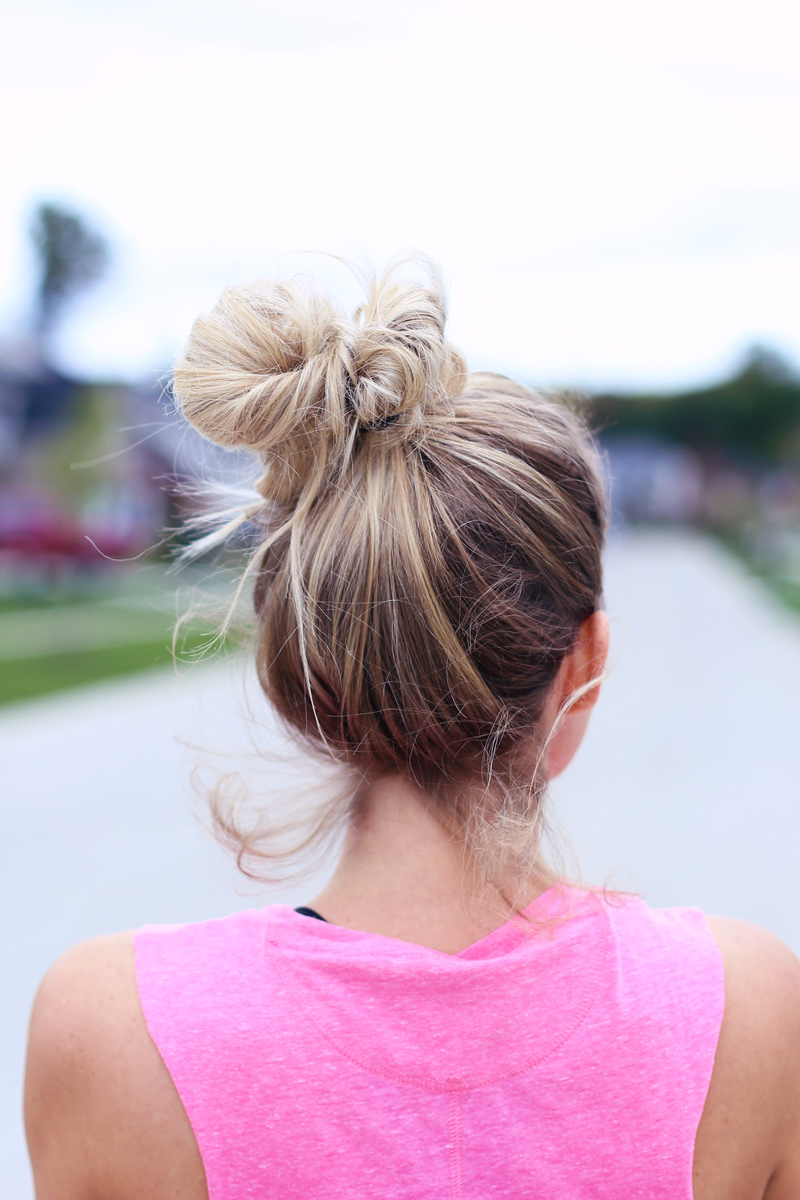 Can I get a high five for those amazing baby hairs? They're comin' in strong!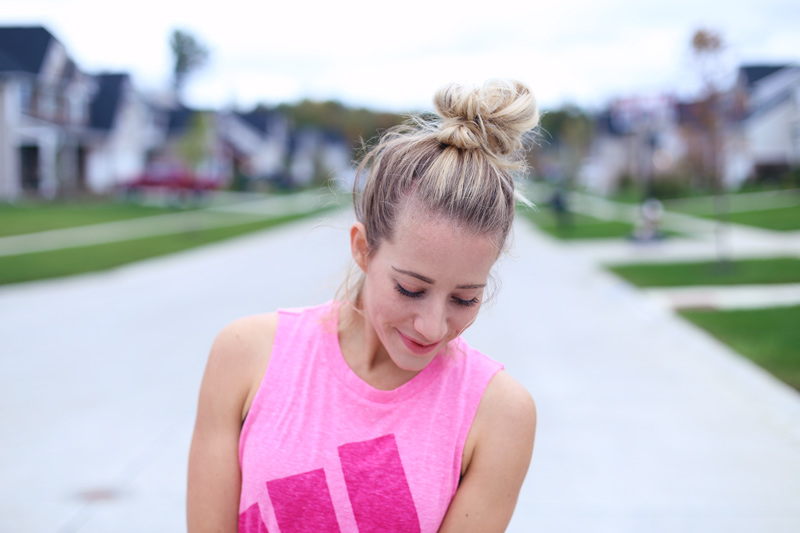 Sports Bra — I got a medium because I couldn't breathe in the small!! Love these sports bras though, because they've got removable pads that give you plenty of coverage and a pretty shape.
Black Tights — I have two pairs of these: they're my FAVORITE!!! They come up just high enough to make you feel like you're not going to fall out and they're so slimming. Trust me. You'll love them.
Adidas Tank — LOVE these tanks! They're not too long and not too tight or baggy. Juuuuust right!
Nike Shoes — Run true to size
Apple Watch — I use this to check my heart rate and listen to my music!
Beats Headphones — Total game changer. You can hook these up to your Apple watch or phone so there's no cord!
So today, I did posterior shoulders and back. I've been working my shoulders pretty hard and I'm finally starting to see a cute little bump which I've NEVER had before! Here's what I did:
Posterior Shoulders:
– Reverse Dumbell Flyes — Here's a pretty decent video of what it looks like! I do 7 sets with 30 second rests in between. I use 5 pound weights and do 12 reps.
– Seated high row — Scroll down a bit to where you see the seated rope cable rows. I do 4 sets of 20 reps.
– Reverse Pec Dec Machine – here's a video of what it is. I do 4 sets of 20 reps.
Back:
– 1 Arm Rows – Here's how you do them. I do 7 sets with 30 second rest in between. I use 25 dumbbells and do 12 reps.
– Lat Pull Downs – Here's how you do them and I do 4 sets of 20 reps.
– Cable Pullovers – A good video here. I do 4 sets of 20 reps.
Then I hit the elliptical for 55 minutes. It's a long dang time!! I do 3 minute sprint intervals, so I sprint as hard and fast as I can for three minutes. It's usually at a 10 incline and level 12 and then I slow it down for 30 seconds-ish, just till whenever my heart rate drops to 150.
What do you do with your kids?! We have a YMCA out here and they have THE BEST little child care/preschool. The kids love going and it gives me a good excuse to get out of the house and do something for me.
If you have any questions, let me know! I know there are tons of exercise programs out there, so my advice is to just find something that works for you and be consistent with it!! Bodybuilding.com has some awesome workout; search Jamie Eason, she's a great place to start! You can also find my meal plan here. I don't eat this EVERY DAY, but the amounts of carbs/protein/veggies and fruit are the same.
Wellll… I think that's it!! Let me know if you want to see more posts like this?! I don't feel like a fitness guru at all, but it's been something I've become passionate about so I'm happy to keep sharing!
xo