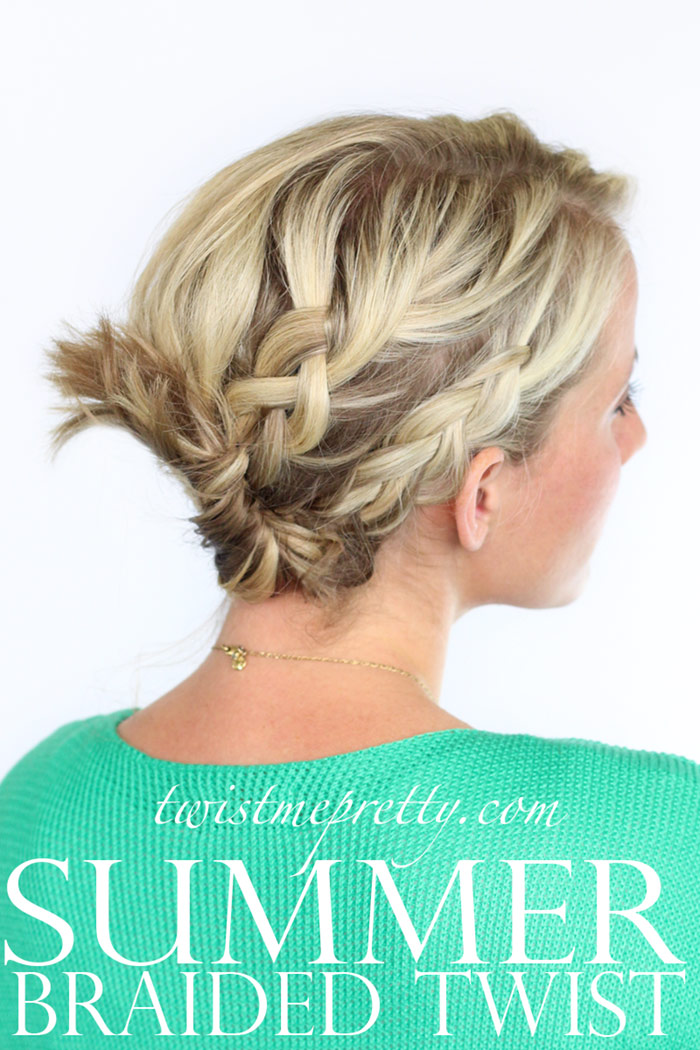 I LOVE this hairstyle. I've had a hard time finding cute ponytails that I like — I'm just not use to the short ends. I'm sure they will eventually grow on me but for now I find myself avoiding any style where my short ends hang. This style keeps my hair back like a ponytail would, but I love the ends coming out of the twist. It just seems fresh and fun instead of annoying and short!
If you have longer hair it'd be gorgeous to leave the ends falling down your neck or if you want more of a twist, check out this tutorial here.
Step by Step Instructions::
1 | Section off some hair from the middle of your part to the end of it and braid it into a dutch french braid. Tie it off with a clear elastic and pancake
2 | Repeat step 1 with the remaining hair beneath the first braid
3 | Take the rest of the hair and twist it over the two braids. Secure with bobby pin(s)
4 | Undo clear elastics from braids
5 | Twist the remaining ends counter clockwise and place it near the seam of the first twist. Secure with bobby pins.
*****
Today is an exclusive video that's available to my newsletter subscribers only. I sure hope you'll join! When you do you'll receive secret posts, videos, and tips from yours truly straight to your inbox. Enter your email address below to get today's fabulous video tutorial. K, sure love ya!