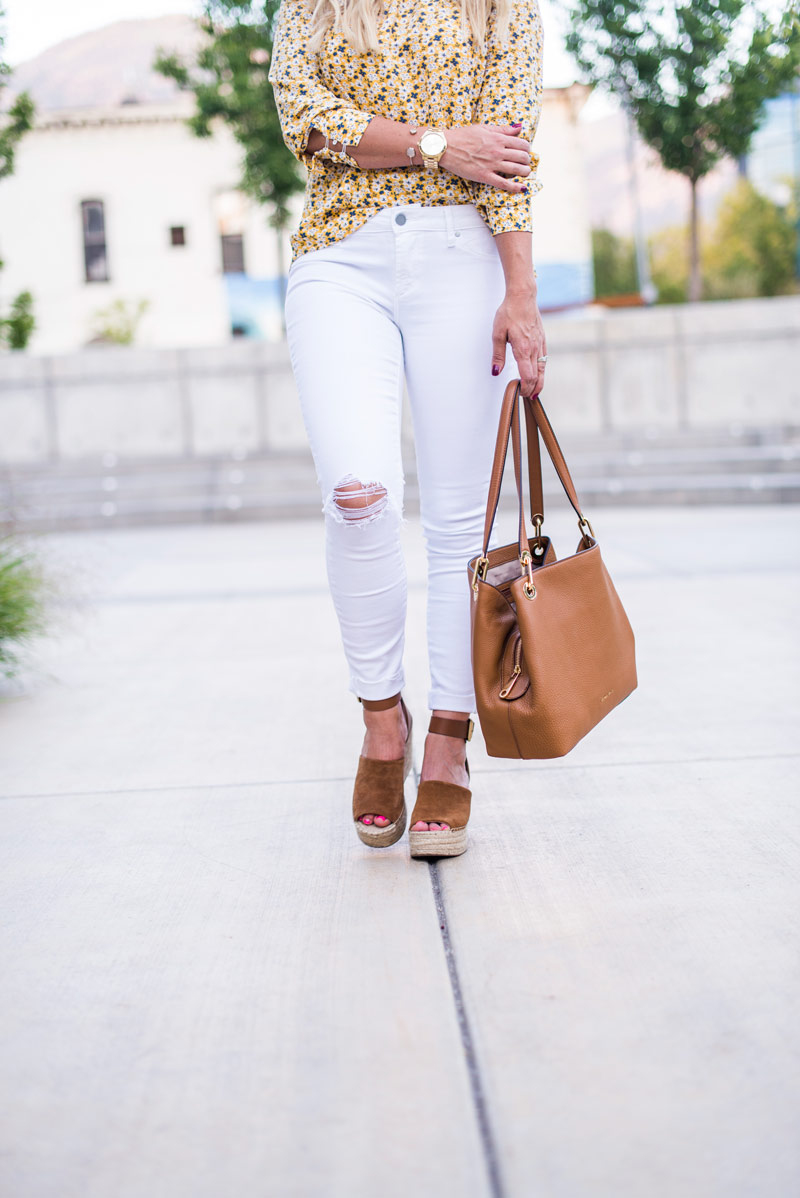 A couple days ago we went to the pumpkin patch down the street from my house, did you see it on my instastories?! Don't worry, I was wearing no make up and gym clothes, not these 4″ espadrilles ? haha #momlife. I could not get over the view and how beautiful those dang Wasatch mountains were. This time of year always tugs at my heart strings. I'm so grateful to be back home! I honestly didn't think we'd get to move from Ohio for another couple years so being by family and friends right now has been such a blessing. Last week I caught the worst bug, I'm 95% sure it was influenza. I quarantined myself away from the kids because them having respiratory problems right before the weather turns frigid is every mothers worst nightmare. We had family stop by every day to check up on Brian and the kids and to make sure we were all doing okay! It's just those little things in life that make all the difference! I don't care where I'm living as long as I'm close to family.
For all you moms who are in the thick of it, miles away from home and surviving life on your own, I love you. I don't know why I'm being all sentimental right now but I just want to say that those three years we were in Ohio were some of the hardest years of my life. Thinking about them and putting myself back there makes me all sorts of emotional. But I would not trade those years for ANYTHING. Brian and l learned to work together as a team, to rely on the Savior and each other. We had experiences that really tested us and pushed us to our limit and gave us the opportunity to learn and grow. But I am so grateful to look up at those mountains every morning, to take that deep grateful breathe and know that I'm finally home.
Have you ever lived away from family? I have several friends who have moved away and just thrive! They don't ever want to move back! We might have had a different experience if we hadn't gotten pregnant with the twins right after we moved but those three years were intense for us!
So today I'm sharing a little transition to fall outfit. Throw on some shorts and you're ready for the beach, throw on some jeans + booties and you're ready for fall! I like to start wearing thinner long sleeves that keep me warm when there's a chill but won't make me melt when the sun pops out! I'm a little bit sad I'm gonna have to put these sandals away for the season, but super excited to start pulling out my sweaters!


Top | Jeans | Block Heels I'm obsessing over! | Bag | Watch | Necklace | Lipsense Color: Strawberry Shortcake. Go snag a color and gloss here! You can also find more lipsense shenanigans @twistmeprettylips
Photographer: Trina Harris Photography
Thanks for reading! I'm actually working on some pretty FREAKING rad projects right now and I'm soooo excited to share them with you. I can barely stand it! So check back in so you don't miss them!
xo