Summer Swim Day Must-Haves
How's summer going ladies?! I hope you're soaking in all the Vitamin D you can and getting that sun-kissed skin. Summer time is truly magical. I love spending as much time outside with my family as I can in the summer, especially if it's in the water. I've found some summer swim day must-haves that we take with us to almost every water/swimming event. These items seriously make it more organized for me and more exciting for the kids.
I never thought I'd have an actual checklist of items to bring with me to the pool, but when you have this many kids, now I can't imagine not having one! I found all of these items on Amazon too, so that's always a bonus because of online shopping and free shipping!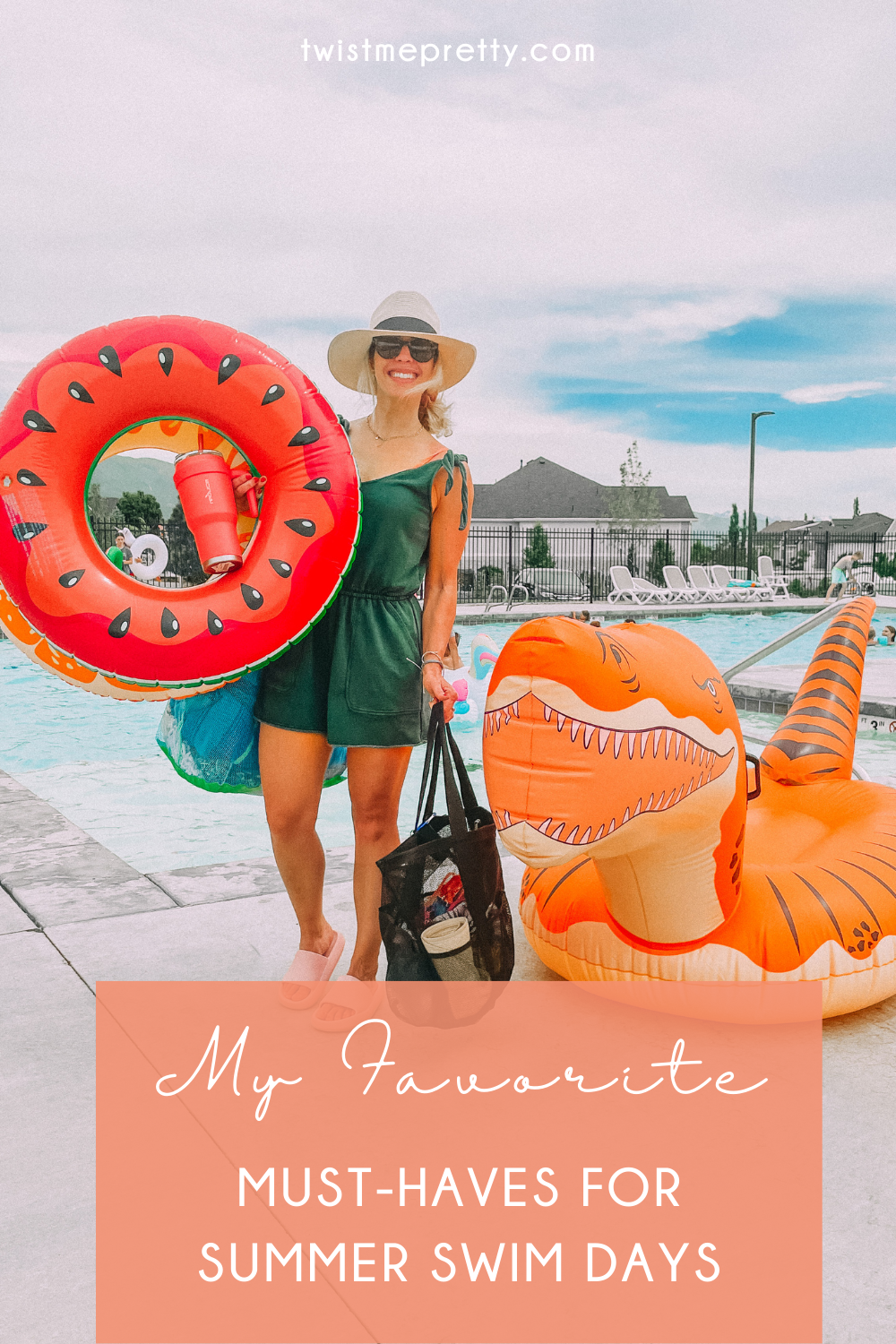 10 Must-Haves for Summer Swim Days
Must-Have #1: Goggles
Most kids love a good pair of goggles when swimming. We've tried lots of different pairs, and these goggles have been the best for us. If your kids spend a lot of time under water, be sure to protect their eyes with goggles! We also added a label to each pair with our contact info in case they get lost. These labels are waterproof and tear resistant, so they are perfect for goggles or anything that will get wet!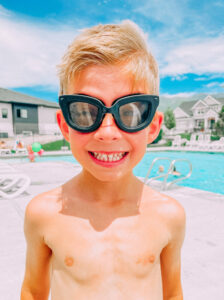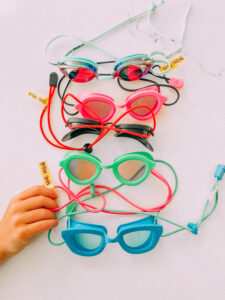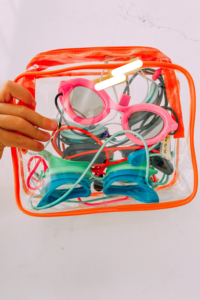 Must-Have #2: Non-slip Pool Sandals
OK, I'm in love with my non-slip pool sandals. They are legit the best. They were built for the pool, shower, beach, etc. so they stay cool for your feet and you never slip when walking through water! If you get anything, these sandals have to be one of them. Oh, and if you like my romper for my swimsuit cover-up, you can shop for that here.
Must-Have #3: Orange Pouches
I love these little pouches! They are clear and are edged out with an orange zipper. They are perfect for keeping your valuables dry or anything small in a safe place. No more having to dig underneath all the sunscreen and towels at the bottom of your pool bag to try and find your keys or your phone.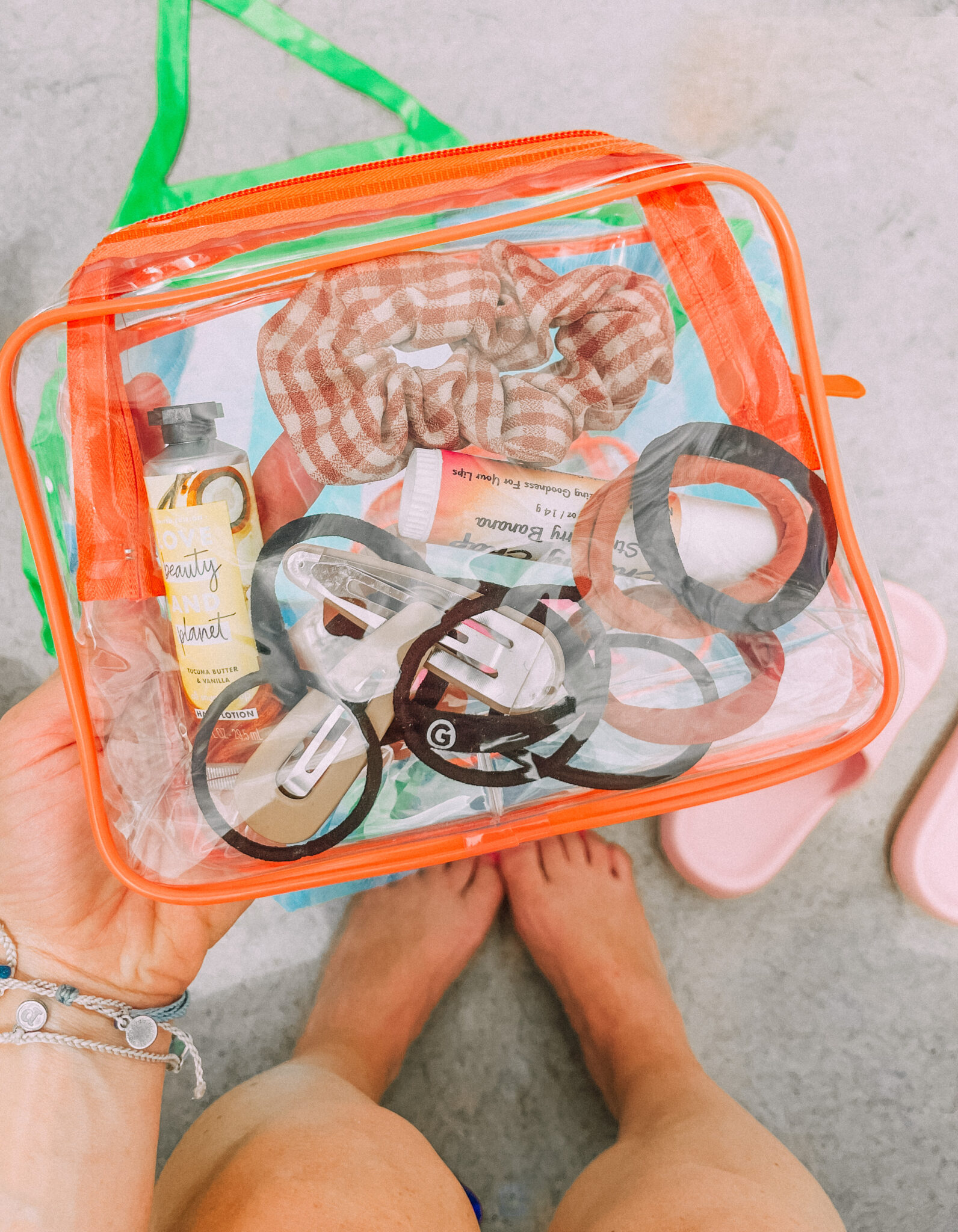 Must-Have #4: Floatie Tubes
My kids LOVE these floaties for the pool. If you show up to the pool with these fun patterned floaties, you may quickly become the kids with the most wanted pool item. We have these fruit floaties and a huge dinosaur floatie. They are so fun and help keep the kids entertained. It's also nice for you if you want to lay out and relax in the pool for a bit!
Must-Have #5: Beach/Pool Totes
It can be hard trying to find a nice beach bag that is cute and functional. We've had the most luck with these beach totes and mesh bags. They both can fit a lot of things and the beach tote has little side pockets to help organize all your stuff. They're pretty simple, but they get the job done!
Must-Have #6: Tumbler Cup
When you're out in the heat all day you've got to have an insulated cup you can count on. I use this Tumbler cup that keeps my drink ice cold all day long. I love it because it has a straw and a handle! Those features make it way easier to manage–and easier for me to share it with my kids if they need a quick sip to refresh before they jump in the pool again!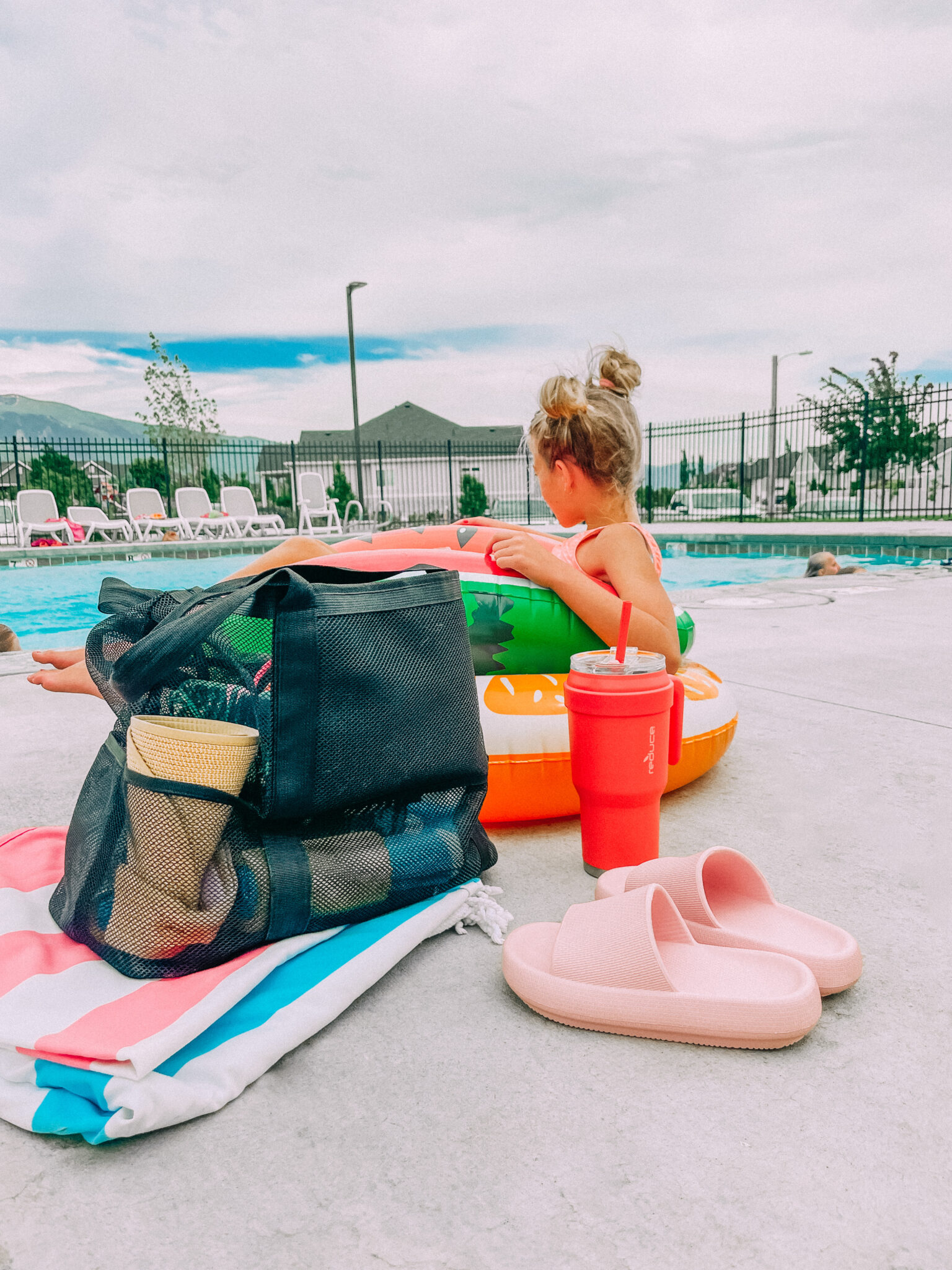 Must-Have #7: Loving Tan Mousse
This Loving Tan mousse is more of an item to get you ready for the pool, rather than using it while you're there. I'm a huge fan of this mousse because it is quick drying and makes you smell really good! You see immediate results yet it still develops into a darker tan as the hours pass by. This product will have you looking like a tan goddess in your swimsuit!
Must-Have #8: Roll up Hat
This roll up hat is seriously one of the coolest inventions! First of all, it is ADORABLE with any hairstyle. When you're not wearing it you can roll it up for easy storing. When you're ready to wear it, you can roll it out again and attach the ends and it looks brand new again!
Must-Have #9: Microfiber Towels
These microfiber towels are really nice to have at those pool days, especially for kids. If you're planning to be out playing for water for a good amount of the day, these towels will do the trick. They dry super fast, so your kids can always count on a dry enough towel even if they come back to it several times throughout their pool time.
Must-Have #10: Super Goop Sunscreen
Sunscreen is a must-have for a pool day, wouldn't you say? We love the Super Goop sunscreen the best. Once applied, it doesn't leave any white marks and it doesn't leave your skin feeling sticky. It only has to be reapplied every two hours, AND it has clean ingredients! What more could you ask for?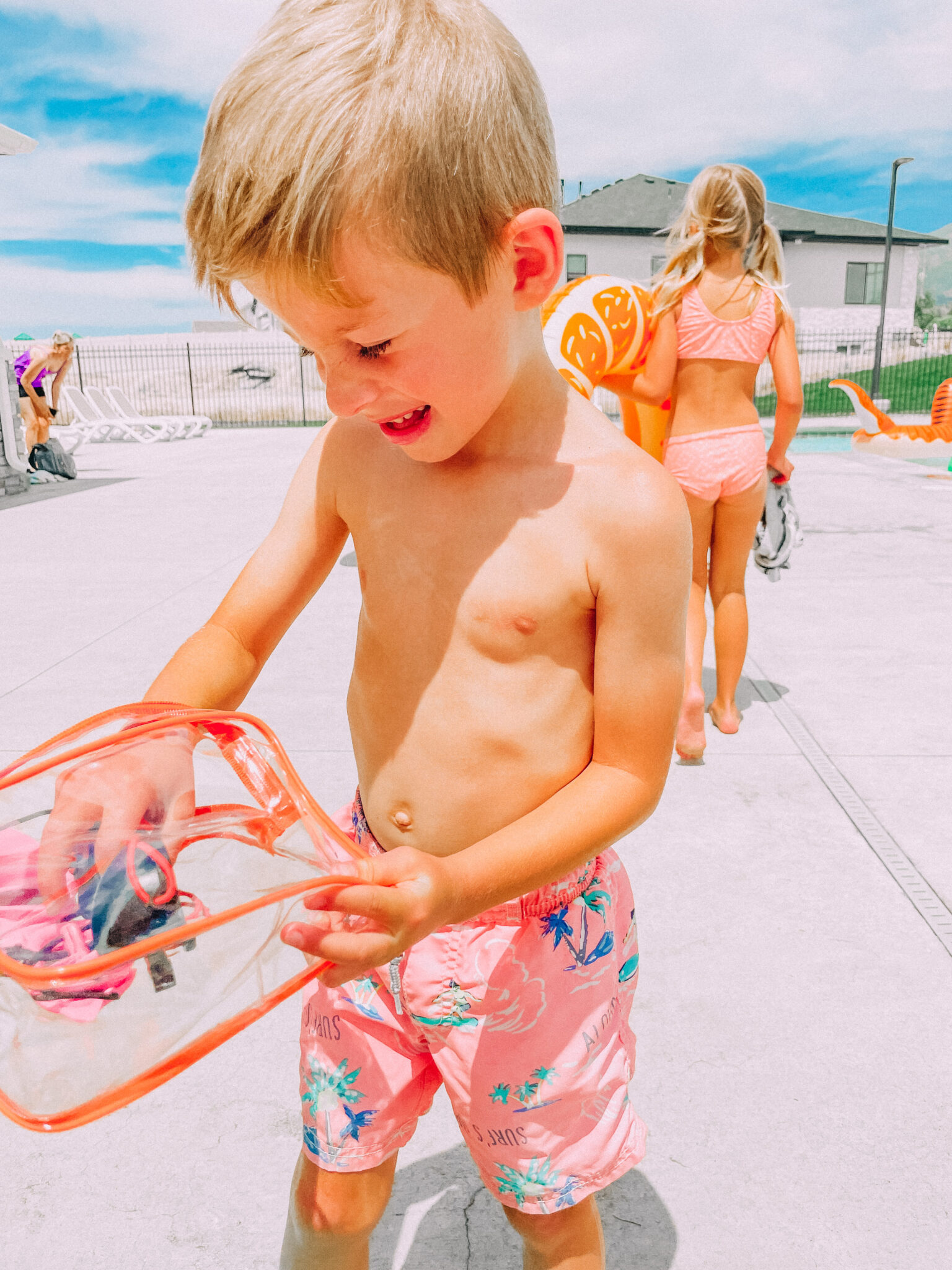 I hope you find some favorites from these summer swim day must-haves and then tell me about it on Instagram @twistmepretty! I hope your summer keeps getting better and better for you and your crew. I'll be soaking up that sunshine and warm days as long as I can!
If you want more tips on how to make the most of your summer, check out these 5 heatless summer hairstyles or my self-tanning tutorial! I hope to see you in the sunshine!