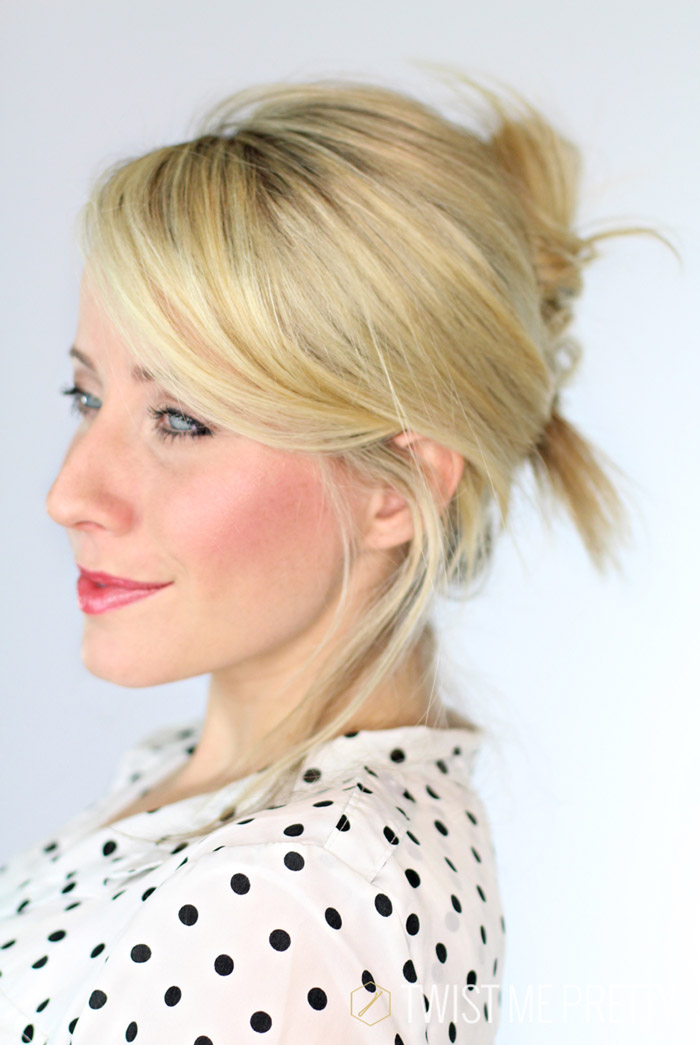 Eeek! I'm so excited to finally be sharing my french twist tutorial with you guys. I've been doing my french twists like this since high school and the technique I use is so simple. Before filming my own tutorial I watched a bunch of videos to see how others were styling their french twists. Well, holy crap! Everyone always makes them so much harder and more complicated than they need to be. This is honestly the easiest tutorial you'll find and I hope you guys love it as much as I do!
I was forced into washing my hair only two days in because we ended up at the pool this afternoon. As hard as I try to keep my hair dry when swimming with the kids it never works. They're crazy! After washing and drying my hair it's always so slippery and clean. I seriously hate my hair right after I wash it! Do you guys feel that way? For this upstyle I used the Sam Villa TEXTUR iron to create some grip in my hair. If you have fine hair you'll absolutely love this little tool. It's basically a tiny crimper that increases the volume and texture in your hair.


It's perfect for adding grip, texture and volume if you have fine hair and it's fun to use to thicken up braids, for creating updo's and wedding or dance hairstyles. I've also used it numerous instead of ratting or teasing. Savy has been stealing my combs left and right. So when I can't find one I usually turn this sucker on and just texture it right at the roots to give my hair some extra lift. If you use the promo code TWISTME, you'll get my favorite paddle brush for FREE! This is the only paddle brush I'll use, it's anti-static and so fabulous. Anyway, it's a $30 value so if you're going to get a TEXTUR iron make sure to use the promo code!
I've LOVED seeing you guys on the hashtag #thirtythirtyhair. You are all so beautiful! I love that you guys are tailoring these hairstyles to fit your own hair, your own length and thickness. I feel like a proud parent! Three years ago when I started this blog I've been writing about how hairstyles are to enhance our beauty. If a hairstyle doesn't flatter your face, or you can't do it exactly like the model, switch it up! Let the hairstyle inspire you to create a different one! I'm so happy to see that these hairstyles are inspiring you to create looks that work for you and your hair! So keep up the good work friends, words just simply cannot describe how proud I am!
VIDEO TUTORIAL! Ps, this is a brand new channel. Please subscribe and support – MUAH