UPDATE!!!! It's been one year since my first experience with microblading, and boy have I learned a lot!! Do you want the bad news first? Well, my strokes only lasted four months and the shadowing started greying around 6. Needless to say I was pretty disappointed. After digging around I learned there are a few things that cause poor color retention. It could be poor pigment and technique, poor post-op care, or excess oil production. Because getting my brows done every six months just wasn't an option for me I decided to find a new artist who could give me a more natural shape and who used a different technique and pigments. After looking around and getting multiple opinions, I found Tiffany from Enhance Artistry. She has helped me so much!!! I'm unfortunately needing to get laser tattoo removal because the shadowing is not semi-permanent like I had originally thought. I'm soon going to take you through the process of what that's going to look like for me, how we're going to remove the top part of the arch and how Tiffany is going to fix the color.
My little sister just got her brows done from Tiff (that's how I found out about her) and her experience was 100% different than mine. She was numbed from the beginning so it was virtually painless, she was allowed to shower and get her brows wet from day 1, and her brows never scabbed. There are so many techniques out there, and unfortunately there's just not a ton of education available for the consumer on microblading!! What is right and what is wrong?! I will document the laser tattoo removal process, how it works and then since my sister just got hers done, we'll use her as the guinea pig to see how well her color holds up. Microblading is definitely a risk! Would I recommend it? Absolutely. 100%. Even with the aggressive shape change + the color fading and strokes disappearing, I would still get it done. They look SO MUCH better than what I had before. And like I said in the original post, do as much research as you can! Get consults, make sure you jive with your artist and never worry that you're asking too many questions. If you'd like, you can go follow Enhance Artistry — her feed is amazing and her work is so natural!!!!
Have you had your brows microbladed? What was your experience like? Have you had a good experience with the color lasting? I'm just a girl sharing my opinions and personal experience, that in no way makes me an expert. We need more consumer education and people sharing their stories with the real truth behind microblading!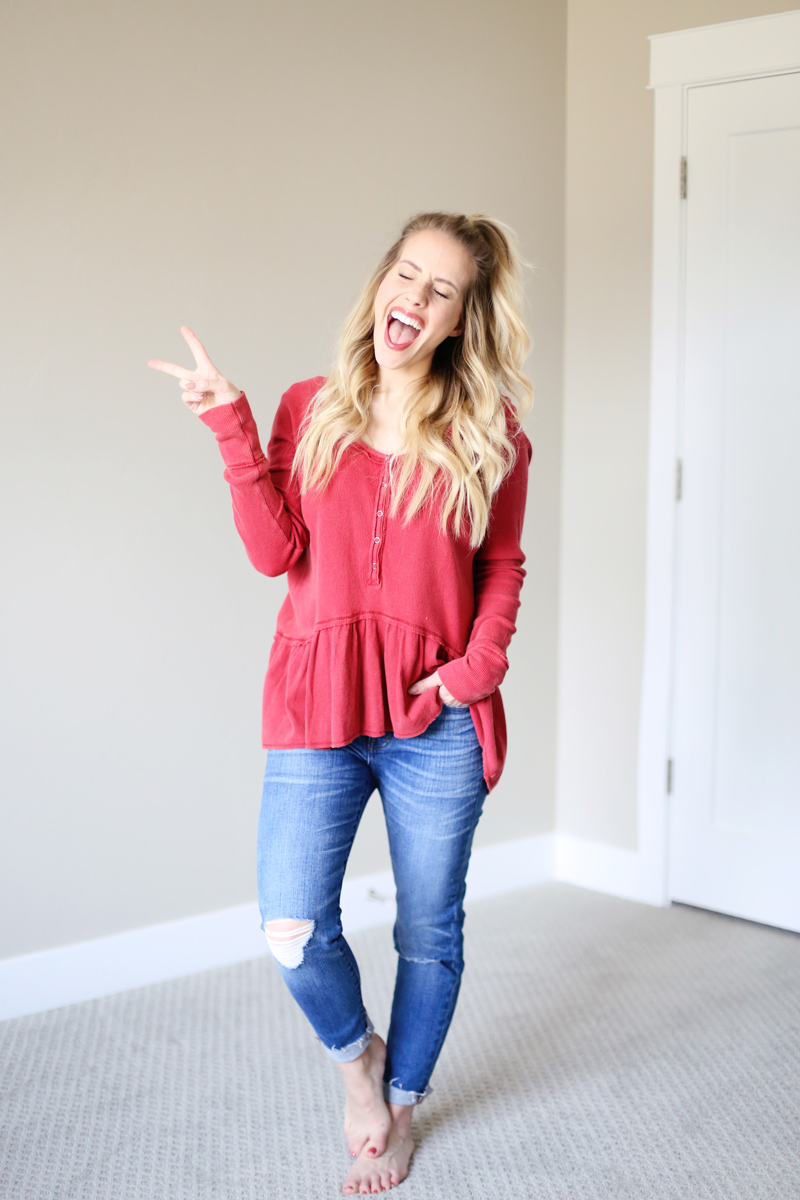 Today we are chatting allll about microblading. Is it worth it? How much does it cost? Does it hurt? In all honesty I wasn't planning on doing a full blog post about it so I'm sorry that the pictures are mostly random selfies I found on my phone. I've been asked by so many of you though to dish all the details so I thought it'd be easier to just come here and share my experience.
The good the bad and the ugly!!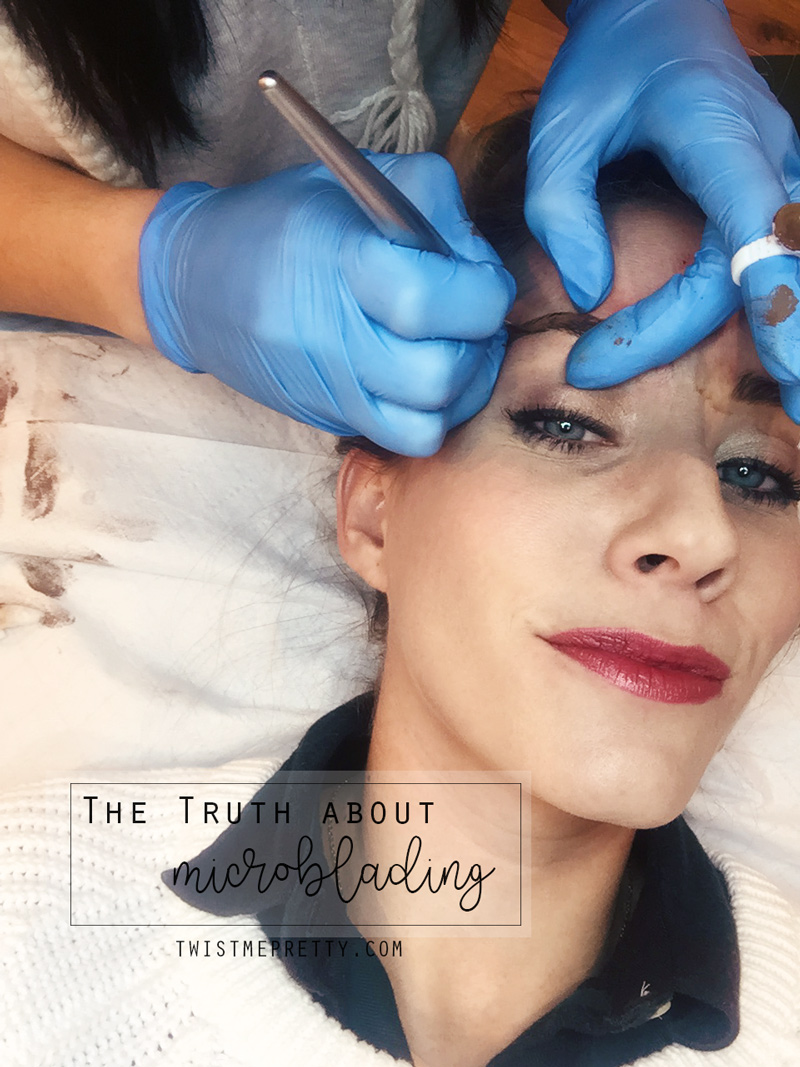 What is Microblading? It's basically a tattoo for your eyebrows. While it falls under the permanent makeup category it's much less invasive than getting an actual tattoo and it's only semi-permanent. It can last anywhere from 1-3 years depending on various factors.
Who was your artist? Because my intentions are pure, and I don't find joy in throwing people under the bus, I'm not sharing this information anymore. I think she did a great job and she gives some amazing brows to so many people! I just think our styles were different 🙂 Back to the original thoughts I wrote a year ago:
Make sure you do your research. I had picked out two different microbladers at one point before I found ____ and I loved most of their work. Most of it. I loved certain brows but I was just so nervous committing to them because I felt like I needed to tell them the shape I wanted… like I couldn't trust their opinion because I didn't want them to give me those brows they gave that person or whatever. Does that make sense? When I was looking through ______ instagram feed it was literally every. single. brow was amazing. She had this gift to transform peoples shapes and I loved that she was an artist first. I feel like it's important to have some sort of creative talent to start with. So do your homework. You want to be full on obsessed with your artist and their work before committing to them. Shop around! Make sure they have experience and that they are licensed. You also want to see how their clients brows are holding up. I have a lot of friends who after a few months have brows that have totally greyed out, they've lost their strokes or the color has faded. Ask lots of questions before committing to your artist.
Did it hurt? LIKE HELL. And I never swear so that's a big deal ha ha!!! I think a lot of it had to do with the fact that I wasn't prepared for it. I was told by a friend that she was numbed for the whole thing and that it didn't hurt at all. But one of the amazing things about _____ is her color stays brown and amazing, it doesn't grey out like a lot of other artists color. And it's because of the techniques she uses and her post op care. She doesn't numb on the first pass… it has something to do with blood flow? Either way haha she didn't numb me on that first pass. AND IT HURT!!!! It only took about five-ten minutes though and then she was able to numb me for the second pass so it was fine. Put on your big girl pants, you can do this!!! (What I learned was that you can be dumbed and it shouldn't hurt at all. You just need to find someone who uses quality pigment)
How long did it take to heal? So what happens is your artist will cut strokes into your skin with a scary knife like tool haaha and you're gonna bleed. The strokes will scab and it'll take up to two weeks for them to fall off and heal. When your strokes turn into scabs your brows are CRAZY dark. This picture below is the day after I got them microbladed and the scabs turned jet black. (You shouldn't scab. Scabs mean your brows are gonna fade)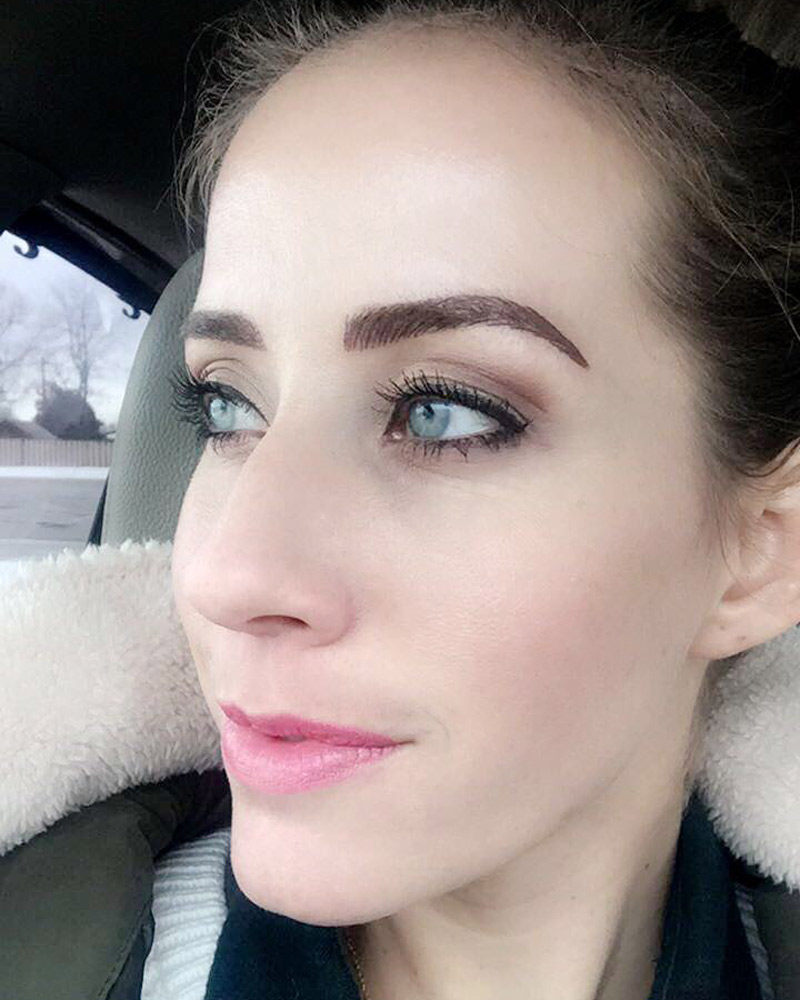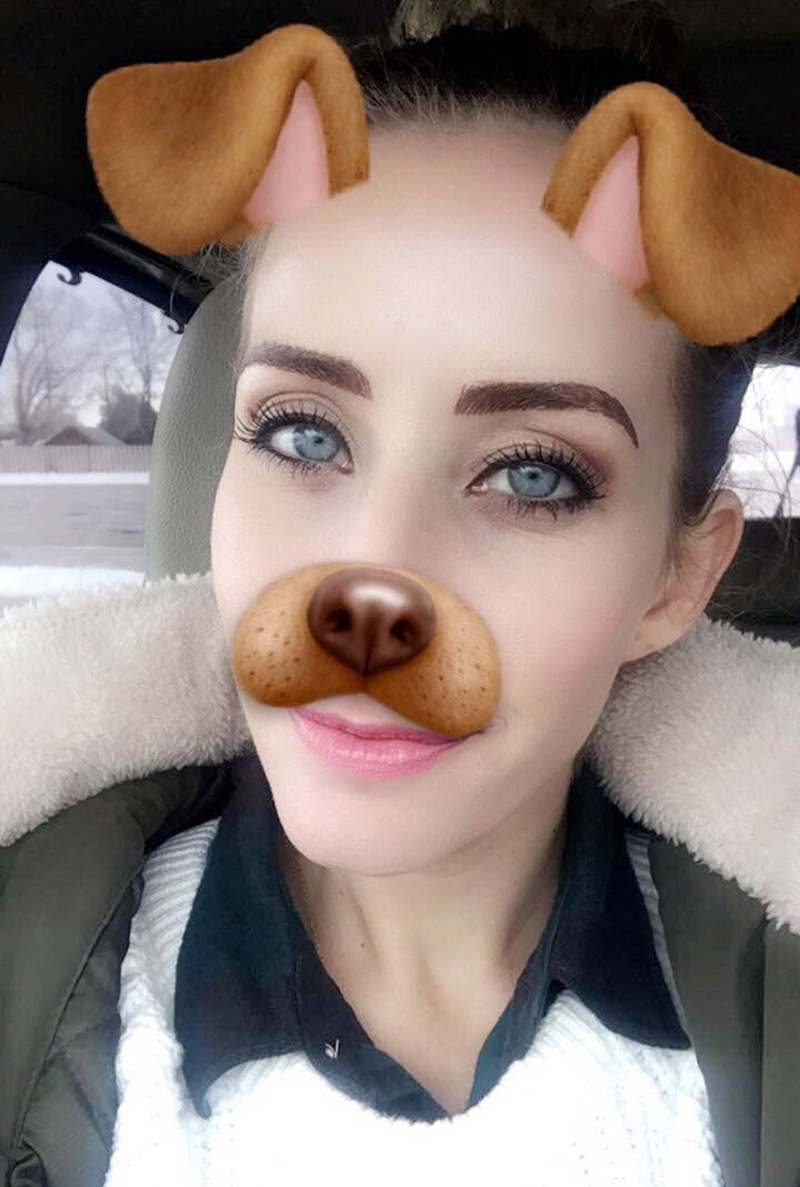 If we are being totally honest I hated the shape for a handful of weeks. I thought I had ruined my face. I'll do a comparison further down but she actually shaved off my tails and lifted my brow arch so that I had more eyelid to play around with. I have very hooded eyes and my brows came super close to my eyes. I knew it, but I was used to seeing myself a certain way and brows can change the way a person looks dramatically!! I felt like I didn't look like me anymore!!! Obviously I was being ridiculous. More on that soon.
Anyway, it took about 5-6 days before the scabs started falling off… exhibit A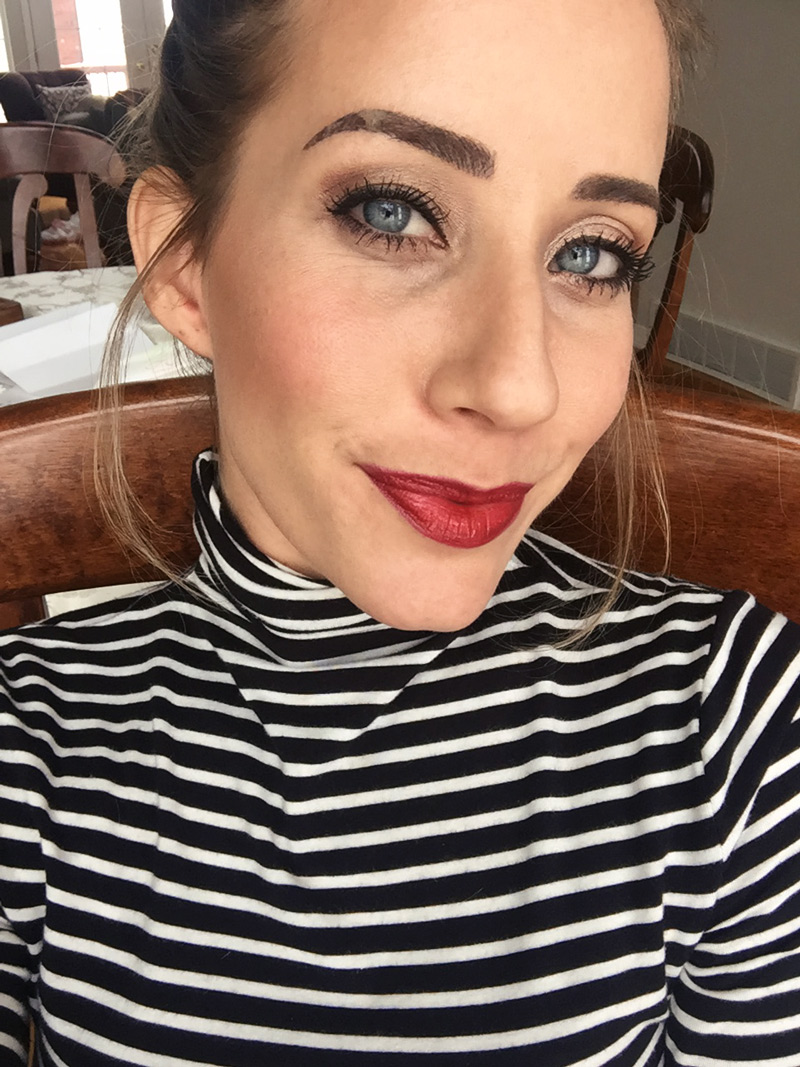 She used a shadowing technique because she'd taken off my entire tail and strokes weren't going to be enough to make my brows look natural. Because of that, and I'm not a microblader so I'm just assuming here, but the eyebrow turned into one huge scab. About 8 days after I had my brows microbladed the scabs started peeling off. Kinda gross. Don't plan on any photoshoots or blind dates while this is going on. It's honestly not that bad, you can easily fill them in. The color lightened immensely, almost too much and I was still on the fence about my brows at this point. I was warned though that I wouldn't be thrilled with my brows until the six week touchup. So I was prepared. Thank goodness!!!
They basically turned into this picture below. The strokes disappeared completely and the color went a grey color. You can see pretty well here where my brows were shaved off! I was filling them in like normal, which was fine, not ideal, but it was fine because at least I had a shape to draw over. And I was hopeful it'd get better at my six week touchup.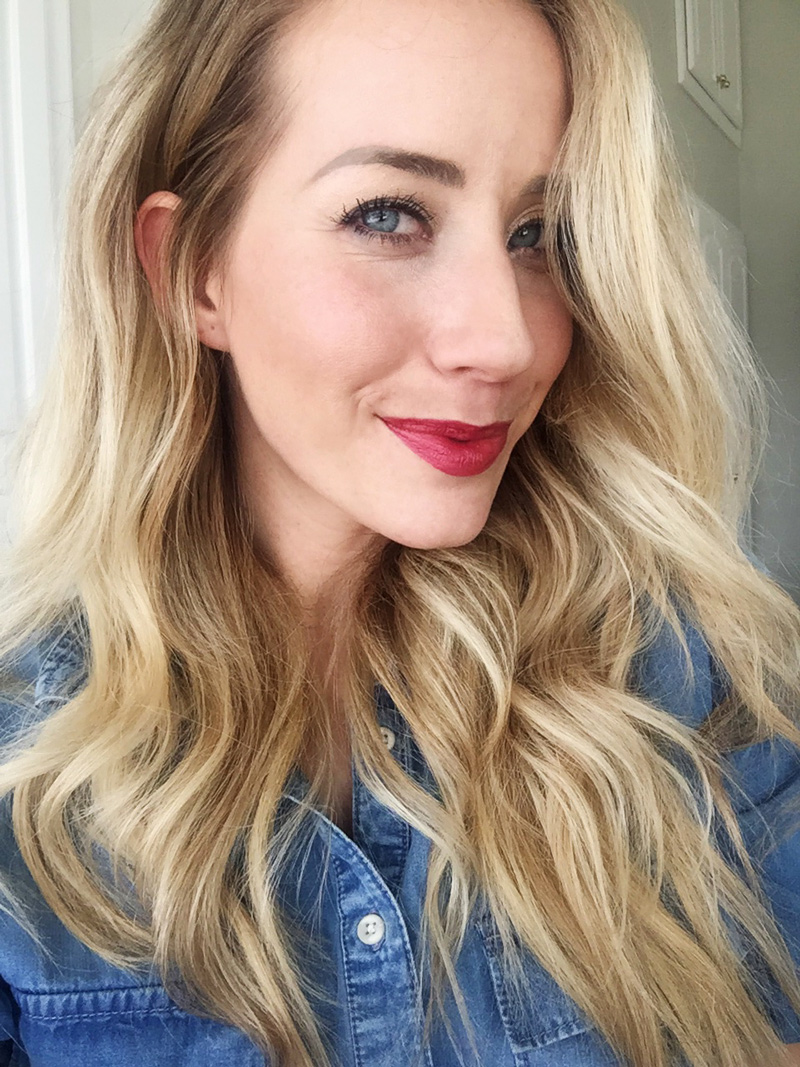 So here is a comparison on how my brow shape was transformed. Do you see on the right how my tail angles steeper down? It sits right on my brow bone instead of right on top of it like it does on the left.
And a little bit closer up!! Disclaimer: I filled that selfie in on the left using photoshop. I wanted you guys to have a good side by side to comparison and the scabs were falling off in that picture!
To me the shape was so dramatically different that I kind of freaked out. It took me a couple months to get used to it but eventually came around to the new shape and now really love it!
What is post-op care like? No showers. No exercising. No healing ointment. I was told to put bandaids on the tails at night to keep them protected and that once the scabs fall off, I could resume regular activity. Since my initial experience I've learned that vaseline on the brows is recommended by a lot of microbladers including Tiffany. Scabs = Poor pigment retention.
Six weeks after my initial appointment I was finally ready for my 6 week touchup. I was so excited because she told me this was where the dream brows were made!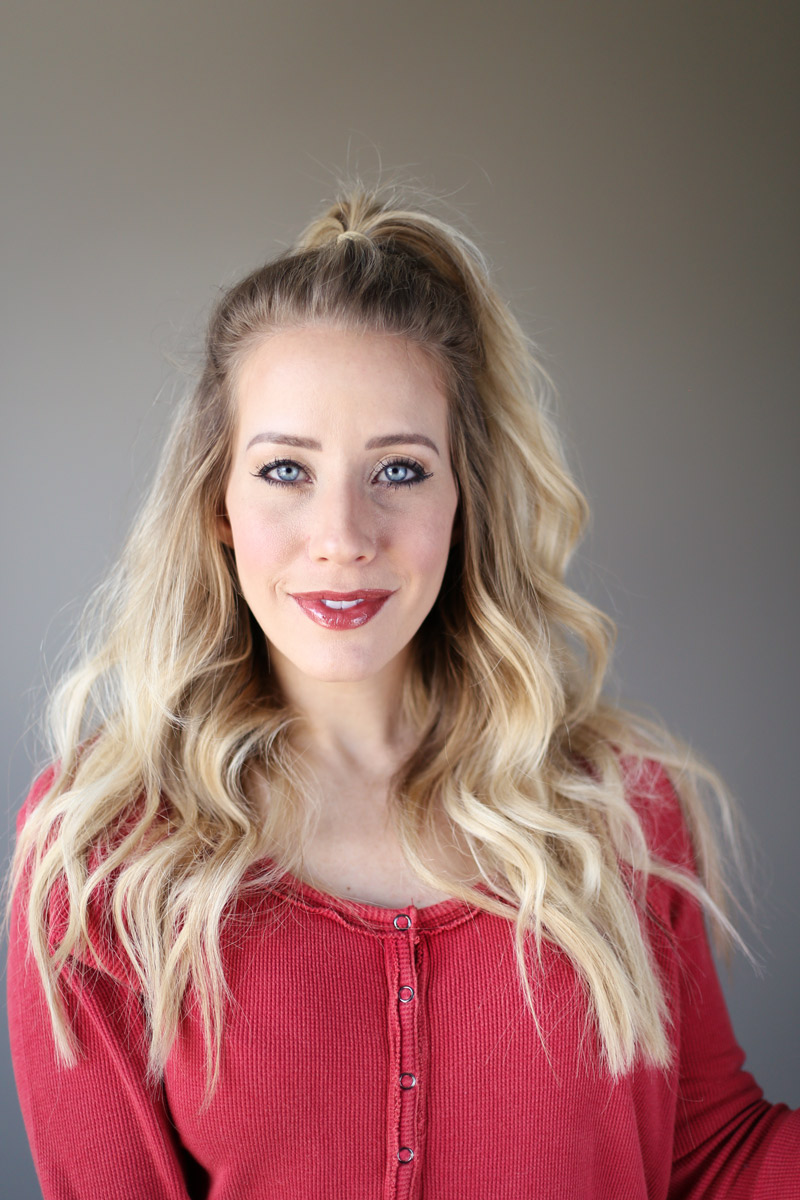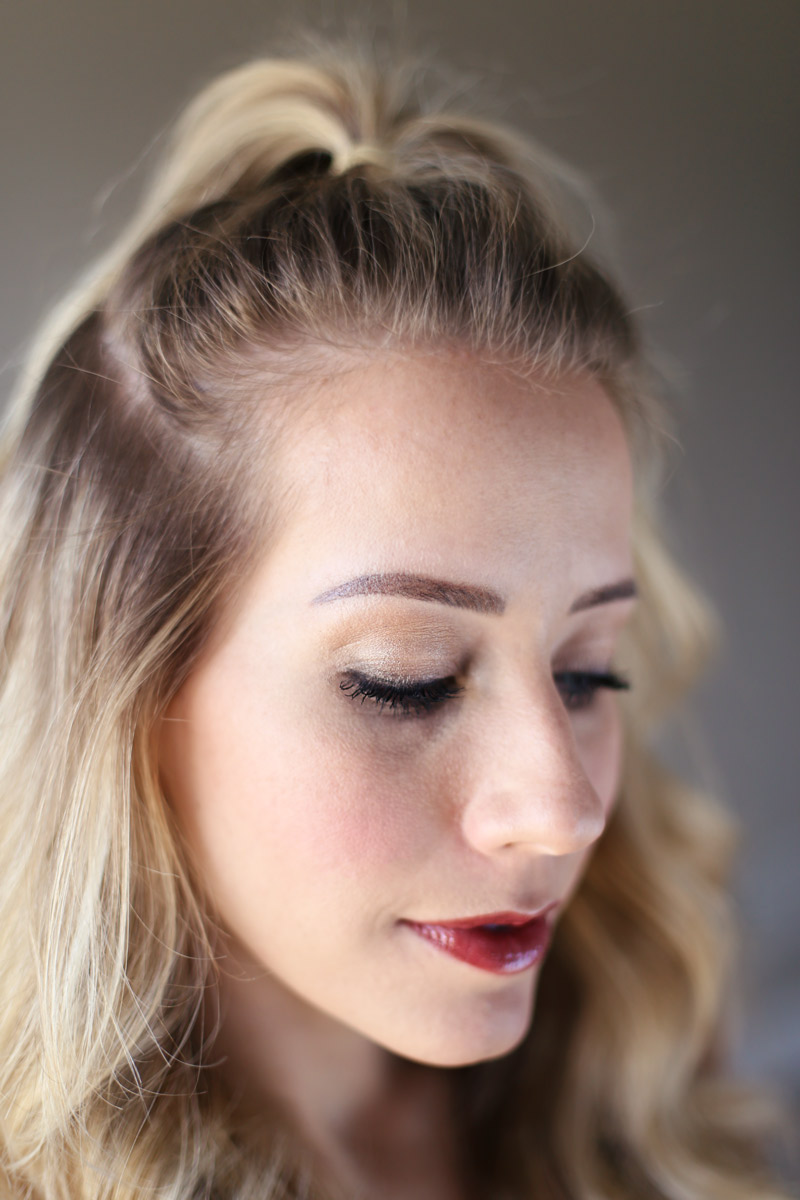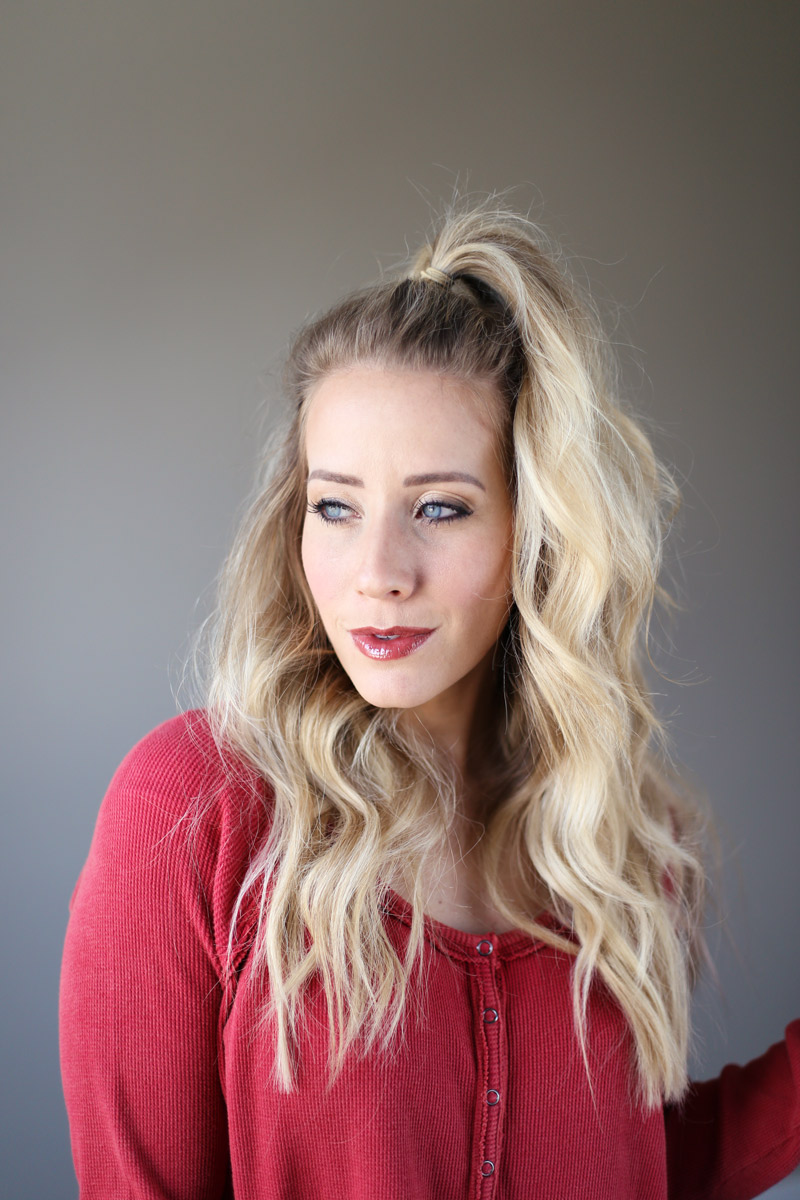 She was right. I told her how the strokes had fallen off, that the color went a little bit grey and that I felt like you could see where my natural brows ended. She added warmth to the color, made more strokes in the arch area to help blend the natural brow and microbladed brows and refined the shape. "Recovery" was much better with the 6 week touch up and the appointment only lasted an hour. I actually didn't even notice the scabs this second time around, I kept waiting for them to fall off like they did the first time and they were just unnoticeable. The color was darker but I actually really loved that the second time around! I've had them done new for a few weeks and the color hasn't faded to grey like they did with the first appointment. If things change I will definitely give you an update.
So here are a few comparisons: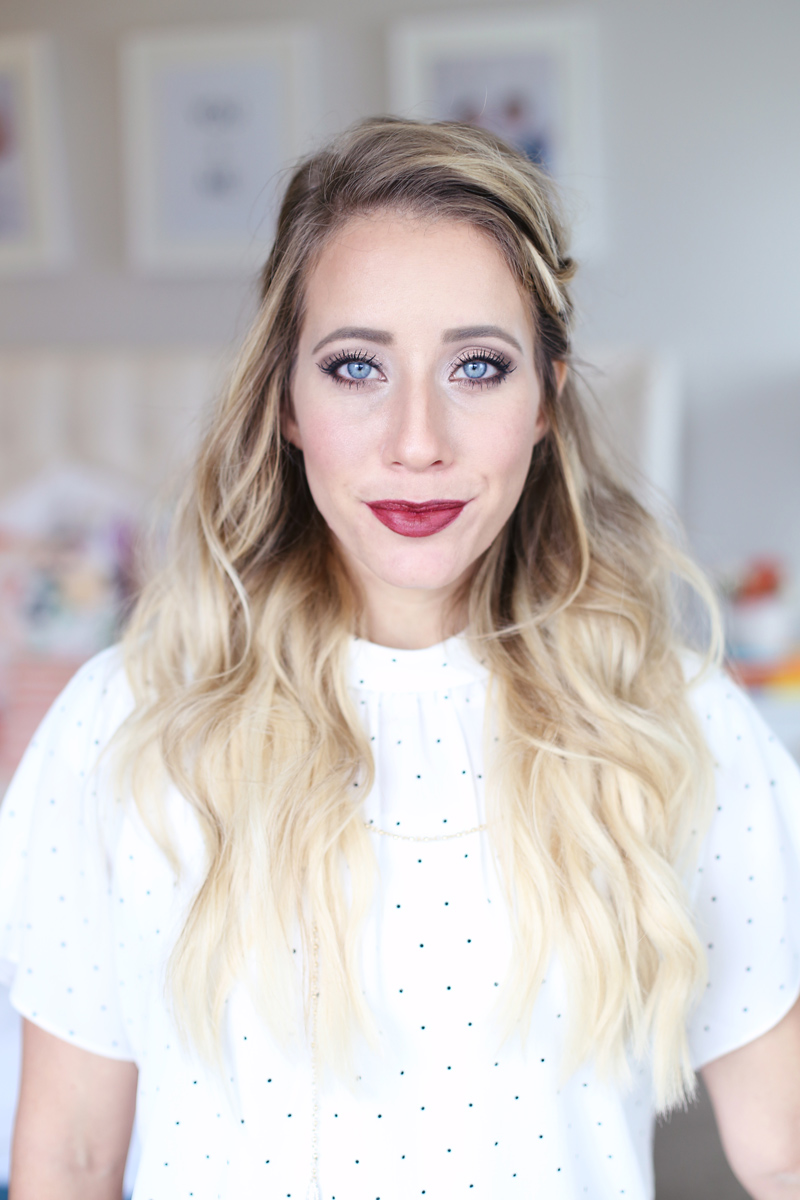 Here's what my brows looked like filled in. See how they go a tiny bit grey? It's always bothered me and despite using the best products I knew of I couldn't figure out how to avoid it.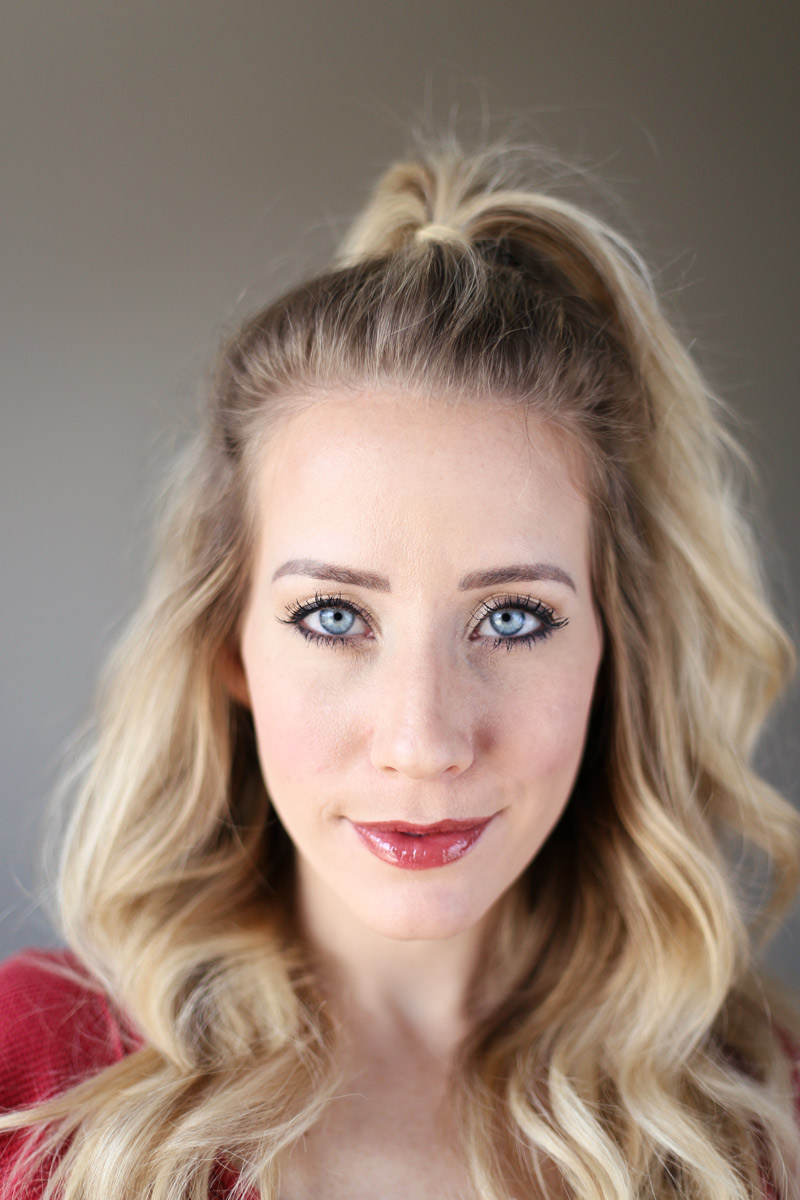 They look SO much better! I finally have room to play around with eyeshadows!!! It actually took me a couple weeks to adjust how I applied my makeup! I finally have a brow bone to highlight! It's literally the best. No, the best is waking up with my brows totally done! I can literally get ready in five minutes now, a little bit of HACing, some lipstick and mascara. Done.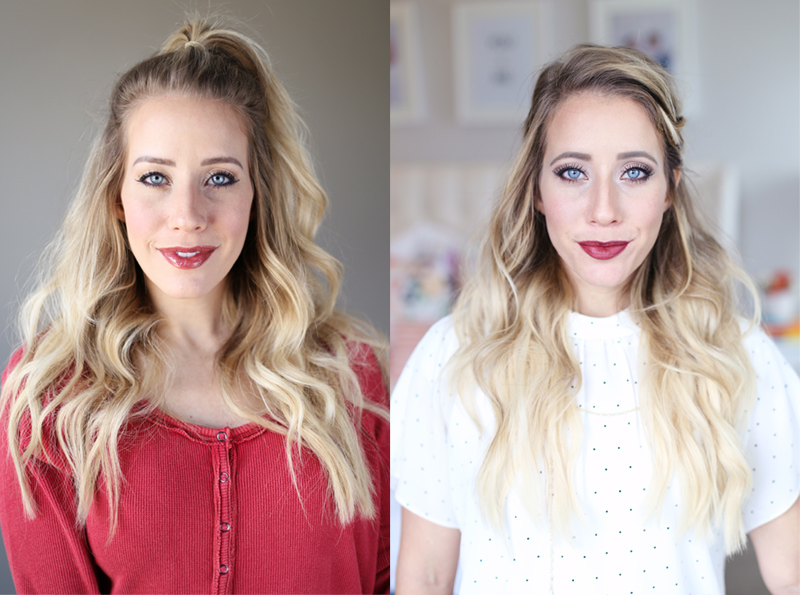 I'm wearing Bella on the left, which we just ordered 30 of so email me at [email protected] to pre-order it. It's gonna go dang fast!!! And then on the right I'm wearing sheer berry which is still out of stock :(. Sorry, back to the brows haha! Do you see the shape difference? And the color? The microbladed brows are so warm and totally symmetrical. The minutes in my day I'd spend trying to get my brows symmetrical guys… you don't even wanna know!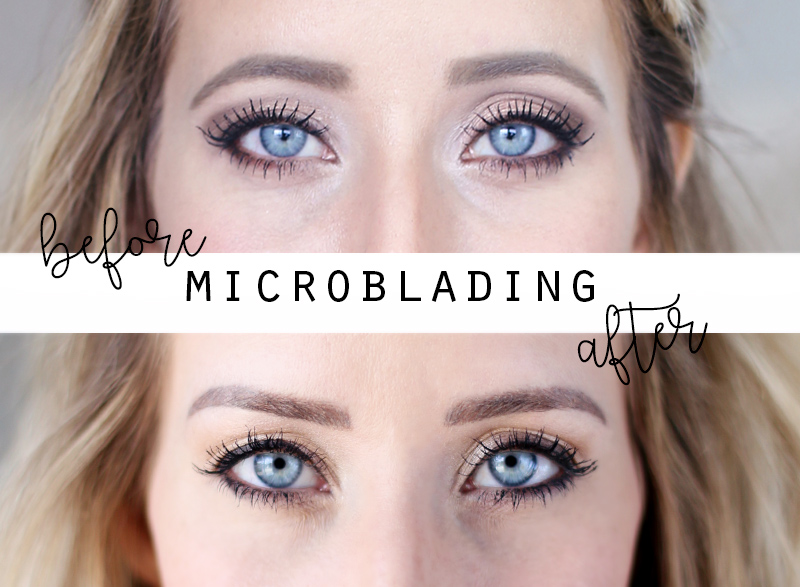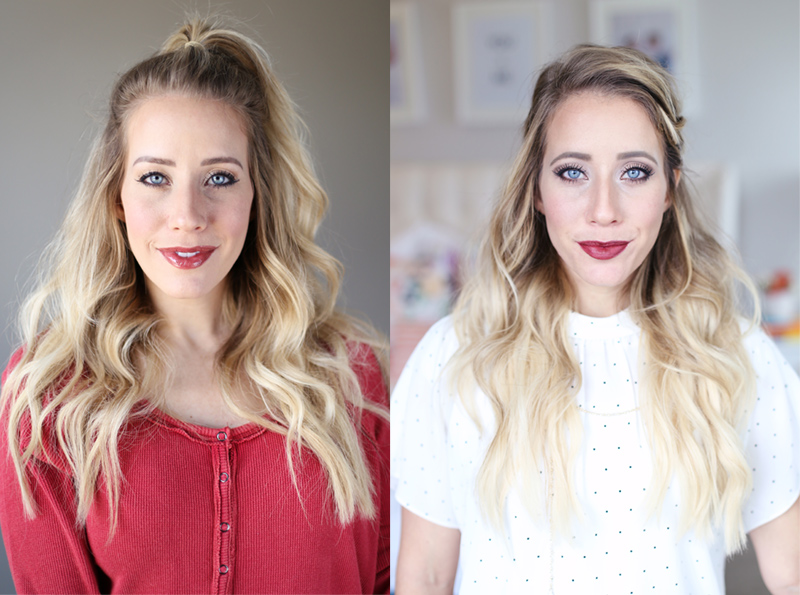 Was it worth it? Yes. 100x yes. It was annoying to go through the whole scabs falling off process, not being able to workout and shower (I bathed sillies) but it was totally worth it. It's shaved off a good five minutes of my routine every morning, which is a big deal considering I only have a few minutes to get ready as it is! I don't look like I'm dead when I wake up, swimming this summer will be amazing and just over all I've really enjoyed my new shape!!
How much does it cost? It's a two hour appointment and costs anywhere from $399 – $599, just depends on your artist. It's definitely an investment.
If you have any other questions, if I missed something please ask me in the comments below!! Have you had your brows microbladed? Did you have a different experience? I'd love to open up the comments below for people to go through and read different peoples experiences, so please comment and share!!!
Shop The Post