Top: Breton Stripe Maternity Tee, similar non maternity here | Scarf: Grey Tartan, out of stock. Similar here | Jeans: Maternity boyfriend jeans, similar non maternity here | Boots: c/o Lulu*s Black Wedge Booties | Bag: c/o Lily Jade Diaper Bag | Watch: c/o Daniel Wellington Classic Lady. | Bracelet: c/o Stella and Dot Renegade Cluster | Rings: c/o Stella and Dot | Hair Extensions: c/o Laced Hair | Sunglasses: c/o Sunglasses Shop, mine are the RayBan Erika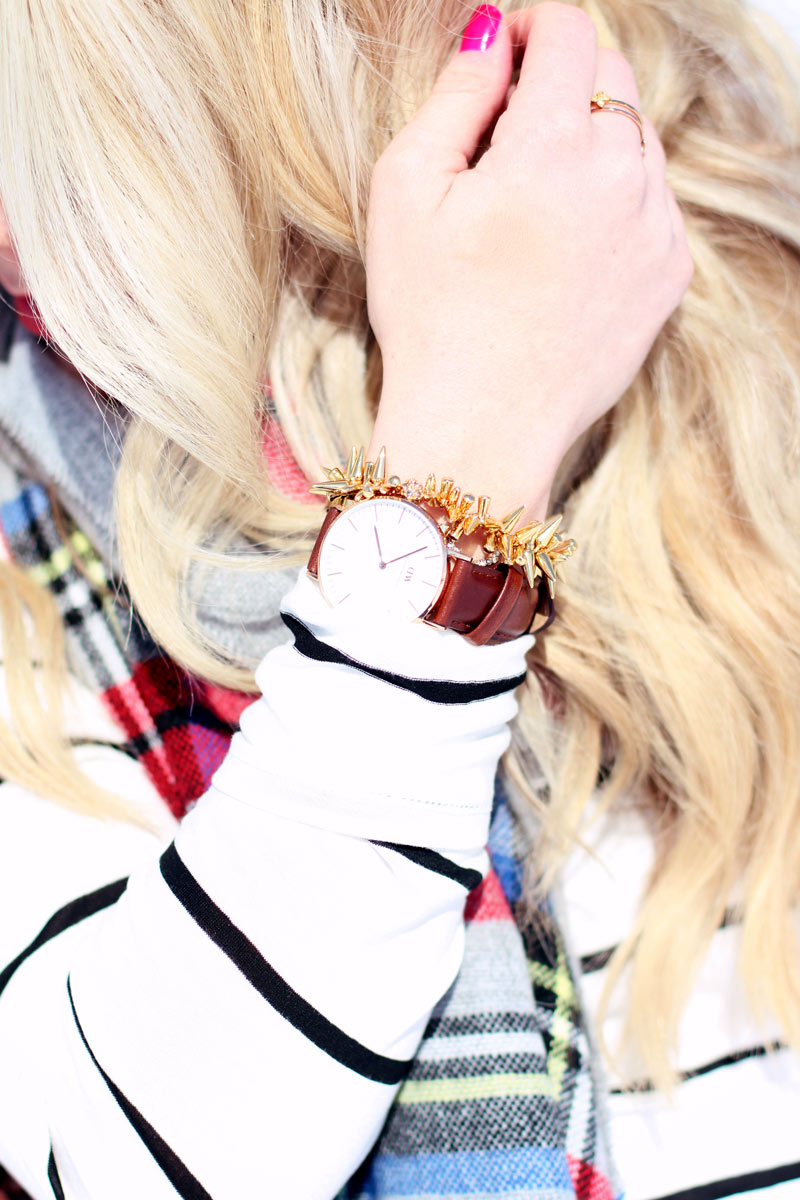 ^^ The discount code " twistmepretty " gives 15% off of all products at danielwellington.com until March 15th
Are you guys ready for a good story? Cause today I'm totally delivering.
We were in the van (yeah… we got a van. and it's the best thing that's EVER happened to me. ever.) on our way to get some lunch and I was looking for somewhere to stop real quick and snap a few outfit photos. Because let's be honest, the one time a week I get ready it's got to be documented haha!! The snow is starting to melt here in Ohio and it's looking pretty dirty and ugly. When I saw this beautiful white driveway I was like, Brian PULL OVER! It's a super long driveway, you can see the barn/shed in the background but the house was pretty far away. I thought, we'll be here 10 minutes or less and it's not like we're bothering anyone. They won't even know we're here! Famous last words. Literally less than five minutes later three cop cars pull up. THREE! One officer gets out of his car and asks Brian what he's doing. Brian was like, "well, I'm taking pictures of my wife for her blog" and the officer had no clue what a blog was. So for the next five minutes we had to explain what a blog was and why we were taking pictures in some random persons driveway. As if taking pictures of yourself on a semi-busy street isn't embarrassing enough! And then to be SUPER pregnant on top of it!! Oh, the humiliation! And let me mention – the officers cars and lights were on and traffic was stopped because it's just a one lane road with zero shoulder from all the snow.
The home owners must have called the police within minutes of us getting there and they claimed there were "suspicious people" outside their home and they were worried there was foul play going on. I mean, can it get anymore suspicious than a blonde pregnant girl, her nice looking husband and a van? hahaha! Let me just say – I know it's illegal and we were technically trespassing. But people in the east are SO PARANOID!!! They didn't even give it two minutes before calling the police on us because the police arrived in literally less than five. The officer ended up being really cool but it was one of the most embarrassing moments of my life!
We've had more encounters with the law since moving to Ohio than I ever have in my entire life. Did I tell you our car was stolen from our driveway a few weeks ago? Ha ha oh gees. Have you guys had any crazy experiences with law enforcement? I just think they're the best! This weeks hair tutorial will come out on Friday. I'm collaborating with Kayley Melissa — eeek! And we have something fun up our sleeves so stay tunes!
xoxo