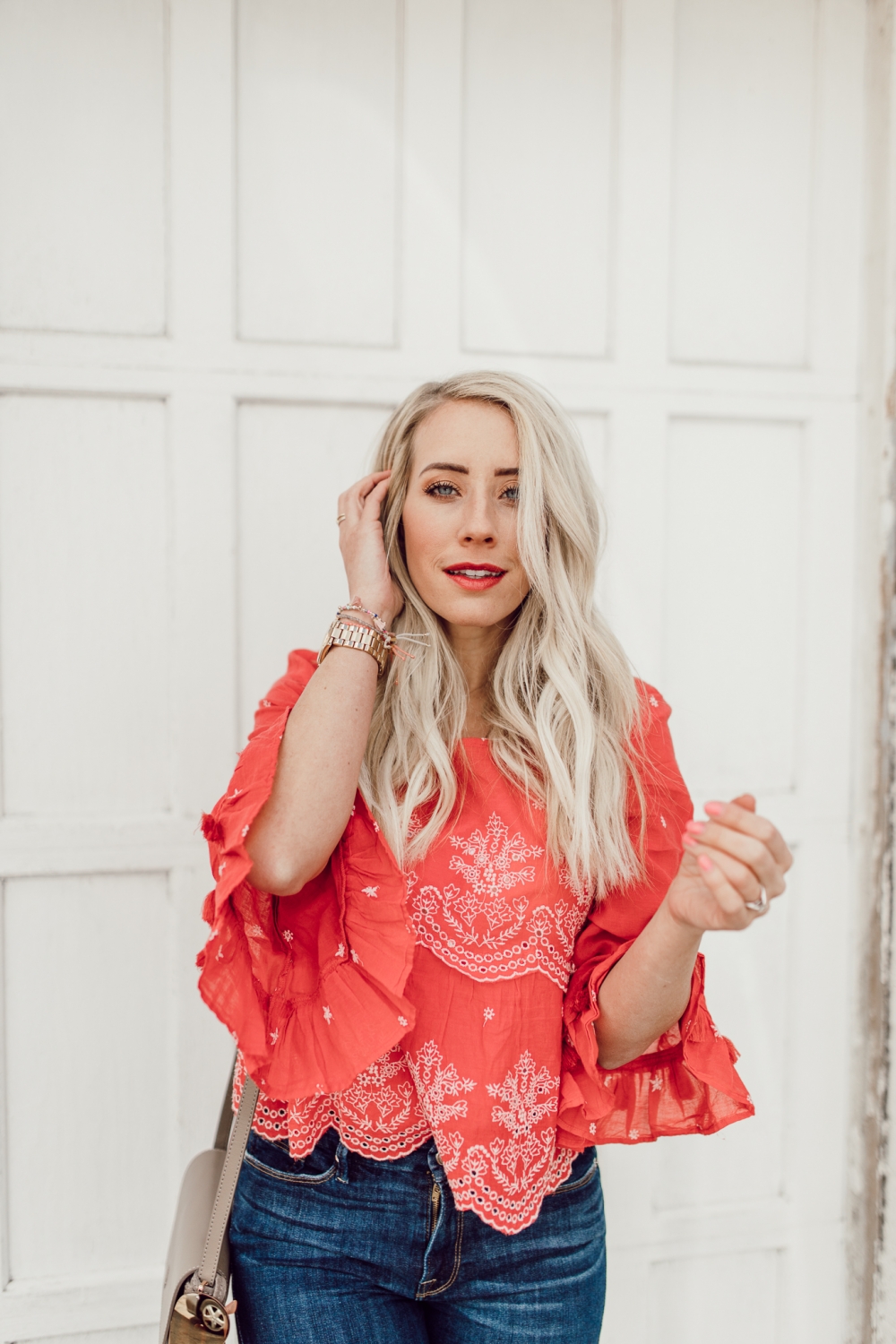 Hey loves! If you missed last weeks post — it was a good one, you can catch up on it here — we talked about some of my favorite ways to dress for Summer! Today I wanted to chat color with you because it's something I'm personally trying to incorporate more of this year.
A couple months ago I starting looking through my closet and realized that I've got a LOT of neutrals. So many white shirts and chambray basics! I honestly don't have many pops of color!! On my shopping trip that I talked about here one of my goals was to buy a couple bright pieces that I would normally shy away from. I saw this blouse at AE and it was like the heavens opened up and angels started singing!!!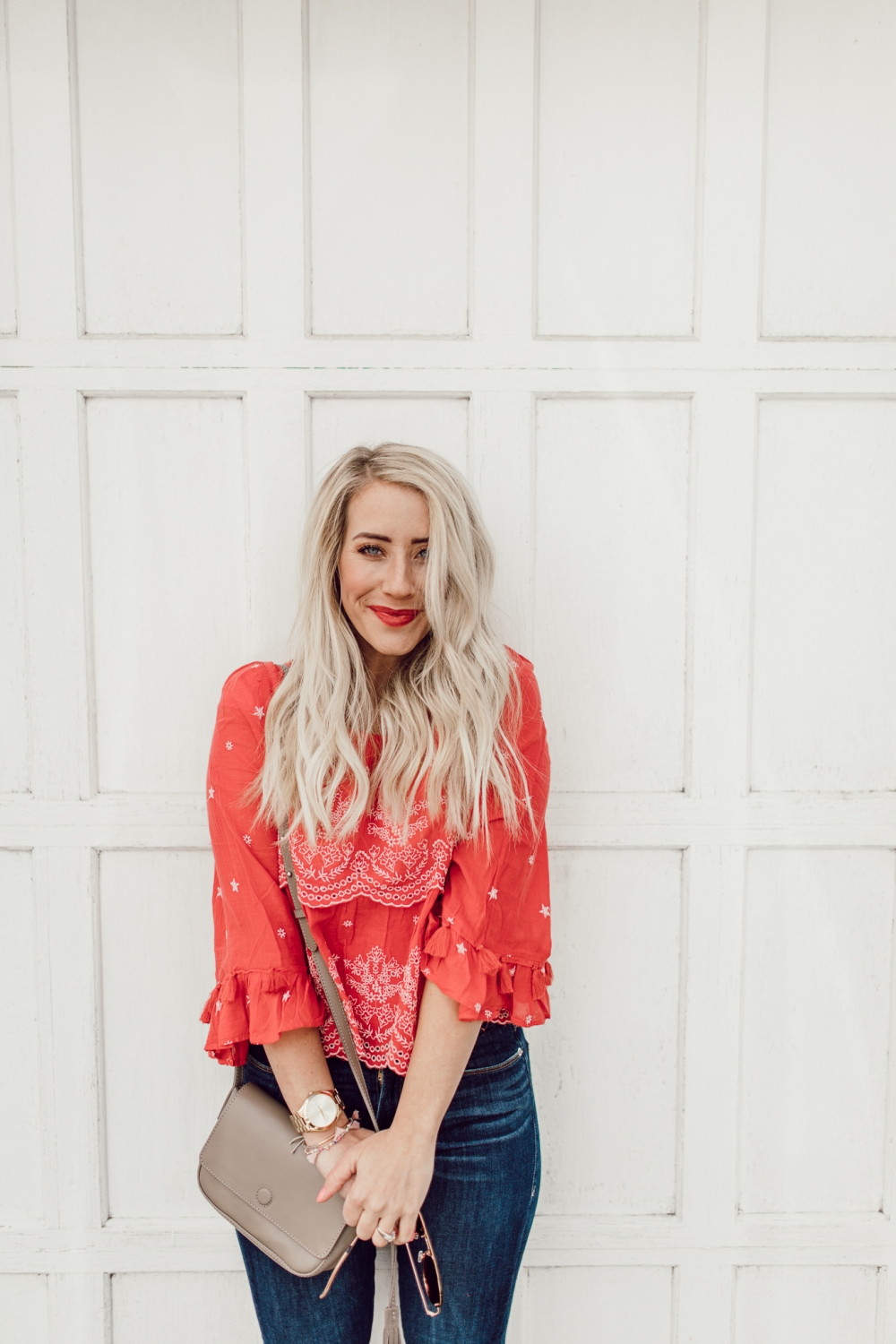 So then I got curious. What even are the trending colors this year? I looked up the Pantone trend forecast for colors this Spring and low and behold this color was basically on it. Okay okay it's a little more muted than the Cherry Tomato, and my edit is putting a hint more orange into it, but it's close enough in my book to totally count. Look at me being all trendy hahaha!!!!
Have you noticed any of these colors popping up?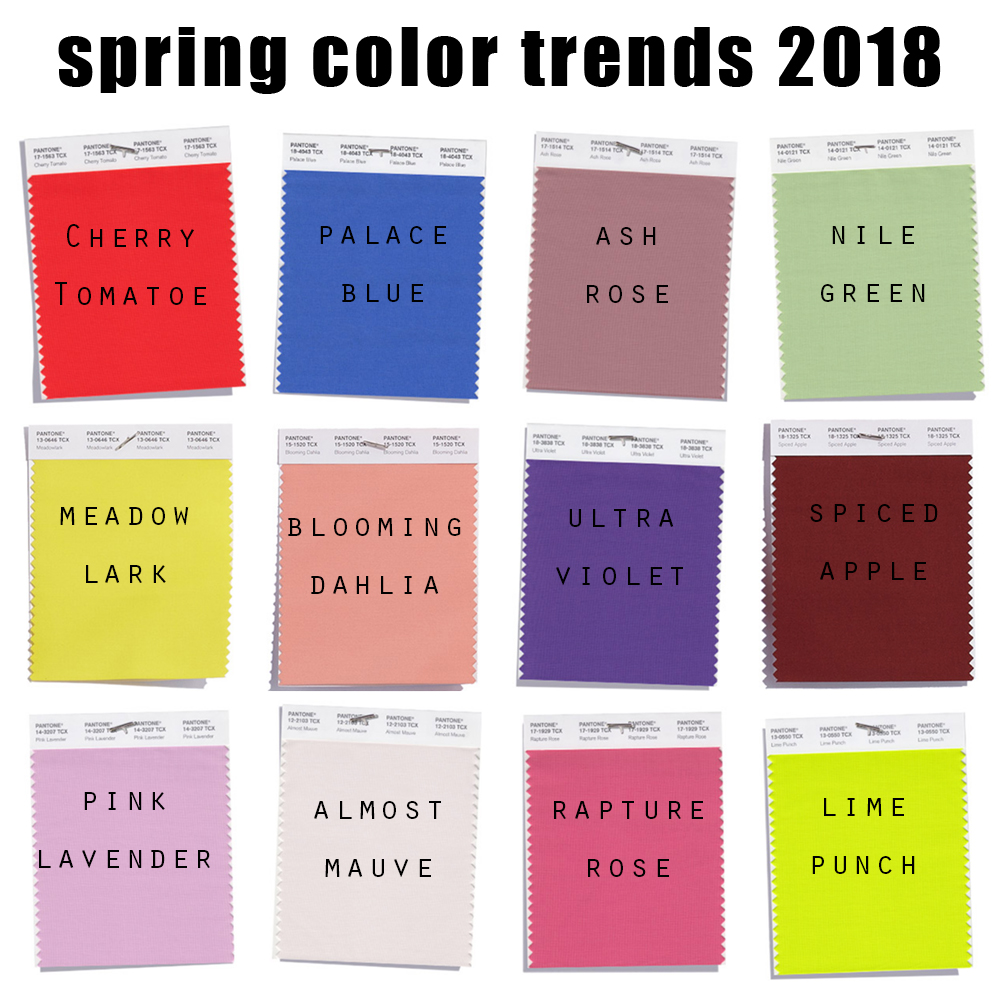 Seeing these swatches was super helpful for me because it gave me a good starting point and inspired me to add some different colors I don't normally wear to my wardrobe.
Have I told you about these jeans? Who am I kidding, of course I have. They're the Good American jeans that feel like leggings and made for girls with bigger booties. They are SO slimming, they're honestly the only jeans I like wearing right now! These ones I bought last year but here and here are some similar styles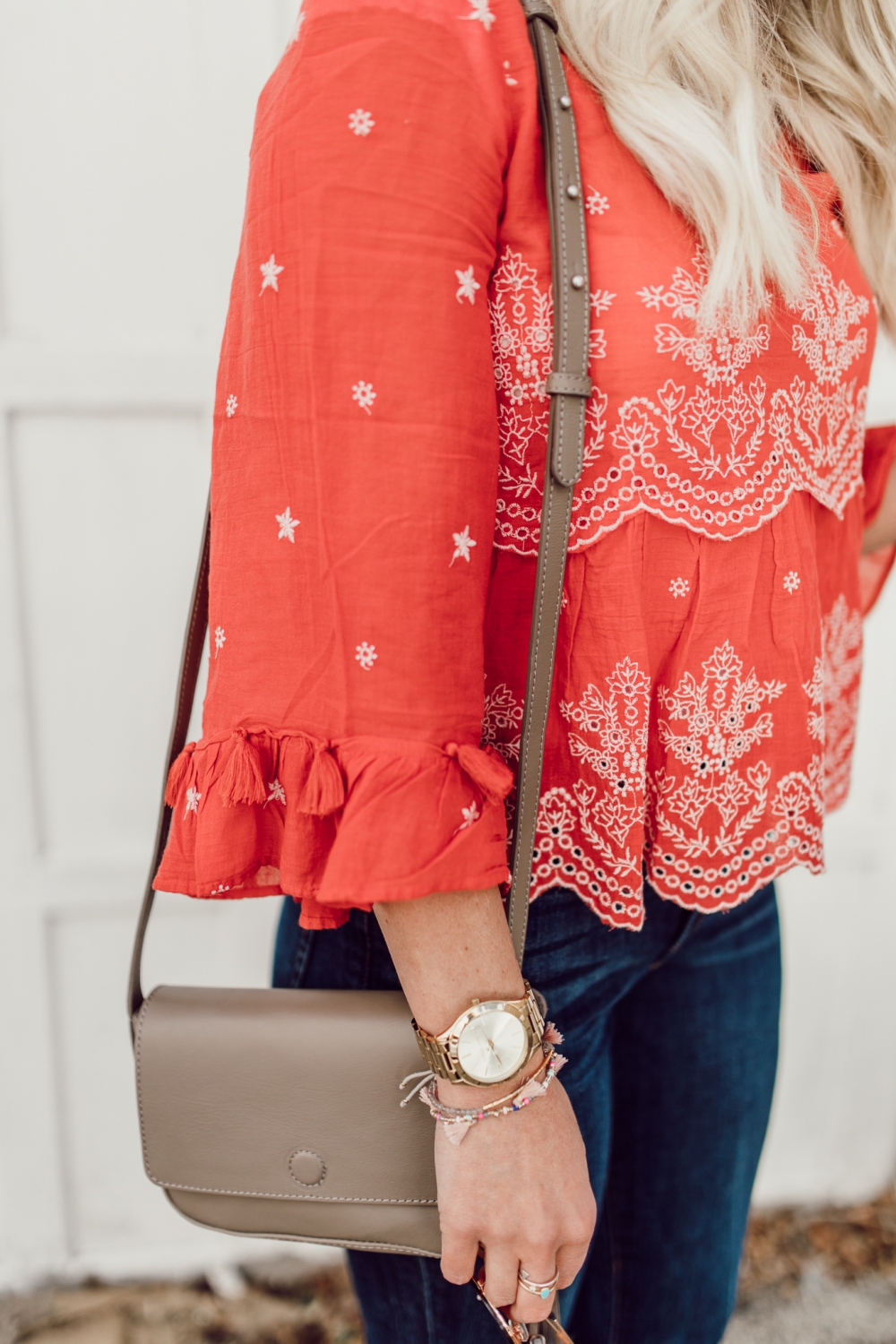 And this is the $30 bag I scooped up at American Eagle a couple weeks ago that I'm obsessed with!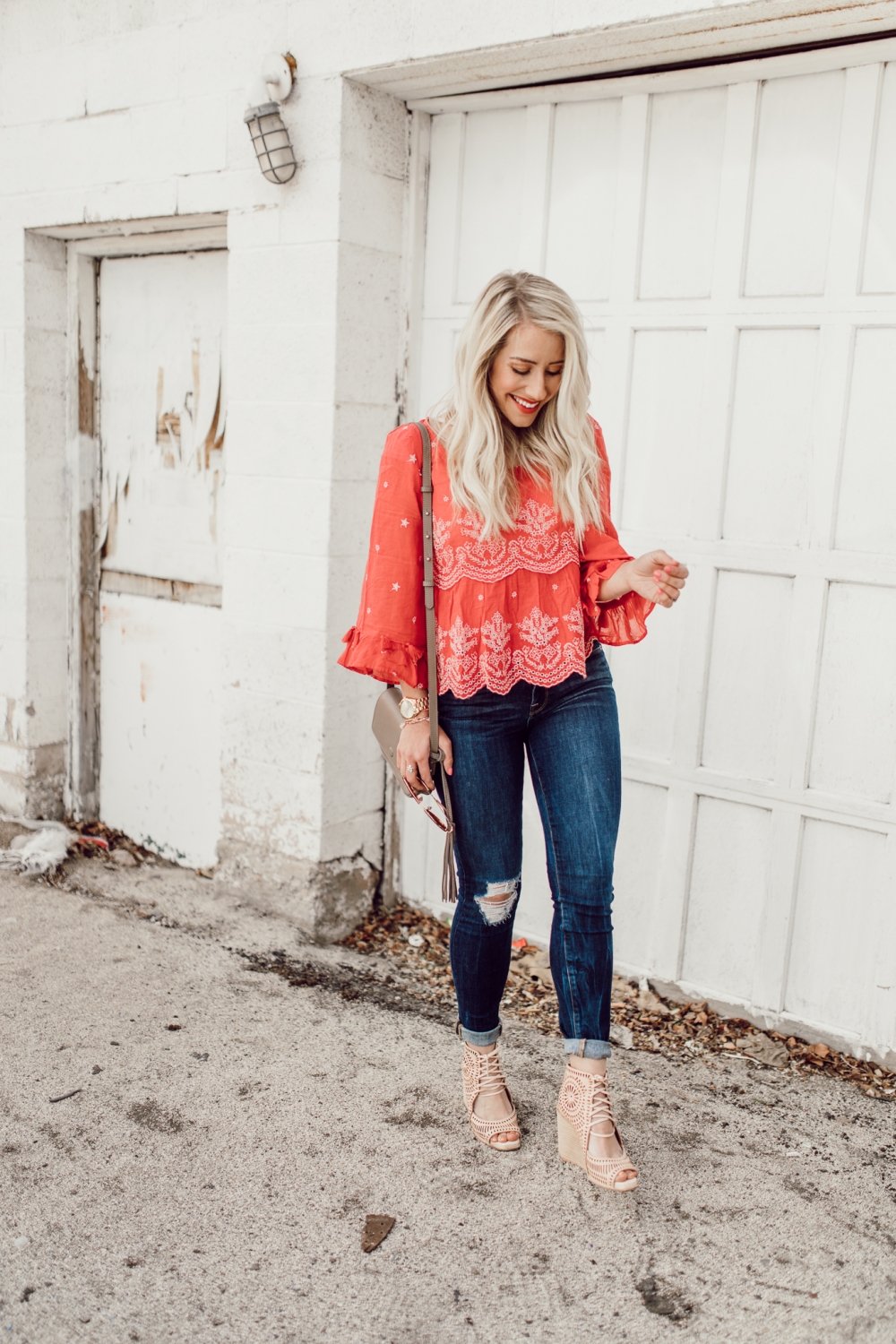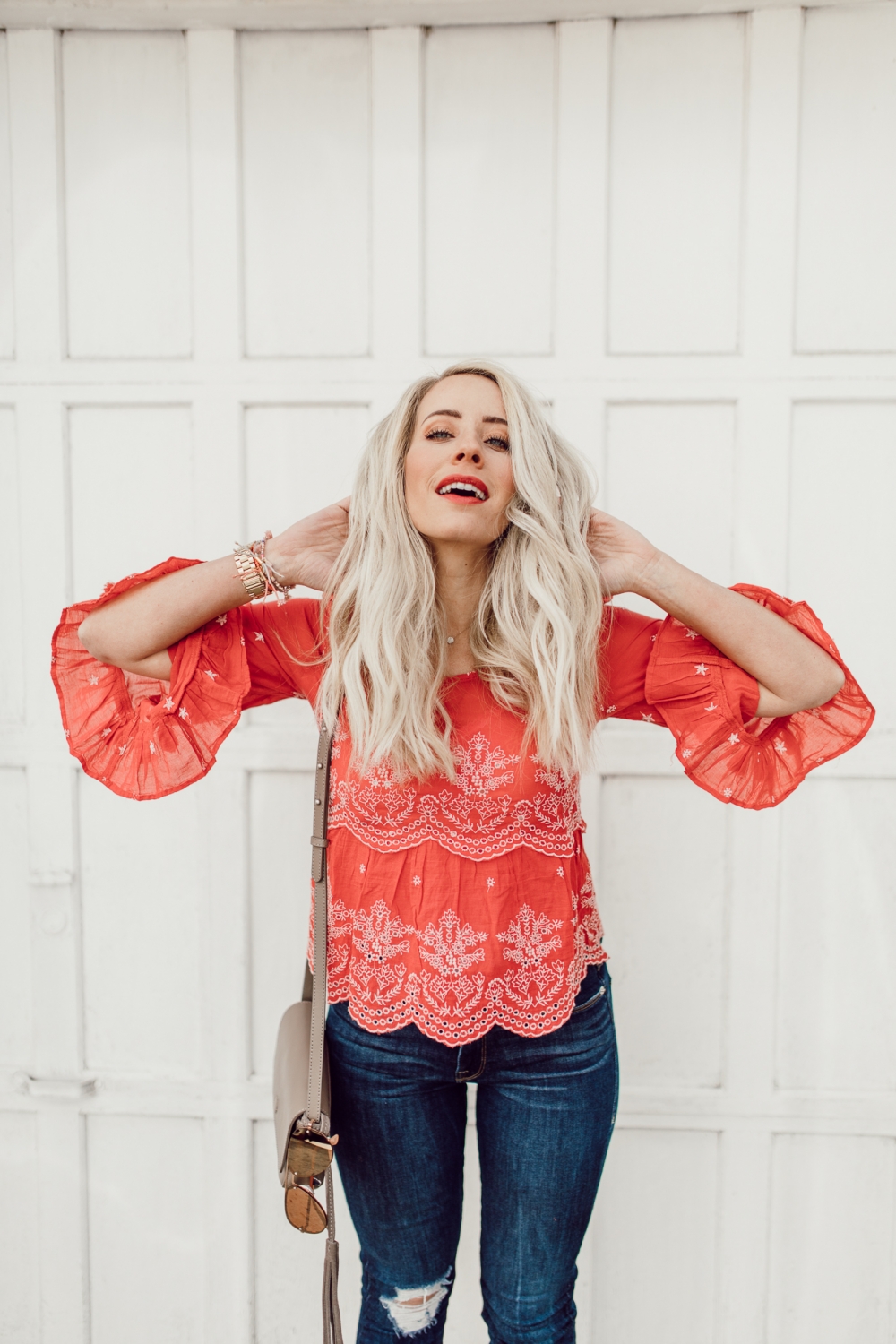 My face looks weird, but the sleeves look so cute here haha!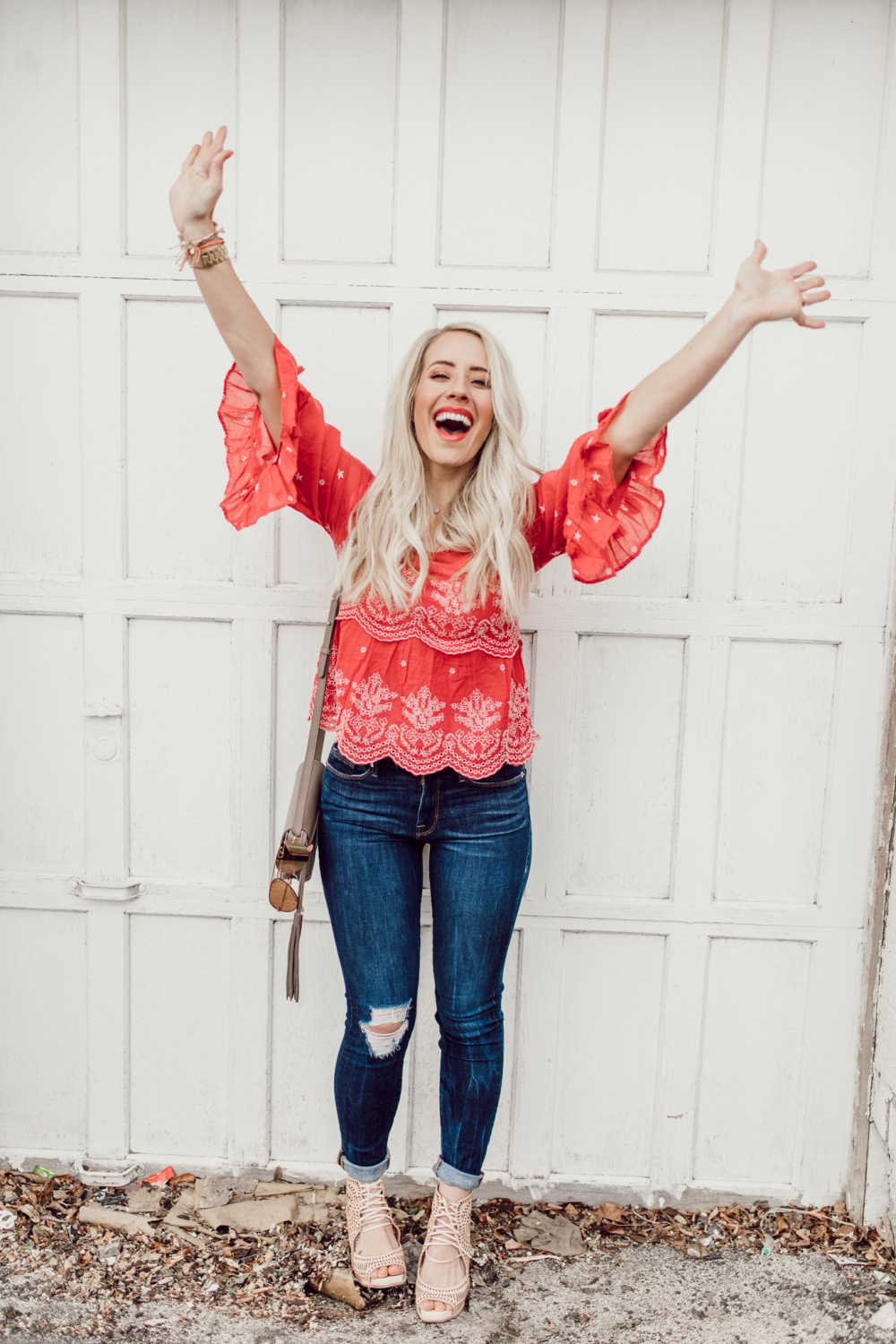 Fashion is tricky. We have a love/hate relationship. If it were up to me I'd wear my favorite leggings and pajama top tee every single day with a baseball hat and nikes. And honestly, most of the time I do. But it's fun to doll up for date night, or have something you feel confident in when you're invited to Bunco with your friends!! So hopefully these posts are helping you figure out where to invest your money and if you want to invest any at all on clothes!
What's your favorite color to wear right now? Is there a color in the trend forecast that you're surprised by? I was surprised by the spiced apple color because it seems so fall to me… like I just want to light a spiced apple candle right now and carve pumpkins haha!
xo
*** I'm wearing the LipSense color Roseberry but I've stopped saying them because I've been editing my pictures a little bit differently lately, have you noticed?! Anyway, it changes the color of my lips and I don't want you guys to think your lips will look like this color if you buy Roseberry! Although Roseberry is a color you ABSOLUTELY must buy!!! Haha k bye ?