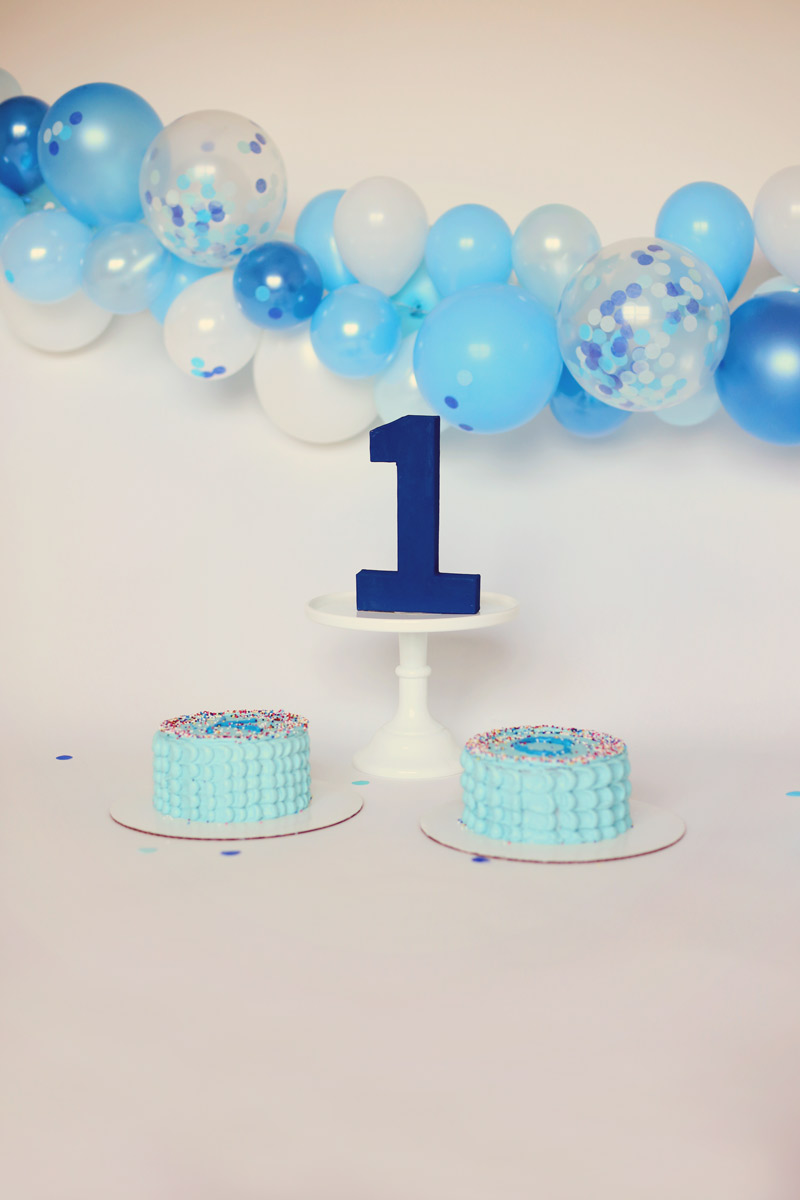 Savy reminded me earlier this week that the boys are soon turning 2. She wanted to bake a cake and wrap presents, plan a little party, the whole nine yards. I literally gasped out loud because I remembered I never ended up sharing these birthday smash photos + the video I spent so much time making of the twins' one year old birthday party! Goodness gracious Abigail. I guess it's better late than never right? It's fine. It's fine. I'm just gonna blame it on my kids… it's becoming quite the popular excuse these days haha!
So last year around this time I started looking up cake smash ideas for the twins. Guys. I was overwhelmed!!! I obviously wanted to do something special for them but it was just too much! There were too many cute ideas and my mind was swimming with all the different options. Later that week I met a friend while watching Boston play baseball at the park and she nonchalantly told me she ran a little party store and offered to make a balloon garland for them. Little did I know she was the genius behind One Stylish Party. Have you seen her stuff? I'm dead. Tara's parties have been featured EVERYWHERE. She sells a whole range of custom boutique party decorations including a DIY balloon garland kit, tassel banners, confetti balloons. Basically anything you'd need for your celebration. Please please go check her out if you haven't heard of her!!
Anyway, back to the story! So I obviously jumped on the invitation for the balloon garland, made some baby cakes from this tutorial here and later that week we headed over to Tara's house which ended up being just a few minutes away from mine! Who knew right?!
Balloon Garland: c/o One Stylish Party | Moccasins: c/o Freshly Picked
The boys were everywhere. Crawling on everything. It was hilarious because Coop was all over that cake, gettin' in there nice a good wanting to eat the whole thing and Kai was VERY upset about it. He didn't want to get dirty, he didn't like the texture of the frosting and when I tried to make him eat some of it he just lost it!!!
These boys have been such a blessing in my life. I look back at the past 2 years and am so humbled. They are CRAZY hard at times but their ability to make me forget my problems, to make me laugh, to inspire me to work harder and be stronger is amazing. My favorite thing is when look down and see four little eyes staring up at me. I'll give them a little grin and they'll both just laugh out loud. I never wanted twins. I never imagined having twins. I never knew how much work having twins would be! But now that they're here, I can't help but wish everyone could experience this. Watching their little relationship grow has been so special. They really are best friends. Or worst enemies… they fight with each other ALL the time! But when Savy or Boston is being mean to one of them? Don't even mess. The other is fiercely loyal. Sometimes I wonder why they didn't come down separately… why we didn't have Kai and then a couple years later have Coop. I like to believe that God has a plan for them. I know that they're going to lean on each other when times get hard. That they're going to rely on each others friendship, advise and love in a way that no one else could understand. How amazing would it be to have a build in best friend for life? I'm so excited to see where life takes these two and I know they're going to move mountains.
Love you yesterday, loved you still. Always have, always will.
Here's a short and sweet video I made of their birthday party with little flashbacks that are so special to me. I hope you guys enjoy! I know most of you have followed me since the boys were born and I just wanted to thank you for always showing me so much love and support. These boys are loved by so many and we'll never be able to show enough gratitude for how much you've changed our lives.
You can see the post from this video here