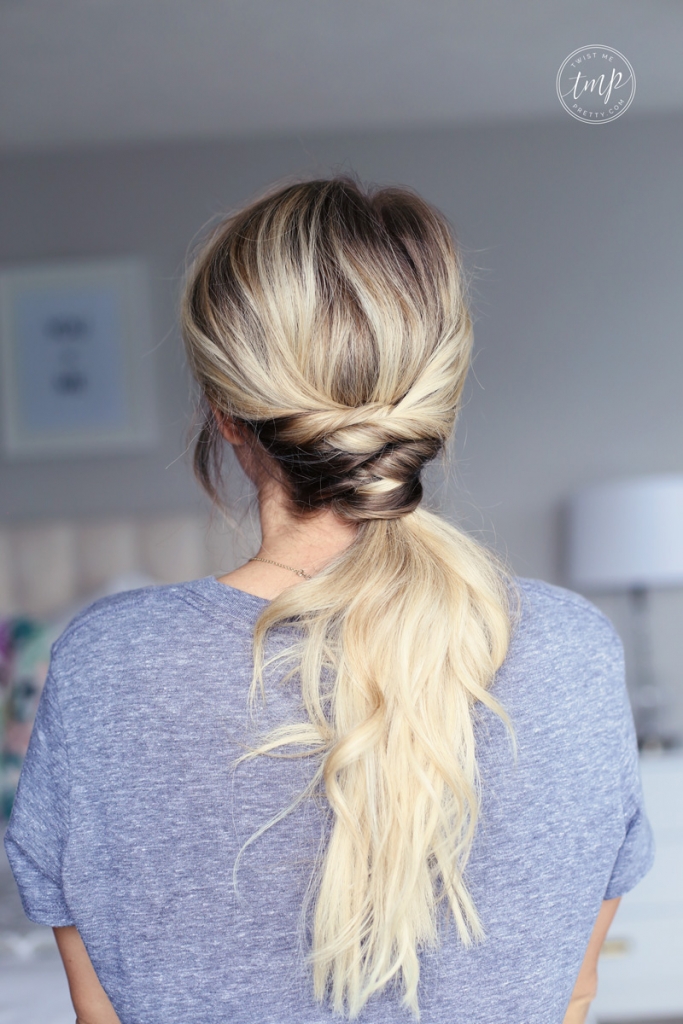 Hellloo-o-o-o-o ponytail! YAAAS (Insert bitmoji topknot + sweat pants wearing Abby snappin' her fingers up high in the air)!!! Whoaaa… did you even follow that?! If you did we are def spirit animals. Are you guys excited about this one?! I love me a good ponytail. And then when that ponytail is also cute, is also appropriate for chasing kids around, is also fast, is also the most beautiful twisted mess I've ever seen — well then I just get all excited.
I sure hope you guys love this tutorial!!! And the video… well… I can explain. I've been around kids waaaay too much this summer and basically when they aren't around I just throw up all my adult thoughts. So yeah. There's that. Haha just watch the video and you'll understand.
Here are a few commonly asked questions — you can find the elastic bands I use here. You can find the extensions I use here – LUXYABBY for $5.00 off. You can find the waves tutorial here. You can find the necklace I wear everyday here. I can't remember what lipstick I was wearing but chances are it was one of the one in my summer favorites video here. My nail polish is this one here and this is the UV light I have. You can find the tutorial for all things gel nails here. That was posted over four years ago so sorry it's a little outdated. Should I make a video on that?? It's super easy! Mmk I think that's it!! Let me know if I've missed anything ha ha!
Lettuce Be Friends!!!! It's back in stock (although not on sale.. booo) and it's literally the most comfiest tee I own. I'm buying them all. And this isn't the Kale shirt I was talking about, but seriously… it's awesome.
And for your Pinterest pleasure! Do I even need to tell you to pin this to one of your boards? K cool, didn't think so. Also, also. Go follow me on pinterest. Do people still use Pinterest? haha, I do so… hop on over and be inspired.