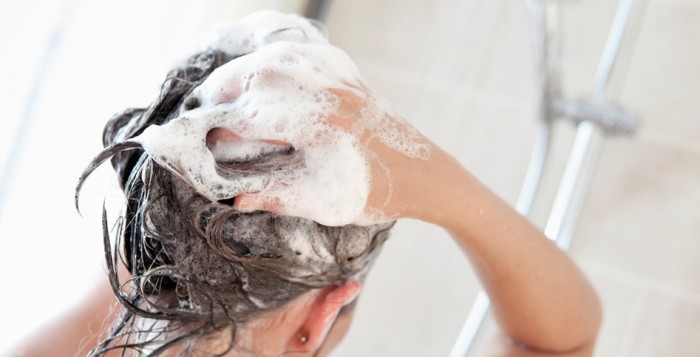 We need to have a little chat. I've heard you're still washing your hair every day. I know, I know – you work out all the time and your hair gets sweaty. Mine does too. It gets especially gross over my forehead and under my neck. Sopping wet I tell ya! Just pull it up after your workout and take a nice steamy shower. When you get out your hair will be a real mess. Don't worry. Your hair should be wet from your workout and again from the steamy shower. Not wet wet, just damp-ish.
Softly brush it out and blow it dry. Wet your bangs and then go ahead and style them like normal. Is that so super gross? Sweat is made almost completely out of water. And I'm pretty dang sure the sweat from your face doesn't smell. If it does… you should probably see somebody… You just think it's gross cause it's called sweat. It's a mental thing. Don't worry, we all have our issues haha, just teasing. After your steamy shower your hair won't feel gross I promise. Remember our no washing schedule?
Day one – wash it and wear it down.
Day two – wear it half up.
Day three – wear it either half up again or put it in some sort of ponytail.
Day four– if you must, wash. If your feeling really crazy, you could go another few days!
My hair is used to a good 5-6 days without washing. Start out slow. Wash your hair today and not tomorrow. Do that for a few weeks. Let your hair get used to your natural oils. They are your friieeeendd! We looove our natural oils. They make our hair healthy and silky. Invest in some dry shampoo to get you through those days it's feeling pretty dirty. I promise if you train your hair it will start producing less oil. It's a supply and demand thing. If you're stripping it of its natural oils every day, it's going to keep producing them.
If I hear that you're still washing your hair every day I am going to be SOOOO mad at you! It's okay though friend, I will still love you.