Have you heard of gua sha facial massage? I know, it's hard to pronounce. Gua sha is one of the hottest trends in skincare. Let me tell you why I've fallen in love with gua sha and why it's my anti-aging secret weapon.
What is Gua Sha?
The term, gua sha, actually refers to the tool and the method for using it. In fact, the name gua sha comes from the Chinese word for scraping. You can trace the history of gua sha back hundreds of years in Chinese history. People have used gua sha tools to balance their qi energy through rubbing the skin's surface since the Ming dynasty.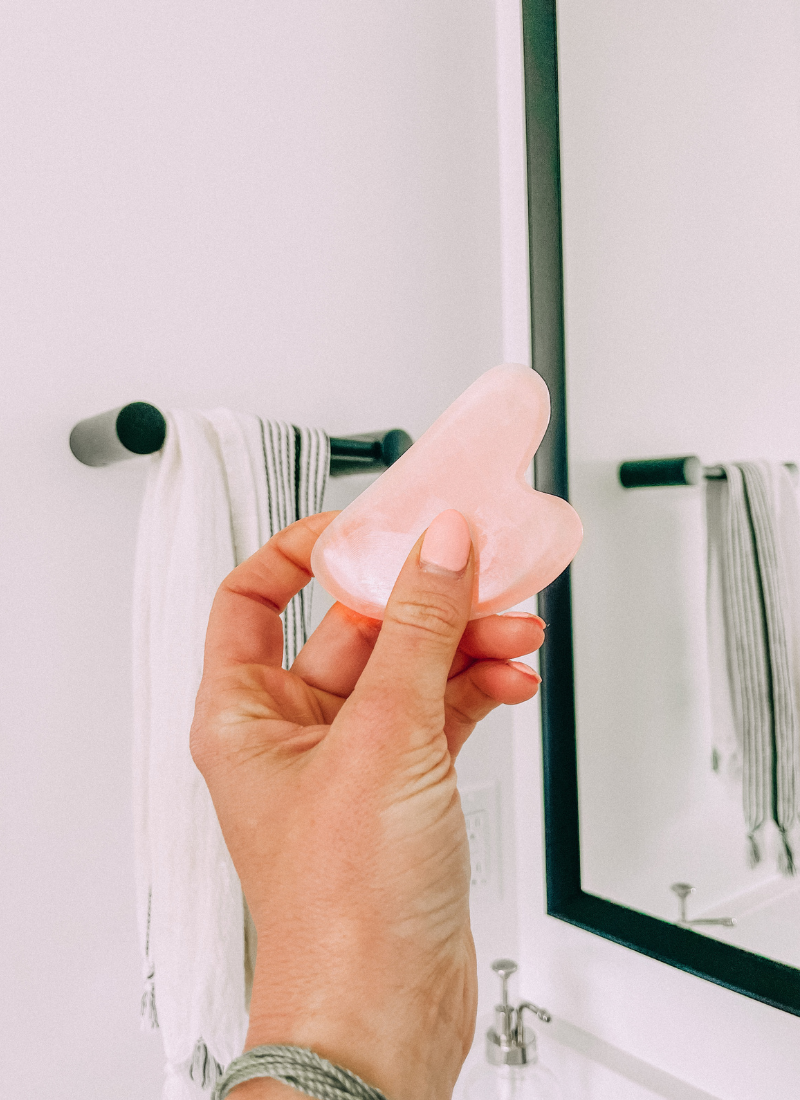 Nowadays, you'll hear about the skin slimming benefits of using gua sha on your face more than you'll hear about qi balancing. But, that doesn't mean that you won't get the energy benefits! At the beginning of a long day of parenting, I look forward to taking a few minutes to pamper myself and giving myself a gua sha facial at home.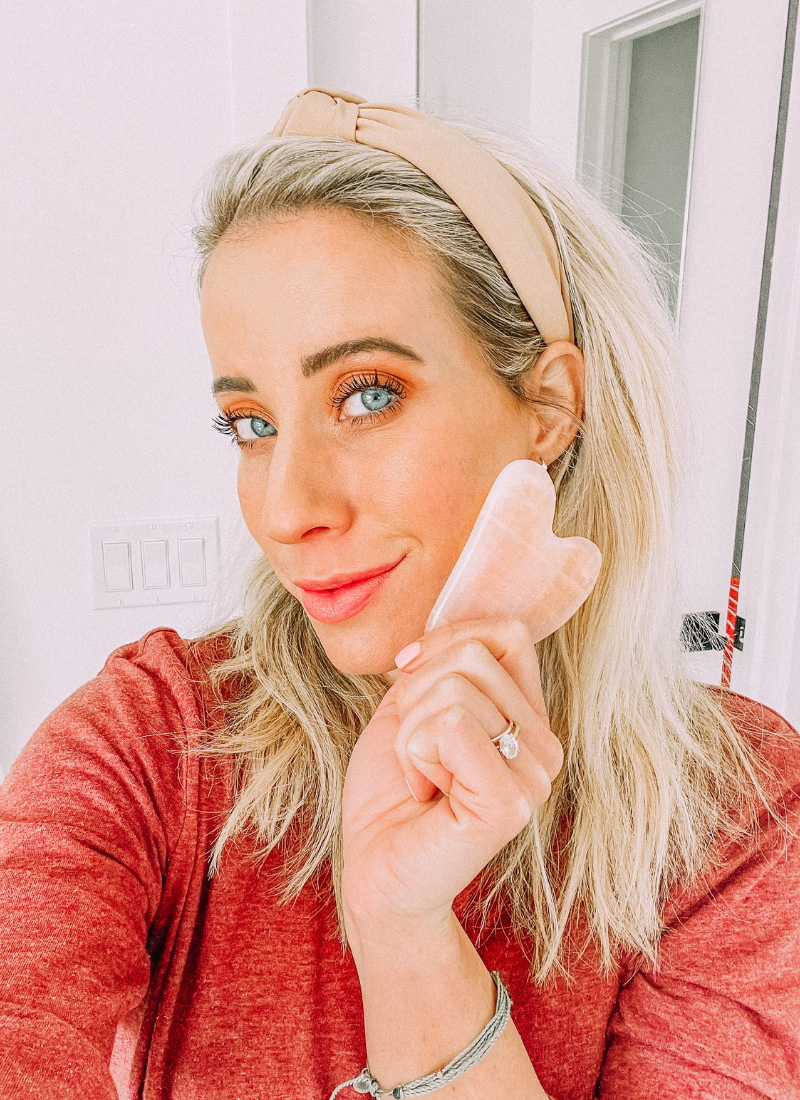 Benefits of a Gua Sha Facial At Home
There are a lot of benefits to giving yourself a gua sha facial. Like I said earlier, the Chinese believe that by scraping and pulling the skin in certain patterns and movements, you'd be able to clear your qi and balance your energy. Besides this, there are a few other well-known benefits.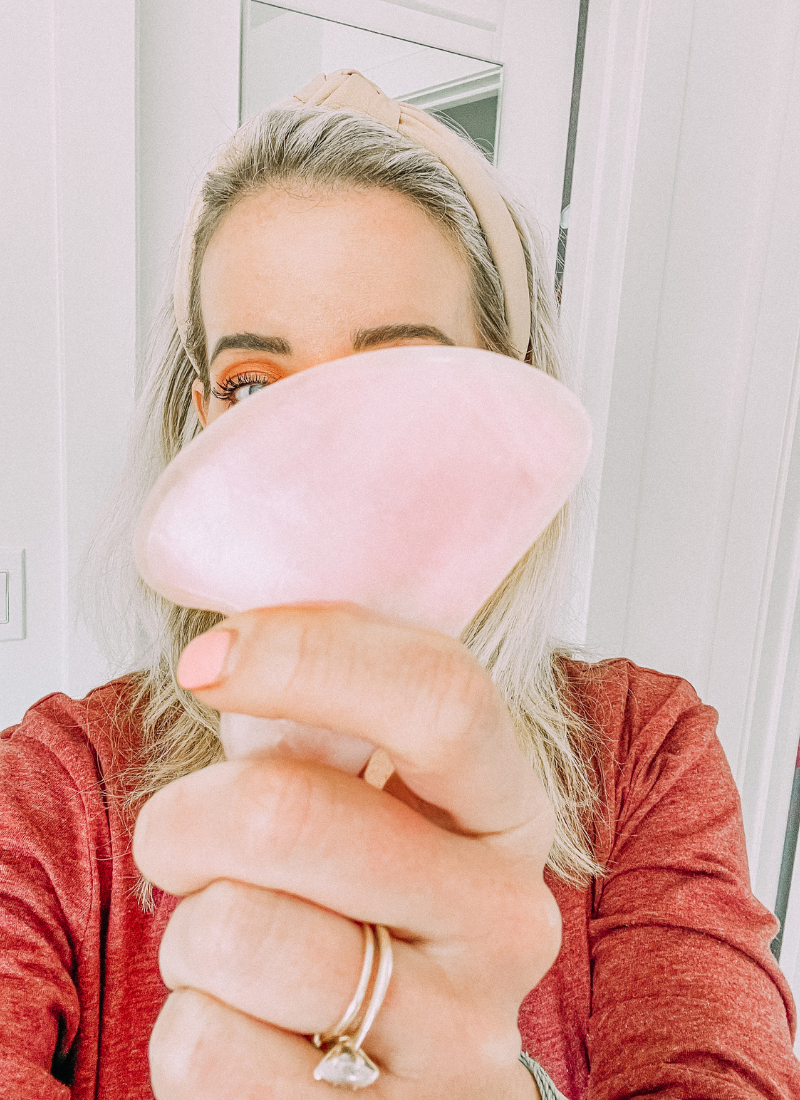 The first benefit of using a gua sha tool to massage your face is that it can soften your tensed facial muscles while also preventing sagging skin. I don't know about you, but man, I feel like life has been tense lately! Maybe it's just the fact that life has been turned upside down in so many ways over the past year, but I can feel a definite difference in how tense my face feels when I use my gua sha tool. Beyond feeling relaxed, I love that I'm getting the added anti-aging benefit of fighting sagging skin. When you massage your jawline, especially, with a gua sha tool regularly you can make your skin look tighter and more firm. This is a definite win in my book!
Another benefit to gua sha is that it encourages your lymphatic system to drain. In regular terms this means that you won't look as puffy. We've all had those days where you wake up and you just feel puffy and swollen in your face. As women, we retain water easily. By massaging your face and skin with a gua sha tool, you can help that extra water and fluid drain out of your face while also naturally plumping your skin. You'll look more rested, glowy, and maybe even younger!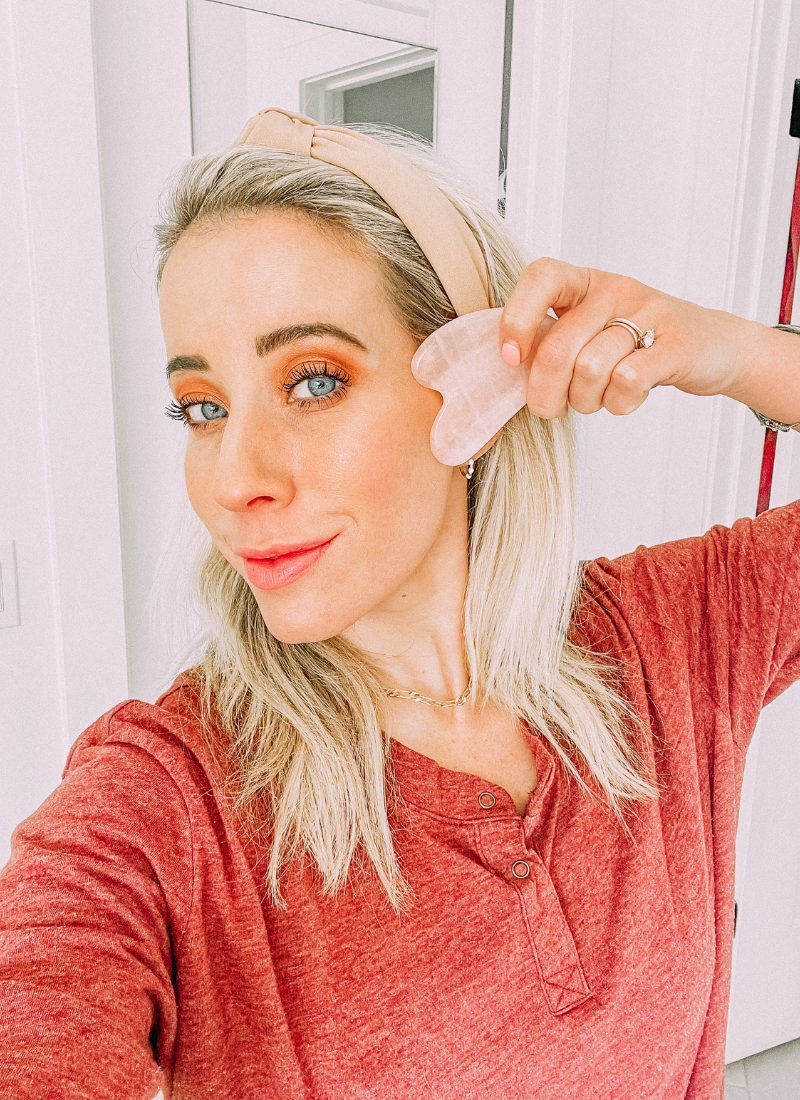 The last reason I love doing gua sha facials on myself is because it helps with circulation. When we increase circulation to our skin it sends more oxygen and nutrients to our skin. This helps your skin become more healthy and it helps with collagen production. Collagen production can reduce the appearance of fine lines and wrinkles. Another win!
How to Give Yourself a Gua Sha Facial
It's pretty easy to do a gua sha facial at home. There are a few items you will need on hand, and a few steps to follow. First, let's talk about what I use to give myself an amazing gua sha facial.
Gua sha tool – there are so many to choose from, but I recommend finding a natural stone tool for the maximum benefits of this facial.
Facial Serum, Oil, or Moisturizer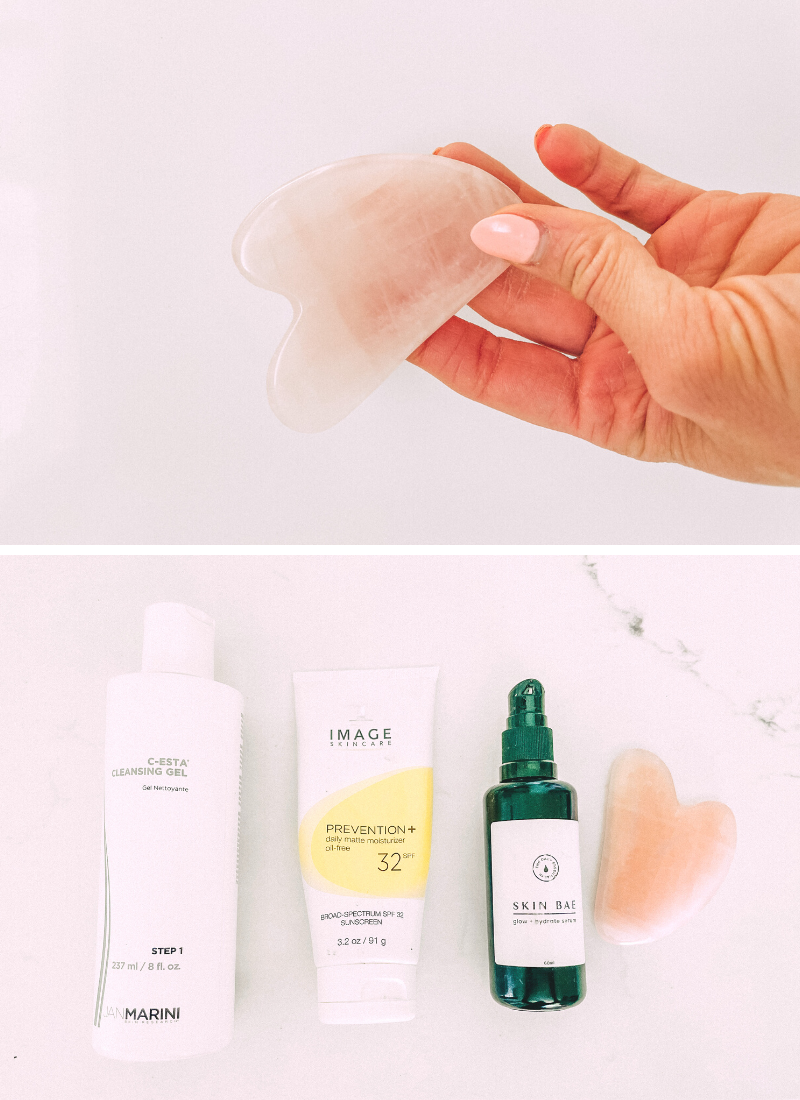 Step 1
Your first step of your gua sha facial is to cleanse your face. You want your skin to be clean so you aren't massaging dirt or anything else into your pores. This would defeat what you are trying to do!

Step 2
Now that your face is clean, you'll grab your facial serums or facial oil. I love to use Skin Bae facial serum or another anti-aging moisturizer. When I do a gua sha facial in the morning, I always mix my serums or moisturizers with my sunscreen so I get the benefits of both products deep into my skin.

Step 3
Slather your skin with your facial serum (and sunscreen if you're using it). Then, take your gua sha tool and hold it in your hand. I'll take you through each area of your face and tell you how to properly use your gua sha tool.
*The most important thing to remember is to always move from the center towards your ears on your face, and on your neck you want to move the tool in long strokes down towards your collarbone. Also, you should do one side of your face/neck completely and then the other side if you want the ultimate benefits of this anti-aging secret weapon.
How To Gua Sha Your Face and Neck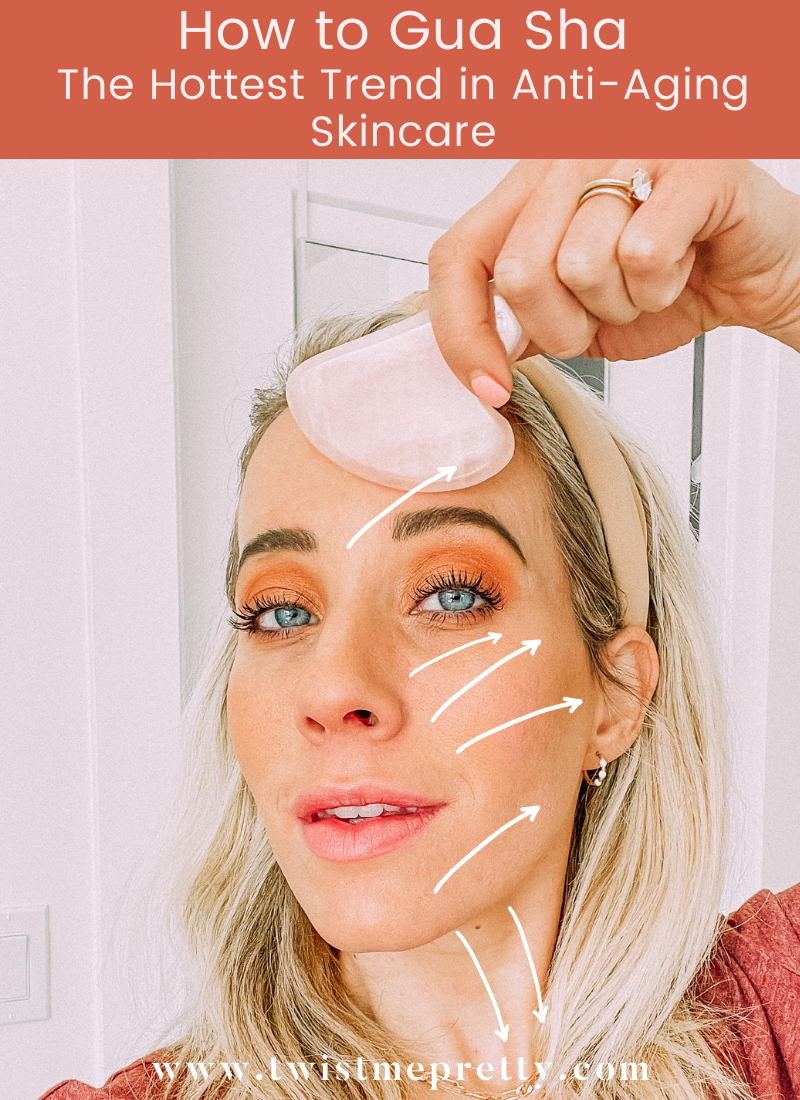 Neck- Holding the long curved edge against your neck, move downward from your chin to your collarbone in long, single strokes. Repeat each stroke 3-6 times before moving on to the next area. Move all the way around your neck before going on to your face.
Face- Start by your mouth and move the stone outwards toward your ears along your jawline. Repeat each stroke 3-6 times. Move up your face onto your cheeks with these same outward strokes. Be careful around your eyes. Experiment with handholds on your gua sha tool to find what works best for you. Because of the way the stones are shaped, you can use different sections on different areas of your face. I like to use the smaller sides of my gua sha near my eyes and nose.
Forehead/Brows- Now that your face is done, continue going upward and working on your forehead and brow line. Use the same outward and upward strokes on your skin, repeating the strokes as you go.
Repeat these steps with the other half of your face.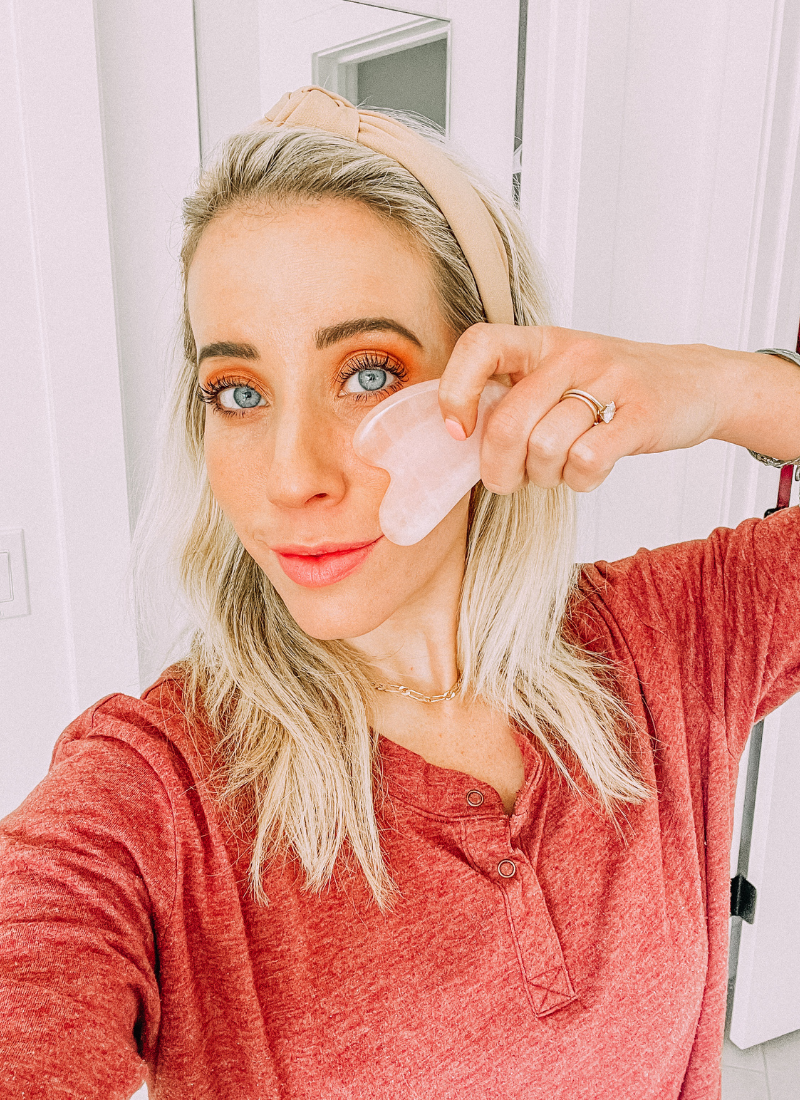 Why I Love Gua Sha
You'll be amazed at what a difference gua sha can make to your skin! After I'm done giving myself a gua sha facial I love the results. I can tell my face is more firm, smooth, and glowy. I feel more confident and ready to face the day ahead of me. It's so important to take care of your skin as you age. I'm learning more and more that I am worthy of the time it takes to take care of my skin and myself. No matter how busy you are, you are worth the time and effort it takes to feel good about yourself. Never forget that. To see a fun Instagram Reel on gua sha, check out my new Instagram account @twistmepretty or watch the video below! And to find out how I handle life with my 4 kids, 2 step kids, and a new husband, follow my personal account on Instagram @abbylhoskins.
View this post on Instagram