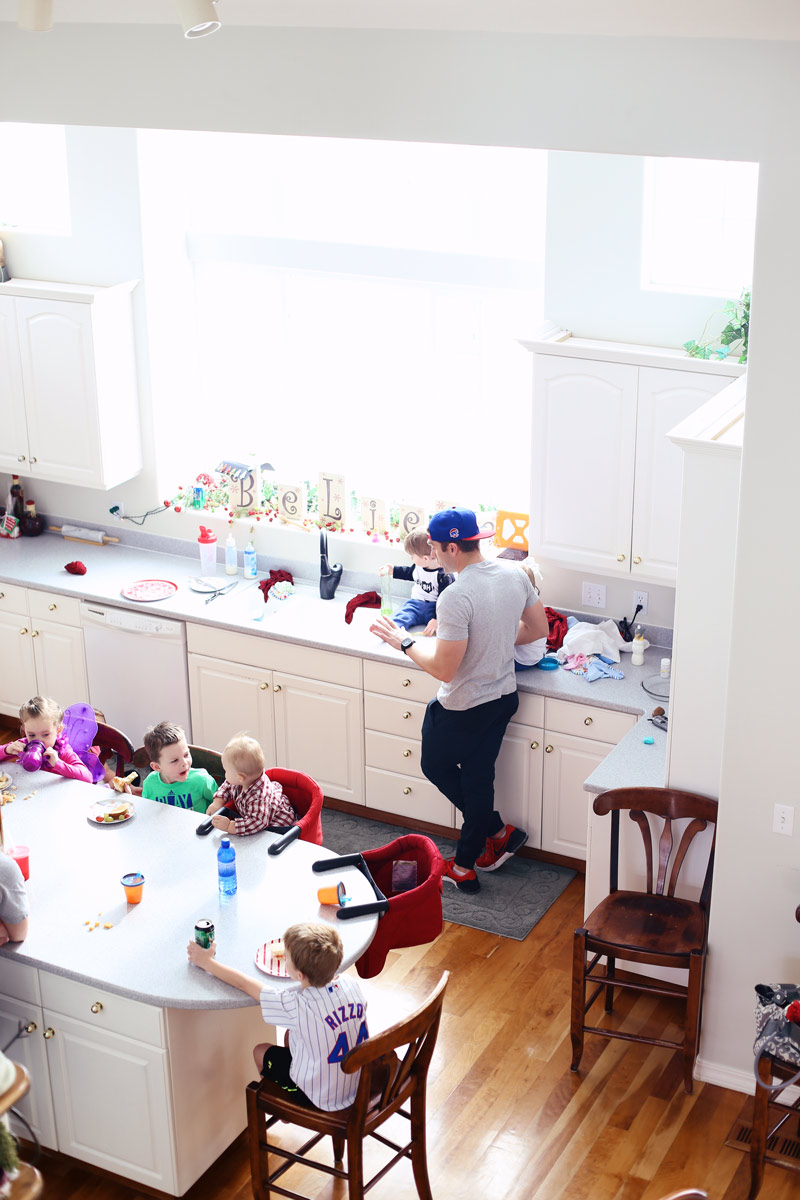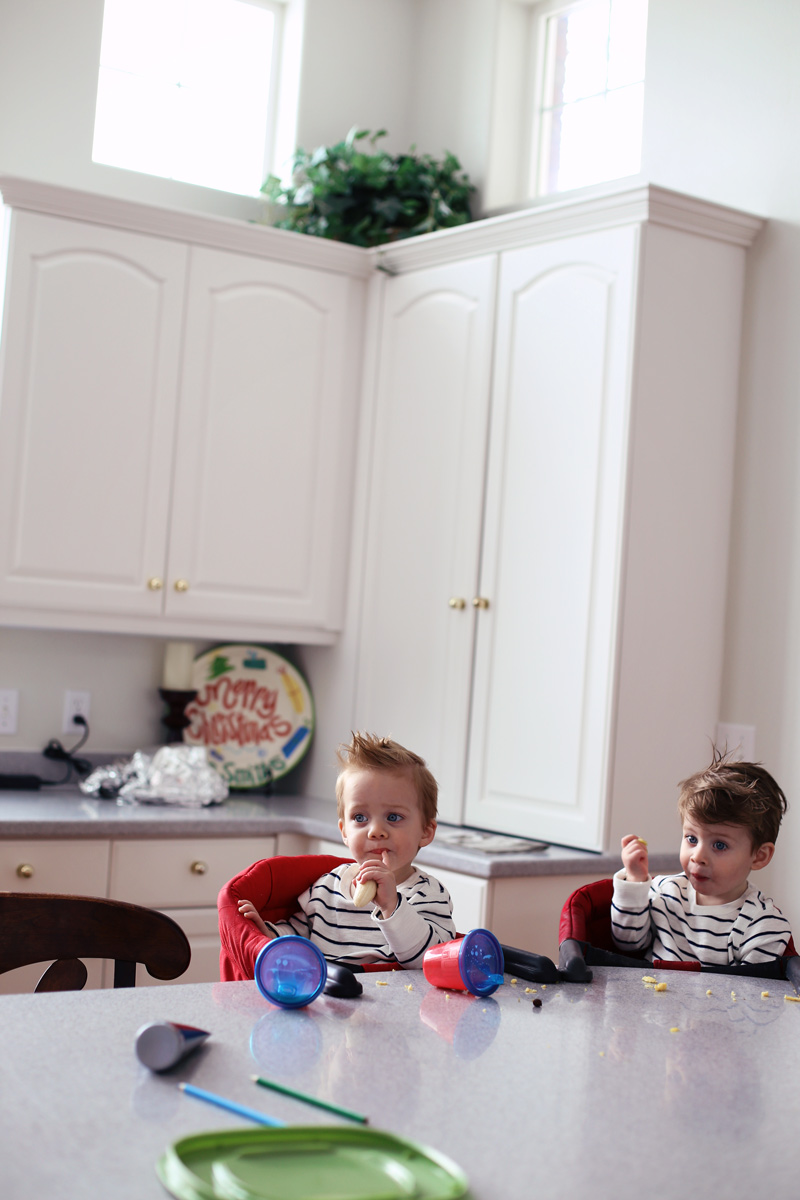 The last couple months have been… well. I'm not really sure what to say. For the most part, I'm a glass-half-full type of person – we leave the negative nancy-ing to Brian haha! Every relationship needs one, right?! But lately, I've just been so overwhelmed. A lot of it I'm sure has to do with selling our home, moving across the country, living in a new space with none of our things, and running my business as if nothing were going on in the background. All during Christmas. GAHHH, I literally have anxiety just thinking about the last few weeks! But mostly, I'm overwhelmed with our kids. The babies are now 18-months old… it's the age I've been dreading. I've already had two 18-month-olds, I know the drill. It's survival mode. Lock all the cupboards, expect drawers to be re-organized by little hands, forget about healthy eating. Or eating in general, because let's be honest, it just all ends up on the floor. I've been gearing up for this age since they were born, and I thought I was ready. I thought I was mentally prepared for what two 18-month-olds had in store. Bring it on, I said…
I had no idea. They're just at the age where you can't really discipline them because they're too little but they are opinionated and passionate about EVERYTHING. The tantrums. They scream and yell and fight with each other. They are like little Tasmanian devils and they destroy everything in their path. Back in Ohio, it wasn't an issue because if I wanted to leave the mess out, I could leave the mess out. Ya know? Honestly, no event is worth leaving the house for because it's just too exhausting and, half the time, impossible to take care of them all with only one adult. And now we're in a new time zone with new people and they're just always on edge. Any time someone puts on their shoes, or reaches for a coat, they freak out because they don't want to be left behind. Poor babies, they've really been through so much over the last few weeks.
I've taken some time off, just so I could breathe and try to be here with my family. But my fingers have missed the feel of the keyboard. I feel like I can control what happens here. Like what I do here means something to people. And I know mothering is the most important role, but lately I feel like it's just insanity! And it ebbs and flows. Right now it's just harder than it's ever been. And I've wanted to post about how much I loved 2016. How much I'm grateful for our growth as a family, how strong we became and how lucky we were to sell our house and move home. And I've wanted to remember all the sweet moments with my babies who learned to crawl and walk and play and they've truly become little people that we couldn't image this life without!
I've wanted to share how Boston learned to read, how brave he is for finding new friends and leaving old ones behind. How impressed I've been with Brian, his ability to manage literally everything is unreal to me. He works harder than anyone I've ever met. And Savy. She has become so helpful! Her imagination, her story telling, her ability to bring a smile continues to surprise me. All I can think right now though, is how hard it's been and how much I want to say good riddance to 2016. And that's I think the real reason why I've been silent. Because if I can't come here and offer you something good, then I need to just pause until I can.
Right?
I've been thinking a lot about this and have realized that displaying only the happy parts of life — that's the problem with blogging! With those perfect instagram feeds that make you feel like you have the worst life in the history of lives and you just want to crawl under your bed and cry. "Man, they've sure got their crap together. I seriously SUCK at life." "Wow, does her family really eat that?" "Does she really wear that out with her kids? I'm such a slob!" "Didn't she just have a baby? HOW!" If you've ever thought any of those things about me and my family, this post is for you. Life isn't the perfectly-curated instagram feed. It's not singing through wild flowers with the perfect outfit and most beautiful lighting. Life is messy. And it's a shame that we don't share the struggles more often. I think it's because it makes you extremely vulnerable. Will people be annoyed I'm complaining? Will they think I'm ungrateful?
Life isn't always perfect, or pretty, or organized, and the hairstyles aren't always Pinterest-worthy. In fact, they're usually not. And the kids are usually fighting, the house is always a mess, we usually eat junk food, and the ingredients for those homemade quinoa muffins I found while searching kid food on Pinterest go unused. Again. Don't compare your life to the fake feeds you see on instagram. And also, don't judge someone who you think has their shiz together, because I can guarantee you they don't. Be kind. To yourself and to others.
2016 beat the life out of us. It stretched us, pulled us, it forced us to serve others, to exercise faith in the Lord. It gave us more joy than a person deserves, more belly laughs and sweet moments that will be etched into my memory forever. And I don't expect 2017 to take it easy on us either. I honestly think it's just been preparing us for what's to come. And saying that out loud terrifies me a little bit. But one thing is for sure — I'm happy and incredibly grateful we get to do it all together.
Bring it on 2017.