New Year's Eve? Already?! What can I say, I'm on top of it. This week's hair tutorial is such a fun, flirty and edgy hairstyle – I'm a little bit in love! It will be perfect for those New Year's Eve Parties! Nothing like welcoming in the new year lookin' like a boss! I love the edginess of the cornrows paired with the big, elegant waves. To get those tight braids and the awesome texture in the curls, I'm using Aussie Instant Freeze Sculpting Hair Gel. This has been a gel we've been using for a little while now, I've mostly been using it on Savy's hair and to spike the boys' little faux hawks but recently found it gives the best texture in my curls! It tames those fussy fly-a-ways and works wonders when braiding.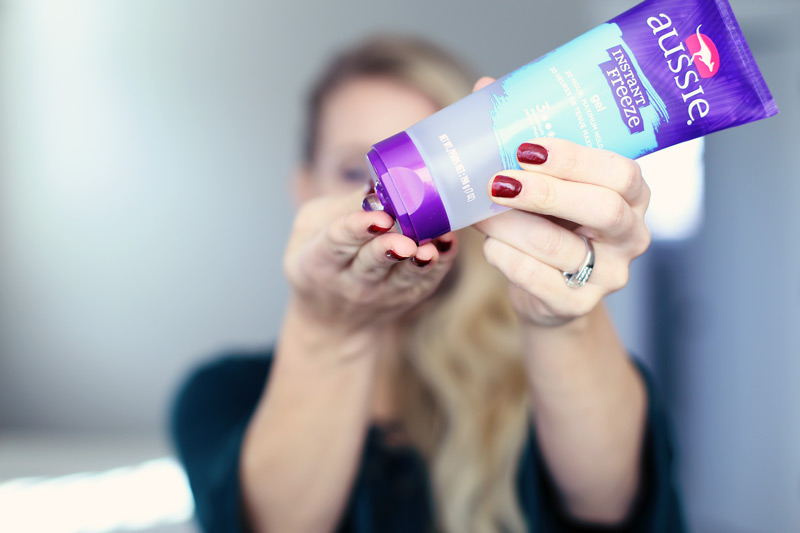 Rub just a little bit onto your palms, and then when it becomes tacky, scrunch up the curls to give it that perfect texture! I love it because it doesn't weigh the hair down and it gives the hair a nice bit of volume!
Cornrows are typically styled as dutch braids but I prefer the french braided look with this hair style, they give it a more softer feel!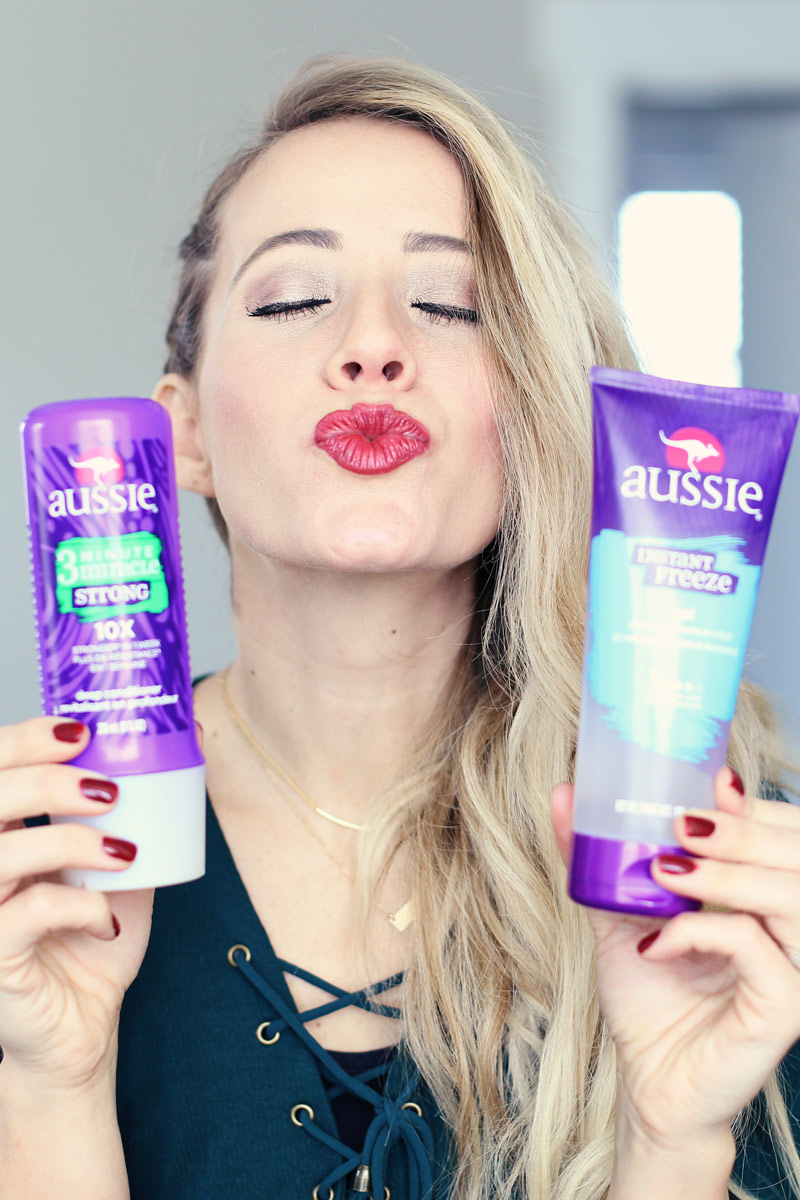 Lip color – Sheer Berry mixed with Plumeria! Want to know more? Click here!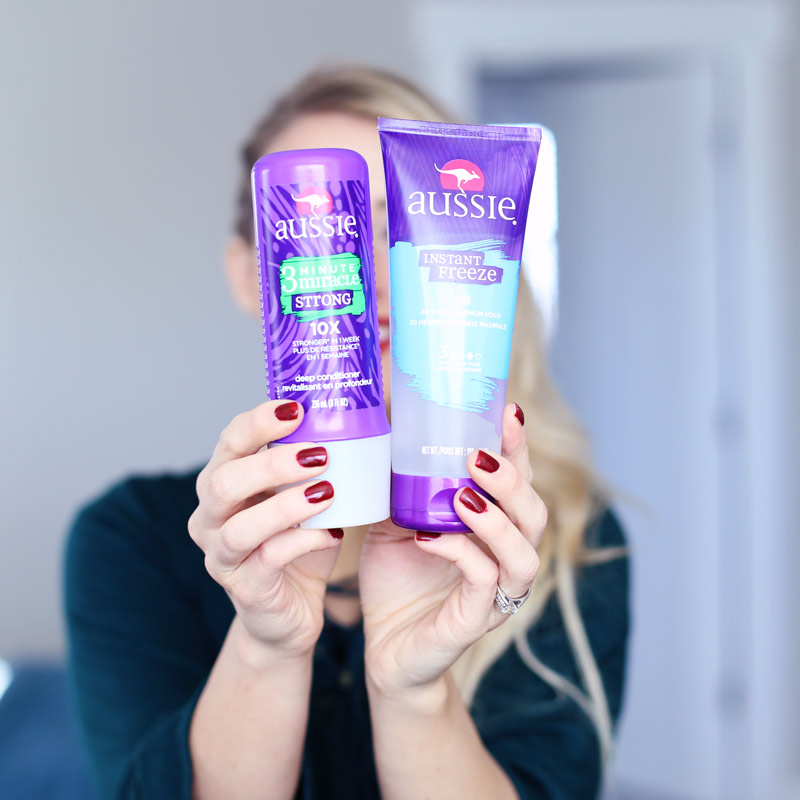 This 3 Minute Miracle Strong Conditioning Treatment from Aussie is another favorite — it makes my hair feel SO SOFT!!!! You put it on after you've washed and conditioned your hair, leave it on for three minutes and rinse. It just leaves your hair feeling clean, extra soft and ready to be styled.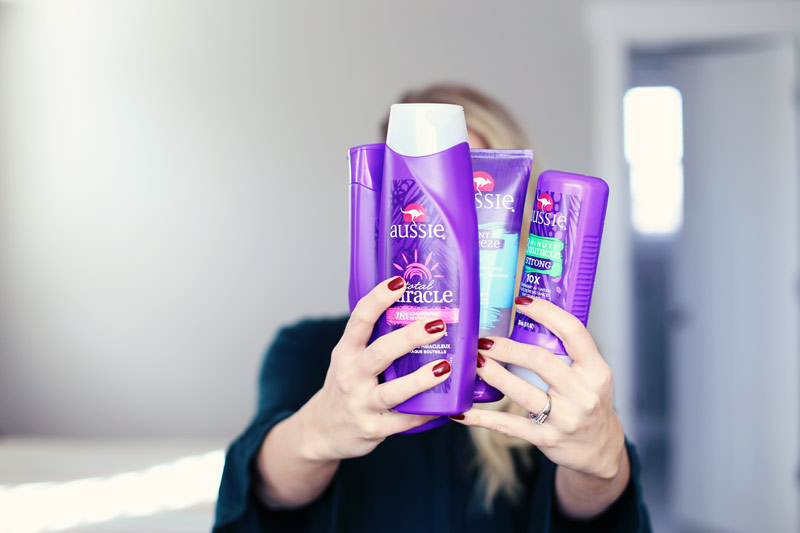 The other products I've been using are the Aussie Total Miracle Collection 7N1 Shampoo and Conditioner. It strengthens against damage, has split end protection and makes your hair feel so silky soft. It also has nourishing moisture and humidity control while adding brilliant shine and lasting smoothness. You combine that with the classic Aussie fragrance, the unbeatable price and the Amazon 2 day shipping? You can't beat it.
Speaking of Amazon, here's a link to all the Aussie products I'm using >>> https://spr.ly/Aussie-2711-127. If you have Prime, you can get them in 2 days annnnnd while you're there, check out the reviews on all the products. They're around 4.5/5 stars with hundreds of reviews! Now that's what I call aussome… haha!
Here's the video to the tutorial and if you'd rather see a step-by-step pictorial, scroll just a little bit further!

This content was sponsored by Aussie but all thoughts and opinions are my own. I hope you enjoy following along! #ad