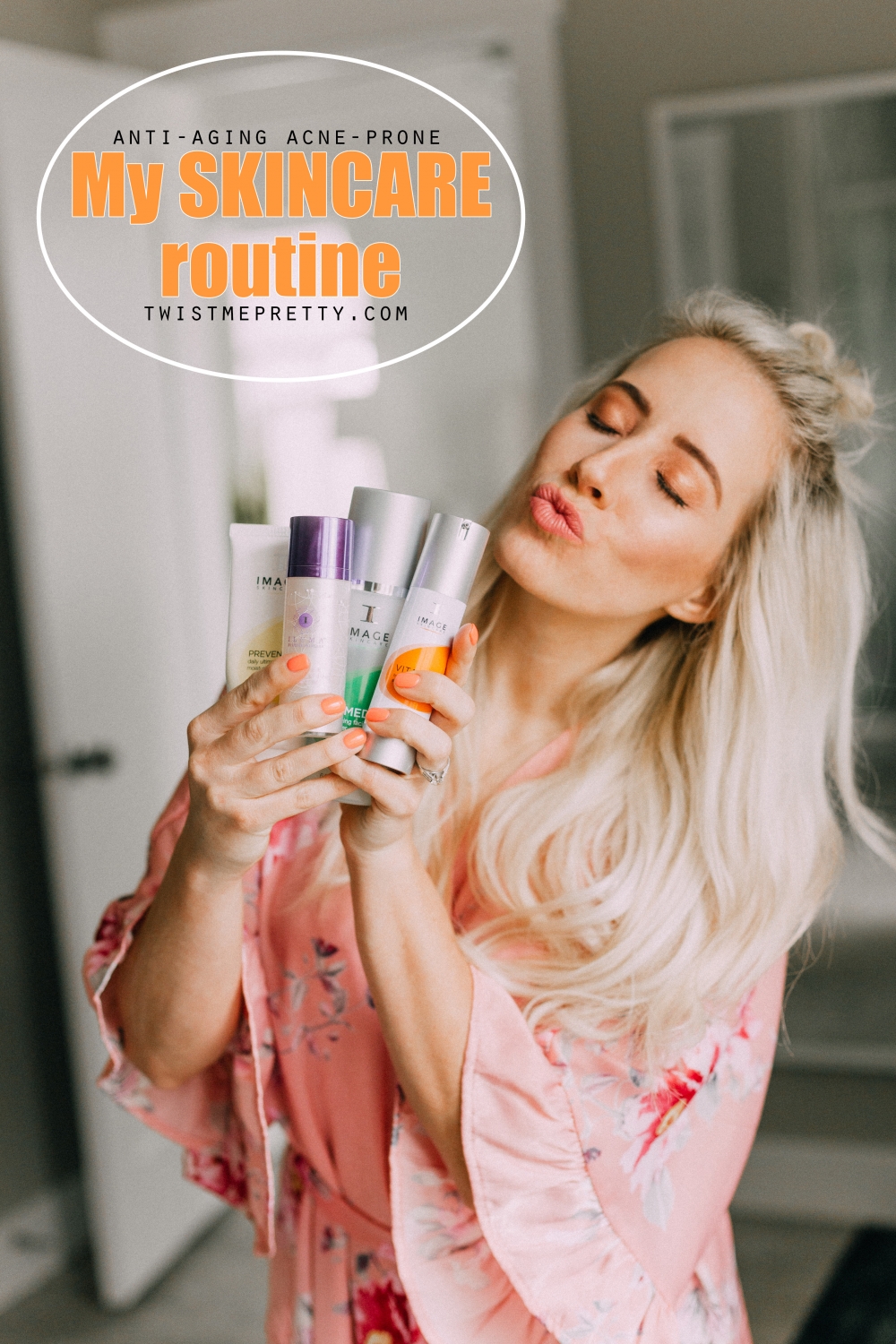 Alright you gorgeous people. I'm FINALLY dishing my skincare routine and this IS NOT SPONSORED. I am in no way affiliated with these products, I just genuinely love them and share them with everyone who asks!
First, read my acne story HERE.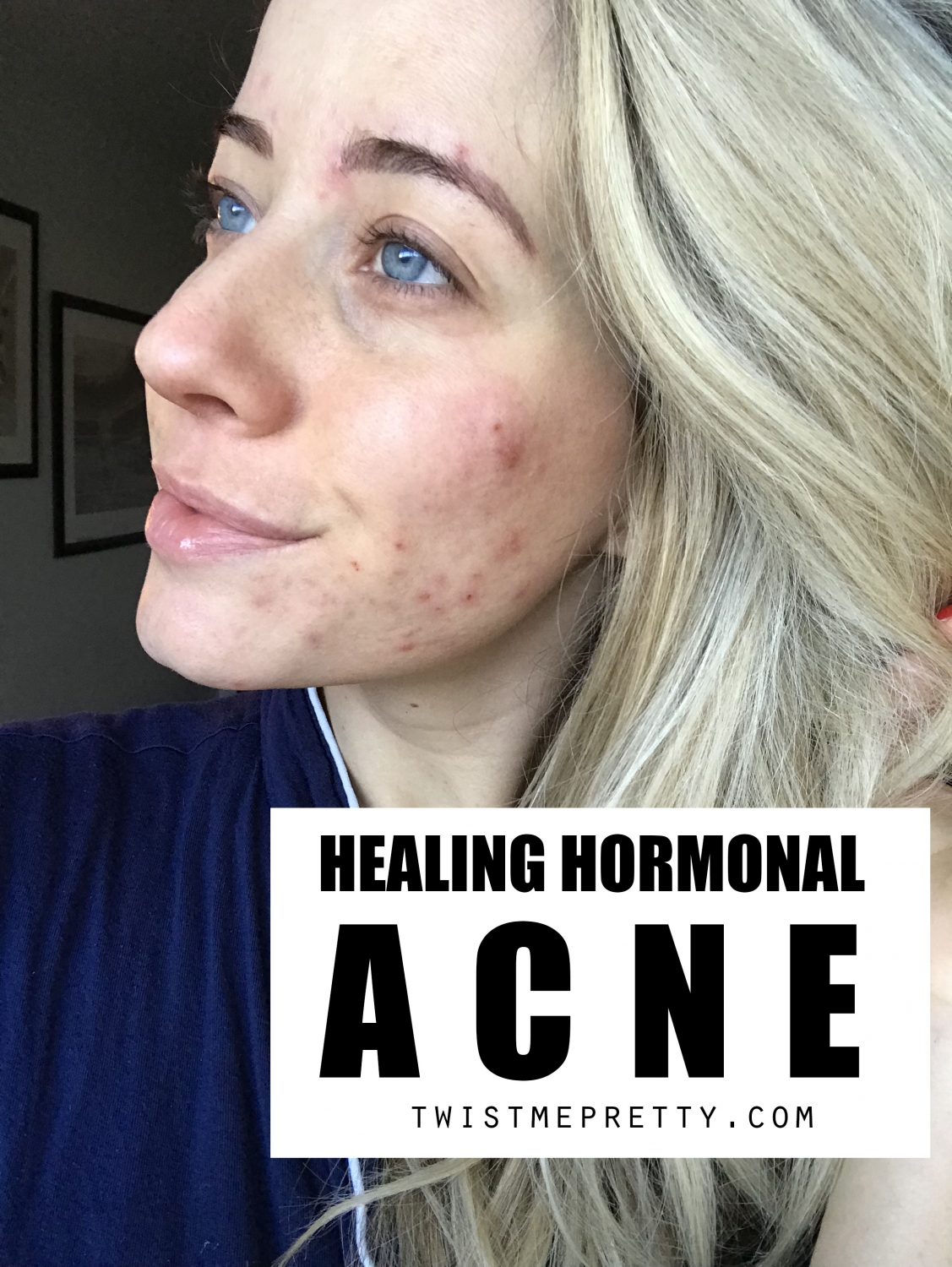 Hopefully it gives you a glimpse as to why skincare is so important to me. I also talk about the meds I take, supplements I love and other things my esthetician (reach out to her, she does online consults and is AMAZING [email protected]) has done for me to help clear everything up. It's been a long road that's for sure and I'm so happy that for now at least, I'm on the other side of it.
MMK. Let's dive in.
Most of the products I use are from Image. I was turned onto the brand by my esthetician and initially just loved the smell of them! Over time though, as they started healing my skin I grew to love them deeply. And guys, the SMELL OF THEM!!! They're powered by botanicals so they just smell amazing and the brand is very conscious of using safe but affective ingredients. Let me walk you through my favorite ones and how I use them!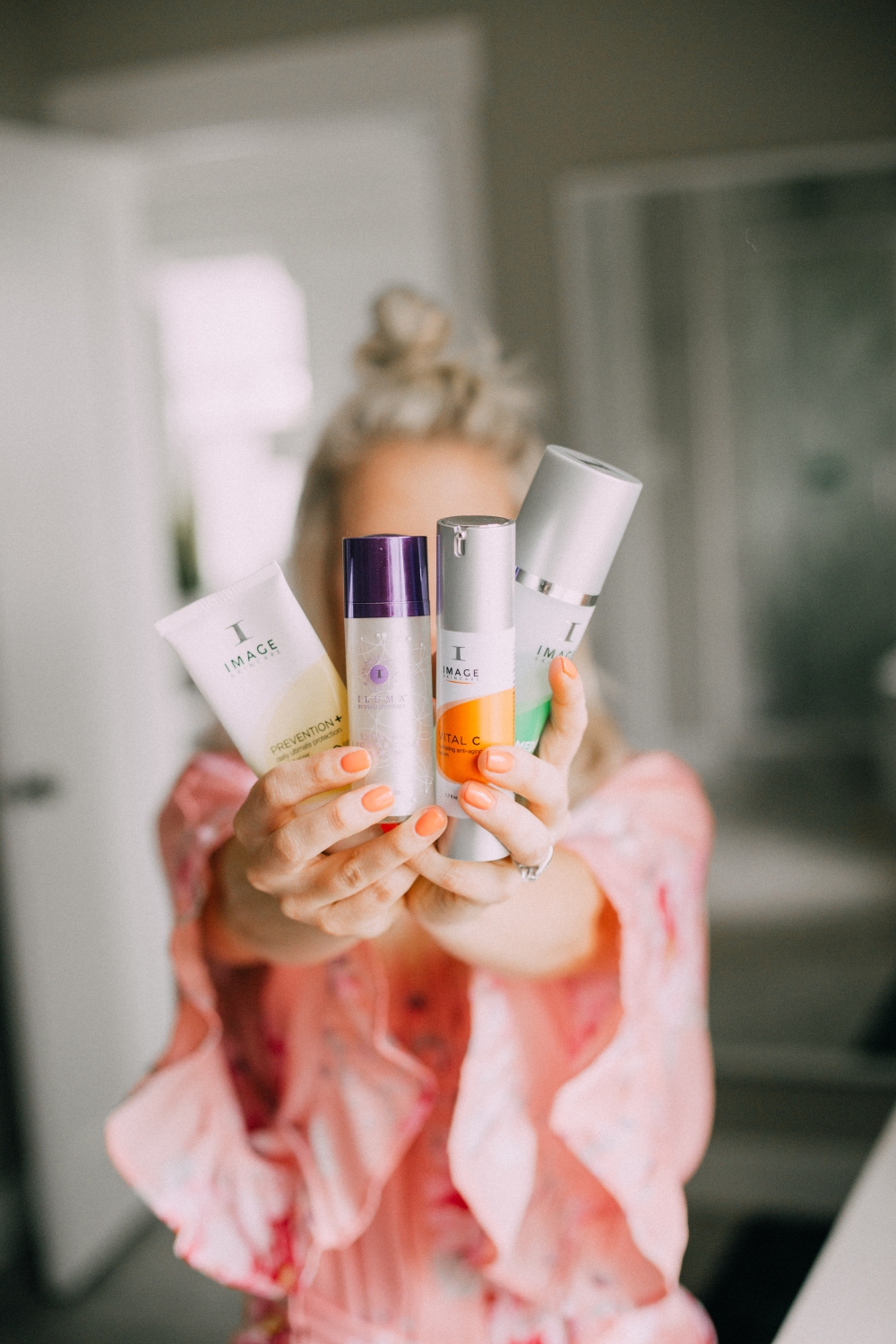 Step one: Ormedic Balancing facial cleanser. This cleanser is as mild as they come!! Everyone asks what makeup remover I use and honestly, I don't need one because this cleanser does such a great job of sweeping away any makeup and impurities. At the same time it's so gentle and soft on your skin. When you have acne it's especially important that you're using a mild cleanser and that you're not hardly touching your face when you wash it. You want to be as gentle as you can! Ditch the Clarisonics and the PMDs because they're just aggravating your sore skin! I haven't picked up my Clarisonic or my PMD in a long time, can you image dragging sandpaper over that sore face up there? OW! Now that my skin has cleared up though I'm contemplating bringing them back out because I do believe they work!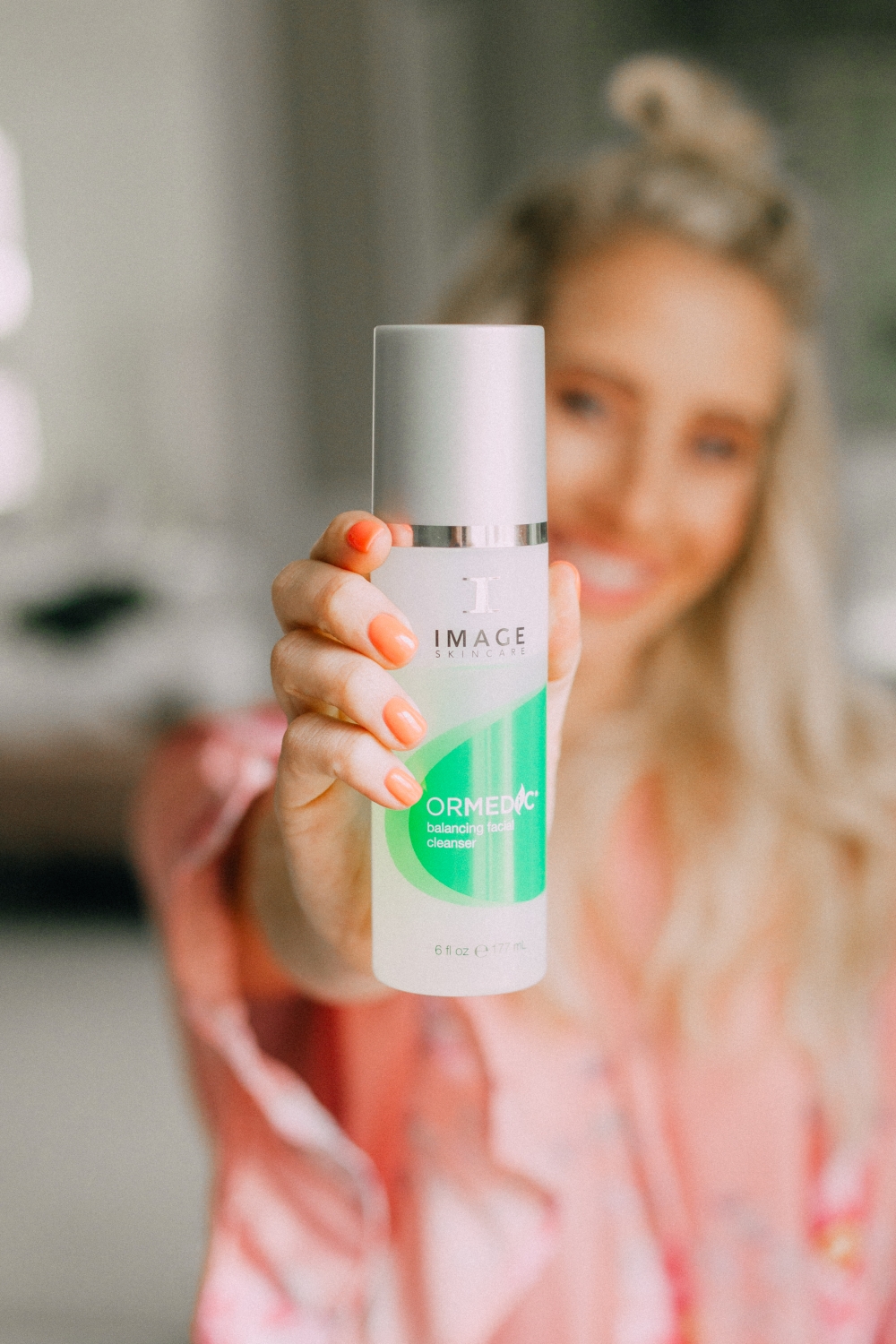 Step two: IMAGE Skincare Iluma Intense Lightening Serum. This is my holy grail product, I'm obsessed. First of all, it smells DIVINE. I look forward to slathering it all over my face every morning and night!! It addresses discoloration and redness which used to be a huge problem for me and over all it just calms and brightens the skin. If you're familiar with Obaji (which I've used and am totally meh about when it comes to acne prone skin) you're probably familiar with their lightening product that has hydroquinone in it? Anyway, it's a great ingredient that literally whitens everything off your face, but it's been banned now in several countries and there's just not much info about the long term side affects of it. I'm not saying I'll never use it haha but the Illuma Lightening Serum is a safe and more natural alternative if you need to even out your complexion! One pump is all you need and you'll just gently slather it over your entire face, making sure to be extra gentle under your eyes.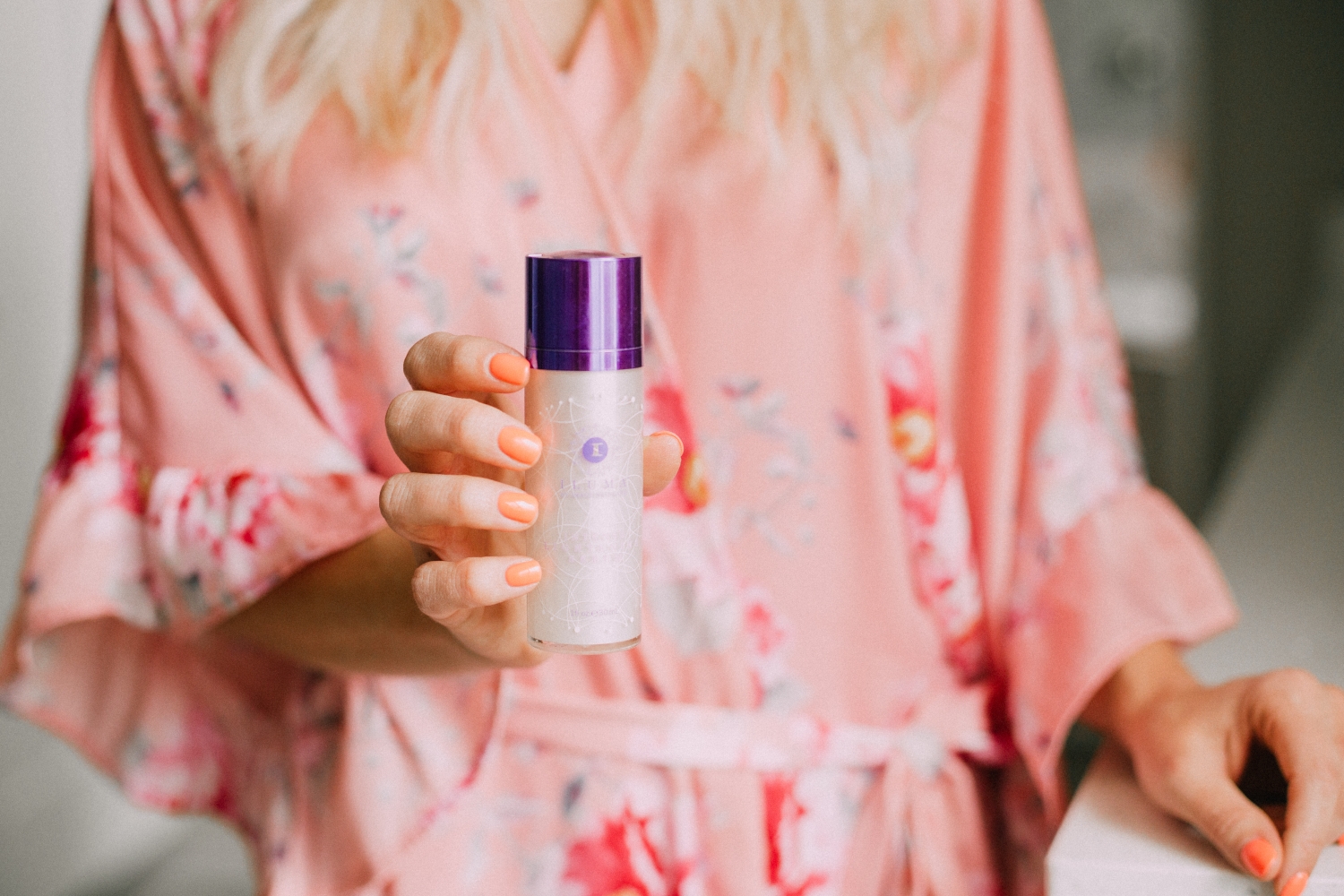 Step three: PREVENTION + daily ultimate protection moisturizer SPF 50. I've been terrible at using SPFs because they've either made me break out or they smell terrible and it just grosses me out to put them on my face. This stuff is BOMB. It doesn't smell, it's so lightweight and is quickly absorbed into the skin + it's got a broad spectrum SPF of 50! I also have this matte / oil-free moisturizer with a 32+ SPF which I really love too. Protect your skin though, you have no idea how badly I wish I would have used an SPF when I was younger. And if you won't listen to your mom, because you're stubborn, listen to me! It's important so don't discount it.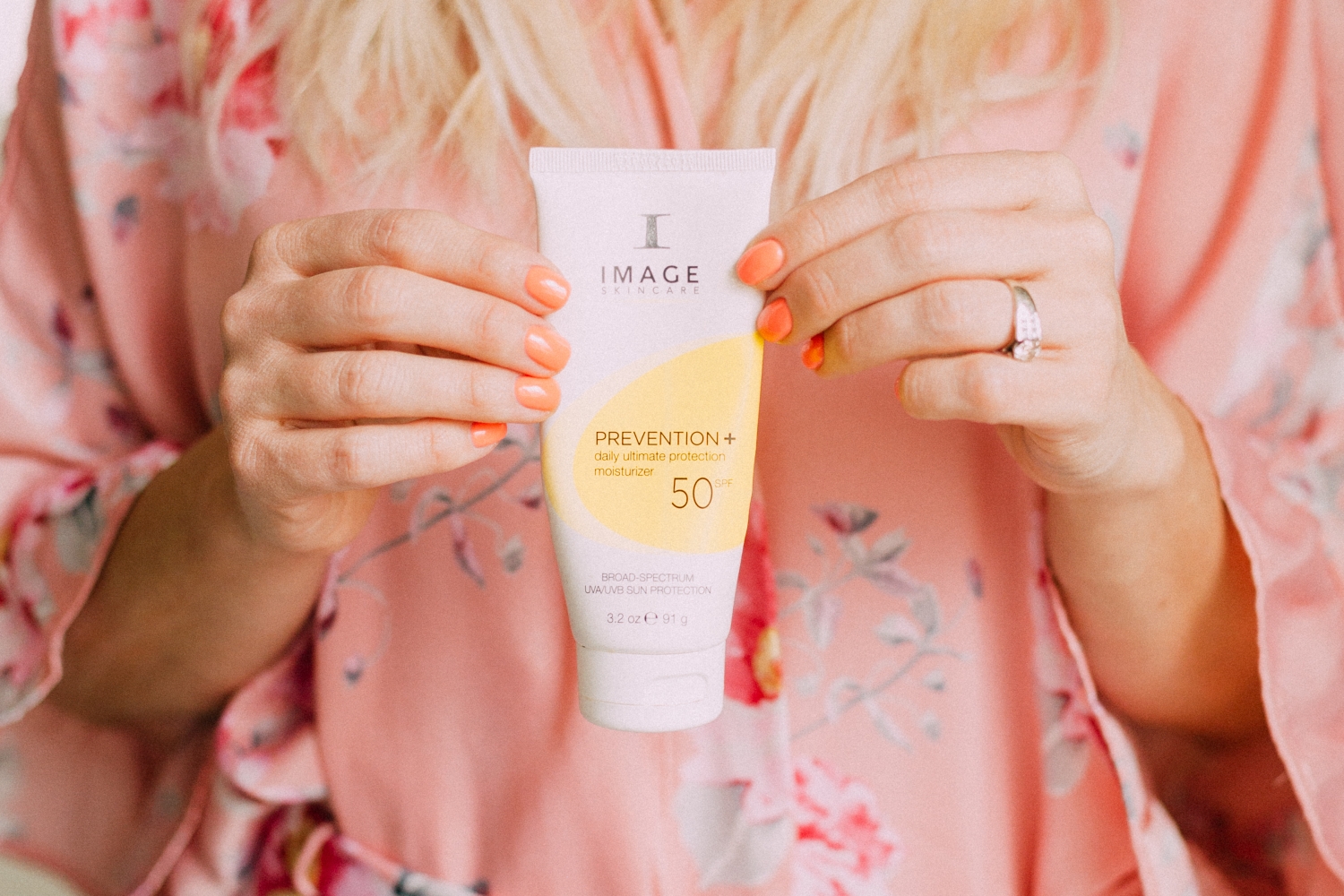 Those are typically the only three products I use in the morning! I have another serum which I put on right after my cleanser that I'll share a little bit later. Right now though let's move onto the…
NIGHT TIME ROUTINE! Step one is the cleanser, step two is the lightening serum and step three is this guy.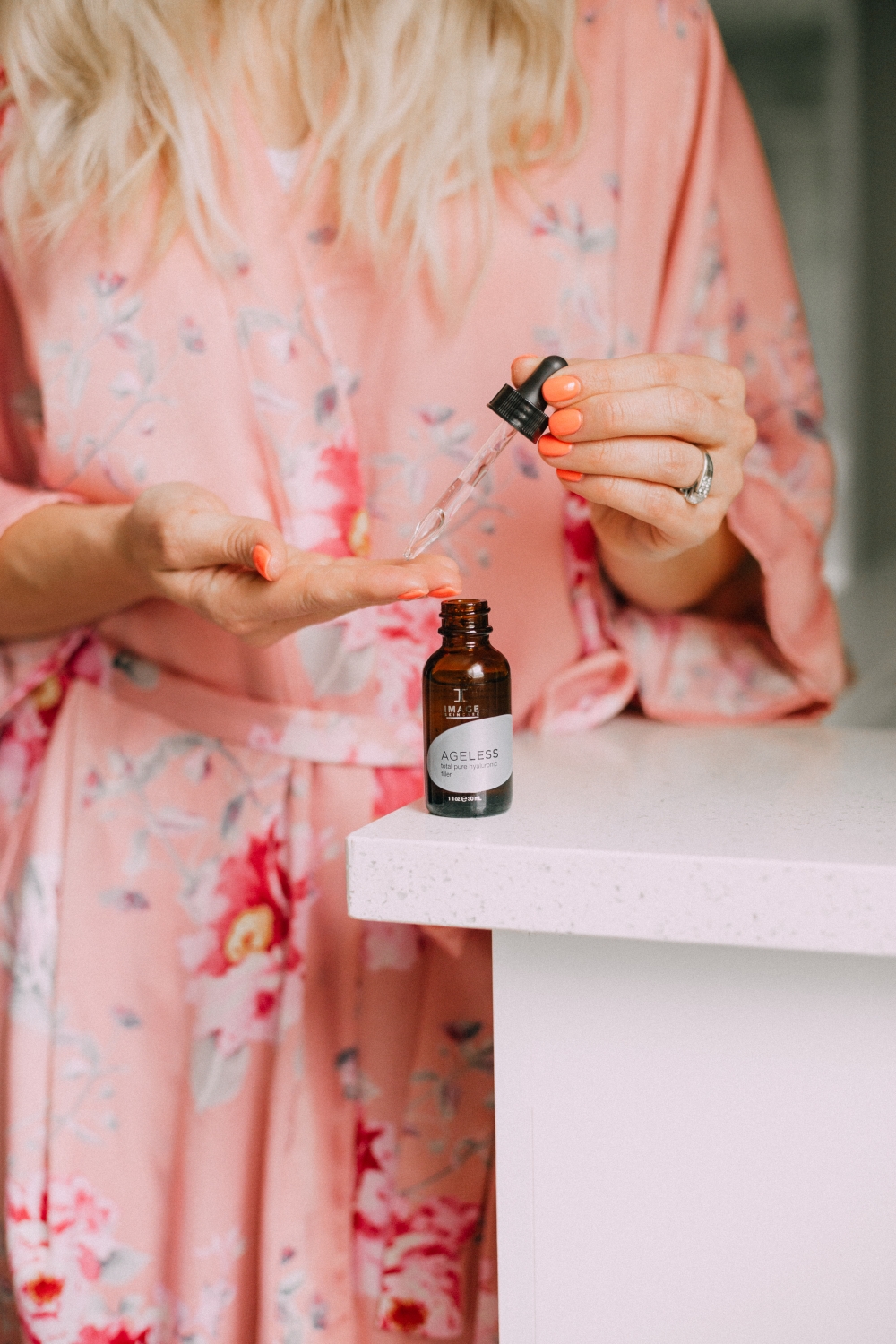 Step Three: AGELESS Total Pure Hyaluronic Filler. This product you have to buy on their website, kind of annoying because I'm not sure what they charge for shipping as I just always get it when I see my esthetician Lisa. It's worth it's weight in gold! Stealing from the description on their website, it's a concentrated topical filler that contains six forms of lower and higher molecular weight hyaluronic acids that rapidly smooth away the appearance of wrinkles. I'm not sure what that all means but boy does it deliver! I'm 31 so this whole aging process is really starting to creep up on me. When I started using this product though I just felt this immediate boost of hydration to my skin. As it says, it fills in fine lines without an injection. Not sure how it does it, but I don't care how as long as it works haha!
I put a tiny bit on my fingers and gently smooth over my entire face. I like to wave some air on my face with my hand right afterwards. It's just soothing and helps it a dry even faster.
Step Four: Image Skincare Vital C Hydrating Anti-Aging Serum. This and the lightening serum are my every day staples. When I'm in a hurry I cleanse, use the lightening serum and then use this vital C serum as my moisturizer. IT IS THE BEST!!! I use it a lot of times in the morning too just because I love the smell and I love the way it makes my skin feel!
It supports anti-aging, obviously all these products do but it supports collagen and protects the skin against oxidative and environmental damage. If you buy anything from this post, it needs to be the Illuma Lightening Serum and this. I love it with all my heart!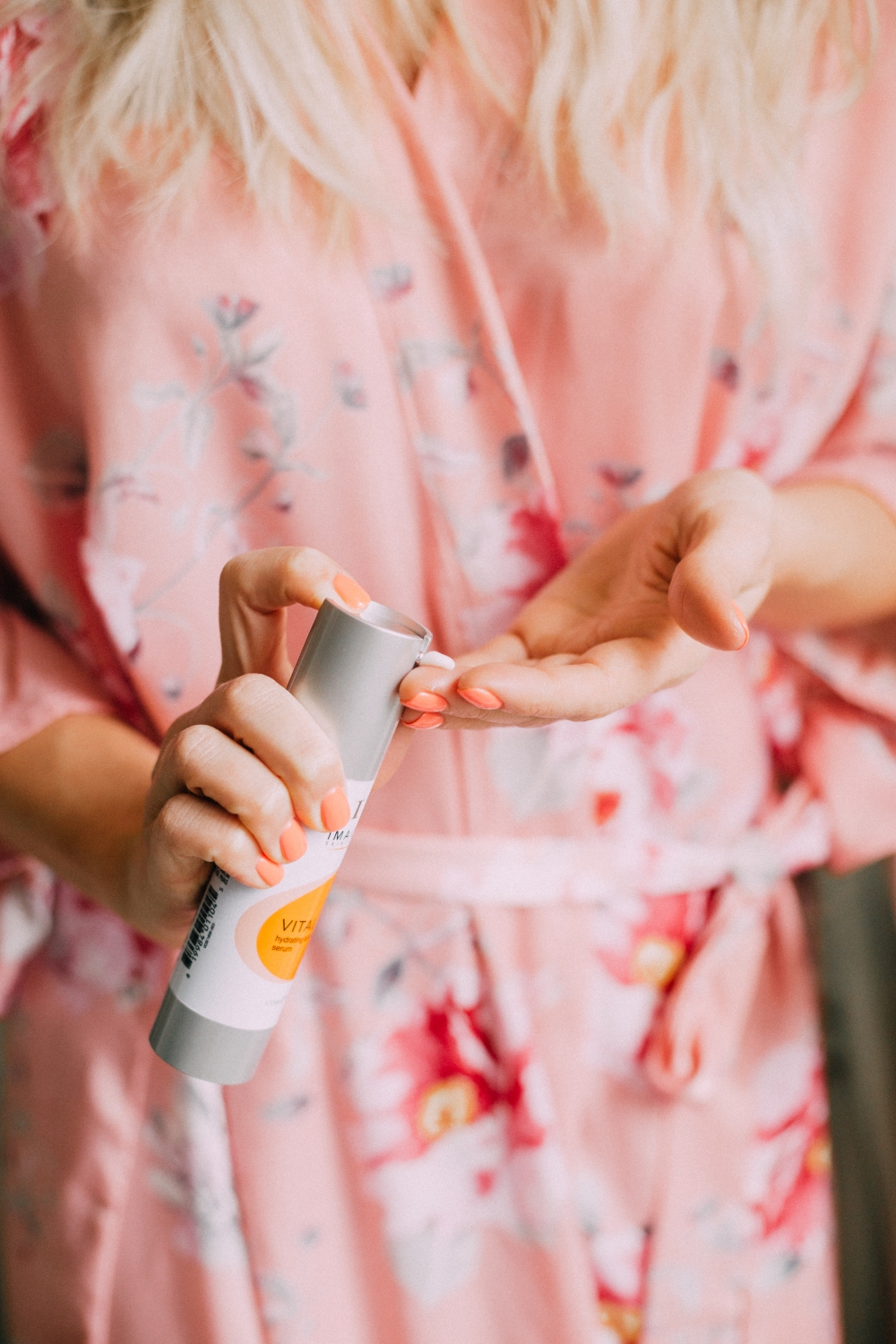 Step Five: Jan Marini Skin Research Age Intervention Duality. Okay it hurts my heart a little bit to recommend this product because it's SO expensive! If you're buying anti-aging products though, especially ones with retinol in them, you know how expensive they can be. I'm sharing this simply because this product was a game changer for me and if you choose to invest in it, I know you'll love it! Just look at the before and afters on Amazon, it's nuts.
It's a dual chamber product so on the left side you have a benzoyl peroxide treatment and on the right side you have your retinol. In the past these products have been incompatible for various reasons but Jan Marini is known world wide for its innovative technologies! This product reduces acne and improves the quality of the skin. Because it has Benzyl in it, you'd think it'd dry you out and make you flakey but that has not been my experience. I don't use it every day, maybe a couple times a week just because it is so potent, and that has helped me with savoring the product as long as I can!
If you're in your 30's, I'd recommend using a retinoid. They're some of the most proven, effective, and powerful options for treating skin issues ranging from acne to signs of aging. Talk with your dermatologist and just get on something!! You'll thank me, I promise.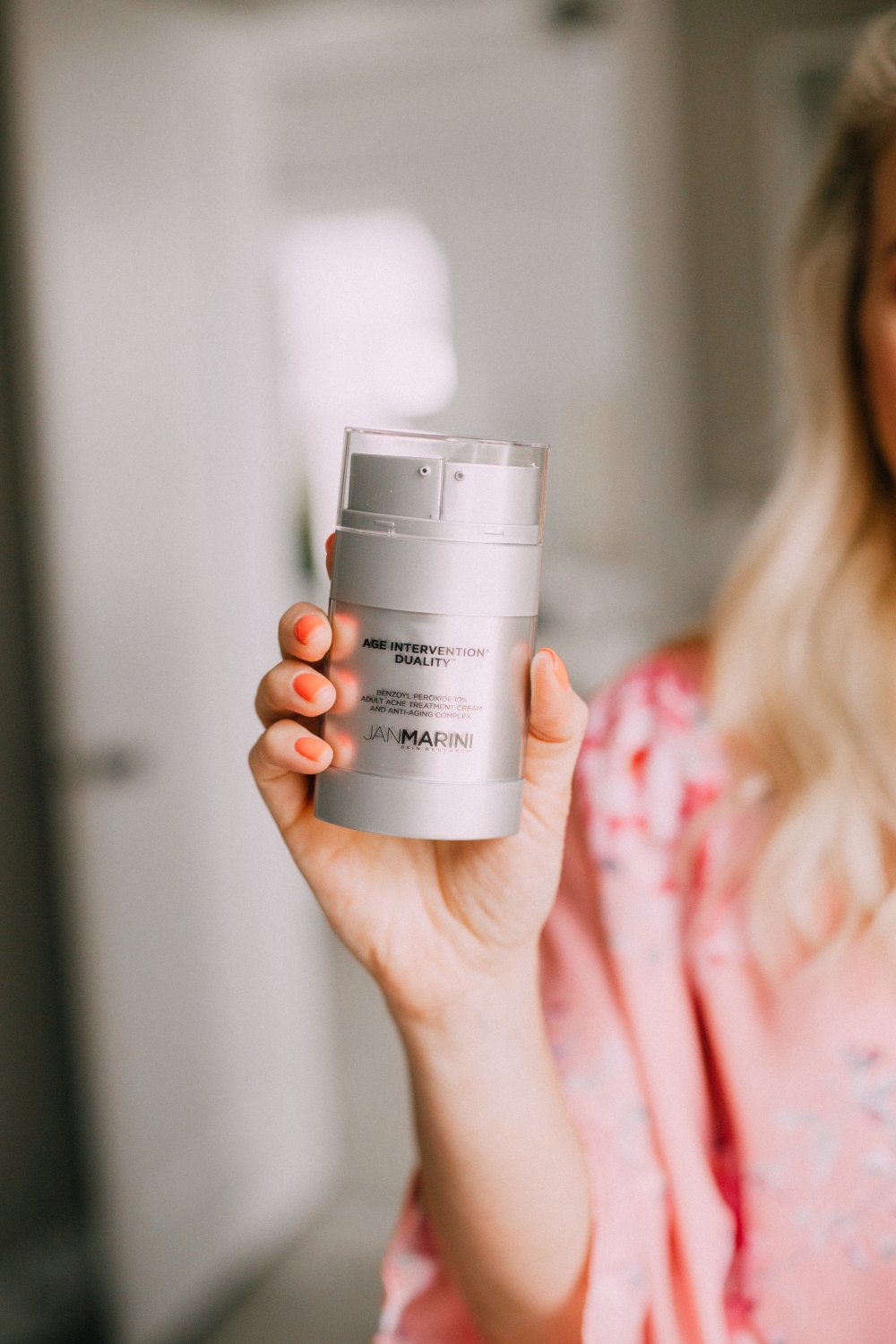 Other products that I use but didn't take pictures of are
The IMAGE Skincare Iluma Intense Brightening Eye Creme and the Jan Marini Neck Cream. I use these guys at night when I have time and love them both!! Again, they're expensive but they last forever and ever so just add to your collection when you can. And then there's the Jan Marini Bioglycolic Bioclear Face Lotion. I use this one a couple times a week in the mornings and I put it on right after I've cleansed my face. It has glycolic, salicylic and azelaic acid in it which just improves skin texture, reduces the appearance of pores and wrinkles.
It seems like SO MANY PRODUCTS!!! I honestly goes quick and takes me just a minute or two to wash my face every night so it's just not a big deal for me. I always look at my skincare routine as a chance to improve my skin and I've always loved taking that time for myself. Going to bed with my makeup on is just not an option, my skin can't handle it.
Please keep in mind it's taken me almost a year to finally buy all of these products! I started with the cleanser and lightening serum. Then I added the vital C and SPF. Those are my top four must haves and if you buy anything, get those. Then you can slowly add in the serums and treatments which are always a bit more expensive. But just one at a time is fine and that'll also help you notice how they're improving your skin. Let them show you they're working!
On top of my skin care routine I also take Spiranolactone and birth control to help with the cystic outbreaks and I talk more about that in this post here.
So that's it!! Whoa, kind of a lot!! You guys probably think I'm crazyyyyyyy!! I've just become such a skincare snob having gone through hell and back with it! Have you ever used Image? What are your thoughts? Do you swear by any products? Have you ever struggled with acne? I'd love to hear it in the comments below!!
Robe from Poppy and Dot