I have a dutch braid for you today! A Crown Dutch Braid to be specific. While the name of this braid may be long, the braid itself is super easy. The seasons are changing and warm weather is coming soon (I hope). This braid is perfect for all those picnics, outdoor concerts and hikes you might be planning for the upcoming warm weather.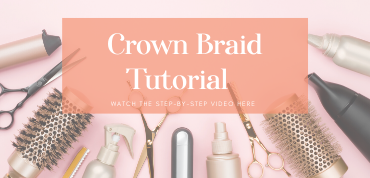 Another great attribute of this braid? It is great on short hair too! That is right babes, this crown braid is not just for longer locks but perfect for any length, specifically for short hair —and I will prove it to you with my crown braid for short hair tutorial.
It might look like a complicated styling feat, but this hairstyle is actually as easy as it is beautiful. It is so versatile that you can use for any occasion. Whether you have a special event, need to look pulled together for a meeting or are doing some extracurricular activities, this crown braid is a perfect way to spice up your look. Let me teach you how to master this style in a few easy steps:
Texturize
This style is much easier to master if your hair has a little grip. Spray a texturizer all over your tresses to add a little texture "grip". This will set you up for the perfect braid.
Divide your hair
Start by taking a small section of hair from behind your ear and divide it into three equal strands. Starting your braid from this point on the head will help your braid appear more seamless.
Start braiding
Begin weaving a Dutch braid into your hair by crossing an outer strand under a center strand, then weaving the opposite outer strand under the new center section.
Follow your hairline
Continue this process, following the hairline from one side of the head to the other and then round the back of your head, back towards your starting point. Include small sections of hair into the braid as you go. You'll start to see your crown braid forming.

Braid the remaining hair
Once you are almost back at your starting point behind the ear, weave the remaining hair into a three-strand braid and secure it with a hairband.
Add volume
Using your fingers, gently pull apart the braid to give it more volume. This will help your braid for short hair look fuller.
Tuck and pin
Tuck the end of your loose braid under the crown and use a pin to secure it in place. The goal is to make sure your crown braid looks seamless, so make sure any loose ends are hidden from sight.
Use hairspray to secure
Set the look by misting hairspray all over your head from front to back. This will keep your braid locked in place all day.
Crown braid complete!
I know everyone thinks braiding short hair is so hard but I think this hairstyle proves that there are plenty of styles and braids we can do with short hair! No matter what is going on in your life, the crown braid for short hair is a great look to add to your regular styling.
For the complete step-by-step tutorial check out my IGTV video!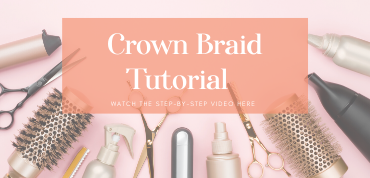 Abby