Yeah are you just as excited as I am for this tutorial?!
All the pictures and info are after the jump. CONTINUE READING!
First off. KAYLEY MELISSA! You guys! I've been admiring Kayley for years – she literally taught me how to french for cryin' out loud. She's a youtube superstar and as down to earth as they come. I really love when that happens. You picture how someone will act in your head from the way they are on their blog or youtube channel and when they don't live up to that online presence it's kind of a let down. She's exactly how I pictured her – just nice and friendly as can be. She reached out a few weeks ago, and after the initial shock and freak out of course, we decided it'd be fun to share a day 2 night hairstyle with you guys.
The criss-cross half up hair style that I'm sharing today has been on my blog before – I don't know if any of you recognize it? It was one of the very first hairstyles I ever blogged about when doing my first 30 hairstyles in 30 days segment back in 2011. Whaaa?! That makes me feel so old! Anyway, I thought it would make the perfect day time hairstyle and give Kayley a great place to start when creating a style for night.
What do you guys think? Naaaaiiilled it (name that movie) hahahah!!!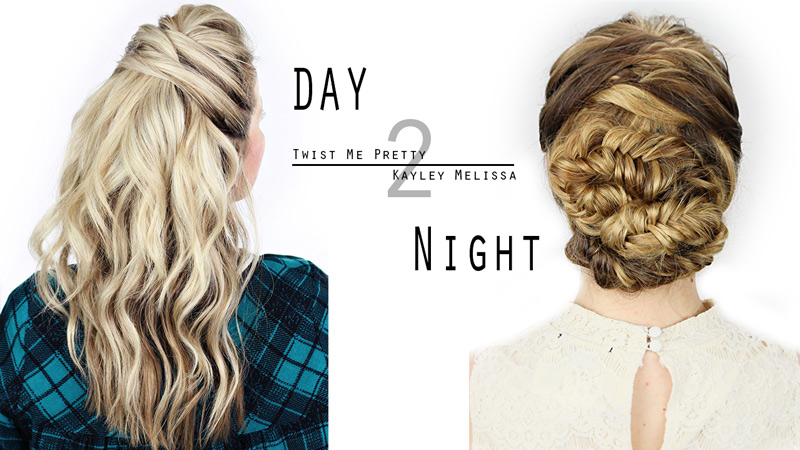 Here's the video tutorial, make sure you hop on over to Kayley's channel so you can see how she transitioned the down style into that gorgeous fishtail bun!
And some step-by-steps in case you want to pin 🙂

Step 1 / Using the arch of your eyebrows as a guide, gather a small section of hair using your index fingers.
Step 2 / After you've gathered the hair, twist it and push it forward a bit so you have some nice volume and then secure with a couple of bobby pins.
Step 3 / Next, use the end of your eyebrow as a guide and gather a small section of hair. I'm not picking up any hair from the back because I want as much hair left down as possible. You're just going to loosely lay the section of hair over the bobby pins from the pompadour
Step 4 / Repeat alternating sides. Make sure to cover any bobby pins with the next cross of hair
You can find a curls tutorial for this hairstyle here and make sure to visit Kayley's channel to see how she's transitioned it into a gorgeous updo!
Thanks for reading!! xoxo