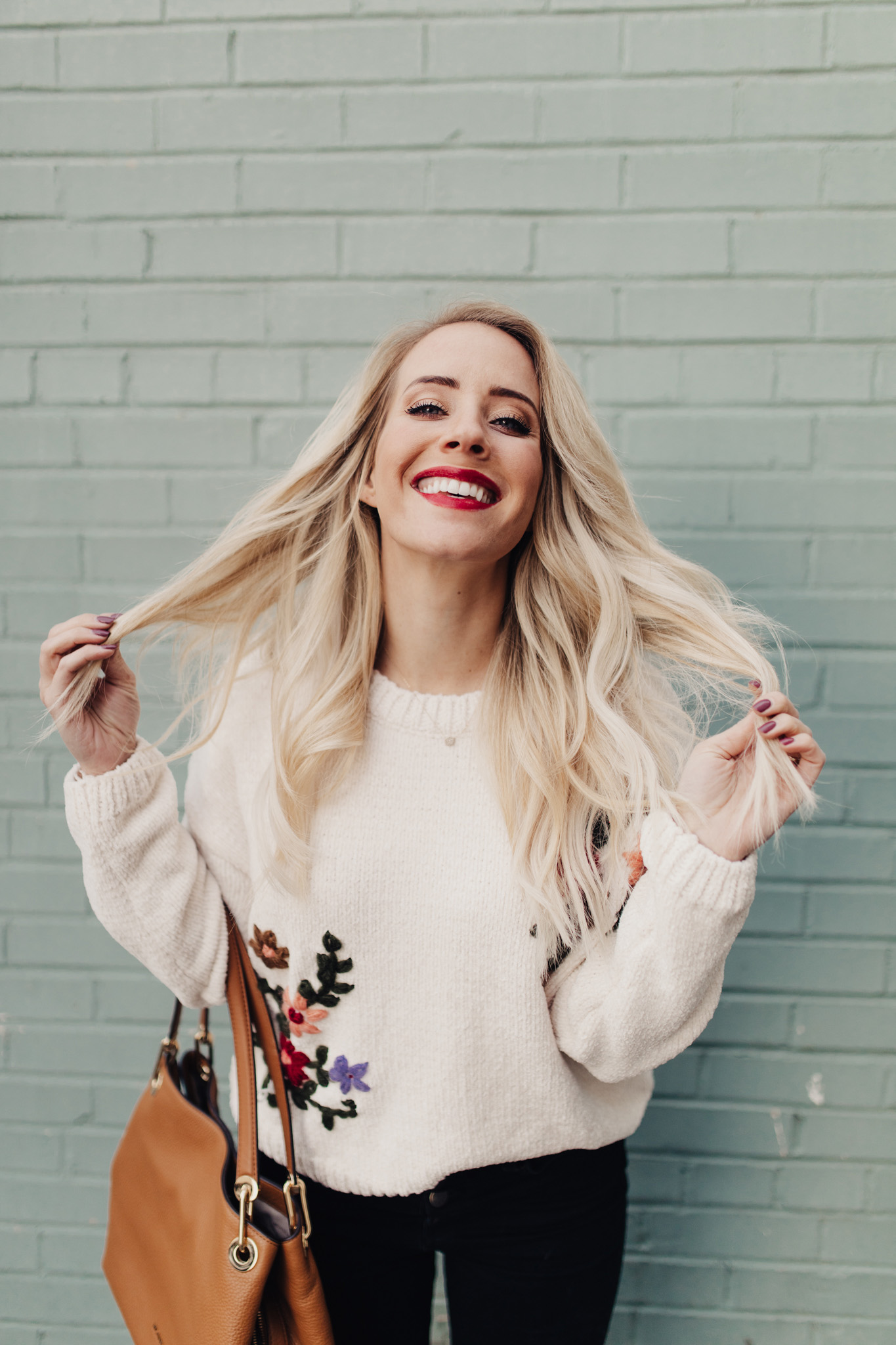 Hello loves! Happy Easter ?! I really can't believe April is right around the corner… why is time moving so fast? Besides this super cute outfit, I wanted to share a couple Easter traditions that we really love doing together as a family. The first one, I shared years ago in this post here. Before I became a Smith I had never heard of this tradition before but it's AMAZING!!! It's called the Easter Egg Race and it's something my kids look forward to every year. You basically make a track out of cardboard boxes, lay it over the stairs, and then race the eggs you dye or decorate. Every now and then the shell will roll off the egg completely and the yolk will pop out and go flying! It's a super fun tradition that provokes just good, quality family time. And if you've got older boys, they'll have so much fun building the track too!
The next thing is General Conference!! If you follow many Mormon bloggers, you might hear a whole bunch about it this weekend on your Instagram feeds. What is it?! It's a Conference that's broadcasted to over 16 million members of the church across the world. It's held twice a year, once the beginning of April, and once the beginning of October. Leaders from the LDS church will come together and testify of Christ! It's a chance for us to hear from our beloved Prophet and really get to know our Savior better. Listen to this talk here, it's one of my favorites, and it'll give you a better idea of what you might hear. I always receive answers to prayers and revelation for my family and it's always so fun to watch church on the couch in your jammies, hanging out with family and warm cinnamon rolls in the oven! There are four different sessions, we watch all of them. You can click here though and see if any of the times work for your schedule!
This next tradition we've done since I was a little girl — Easter outfits! The Easter bunny always brings my kids a new Sunday dress or outfit… it may or may not be for the cute Easter picture we take after church haha but nonetheless, my kids always look forward to it. I typically put things inside their baskets that they're going to need anyway. That usually includes new crayons and coloring books for church, board books, quiet time activities etc. We honestly don't go all out, and I don't put much candy in their baskets anymore. There's always just so much dang candy!
And last but not least, we love going to an Easter Egg hunt put on by a farm or city. There's one at Hee Haw Farms this year in Utah that we might go to if I can still buy tickets. Thanksgiving Point always has fun activities or there are usually ones at Elementary schools put on by the city. Just google "easter egg hunts near me" and you'll find articles of all the ones you can go to! Some of them will have face painting, train rides, helicopter drops! You name it you can find it!!!
What are some fun Easter traditions you like to do with your Family? We've really been focusing on a more Christ centered Easter. My brother and his family just adopted the tradition of having all the Easter bunny activities over a week before Easter. That way they can really focus on Christ and serving! I'd love to know what you do to bring the Spirit of Christ into your home but also keep that excitement of Spring for the little ones!!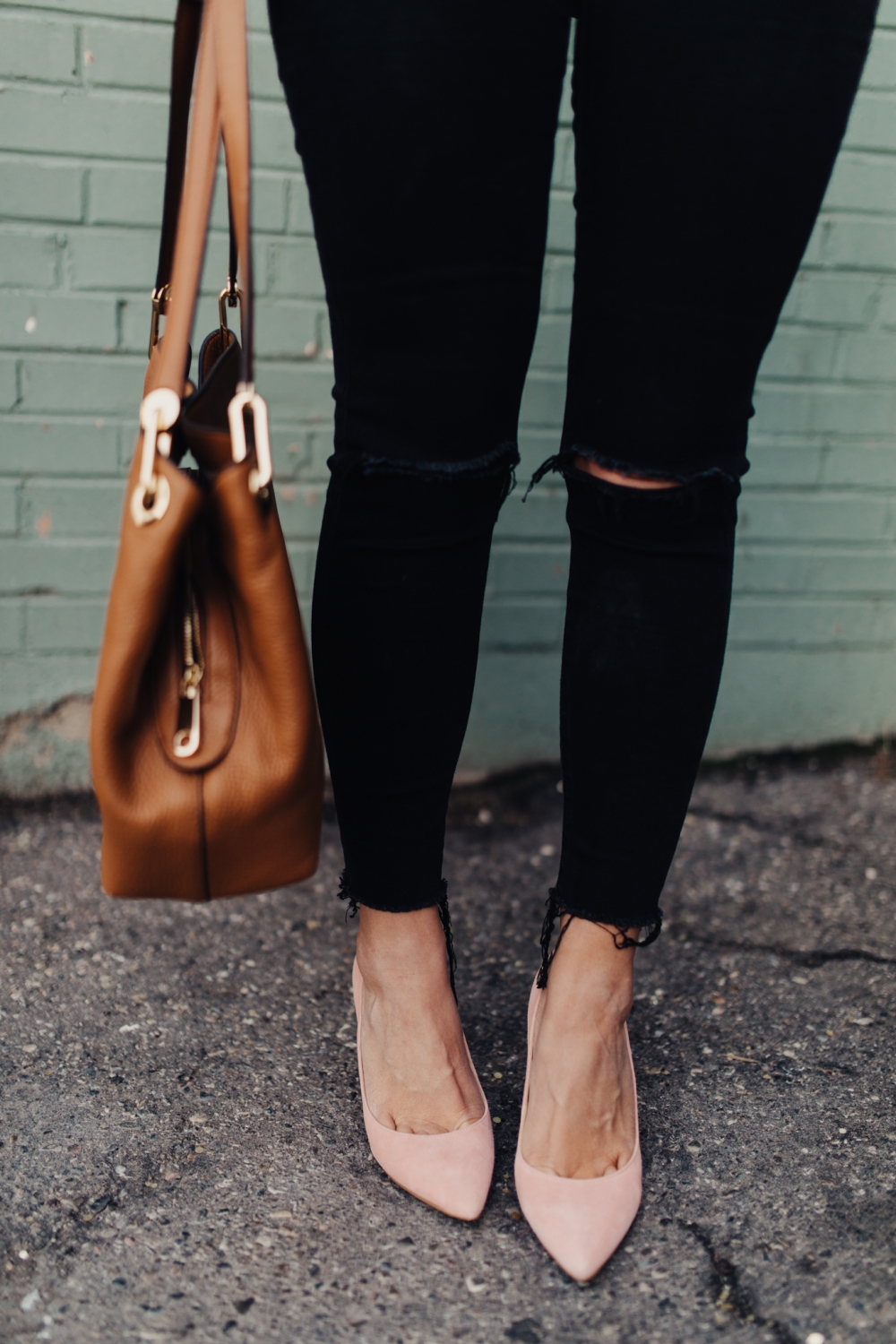 Alice and I always find the craziest colored walls here in Utah County. A tiny little patch is all you need!!! Should I round up my favorite walls?! Share the locations?
The weather is a little bit crazy right now. Still cold but definitely Spring! One way I like to transition my winter wardrobe is by wearing lighter colored sweaters and florals is always a good idea! You can read this post here on how 5 ways I like to transition my winter wardrobe for Spring!
Outfit || Sweater, Option 2 | Pants | Shoes | Purse
This sweater is from my friend Alice's FB group. She sells clothes at wholesale there and you can find some pretty awesome steals! You just need to join her group FB group here and you'll find it! It's only $29!
Photography: Alice Shoots People @AliceShootsPeople