I shared my newest family pictures recently here on the blog. (If you haven't seen them, check them out here!) I absolutely love how they turned out. The colors of the clothing against the mountains just makes my heart so happy. Since we took these pictures earlier in the summer before we were married, I knew I would need help picking out the outfits for everyone to wear. I asked my friend, Britt @slate.style, to help me create a color scheme and find clothing for all of us. She did such a great job! Now she's here to share her methods with you. Here are Britt's family picture styling tips.

Family picture styling tips
1. Start with Mom first
This is rule number one for a reason. Start with Mom first and plan everyone else's look around yours. Yep. Usually we are the last ones we think about but momma, not here! Find what makes you feel incredible and the rest can fall in line. If you do it the other way around you'll be stressed, overwhelmed and then not happy with what works and fits for everyone else. You won't be as happy with the results then you could have been!!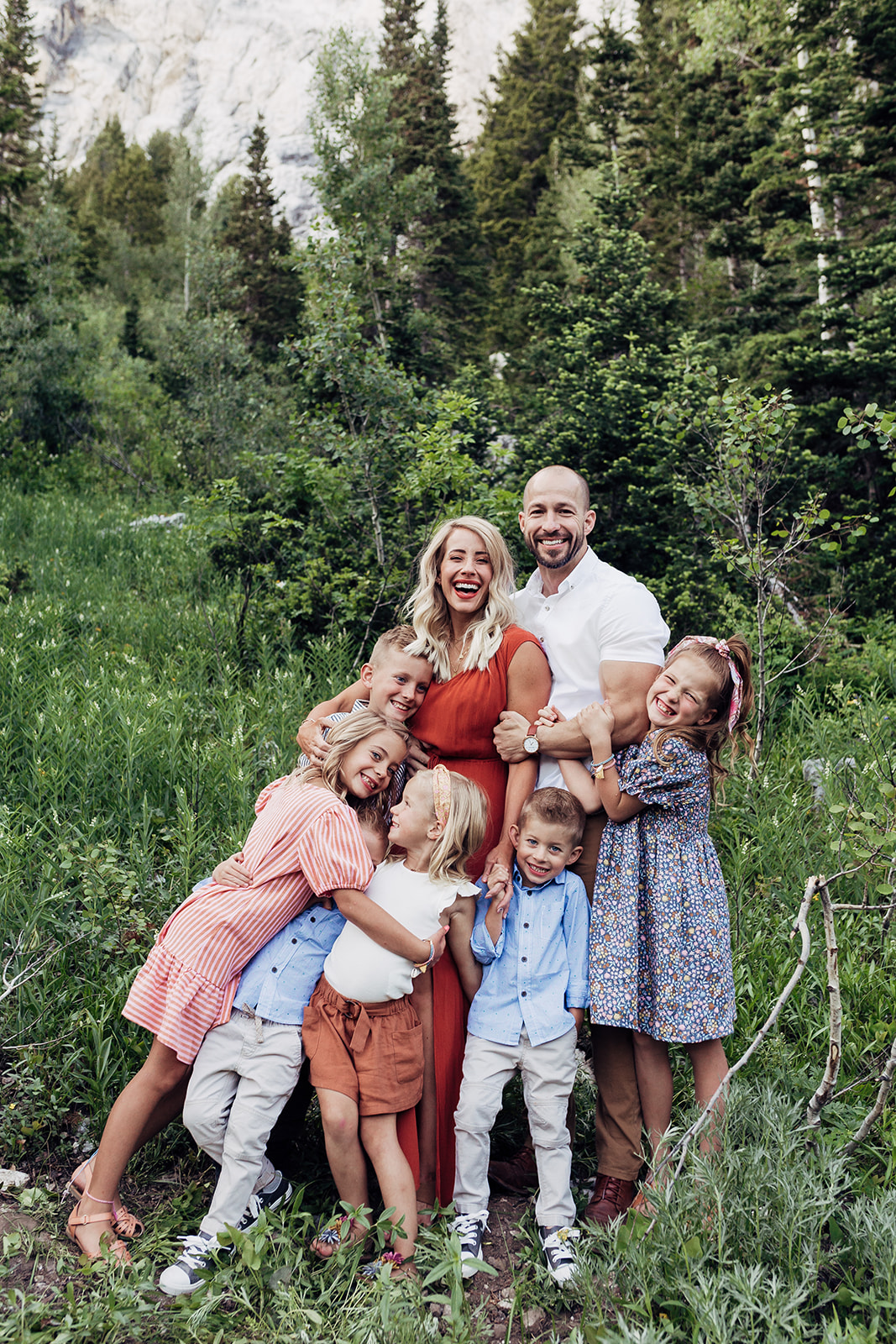 2.Begin with a neutral base but don't be afraid to expound on it!!
There are some shoots that look great with just varying shades of neutrals together but my personal favorite looks are when you add in print, and patterns that compliment and expound on the neutral base to create a look of dimension and texture.

3.Don't be afraid to mix prints/patterns and colors.
In fact I recommend you DO IT!! I think the best family photo shoot looks are when it doesn't look too planned out, that somehow you just naturally ended up looking like it all flows together.
The more you look like your natural family dynamic the better!

How we picked clothes for Abby
With Abby's engagements/family pics we started with her first, of course! She knew she wanted something in that orangey/coral/mauve family that is so on brand for her.
Not only did we pick a dress that fit and flattered her body incredibly but the color also brought out the warmth in her face.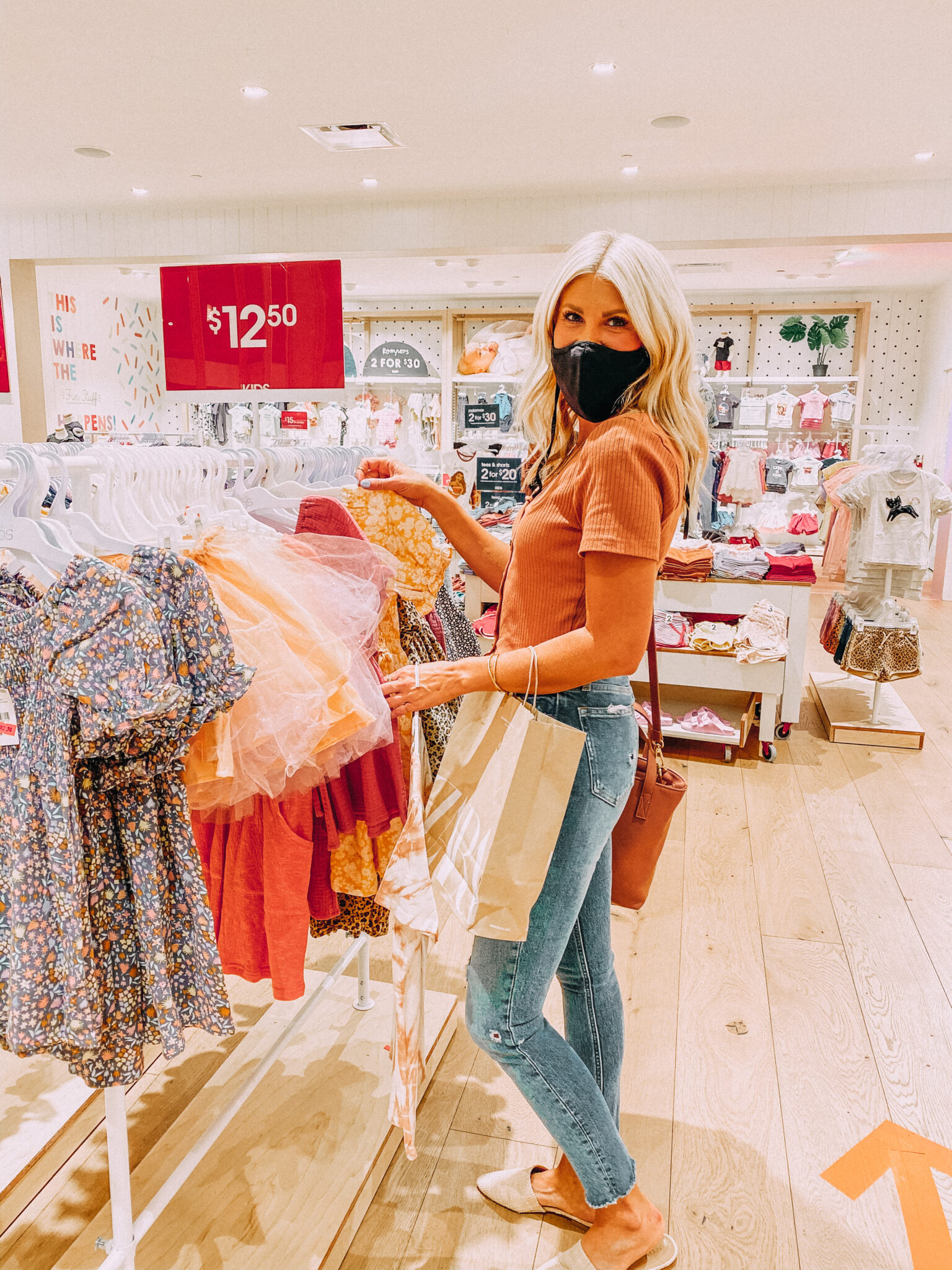 The dress is a v-neck (universally the most flattering neck-line) with a flutter sleeve, so it wasn't too tight on the arms. The empire drawstring waistline drew the eye into the narrowest part of her waist and showed off her incredible hourglass figure and the length of the dress gave the illusion of more height for little miss Abby as well. She is stunning and the dress was such a great flattering choice and the perfect start to have everyone else revolve around.
Tailored clothes are always more flattering in photos. Don't go for the oversized or slouchy look, even if you aren't super comfortable with where your body is at. There are always ways to pose yourself in photos to flatter your body further, but fitted clothing (not tight) is key.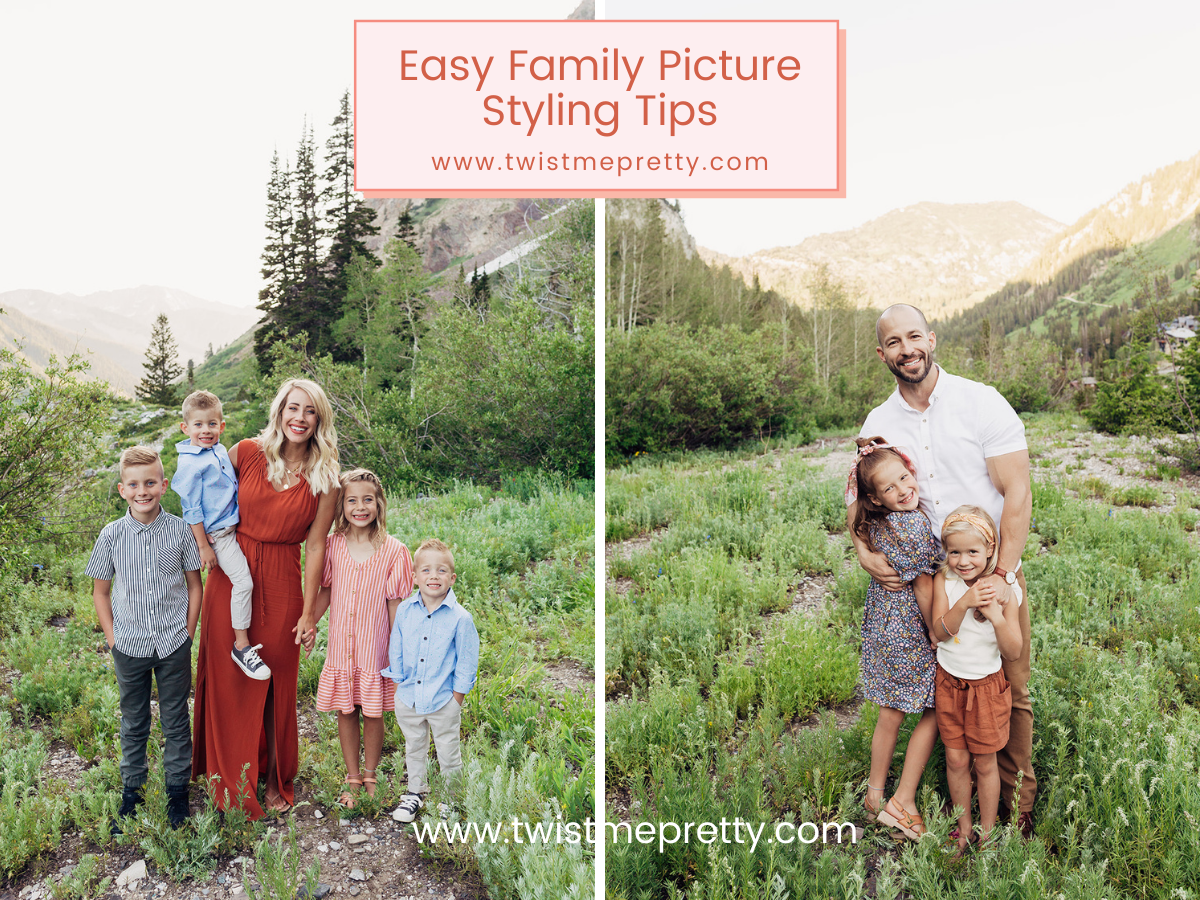 Family picture styling tips for the rest of the family
With Matt we stuck with the classic solids. Nice white button up and dark trousers. I would've gone darker on top or a stripe/print, if it was just the two of them but with the whole crew it played out so well!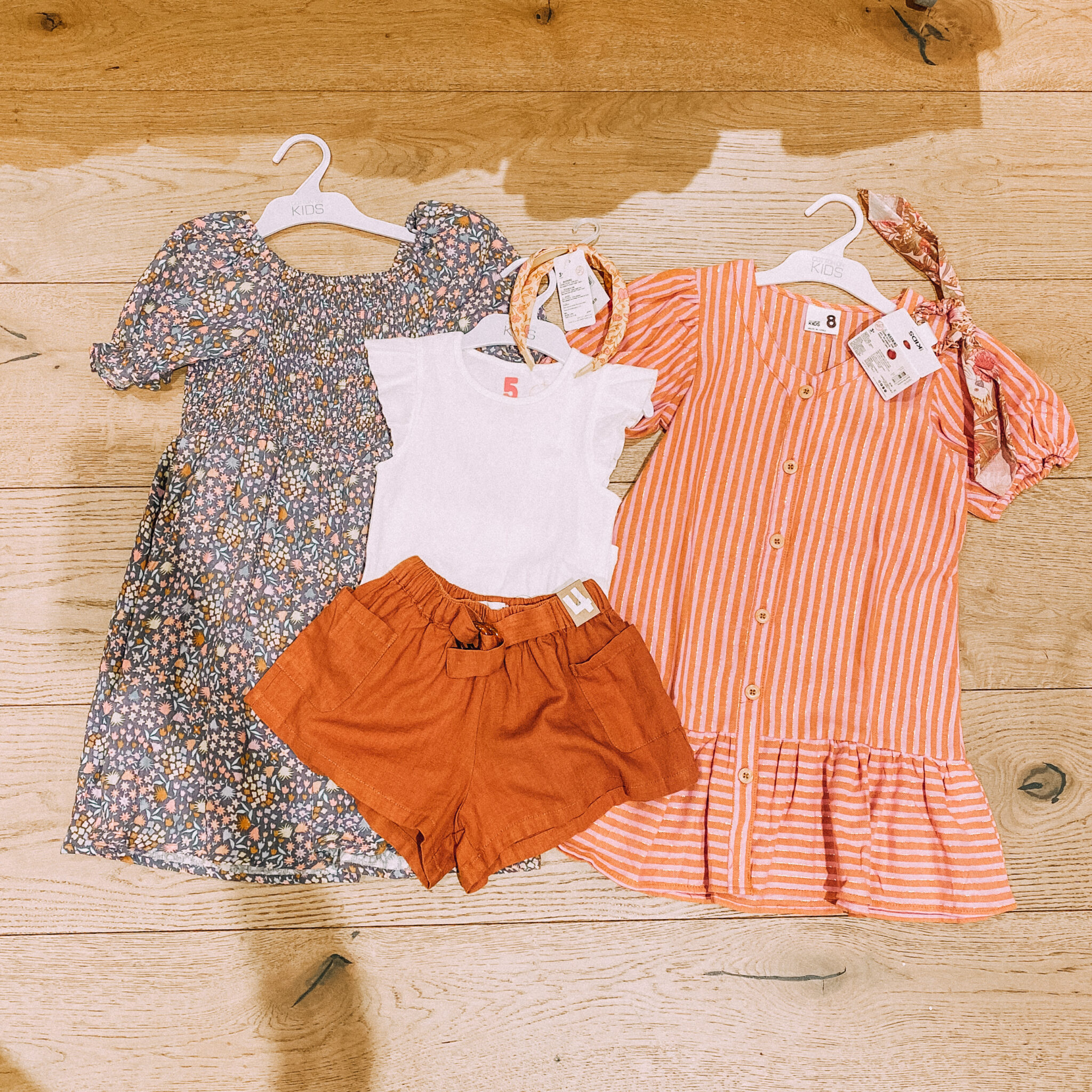 For the girls we mixed it up and I love the way it turned out! A floral print with a neutral base and that rust color element that popped for Demi. And I love love the pink and camel vertical stripe dress that we found for miss Sav because it tied in so well to the scheme, while still mixing it up and adding a different texture to the overall look. And then little miss Molly with the neural dressy shorts and white top pulled the prints in and tied it all together.
The boys are usually last because they are the easiest. I love the grey vertical stripe button up we found for Bos and we went with a darker khaki bottom. (I think it's always better to have varying colors in bottoms in general so it doesn't look too matchy matchy)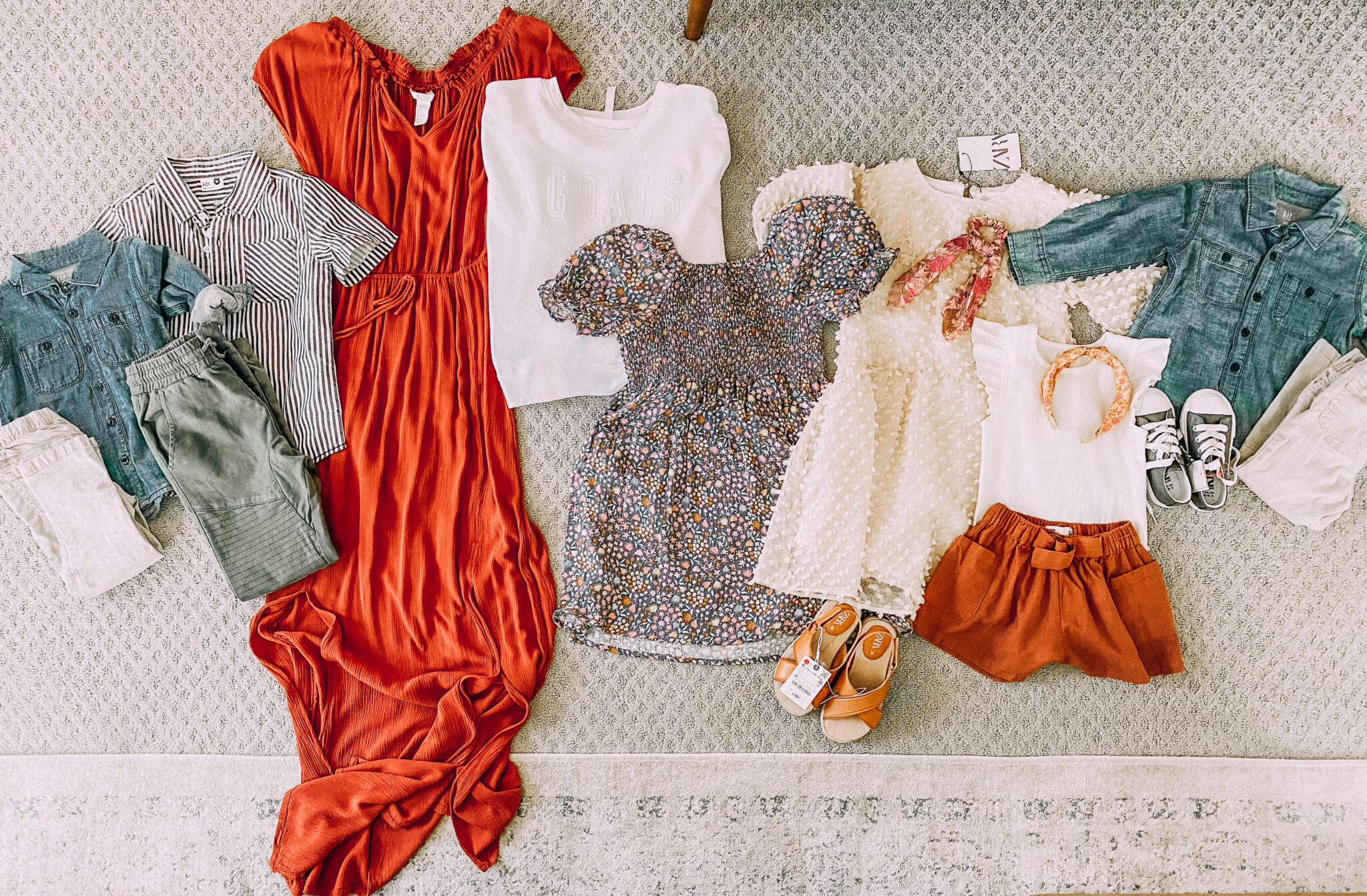 But speaking of matchy matchy of course we have to match the twins. Going with the lighter blue tops complemented the rust colors but also helped reign in the greys and blues from the floral print dress. Going with the lighter khaki bottoms helped to bounce off the darker khaki of Boston's and Matt's choices.
All together it looks seamless. Light and airy and planned, but unplanned!
A few more suggestions for your family shots…
Now that I've shared my easy family picture styling tips, here are a few more to keep in mind as you prep for family pictures. Give yourself time to find everything. The less stressed out you are, the better your pics will turn out.
If you have anything that wrinkles too easily try to see if you can change when you get to your location instead of before you hop in the car. *Bring Downy spray!
Make sure the kids are fed and happy prior, same goes for Mom. Hanger is real. And bring someone to help with the kids, distract them, entertain them when possible.
Have fun! And remember that photos turn out the very best when you are truly being yourselves. Life moves too fast, kids grow up right before our eyes.
Take the picture, perfect or not, and you'll never regret it.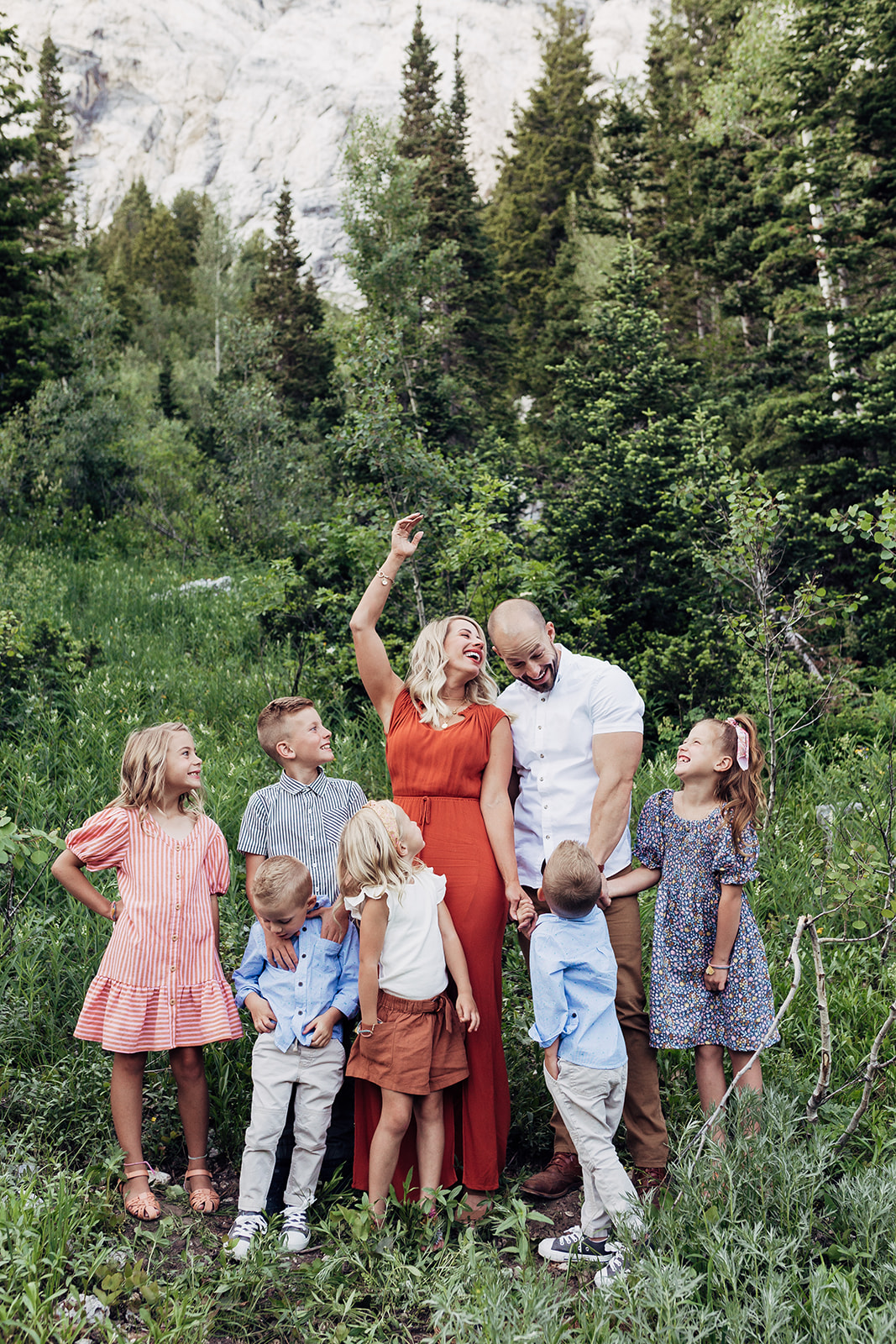 Thanks for all your help, Britt! If you need any help with choosing outfits for family pictures, cleaning out your closet so you have the best clothes for you, or personal shopping, contact her on Instagram @slate.style!