Now that we are all together in one house and it's fall, I'm excited to share some of my favorite fall traditions with Matt and the kids. One of the most delicious traditions I grew up with is this easy Peach Cobbler recipe with canned peaches. It is so easy to make and the kids all love it.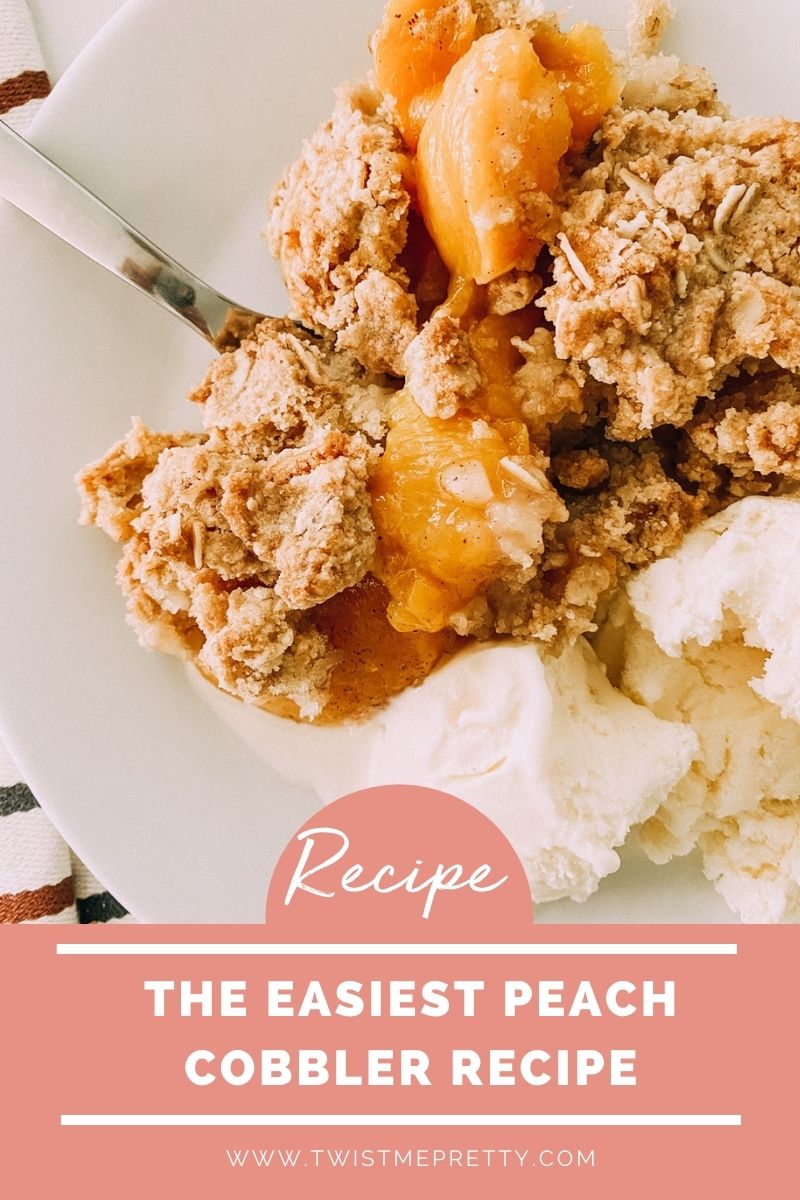 If you've been around a while, you know that I love to cook things that are delicious but that are also not too complicated to make. This easy peach cobbler recipe with canned peaches fits the bill perfectly! There are only a few ingredients that are needed, and I can make it from items in my pantry. My favorite part? I can use my home canned peaches. There's nothing better than Utah peaches in the fall!
I'll share the full recipe below, but here is how to make my
Easy Peach Cobbler Recipe with Canned Peaches
First, gather your ingredients. You'll need Bisquick baking mix, brown sugar, rolled oats, canned peaches, ground cinnamon and butter.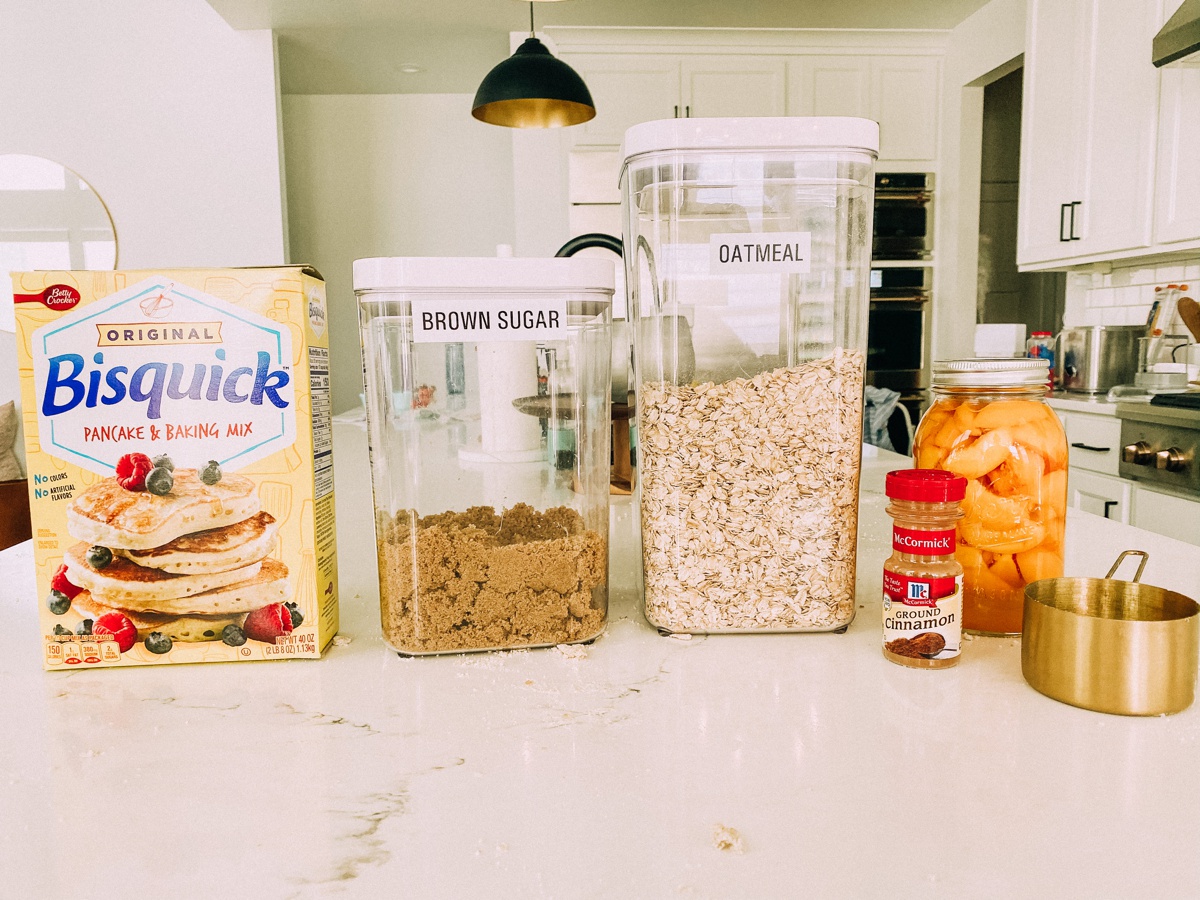 Now that you have your ingredients together, grab a 9×13 baking dish and grease the bottom and sides. Next, pour your peaches into the bottom of the pan.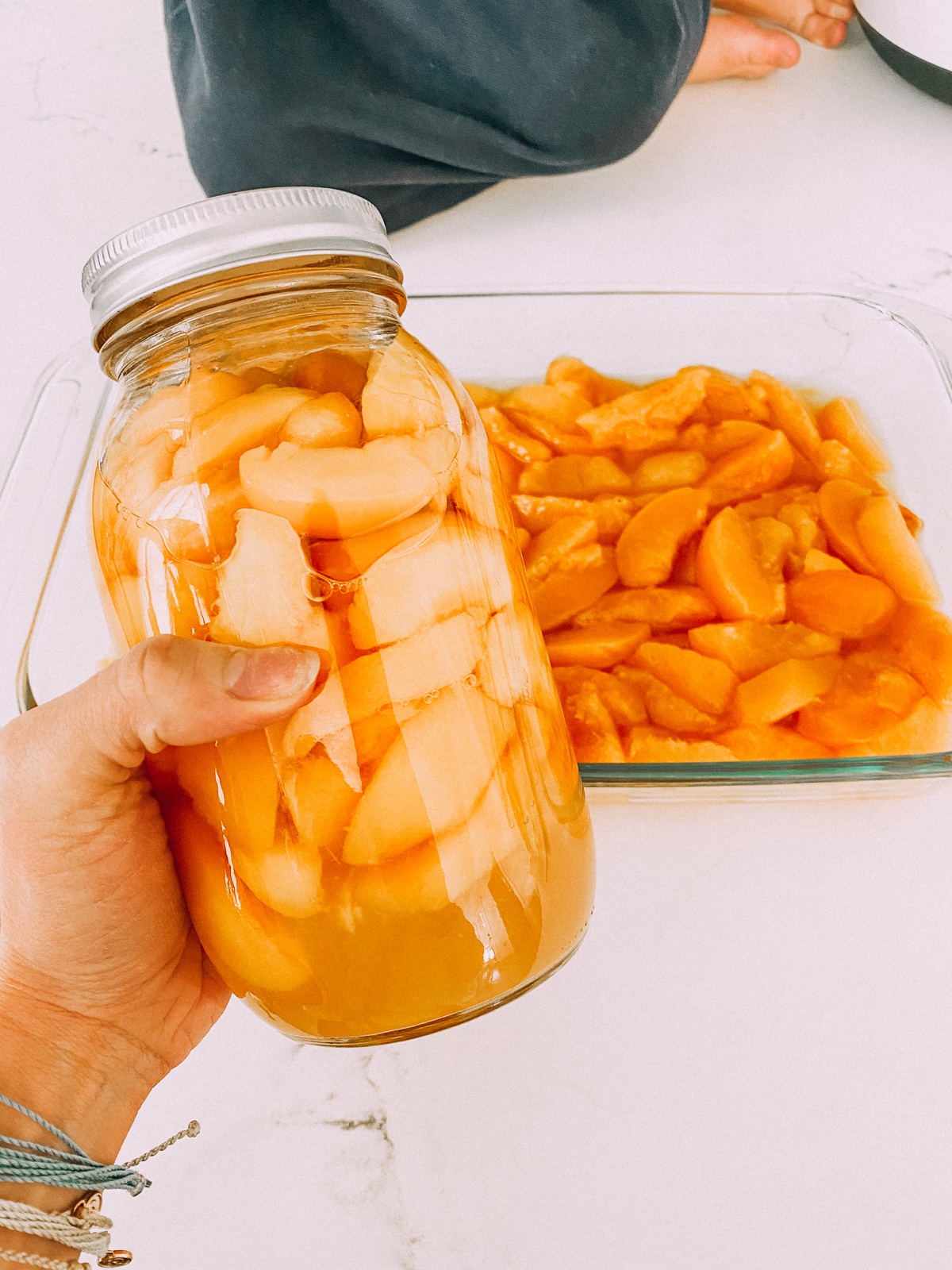 Sprinkle cinnamon over the peaches liberally. Trust me, this makes them taste so good!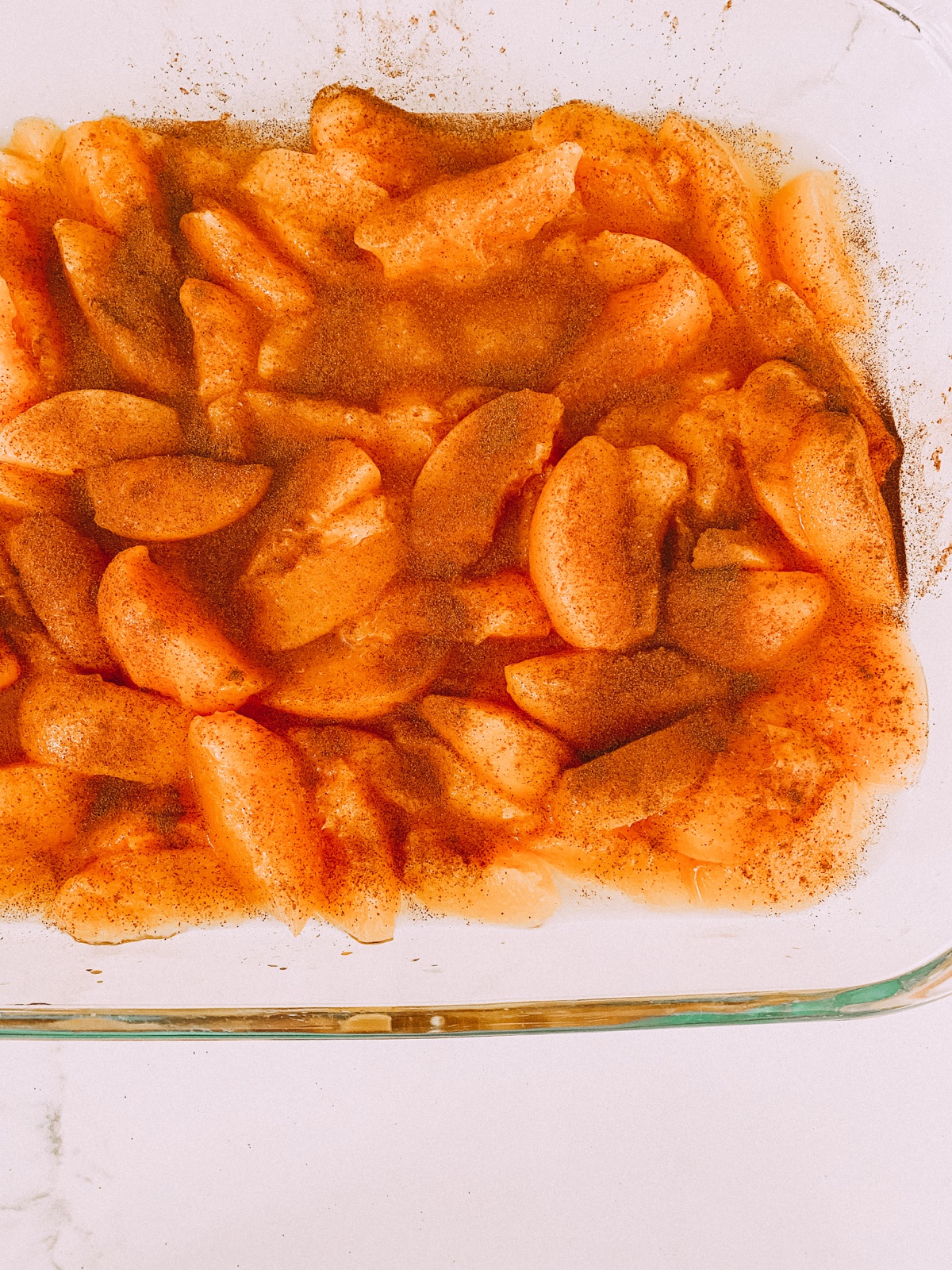 Now that you have your base ready, it's time to create the crumble on top! Take your dry ingredients: Bisquick, brown sugar, and oats, and mix them together in a separate bowl.
Cut your butter into cubes. Using a pastry cutter or two forks, mix the butter into the crumble mixture until you have the consistency of large crumbs. These will be the crispy bits on top of your crumble! Yum.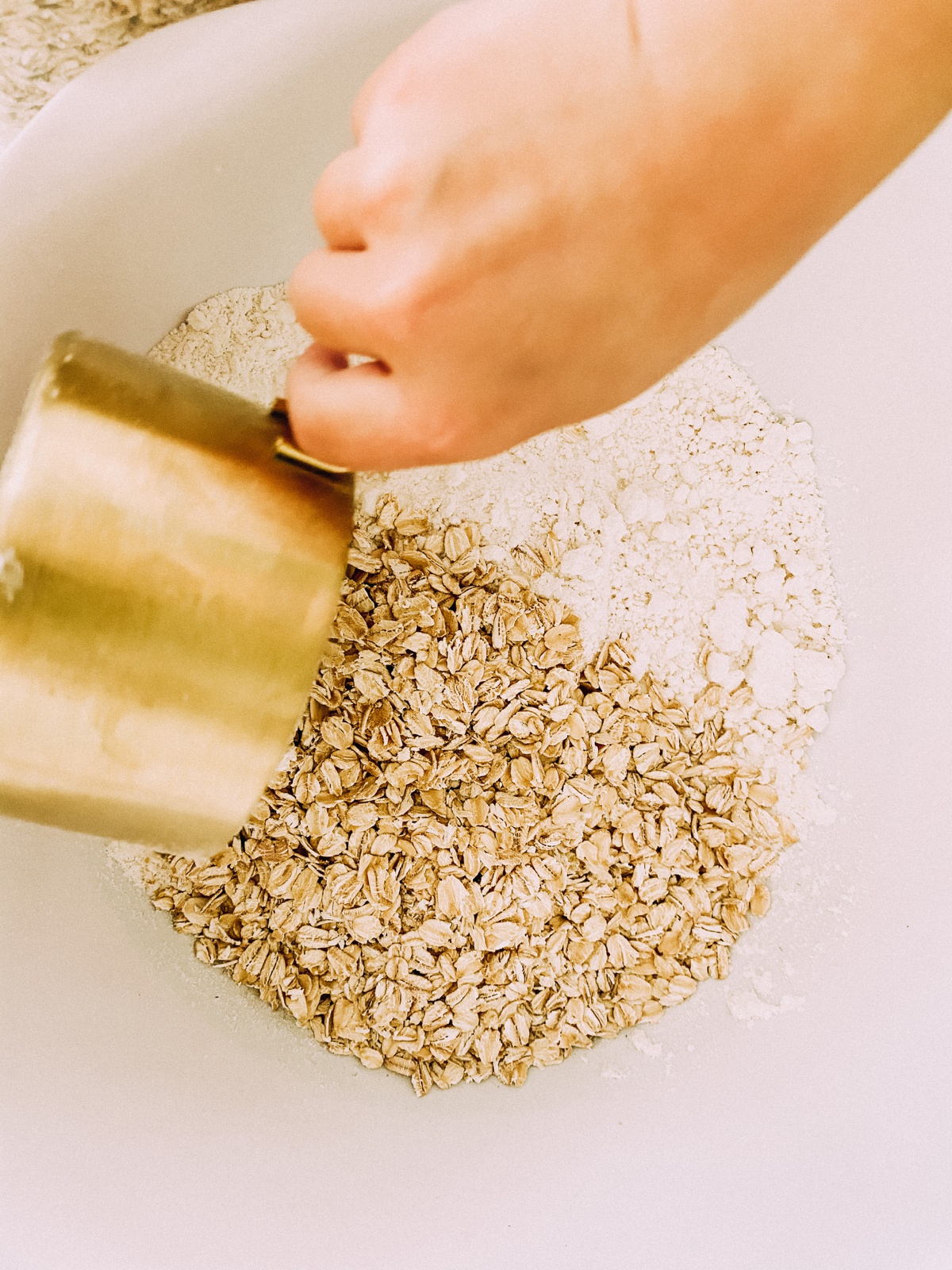 Finally, spread your crumble topping over the peaches in your baking dish. Be sure to cover the peaches completely. You want to get the crumble topping in every bite!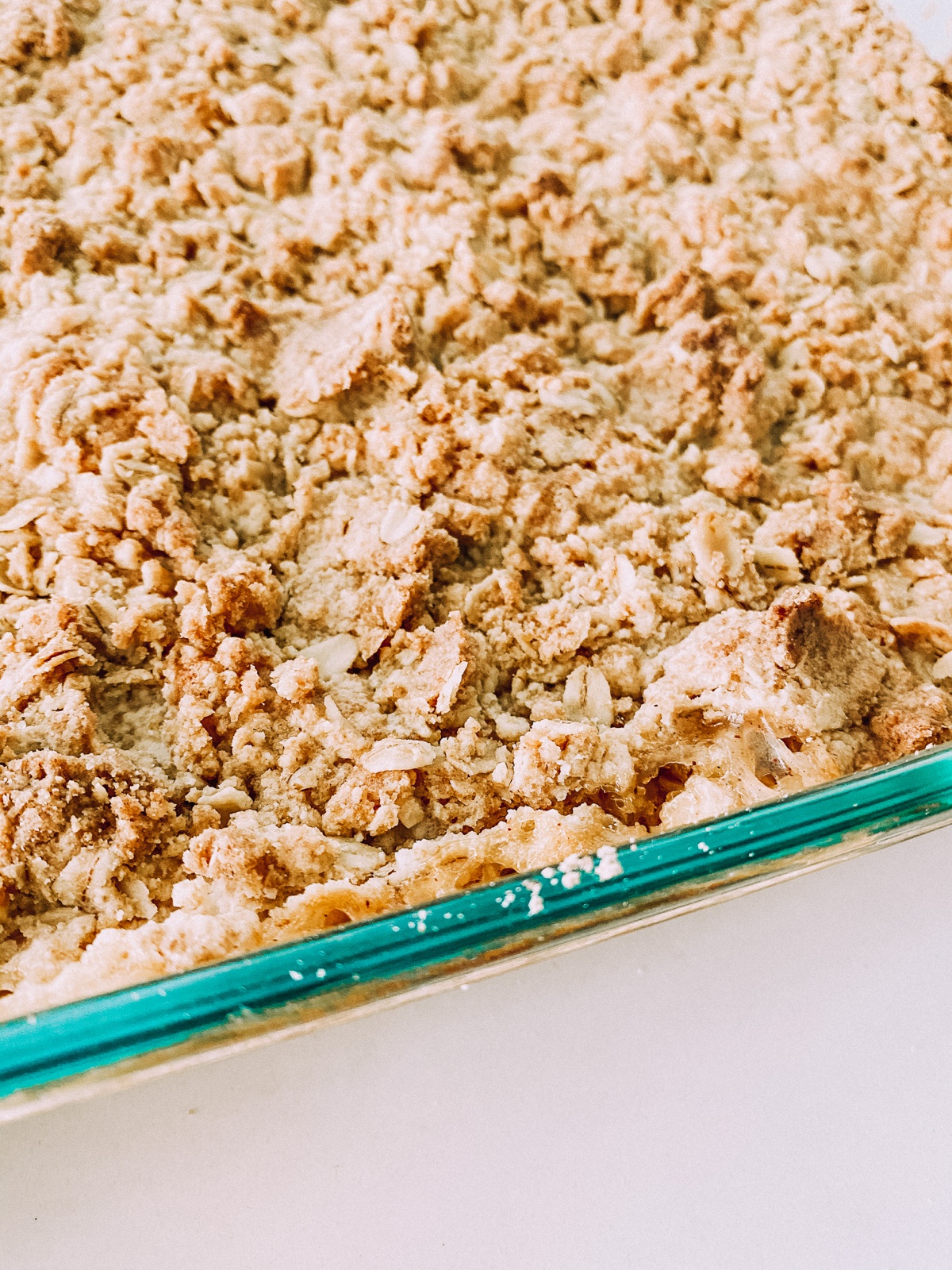 Bake your peach cobbler at 350 degrees for 30-35 minutes or until the peaches are bubbling and the topping is golden brown. Serve warm with vanilla ice cream or whipped cream.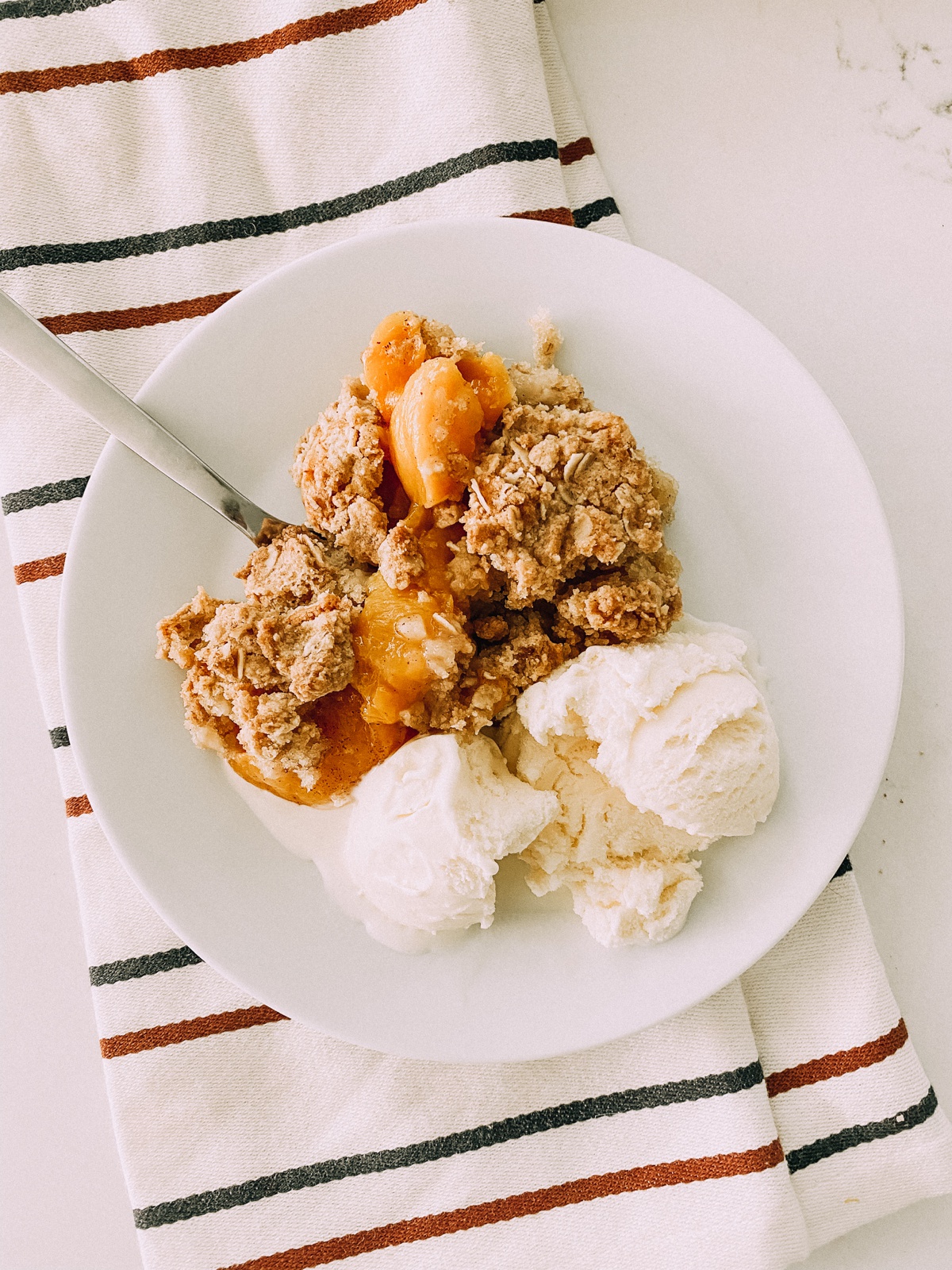 Family Traditions
This peach cobbler has been one of my favorite recipes for a long time and I'm excited to share it with Matt and the kids now that we are creating a new family together. Life can be hectic and crazy, but simple traditions like this are a great way to bring people together and create memories.

Do you have any fall recipes or traditions your family loves every year? I'm always on the lookout for new recipes and traditions that I can share with my family. Be sure to follow me on Instagram @twistmepretty for more from me as I navigate my new blended family!
View this post on Instagram
Easy Peach Cobbler Recipe with Canned Peaches
Large Can Peaches, or 1 quart jar home canned Peaches
2 tsp. Cinnamon, or to taste
1 ½ cups Bisquick Baking Mix
½ cup Rolled Oats
½ cup Brown Sugar
½ cup Butter, cubed
*Heat oven to 350. Grease 9×13 baking dish.
Pour peaches into baking dish and top with cinnamon. Set aside.
For topping:
In medium bowl, mix together Bisquick, rolled oats and brown sugar with spoon. Add cubed butter to crumble mixture. Incorporate with pastry cutter or two forks until the mixture resembles large crumbs.
Spread topping over peaches in the baking dish, being sure to cover peaches completely.
Bake in preheated oven for 30-35 minutes or until peaches are bubbling and topping is golden brown.
Serve warm with vanilla ice cream or whipped cream.