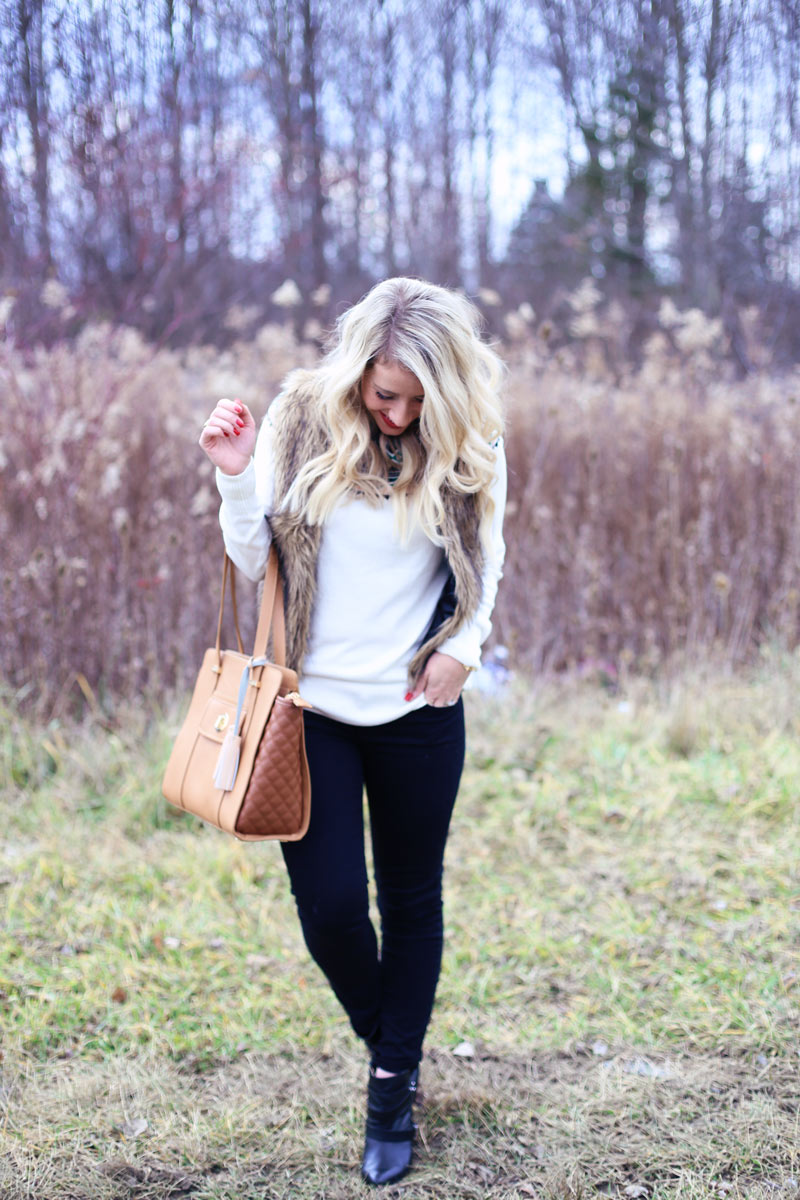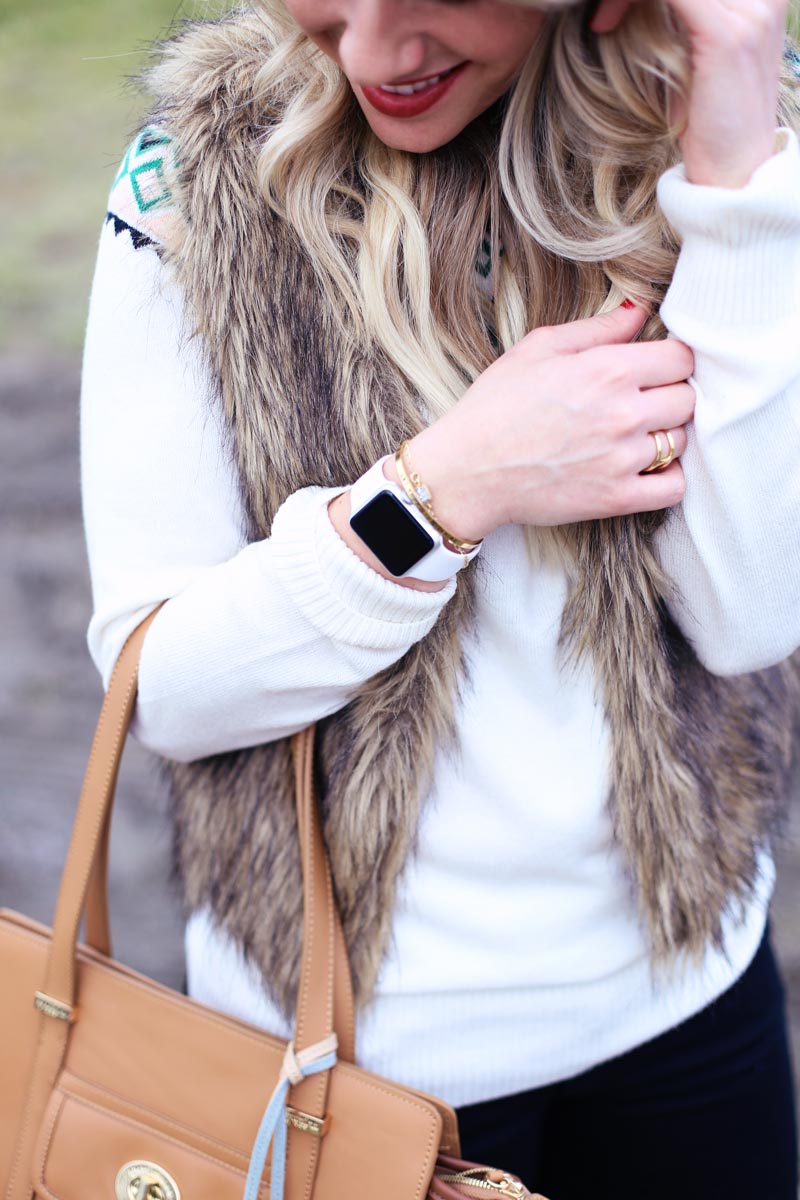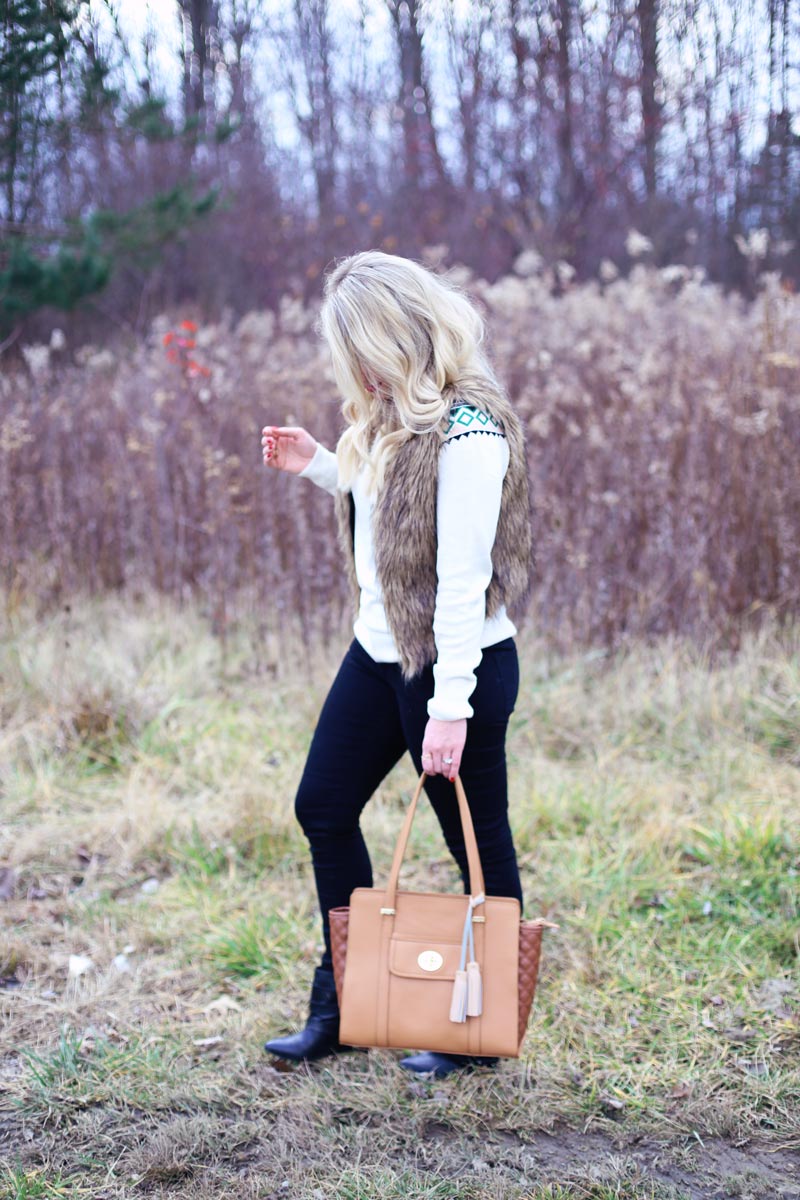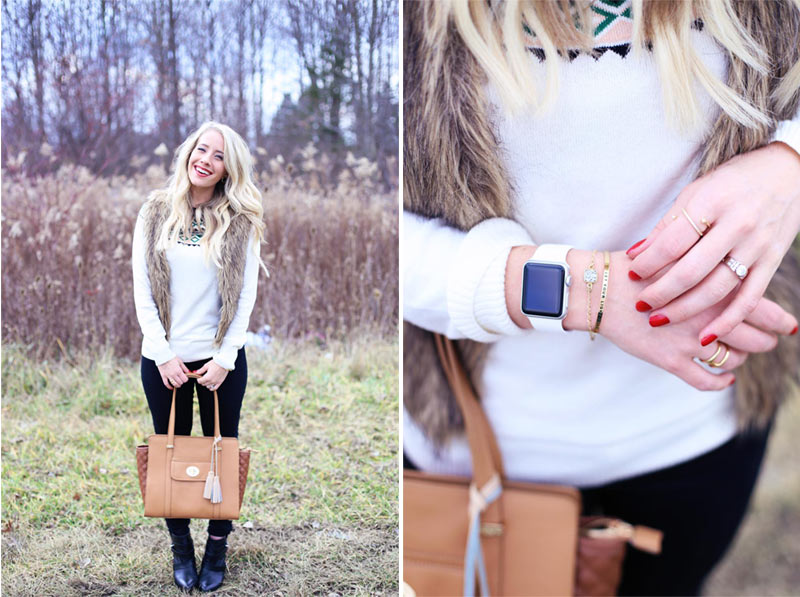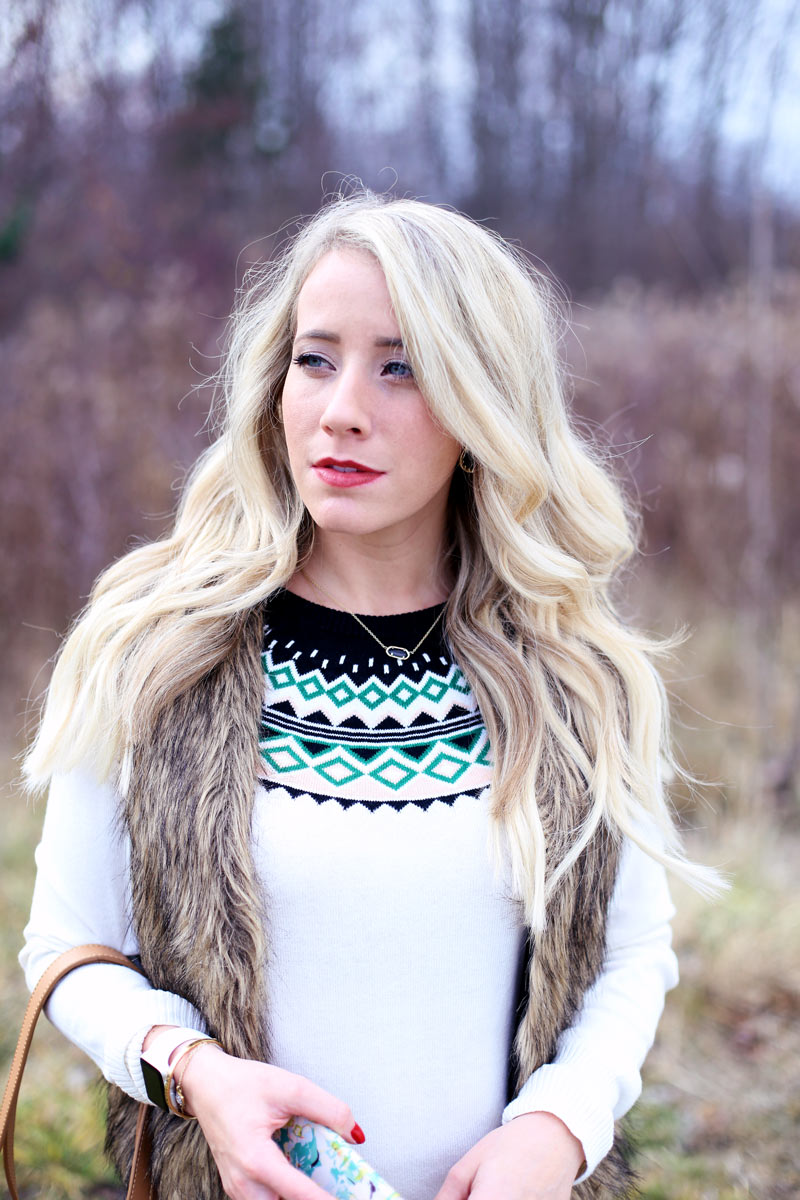 Fair Isle Sweater from Target — on clearance for $13! All sizes still available! | My favorite black boots that I literally wear everywhere (so dang comfy) are on sale for $78 here. They're true to size. | Faux Fur Vest similar here and here | Jeans are from Gap, they're sold out of everything though!! Here are some similar ones I've been eyeing | Bag c/o Spartina 499 | AppleWatch from Target ($100 giftcard with purchase) | Druzzy Bracelet from the Shine Project | Mantra bracelet from Mantra Bands | Rings from Wanderlust and Co | Earrings from Nordstrom similar here | Lipstick is Kat Von D Lolita | Extensions from Luxy Hair – $10 off with code LUXYABBY10 through the end of December
Shop this post


I've had a bunch of you snap me questions about my apple watch so I thought I'd share a super quick review from the perspective of a stay at home mom. Before buying it I asked my brothers who each have one whether or not they thought it was worth the splurge and neither of them had great things to say about it. I super hesitant to spend the money but I did a bunch of research and really felt like I could get some good use out of it. I'm so glad I did!! I think the apple watch can really benefit moms because, well I don't know about you, but I am constantly losing my iphone. Either my kids are stealing it so I'm unaware when people are trying to get a hold of me or I'm leaving it in random places in our house because I'm always wearing leggings and never have a place to put it like a pocket or purse. I've missed so many texts and important phone calls from insurance companies or people needing to come over and work on the house – it was just getting ridiculous.
Enter applewatch. I put it on in the morning and when I get a text or a call I'm notified by a light tap on the wrist even though Savy is playing a game on my phone or I've left it upstairs and I'm doing dishes. If I need to quickly answer a call I can from the applewatch, although I don't do that too often. I love siri — she's way more helpful on the watch than on the phone. She literally understands everything, she hardly ever messes up my texts or constant pleas for help haha!! If I'm making lunch and I need Brian to stop off at the store because we need more milk, I just hold down the digital crown and say "text brian will you pick up some milk and bread on your way home from work question mark" and she sends it off without me needing to find my phone or anything. Before I'd make a mental note and always forget. And then Brian would come home and I'd be like ahhh crap we needed milk! I also use it for reminders — I'm just so busy that sometimes the time gets away from me and I don't realize I haven't eaten in six hours, or that the kids haven't eaten since breakfast and it's now 2. So after we eat I'll just hold down the digital crown and say "set alarm for 12:30" and when 12:30 rolls around I feel a little pulse on my wrist and I'm quickly reminded that I need to start getting lunch, or wake the twins up, or whatever it is that I'm needing help remembering. Another way I really benefit from the apple watch is exercising. I pair it up to my bluetooth beats and I have a mix loaded on my applewatch so I can go jogging with it without even bringing my phone. I have a iphone 6+ so jogging with it was always so annoying. PLUS it syncs up to the Nike Running app so it'll track your heartbeat, where you've been and your calories etc.
There are so many other cool features, but I've just found it extremely useful when I feel like I need a few clones of myself! It helps me to stay on track, to be more efficient, I can easily update events in my calendar and when Boston's begging to wear shorts and I have no idea where my phone is, I can have siri show him the weather to avoid a massive meltdown! At first I wanted the rose gold/lavender but they've been out of stock of every color at Target since before Thanksgiving except the silver/white. Because they're having a $100 giftcard when you buy an apple watch right now I couldn't justify spending the extra $$ for the color combo I wanted. However, I'm really happy with the silver/white and if I could choose to get a different combo I wouldn't.
Hopefully this helps some of you! I know not all of you are stay at home moms so I can't help you decide whether or not it'll help you to be more efficient, but from the perspective of a busy mom who needs help staying on track this has seriously been a lifesaver! I know a lot of people complain about the constant notifications but if you go into your iphone settings and turn off notifications for your facebook, instagram, snapchat + all your other social media and gaming junk you don't need to be reminded of anyway, you won't have any issues with your apple watching bugging you of unimportant things. Do you have an apple watch? Have you liked yours? There's apparently some fun games to play on it and cool features I know I'm not utilizing, would love to hear your thoughts and what your favorite apps are!
xoxo