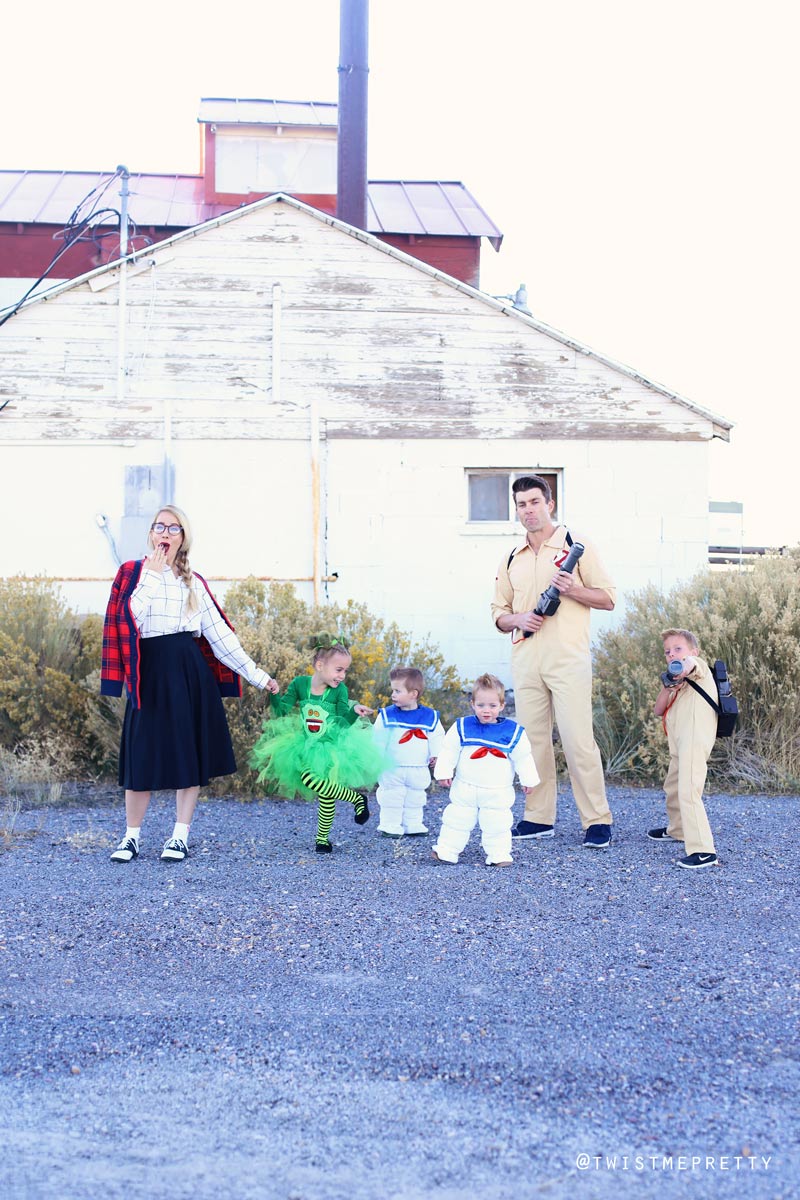 Who you gonna call? … GHOSTBUSTERS!
Family Halloween costumes has kinda become my thing… I mean, does that surprise you?! I get that some of you are't into it… you hate the makeup tutorials and are so over the matching costumes. I gotta be honest though, I feel like I could turn you. If you were a fly on the wall during these pictures and could feel the excitement while we were all getting ready, you'd see just how much fun it is! The joy on all their faces is priceless. This will only last a few more years I'm sure… until Boston refuses to dress up with us cause it's not cool anymore. So you better believe I'm gonna soak up all the years I have left, where turning into a ghost buster with your Daddy is just about the coolest thing. Or becoming a green slime and chasing your brothers makes you laugh hysterically. It's those moments as a parent that make all the chaos and preparation worth it. That's why people spend thousands to take their kids to Disneyland and the Ocean!
So there are a couple pieces of advise I would give to the parent who is exhausted by the idea of family Halloween costumes! It's definitely been trial and error for us but there have been a few things that have really helped!
1. You have to pick costumes that your kids like. The first year we did family Halloween Costumes we chose a Star Wars theme, you can see those pictures here. That was when the new movie was coming out and Brian had let the older kids watch some of the first movies. Needless to say they were obsessed. So it made to do Star Wars because our kids loved the characters and we knew they'd have a fun time dressing up! The second year we did Pokemon because ohhhh my goodness, do you remember the craze?! Boston and Savy picked out their favorite characters and they had so much fun dressing up! Don't try to throw your kids into costumes they don't want to wear, or you'll for sure miss out on that joy we were talking about earlier haha!
2. Get your costumes early! People are crazy about Halloween and the good costumes sell out fast! It takes a couple hours to research ideas + the best prices and it's the worst when you've finally figured it all out and one of your costumes is out of stock. And don't feel like you need to buy new every year. If I was crafty or knew how to sew, I'd make them! Also if your mom is anything like mine, you probably have an entire closet worth of costumes you can rummage through to get all those extra pieces! I usually get my costumes the end of September so that I don't have to worry about fighting the crowds.
3. We have a neighborhood trunk-or-treat a week or so before Halloween. Use this event wisely! You're gonna have to dress everyone up anyway, you might as well be early and get someone to take a couple cute pictures of you guys before you get there. An iPhone works fine, a big camera would be best cause then you won't have blurry toddlers. You can pick a spot that's close to home or you can go all out and theme a location to what you're wearing. 30 minutes or so before the party (make sure you're kids aren't hungry) go get your pretty pictures! Chances are you have a friend in your neighborhood or a family member that would be happy to take them for you! The lighting will be good and you'll be so happy with them! Then you can just enjoy Halloween and not stress about pictures when everyone is trying to get out the door to trick-or-treat.
I feel like having a good experience with Halloween just boils down to the prep work you put into it. Also succors. It also boils down to succors ha ha!! But no joke. The twins had fun but they're 2… so they're chucking rocks and chasing birds. We may or may not have bribed them with tic-tacs to stay with the group haha! Okay get ready to scroll for 5 hours because I just couldn't narrow down my favorites.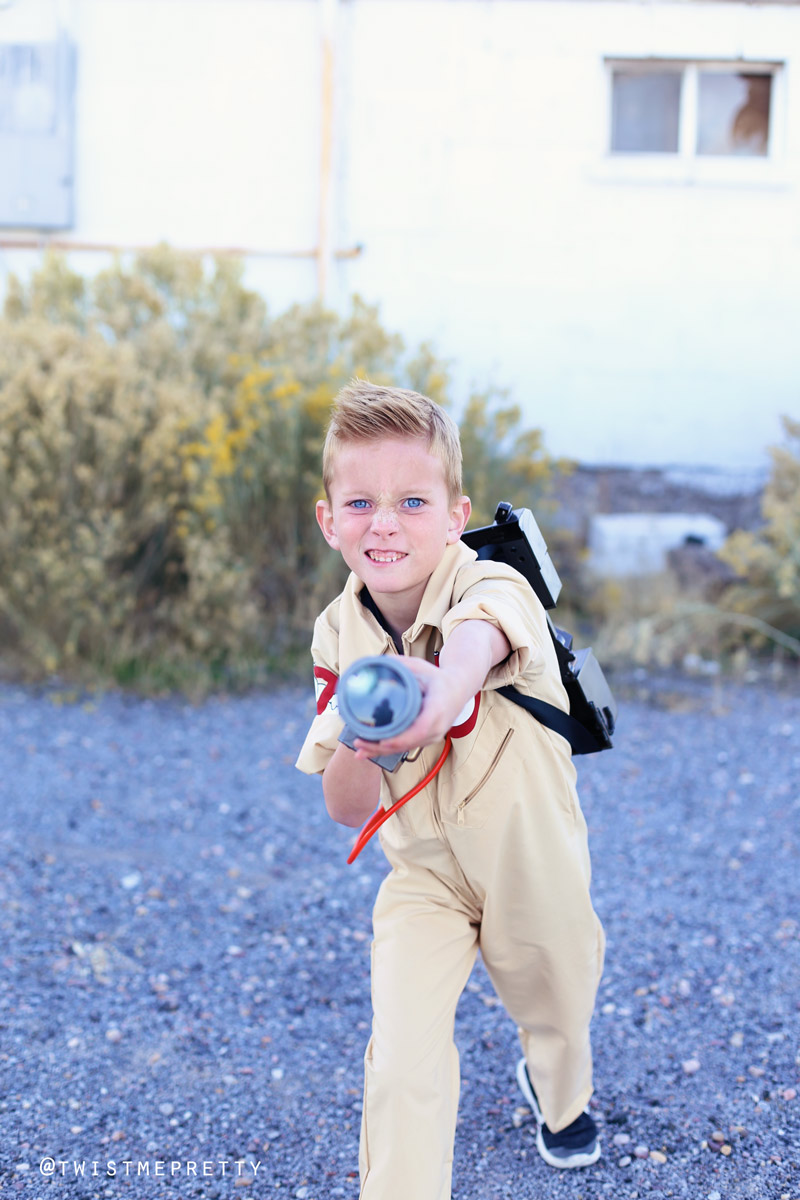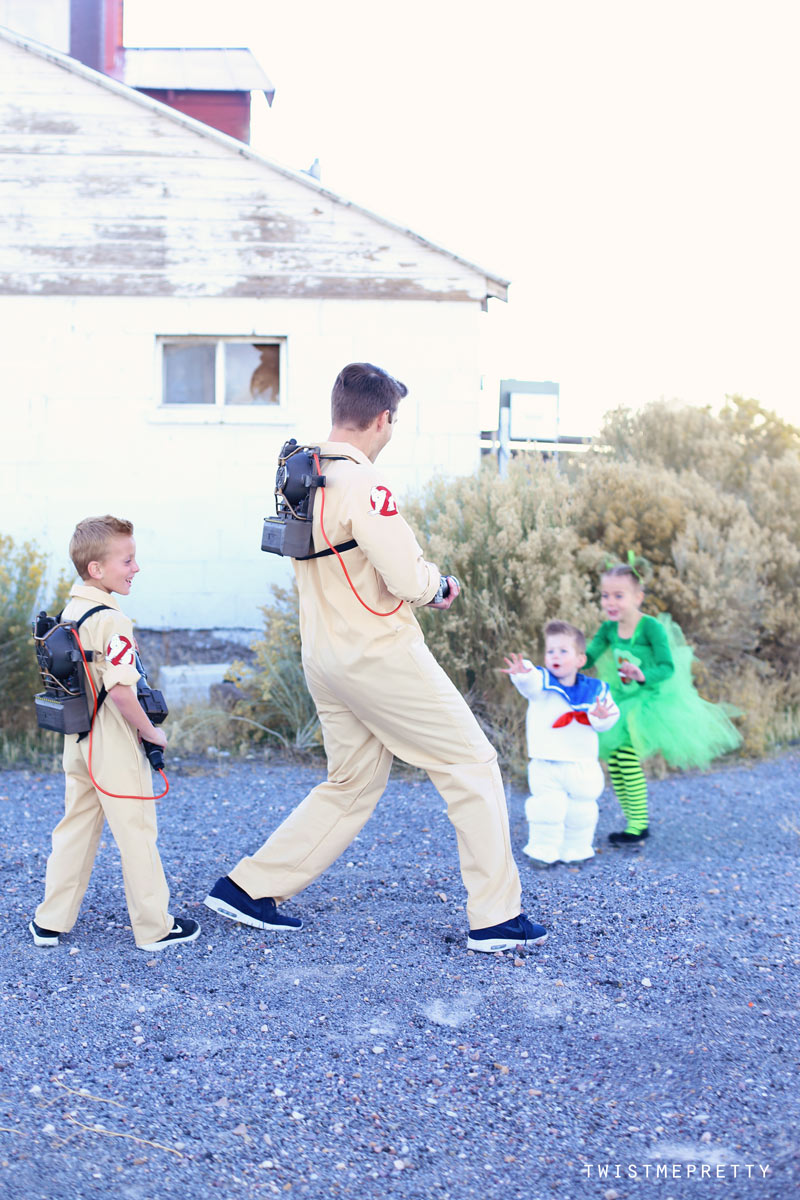 For Savy's hair I styled four dutch braided buns. You can't really see from this angle but there were 4 big fluffy buns, not two. I teased the tails so they were super puffy and crazy and then pinned them into messy buns. Then I tied green ribbon around the base of the buns, got some green hair spray and just spritzed the buns a few times with it. It turned out so cute!

Costume details:
Brian's Ghost Buster Costume + Pack
Boston's Ghost Buster Costume + Pack
Savy's Green Slime Dress + Green Leotard + Striped Tights
The Twins' Ghost Costumes
My Skirt, Shoes, Sweater, and Fake Glasses (the white button up is old from Old Navy)
Thanks for reading!!! I'd love to know what your experience is with Family Halloween costumes! Do you do them? Do you hate them? Have I convinced you to try them?! Let me know in the comments!
xo