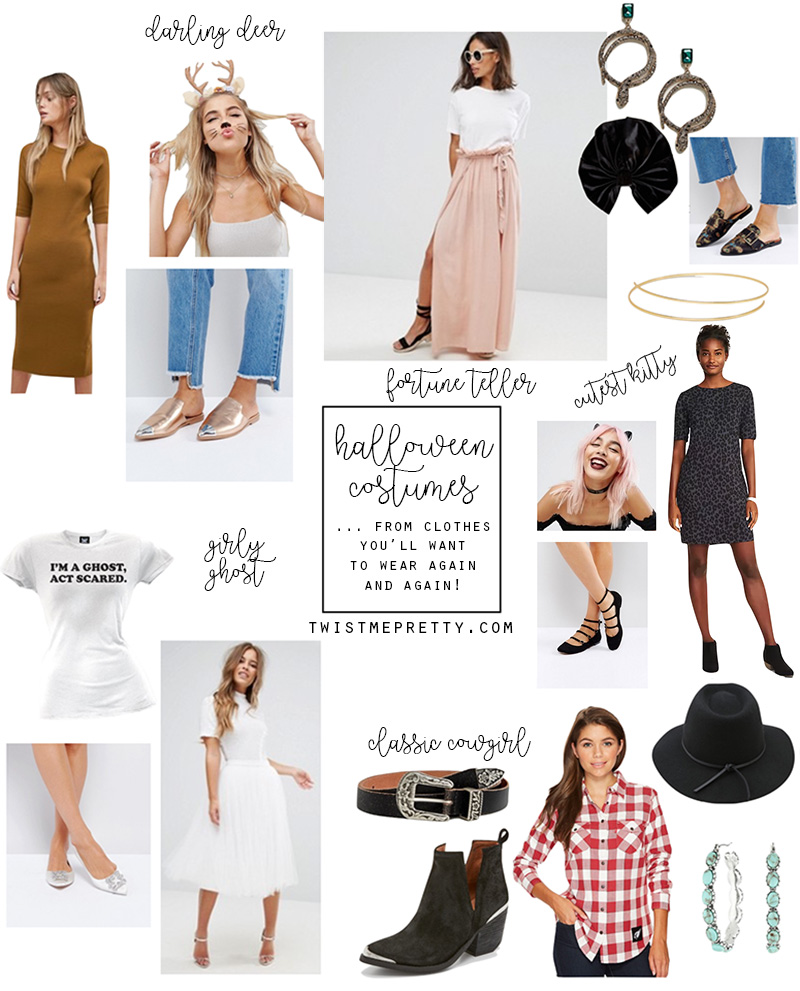 So maybe you're not one to go all out for Halloween. You don't obsess over the glitter and face paint and you like to just keep it super classy. So you throw on a kitty headband to show you've still got spirit and call it a day! Sound like you?! Or maybe you do love Halloween and have your family costumes already planned out but need a subtle little outfit to wear to your kids' Halloween party at school. Either way, I've gotcha covered with this post!
I've put together 5 easy and super classy outfits that will dress you up and get you in the holiday spirit! The best thing is that these are all pieces you'll want to wear over and over and over again. And who knows, maybe you already have several things in your closet already!
Darling Deer I love this simple deer costume. The brown dress and gold mules are so pretty, definitely an outfit I'd wear all summer long. You could layer it with a cute plaid scarf with some berry tones in it or throw on a denim jacket when the air gets crisp. To transition this classic outfit into a deer costume, all you need are some antlers and you could even add a little nose and whiskers with some blackberry lipsense!


Fortune Teller Just a little bit obsessed over this fortune teller costume!!! I love the long tie skirt, it would be so cute with a long grey cardigan/sweater and booties or as a swim suit cover up in the summer. Layer it with a black turban, some snake earrings and mystical mules and you've got yourself a classy fortune teller!


Girly Ghost This girly ghost costume is so fun and the shirt is adorable! "I'm a ghost, act scared!" ha ha!!! I love the white tulle skirt and silver flats, perfect any time of the year.


Classic Cowgirl Halloween isn't completely without a classic cowgirl costume! Chances are you've got a similar button up in your closet and you can easily find a cowboy hat and boots. Just in case you're on the look out though, these ones I've linked up below are so cute! I love the silver accents on the boots and belt! And like everything else, these pieces can be worn all year round!


Cutest Kitty And of course, this round up wouldn't be complete without the cutest kitty costume! This black cheetah print dress is to DIE for! I'm obsessing over the length of the sleeve and it can absolutely be worn all year long. Block heels in the summer and booties + black tights in the winter with a black cardigan/sweater to add even more layers. I love these flats, they're so cute with the buckles and then of course the kitty headband is a no brainer. If you're really in the mood to dress up you could always add a little nose and some whiskers or follow my easy kitty cat tutorial here


Did you like this round up?! Which one is your favorite?! Do these simple/classy costumes suit you better than the over the top costumes?!