I don't mess around when it comes to Halloween! Not quite sure where this crazy passion came from? I don't remember my mom really being into Halloween and Brian doesn't love it… but I'm obsessed! I think I just love the idea of transforming into someone totally different for a day! I'm such a kid at heart and it gives me an excuse to dress up and be crazy! I mean, when else can you wear glitter ALL OVER YOUR FACE?!!! Or super sexy leather pants like in my Sandy costume?!
To kick off my favorite month of the entire year, Savy girl and I transformed into UNICORNS?!! I probably spent 127 hours playing with different looks (I should post some of my late night faces that didn't make the cut ha ha) and searching for the perfect costumes. Do I buy a horn or do I make one with hair? What you see below is hours worth of researching the perfect products and playing with different ways to apply it all, so hopefully this tutorial speeds up the process for you at home and you can turn yourself or your daughter into the perfect unicorn this Halloween!!!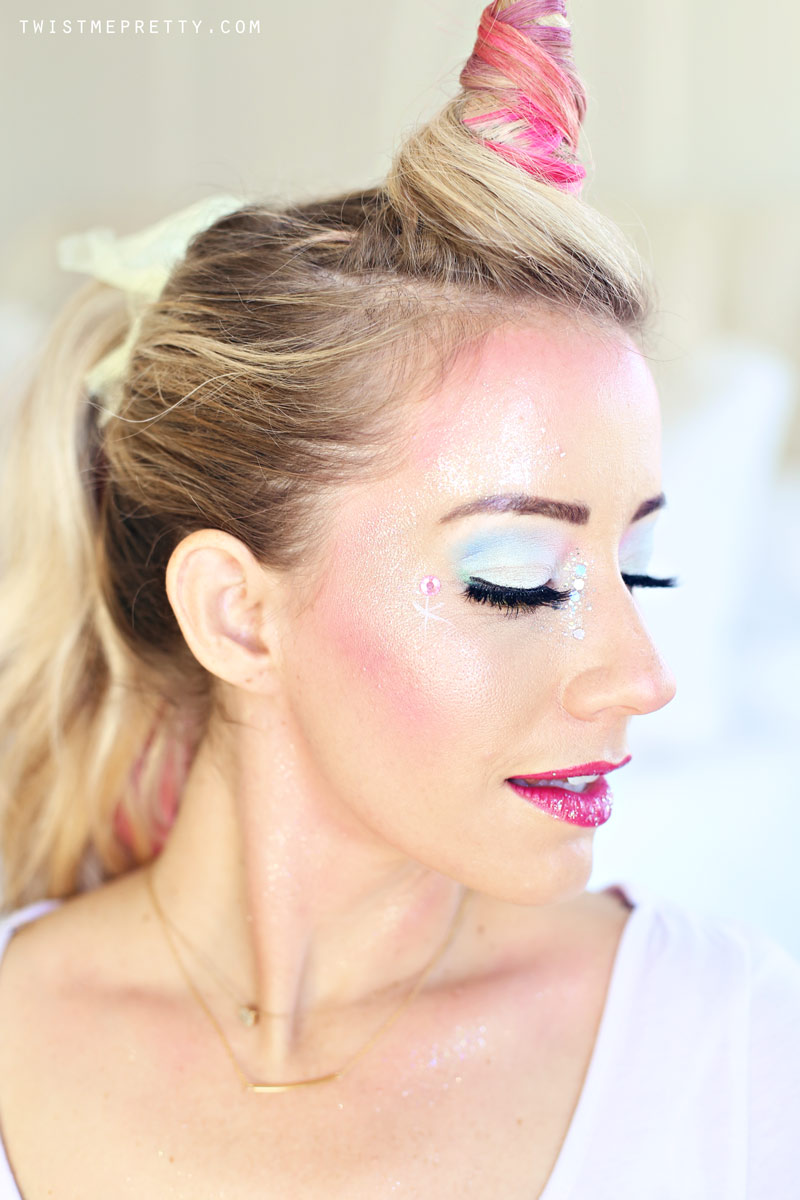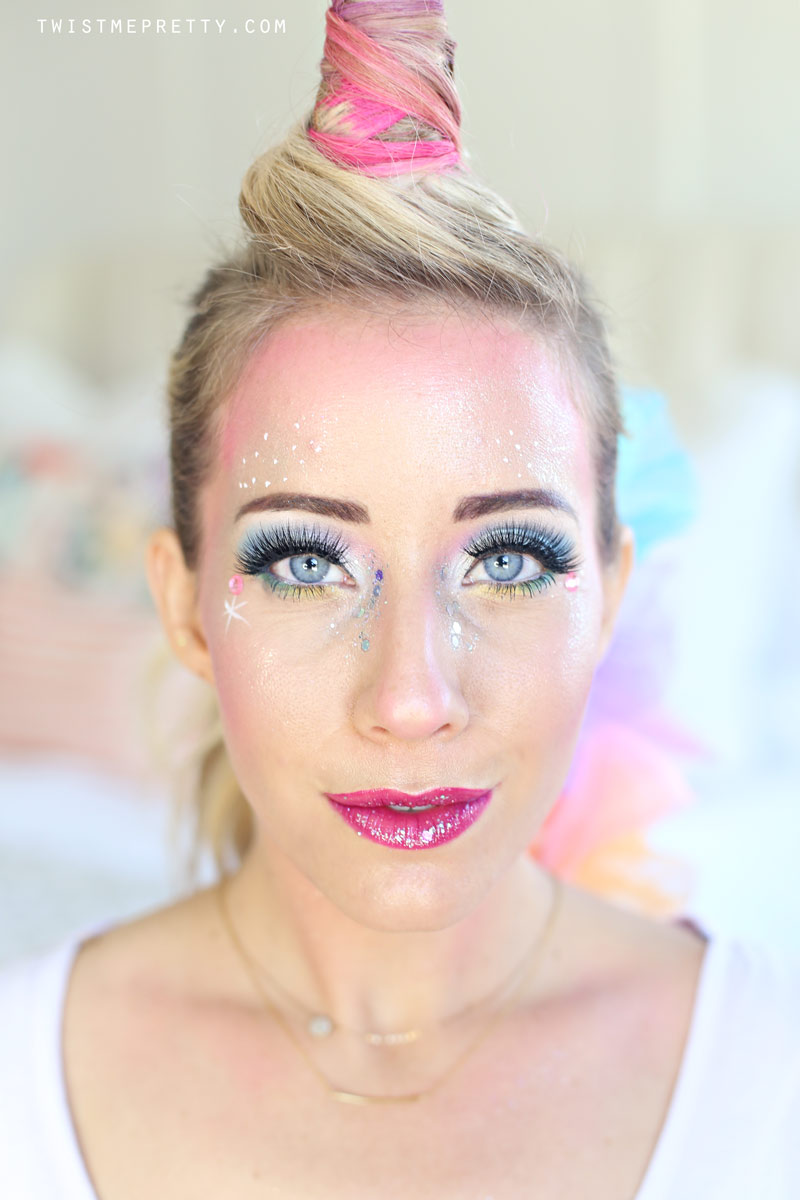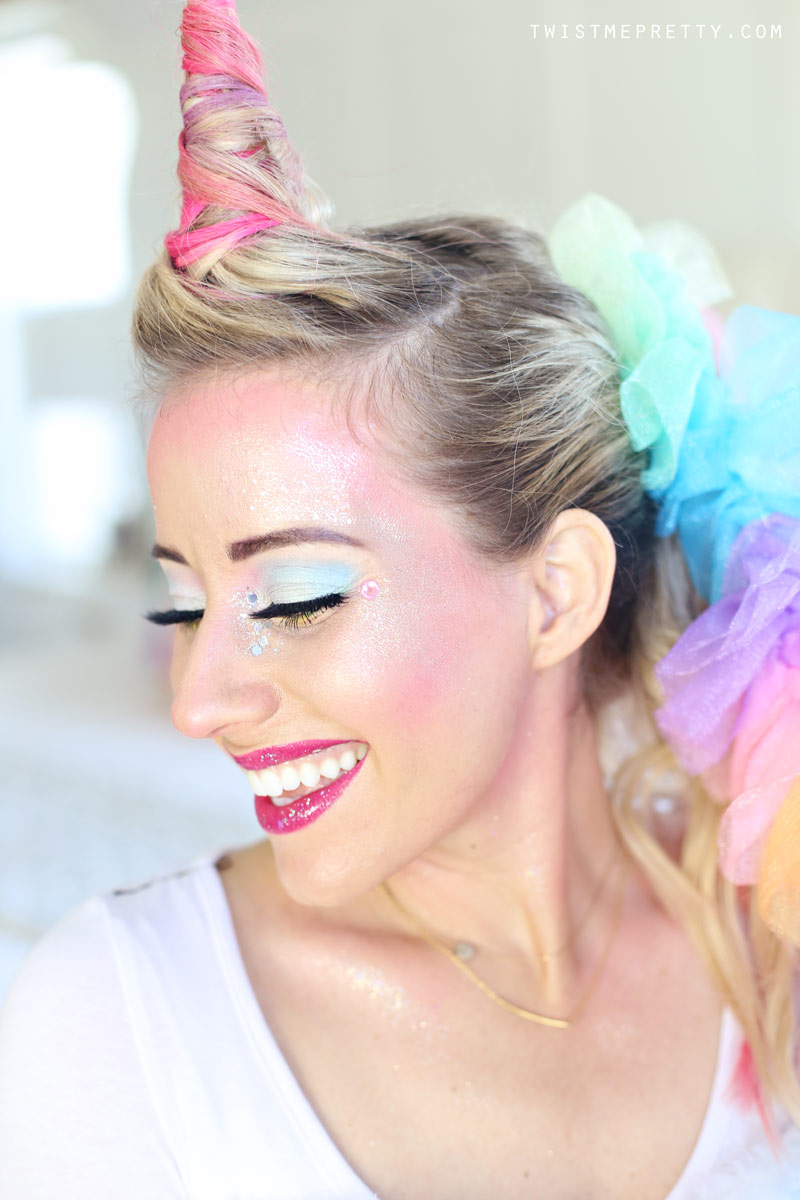 And because when you dress up as a Unicorn with your daughter you must find a yellow brick wall and prance around. It's absolutely a requirement. Sometimes I have to beg Savy to help me out with blog/video stuff but she's been on cloud nine with all these costumes. It's been really fun for us and something I hope we can do together for years to come! #gilmoregirlswannabe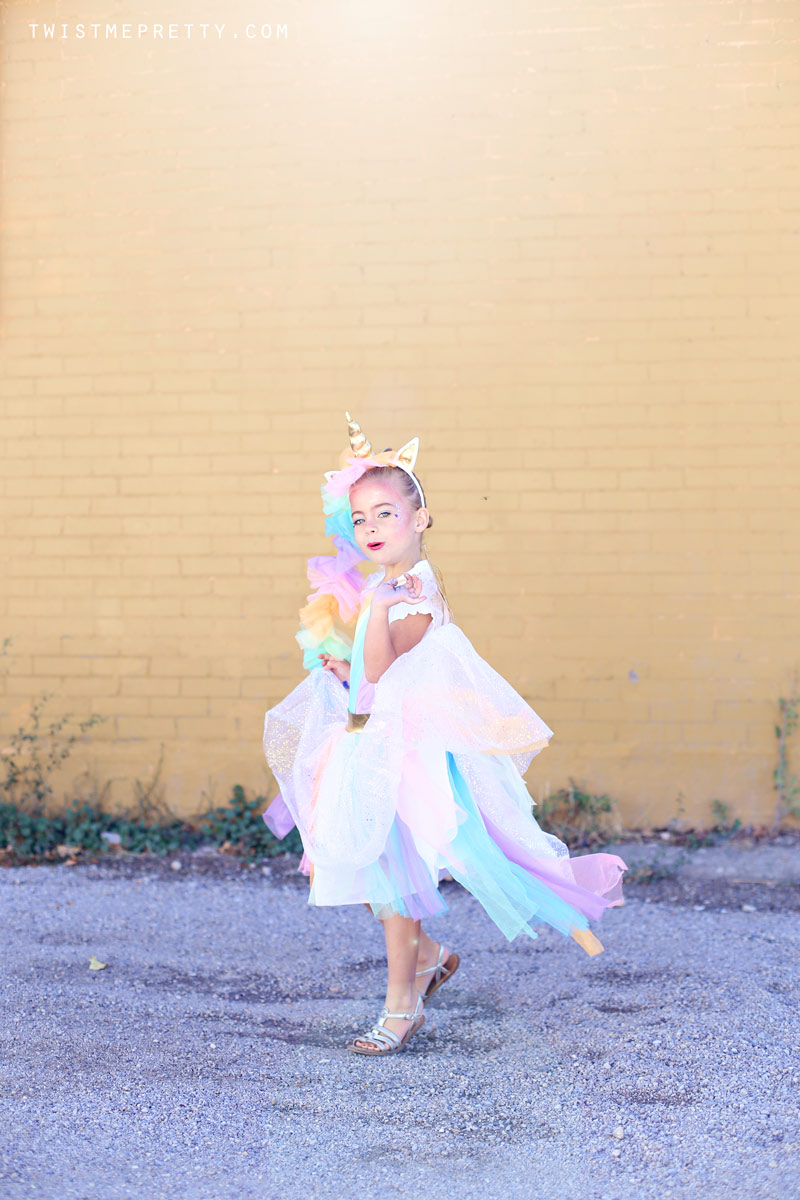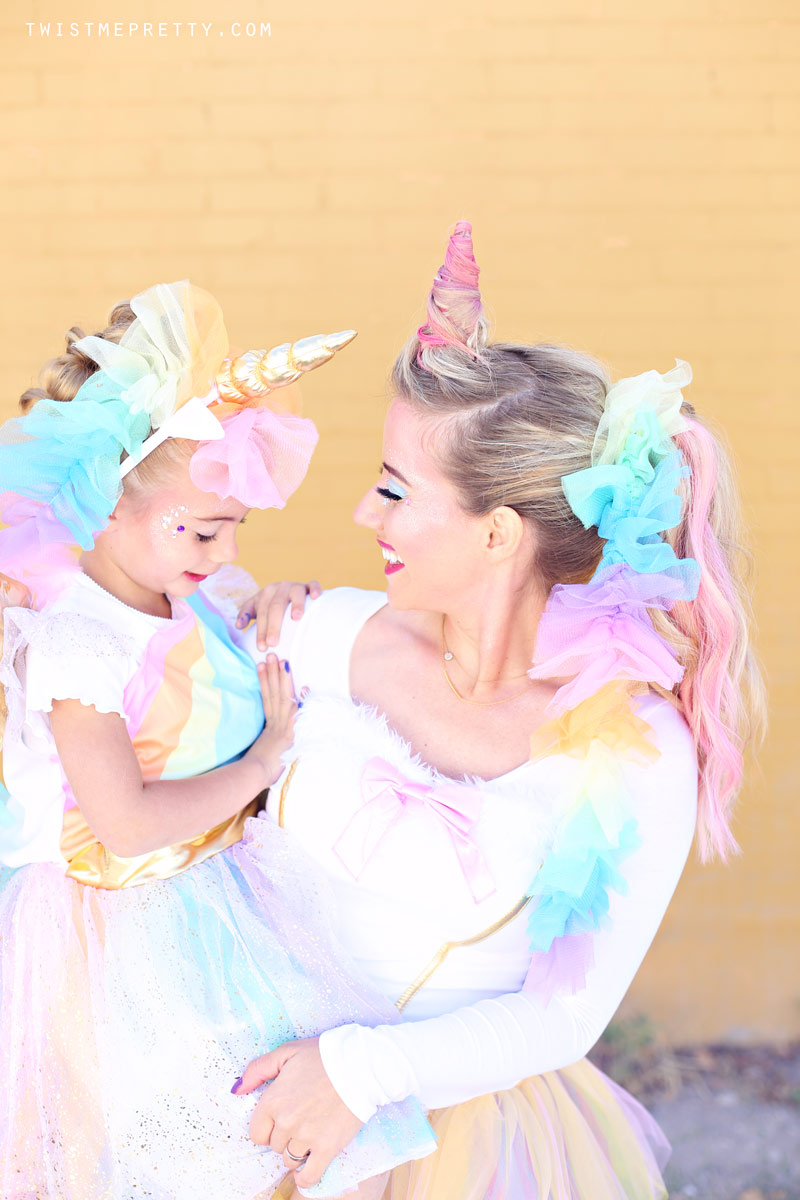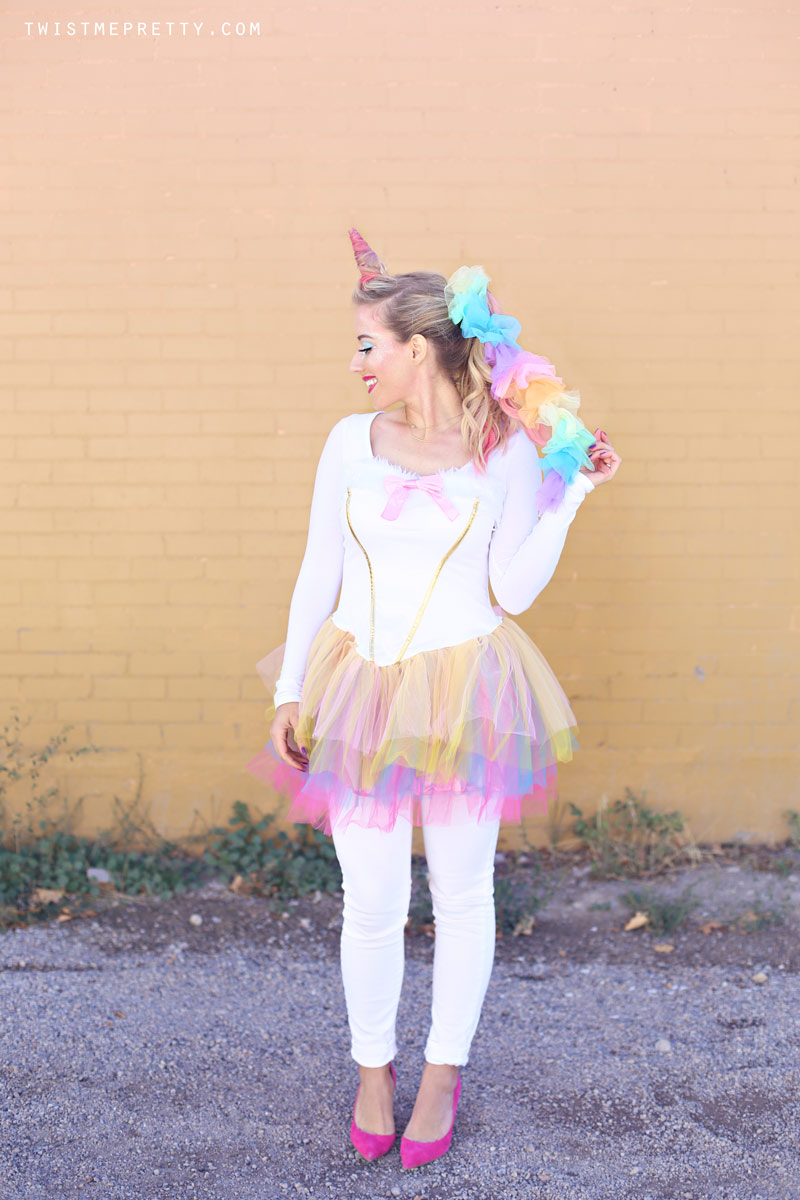 COSTUME LINKS

Savy's Unicorn Costume + headpiece || My Unicorn Costume: I bought this Fantasy Unicorn Costume from Amazon – I got a size medium because it was prime and the small wasn't ha ha! The small would have fit better but that amazon prime gets me every time!!! And because I'm a mom to four kids ?, I added some extra faric to it by wearing this long sleeve white body suit and these white jeans. Amazon actually had these really cute leg warmers but I totally spaced putting them on, I was so bummed when I came home after taking pictures and saw them. They're really cute! And then of course, any bright colored shoe you have!
MAKEUP LINKS
Smashbox Primer | MakeSense Anti-Aging Foundation | NYX jumbo eye pencil in Milk | My Little Pony Palette | Superhero Liner | Magnetic Mascara | Master Fairy Highlight | Stila Diamond Dust | Face Glitter | Purple Reign LipSense + Glitter Gloss (click on lipsense and make sure to snag a gloss if you don't have one. Glossy gloss is my favorite) | Brushes: Mac 275 brush + IT cosmetics #6 buffing brush + Sigma E25 blending brush + Sigma F37 Spotlight duster + IT cosmetics dual ended foundation and concealer brush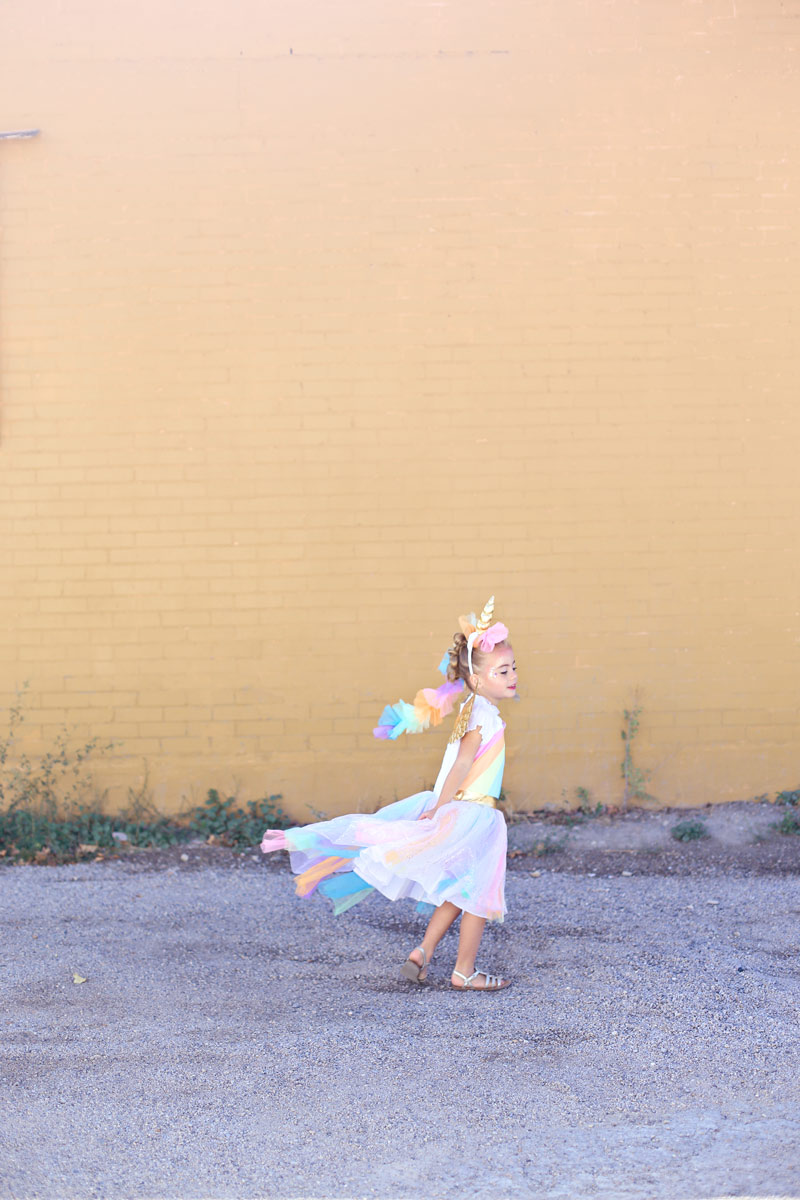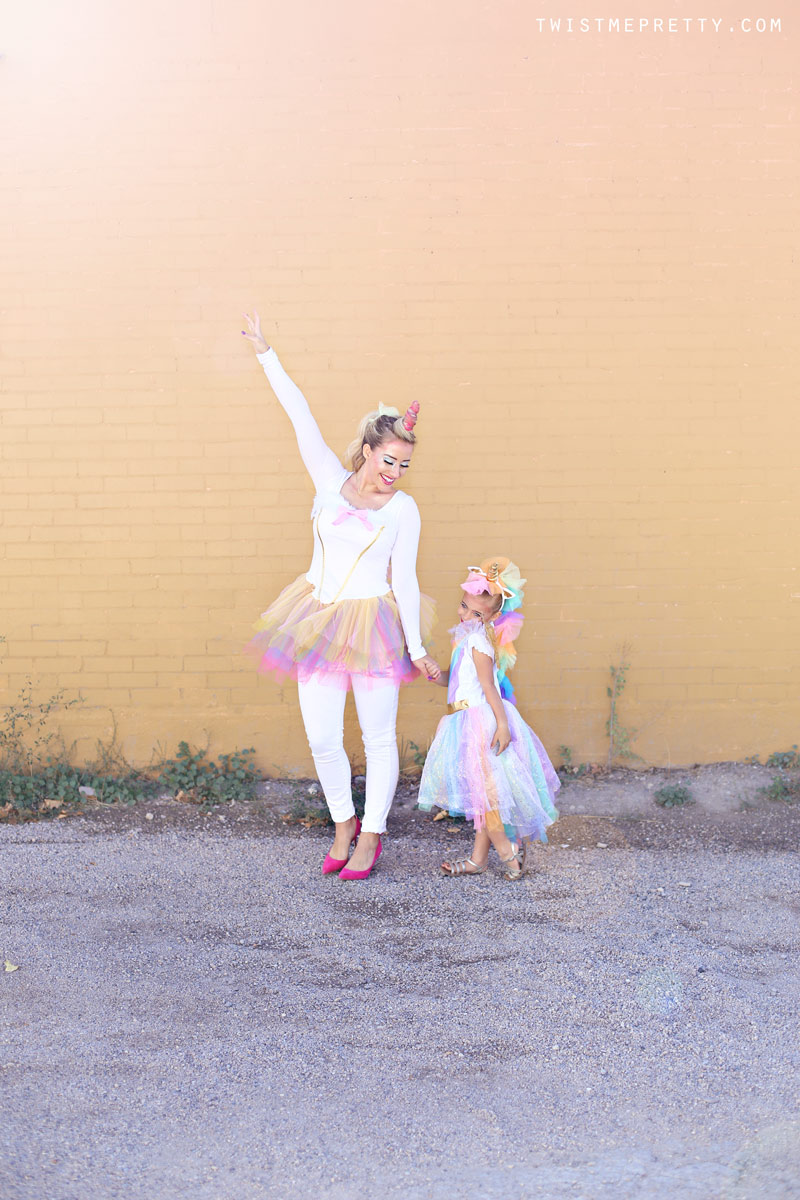 I'll be sharing the hair tutorial this weekend, the video was getting a little too long so I decided to break them up. But it's comin' I promise!!!
What do you think about this costume idea? Are you going to be a Unicorn for Halloween? Did I inspire you to at least consider it?!!!
Here's the video tutorial so you know exactly how to transform! xo