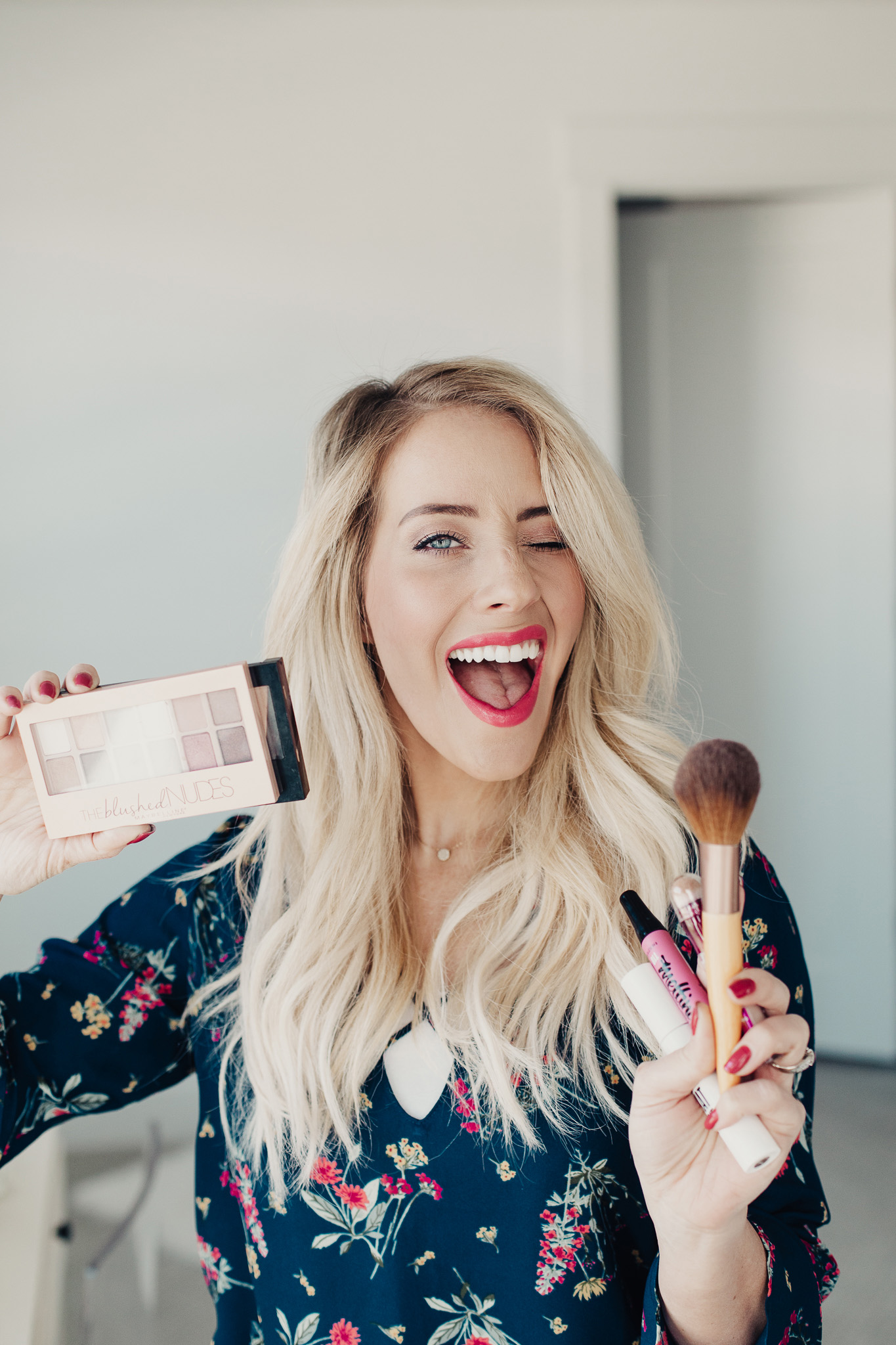 Hey babes!!! I shared a quick makeup tutorial on Instagram a couple weeks ago and you guys loved it! I got several requests to share my favorite drug store products next, and today I'm delivering! I've rounded up my favorite budget friendly beauty products and am going to share an every day look that'll not only make you look amazing, but will keep your wallet happy too!
Everything I'm using is from Smith's and GUESS WHAT?! Kroger's Beauty Event starts TODAY!! Do you know what this means?! March 7th – March 20th is SPEND $15 and SAVE $5 at participating Kroger stores. They do this a couple times a year and it's literally the perfect time to splurge on new makeup. So if you need to freshen up some of your favorites, or you want to try one of mine, make sure to hit the sale so you can save! Alright, alright, let's get into it, ya?
For the Skin: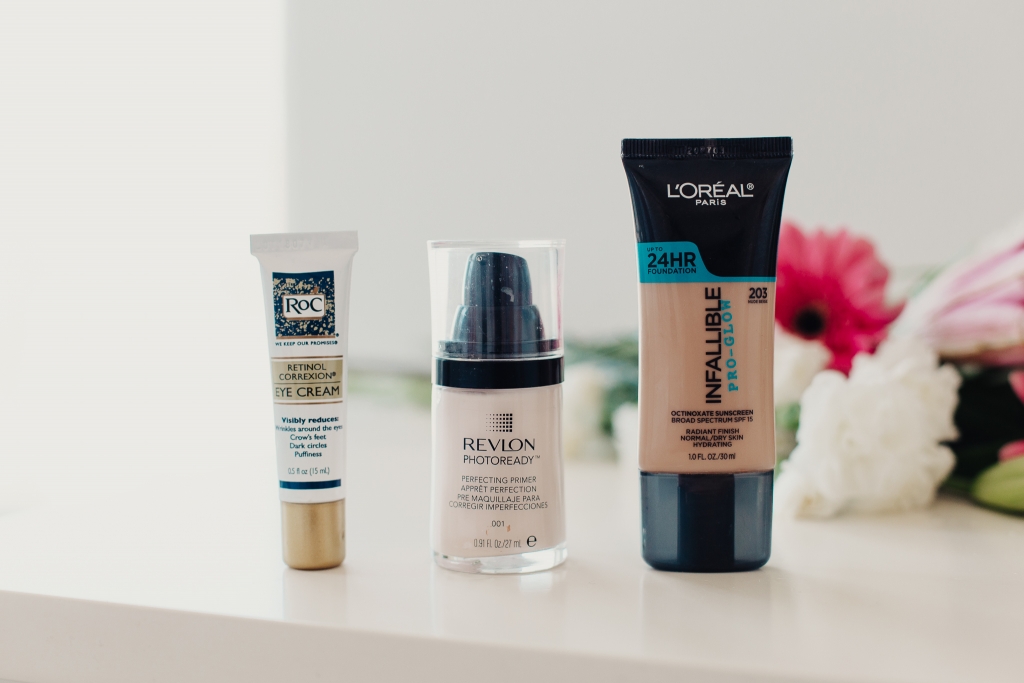 Roc Retinol Correxion Eye Cream. This product helps reduce the appearance of crow's feet, dark circles, and puffiness. I put a small dot on my ring finger and dab it on under my eyes, blending it in using gentle, patting motions.
To prime, I'm using the Revlon Photo Ready Perfecting Primer. It has a thicker consistency but I feel like it does a great job of minimizing my pores and helping my foundation go on super smooth!!! If your skin is dry or your having problems with your makeup creasing of coming off, make sure to use a primer!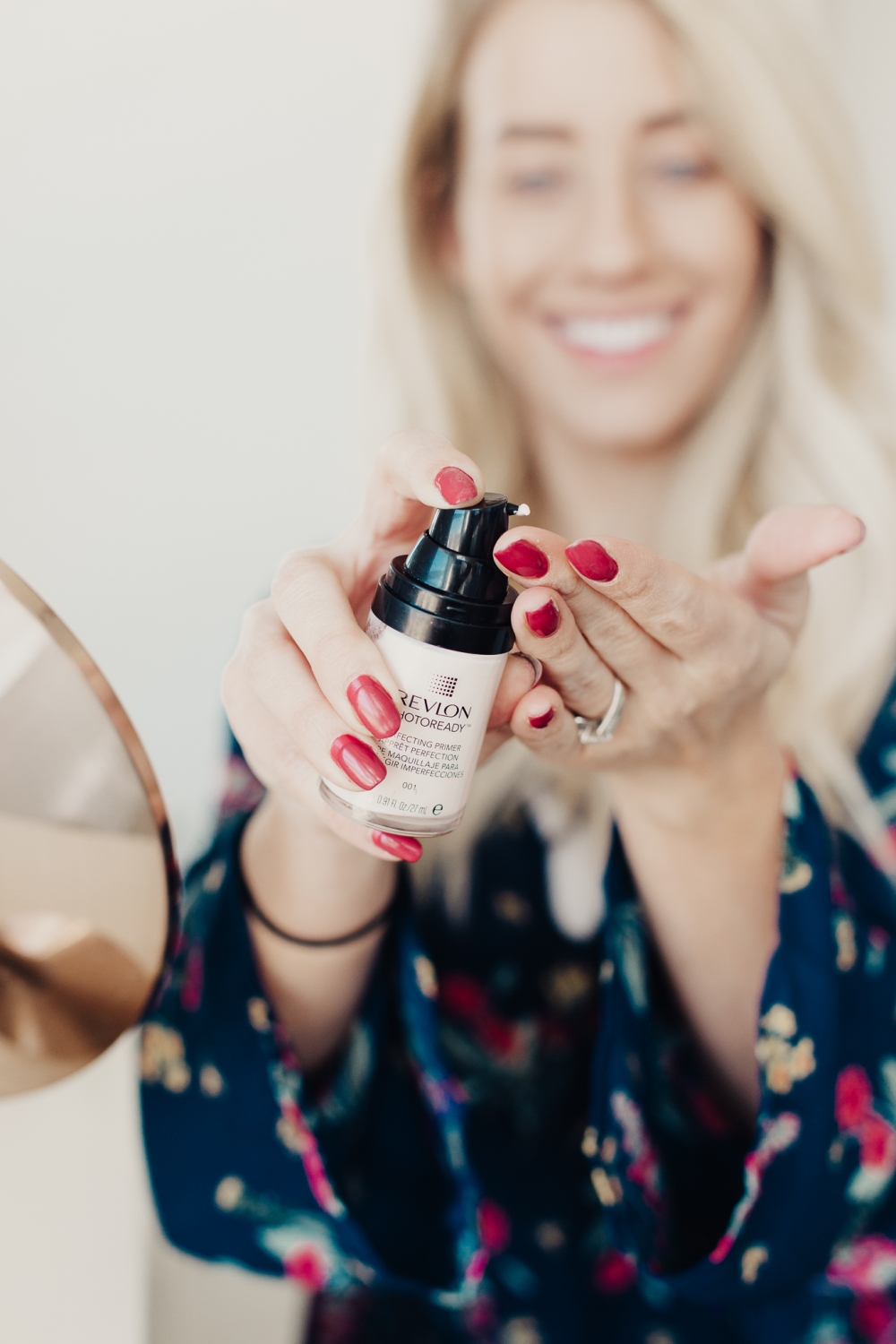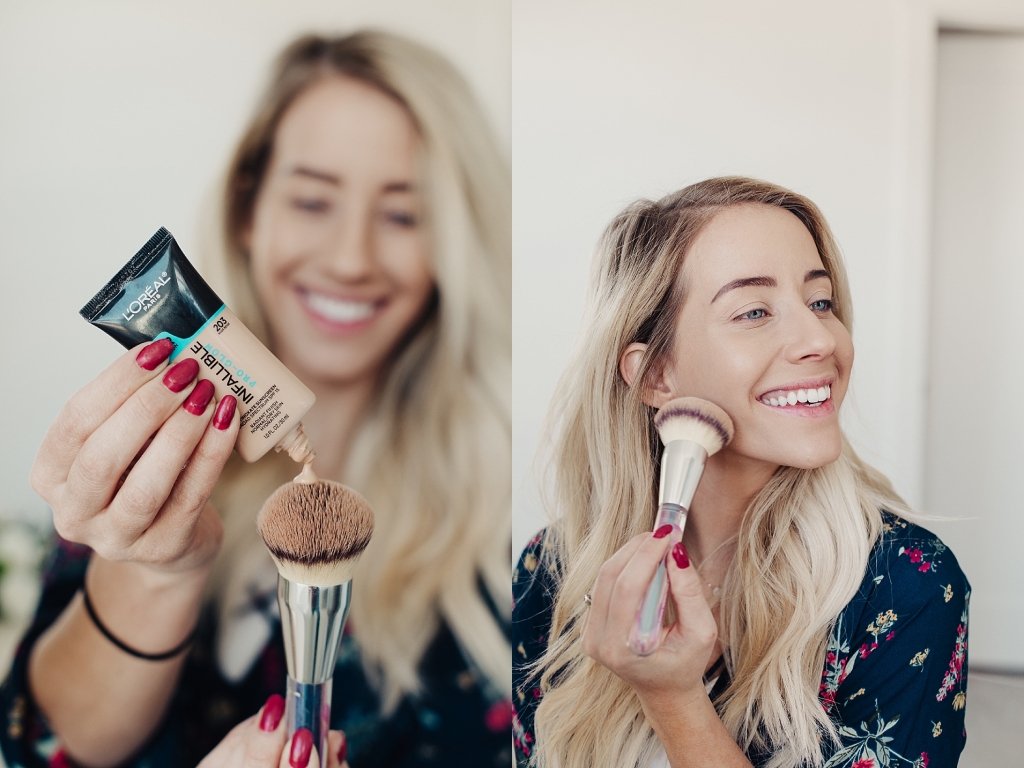 And then I'm buffing the L'Oréal Infallible Pro Glow foundation in the shade nude beige into my skin. I'm just using a dense, domed foundation brush. I really love this foundation, it's full coverage and wears well all day!! The key is to set it with powder when you're done or it will slide around a little bit.
Highlight and Contour + Blush:
First I use the Master Contour by Maybelline. I primarily use the contour side because I can't get enough of their under eye concealer which we'll talk about in a minute! You just carve out what you want to contour, in the hollow of your checks, your hair line on your forehead, down the sides of your nose and your jawline. Then blend it well with an angled buffing brush.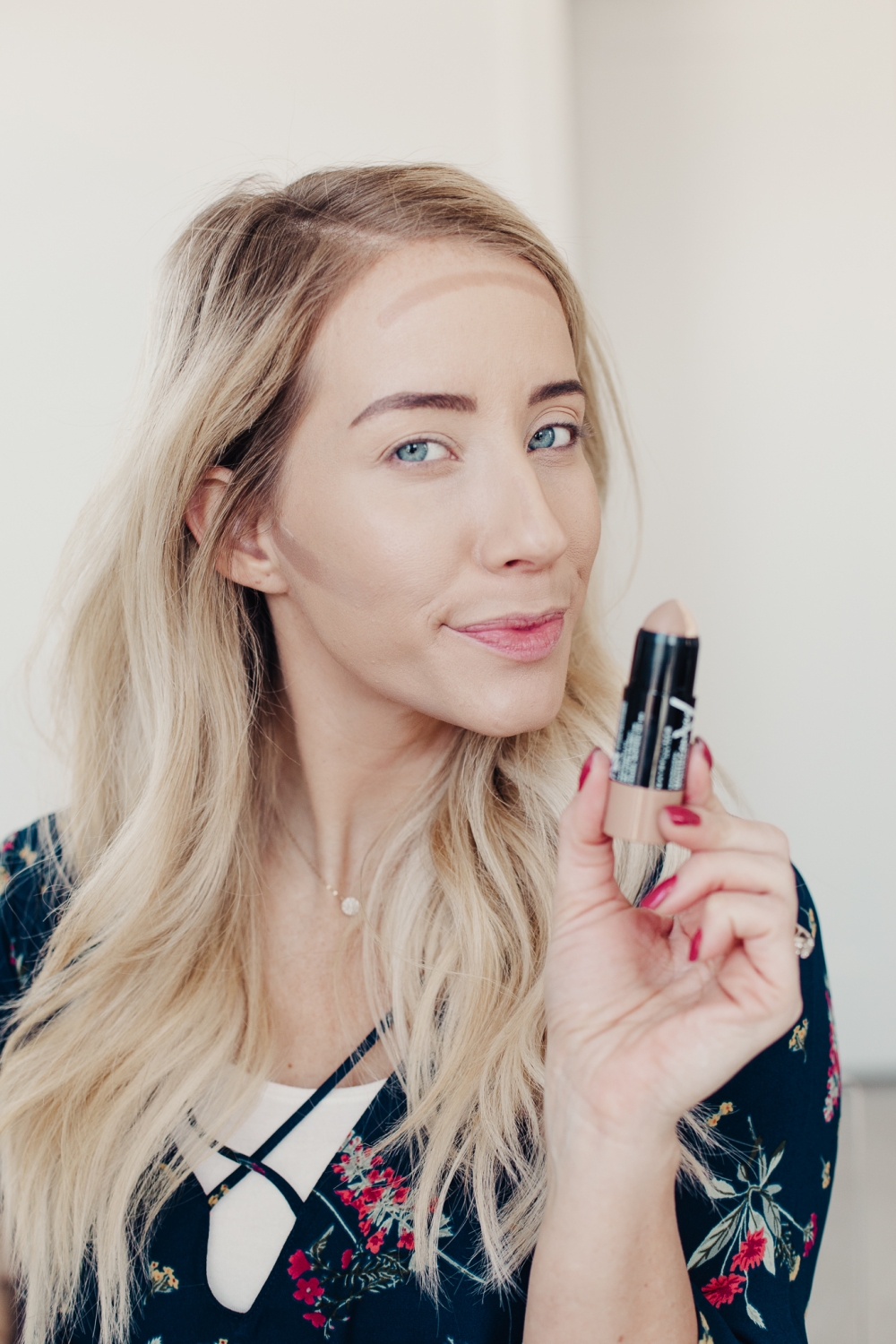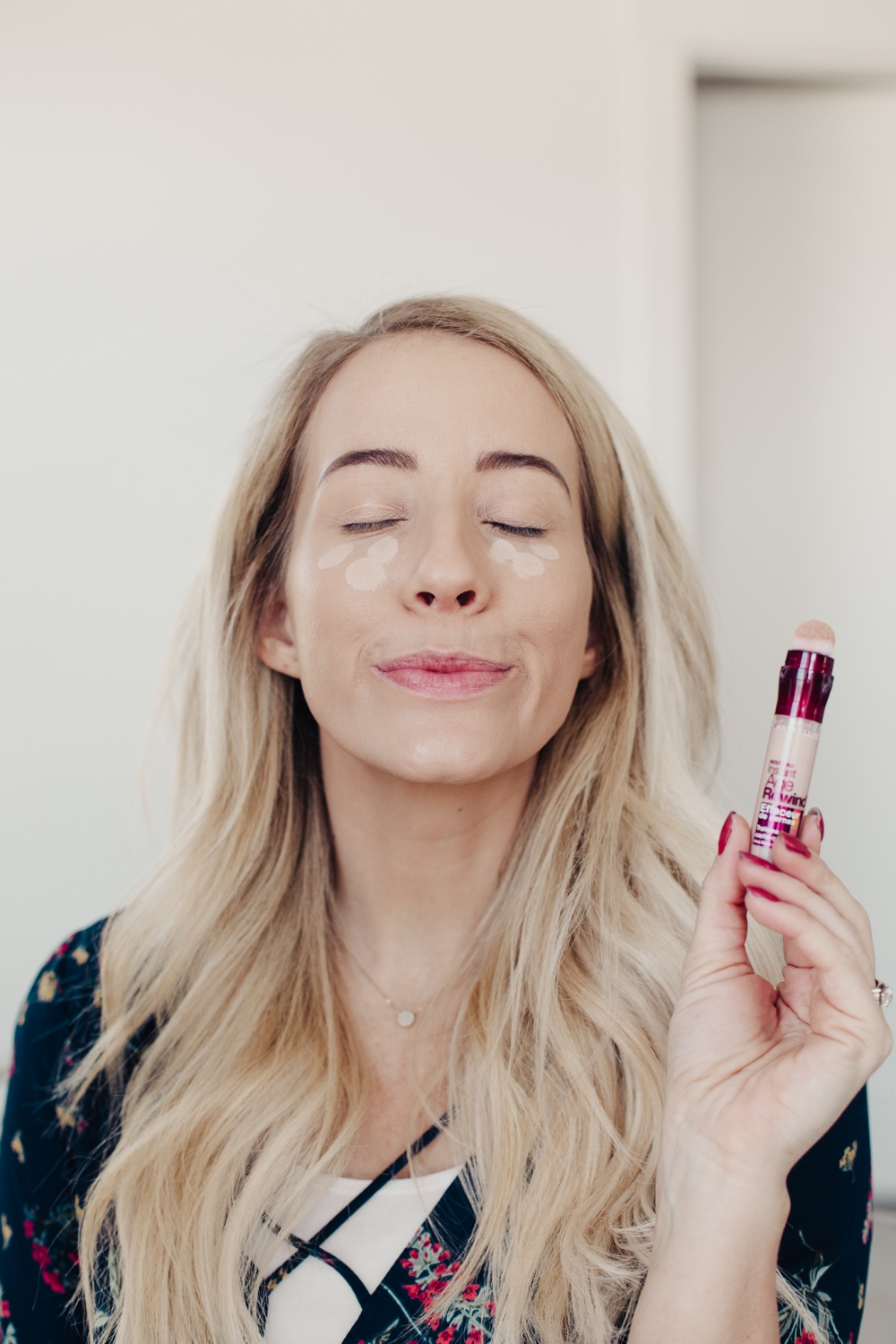 The Instant Age Rewind from Maybelline is ahh-mazing. It's one of my absolute favorite concealers! I gently dab product under my eyes and blend it out with a small and soft fluffy brush. It's so pigmented, really lightens the under eye and doesn't settle in creases. It's the best!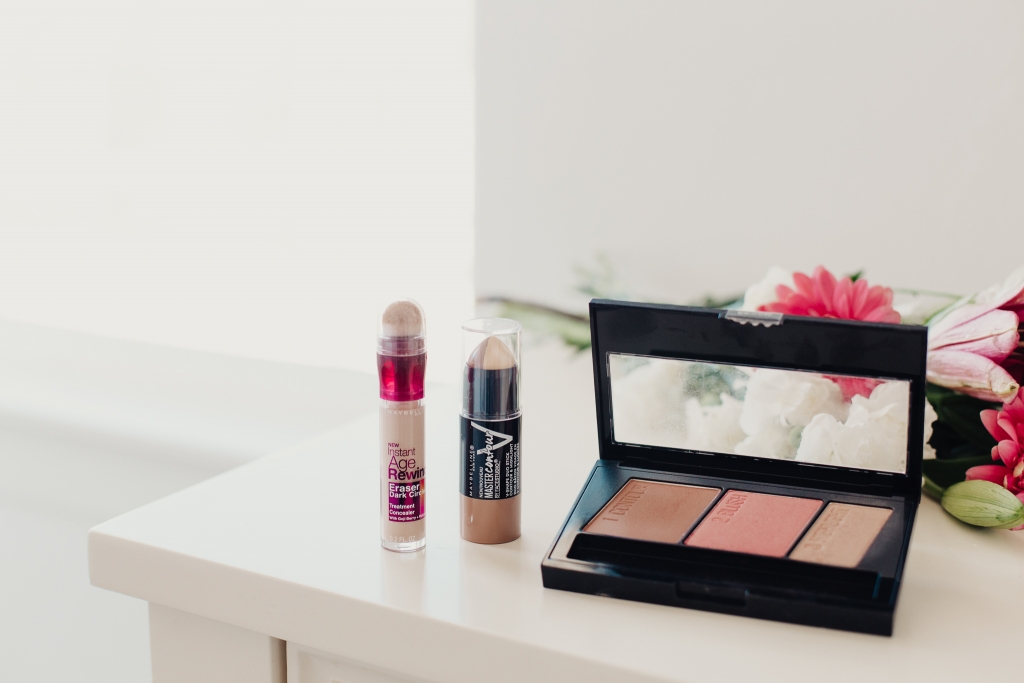 Then it's time for the blush!! I really like the Master Contour palette, the formulas are really nice. There's a contour, a blush and a highlight in this palette. I tap some blush on the apples of my cheeks and then if I have extra time I'll darken up and go over the contour with the bronze color.
To set it all:
When the skin is done, I like to set the makeup with the Maybelline Fit Me Set and Smooth powder in the shade Porcelain. There's a translucent shade but I like the 110 cause it gives just a tiny bit of color too! This is going to keep the foundation from sliding around on the face + it gives it a really pretty matte look.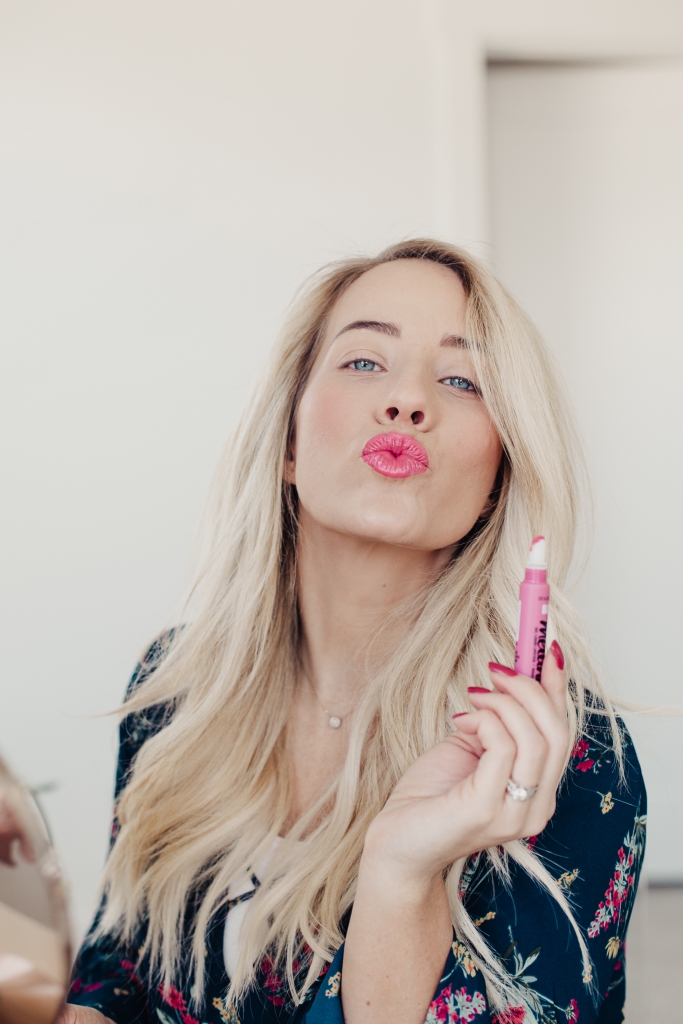 Lips: Once my skin is done, it's onto my lips! The Melting Pout lipsticks by Covergirl are great! I'm using the shade Evan-Gel-ical.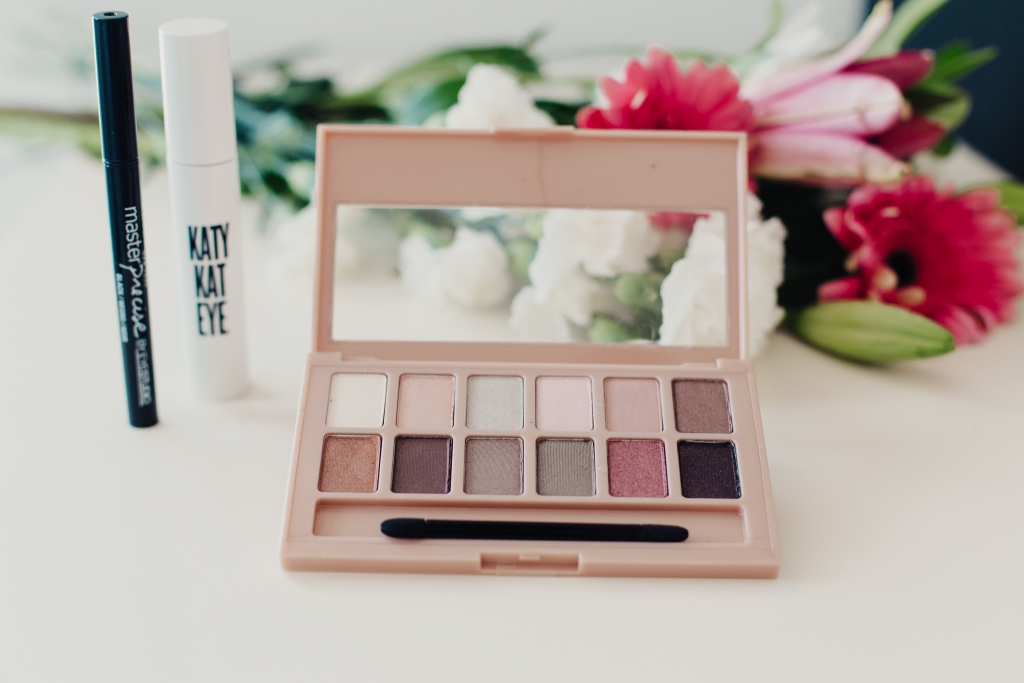 Eyes: I love the Blushed Nudes Palettes by Maybelline. The colors are really soft and there's a great mix of matte and shimmer shades.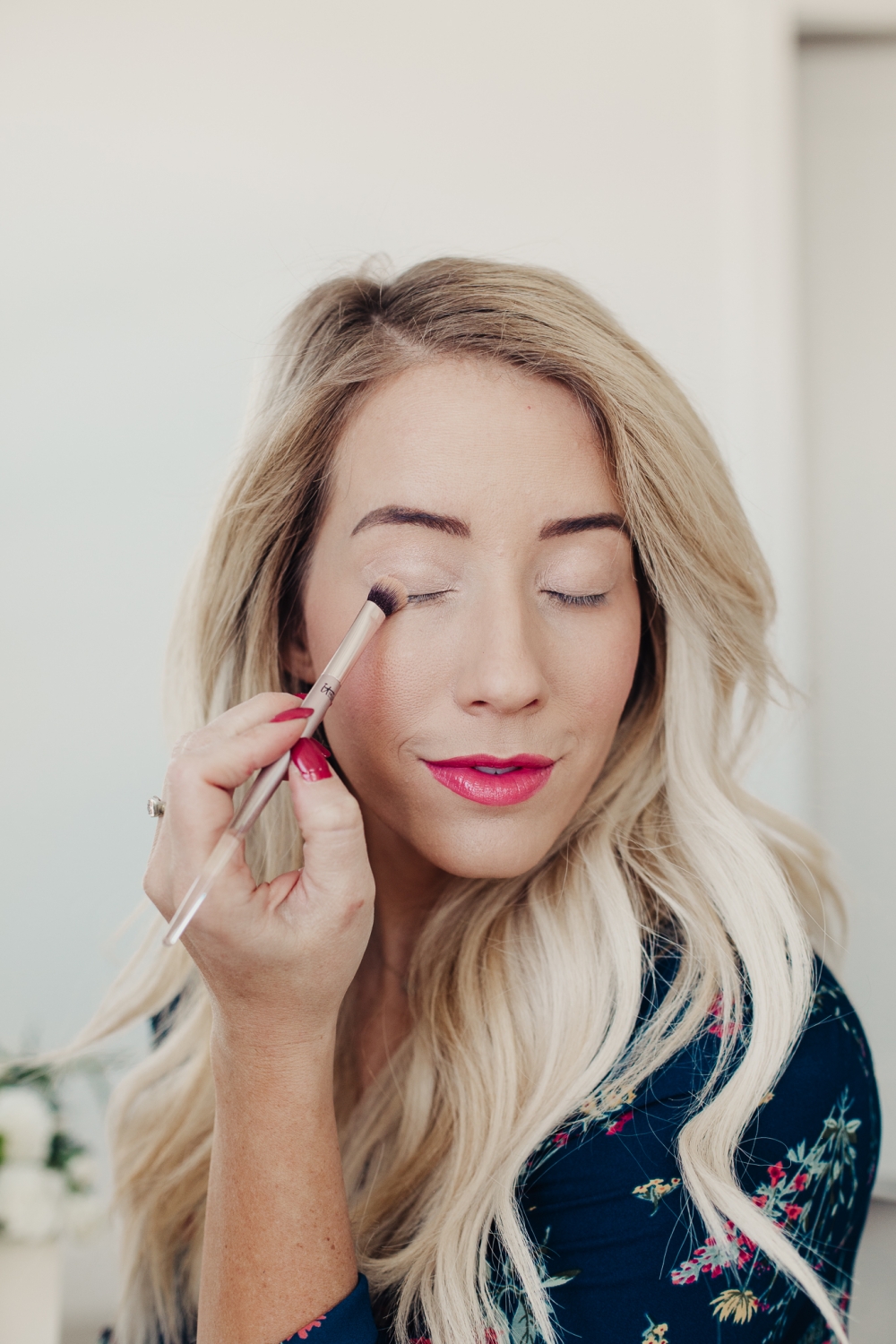 First, I'm putting the shimmery pale rose color all over the lids. If you want the color to be a little more pigmented, get your brush damp! Then I'm using a small fluffy brush and just sweeping the metallic rose gold shade all over the crease.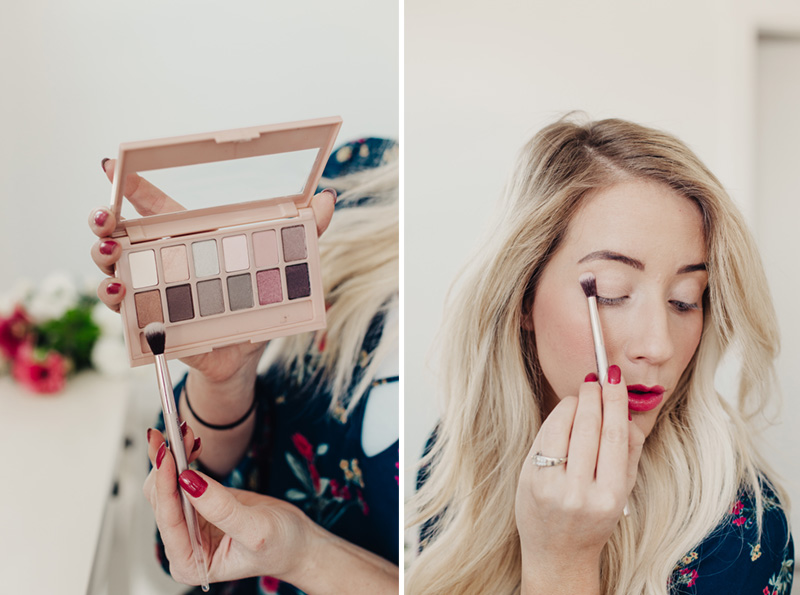 Then with that same brush, I'm taking the metallic pink and the dark brown and darkening up the outer crease. Make sure that everything is nice and blended! As a substitute to eyeliner, I like to take the dark brown color and sweep a little bit of color right below the lower lashes. Instead of a harsh line, you get a really pretty pop of color and it opens up the eye! You can watch this video tutorial if you're looking for a better explanation of how I actually apply shadow to my lids!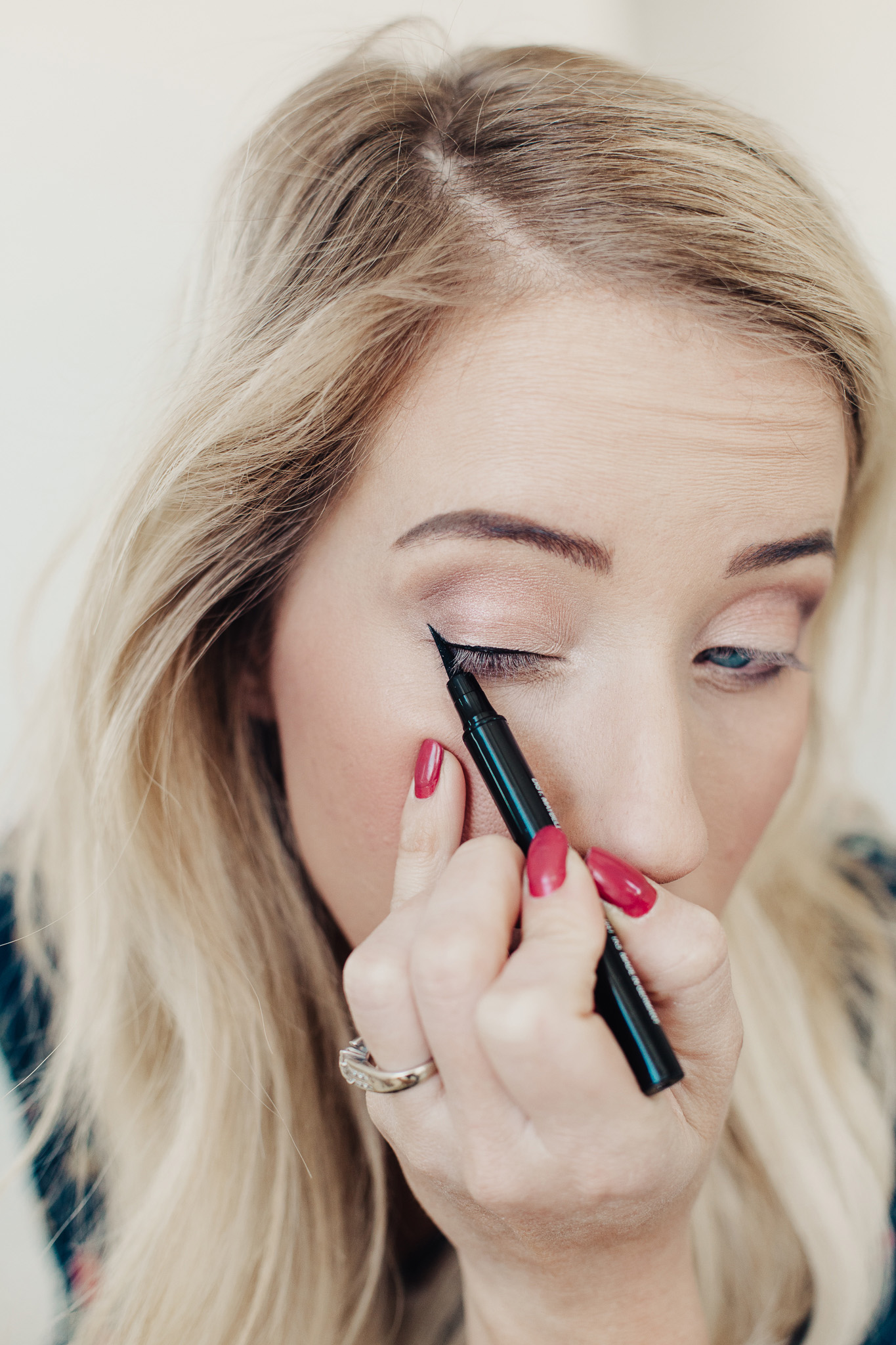 Then I'm using the liquid liner by Covergirl and giving my eyes a slight wing. I like to use the shape of the tip to stamp the shape of wing I want and then without lifting the "stamp" I drag it up. Then draw liner from the other side to meet with the wing.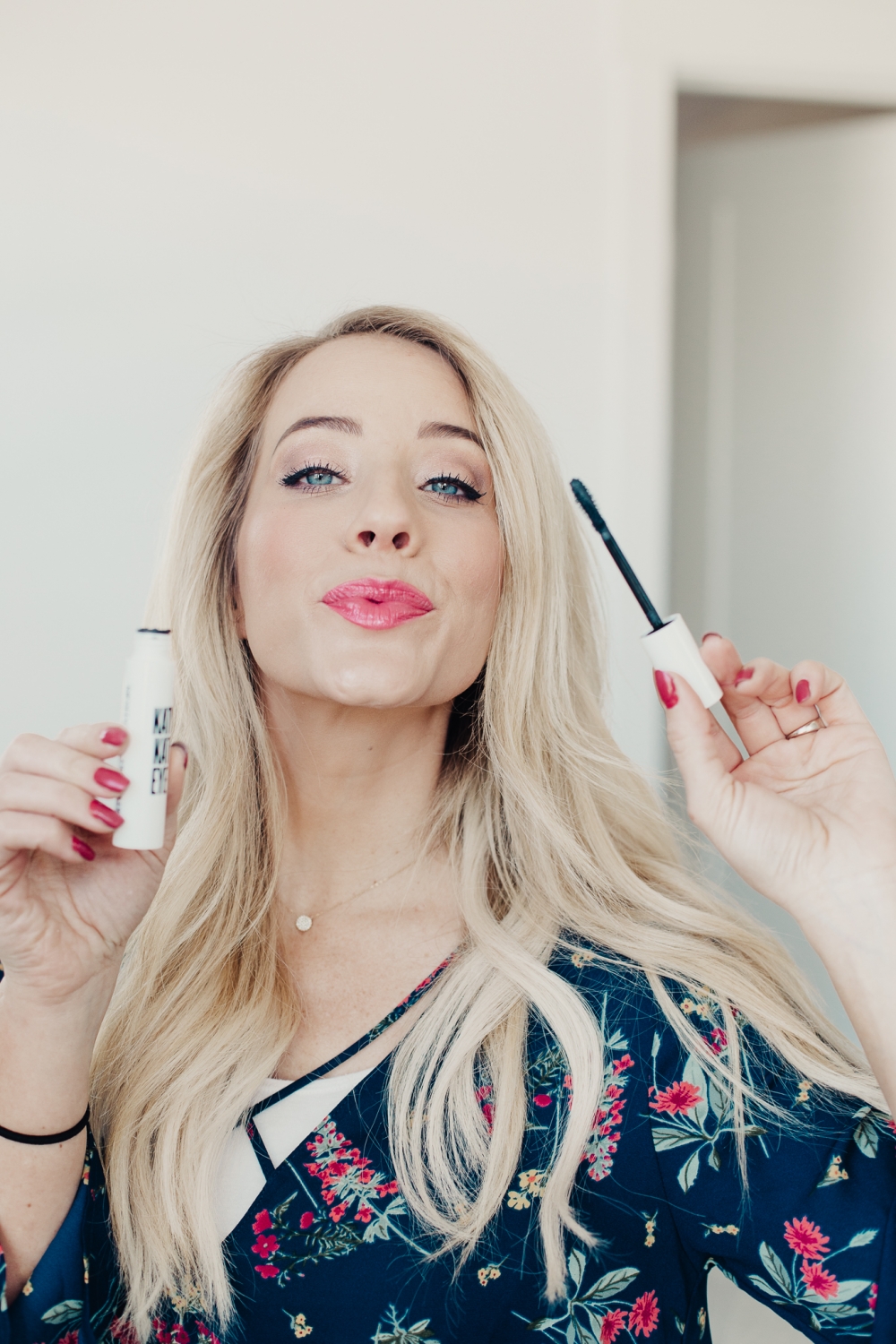 After that it's onto the lashes!!! I love the new Katy Kat Eyes Mascara, it's amazing and adds a lot of volume!!!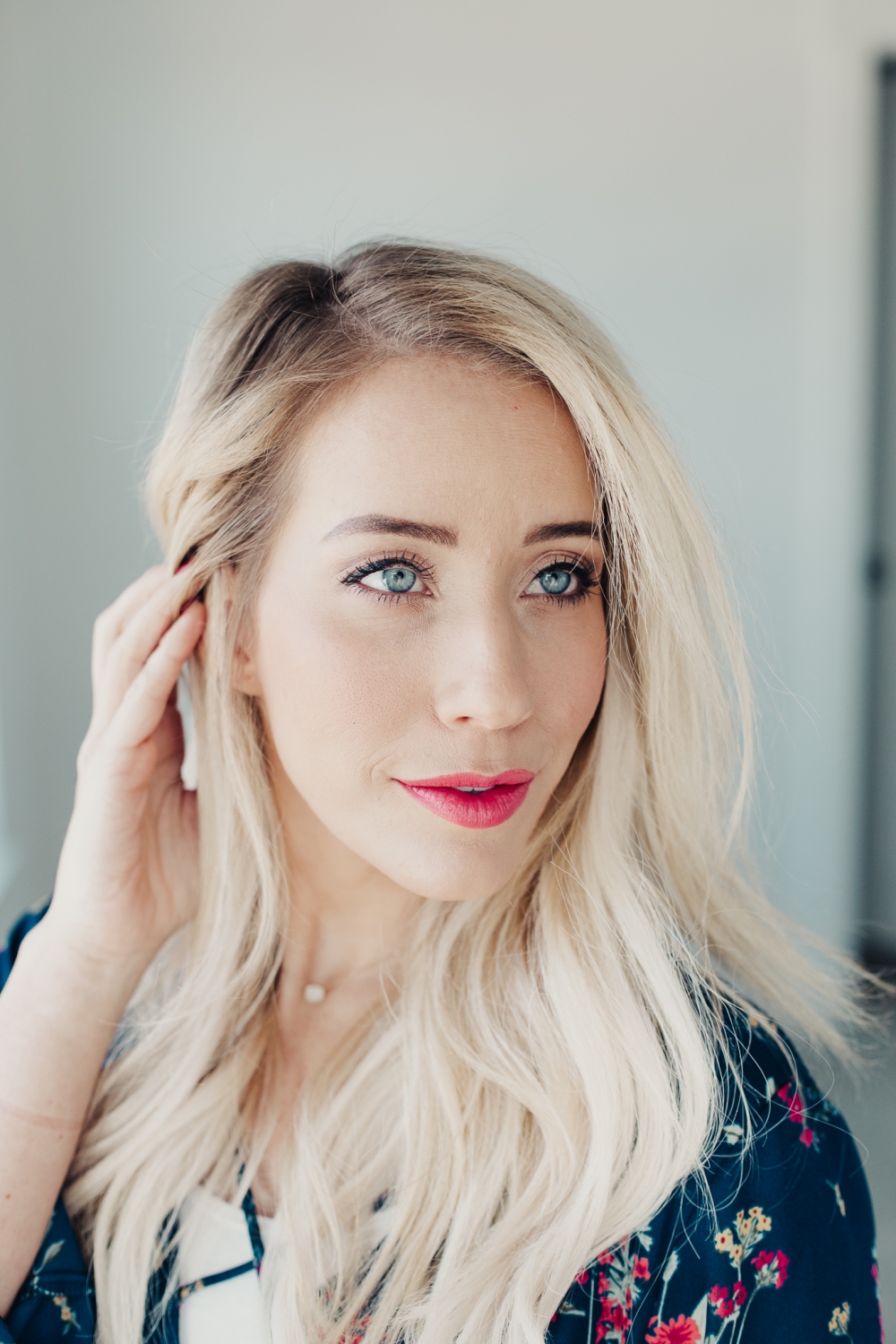 And then we're done with the makeup!!! A few other products I really love is the Dove deep moisture body wash, it makes my skin so super soft!!! I've been using the Garner Fructis Sleek and Shine Oil which hydrates the hair and adds back in a luminous shine and then my nail color is the Sally Hansen Gel Nail Polish in the color Frill Seeker. This is one of my favorite products to use when I don't actually have my nails done because it lasts so much longer than regular polish!!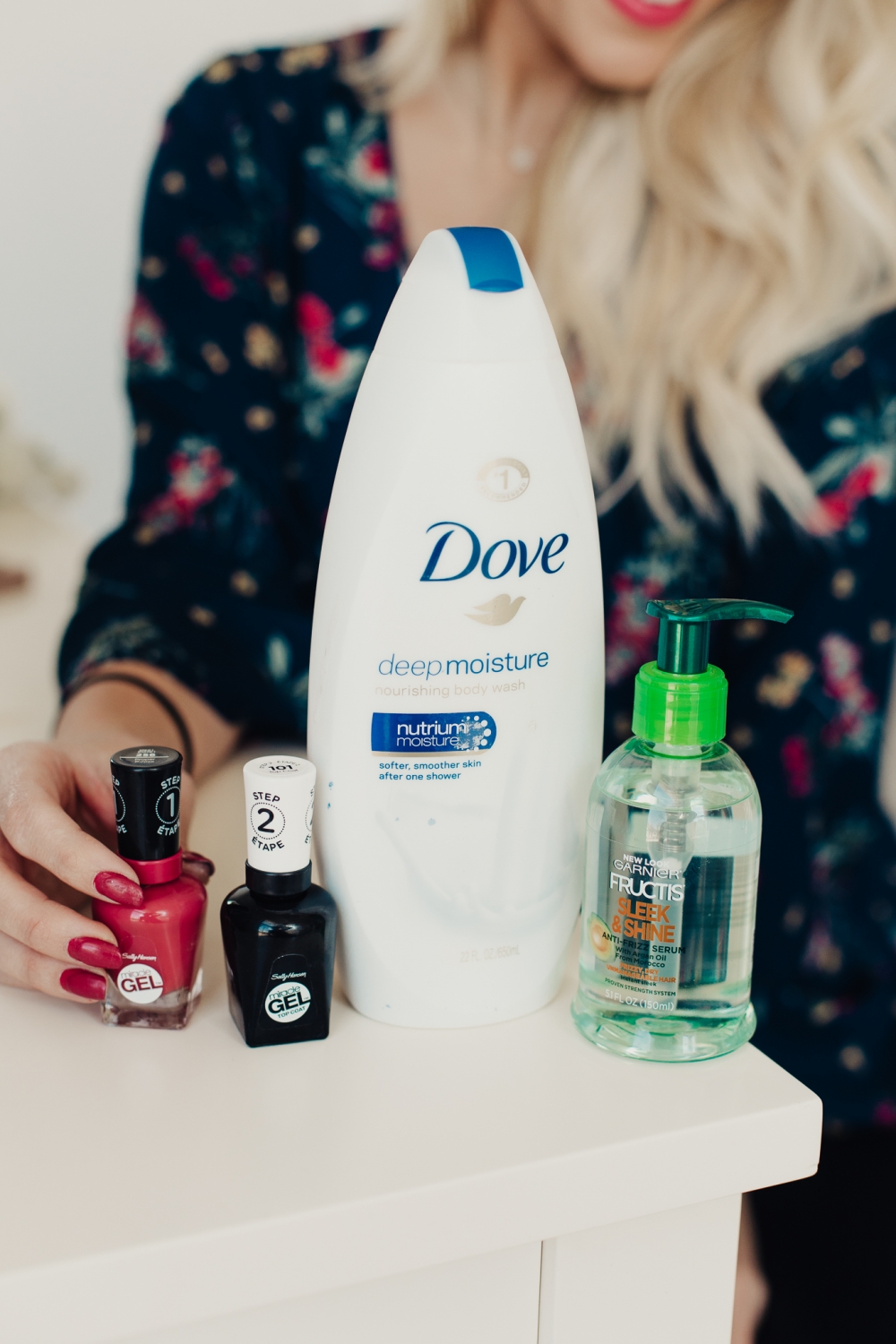 And that's it! Whew, you made it!!! I want to know in the comments what your favorite drug store beauty products are?! Are there any products I need to try? And don't forget the Kroger Beauty Event starts today, March 7th, and goes through March 20th. It's SPEND $15 SAVE $5!!! Go buy yourself something super nice and like always, let me know if you have any questions!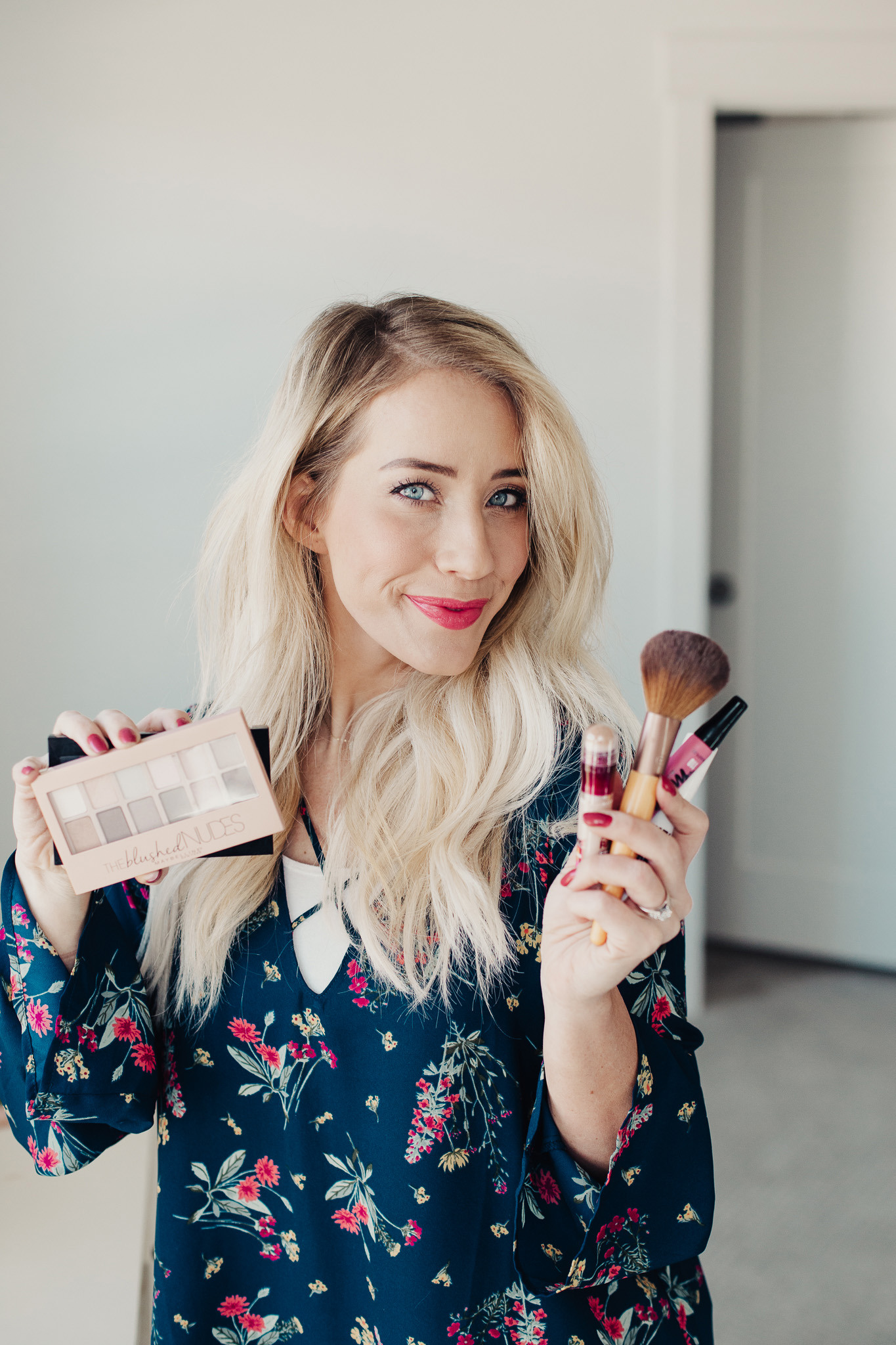 This post was made in collaboration with Kroger but all thoughts and opinions are my own!