BABES!!!! We're on our very last stretch! We have FIVE hairstyles left until we've officially completed the 30/30 Learn How To Braid Challenge. How are you feeling about it?! What's been your easiest and hardest braid/hairstyle of the challenge? I'm looking forward to not washing my hair for 10 days and doing absolutely nothing to it hahaha!!!! It's been so fun though and I've had such a great time interacting with you — I feel like we've created this little mini sisterhood, no? So many of you are all following each other on Instagram now, cheering each other on and it just makes me so happy to see those relationships and this community grow!
While I created this challenge to help you learn how to braid, I knew that it'd affect much more than just your hair. There's something that happens when you work so hard for something — and I know so many of you have spent hours and hours in front of the mirror perfecting these styles. You feel this awesome sense of accomplishment and pride! And when people compliment you while running errands or working out at the gym you find you're standing just a little taller. And this confidence builds and grows inside of you and it becomes so much more than just a hairstyle. I hope you guys have felt that and while you might not use all these braids or even any of them, I hope you've learned that you can do whatever you put your mind to. That it's never too late to try something new and that you have this whole big beautiful world to conquer — and you should!
Alright alright — enough sappy Motivational Monday type thoughts haha! Let's jump into these last four hairstyles.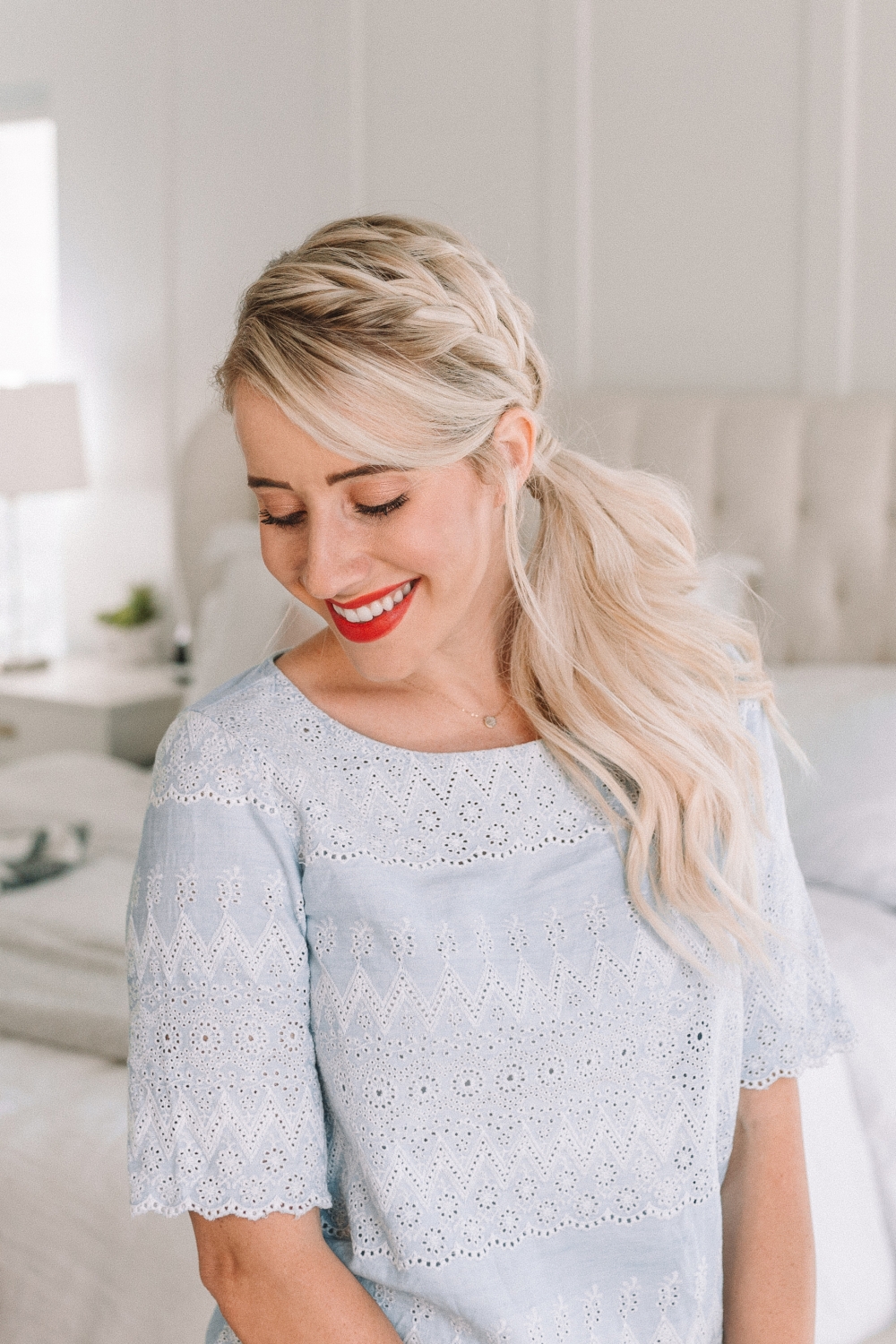 Mixed Waterfall Ponytail: We haven't done many mixed braids yet, they're my favorite! I feel like you guys can totally handle this one because we've practiced all the pieces to this braid. We had a whole week with the french braid and we've done several waterfall braids. This hairstyle is a waterfall braid, placed further back, and then right in front of it you're going to do a french braid. And when adding in new sections of hair on the back side, just pull in one of those dropped sections. Easy peasy!
Waterfall Top Knot: This hairstyle comes from the 2014 archives and I used to wear it ALL. THE. TIME! I feel like it looked better when I didn't smudge my roots, now you can see a dark shadow and there's just a lot of contrast. Even still, it's super cute, really easy and fun!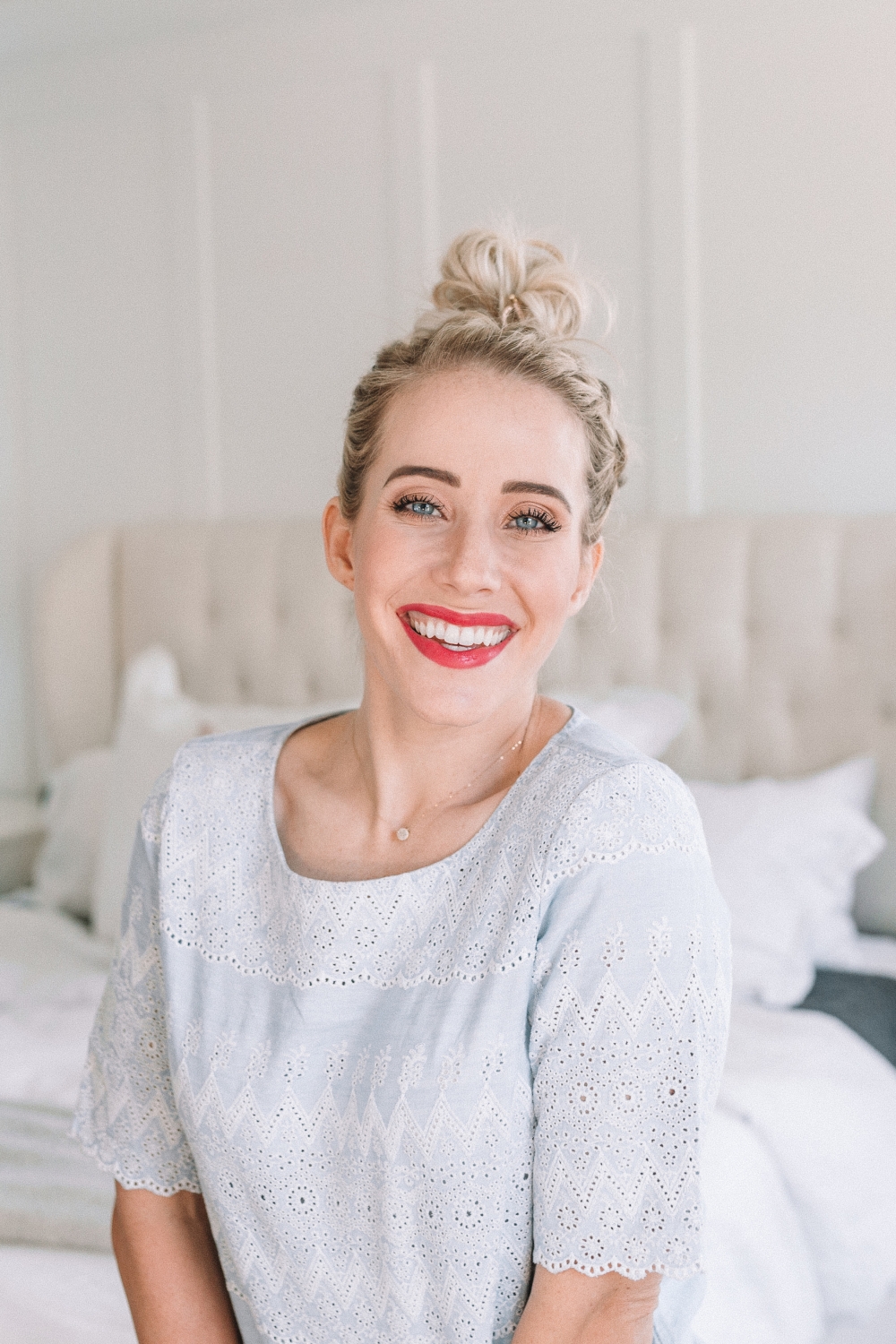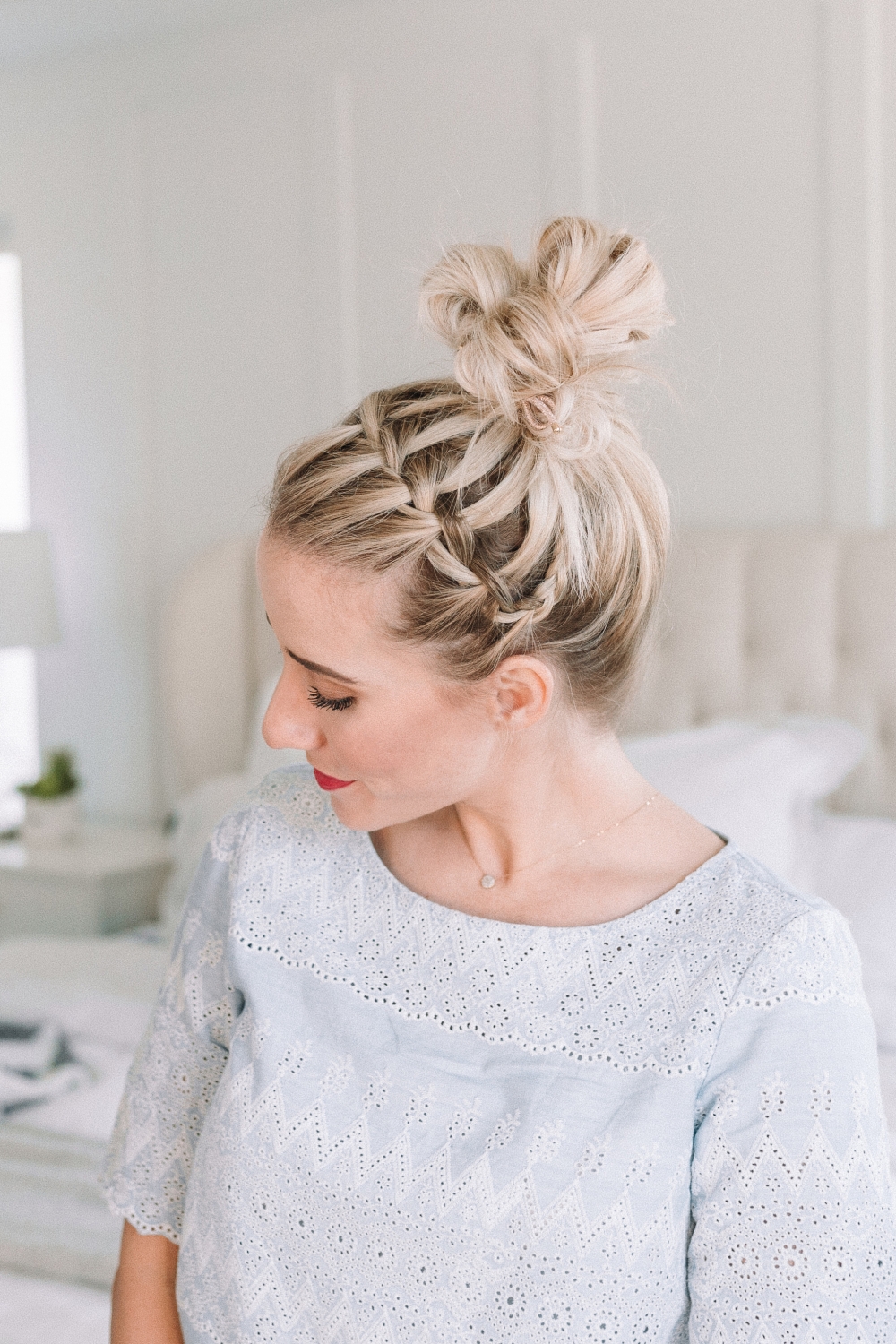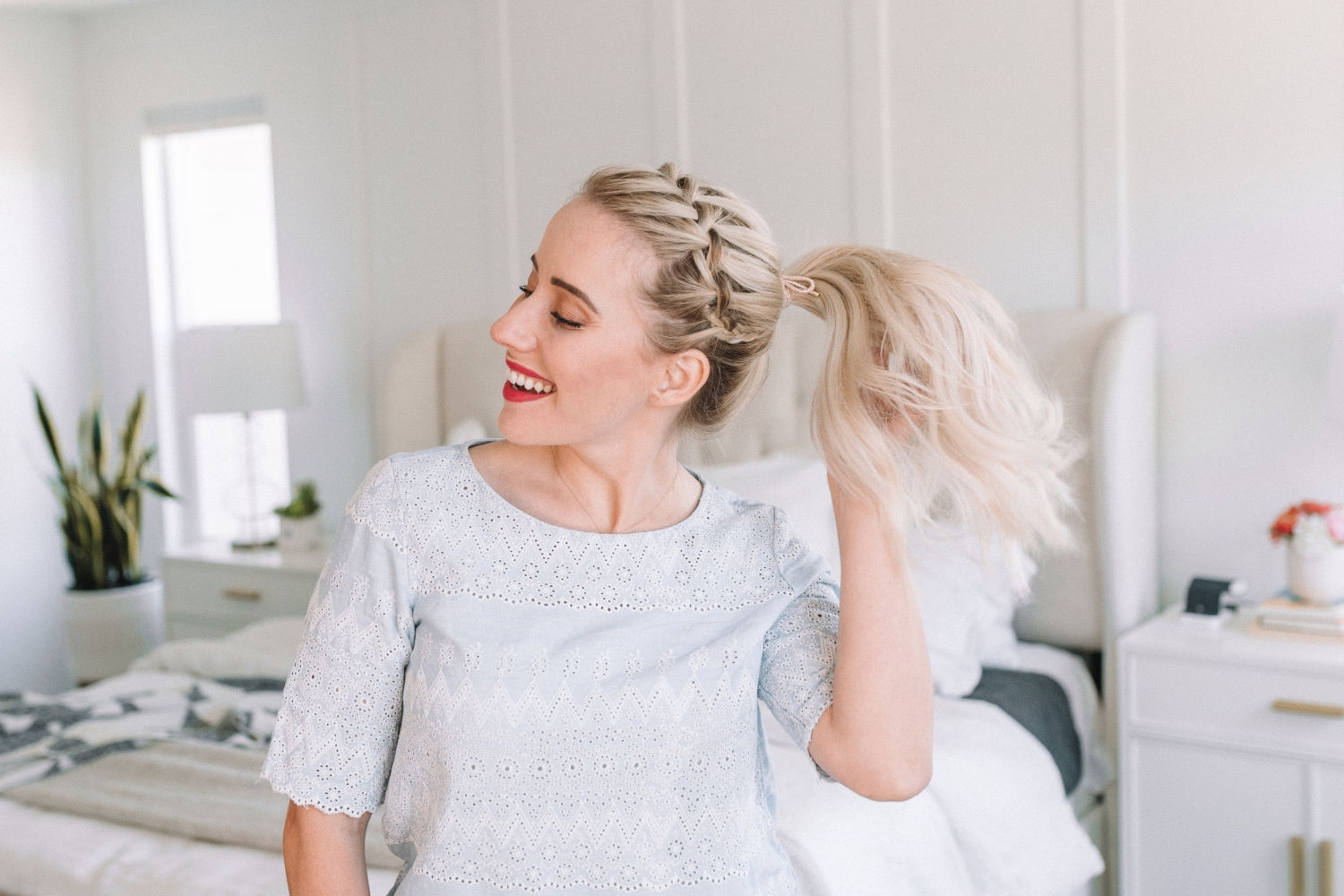 Cascading Waterfall Braid: This is the hairstyle that's on the cover of my Twist Me Pretty Braids book — it's stunning. I LOVE hairstyles that keep my hair out of my face, but that also allow me to show off my curls. This braid is SO easy, don't be nervous to try it out! It's four waterfall stitches and then all you do is incorporate those dropped sections into a braid. TRY IT!!!!
Four our 29th style, we have the Cascading Waterfall Crown Braid. You're basically doing the hairstyle above (with some slight changes), and then a lace braid on the other side . Then you're wrapping the ends across the crown and securing with bobby pins! We haven't covered what a lace braid is, but they're SUPER easy. It's a french brand, except you don't add in any new sections of hair to the top strands. So you'll braid the outer strands over the middle, add a new section to the bottom strand and braid it over the middle, then braid the top strand back over the middle without adding any new hair into the section. Watch the video and you'll see what I'm talking about!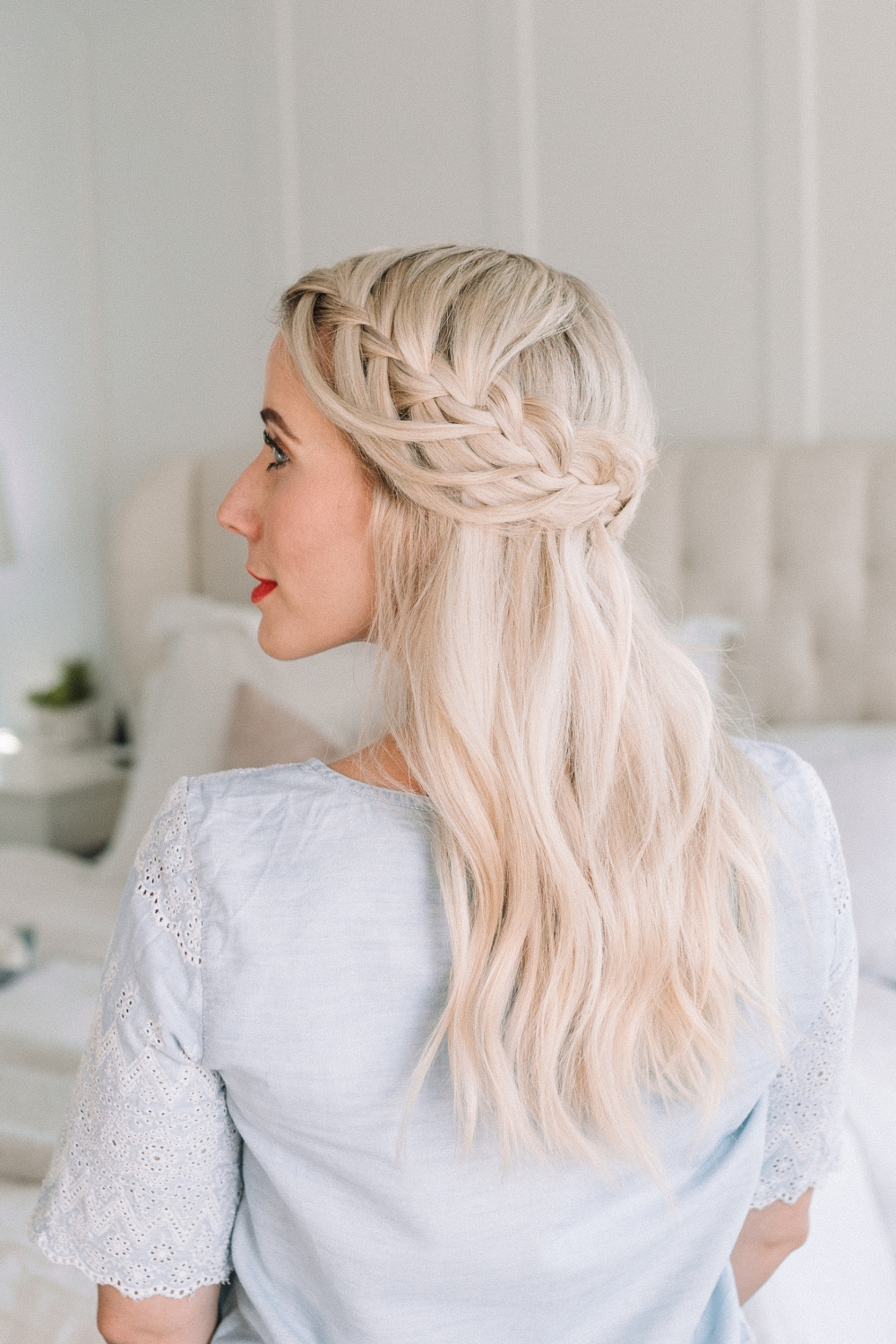 GAH it's so pretty!!!!
And I'll be sharing more info on the 30th hairstyle when we finally get there!!! I'm excited to go through the #30in30twistmepretty hashtag to see what y'all are comin' up with this week! If you want in on the challenge, even if it's over, go ahead and subscribe to my newsletter here and I'll send you all the hairstyles + tips and tricks!