Well, the holidays are in full swing, aren't they?! I'm not quite sure how they crept up on me, but every year, this seems to be the case! I've been scouring the internet and saving a few of my favorite things, some for Brian, some for my neighbors, my kids and – let's be honest – myself!
Today's holiday gift guide includes gift ideas for your husband! Or boyfriend, brother, Dad, Uncle… pretty much any man you're shopping for this holiday season. I hope this list makes your life a little bit easier when you're trying to navigate the million products out there right now! Here are just a few of my very favorites!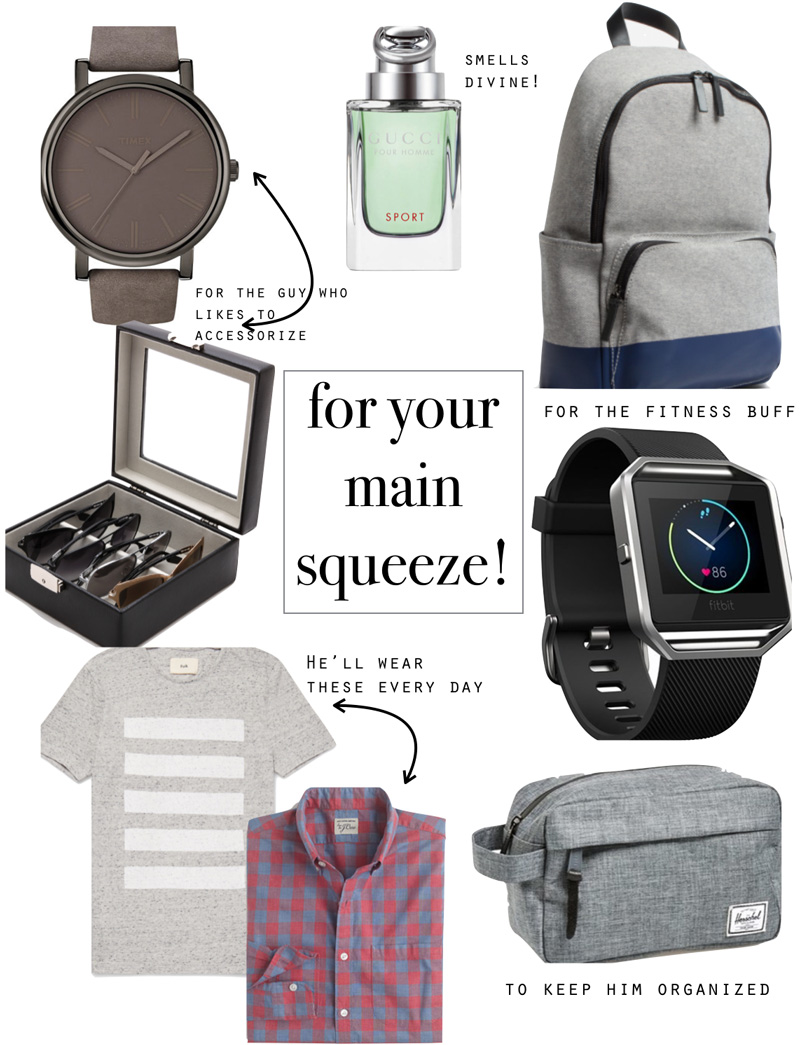 In no particular order:
This gingham button up is soooo pretty. Dress it up with slacks or wear it with some jeans: you can't go wrong. Also, I'm obsessed with this Striped T-Shirt. Brian will love it cause it's super soft, and I love the design.
This Leather Strap Watch is pretty, isn't it?! Gotta love a man who knows how to accessorize!
One thing Brian needs SO badly is a new Travel Kit. The zipper is broken on the one he has now and it's got toothpaste allll over it. This is the one I've had my eye on!
Obsessing over this Dipped Zip Backpack. He has a really sporty looking one, but it just looks out of place when we aren't on a mountain ya know?! This one just looks cool to me. It's cool right? Yeah. It's cool.
Brian's been collecting sunglasses for a while now. He's got a few really nice pairs, and I thought this Sunglasses Case would be PERFECT for him!!!
Does the man in your life exercise a whole bunch? I'm considering getting this this Fitbit 'Blaze' Smart Fitness Watch. Do any of your guys have this watch and love it? Either way, it looks cool and the price is right!
And last but not least… and this one is more of a selfish gift because I will be the one benefiting… This Gucci by Gucci Sport eau de toilette is the best dude-smell around. Obsessed.
So, there ya have it. A few of my "for your main squeeze" guide ideas! Let me know in the comments what you're getting for your man this holiday season, I always love the ideas you come up with!!
xo